This post may contain affiliate links. Please read our disclosure policy.
This beef stuffed peppers recipe is easy to prep and is perfect for a healthy weeknight meal. Bell peppers are stuffed with a tasty ground beef and rice mixture for a filling main course. Low in calories and fat, and high in protein.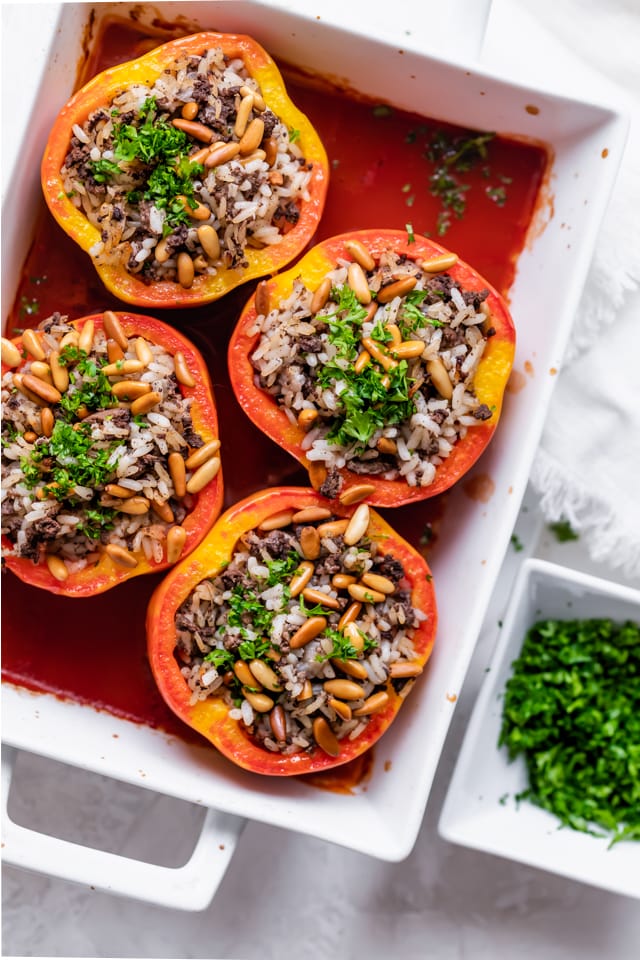 Stuffed peppers are one of my favorite ways to use leftover rice, quinoa or other grains. In this beef stuffed peppers recipe, I keep the stuffing simple by mixing only rice, beef, onions and spices. Then I top it with toasted pine nuts and serve with a garlicky tomato sauce and a side of Air Fryer Sweet Potato Fries. It's a simple and quick weeknight dish packaged in a perfect serving vessel!
Are stuffed peppers with ground beef healthy?
Yes! This beef stuffed pepper recipe provides a really well balanced meal. It contains protein, fiber, vitamins and minerals, whilst staying low in calories and fat. Serve with a healthy side dish like Green Beans with Almonds or a Tomato Avocado Cucumber Salad.
How to make stuffed peppers
The great thing about making stuffed peppers is that it's the type of recipe that's perfect for using up anything in your pantry or fridge. It's very versatile, forgiving and flavorful, whichever way you stuff it. This is my favorite way to make stuffed peppers though, which uses a classic Lebanese hashweh (beef, onions and 7 spice) stuffing.
Prepare the peppers
To start, you'll need to create said vessel. This is probably the most tedious part of the recipe. But it just takes a little patience and practice and you'll be coring peppers like a pro. Just slice the top of the peppers, then use a paring knife to cut the inside membranes of the peppers and remove the seeds.
At this point, you can spray the peppers with some cooking spray and either microwave them to soften slightly or pop them in the oven while you prepare the stuffing. Since the oven is already preheated for making the beef stuffed peppers, I prefer using the oven.
Do you have to cook the peppers before stuffing them? Not really. This part is optional so you can skip it. But keep in mind that it will result in more crunchy peppers.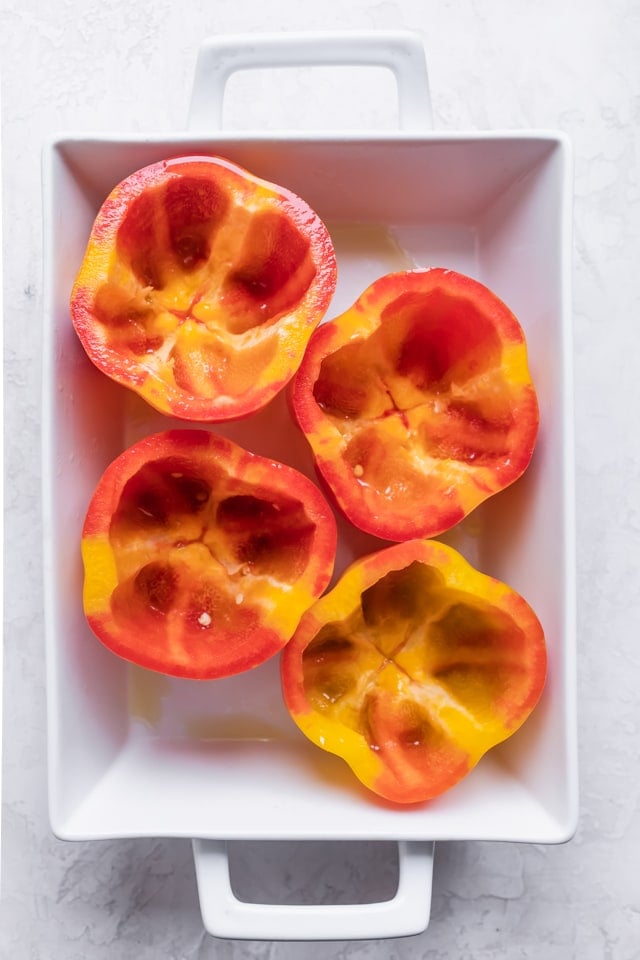 Cook the stuffing
While the peppers are cooking in the oven, you can start making the stuffing. Cook the beef with onions and the spices. Then add rice, cinnamon, salt and pepper. If you're starting with leftover beef and rice, I would still recommend sauteeing the onions and then heating all the stuffing ingredients together for best flavor.
\
Mix all the ingredients together and then add water to cook the rice until it's tender and fluffy.
Stuff the peppers
Now it's about stuffing the peppers. This recipe makes enough stuffing for 6 peppers. But I usually only stuff 4 and keep the remaining rice and beef mixture for my kids to eat without the peppers. We're slowly integrating sweet peppers into their meals, but it's a process! Meaning I'm still hiding them haha!
Next add the tomato sauce, minced garlic and as much water as you'd like to thin out the sauce (optional). You can also top it with the pine nuts now or wait until the beef stuffed peppers are cooked.
At this point everything is pretty much cooked, but return the stuffed peppers to the oven to allow the sauce to cook and incorporate with the flavors of the peppers. This also allows the peppers to continue to soften.
When they come out of the oven, you can spoon the bubbly garlicky sauce over the beef stuffed peppers, garnish with parsley and toasted pine nuts and enjoy.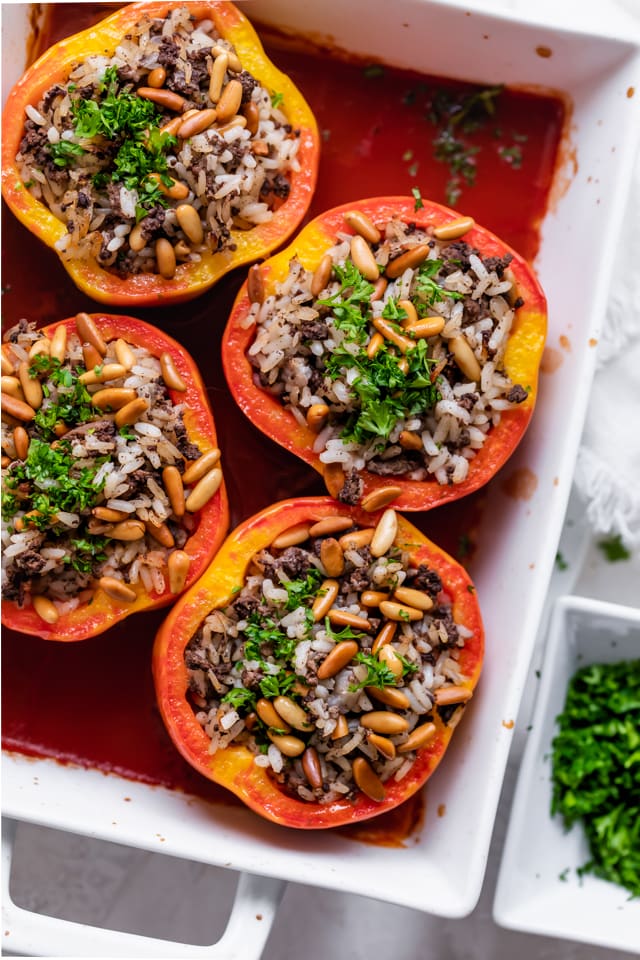 Stuffed peppers recipe variations
If you love experimenting with recipes, this is a wonderful one for you to get creative with. Here are ways to switch up this recipe based on your preferences or pantry restrictions.
Peppers: I found these cool yellow red peppers for this recipe, but any peppers will work. Red peppers are essentially ripe green peppers. And orange and yellow ones are the in-between phases. Since red peppers have more time to grow they're sweeter, while green peppers have a more bitter flavor.
Meat: I use lean ground beef in this recipe, which is very typical of Lebanese stuffing. But this stuffed peppers recipe works great with ground turkey, ground beef sausage or lamb, or any combination of two of these.
Grains: Again, I keep it traditional with the white rice, but you can use brown rice, wild rice, quinoa, barley or bulgur. For a low carb or keto-friendly option, I would recommend cauliflower rice.
Spices: I use 7 spice in a lot of my cooking (thanks to my mom!). It's a combination of black pepper, paprika, cumin, coriander, cloves, nutmeg, cinnamon and cardamom. You can try to mix your own or simply substitute with any other seasoning. Italian seasoning blends work wonderfully in this recipe.
Sauce: To keep the sauce on the healthy side, I use low-sodium, no-sugar added canned crushed tomatoes and simply add minced garlic to the sauce. When the sauce cooks with the stuffed peppers, the flavor becomes rich and garlicky. You can use marinara though if you prefer or even fire-roasted canned diced tomatoes work well.
Add-ons: You can load up the vegetables inside these beef stuffed peppers by adding mushrooms, carrots, celery or corn. Add more protein with beans like black beans or chickpeas. I love adding pine nuts on top for a mediterranean flare. You can also add any shredded cheese on top.
Frequently Asked Questions
What can I serve stuffed bell peppers with?
You can serve this peppers as part of a lighter meal with a simple green salad side dish, or if you are serving it as a main, a healthy portion of veggies will work wonderfully. Try it with Autumn Pear Salad or Roasted Cauliflower Au Gratin.
Are stuffed peppers with ground beef high in calories?
Here's the good news! Each stuffed pepper comes in under 300 calories, so they are a great option for a healthy low fat main. They are high in fiber so will help you to feel full for longer.
Can you freeze stuffed peppers?
Yes, you can freeze these peppers, so it's a great idea to batch cook them for easy meals later in the week. Let the cooked peppers cool, and then either wrap them individually or place in a large dish and wrap them with foil and cling film. Let them defrost in the fridge before heating through. They will also keep in the fridge for around 3- 4 days.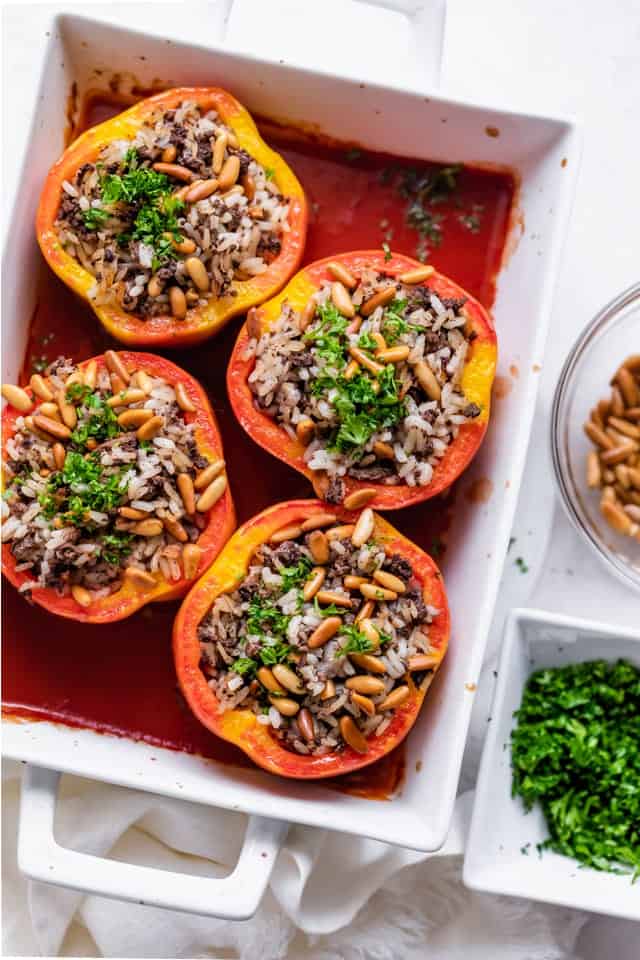 I love the versatility and forgiving nature of this beef stuffed peppers recipe. It has a couple steps involved but you can prepare it and cook it in one hour and it's a crowd favorite. It's a great recipe for dinner parties or for weeknight meals. And if you have young or picky eaters, the stuffing by itself is so hearty and tasty.
For more stuffed peppers recipes:
For more ground beef recipes:
If you've tried this healthy-ish feel good Beef Stuffed Peppers recipe or any other recipe on FeelGoodFoodie, then don't forget to rate the recipe and leave me a comment below! I would love to hear about your experience making it. And if you snapped some shots of it, share it with me on Instagram so I can repost on my stories!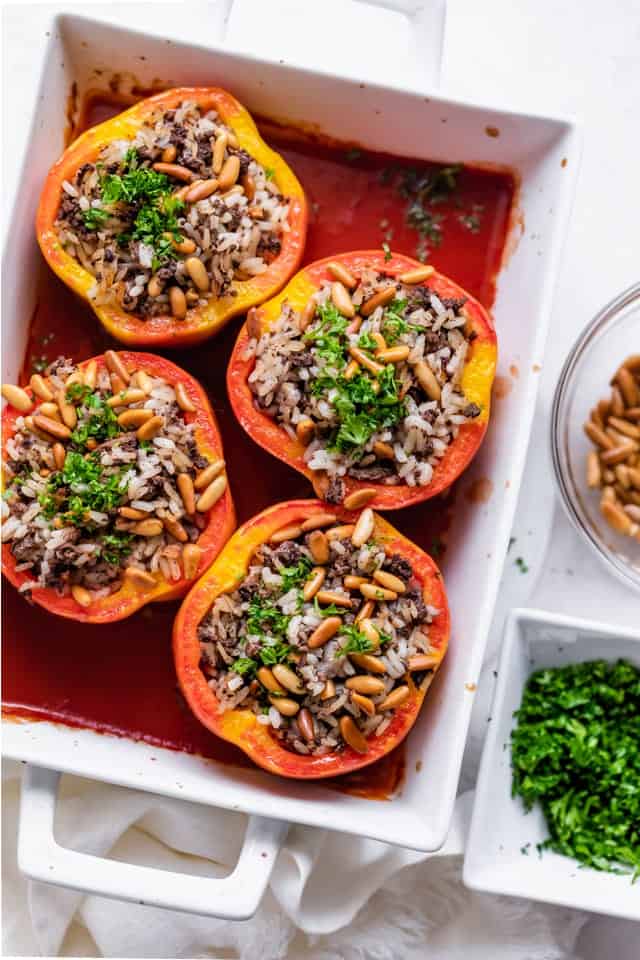 Beef Stuffed Peppers
This Beef Stuffed Peppers recipe is a complete meal made w/ ground beef, rice, onions, tomato sauce & Mediterranean spices – an easy weeknight family dinner
Ingredients
6

bell peppers

red, yellow or green

1

tablespoon

olive oil

1

pound

lean ground beef

1

medium onion

chopped

1

teaspoon

7 spice

1

cup

rice

uncooked

1/2

teaspoon

salt

½

teaspoon

cinnamon

¼

teaspoon

black pepper

8

ounces

tomato sauce

2

garlic cloves

minced

Toasted pine nuts

for serving

Chopped fresh parsley leaves

for serving
Instructions
Preheat oven to 375°F. Spray baking dish with cooking spray

Slice ½ inch from the tops of peppers and remove stems. Cut the core from the inside and remove any seeds. Place the hallowed peppers in a 9×13 inch baking dish with tops on and cook for 15 minutes; remove from oven and set aside

Meanwhile, heat olive oil over medium heat in a large pot. Add ground beef, onions and 7 spice. Season with salt and pepper and cook until beef is browned, about 7-10 minutes. Add the rice on top of the beef mixture, season with cinnamon, salt and pepper. Mix well and add 2 cups of water. Bring to a simmer, reduce heat and cover. Cook for 15-20 minutes, until rice is tender.

Stuff peppers with beef and rice mixture to the top. Pour tomato sauce in baking dish. Add minced garlic and as much water to thin out the tomato sauce as you'd like.

Cover the stuffed peppers with their reserved tops or place foil over the baking dish. Cook in the preheated oven for 20 minutes, to allow the sauce to bubble and the peppers to continue to soften.

Serve with toasted pine nuts and parsley, if desired.
Notes
Please Note: My images only show 4 stuffed peppers, but the recipe is enough for 6 stuffed peppers. I usually don't stuff the remaining rice mixture and keep it for my kids to enjoy as is. It's one of their favorite meals!
Storage: Store any leftovers in an airtight container. They will last about 3-4 days in the fridge.
Freezing Instructions: You can also freeze the baked stuffed peppers for up to 3 months. Freeze them individually or all together in a baking dish. To re-heat, thaw in the fridge overnight and bake in a 350°F oven until heated through.
Make Ahead Tips: You can make the rice and beef mixture ahead of time or use cooked rice to speed up the process.
Sourcing: Most of the ingredients are common in grocery stores but the 7 spice seasoning might not be as common. You can usually find it with the other spices in grocery stores or you can substitute any other seasoning. 
Substitutes: For best results, follow the recipe as is. However here are some common substitutes that would work well in this recipe.
You can use any other colored peppers you'd like.
Instead of beef, you can substitute lamb, ground turkey or beef sausage or any combination of two sources of meat.
If you want to avoid rice, you can use cauliflower rice, quinoa, barley or bulgur.
If you don't have 7 spice, you can use a combination of black pepper, paprika, cumin, coriander, cloves, nutmeg, cinnamon and cardamom, or simply substitute with any other seasoning.
Instead of tomato sauce with garlic, you can use marinara sauce. But I opt for canned tomato sauce because of the low sodium and sugar content.
* Please note the nutrition label does not include any toppings.
Nutrition
Calories:
295
kcal
,
Carbohydrates:
36
g
,
Protein:
20
g
,
Fat:
6
g
,
Saturated Fat:
2
g
,
Cholesterol:
46
mg
,
Sodium:
263
mg
,
Potassium:
710
mg
,
Fiber:
4
g
,
Sugar:
7
g
,
Vitamin A:
3905
IU
,
Vitamin C:
160
mg
,
Calcium:
51
mg
,
Iron:
3.3
mg
Nutrition information provided is an estimate. It will vary based on cooking method and specific ingredients used.