This post may contain affiliate links. Please read our disclosure policy.
This Kibbeh in Yogurt Sauce recipe post is sponsored by Stonyfield, although the content represents my own personal opinion and experience using the product.
Growing up in a Lebanese house, we ate a lot of kibbeh, whether it was fried, baked, raw or this version in yogurt sauce. In Arabic we call this dish Kibbeh bi labanieh or kibbeh bi laban and the "labanieh" and "laban" both refer to the garlicky yogurt sauce that really makes this recipe unique. It's a labor of love, but we all love it!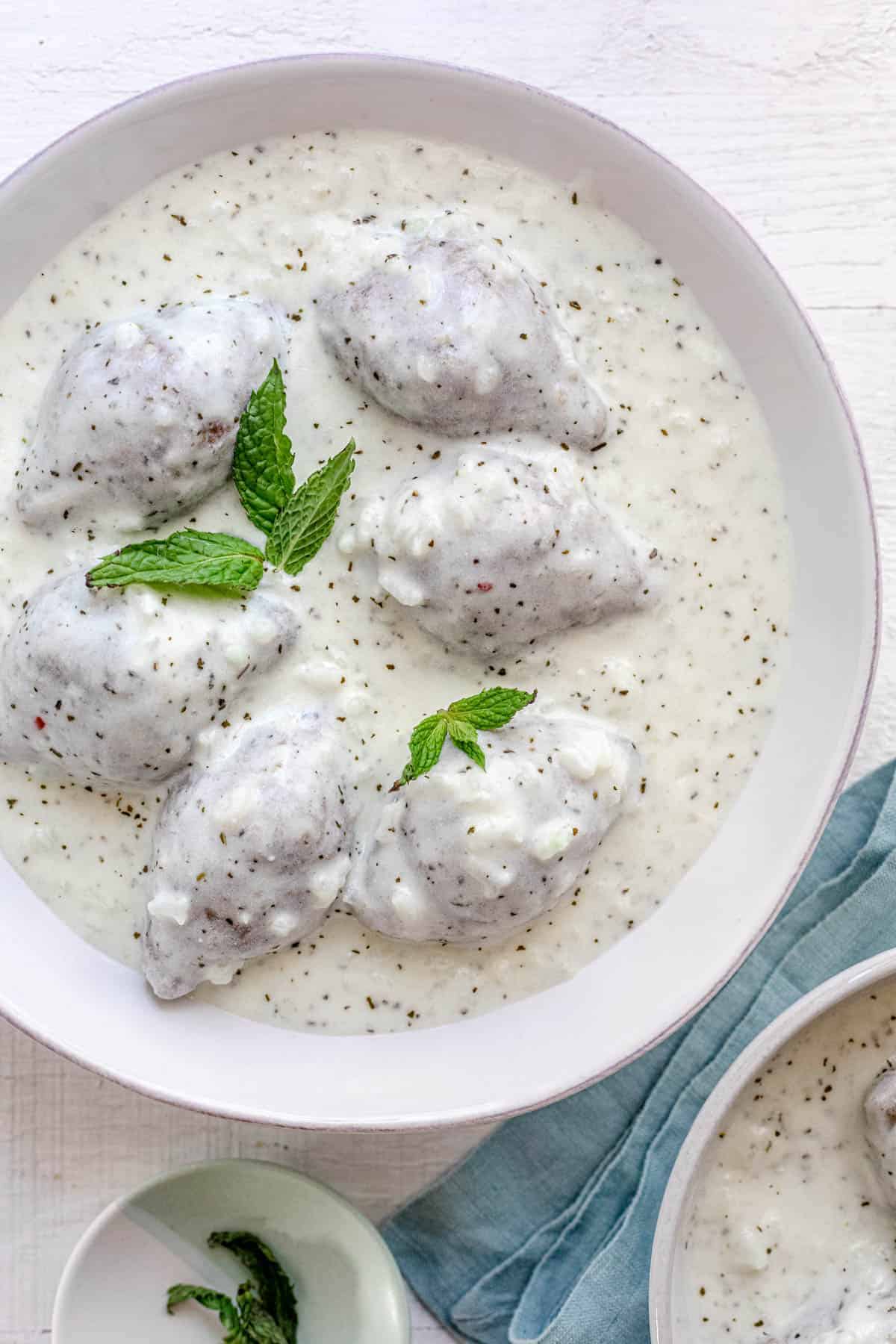 The recipe is proudly sponsored by Stonyfield Organic Yogurt which is our favorite yogurt to use in our home. It's truly special yogurt that starts with high quality ingredients. And Stonyfield yogurt is more than just yogurt. It's a statement about the importance of organic farmers and cows to produce healthy food and a healthy planet.
Video tutorial for kibbeh
Ingredients to make kibbeh in yogurt
Yogurt: Whether you call it yogurt, laban or labanieh, the yogurt is quintessential in this recipe and I use and trust Stonyfield Organic Yogurt.
Kibbeh Balls: See below for how to make the kibbeh. There are multiple steps so it helps to do this in batches.
Short grain rice: Cook the rice halfway before adding the yogurt mixture and it will help to thicken the yogurt sauce. You can use other types of rice, but short grain is best.
Corn starch: Used as a thickening agent, this helps to create the perfect consistency for the yogurt sauce. You can swap it with arrowroot starch, but don't swap it for flour because it will affect the taste and consistency.
Fresh Garlic: Used to flavor the yogurt; press it or mince it evenly to add the best flavor throughout the sauce. Don't substitute with garlic powder.
Mint: Use a combination of dried and fresh mint to give the kibbeh yogurt sauce an aromatic flavor.
How to make kibbeh bi labanieh
Prepare the filling & casing
The kibbeh is made up of two parts: the hashweh and the casing. The hashweh is a popular filling recipe that I use all the time made with ground beef, onions and spices. The casing is made with raw 100% lean beef, bulgur, onions and spices.
Make the kibbeh balls
Add oil to your hands and scoop a ball of the kibbeh casing.
Use one finger to indent the middle.
Move your finger in circular motion to hollow out the kibbeh .
Add the hashweh about ¾ of the way full.
Pinch the top of the shell to close it.
Shape the kibbeh with your hands until the shape looks like a football. Bake the kibbeh in the oven while preparing the yogurt sauce.
Make the yogurt sauce & assemble
Start with 48 ounces of plain whole milk yogurt for 12 kibbehs. That is one and half tubs of the Stonyfield Organic Yogurt. I love how smooth and thick the yogurt is without too much extra liquid. Plain whole milk yogurt works best for flavor, consistency and helping to prevent curdling.
Add the parboiled rice to the yogurt in the pot.
Stir frequently until the rice is fully cooked and the yogurt mixture starts to thicken.
Now add the fresh garlic, fresh or dried mint and the kibbeh balls.
Continue stirring frequently until the yogurt sauce gets even more thick and fragrant. And it's ready to be served! Note that it will continue to thicken as it sits.
Tips for making authentic kibbeh
Oil your hands for forming the kibbeh balls. Adding oil to your hands will help mold and shape the kibbeh. It also helps to smooth out any gaps when forming the balls. You can use water alternatively, but the oil is easier and also prepares them for baking in the oven.
Divide the kibbeh in half and freeze half for later. The filling and casing will make about 24 kibbeh balls, but the yogurt sauce calls for only 12 kibbehs. My family always freezes the other dozen for a second recipe of kibbeh bi labanieh or to fry the kibbehs alone.
Use whole milk yogurt. This is a very rich recipe that is hearty and comforting. The authentic recipe uses whole milk yogurt for best taste and consistency. This also helps to minimize curdling.
Stir frequently while cooking the yogurt sauce. Yogurt can curdle in heat when the protein strands tighten up. Stirring frequently will help to minimize this as does using full fat yogurt.
Frequently asked questions
How long does it keep?
The kibbeh in yogurt sauce will keep well in the fridge in an airtight container for 3 to 4 days. You can also freeze the uncooked kibbeh balls for up to 3 months. But always make the yogurt sauce fresh.

Can I freeze it?
You can freeze the uncooked kibbeh balls recipe for up to 3 months. Place the kibbeh balls on a baking sheet uncovered for 2 hours. When frozen, you can transfer to a container or freezer safe bag. Thaw in the fridge overnight, drizzle olive oil on top and then bake as directed.
What do I do if the yogurt curdles?
It's very rare for this to happen if you use whole milk yogurt, cornstarch and you stir frequently. If it does happen, lower the heat, add a teaspoon of cornstarch and whisk continuously to try to save it. You can still eat curdled yogurt, though.
This is definitely one of those recipes that you can break up into two cooking days: one for making the kibbeh and one for assembling everything together. It's rich, comforting and perfect for large family gatherings and breaking your fast during Ramadan.
More Lebanese recipes:
If you've tried this healthy-ish feel good Kibbeh in Yogurt Sauce recipe or any other recipe on Feel Good Foodie, then don't forget to rate the recipe and leave a comment below! We would love to hear about your experience making it. And if you snapped some shots of it, share it on Instagram so we can repost on my stories!
Kibbeh in Yogurt Sauce
Kibbeh in yogurt sauce is a comforting & popular Middle Eastern recipe. This is an authentic Lebanese recipe from my mom that's easy to follow
Ingredients
Hashweh Filling
Kibbeh Mixture/Casing
1 ½

cups

fine #1 bulgur wheat

½

cup

water

1

large onion

quartered

½

cup

fresh mint

packed

¼

cup

kamouneh spice

1

tablespoon

salt + 1 teaspoon

1

pound

100% lean ground beef

2

teaspoons

7 Spice
Garlic Yogurt Sauce
48

ounces

Stonyfield plain whole milk yogurt

2

teaspoons

salt

20

ounces

cold water

divided

¼

cup

cornstarch

½

cup

short grain rice

5

garlic cloves

pressed

1

tablespoon

chopped fresh mint

plus more for serving
Instructions
Make the Filling
Heat the olive oil. Add the beef and onions and cook until the beef is browned, about 8-10 minutes. Season with salt, 7 Spice and sumac.

Make the Kibbeh Mixture

To prepare the base meat mixture, add the bulgur wheat to a medium bowl along with the water, fluff after 10 minutes to absorb all the water.

Transfer soaked bulgur to a food processor along with the onion, mint, kamouneh spice and 1 tablespoon salt. Blend until well combined.

Add the lean beef to the food processor, along with the remaining salt and 7 Spice. Blend again until a meat paste forms. (can add red pepper for color)
Make Kibbeh Balls
Add oil to your hands, and scoop about 3 tablespoons of the kibbeh mixture. Use one finger to indent the middle of the scooped mixture and then hollow out the inside using your finger until it looks like a half shell.

Add about two tablespoons of the mixture into the shell and then close the shell and shape into a football with your hands. Place the kibbeh ball on a tray and repeat for the remaining mixture and filling. Makes 24 kibbehs.

Freeze half of the kibbeh to make a second batch of this recipe at a later time. Bake the other half in the oven at 400F for 8 minutes, flipping halfway through. Remove and set aside at room temperature.
Make Yogurt Sauce
Place the yogurt and salt in a large pot. Add the cornstarch in one of the emptied yogurt containers and dissolve with about 16 ounces of water. Transfer the cornstarch slurry to the pot with the yogurt. Stir without heat until it's well blended without any clumps.

Parboil the rice with the remaining water for 10 minutes until it's half cooked.

Add the parboiled rice to the pot of yogurt. Turn the heat to medium and stir frequently until the mixture thickens, about 15 minutes.

Add the garlic and mint and baked kibbeh balls to the pot of yogurt, and turn the heat to low. Allow the mixture to thicken for about 10 more minutes, stirring carefully occasionally.

Serve 2 kibbehs with the yogurt sauce in each bowl. You can enjoy warm, at room temperature or cold.
Notes
Storage: Store any leftovers in an airtight container. They will last about 3-4 days in the fridge.
Freezing Instructions: You can freeze the uncooked kibbeh balls recipe for up to 3 months. Place the kibbeh balls on a baking sheet uncovered for 2 hours. When frozen, you can transfer to a container or freezer safe bag. Thaw in the fridge overnight, drizzle olive oil on top and then bake as directed.
Sourcing: You can find the bulgur at Middle Eastern markets, natural-foods stores or even in large supermarkets, often located with other Middle Eastern ingredients.
Substitutes: For best results, follow the recipe as is. However here are some common substitutes that would work well in this recipe
Instead of ground beef, you can use lamb, but it's traditionally made with beef.
Instead of kamouneh spice, you can mix together cumin seeds, black peppercorn, marjoram, basil, mint, cinnamon and 7 Spice. You can find a recipe for how to making kamouneh spice here or use a combination you like.
Nutrition
Calories:
626
kcal
,
Carbohydrates:
64
g
,
Protein:
47
g
,
Fat:
21
g
,
Saturated Fat:
9
g
,
Trans Fat:
1
g
,
Cholesterol:
123
mg
,
Sodium:
2580
mg
,
Potassium:
1180
mg
,
Fiber:
9
g
,
Sugar:
13
g
,
Vitamin A:
991
IU
,
Vitamin C:
7
mg
,
Calcium:
360
mg
,
Iron:
7
mg
Nutrition information provided is an estimate. It will vary based on cooking method and specific ingredients used.