This post may contain affiliate links. Please read our disclosure policy.
Atayef, which is also commonly spelled as Qatayef or Katayef, is a type of pancake that is popular in the Middle East. Unlike traditional American pancakes, these include yeast in the pancake mixture that helps to create their iconic mini bubbles. They are only cooked on one side and then filled with a white cheese or a nuts mixture, and then baked or fried and served with an aromatic simple syrup.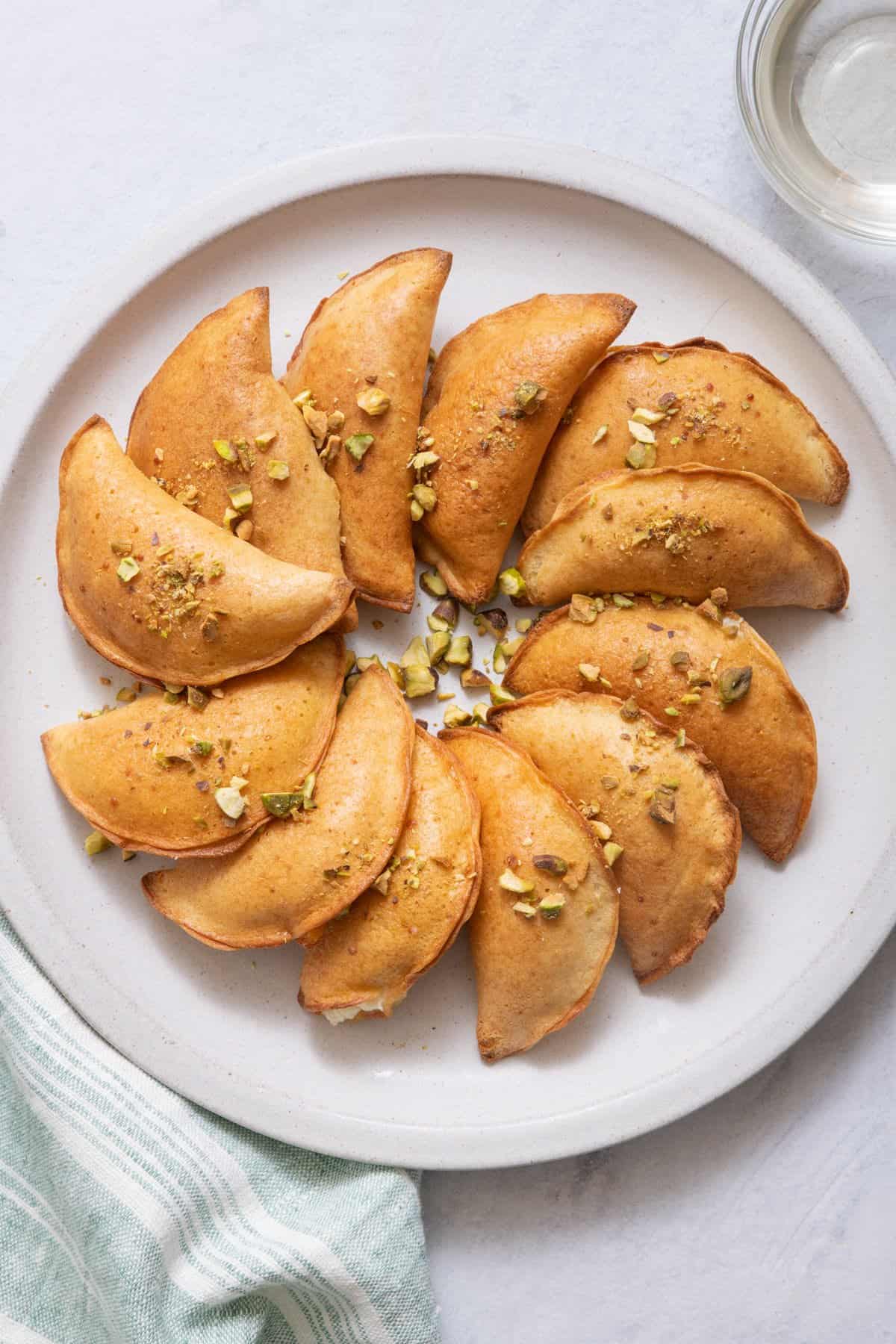 They may be referred to as Middle Eastern pancakes, but they definitely contain a few added steps, and the end result is a little distant from pancakes, in my opinion. Still, they are a deliciously sweet breakfast idea that is very popular to enjoy during the month of Ramadan.
why you'll love this Atayef recipe
Labor of love: This recipe makes about 36 pancakes. Cooking all the pancakes, stuffing them, sealing them, and then baking them is quite a process that makes these so special for serving to guests and loved ones especially for special occasions.
Unique flavor: The combination of the filling and the syrup gives these pancakes a unique flavor profile that you can't get with other pancake recipes.
Ramadan tradition: Atayef are often enjoyed as part of a Ramadan suhoor meal plan, so why not start your own tradition this year by making them at home?
Ingredients to make qatayef recipe
This fried pancake recipe has three different components: the dough, the cheese filling, and the syrup. Don't be deterred from making them due to the list of ingredients. I bet you have at least 90% (if not all) on hand!
PANCAKE Ingredients
All-purpose flour: Makes up most of the base of the pancake batter and gives it stability.
Semolina: This gives the pancakes a little bit of chew and helps them to hold their shape when frying.
Yeast: This helps create the little bubbles in the atayef for that iconic texture.
Baking powder: This helps the pancakes rise and gives them some airiness.
Sugar: Just a touch of sweetness to offset the savory cheese filling and syrup.
Salt: To balance out the flavors.
Milk: You want to use warm milk to help activate the yeast.
Cooking spray: Keeps these bubble pancakes from sticking to the pan.
SIMPLE SYRUP (Ater)
Sugar: The main sweetener in the syrup.
Water: The other main ingredient in the syrup.
Orange blossom water: These give the syrup a floral, light citrus and refreshing taste. You can totally skip this.
Lemon juice: A little acidity to balance out the sweetness of the syrup.
Cheese FILLING
The traditional filling is ashta made with heavy cream, corn starch and sugar. I make the filling easier with this cheese filling swap:
Ricotta: Whole milk ricotta gives the filling a nice creamy texture.
Mozzarella: Fresh mozzarella gives the filling a mild flavor and some extra body.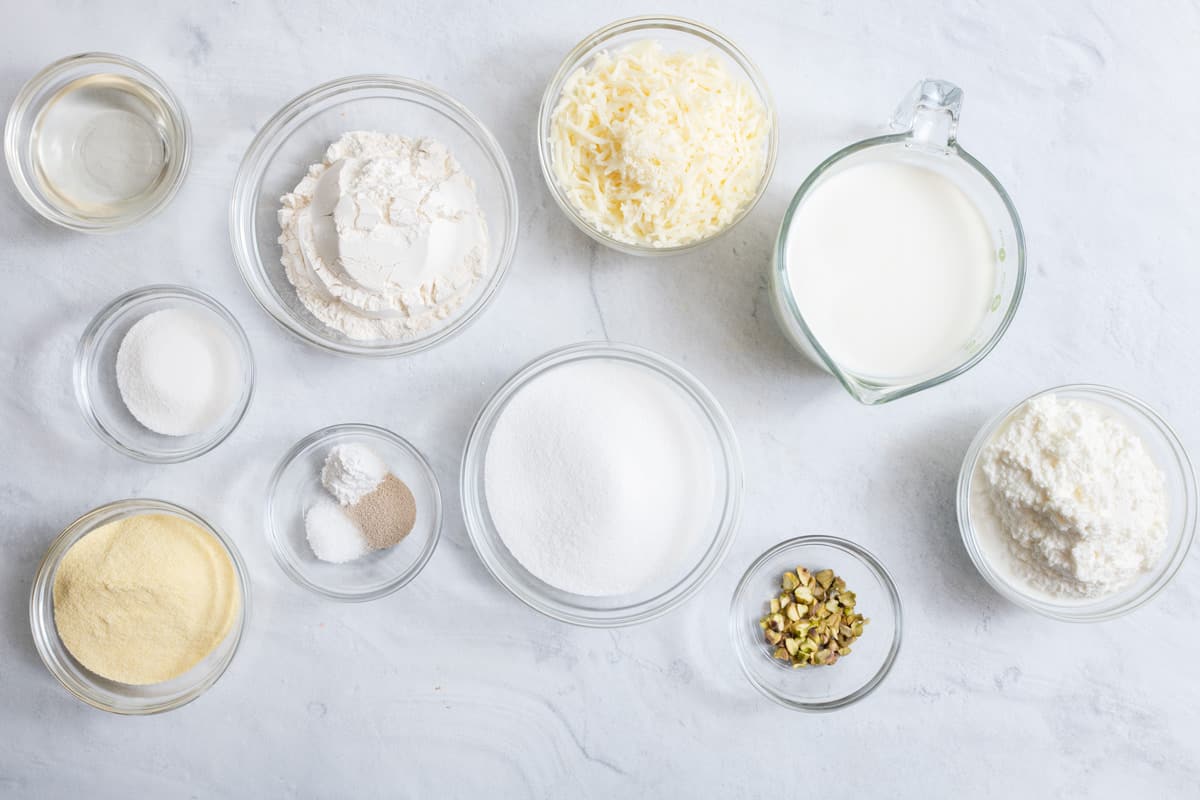 How to make Atayef
Before you start making your cheese-stuffed fried pancakes, I want to warn you that they need some time to rest and should not be thrown in the pan immediately after mixing. The wait time is perfect for making your Ater (simple syrup) and prepping your cheese filling.
make and Cook the pancake batter
In a large blender, combine the flour, semolina, sugar, baking powder, instant yeast, salt, and milk.
When the batter is done resting, heat a non-stick pan, then pour the batter onto the pan. Cook until the bubbles dry out and the bottoms become golden.
Set aside in a warm place covered, so they remain moist.
Mix Filling
In a small bowl, combine the ricotta, mozzarella cheese, and some simple syrup.
Mix the cheese mixture until well combined.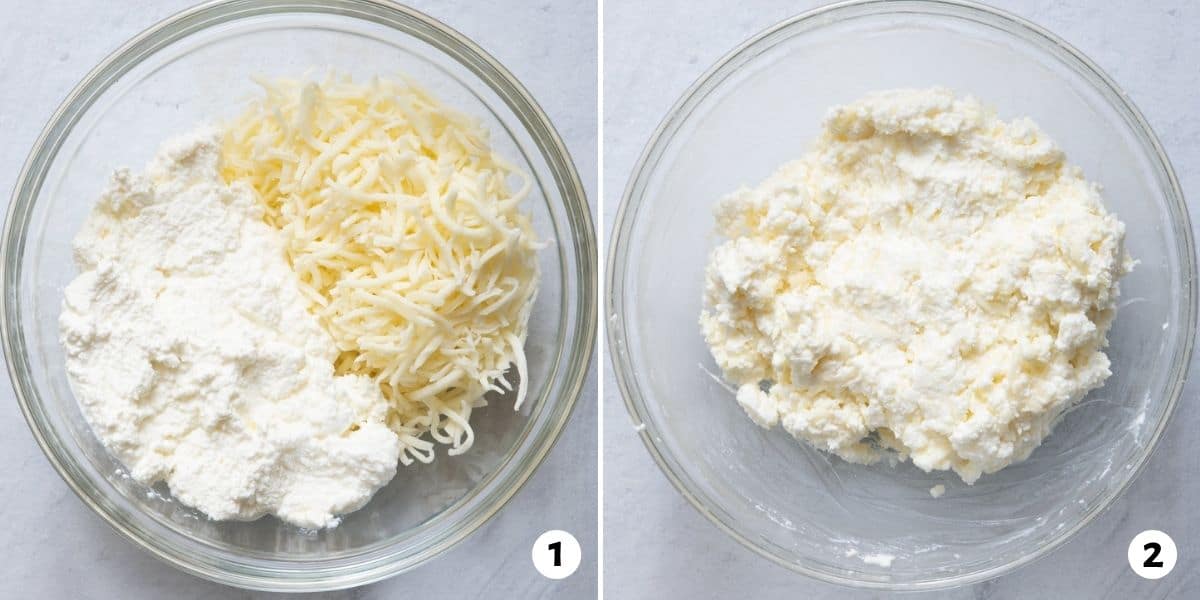 Fill, Fold, and Bake
Place a heaping tablespoon of the filling into each pancake.
Pinch the sides together to keep the filling in place.
Place the closed atayef on a baking sheet lined with parchment paper.
Bake until golden on the outside.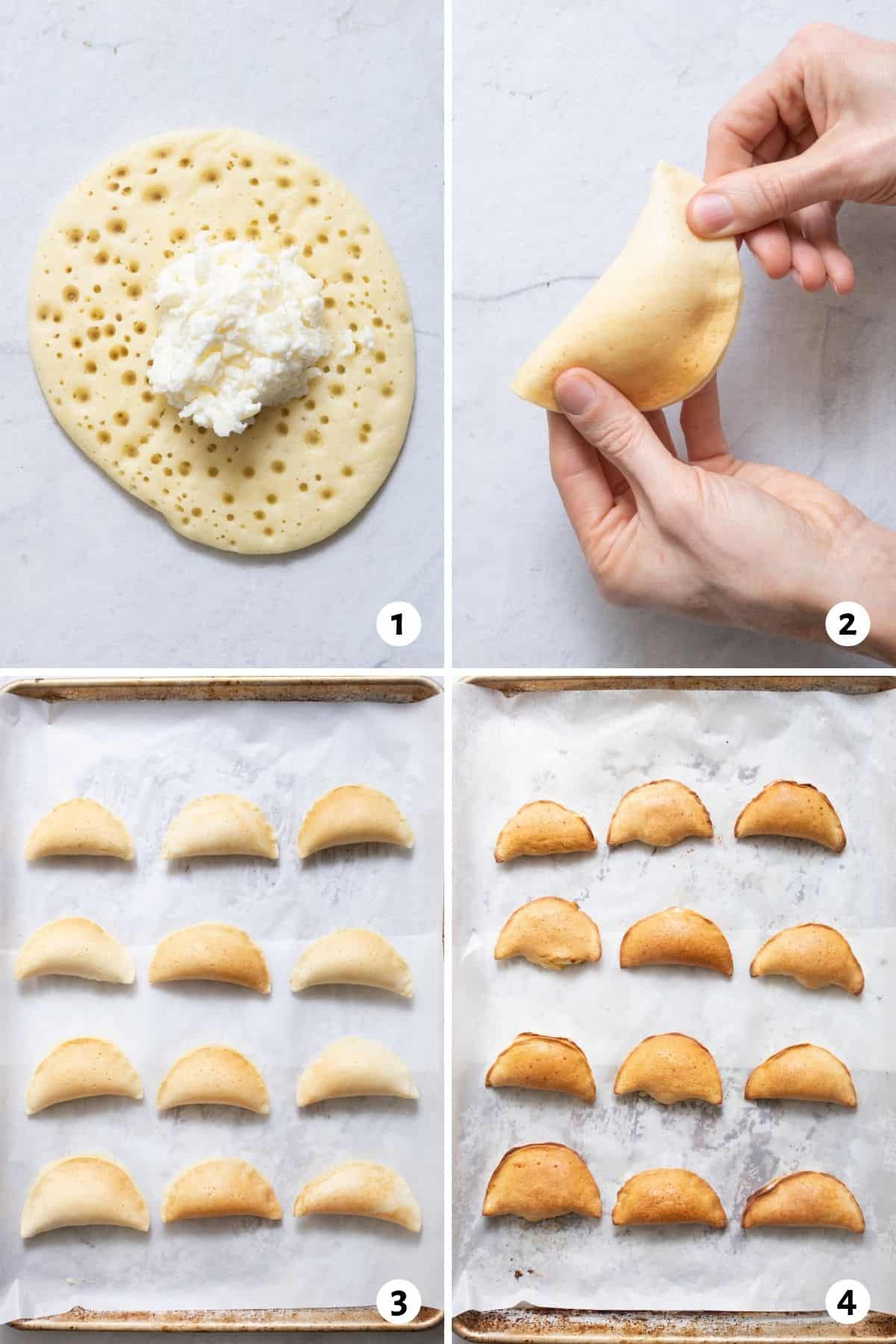 Tips for making homemade atayef
Use a blender to make the atayef. I learned this tip from one of my followers, (@hildatalks) and it really makes a difference in creating a smooth consistent batter with perfect bubbles. You can also use an electric whisk, but don't use a manual whisk.
Check for bubbles. The most important feature of making atayef is the iconic bubbles in the recipe. Like most pancake recipes, your first one might be a flop, and in this case, it might be because there aren't enough bubbles. If that's the case, add another 1-2 tablespoons water and blend quickly again.
Keep the atayef pieces small. I like to use about 2 tablespoons for each. For easy pouring, you can fill a ¼ cup halfway to keep the shape of the pancakes small and uniform.
Do not cook on both sides. It's very important to only cook the atayef on one side and keep the other side uncooked. That's because it helps seal the mixture inside when the opposite side is raw.
Make sure not to overstuff the atayef. You can use about 1 tablespoon of the mixture inside the pancake and then seal it. If you add more than a tablespoon, they will likely open while baking in the oven.
popular substitutions & additions
Ashta filling: The most authentic way to make atayef is with an ashta filling made with heavy cream, corn starch, and sugar. It resembles the easier version I make here with the mozzarella and ricotta.
Nuts filling: Another popular filling alternative is a mixture of walnuts and sugar or pistachios and sugar – similar to the filling you'd find inside baklava or maamoul.
Leave open and dip in pistachios: While we typically call this version 3asafeer, you'll find some versions of atayef that are half-opened, and then open part with the cream is coated in crushed pistachios.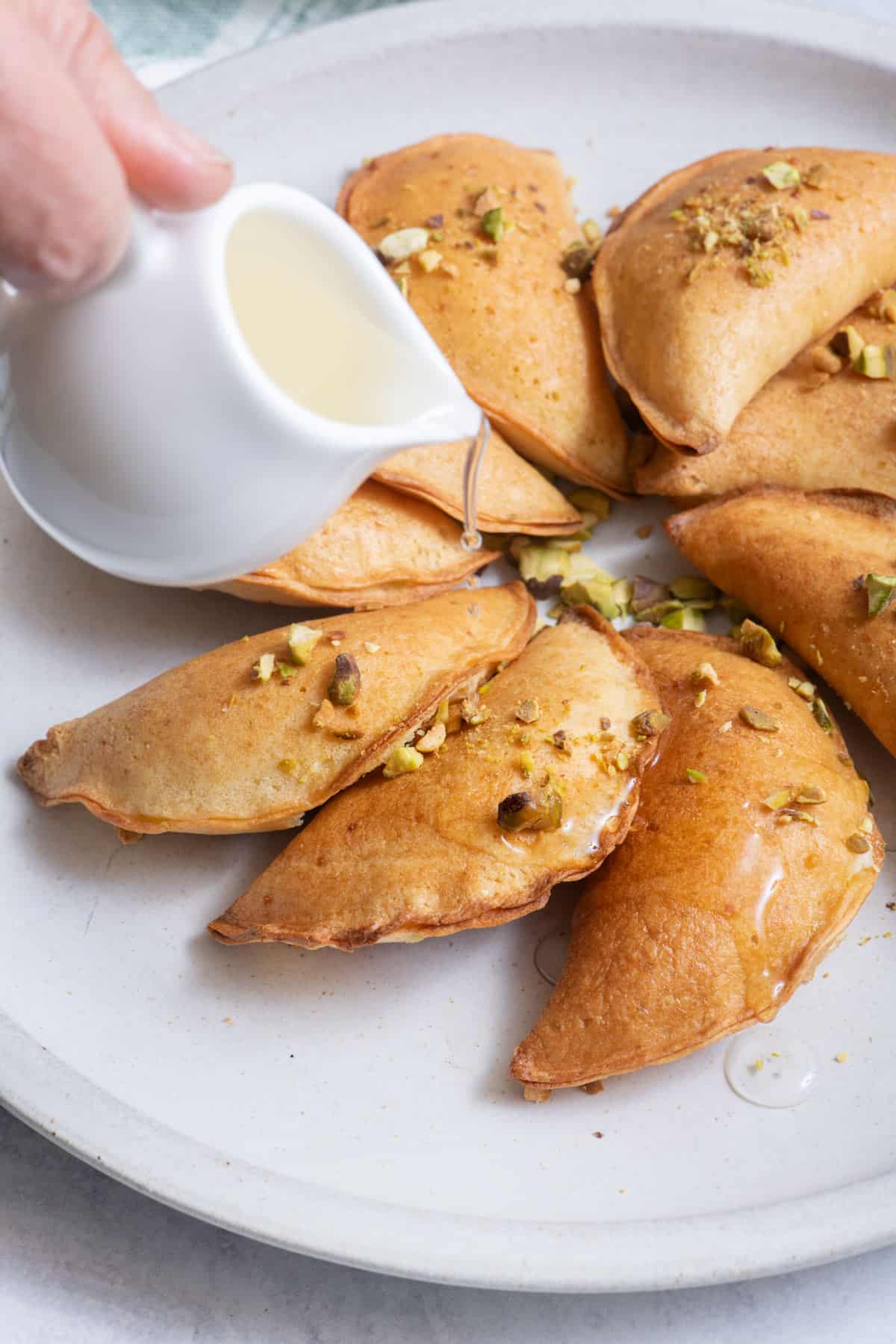 how to store & reheat Atayef
You'll want to reheat the Atayef in your air fryer, oven, or toaster oven to crisp them up, or you can microwave them for a quick and easy snack.
How long will Atayef last in the fridge?
Stored properly, Atayef will last for up to four days in the fridge. To help main their crisp edges, keep the atayef uncovered in the fridge.
can I freeze Atayef?
Yes! You can make a double batch if you'd like and freeze them. Let them thaw out in the fridge overnight before reheating.
Frequently asked questions
What happens if I don't see any bubbles when I cook the atayef?
That is usually an indication that the batter doesn't have enough liquid in it. Add another 1-2 tablespoons water and blend quickly again in the blender and then try another pancake.
My atayef came out really soft. How do I make them crunchy?
Try adding 1 teaspoon of cornstarch to the batter, which will result in a more crunchy texture. You can also try baking them for 5 – 10 more minutes.
Can you freeze atayef?
You can freeze the atayef after baking and cooling them. Place them in a single layer on a baking sheet in the freezer. When frozen, transfer to an airtight container or freezer bag and keep for 3 months.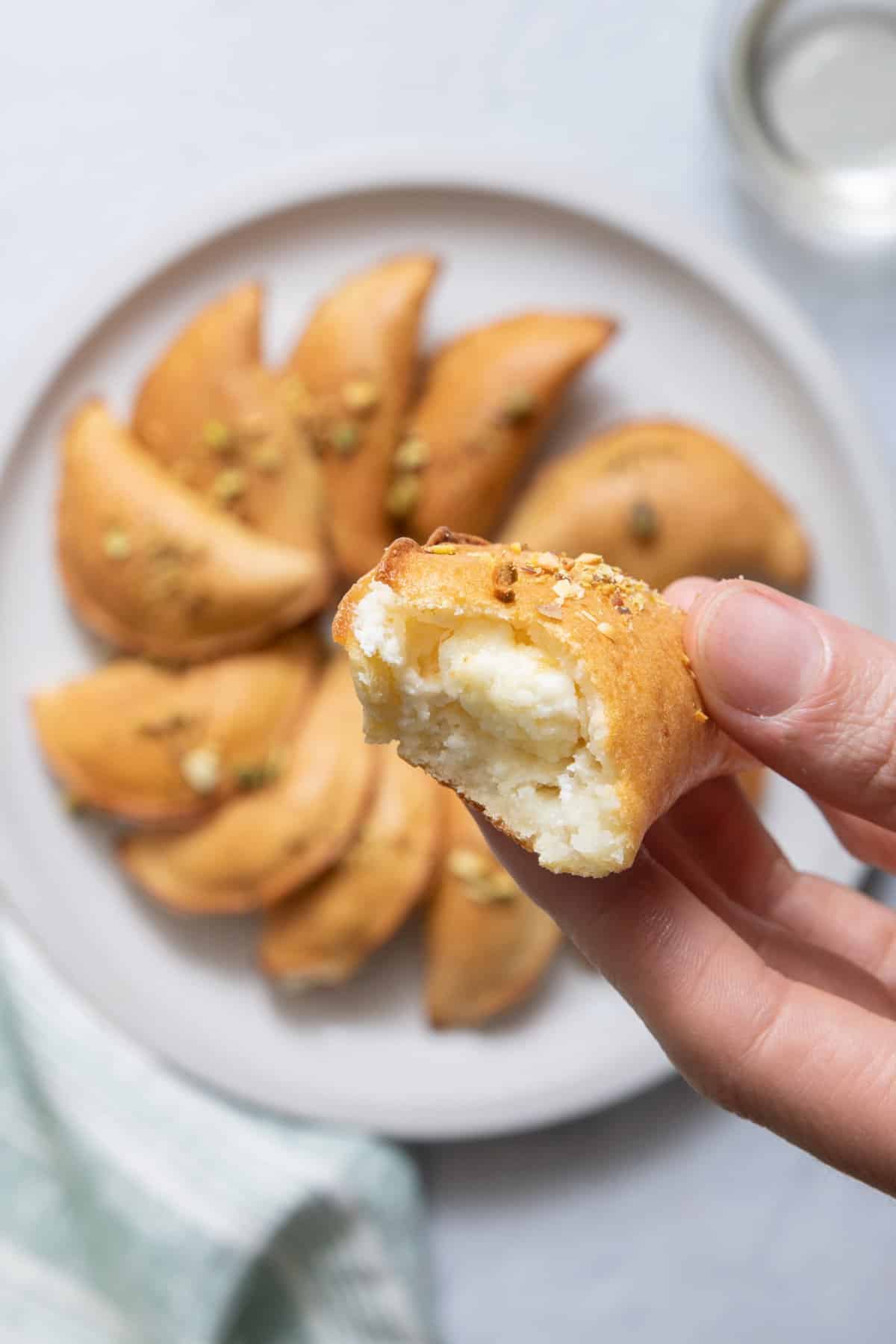 Atayef is a delicious dessert that takes some time to make, but it's well worth the effort. The pancakes are best served fresh and warm with a drizzle of simple syrup and cheese filling. They are perfect for Ramadan or any time of the year. Leftovers can be stored in an airtight container in the fridge and reheated. Enjoy!
More Lebanese desserts:
If you try this feel good Atayef recipe or any other recipe on Feel Good Foodie, then don't forget to rate the recipe and leave a comment below! It helps others who are thinking of making the recipe. We would love to hear about your experience making it. And if you snapped some shots, share it on Instagram so we can repost on Stories!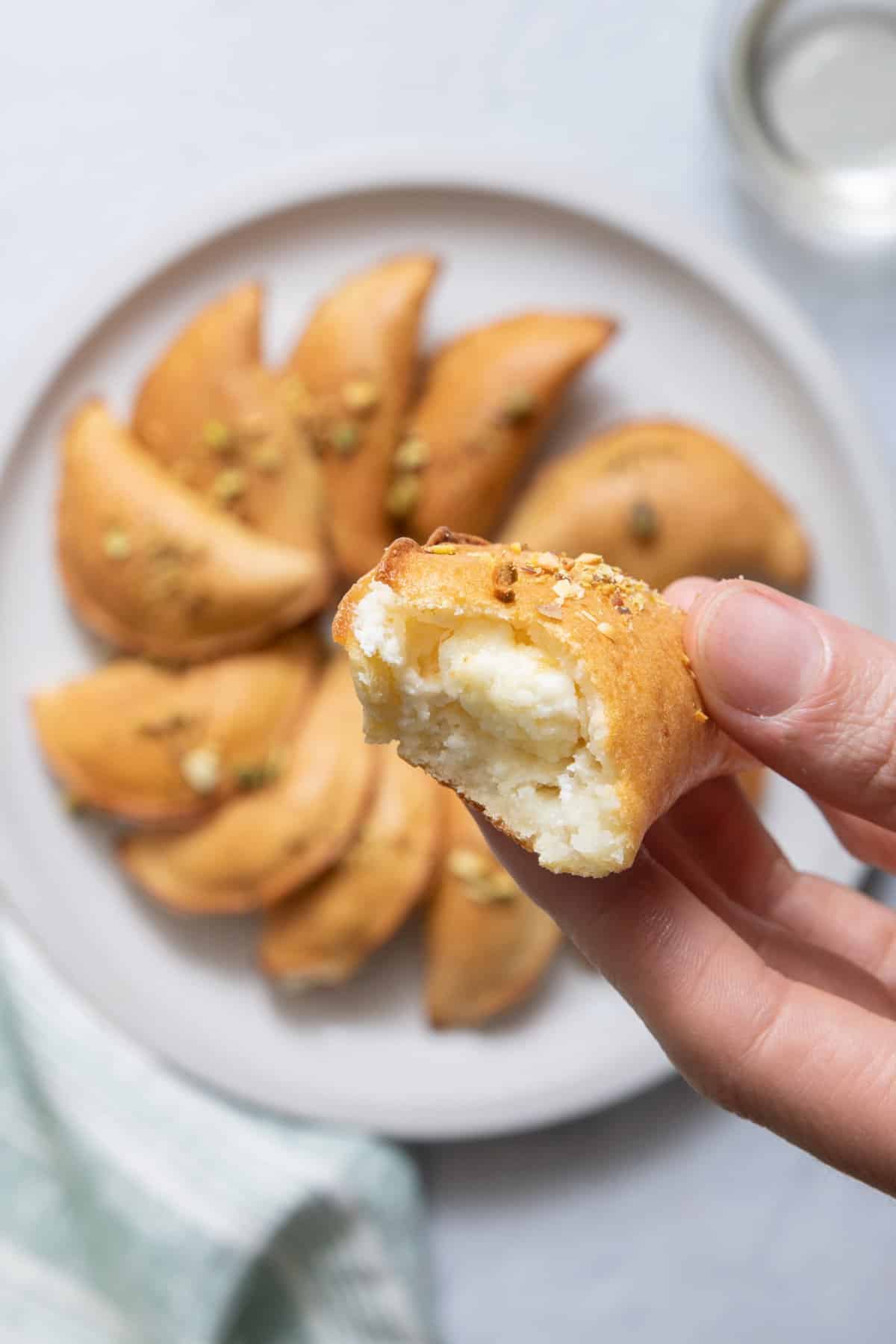 Atayef
Lebanese atayef, airy and slightly sweet middle eastern dessert stuffed with cheese and drizzled with sugar syrup (ater) and crushed pistachios.
Ingredients
Filling
1 ½

cup

whole milk ricotta

1 ½

cup

shredded mozzarella cheese
Instructions
In a large blender combine the flour, semolina, sugar, baking powder, instant yeast, salt and milk. It should have the consistency of very runny pancakes.

Cover with a towel, and let the mixture sit in a warm place for 30 minutes. Blend the mixture again and let it rest for 10 more minutes.

Meanwhile, make the simple syrup. Combine sugar and water in a small saucepan over medium-high heat. Bring to a boil, then lower heat to medium and cook, stirring occasionally, until the sugar has dissolved, about 1-2 minutes.

Stir in the orange blossom water and lemon juice. Pour syrup into a heat proof container and allow to cool.

When the batter is done resting, heat a non-stick pan on medium heat, then pour 2 tablespoons of the batter onto the pan and you'll notice the appearance of bubbles.

Cook until the bubbles dry out and the bottoms become golden, about 2 minutes. Do not flip. (If no bubbles are appearing, add more water or milk since your batter is probably too thick.) Set aside in a warm place covered so they remain moist.

Preheat the oven to 400°F and line a baking sheet with parchment paper. In a small bowl, combine the ricotta, mozzarella cheese and 2 tablespoons of the prepared simple syrup. Place a heaping tablespoon of the filling into each pancake and pinch the sides together.

Place the closed atayef on a baking sheet lined with parchment paper, spray with cooking spray and bake for 40 minutes, flipping halfway through.

Serve immediately, drizzled with simple syrup, if desired.
Notes
Storage: Place in an airtight container in the refrigerator for up to four days. 
Nutrition
Calories:
189
kcal
,
Carbohydrates:
29
g
,
Protein:
7
g
,
Fat:
5
g
,
Saturated Fat:
3
g
,
Polyunsaturated Fat:
1
g
,
Monounsaturated Fat:
1
g
,
Cholesterol:
20
mg
,
Sodium:
152
mg
,
Potassium:
112
mg
,
Fiber:
1
g
,
Sugar:
19
g
,
Vitamin A:
180
IU
,
Vitamin C:
1
mg
,
Calcium:
162
mg
,
Iron:
1
mg
Nutrition information provided is an estimate. It will vary based on cooking method and specific ingredients used.