This post may contain affiliate links. Please read our disclosure policy.
If you're looking for an authentic and delicious Lebanese cake, look no further than Namoura. This semolina cake is made with ghee, almonds, and topped with a simple syrup that will make your taste buds sing! It's perfect for any occasion and made with a few ingredients. Ready to get started? Here's how to make Namoura at home!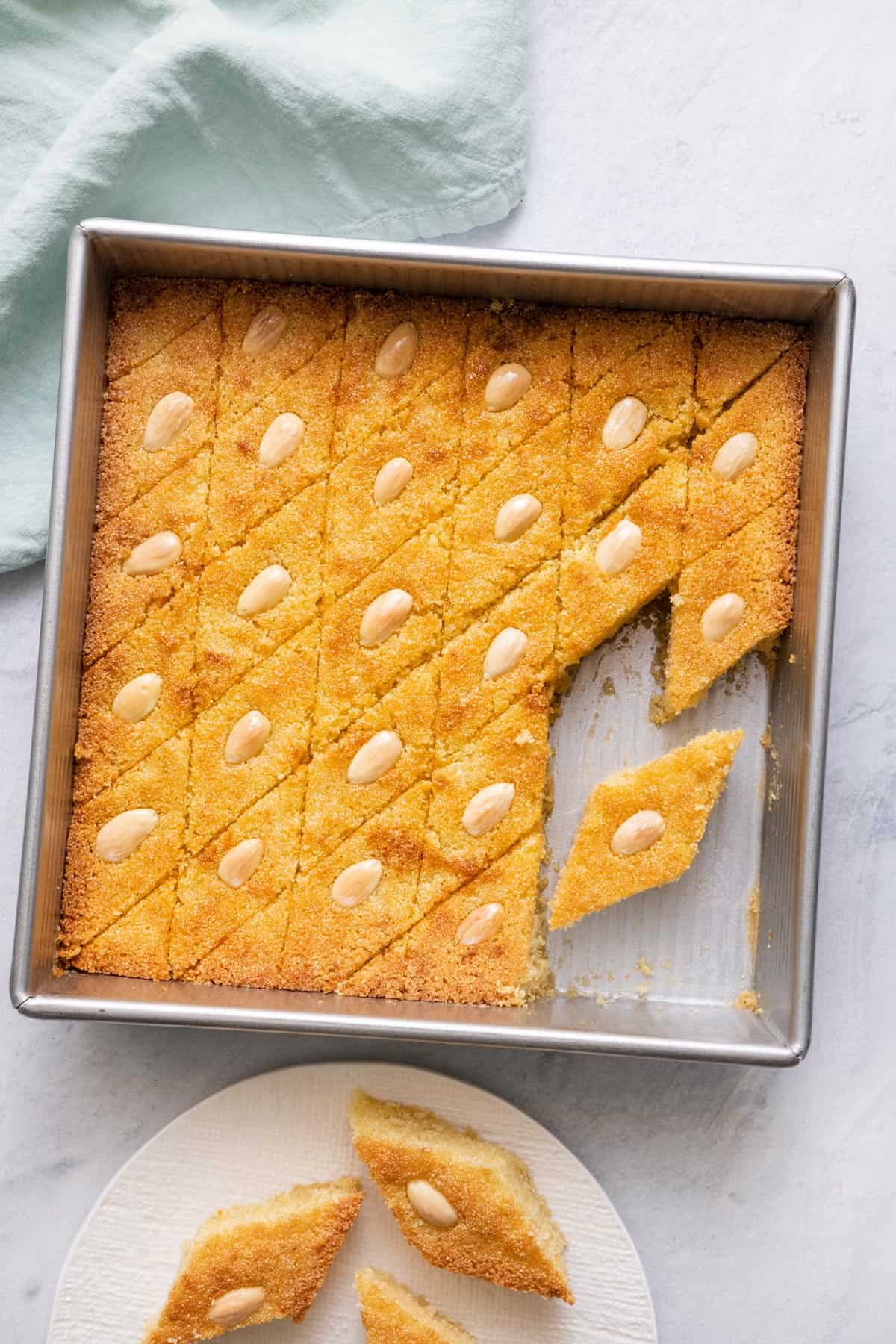 This semolina cake has a few different names depending on the Middle Eastern region it's from. In Lebanon, we call it Namoura, but it also goes by Basbousa or Basboosa (which often uses coconut flakes) in many parts of the Middle East. It's also referred to as Harissa or Shamali, and I'm certain a few other names as well!
Growing up, this was one of the most nostalgic desserts that my mom made, especially for holidays, gatherings, and special dinners. This recipe is passed down from her and my aunt. You'll often see it included in a dessert spread during the month of Ramadan.
why you'll love this semolina cake
Simple to make, big on flavor. Buttery, soft, and spongy with a slight crunch from the toasted almonds on top. The homemade simple syrup gives it a lovely sweetness that's not overpowering.
The texture is moist, but dense at the same time. Similar to a pound cake or even cornbread. It's drenched in a sugar syrup that soaks through every nook and cranny of the cake. The result is an incredibly moist and fragrant cake that's irresistible!
Crowd Pleaser. This cake is always a hit with family and friends. It's perfect for Eid celebrations, parties, or any occasion where you want to impress your guests with a delicious and unique dessert.
what is semolina
Semolina is a coarse, purified wheat middlings of durum wheat. It's used in pasta, couscous, pastries, and also as a thickener for soups and sauces. For this cake recipe, you'll want to use coarse semolina flour which is more like a powder.
Ingredients to make Namoura
Semolina Flour: This is the key ingredient in Namoura and what gives it its signature texture. You can find semolina flour at most Middle Eastern markets. If you can't find it at your local grocery store, you can order it Amazon.
Ghee: Feel free to use clarified butter or just melted butter. The only problem with using melted butter is that it contains extra water, which may settle on top of the cake mixture. Still, it's completely fine to use in a pinch.
Tahini: The tahini is just used to coat the bottom of the pan. It's not only a good fat that prohibits the cake from sticking to the pan, but it allows adds a nutting flavor. Feel free to skip it and use ghee instead.
Blanched almonds: I always like to use blanched almonds because they provide a nice crunch, and they don't have almond skins. You can find them at most grocery stores in the baking aisle, or online.
Sugar: You'll need granulated sugar for both the simple syrup and the cake batter.
Milk: I always use whole milk because it makes for a richer cake, but you can certainly use low-fat milk if that's what you have on hand.
Lemon juice: The lemon juice is just used to add a touch of acidity to the simple syrup. It helps balance
Orange blossom water: This is a common ingredient used in Middle Eastern desserts. It's what gives the cake its lovely floral aroma. You can find it at most Middle Eastern markets or online.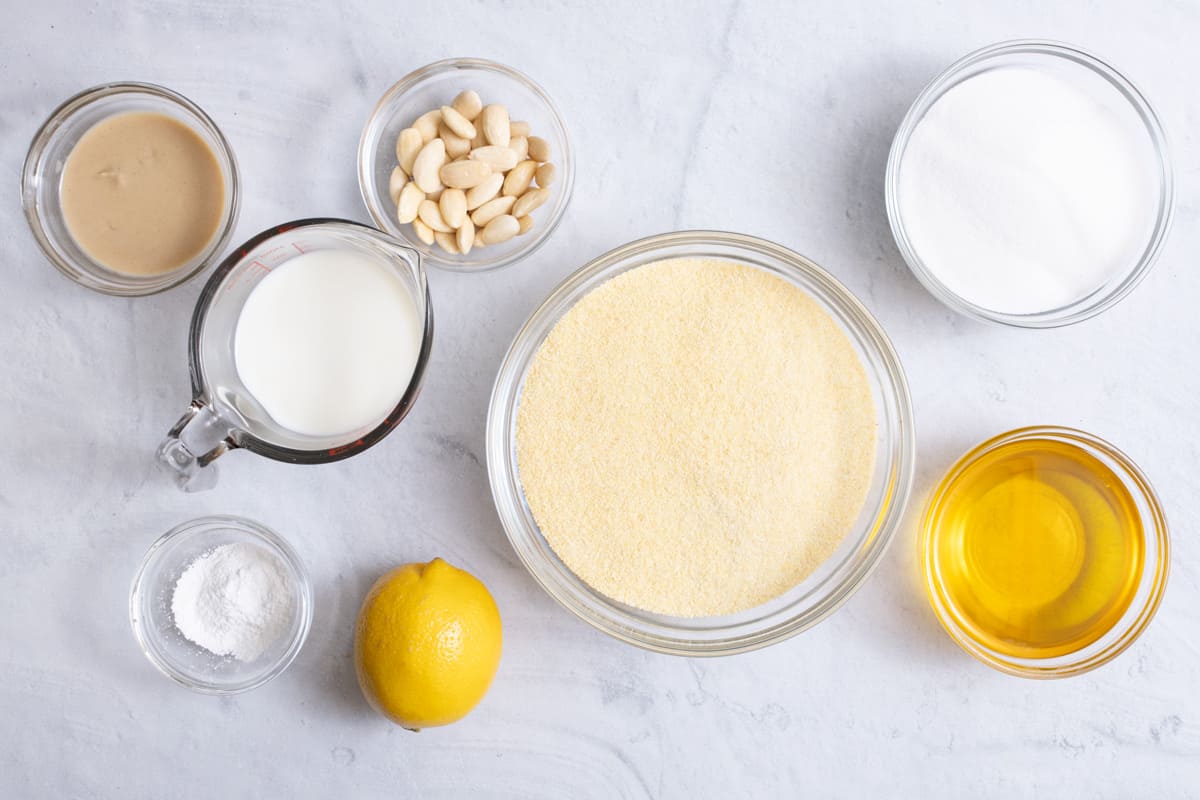 How to make Semolina Cake
Don't be intimated by the number of steps. This cake is actually quite simple to make! I just like to break down the process so it's easy to follow.
Prepare the namoura batter
In a bowl, mix together the semolina, sugar, and ghee or butter until well combined
Add the milk and baking powder and continue mixing until the batter comes together.
Allow mixture to rest covered and you'll notice it will thicken.

Add to Baking Dish & bake
Brush the tahini on the bottom of a baking dish.

Transfer the batter to the prepared baking pan. Wet your palms with water and spread the mixture evenly with your hands.

Cut the semolina cake into diamonds. Place an almond into each diamond.
Bake until golden brown.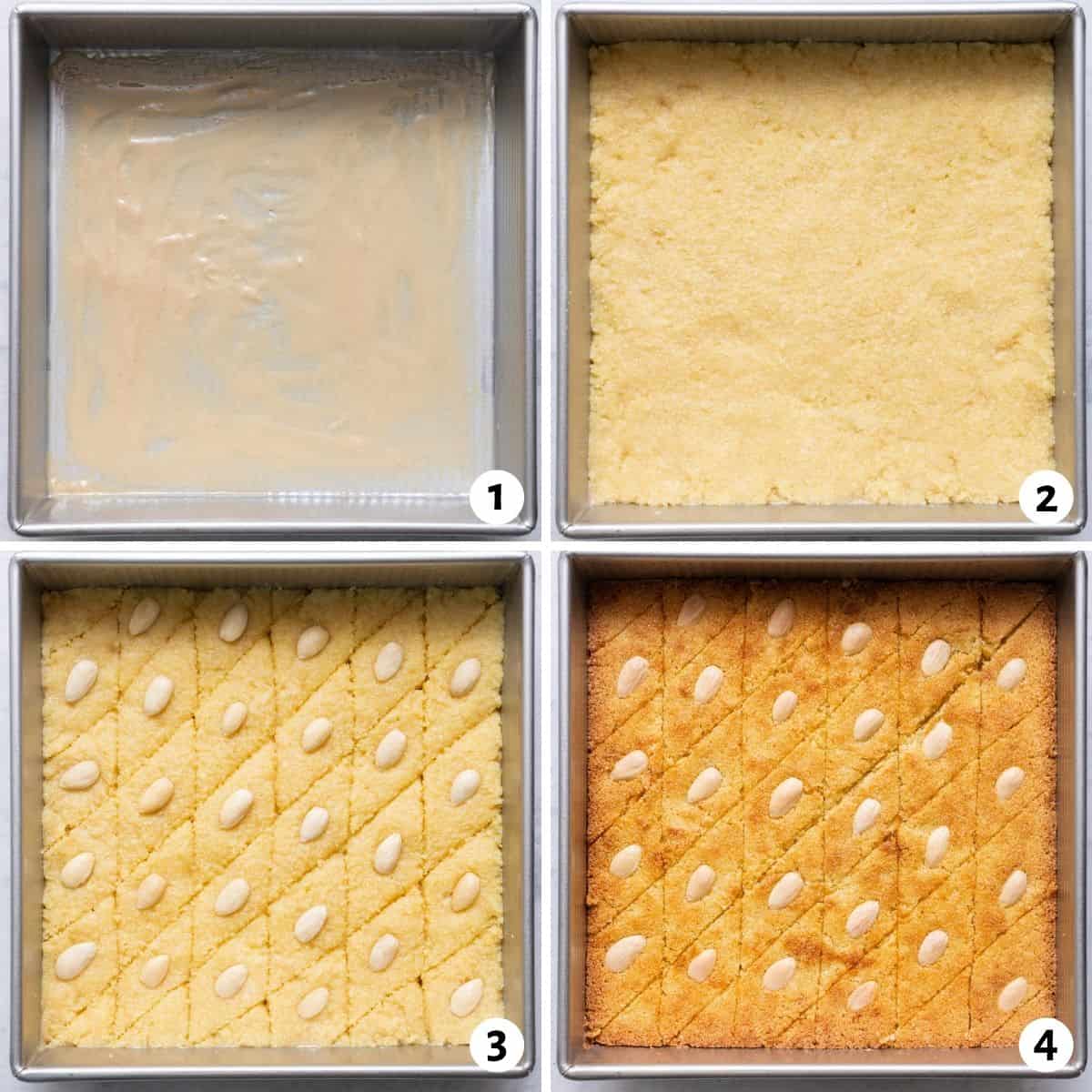 Add Syrup After Baking
Immediately after baking Namoura, make sure to add cool simple syrup all over. While the cake is hot, it will absorb all the sugary syrup instantly to help enhance the flavor like a sponge. If you let it cool down first, the syrup will just sit on top of the cake.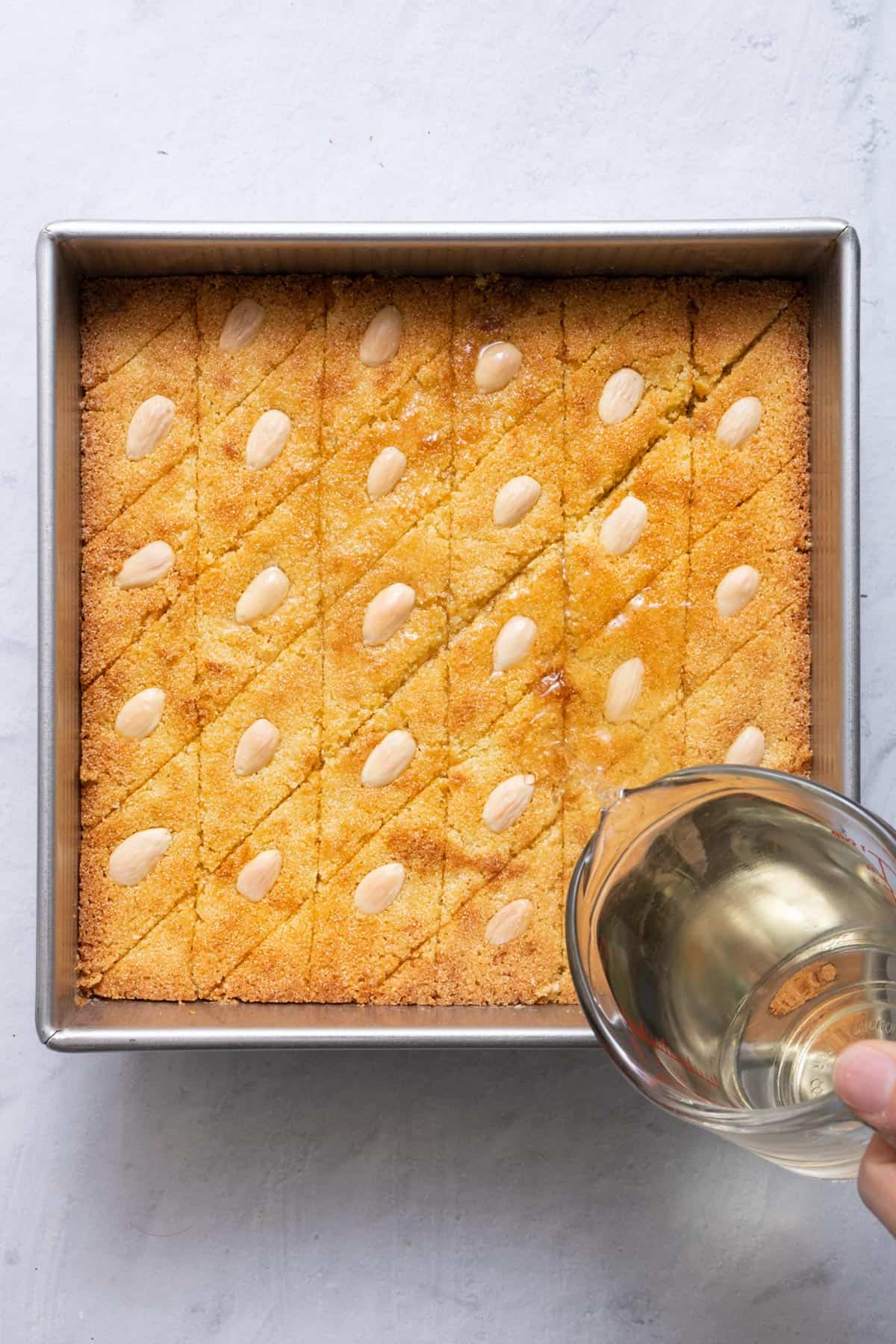 Tips for making Namoura At Home
Use coarse semolina. You'll find that there are different types of semolina: fine and course. The texture of the semolina matters because the fine one will create a more smooth, compact cake, while the coarse one is more iconic of the crumbly airy texture of namoura.
Don't skip the resting part. This time allows the semolina to absorb the liquid in the batter and soften. You'll notice that after resting, the batter will thicken.
Use your hands to smooth out the batter before baking. This is not the type of cake that will settle into a perfect shape in the oven. So it's important to spread the mixture evenly, and it's easier to do it with damp hands. You can use water or even a little rose water on your palms.
Cut the namoura before baking. Similar to cutting baklava before baking, this technique allows the simple syrup that you'll pour on top of the cake immediately after baking to get fully absorbed into every bite of cake. You may need to re-cut the slices again though, after baking.
Use the almonds as an indication of doneness. This is a little trick my mom taught me to know exactly when the namoura is ready. When the almond becomes golden brown, it's time to remove it from the oven.
popular substitutions & additions
Add coconut flakes. This is a very popular method of making namoura or basbousa (as we call it when coconut is added) that adds sweetness, more texture, and a little crunch.
Switch out the almonds with pistachios. You can make this namoura recipe with pistachios instead of almonds if you'd like.
Replace the milk with yogurt. You can also use yogurt instead of milk to make this cake. It will add a little bit of tanginess and make the cake moister. Instead of ¾ cup of milk, use 1 cup of yogurt.
Use rose water instead of orange blossom. If you have rose water on hand, you can use it in place of orange blossom water.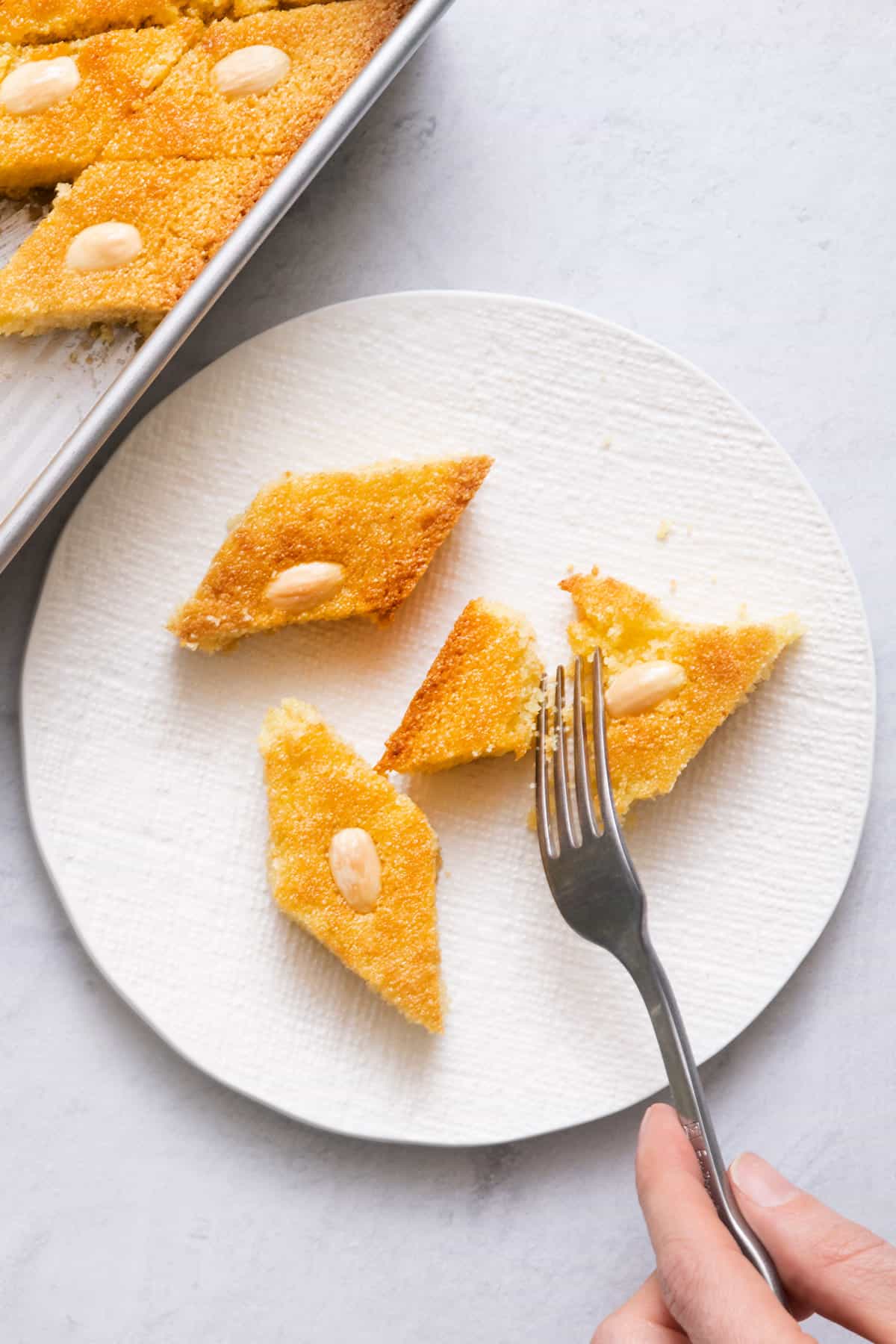 how to store Namoura
Namoura will last for about three days when stored in an airtight container at room temperature. If you want it to last even longer, you can store it in the fridge.
how long will semolina cake last in the fridge?
Semolina cake will last for about five days when stored in an airtight container in the fridge.
can i freeze semolina cake?
Yes! You can freeze semolina cake for up to three months. Be sure to wrap it tightly in plastic wrap or aluminum foil before freezing.
When you're ready to eat it, thaw the cake overnight in the fridge, and then bring it to room temperature before serving.
Frequently asked questions
Can I use a different flour other than semolina to make Namoura?
No. Why? Because then it will no longer be namoura. Namoura is made with semolina flour, and that's what gives it its signature texture and flavor. You can use all of the ingredients with a different flour if you choose to, but it will not be namoura.
How do I know if the namoura is done baking?
The best way to tell if namoura is done baking is by its color and the edges of pan. You'll notice a golden brown color all over the namoura and golden brown almonds which is an indication of doneness. Also, if the edges of the cake begin to pull away from the sides of the pan, then it's probably done.
Is namoura gluten-free?
No, because it is made with semolina flour, which is a type of wheat flour, this recipe is not gluten-free.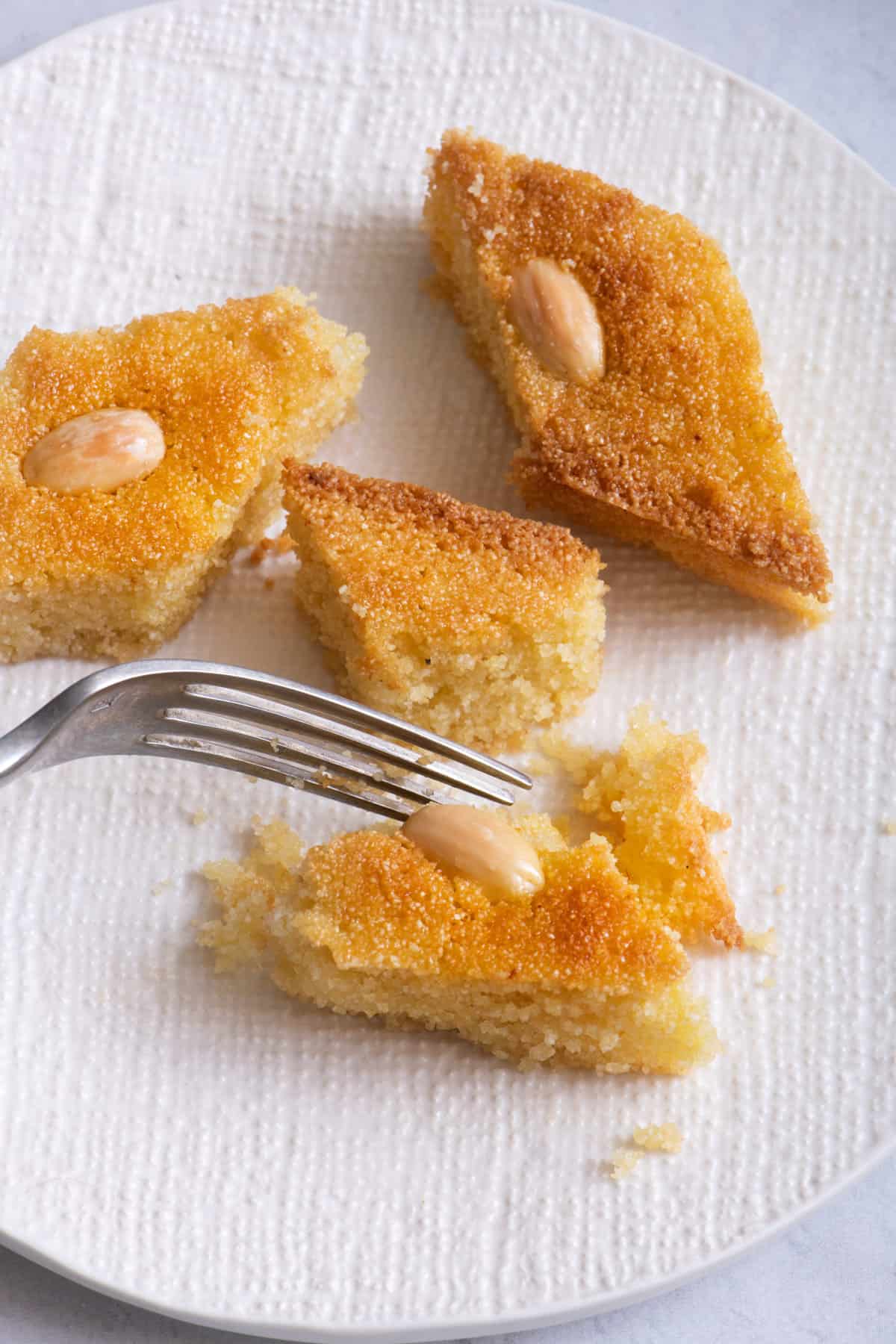 There you have it, friends! Now you know how to make namoura or basbousa, a delicious Lebanese semolina cake. This recipe has been passed down to me from my mom and I love making it when I miss home. I hope you try making this recipe for your friends and family.
More lebanese desserts:
If you try this feel good Namoura recipe or any other recipe on Feel Good Foodie, then don't forget to rate the recipe and leave a comment below! It helps others who are thinking of making the recipe. We would love to hear about your experience making it. And if you snapped some shots, share it on Instagram so we can repost on Stories!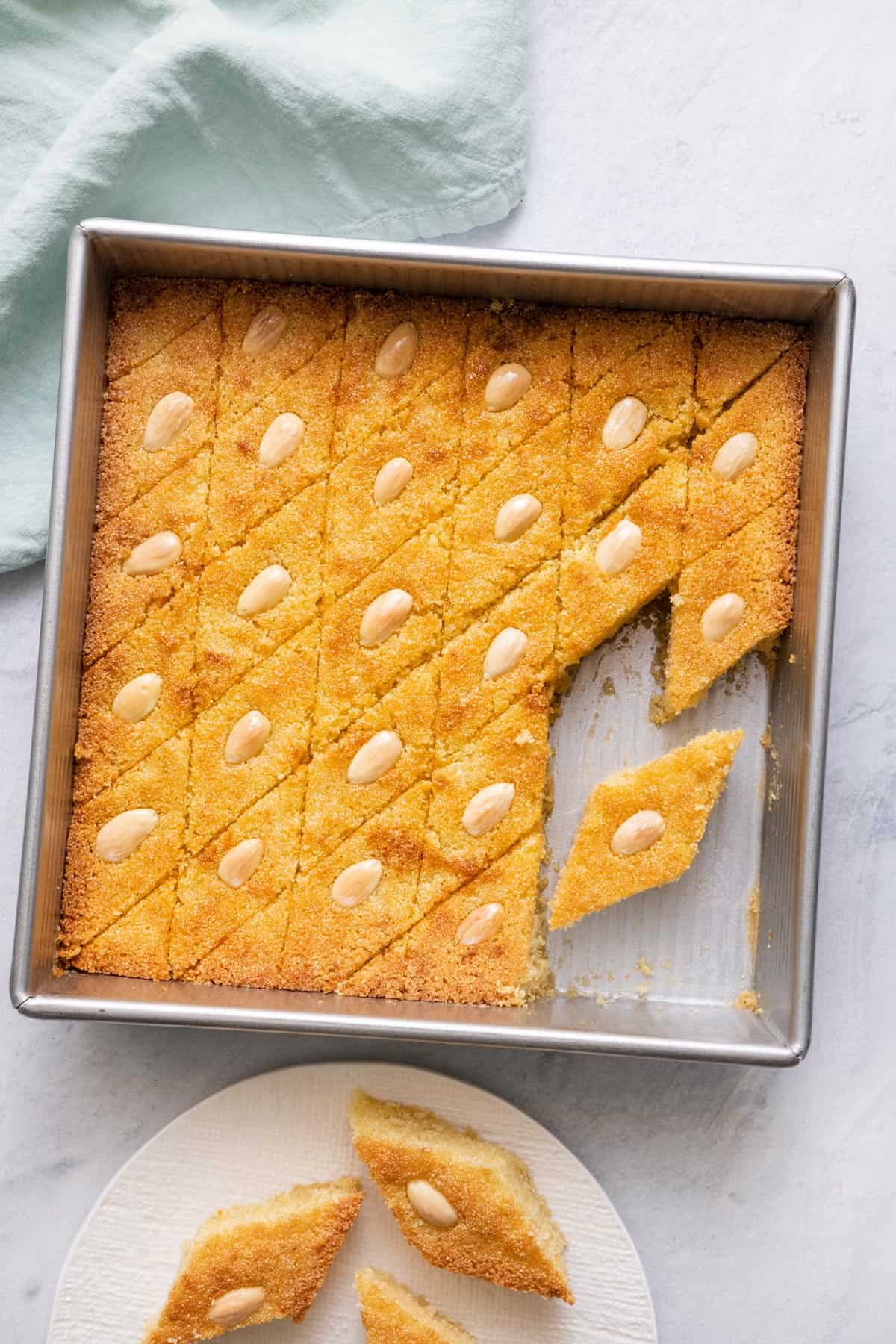 Namoura
Whether you call it Namoura, Basbousa, or just Semolina cake this recipe will delight. Made with semolina flour, almonds, and topped with a simple syrup.
Instructions
In the bowl of a stand mixer, mix together the semolina, sugar and ghee until well combined, about 1 minute. Add the milk and baking powder and continue mixing until batter comes together, 1-2 more minutes.

Allow mixture to rest covered for 45 minutes to soften the semolina.

Meanwhile, make the simple syrup. Combine sugar and water in a small saucepan over medium-high heat. Bring to a boil, then lower heat to medium and cook, stirring occasionally, until the sugar has dissolved, about 1-2 minutes. Stir in the orange blossom water and lemon juice. Pour syrup into a heat proof container and allow to cool.

Preheat the oven to 350°F. Brush the tahini on the bottom of a 9×9 baking dish. Transfer the batter to the prepared baking pan. Wet your palms with water and spread the mixture evenly with your hands.

Cut the semolina cake into diamonds by making 5 cuts lengthwise and 8 cuts crosswise on the diagonal. Place an almond into each diamond. Bake until golden brown, about 40 minutes.

Pour the cold simple syrup on top of the hot semolina cake as soon as you remove it from the oven. Allow the cake to cool for at least one hour before serving.
Notes
Storage: This semolina cake will keep at room temperature for up to three days and in the refrigerator for up to five. 
Nutrition
Calories:
260
kcal
,
Carbohydrates:
46
g
,
Protein:
4
g
,
Fat:
7
g
,
Saturated Fat:
3
g
,
Polyunsaturated Fat:
1
g
,
Monounsaturated Fat:
2
g
,
Trans Fat:
1
g
,
Cholesterol:
14
mg
,
Sodium:
7
mg
,
Potassium:
122
mg
,
Fiber:
1
g
,
Sugar:
28
g
,
Vitamin A:
11
IU
,
Vitamin C:
1
mg
,
Calcium:
42
mg
,
Iron:
1
mg
Nutrition information provided is an estimate. It will vary based on cooking method and specific ingredients used.