This post may contain affiliate links. Please read our disclosure policy.
This kid-friendly yogurt snacks post is sponsored by Stonyfield, although the content represents my own personal opinion and experience using the product.
Yogurt makes for such a healthy and delicious snack for kids of all ages. Enjoy it for breakfast, snacks or even dessert for a creamy and delicious treat. Rich in nutrients and easy to digest, these kid-friendly yogurt snacks are simple and easy to make and your little ones will love them!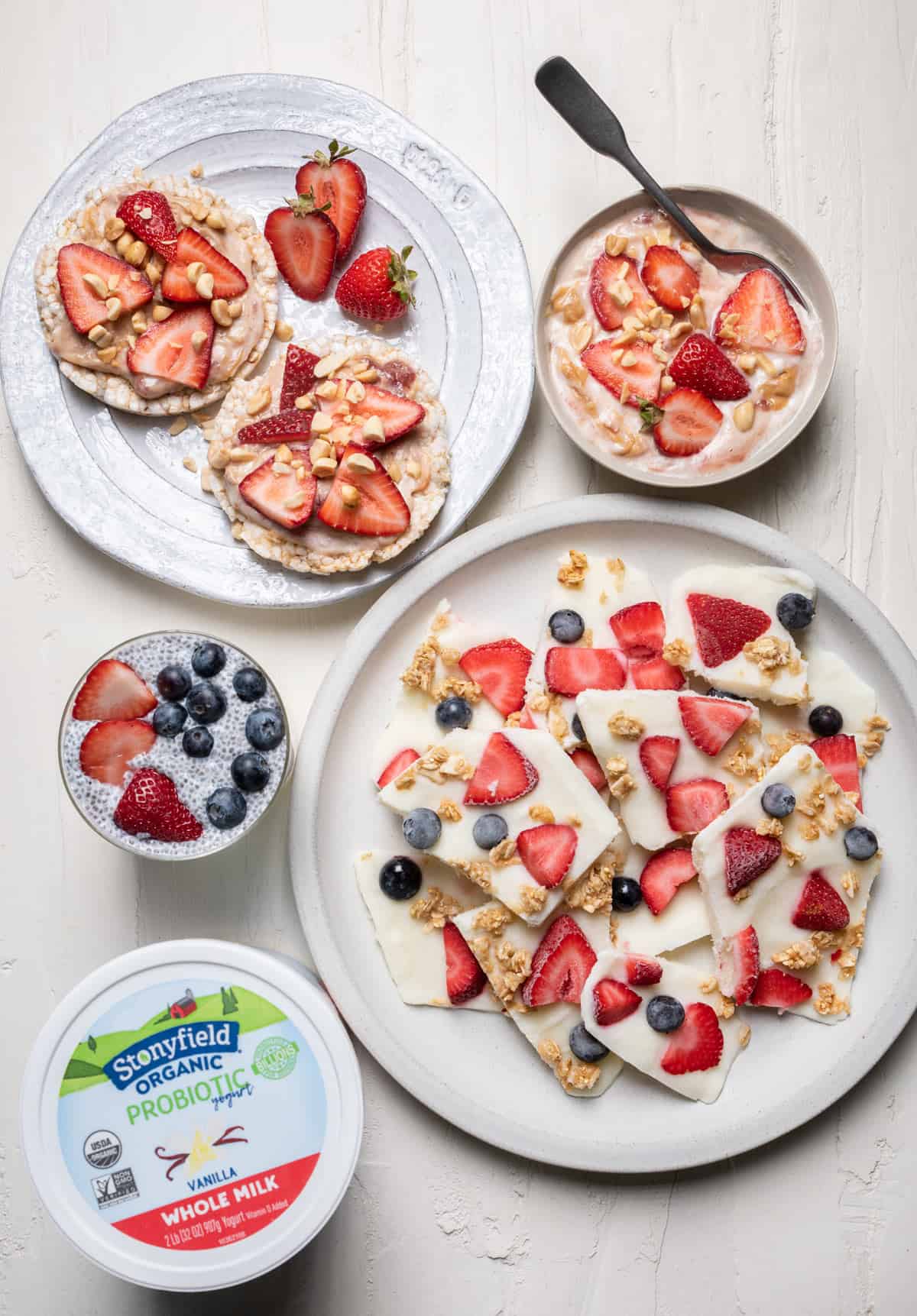 We use Stonyfield Organic Yogurt to make all of these snacks because my kids love its taste and texture and I love that it's organic with probiotics. Many kid-friendly snacks pair well with their vanilla whole milk yogurt, which is sweetened with organic cane sugar and actually contains live active probiotic cultures!
If you're looking for new snack ideas for kids, try one of the recipes below that are mostly sweet, but we tossed in a savory one, too! They're all visually fun for kids and promote lots of color and nutrition in snacking!
yogurt snack recipes to try
Tips for making snacks with yogurt
Use an organic yogurt that contains probiotics and whole milk. Full fat yogurts help to keep you feeling full and are rich in calcium and nutrients. It's especially important for kids to get those nutrients in between meals.
Change up the flavors. Vanilla or plain yogurt will work great with all of these kid-friendly snacks. For variety, try adding warm spices like cinnamon, jams, honey, maple syrup or even herbs like chives for more savory snacks.
Use for baby-led weaning. Yogurt is great for babies and children older than 6 months. Its creamy and smooth texture makes it easy for little mouths and it's loaded with calcium and protein.
Mix up the toppings and textures. It's so easy to make tasty kid-friendly snacks with yogurt. Add different ingredients like fresh berries, granola, nuts and seeds. This adds dimension to the yogurt as a snack and makes it feel like something new each time!
video tutorial
other yogurt snack ideas
Freezer yogurt that comes in a tube. You can freeze a whole batch or freeze one at a time one hour before enjoying. It's a cool treat for the summer.
Add yogurt to smoothies. For an extra creamy smoothie recipe, try adding plain or vanilla yogurt to the mix. It adds a rich source of protein, creates a smooth texture and is perfect if you're running low on milk.
Swap milk in the morning for yogurt. Instead of enjoying cereal with milk, try serving it with vanilla yogurt. It has more protein per cup as compared to milk and it makes it fun to switch it up.
Use a drip bottle to create yogurt dots. These can be tedious to make, but are a fun activity for the kids and they're super fun to eat afterwards.
Yogurt is such a great kid-friendly snack and these delicious recipes are so easy to make. Your little ones will love the creamy texture and you'll love that they are getting the goodness that they need.
MORE kid friendly resources:
If you try any of these healthy-ish feel good Kid-Friendly Yogurt Snacks recipes or any other recipe on Feel Good Foodie, then don't forget to rate the recipe and leave a comment below! It helps others who are thinking of making the recipe. We would love to hear about your experience making it. And if you snapped some shots, share it on Instagram so we can repost on Stories!