This post may contain affiliate links. Please read our disclosure policy.
Make a loaf of delicately sweet yogurt banana bread! Made with ripe bananas, creamy Greek yogurt, and just the right amount of sweetness, this recipe is moist, packed with protein, and plenty of good-for-you ingredients. Plus, there are plenty of options for add-ins like nuts, fruits, and chocolate to make this your very own. This yogurt banana bread recipe is a crowd-pleaser that's sure to become a favorite in your household. It's the perfect breakfast or healthy snack!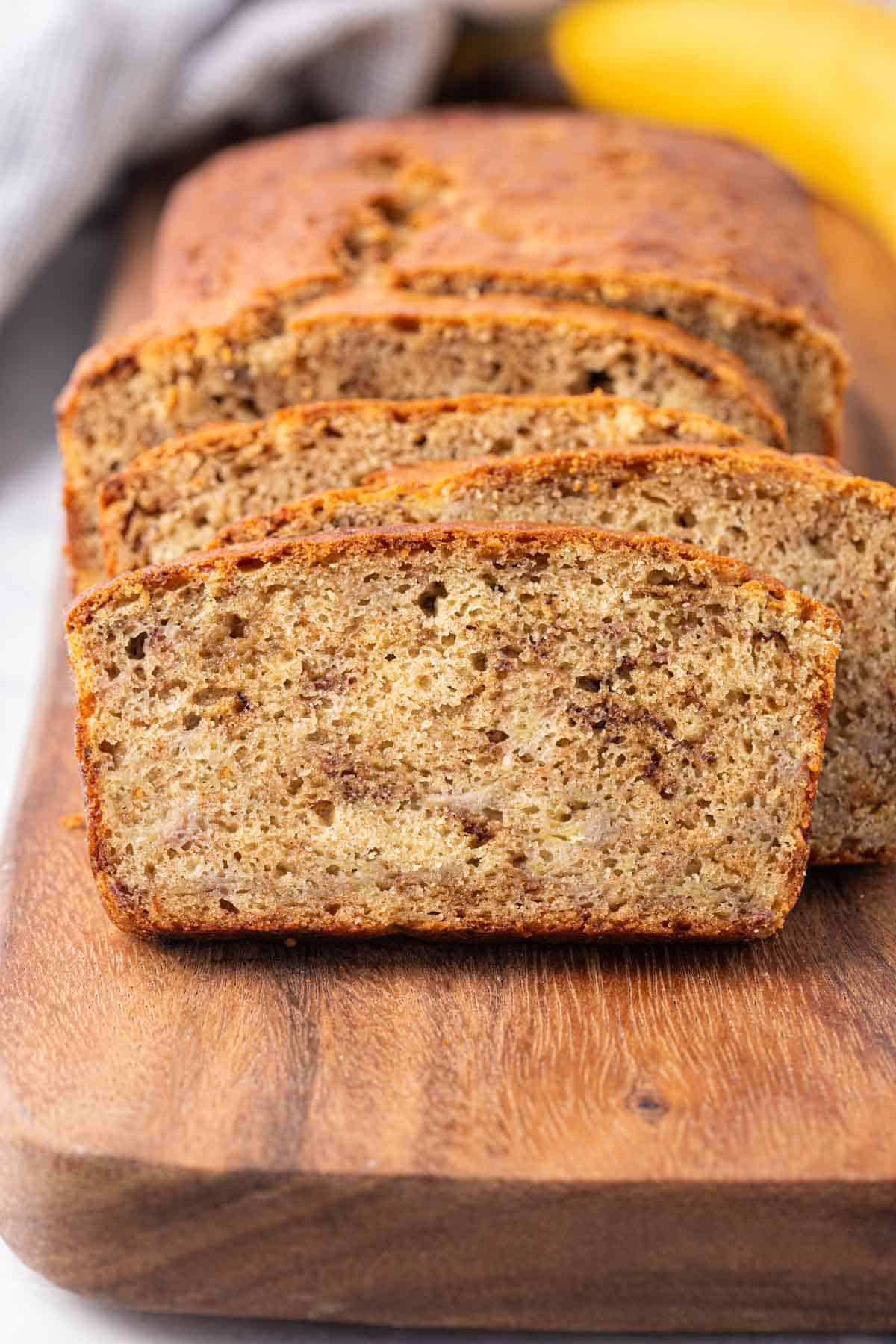 Table of Contents
Is there anything cozier than a warm slice of banana bread? It's delicious served with coffee, tea, or as an on-the-go snack. But, sometimes, it's hard to get the moisture level just right. By adding Greek yogurt to this traditional recipe, you get tender, moist slices of banana bread and the added benefits of extra protein in every slice.
Why you'll love this banana bread with yogurt recipe
Moist and Delicious: This yogurt banana bread is incredibly moist, thanks to the addition of creamy Greek yogurt. You won't have to worry about dry or crumbly slices with this recipe; each piece will be tender and full of rich banana flavor.
Healthier Alternative To Traditional Banana Bread: By using Greek yogurt and ripe bananas, this recipe offers a healthier version of traditional banana bread. The yogurt adds protein and reduces the need for extra fats and sugars, making it a more nutritious choice for breakfast or snacking.
Easy-to-Make: You don't need to be a professional baker to make this yogurt banana bread. With simple ingredients and straightforward instructions, you'll have a delicious, homemade loaf in no time.
Freezer and Meal-Prep Friendly: This recipe is perfect for meal prep and busy mornings. The banana bread freezes well, so you can make a batch, slice it up, and freeze individual portions for a quick, grab-and-go breakfast or snack option.
Ingredients to make yogurt banana bread
Ripe bananas: Make sure your bananas are extra ripe! Bumps, bruises, and brown spots are all key indicators of the perfect banana for banana bread.
Light brown sugar: The hint of molasses from the light brown sugar adds another element of flavor with its unique sweet and slightly smoky notes.
Greek yogurt: Greek yogurt is known for its probiotic benefits, which aid digestion and boost the immune system. Adding yogurt to banana bread not only makes it moist and fluffy but also adds a tangy flavor.
Butter: Melted butter adds richness and depth of flavor to the banana bread. Cooling it slightly before incorporating it into the batter prevents the eggs from scrambling when mixed together.
Eggs: Help bind the ingredients together and provide structure to the bread. Using room-temperature eggs ensures even distribution and better incorporation into the batter.
Vanilla extract: Vanilla extract enhances the flavor of the banana bread, complementing the sweetness of the bananas and adding a subtle, warming aroma.
All-purpose flour: The base of the bread, it provides structure and texture to the loaf. It's the canvas on which all the other flavors come together.
Baking soda: Baking soda is a leavening agent that helps the bread rise, creating a light and airy texture. It also works with the acidity of the yogurt and bananas to create a tender crumb.
Cinnamon: Cinnamon adds a warm, spicy note to the banana bread, elevating its overall flavor profile and giving it a comforting aroma.
Salt: A touch of salt balances out the sweetness of the recipe and enhances the flavors of the other ingredients, making them more pronounced in the final loaf.
How to make yogurt banana bread
If you've made a traditional loaf of quick bread before, this process will be very familiar to you; if this is your first time making a quick bread recipe get ready to be surprised by how easy it truly is. In just a few steps, you'll have the most delicious slice of banana bread with yogurt in no time.
Make the Banana Bread batter
Peel and mash the bananas in a large bowl. Then, add the brown sugar and melted butter. Mash and stir until almost completely smooth.
Next, add Greek yogurt, eggs, and vanilla to the same bowl. Whisk until smooth.
Add in the binding agents: flour, baking soda, cinnamon, and salt, and fold into the banana mixture.
Continue mixing with a rubber spatula just until no streaks of flour remain. Be careful not to overmix!
bake the banana bread
Carefully pour the batter into a prepared loaf pan, and bake until a cake tester inserted in the center of the loaf comes out clean.
Let cool, then remove from the pan and place on a wire rack to cool completely before slicing and serving.
Tips for making the best yogurt banana bread
Mix and Measure Properly: When combining the wet and dry ingredients, mix just until they are incorporated. Also, accurately measure your ingredients, especially flour, using the spoon and level method to prevent a dry or dense loaf.
Use full-fat Greek yogurt. The more fat, the more moisture the banana bread will retain.
Use parchment paper for easy loaf removal. Line your loaf pan with parchment tucked in both length and widthwise before adding the batter. This will help the bread release easily and prevent sticking.
Popular substitutions & additions
Swap the flour: Replace all-purpose flour with whole wheat flour for a more nutritious and nuttier-flavored loaf. Or use gluten-free flour at a 1:1 ratio.
Make it vegan: Swap melted butter for coconut oil, and use a dairy-free yogurt such as almond or coconut. Replace eggs with flax or chia eggs. Mix 1 tablespoon of ground flaxseed or chia seeds with 3 tablespoons of water for each egg.
Use sour cream or regular yogurt. Sour cream and plain Greek yogurt have a similar texture and flavor and will produce the same flavorful result. Alternatively, you can use plain "regular" yogurt. I still recommend using a higher fat content yogurt for this, though.
Replace the sugar. You can use maple syrup, honey, or even monk fruit if you prefer not to use regular sugar.
Add Mix-Ins: Enhance your banana bread's flavor and texture by experimenting with various mix-ins, such as chopped walnuts, pecans, almonds, dark or milk chocolate chips, raisins, chopped dates, dried cranberries, nutmeg, cardamom, blueberries, or diced apples.
How to store & reheat yogurt banana bread
Keep the banana bread covered with foil or plastic wrap at room temperature for up to 3 days. After a few days, it's best to transfer it to the refrigerator or freezer.
How long will yogurt banana bread last in the fridge?
This recipe will last up to a week in the refrigerator.
Can I freeze healthy banana bread with greek yogurt?
Yes! Freezing is a great way to enjoy a slice of banana bread whenever the craving strikes! Freeze the whole loaf or slices for up to 3 months. Make sure your loaf is completely cooled before transferring it to the freeze. You'll want to wrap the loaf or slices in plastic wrap, and place them in a zip-top bag in the freezer. Thaw at room temperature when you are ready to eat.
Frequently asked questions
Why is my banana bread dense and not rising?
There could be several reasons, including overmixing the batter, using expired baking soda, or not measuring ingredients accurately. Make sure to mix the batter just until the ingredients are combined, use fresh baking soda, and measure your ingredients carefully.
Can a banana be too ripe for baking?
Bananas can get so ripe that they become too mushy or even start to smell a bit off, which means they're beginning to spoil. If they've gone too far, they can actually make the banana bread taste off. So, it's best to stick with bananas that have lots of brown spots but aren't super mushy or giving off any bad smells.

Why is the top of my banana bread getting too dark while the inside is still raw, and how can I fix this?
If the top of your banana bread is browning too quickly while the inside remains undercooked, it could be due to a few reasons. Your oven temperature might be too high, causing the outside to cook faster than the inside, or your oven may have hot spots, leading to uneven baking.

To fix this issue, you can try the following:

– Double-check your oven temperature with an oven thermometer to ensure it's accurate. Adjust the temperature if needed.
-If your oven has hot spots, try rotating the loaf pan halfway through baking to ensure even cooking.
-Tent the banana bread with aluminum foil once the top has reached the desired color. This will help prevent the top from browning further while the inside continues to cook.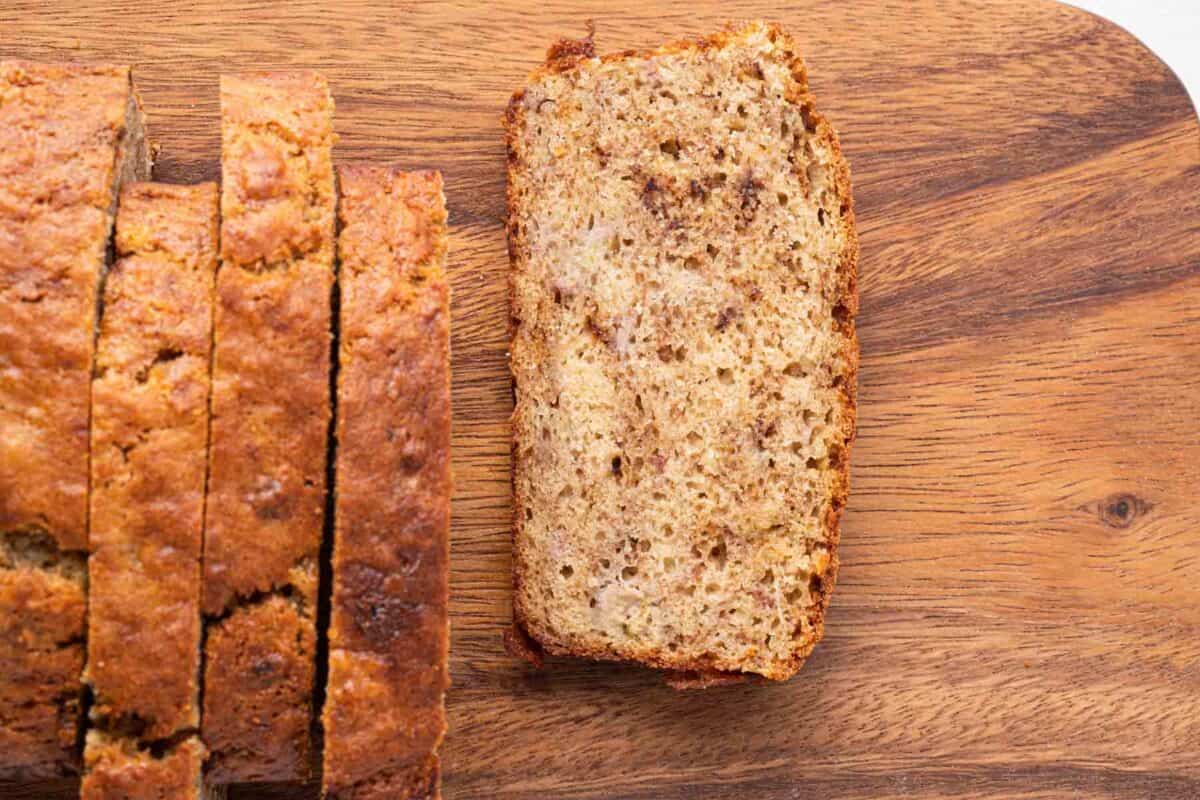 Yogurt banana bread is a delicious and nutritious treat that can be enjoyed as a breakfast, snack, or dessert option. This recipe is a great way to use up any overripe bananas you may have lying around. With its moist and flavorful texture, you can't go wrong with this bread!
More quick bread recipes:
If you try this feel good yogurt banana bread recipe or any other recipe on Feel Good Foodie, then don't forget to rate the recipe and leave a comment below! It helps others who are thinking of making the recipe. We would love to hear about your experience making it. And if you snapped some shots, share it on Instagram so we can repost on Stories!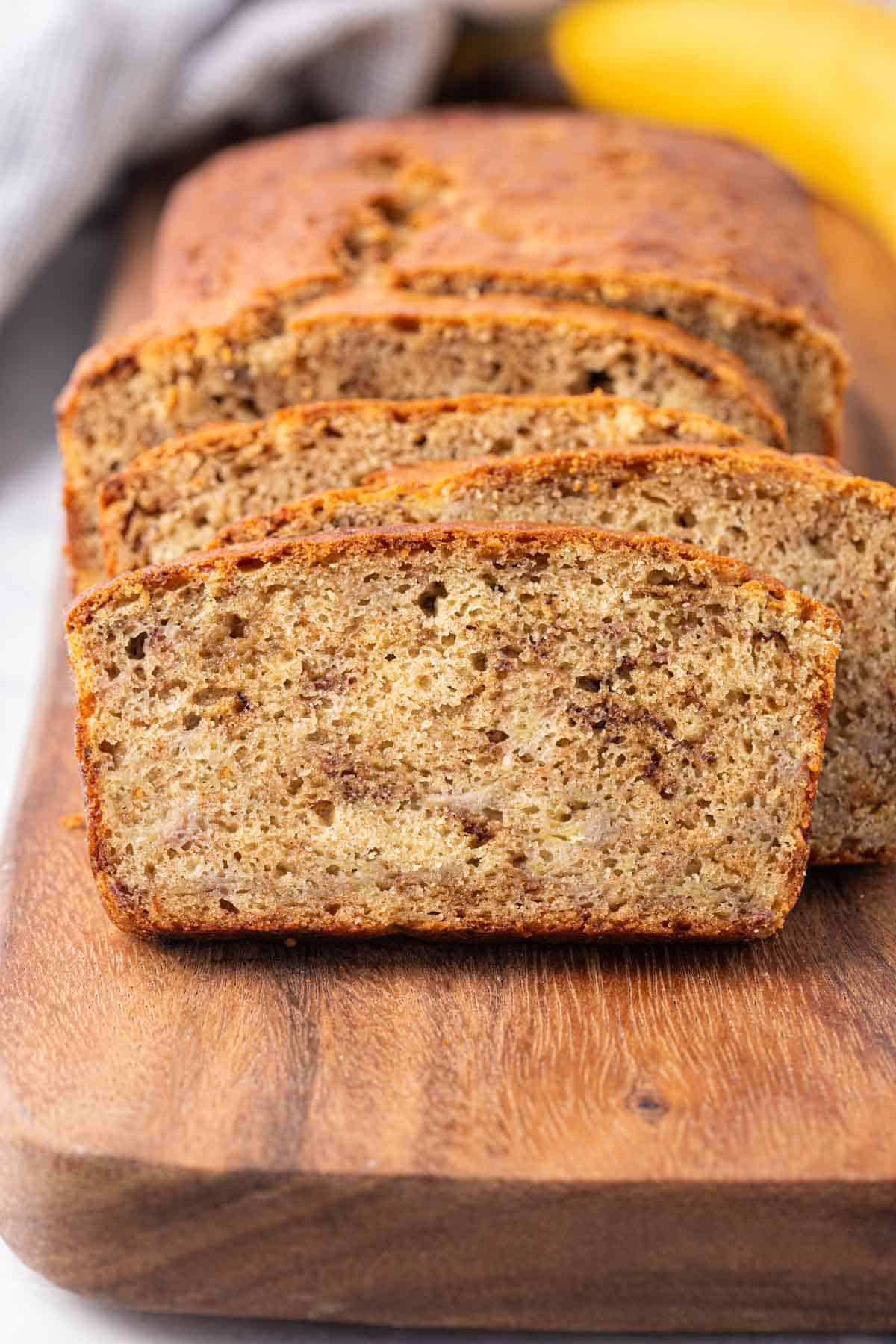 Yogurt Banana Bread
Made with ripe bananas, Greek yogurt, with the right amount of sweetness, yogurt banana bread is moist, flavorful, & packed with protein!
Instructions
Preheat the oven to 350˚F and line a 9 by 5-inch loaf pan with parchment paper, leaving excess on the two longer sides so you can easily remove the banana bread once baked. Spray with nonstick spray and set aside.

Mash the bananas in a large bowl, then add brown sugar and melted butter and continue to mash with the bananas until almost completely smooth.

Add Greek yogurt, eggs and vanilla and whisk until smooth. Add flour, baking soda, cinnamon and salt, and fold with a rubber spatula until no streaks of flour remain.

Scrape the batter into the prepared pan and bake for 55 to 60 minutes, or until a cake tester inserted in the center of the loaf comes out clean.

Let cool for at least 20 minutes, then remove from pan and cool completely on a wire rack before slicing and serving.
Nutrition
Calories:
345
kcal
,
Carbohydrates:
55
g
,
Protein:
6
g
,
Fat:
12
g
,
Saturated Fat:
7
g
,
Polyunsaturated Fat:
1
g
,
Monounsaturated Fat:
3
g
,
Trans Fat:
0.4
g
,
Cholesterol:
64
mg
,
Sodium:
293
mg
,
Potassium:
238
mg
,
Fiber:
2
g
,
Sugar:
29
g
,
Vitamin A:
395
IU
,
Vitamin C:
3
mg
,
Calcium:
50
mg
,
Iron:
2
mg
Nutrition information provided is an estimate. It will vary based on cooking method and specific ingredients used.