This post may contain affiliate links. Please read our disclosure policy.
What's better than waking up Christmas morning to all the presents? Waking up to all the presents and a delicious breakfast! From overnight French toast to warm cinnamon rolls and so much more, I'm sharing my top 28 Christmas Morning Breakfasts to start your day in the most merry way!
Table of Contents
With all the focus on the main Christmas meal, sometimes breakfast can be an afterthought. Below are 28 Easy Christmas Morning Breakfasts that are a breeze to whip up and taste delicious! No need to spend the entire day in the kitchen when you can drum up a batch of easy sheet pan eggs or scrumptious make-ahead options to have ready to go!
WHY YOU SHOULD COOK CHRISTMAS MORNING BREAKFASTS
Make lasting traditions. We all have that special meal that we woke up to as a child on Christmas morning that's seared in our minds, and if you don't – why not start this year? Let the aroma of delicious dishes wafting through the house become a cherished part of your holiday memories.
Add a personalized festive touch that's satisfying. Plan out your Christmas breakfast menu to suit your family's tastes and dietary preferences so everyone can get into the festive spirit with happy tummies.
Allows you to make healthier options. The fall and winter season is a time to enjoy lots of mouthwatering dishes, everything from a Thanksgiving dinner menu to a cookie exchange party. Making food at home gives you full control over the ingredients used and the quality of the dish. Balance out the indulgence of the holiday season with lots of fresh fruits, whole grains, and these recipes made with better-for-you ingredients.
Spread holiday joy. Christmas is a time to be together, and whipping up traditional Christmas breakfasts together extends beyond the act of cooking. It creates a shared experience that encourages connection and joy, making Christmas morning a heartwarming part of your holiday celebration.
TIPS FOR MAKING THE BEST CHRISTMAS MORNING BREAKFAST
Keep pancakes warm in the oven if cooking for a crowd. Place pancakes on a baking sheet, on a wire rack, at around 200F in the oven until you're ready to serve them. This temperature keeps the pancakes warm without continuing to cook them.
Freeze waffles for a quick and easy breakfast. Make a batch of waffles before the big day, allow them to cool, then place in a single layer on a parchment-lined baking sheet, and freeze for two hours. Then place the waffles in freezer-safe bags. Warm up in the oven or toaster when ready. Serve with sides of fruit and syrup.
Go for pre-chopped veggies and fruit. Buying pre-washed and pre-cut vegetables is one of the simplest ways to save time and frees up much-needed counter space! But if you have the time, you can cut broccoli, Brussels sprouts, and bell peppers and keep them in airtight containers in the fridge until ready to use.
Freeze your butter! There's nothing like waiting for your butter to come up to room temp, especially on Christmas morning. Just pop your butter in the freezer the night before and grate it into your dough mix, it's quick, easy, and more evenly distributed!
CHRISTMAS BREAKFAST BASICS
BEST CHRISTMAS MORNING BREAKFASTS
Bring magic to your Christmas day with these delicious breakfasts. Discover some of your favorite traditional Christmas breakfast ideas that capture the holiday spirit. Or simplify your day with easy Christmas morning breakfasts with minimal ingredients and little prep time. You'll also find simple make-ahead Christmas breakfast ideas and options to comfortably feed a crowd. No matter what your Christmas morning looks like – you can be sure we have you covered when it comes to tasty breakfasts.
TRADITIONAL CHRISTMAS BREAKFAST RECIPES
Copycat Starbucks Pumpkin Bread – Made with simple ingredients and seasoned with pumpkin pie spice, this popular fall and winter recipe will add irresistible sweetness to your Christmas breakfast menu. Treat your house guests to warm, comforting aroma of freshly baked goodness as they wake up to this holiday magic.
Broccoli and Cheese Quiche – A hearty quiche is always on the top of traditional Christmas breakfast recipes. This delicious number is made with eggs, cheddar cheese, seasonings, and broccoli florets and cooked to perfection in the oven.
Cranberry Lemon Muffins – It's not a holiday meal without cranberries taking center stage. These muffins highlight the festive flavors, combining the tartness of cranberries with the bright zest of lemons. These sweet treats offer seasonal goodness in every bite, making them a necessary part of your traditional Christmas breakfast menu.
Vegetable Frittata – If you have any veggies leftover from your big dinner, why not give them new life and whip up this tasty frittata? This is one of my favorite easy Christmas morning breakfasts because of the simple prep and flexibility in ingredients.
Chai Spiced Vegan Muffins – If you love warm spices like cloves, cinnamon, ginger, and cardamom – these muffins are a must-make. They're moist, rich, and flavorful. Made with almond milk, applesauce, aromatic spices, and lightly sweetened with maple syrup, they offer a delicious addition to your holiday breakfast.
Vegan Cinnamon Rolls – These sweet rolls are always a favorite make ahead Christmas breakfast idea and for good reason. They're easy to make, everyone loves them, and are an absolute must on Christmas day.
Hash Brown Egg Nests – When it comes to traditional Christmas breakfast recipes, a good plate of crispy hash browns and fried eggs is always welcomed. Now, put them together in a muffin pan to make a charming twist on the classic, offering a showstopping presentation and a delicious breakfast.
EASY CHRISTMAS MORNING BREAKFASTS
MAKE AHEAD CHRISTMAS BREAKFAST IDEAS
CHRISTMAS MORNING BREAKFASTS FOR A CROWD
FREQUENTLY ASKED QUESTIONS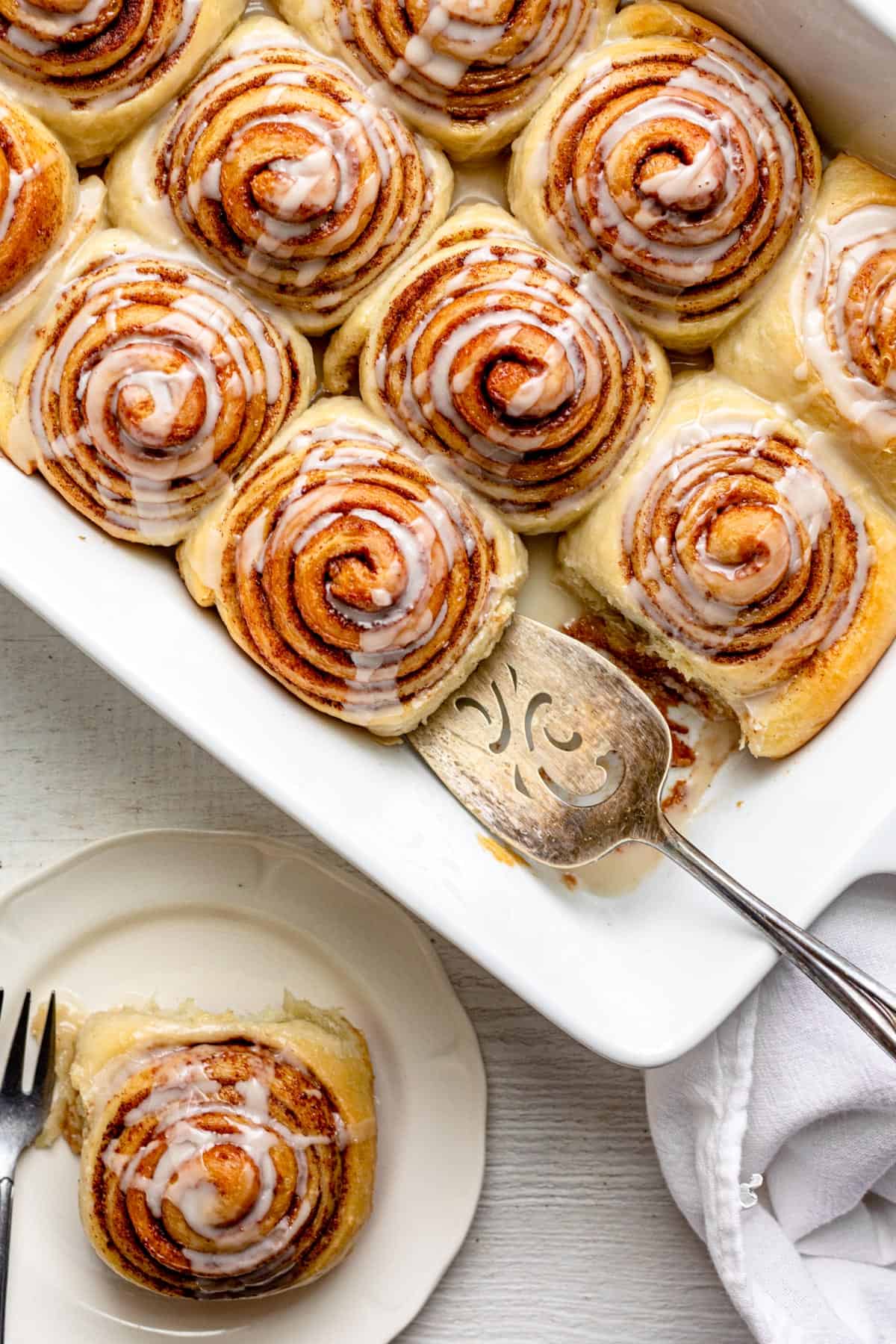 With this collection of 28 Christmas morning breakfasts, you are set for success to create a memorable and joy-filled holiday morning. Whether you're looking for easy meals to start the day with your immediate family or Christmas morning breakfasts for a crowd, you are sure to find something here.
FULL LIST OF RECIPES
Check out the picture cards for all the recipes listed above. You can click on any of the recipes cards to take you directly to those recipes.
For more similar roundup of recipes, be sure to check out: Healthy Christmas Appetizers, Christmas Cookies, Easy and Festive New Years Recipes, and Cozy Winter Recipes.
If you found this recipe roundup for Christmas Morning Recipes helpful or if you try any recipe on Feel Good Foodie, then don't forget to rate the recipes! It helps others who are thinking of trying out this tutorial and we would love to hear about your experience. And if you snapped some shots, share it on Instagram so we can repost on Stories!