This post may contain affiliate links. Please read our disclosure policy.
Christmas cookie exchanges are such a fun way to get friends and family together during the holiday period. It's a great way to get everyone in the festive spirit and enjoy some yummy cookies! Get my top tips to plan a cookie exchange along with a lot of tasty and easy cookie recipes for you all to enjoy!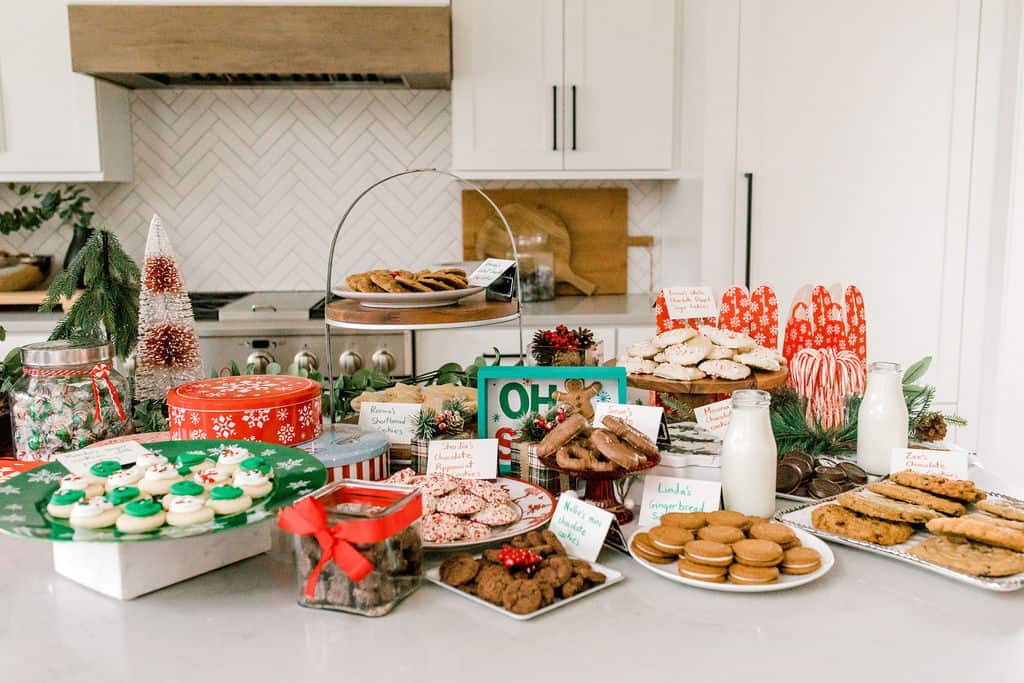 How To Plan A Cookie Exchange
Make your guest list and set a date
I always find that cookie exchanges work well with between 8 to 12 people. That way you get a great selection of cookies that everyone can try, and lots for everyone to take home to share with their families.
Invite people that you know love baking and will be happy to attend! I like to throw a cookie exchange in the week leading up to Christmas, and it will last for about 2 to 3 hours, as everyone is so busy during this time!
Cookie exchange rules
When you send out your invites (I like to do this via email), it's good to send the rules at the same time so that everyone has a clear idea of what to bring, and I like to give as much warning as possible. The rules I include on the invite are:
Cookie type: I like to assign each guest a type of cookie so that there are no double ups, you can also include brownies, bars, and scones if you like. I assign shortbread, iced, gingerbread, sugar cookies, chocolate, stuffed / sandwich, fruit, thumbprint, butter cookies and sometimes a mixture of these.
Amount of cookies: I like people to bring 36-48 cookies, that way there's plenty for your guests to take home. I don't think you can ever have too many cookies!
Recipes: All recipes must be homemade, not store bought. I like guests to send me their recipes a few days before the exchange so that I can print them out for others to take home.
Setting up a cookie display
I like to set up our large dining table with a runner and festive decor, and then a mixture of cake stands and plates. I add place cards for each cookie next to the recipe and make a note of any allergy or dietary information. As guests arrive they can place their cookies on display.
I like to set up a smaller area with small cardboard boxes and a variety of ribbons and tissue paper, so that guests can make their own boxes up.
What else to serve
Although everyone is here for the cookies, I do like to serve a small selection of savory snacks as well as drinks. Easy finger food appetizers like Vegetarian Stuffed Mushrooms, a Cheese Board and Crostini with Roasted Tomatoes are all perfect, and I love making a batch of Vegan Hot Chocolate to serve too.
Christmas Cookie Exchange Recipes
What's a cookie exchange without cookies?! Check out these yummy recipes for you and your guests to make!
Hope you enjoyed these tips for hosting a cookie exchange party and all the great cookie recipes. You can find even more easy cookie recipes on Feel Good Foodie to find something your family and friends enjoy!
If you find this guide for Throwing a Cookie Exchange Party useful, we'd love to hear from you! Please leave a comment below! It helps to create a dialogue with others who find this article. And if you snapped some shots of any of these tips and tricks, please share them on Instagram so we can repost on Stories!