This post may contain affiliate links. Please read our disclosure policy.
If you're looking for a fun, festive baking project that doubles as a sweet treat, look no further than these Gingerbread Cookies! Shaped into the form of everyone's favorite gingerbread man, these cookies are an absolute joy to make and even more enjoyable to eat! Infused with a blend of warming spices, ginger, cinnamon, nutmeg, and cloves, they provide all the beloved spice flavors of the holiday season. Not to mention the deep, rich sweetness of the molasses pairs perfectly with the dark brown sugar to give these gingerbread cookies their iconic, homely taste.
Table of Contents
This gingerbread cookie recipe includes an easy-to-make icing, allowing you to personalize each gingerbread man with a unique style. Whether you prefer simple and chic or vibrant and whimsical, you're in full control. This is the perfect opportunity to engage the little ones, turning cookie decorating into a fun family activity. And the best part? Seeing their eyes light up in anticipation when it's time to finally devour these adorable, delicious gingerbread men!
Why you'll love these gingerbread man cookies
Perfect for gifting. Looking for homemade gift ideas? These gingerbread cookies are just the thing. Your friends, family, and neighbors will undoubtedly appreciate a box of homemade gingerbread men.
Makes your home smell so good. As these cookies bake, your home will fill up with the most amazing smell of spices and all things nice. It's like the holiday season bottled up.
Keeps Well: These gingerbread cookies store really well. So, you can make a big batch and enjoy them bit by bit. The flavors even deepen over time, making every cookie taste even better!
Beginner Friendly: Sure, they look fancy, but these cookies are pretty straightforward to make. Even if you're new to baking or looking for something low-stress, this recipe is a good pick.
Bonding Time: Making these cookies is about more than the delicious result. It's about the fun of mixing the dough, the laughter when your gingerbread man's icing goes awry, the shared memories. It's the kind of experience that makes holidays even more special.
Ingredients to make Gingerbread Cookies
You really don't need very many ingredients to make gingerbread cookies at home from scratch. It's a lot simpler than many think, and I bet you have most of these ingredients in your pantry already if not all of them!
For the Gingerbread Cookies:
Unsalted Butter: The foundation of any good cookie recipe, butter gives these cookies a deliciously rich, buttery flavor. Make sure it's at room temperature before starting.
Dark Brown Sugar: This sweetens the cookies and lends a deep, caramel-like flavor thanks to the molasses in the sugar.
Egg: Essential for binding the ingredients together and providing structure to the cookies. Having it at room temperature helps it mix more evenly.
Vanilla Extract: This aromatic extract enhances the overall flavors of the cookie.
Molasses: A quintessential ingredient in gingerbread cookies, it imparts a signature rich, slightly bitter taste and a delightful color.
All Purpose Flour: The main dry ingredient that forms the body of these cookies. Keep some extra on hand for rolling out the dough.
Baking Powder, Baking Soda, Salt: These leavening agents ensure your cookies have a light, tender texture.
Spices – Ginger, Cinnamon, Nutmeg, Cloves: The soul of a gingerbread cookie, this blend of spices lends the cookies their warm, aromatic, and unmistakably festive taste!
For the Icing:
Confectioner's Sugar: It creates a sweet, hard-drying icing that's perfect for decorating cookies when mixed with milk.
Milk: When combined with confectioner's sugar, it makes a thick and smooth icing. The milk helps in achieving the right consistency.
How to make Gingerbread men cookies
The hardest part about making these gingerbread cookies is waiting for them to cool so you can decorate them!
Make the gingerbread cookie dough
Combine butter and dark brown sugar in the bowl of a stand mixer and cream.
Scrape down the sides of the bowl, then beat in the egg.
Add the vanilla and molasses and mix.
Add the flour mixture to the butter mixture.
Process until no streaks of flour remain.
Scrape the dough onto a sheet of plastic wrap. Wrap tightly and set in the fridge to chill.
Roll out the gingerbread cookie dough and bake
On a lightly floured surface, roll out the dough, adding more flour as needed as you work.
Use your preferred cookie cutters to cut out cookies.
Place the gingerbread men on the prepared sheet pan.
Bake until set around the edges but soft in the middle.
Decorate gingerbread cookies
Once the cookies have cooled, transfer the icing to a piping bag and decorate each cookie as desired.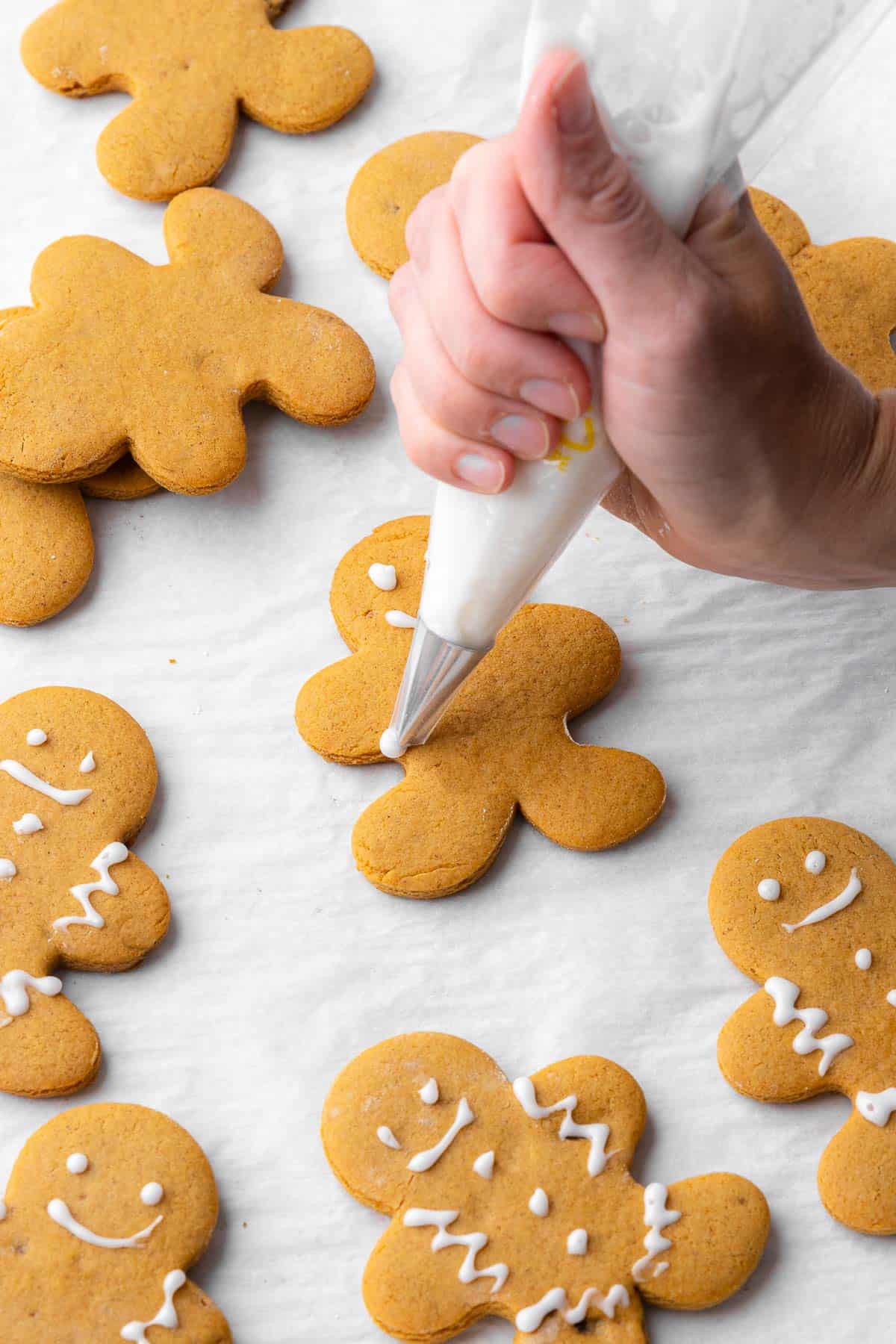 Tips for making the best Gingerbread Cookies
Watch Your Spices: Gingerbread cookies are all about the blend of spices. Too much, and they can become overpowering. Too little, and they'll lack that classic gingerbread taste. Follow the measurements carefully.
Don't add flour for rolling unless needed. This is a super easy dough to work with, it rolls out very well, and can hold up to intricate cookie cutter shapes. Depending on your kitchen environment and how warm or humid it is, you may not need flour to roll out the dough. I like to start without it on parchment paper and only add a little as needed to preserve the flavor and texture of the cookies.
Sift the powdered sugar into a small bowl before whisking with the milk. This creates an ultra smooth icing for piping onto the gingerbread cookies without any lumps.
Double the icing for more designs. The icing makes enough to use for very simple designs (eyes, buttons, mouth, etc). If you would like to add more detail, make a double batch of the icing.
Practice Your Piping: Decorating with icing can take some practice. Start by practicing your designs on a piece of parchment paper before moving on to the cookies themselves.
Popular substitutions & additions
Add-Ins: If you're anything like me and can't get enough ginger, consider adding finely chopped crystallized ginger to the dough. It lends an extra ginger kick and a wonderful bit of chewiness to each bite.
Egg Substitute: Not everyone can have eggs, and that's okay! You can replace the egg with a flaxseed or chia seed 'egg', or use a commercial egg replacer. You'll still get the binding you need without the egg.
Decorations: Icing is classic, but don't let that limit you! Feel free to go wild with mini candies, sprinkles, or colored sugar to give your gingerbread men personality. The kids especially will love it.
Icing Alternative: If royal icing isn't your thing and you're looking for something softer and creamier, consider using cream cheese frosting instead. Just remember, because of the dairy, you'll need to store these cookies in the refrigerator. Trust me, the slight chill on the frosting only makes them better.
How to Store Gingerbread Cookies
After allowing your gingerbread cookies to cool completely, store them in an airtight container. You can keep them at room temperature, and they will stay fresh for about a week. If you've decorated them with icing, be sure to give the icing enough time to harden before you store the cookies. That way, your beautiful decorations won't smudge or stick.
How Long Will Gingerbread Cookies Last in the Fridge?
While you can store gingerbread cookies in the fridge, they actually keep better at room temperature. The refrigerator can dry them out, making them harder than you might like. If you're using a perishable icing or filling that needs refrigeration, your cookies will last in the fridge for up to a week. Just remember to store them in an airtight container to prevent them from drying out.
Can I Freeze Gingerbread Cookies?
Absolutely! Freezing is a great option if you want to make these cookies in advance. You can freeze either the dough or the baked cookies. To freeze the dough, wrap it tightly in plastic wrap and then in aluminum foil or a freezer bag. You can keep it in the freezer for up to three months. When you're ready to bake, thaw the dough overnight in the refrigerator.
To freeze baked cookies, let them cool completely first. If you plan on decorating them, it's better to freeze them plain and add the icing after you've thawed them. Place the cooled cookies in a single layer on a baking sheet and freeze until solid. Then, transfer them to a freezer bag or airtight container, placing parchment paper between layers of cookies to prevent sticking. They'll keep well in the freezer for up to three months.
Why did my gingerbread cookies spread too much while baking?
This can happen if your dough wasn't chilled enough, so make sure it's nice and cold before you start cutting out your gingerbread men. Also, too much baking soda can cause cookies to spread, so make sure you're measuring accurately.
What can I use if I don't have a gingerbread man cookie cutter?
Feel free to use any cookie cutter shapes you have on hand! This recipe will work with any shape. You can also use a round drinking glass to make simple circle cookies.
My cookies turned out really hard, why is that?
Over-baking is the usual culprit. These cookies only need about 8 minutes in the oven, so keep a close eye on them. Remember, they'll continue to harden as they cool, so it's better to take them out when they're still soft in the middle.
These Gingerbread Cookies are a delightful addition to any holiday season or cookie baking extravaganza. The recipe delivers a perfect balance of rich molasses, warm spices, and a touch of sweetness. Whether you're an experienced baker or trying your hand at homemade cookies for the first time, these gingerbread cookies are sure to be a hit.
More christmas cookie recipes:
If you try this feel good Gingerbread Cookie recipe or any other recipe on Feel Good Foodie, then don't forget to rate the recipe and leave a comment below! It helps others who are thinking of making the recipe. We would love to hear about your experience making it. And if you snapped some shots, share it on Instagram so we can repost on Stories!
Gingerbread Cookies
Simple, Gingerbread Men Cookies! These gingerbread cookies are easy to make and fun to decorate with a simple 2-ingredient royal icing for decorating!
Ingredients
For the icing:
¾

cup

confectioner's sugar

1

tablespoon

milk
Instructions
Combine butter and dark brown sugar in the bowl of a stand mixer fitted with the paddle attachment. Cream at medium speed for 2 to 3 minutes, or until light and fluffy. Scrape down the sides of the bowl, then beat in the egg.

Add the vanilla and molasses and mix on medium speed for 2 minutes.

In a separate medium bowl, whisk together flour, baking powder, ginger, cinnamon, baking soda, salt, nutmeg and cloves.

Add the flour mixture to the butter mixture and process at low speed just until no streaks of flour remain.

Scrape the dough onto a sheet of plastic wrap. Wrap tightly and form into an even rectangle. Set in the fridge to chill for 1 to 2 hours (or up to overnight, if chilling for 24 hours, let sit at room temperature for 1 to 2 hours before rolling).

Preheat the oven to 350˚F and line two rimmed sheet pans with parchment paper.

Set a piece of parchment on a large work surface, then lightly flour the paper and rolling pin. Cut the dough in half (keep the remaining dough wrapped) and roll into a ¼ inch thick even rectangle, adding more flour as needed as you work. Use your preferred cookie cutters to cut out cookies, then place on prepared sheet pan. Reroll the scraps of dough, and repeat process, adding more flour as needed, until all of the dough has been cut out.

Bake for 8 minutes, or until set around the edges but soft in the middle. Let cool on sheet pans for 1 minute, then transfer to cooling racks to cool completely.

While the cookies cool, make the icing. Whisk powdered sugar and milk and whisk until smooth and quite thick. You want the consistency to be stiff enough to pipe into even lines.

Once the cookies have cooled, transfer the icing to a piping bag and decorate each cookie as desired.
Nutrition
Calories:
124
kcal
,
Carbohydrates:
25
g
,
Protein:
2
g
,
Fat:
4
g
,
Saturated Fat:
2
g
,
Polyunsaturated Fat:
0.2
g
,
Monounsaturated Fat:
1
g
,
Trans Fat:
0.1
g
,
Cholesterol:
16
mg
,
Sodium:
67
mg
,
Potassium:
78
mg
,
Fiber:
0.4
g
,
Sugar:
11
g
,
Vitamin A:
119
IU
,
Vitamin C:
0.01
mg
,
Calcium:
28
mg
,
Iron:
1
mg
Nutrition information provided is an estimate. It will vary based on cooking method and specific ingredients used.