This post may contain affiliate links. Please read our disclosure policy.
Oatmeal cookies are one of those classic comfort-food cookies that feel like a warm hug on a cold day, or honestly, any day. It's the cookie recipe that brings us back to simpler times, reminding us of the joy of baking in grandma's kitchen. This homemade oatmeal cookie recipe hits all the right notes – they're chewy, slightly sweet, and filled with that wonderful oatmeal texture that we all love. Plus, the hint of cinnamon gives them a comforting warmth that pairs perfectly with a glass of cold milk or a hot cup of tea.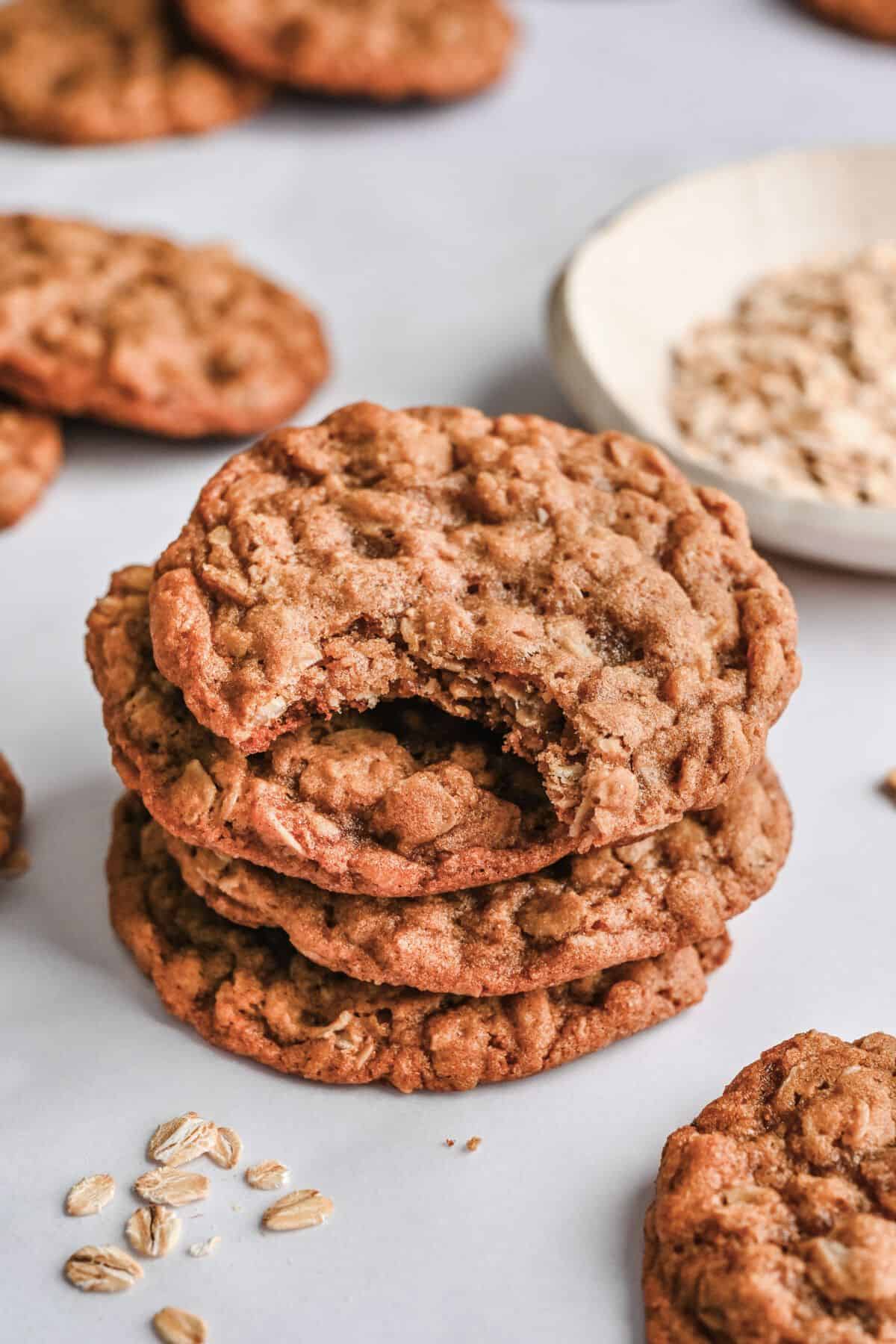 Table of Contents
In this guide, I'll show you how to make the best classic oatmeal cookies from scratch. You know, by now, I'm obsessed with oatmeal and even started my own oats company because of how versatile oats are in all kinds of recipes. I especially love adding them to cookies to give them more nutrition and texture.

The easy oatmeal cookie recipe is simple and straightforward – perfect for beginner bakers or for anyone who's just looking for a reliable, foolproof recipe that delivers every time. And the best part? It uses rolled oats, which are not only delicious but also full of fiber. So, if you've been on the hunt for that perfect oatmeal cookie recipe, look no further. You're in the right place!
Why you'll love this classic oatmeal cookie recipe
Texture Balance: These cookies strike the perfect balance between a crisp exterior and an amazingly chewy interior. I may be biased, but I happen to think these are the best oatmeal cookies for that reason alone!
Long-lasting Freshness: Unlike many other cookies, these oatmeal cookies maintain their chewiness for several days after baking due to the rolled oats. Whether enjoyed fresh from the oven or a few days later, they're always a hit.
Pantry-friendly Ingredients: All of the ingredients are pantry staples. So whenever you're in the mood for a sweet treat, chances are, you're already ready to bake these oatmeal cookies without having to run to the store to pick up anything additional.
Crowd-Pleaser: Everyone loves a good oatmeal cookie. You might get people who complain about oatmeal raisin or even oatmeal chocolate chip, but by using a simple base recipe with just oatmeal, it's a universal option that doesn't get turned down.
Ingredients to make The best chewy oatmeal cookies
All-Purpose Flour: Forms the base of the cookies and helps give them their structure. The right amount is crucial to achieve a perfect chewy texture.
Cinnamon: This isn't just any oatmeal cookie, it's one with a hint of cinnamon warmth.
Baking Soda: A little bit of baking soda ensures our cookies rise in the oven and have a soft, chewy texture.
Salt: Never underestimate the power of a pinch of salt! It enhances all the other flavors and balances the sweetness.
Unsalted Butter: Softened to room temperature, this forms the base for a truly rich and buttery cookie.
Dark Brown Sugar & Granulated Sugar: A blend of sugars provides a deep, caramel-like sweetness that pairs wonderfully with the oats.
Egg: It helps bind the cookies together and also contributes to their chewy texture.
Vanilla Extract: This helps elevate and complement the flavors of the oats and cinnamon.
Old-Fashioned Rolled Oats: The oats give the cookies their unique texture and nutty flavor. Remember to use old-fashioned rolled oats for the best texture.
How to make oatmeal cookies from scratch
Oatmeal cookies are one of the simpiler cookies to make and once you get the base recipe down the door really opens to all the other types of oatmeal cookies you want to make!
Prepare the oatmeal cookie dough
In the bowl of a stand mixer, combine the butter and sugars until light and fluffy.
Add the egg and vanilla extra and mix until incorporated.
Add in the dry ingredients.
Mix the dry and wet ingredients together until no streaks of flour remain.
Add the oats.
Fold in the oats until thoroughly incorporated.
bake the oatmeal cookie dough
Using a cookie scoop, create the individual cookies and place them on a prepared baking sheet.
Bake the cookies until they're golden brown and firm around the edges.
Tips for making the best homemade oatmeal cookies
Don't skip the chilling. If you don't have time, the cookies will still turn out great but they will spread more and create a different texture. Chilling the dough ensures you have crisp edges with thick chewy centers.
Use Room Temperature Butter and Egg: Both the butter and egg in this recipe should be at room temperature. It helps them to evenly combine with the other ingredients, creating a smoother and more uniform dough.
Consider Toasting the Oats: For an extra depth of flavor, try toasting your oats in the oven for a few minutes before adding them to your dough. This step can give your cookies a nice, nutty undertone.
Don't Overmix the Dough: When you're combining the dry and wet ingredients, be sure to stop mixing as soon as no streaks of flour remain. Overmixing can lead to tougher cookies.
Watch the Baking Time: Oatmeal cookies can go from chewy to crispy quickly. Start checking them a couple of minutes before the suggested baking time to ensure they remain soft and chewy.
Cool Completely: Resist the temptation to immediately take a bite. Letting them cool completely on a wire rack will let them set up and could make the difference between a good oatmeal cookie and a great one!
Popular substitutions & additions
Use quick oats for a smoother dough. If you prefer not to have the large chunks of oats in the cookies, you can swap the rolled oats for quick oats. Just don't use steel cut oats.
Spice It Up: This recipe uses cinnamon, but don't feel like you have to stop there. Try adding nutmeg, allspice, or a touch of cardamom to add a different spin to your cookies. I mean, pumpkin spice oatmeal cookies sound amazing. Just saying!
Flour Substitutions: If you want to make these cookies gluten-free, you could try using a gluten-free flour blend. Just make sure to look for one that can be substituted at a 1:1 ratio for regular flour.
Butter Substitutes: If you're vegan or dairy-free, you could try substituting the butter with a plant-based butter or coconut oil.
Add-ins: While these are simple, classic oatmeal cookies, they can be the base for so many delicious variations. Consider adding chocolate chips, dried fruit such as raisins or cranberries, chopped nuts, or even a handful of shredded coconut.
Egg Alternatives: If you're out of eggs or have an egg allergy, you can substitute the egg with a flax egg.
How to Store and Reheat chewy Oatmeal Cookies:
Once cooled, oatmeal cookies should be stored in an airtight container at room temperature. If you want to enjoy them warm as if freshly baked, just pop a cookie in the microwave for a few seconds until it's just heated through.
How Long Will Oatmeal Cookies Last in the Fridge?
Oatmeal cookies can be stored at room temperature for about a week. However, if you want them to last a bit longer, you can store them in the fridge. In the fridge, these cookies will stay fresh for up to 2 weeks.
Can I Freeze Oatmeal Cookies?
Yes, you certainly can! Once the cookies are completely cooled, put them in a freezer-safe bag or container. They can be frozen for up to 3 months. To enjoy, simply thaw them at room temperature or heat them gently in the microwave.
Frequently asked questions
Why are my oatmeal cookies hard and not chewy?
Overbaking is the most common cause of hard oatmeal cookies. Cookies continue to cook on the baking sheet even after they're removed from the oven, so try taking them out when they're just lightly golden and still a bit soft in the middle. They'll firm up as they cool, resulting in a chewier texture.
Do I have to chill the dough?
Yes, chilling the dough is a critical step in this recipe. It allows the butter to firm up, which prevents the cookies from spreading too much in the oven. It also gives the oats time to absorb moisture, leading to a chewier, more flavorful cookie.
Can I make the dough ahead of time?
Absolutely! You can make the dough and keep it in the refrigerator for up to 2-3 days before you're ready to bake. Just make sure it's covered well to prevent it from drying out. You can also freeze the dough for up to 3 months.
Why did my cookies spread too much?
Cookies spread if the dough is too warm or too moist. Make sure your butter isn't overly soft when you start the recipe, and chill the dough thoroughly before baking to prevent spreading. If your cookies are still spreading too much, try adding a little more flour to your dough.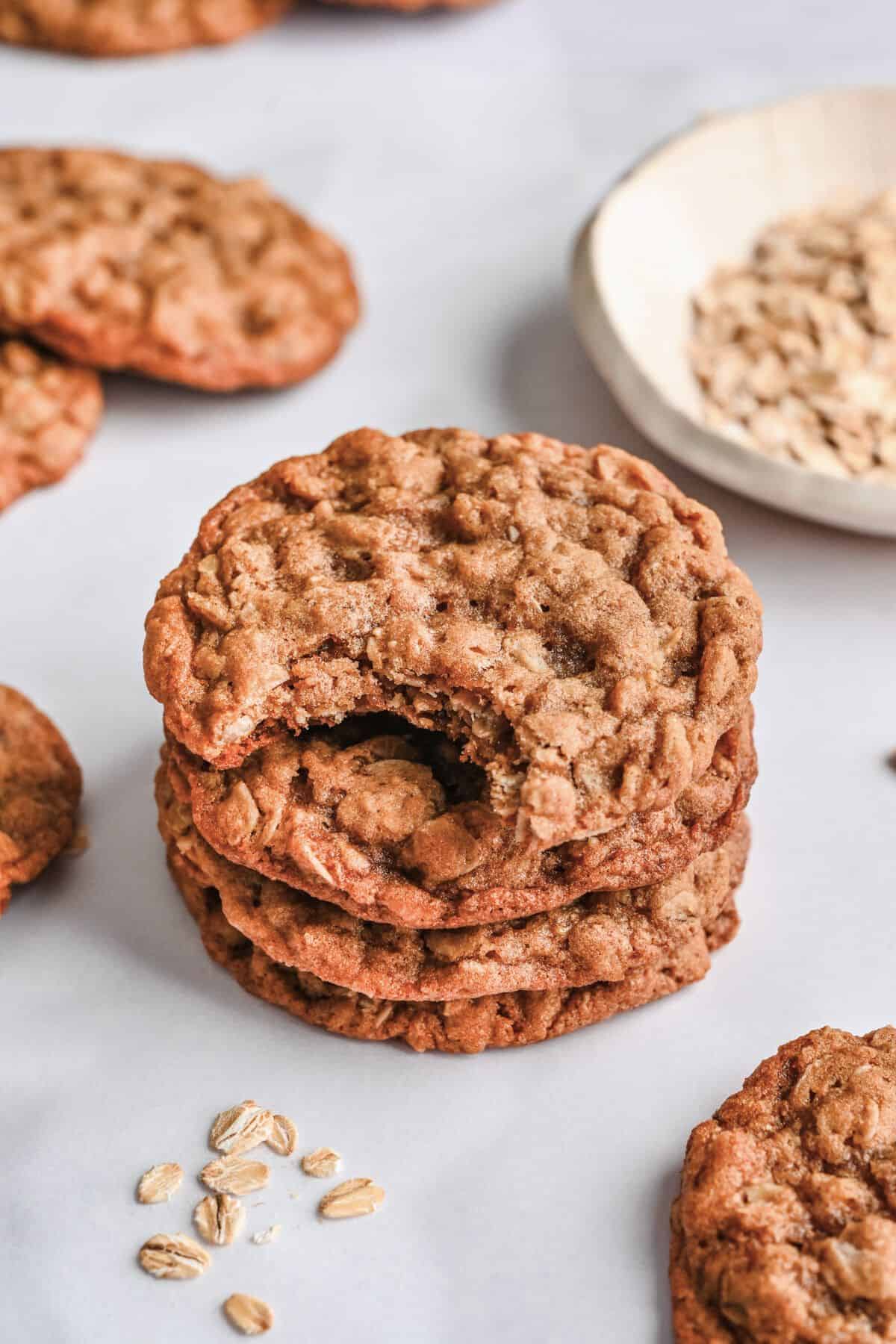 There you have it, the ultimate recipe for simple, classic oatmeal cookies that deliver on every front! From their chewy texture achieved by using rolled oats, to the hints of cinnamon, this oatmeal cookie recipe brings forth a wholesome and satisfying treat that is so good!. Just follow the instructions, read the provided tips, and adjust with your preferred substitutions if needed, and you'll be enjoying these chewy oatmeal cookies in no time!
More cookie recipes:
If you try this feel good Oatmeal Cookie recipe or any other recipe on Feel Good Foodie, then don't forget to rate the recipe and leave a comment below! It helps others who are thinking of making the recipe. We would love to hear about your experience making it. And if you snapped some shots, share it on Instagram so we can repost on Stories!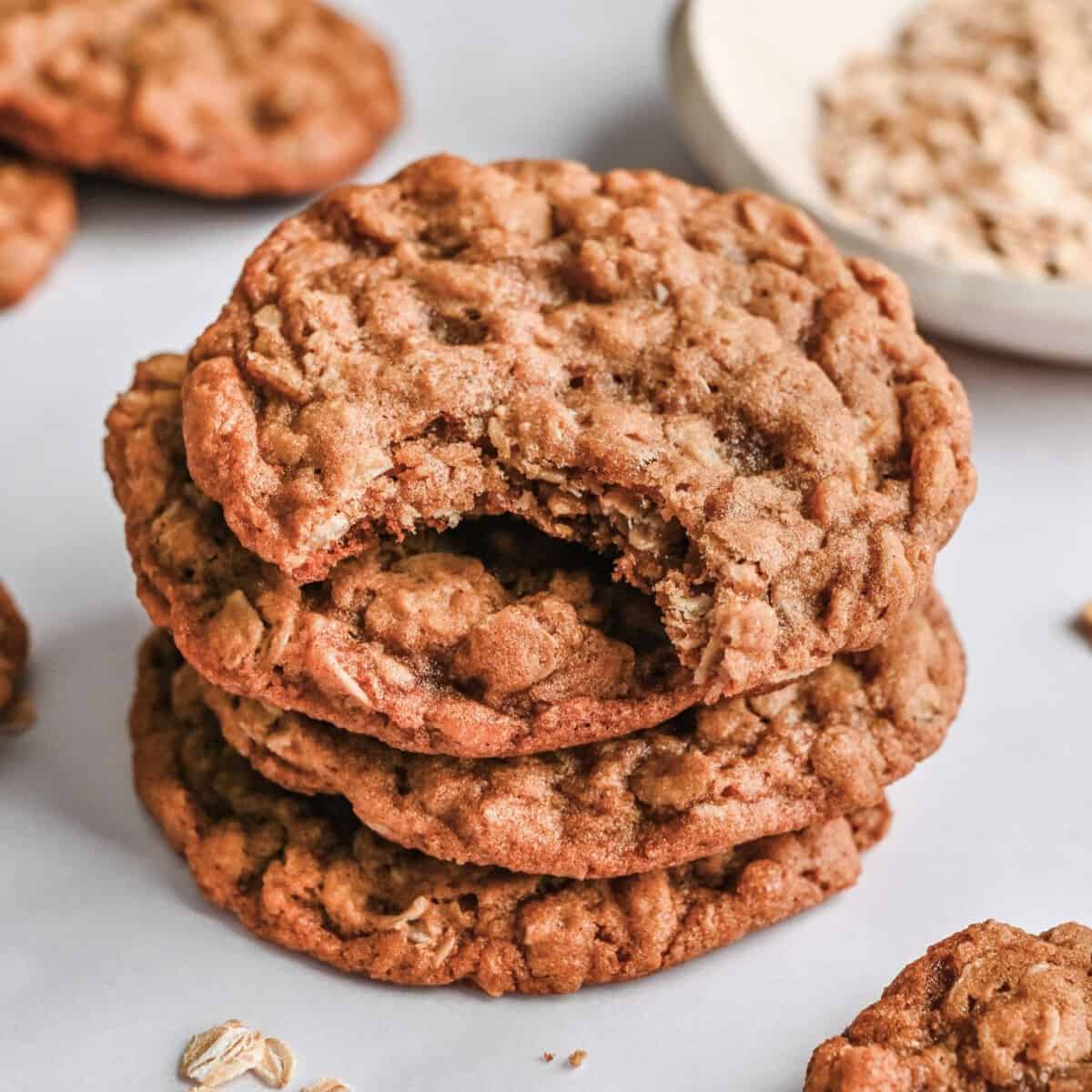 Oatmeal Cookies
This classic oatmeal cookie recipe is made with rolled oats, a hint of cinnamon and molasses-y brown sugar. It's the best, simple oatmeal cookie recipe!
Instructions
In the bowl of a stand mixer fitted with the paddle attachment, combine the butter and sugars. Mix at medium speed for 2 to 3 minutes, or until light and fluffy. Add the egg and vanilla extract and mix until incorporated.

In a separate bowl, whisk together the flour, cinnamon, baking soda, and salt. Gradually add the dry ingredients to the butter mixture and mix until just combined.

Fold in the oats using a spatula or wooden spoon.

Using a medium spring-loaded cookie scoop, level, and roll about 1.5 tablespoons of the cookie dough and place it on one of the prepared baking sheets, spaced at least two inches apart. Cover and place in the refrigerator for at least 1 hour or overnight.

When ready to bake, preheat your oven to 350°F and line two baking sheets with parchment paper. Place the cookie dough on the prepared baking sheets about 2 inches apart.

Bake for 10-12 minutes, or until the edges are lightly golden. The centers should be slightly soft.

Remove from the oven and let the cookies cool on the baking sheet for 5 minutes before transferring them to a wire rack to cool completely.
Notes
Storage:
Once cooled, oatmeal cookies should be stored in an airtight container at room temperature. Oatmeal cookies can be stored at room temperature for about a week.
However, if you want them to last a bit longer, you can store them in the fridge. In the fridge, these cookies will stay fresh for up to 2 weeks.
Nutrition
Calories:
146
kcal
,
Carbohydrates:
22
g
,
Protein:
2
g
,
Fat:
6
g
,
Saturated Fat:
3
g
,
Polyunsaturated Fat:
0.4
g
,
Monounsaturated Fat:
2
g
,
Trans Fat:
0.2
g
,
Cholesterol:
23
mg
,
Sodium:
70
mg
,
Potassium:
50
mg
,
Fiber:
1
g
,
Sugar:
12
g
,
Vitamin A:
171
IU
,
Vitamin C:
0.004
mg
,
Calcium:
16
mg
,
Iron:
1
mg
Nutrition information provided is an estimate. It will vary based on cooking method and specific ingredients used.