This post may contain affiliate links. Please read our disclosure policy.
One pan oven baked oatmeal – naturally sweet bananas, fiber-rich rolled oats, antioxidant-packed blueberries, and heart-healthy chia seeds come together to make this comforting morning favorite all in one pan! It's the perfect no-fuss, hot oatmeal breakfast recipe for busy mornings.
This one pan oatmeal recipe is the latest trend in oatmeal on TikTok, and I just shared this viral version of it on Instagram. This is a simple baked oatmeal recipe with oats, chia seeds, mashed bananas, milk, and frozen berries. What makes it novel is how it's all prepared and baked in one pan. The idea for this came from Smart Gusto.
why you'll love this Easy Baked OatMeal Recipe
Cleanup is as simple as 1-2-3! All you need to make this recipe is a single baking dish, a fork, and wet and dry measuring cups.
This baked oatmeal recipe is perfect for busy mornings. You can have it prepped and in the oven within minutes!
It's a great way to use up overripe bananas.
The oats, chia seeds, and berries make this oatmeal recipe packed with protein, fiber, and antioxidants. So you'll be starting your day off on the right foot!
Ingredients to make One Pan Oven Baked Oatmeal
Bananas: The natural sweetness of the bananas takes the place of refined sugar. You'll want to make sure your bananas are ripe for this recipe.
Rolled Oats: These are the traditional oats that you'll find in most oatmeal recipes. They're a great source of fiber, and protein.
Chia Seeds: These tiny seeds are high in omega- fatty acids, calcium, and magnesium. They add a nice crunch and nutty flavor to the oatmeal.
Milk: You can use any type of milk you like in this recipe – cow's milk, almond milk, soy milk, etc.
Frozen Berries: These add sweetness and antioxidants to the oatmeal. You can use any type of frozen or fresh fruits you like in this recipe.
Cinnamon: A sprinkle of cinnamon is a great way to add flavor and warmth to your oatmeal.
Lemon Zest: This optional ingredient adds a nice tart flavor to the oatmeal.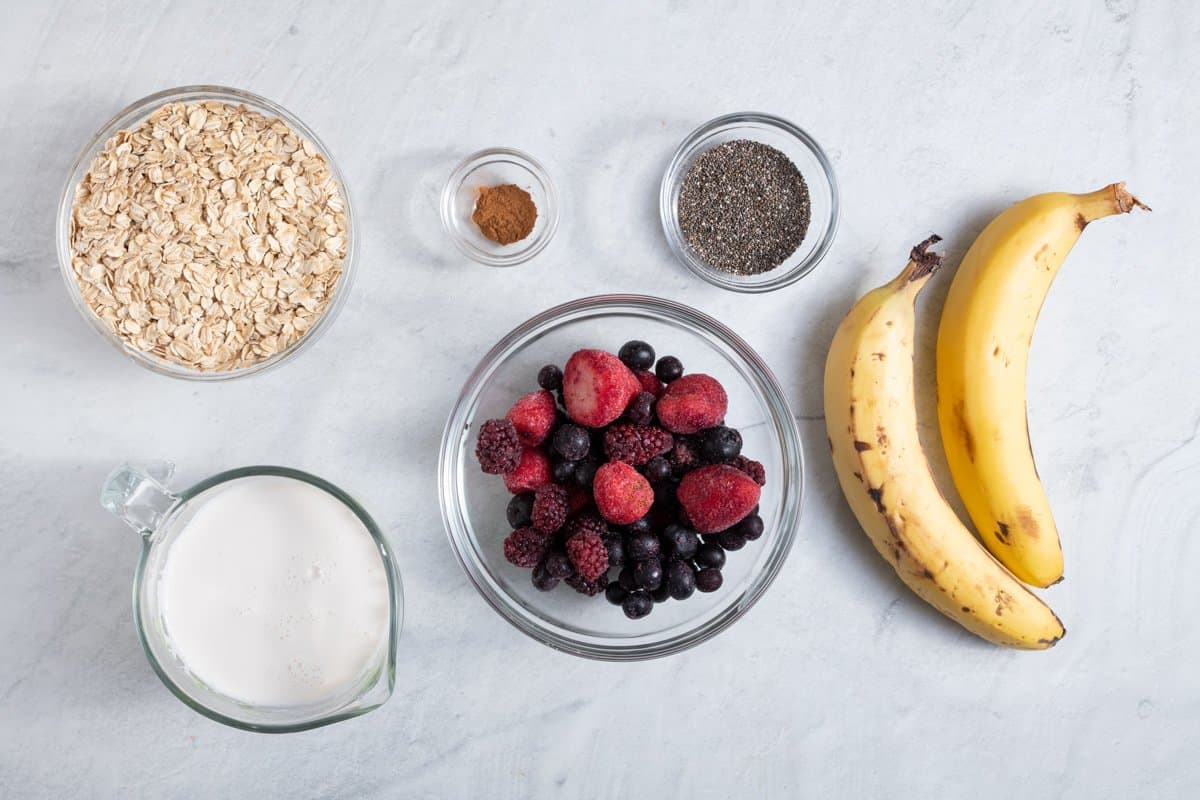 How to make One Pan Oven Baked Oatmeal
Mash two ripe bananas in baking dish.
Add the rolled oats on top.
Sprinkle the chia seeds on top.
Pour the milk over the other ingredients and stir to combine.
Add the frozen berries, cinnamon and lemon zest on top and pop it in the preheated oven.
You'll know it's done when the oats have thickened and the liquid is fully absorbed.
Tips for making Baked OatMeal With Bananas
Spray the baking dish. Because you're starting with the mashed bananas in the baking dish, it's important to spray the baking dish before adding any ingredients to ensure that nothing sticks to the dish for easier cleanup.
Make it quickly in the microwave. If you don't have time to wait for it to bake in the oven, you can also make this recipe in the microwave. Just cook it on high for about two-three minutes.
Use Overripe Bananas. The riper the banana, the sweeter it will be. So if you have some bananas that are starting to brown, this is a great recipe to use them in.
Double the recipe for the perfect brunch dish. This recipe can easily be doubled if you're feeding a larger crowd. Just use a bigger baking dish and cook it for a little longer.
popular substitutions & additions
Switch out the chia seeds. If you're not a fan of whole chia seeds, you can try ground chia seeds that might be easier for your to absorb or ground flaxseed. You can also just leave it out.
Make with Oath Overnight Oats: This is a brand I launched to create convenient packages of my oatmeal recipes. Try replacing the rolled oats in this recipe with equal parts of the Almond Butter & Jelly mix!
Use any fresh of frozen fruit. The convenience of the frozen berries in this one pan oatmeal is great for a quick dump and bake situation. However, you can use any other fresh fruit you enjoy with oatmeal.
Add some spices. If you're looking to change up the flavor profile of this recipe, try adding some ground ginger, nutmeg, or cloves.
Add some crunch. If you're looking for a little more texture in your oatmeal, you can add some some nuts to the recipe.
Use water instead of milk. If you don't have any milk on hand, you can easily swap it with water. The recipe will still be delicious!
how to reheat & store Baked Banana Oatmeal
You can store your baked oatmeal in the baking dish you cooked it in. Just cover it with plastic wrap or aluminum foil and store it in the fridge. You can also portion it out into individual servings and store it in the fridge or freezer. This is a great breakfast to have on hand for those busy mornings. To reheat, you can either microwave it for a couple of minutes or warm it up in the oven.
how long will Baked Oatmeal last in the fridge?
If properly covered, baked oatmeal should last 3-4 days in the refrigerator.
can i freeze This Baked Oats With Frozen Berries recipe?
Yes! You can freeze your baked oatmeal for up to two months. Just let it cool completely after cooking, then place it in a freezer-safe container or bag. When you're ready to eat it, just let it thaw overnight in the fridge and reheat as desired.
Frequently asked questions
Can I use quick oats instead of rolled oats for this recipe?
I do not recommend using quick oats in this recipe because they will cook too quickly and will not have the same texture as rolled oats.
Can I make this baked oatmeal recipe without bananas?
Absolutely! The banana provides moisture and sweetness to the oatmeal, but if you don't have any on hand or don't enjoy them, you can leave them out. The recipe will just be a little less sweet without them.
This recipe is easy to make and can be enjoyed by people with various dietary needs. It's gluten-free, dairy-free, refined sugar-free, and vegan too! Give this one pan baked oatmeal with bananas a try for your next breakfast or brunch dish. I hope you enjoy it as much as I do!
More Baked Oat recipes:
If you try this feel good One Pan Oven Baked Oatmeal recipe or any other recipe on Feel Good Foodie, then don't forget to rate the recipe and leave a comment below! It helps others who are thinking of making the recipe. We would love to hear about your experience making it. And if you snapped some shots, share it on Instagram so we can repost on Stories!
One Pan Oatmeal
This easy one pan oven baked oatmeal is prepped and baked in the same dish, and it's loaded with sweet bananas and frozen berries. Yum!
Instructions
Preheat oven to 350°F. Lightly coat an 8×11 baking dish with nonstick cooking spray.

Use a fork to mash the bananas in the baking dish. Add the oats, followed by the chia seeds and milk. Stir to combine. Add the frozen mixed berries on top. Then sprinkle it with cinnamon and lemon zest.

Bake in the preheated oven until the liquid is absorbed, about 25 minutes.

Drizzle maple syrup on top before serving, if desired.
Notes
Storage:
Store any leftover oatmeal in the baking dish tightly covered with plastic wrap or in an airtight container for up to 4 days. Reheat in the microwave or in the oven until warmed through.
Nutrition
Calories:
195
kcal
,
Carbohydrates:
36
g
,
Protein:
5
g
,
Fat:
4
g
,
Saturated Fat:
1
g
,
Polyunsaturated Fat:
2
g
,
Monounsaturated Fat:
1
g
,
Trans Fat:
1
g
,
Sodium:
112
mg
,
Potassium:
283
mg
,
Fiber:
7
g
,
Sugar:
10
g
,
Vitamin A:
52
IU
,
Vitamin C:
5
mg
,
Calcium:
147
mg
,
Iron:
2
mg
Nutrition information provided is an estimate. It will vary based on cooking method and specific ingredients used.