From festive frittatas to colorful pancakes and cinnamon rolls, I've rounded up my top 10 Easy Christmas Morning Breakfasts to start your day
What's better than waking up Christmas morning to all the presents? Waking up to all the presents and a delicious breakfast! From overnight french toast to warm cinnamon rolls and so much more, I'm sharing my top 10 Christmas Morning Breakfasts to start your day in the most merry way!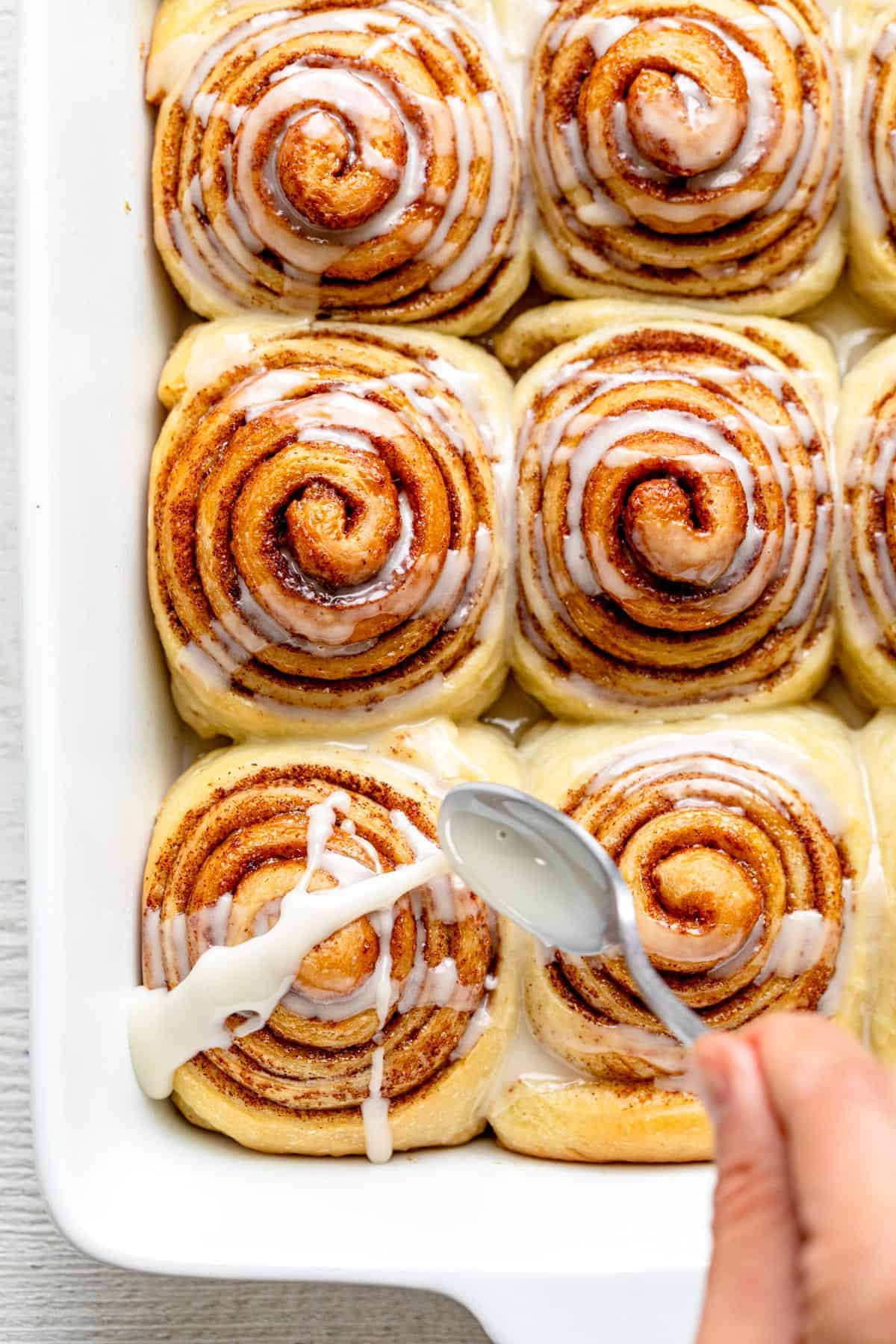 With all the focus on the main Christmas meal, sometimes breakfast can be an afterthought. Below are 10 Easy Christmas Morning Breakfast that are a breeze to whip up and taste delicious! No need to spend the entire day in the kitchen when you can drum up a batch of easy sheet pan eggs or a scrumptious make ahead breakfast french toast!
Tips for easy Christmas breakfast foods
Keep pancakes warm in the oven if cooking for a crowd. Place pancakes on a baking sheet, on a wire rack, at around 200 F in the oven until you're ready to serve them. This temperature keeps the pancakes warm without continuing to cook them.
Freeze waffles for a quick and easy breakfast. Make a batch of waffles before the big day, allow them to cool, then place in a single layer on a parchment lined baking sheet, freeze for two hours. Then place the waffles in freezer safe bags. Warm up in the oven or toaster when ready. Serve with sides of fruit and syrup.
Go for pre chopped veggies and fruit. Buying pre-washed and pre-cut vegetables is one of the simplest ways to save time and frees up much needed counter space!
Freeze your butter! There's nothing like waiting for your butter to come up to room temp, especially on Christmas morning. Just pop your butter in the freezer the night before and grate it into your dough mix, it's quick, easy and is more evenly distributed!
Christmas breakfast recipes
Casseroles & French Toast
Get ahead of the game with a breakfast casserole! The perfect make ahead breakfast dish, plus it's super versatile, you can use whatever breakfast ingredients you have to hand. Here's some yummy ideas:
This easy french toast casserole is a tasty holiday breakfast/brunch! It's quick to prepare & there's no need for overnight chilling – perfect for a crowd.
Total Time:
1
hour
5
minutes
Vegan French Toast is a delicious breakfast/brunch recipe that's dairy-free & egg free. I make it with plant-based milk, ground flaxseed and ciabatta bread!
Pancakes
Fluffy, light and oh so satisfying, pancakes are a great way to please the Christmas crowd with ease! Keep them simple or get creative! You can offer up a little side bar of fruit and syrups and let your friends and family customize them to their heart's delight. Here's some ideas for festive pancakes.
Check out these Pink Pancakes for a festive family breakfast/brunch. It's a super easy recipe made in a blender with beets for natural color!
Flourless Strawberry Pancakes is an allergen friendly recipe that you can easily make in a blender. They're vegan, gluten-free, oil-free and sugar-free!
Egg-centric recipes
When it comes to quick, easy, delicious and versatile, eggs come to the rescue every time! From quintessential quiches to festive frittatas and much more, these egg bases recipes really set you up for the day while being utterly yummy.
It's so easy to make quiche from scratch! This broccoli and cheese quiche is made with cheddar cheese and is a perfect weekend brunch recipe.
This Sheet Pan Eggs recipe is a great way to cook a breakfast meal for a large crowd using just your oven – it's fast, easy and delicious!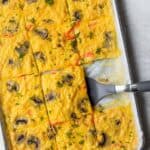 Baked Goods
From cookies to bread, baking lets you cook up a nice big batch of breakfast treats and makes you kitchen smell AMAZING! Below are some of my favorite baked good to kick off your Christmas morn.
This Chocolate Peanut Butter Banana Bread is an easy quick bread recipe that you can whip up with simple pantry ingredients – rich, moist and oh-so pretty!
Total Time:
1
hour
10
minutes
This Chai Spiced Vegan Muffins recipe is a delicious healthy breakfast or snack filled with warm aromatic spices like cloves, cinnamon, ginger and cardamom!
Buns and rolls
Keep Christmas morning deliciously simple with bite sized buns and buttery rolls! Stress free and easy to make, let your friends and family tuck into these handheld delights! You can prep them the day before and then pop in the oven half hour before serving.
Treat yourself to the most delicious breakfast! These homemade vegan cinnamon rolls are so easy to make and are wonderfully fluffy and sweet.
Total Time:
2
hours
40
minutes
Simple and easy to make, for non bakers, these classic homemade dinner rolls are made from scratch and come out perfectly light and fluffy!
Total Time:
2
hours
45
minutes
More breakfast recipes:
More recipe collections:
If you any of these Christmas Mornings Breakfasts or any other recipe on FeelGoodFoodie, leave me a comment below! I would love to hear about your experience making the recipes. And if you snapped some shots of it, share it with me on Instagram so I can repost on my stories!