This post may contain affiliate links. Please read our disclosure policy.
OVERVIEW
We're excited for a new month of the Feel Good Foodie Cooking Challenge! In March you helped us generate 93 ratings and over 80 new comments on the Vegan Creamy Tomato Pasta — thank you so much! We were able to triple the ratings and give $279 to the Ukraine Crisis Relief Fund, while also awarding one of you a $100 gift card for participating. Thank you so much for participating and for all of the photos and tags on social media!
Are you new to the Feel Good Foodie Cooking Challenge? Join us each month to make the recipe of the month, leave a rating and a comment for the recipe on the post, and you'll help us toward our donation for our selected charity of the month and be entered to win some fun prizes!
This Chicken Shawarma Salad is made with an authentic Lebanese style marinade that's easy to make with simple spices and comes out so moist and juicy. I serve the chicken shawarma with lettuce, tomatoes, onions, sliced banana peppers and drizzle with my easy tahini sauce. It's a flavor packed Middle Eastern salad recipe that you'll want to have on repeat!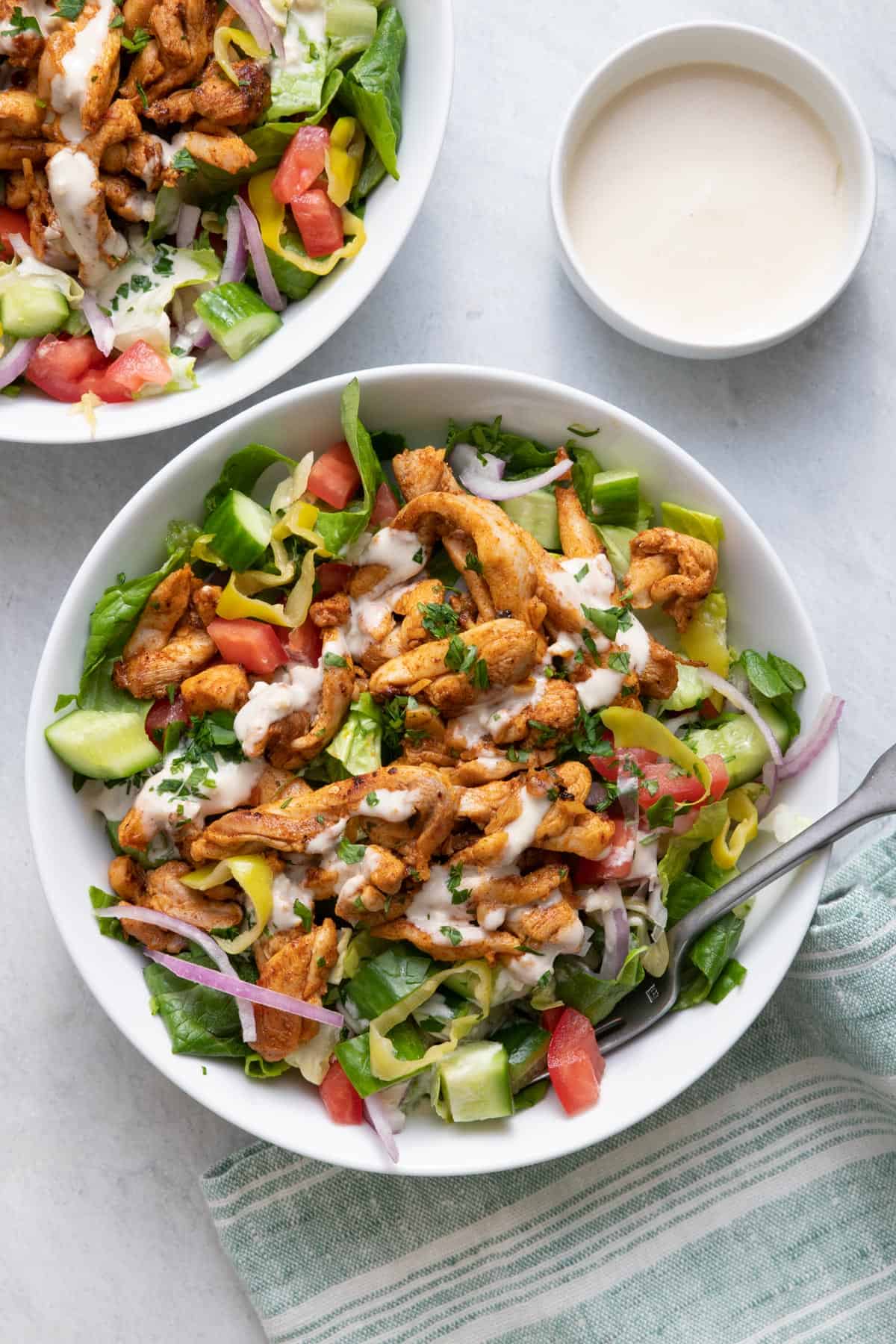 FREQUENTLY ASKED QUESTIONS
What is the Feel Good Foodie Cooking Challenge?
This Cooking Challenge is a fun way for us to join together and cook or bake the recipe of the month! It also allows us to collect feedback from all of you on your experience with the recipe, changes you'd make, ingredients you'd add, and more. It helps you get in the kitchen and try something new!
How does it work?
We'll announce the Cooking Challenge at the start of the month on all social channels and in our Facebook Group. You will have until the last few days of the month to make the recipe and leave a rating and a comment on feelgoodfoodie.net. At the end of the month, we'll share photos of some of your creations and announce a winner of a grand prize gift of a $100 gift card to Amazon.
How do I enter the challenge?
To enter the challenge, it's required that you leave a rating and comment on the recipe card. You can also share photos of your creations on Instagram Stories using #feelgoodfoodie and tagging @feelgoodfoodie or in our Facebook group (optional).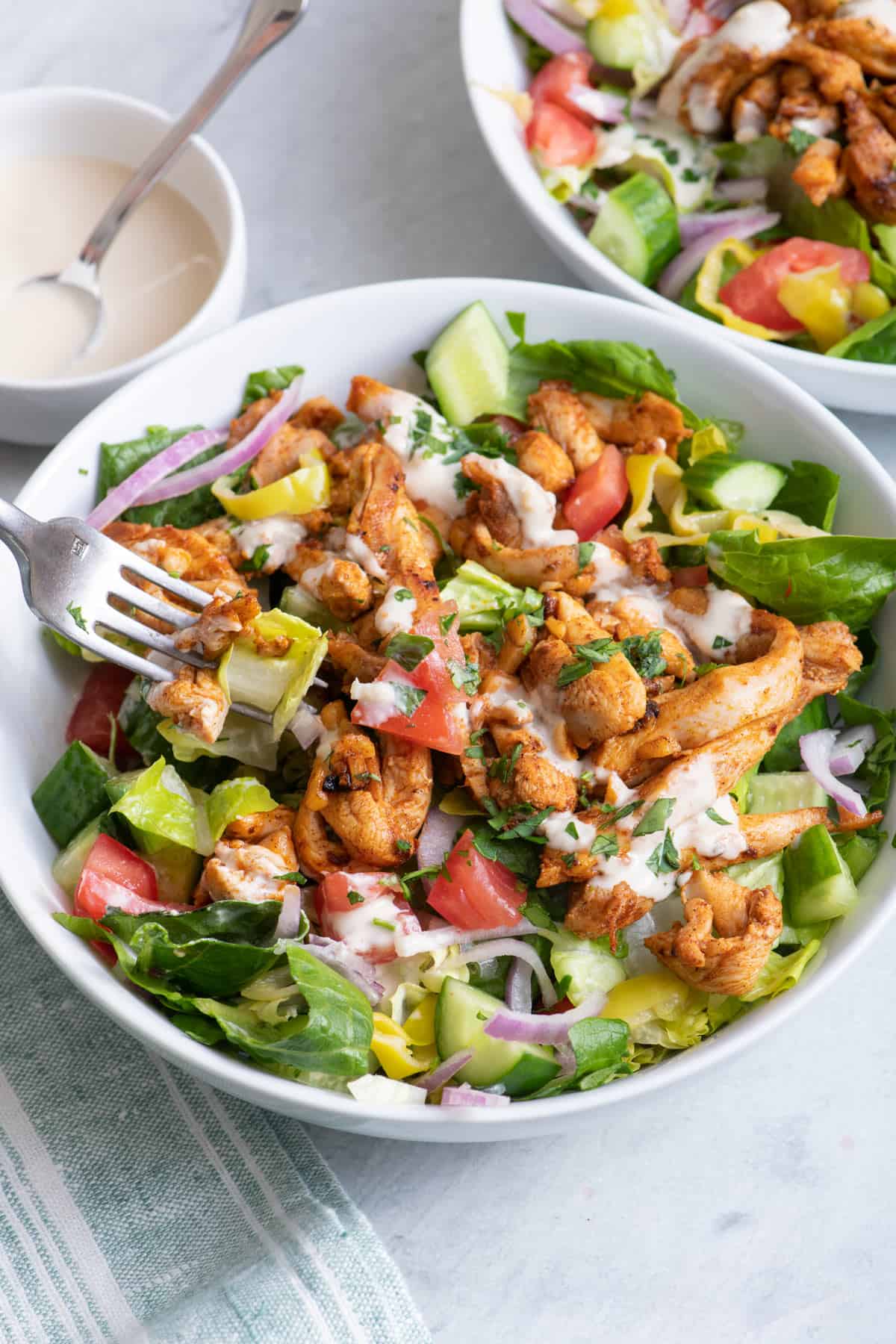 GIVING BACK
We believe in spreading love and kindness however we can. We're going to give $1.00 for every recipe rating to Zaman International. Zaman empowers women to break the cycle of poverty for themselves and their families by learning job-ready skills and English language literacy. Thanks for helping us on our mission to give back to causes near and dear to us.
CHALLENGE RESULTS
Thank you all for joining us on the April Cooking Challenge! You helped us generate over 88 recipe ratings and over 59 new comments so we were able to donate $88 to Zaman International this month! We randomly selected Katia as our gift card winner and our team will be in touch through email to get you your gift. If you're looking for what we'll be cooking in May, head on over to the May Cooking Challenge.