This post may contain affiliate links. Please read our disclosure policy.
These Date Snickers are perfect when craving a candy bar but looking for a treat with more good-for-you ingredients. This date snickers recipe only requires 4 ingredients and is super easy to make. Just split open the dates and stuff them with creamy peanut butter and crunchy chopped nuts, all coated in rich dark chocolate, creating a delicious medley of flavors and textures.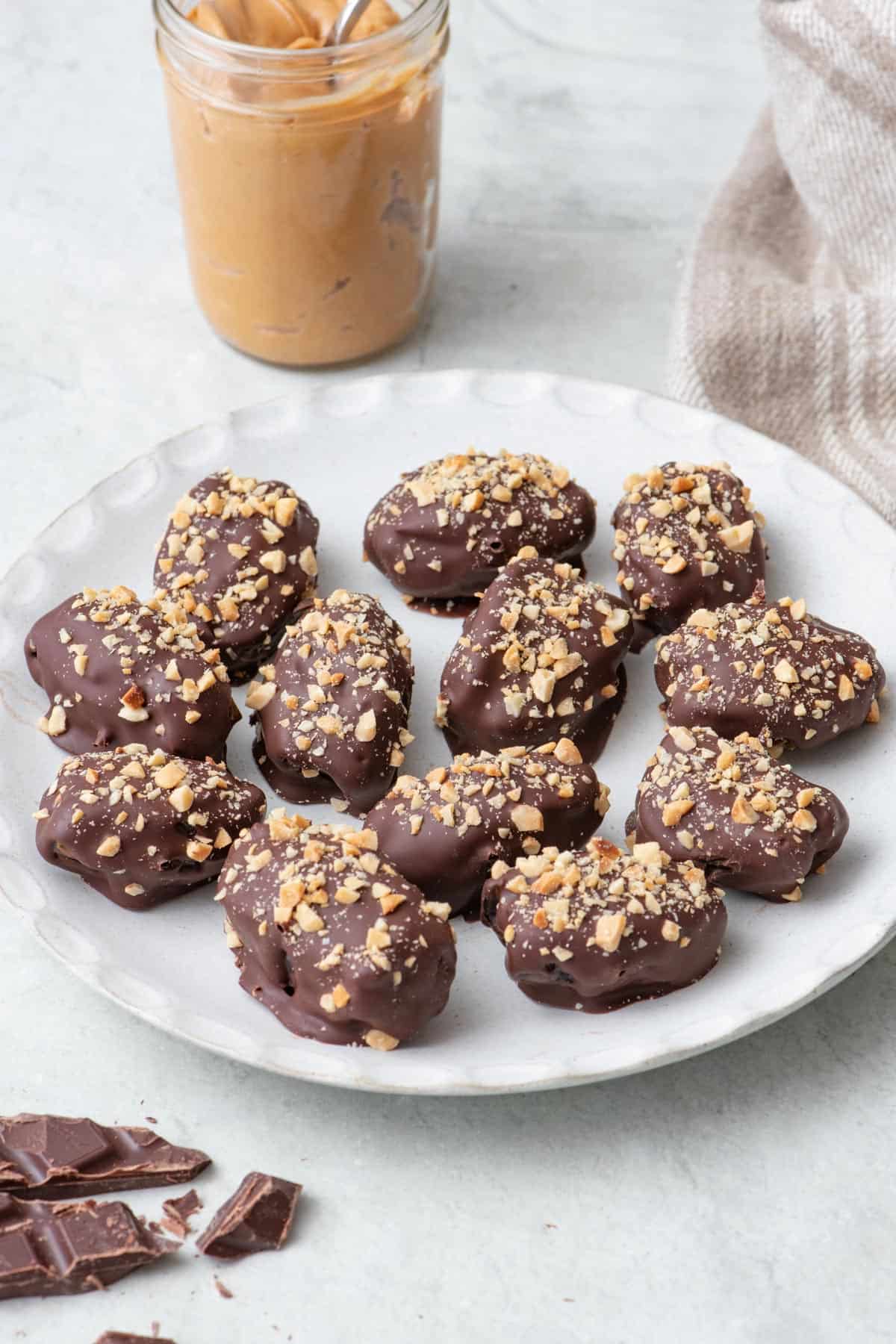 Table of Contents
Date snickers are perfect for when you're craving something sweet, salty, crunchy, and chocolatey. It's a decadent bite that will leave you saying Mmm – much like the popular candy bar; this treat has it all (minus the refined sugar overload!) Date snickers have gone viral on TikTok for a reason, and I can't wait for you to try them!
Why you'll love these snickers made with dates
They make for a great snack anytime! Whether you need a little boost in the middle of the day or want to indulge in a sweet treat, Date Snickers are the perfect choice to satisfy and energize you.
Healthier than traditional candy bars. Unlike standard candy bars full of processed sugar and unhealthy additives, Date Snickers use just a handful of simple, wholesome ingredients.
They're customizable. You can easily switch up the recipe by using different nuts, chocolate, or nut butter and adding other ingredients like coconut flakes or dried fruit.
Ingredients to make these easy homemade date snickers
Dates: Use large soft, fresh dates. Medjool dates are some of the best for stuffing because of their large size, and natural caramel-like flavor. Plus, they are both sweet and chewy. If you don't want to bother removing the pits, you can buy them pitted already.
Peanut butter: This recipe uses smooth peanut butter, but you could choose crunchy or alternative nut butter like almond, How to Make Cashew Butter, or sunflower.
Peanuts: I used unsalted roasted peanuts and chopped them small so they can fit inside the dates. I also used them as an additional topping, sprinkling them on top before the chocolate sets. Feel free to switch it up and try any nuts you like!
Dark chocolate: I use at least 60% cacao for coating treats. It's smooth, not too sweet, and sets quickly. When you make chocolate-coated dates, you want chocolate with less sugar, so it's not overwhelmingly sweet.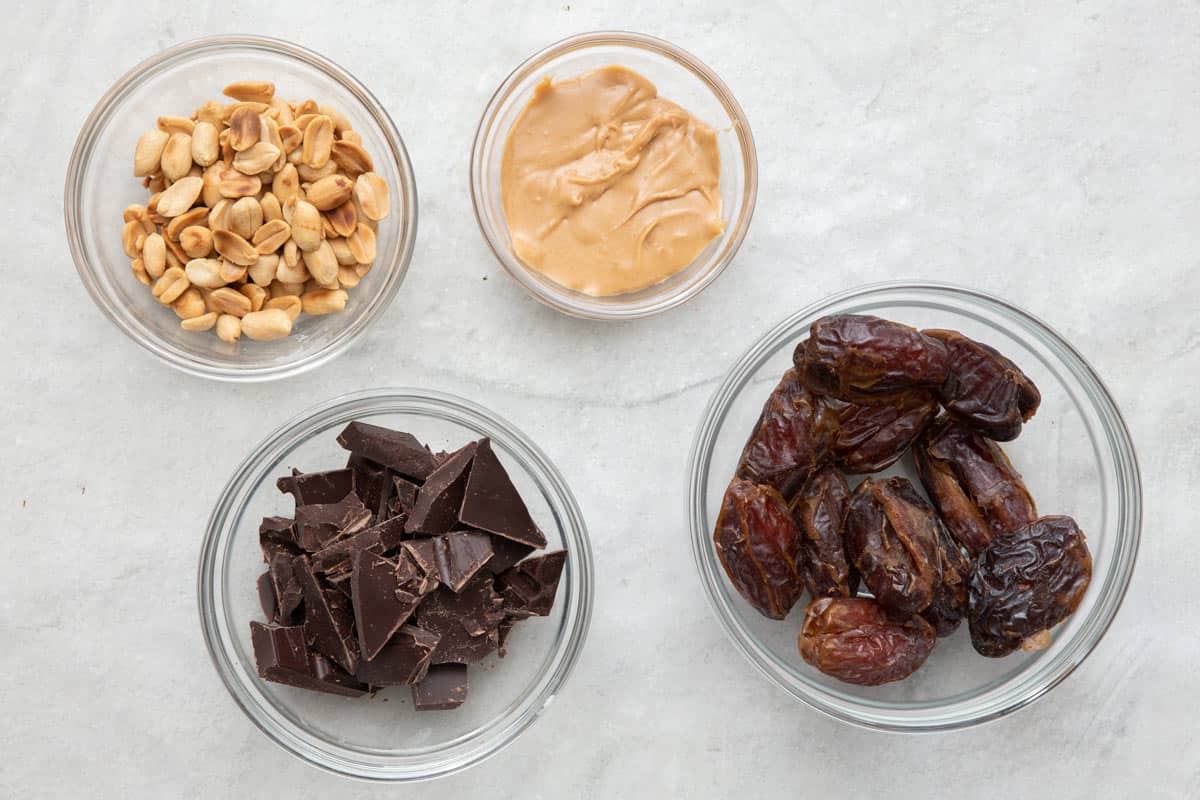 How to make date snickers with just 4 ingredients
These chocolate-covered stuffed dates are so easy and fun to make! Just a few steps for a delicious treat.
Prepare the Chocolate coating
Place the chocolate in a microwave-safe bowl and microwave in intervals, stirring the chocolate until melted.
Set aside and reheat as needed to keep the chocolate melted while coating your treats.
Stuff the dates To make the Inside of the snickers
Use a knife to slit each date lengthwise and remove the pits.
Fill each date with peanut butter. You can use a spoon or add the peanut butter to a zip-top bag, cut off the tip, and use it like a piping bag to fill the dates.
Add some crushed nuts to each stuffed date.
Place a toothpick inside each one, leaving enough to hold on to and keep the date sturdy while dipping.
Dip each date into the melted chocolate.
Use a spoon to pour more chocolate over the date to thoroughly coat them and allow the excess to drip back into the bowl.
Finishing Your Date Snickers
After coating in chocolate, transfer the nut-filled dates to a tray lined with parchment paper and top with remaining chopped nuts.
Transfer the tray to the fridge and allow them to set.
Tips to make the best chocolate-covered stuffed dates
Use high-quality dates. Dates are the main ingredient in date Snickers, so using high-quality dates is essential. Look for fresh, plump dates that are still slightly soft. Medjool dates are a popular choice for this recipe.
Add coconut oil to the chocolate: coconut oil adds many benefits to melted chocolate: it makes melted chocolate more smooth and thinner for dipping; it also gives the chocolate a really shiny coating so it doesn't look as dull; and it helps the chocolate harden faster.
Chill before coating with chocolate. This step isn't necessary, but it makes dipping the stuffed dates in chocolate easier by firming up the ingredients beforehand.
Let them set up in the fridge. After coating them, pop the tray of candies in the refrigerator for about 10 minutes. This will help the chocolate set quicker. Remember to sprinkle the tops with additional nuts before this step, so they stick to the chocolate.
Popular substitutions & additions
Use another nut butter. Almond and cashew butter would be a great alternative to peanut butter. You could even try sunflower seed butter!
Flaky salt. When adding the chopped nuts on top of the chocolate, sprinkle on a small pinch of large salt. This can be used with the nuts or instead of the nuts.
Shredded coconut. Make your date bars even chewier with unsweetened shredded coconut stuffed inside. Take it one step further by quickly toasting the coconut first. It'll add a little crunch and a delicious toasty flavor.
Swap out the nuts. Don't let the recipe restrict you from trying different variations. These date snickers would also work with chopped almonds, pecans, walnuts, macadamia, or any other nut you like.
Use milk chocolate. Use a good-quality chocolate bar, and you're golden. While dark chocolate is my preference, any bar that melts and sets back up will work for coating your candy bar.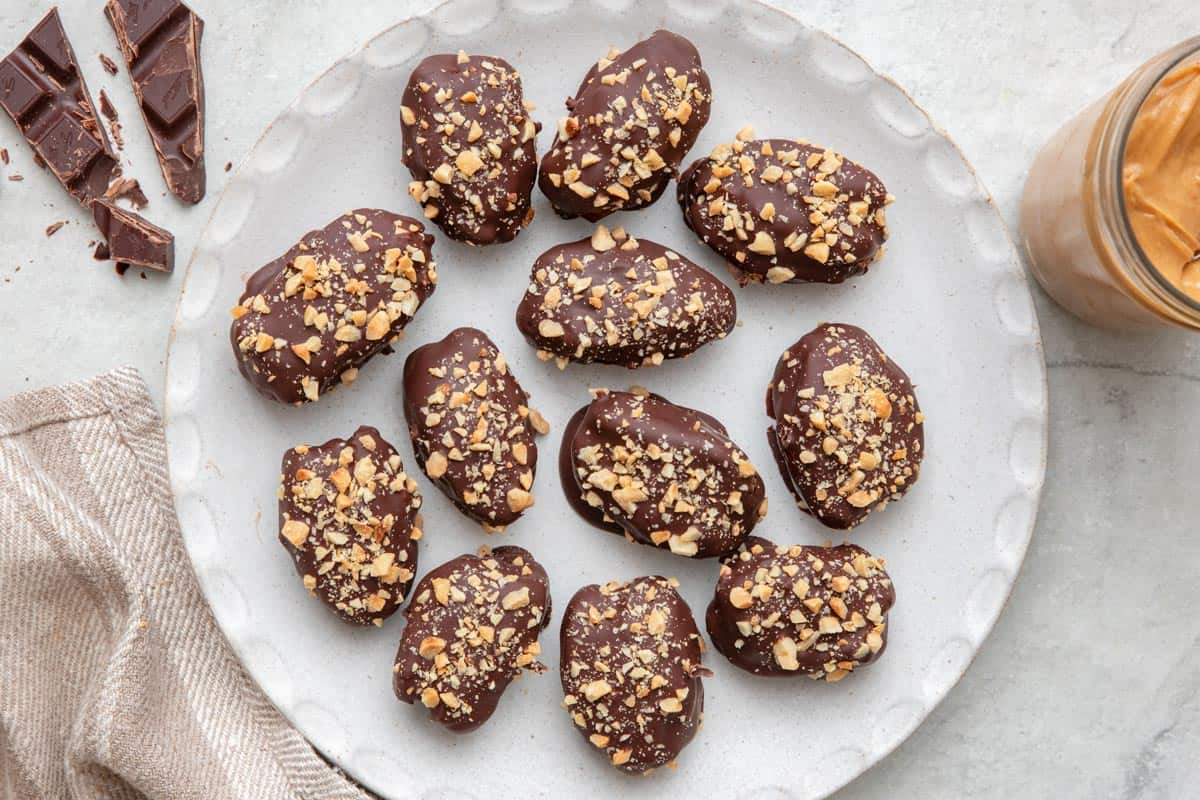 How to store homemade snickers bars
Store your peanut butter stuffed dates covered in chocolate in the fridge. As long as the chocolate is hardened, nothing will stick and you can pile them on top of each other.
How long will date snickers last in the fridge?
Chocolate-covered dates can last up to one month when stored correctly in an airtight container in the fridge. Keeping them in the refrigerator is the best way to prevent the chocolate from melting and the dates from getting too soft.
Can I freeze chocolate-covered stuffed dates?
Yes, you can!
To freeze them, place a single layer on a parchment-lined baking sheet and put them in the freezer until firm. Once they are frozen, transfer them to an airtight container or a freezer-safe ziplock bag. Stuffed dates with peanut butter can last up to 3 months in the freezer.
To thaw them, remove the desired number of dates from the freezer and transfer them to the fridge to thaw overnight. Alternatively, let them sit at room temperature for a few minutes until they are soft enough to eat. Remember that the texture may differ slightly after being frozen and thawed, but they should still be delicious!
Frequently asked questions
Is this the same Date Snickers recipe that went viral on TikTok?
Yes! This is my version of the trending candy bar made with Medjool dates and peanut butter, though they were already pretty popular.
What's the best chocolate bar to use to coat them?
I love using Lindt and Ghiradelli dark chocolate, but any chocolate bar with at least 60% cacao is good. Some people like to use melting chocolate wafers or chocolate chips, too.
Can I use coconut oil for the chocolate?
Sure! I'd recommend trying about 1 teaspoon per 4 ounces of dark chocolate. This should add a nice shine to your chocolate and make it a little thinner for an easier coating.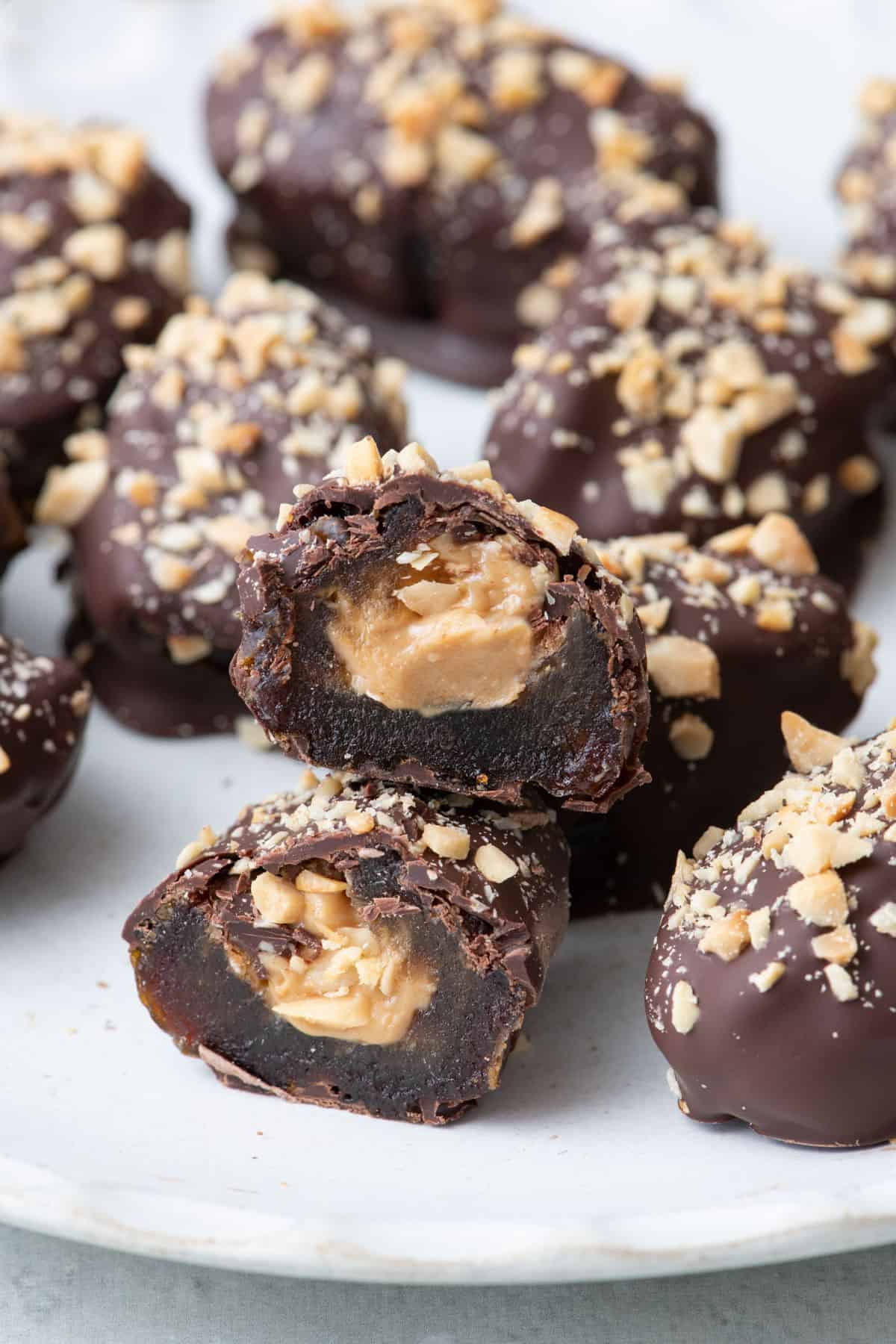 This Date Snickers recipe is a wholesome alternative to the classic Snickers bar that satisfies your sweet tooth without the added sugars and artificial ingredients in traditional candy bars. Whether you enjoy it as a midday snack or after-dinner dessert, the combination of sweetness and crunch makes it a delicious treat for any time of day – perfect for indulging in!
More no-bake dessert recipes:
If you try this feel good Date Snickers recipe or any other recipe on Feel Good Foodie, then don't forget to rate the recipe and leave a comment below! It helps others who are thinking of making the recipe. We would love to hear about your experience making it. And if you snapped some shots, share it on Instagram so we can repost on Stories!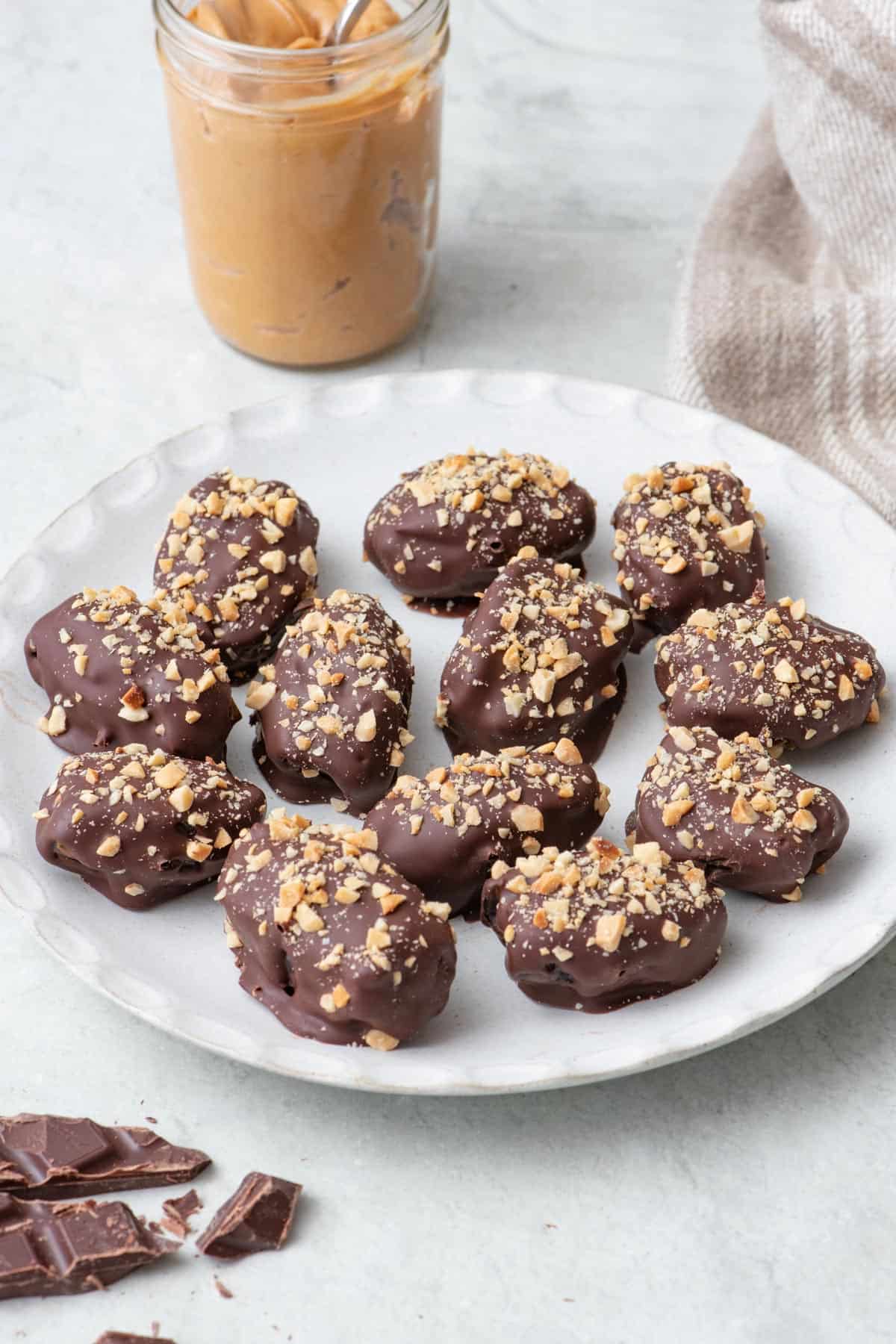 Date Snickers
These 4 ingredient Date Snickers "bars" are made with Medjool dates, peanut butter, nuts, and dark chocolate. Satisfy your sweet tooth with dates!
Ingredients
¼

cup

peanut butter

divided

¼

cup

chopped roasted peanuts

divided

4

ounces

dark chocolate bar

cut into chunks
Instructions
Use a small sharp knife to cut a slit in each date lengthwise. Remove the pits.

Fill each date with 1 teaspoon peanut butter and add 1 teaspoon of crushed peanuts on top. Set aside.

Place the chocolate in a microwave-safe bowl. Place the bowl in the microwave at 30 second intervals. Stir the chocolate in between each 30 seconds until all the chocolate is melted.

Place a toothpick inside each stuffed date and dip the date in the melted chocolate. Use a spoon to coat the date completely in the chocolate, then allow any excess chocolate to drip off.

Transfer the chocolate covered date to a tray or plate lined with parchment. Sprinkle the top with the remaining crushed peanuts.

Place the dates in the fridge to allow the chocolate to set, about 10 minutes.
Equipment
Notes
Store you peanut butter stuffed dates covered in chocolate in the fridge for up to a week in a single layer or stacked between layers of parchment paper to prevent any sticking. Freeze up to 6 months.
Nutrition
Calories:
173
kcal
,
Carbohydrates:
24
g
,
Protein:
3
g
,
Fat:
8
g
,
Saturated Fat:
3
g
,
Polyunsaturated Fat:
1
g
,
Monounsaturated Fat:
3
g
,
Trans Fat:
0.003
g
,
Cholesterol:
0.3
mg
,
Sodium:
38
mg
,
Potassium:
289
mg
,
Fiber:
3
g
,
Sugar:
19
g
,
Vitamin A:
39
IU
,
Calcium:
28
mg
,
Iron:
2
mg
Nutrition information provided is an estimate. It will vary based on cooking method and specific ingredients used.