This post may contain affiliate links. Please read our disclosure policy.
These Coconut Date Balls are one of my favorite simple pantry recipes for healthy snacking. They're vegan, gluten-free and Whole30 compliant – the perfect healthy snack! If you're finding yourself spending a lot of money on snacks and unpleased with the long list of ingredients they're made with, it's time to make your own healthy snacks. It's cheaper and healthier!
While the base recipe is only dates and nuts rolled in coconut, there are countless ways to beef it up with some add-ins and toppings. I love having a batch of these vegan energy bites to keep in my fridge throughout the week. Then I easily grab one when I'm on the go and want a fast nutritious bite.
Ingredients & benefits of coconut date balls
Pecans: Like many nuts, pecans are loaded in unsaturated fats that are also known as good fats. That have no cholesterol and no trans-fat and that can protect you from heart disease. Aside from the heart benefits, pecans are a plant-based protein. They have 3g of protein in every 1 ounce. And that protein is going to help boost your energy!
Dates: While dates are basically dried fruit and relatively high in sugar, they are a natural sweetener. So they offer a great way to add sweetness without any sugar. Because they are high in fiber, they slow down your digestion and help prevent blood sugar levels from spiking too high. That means you get a sweet treat that gives you lasting energy, not a sugar rush.
Coconut: The shredded coconut on the outside of the coconut date balls are a signature look for these energy date balls. Coconut is high in antioxidants so it's good for fighting disease. But it's also high in saturated-fats, so just be mindful of how much you use.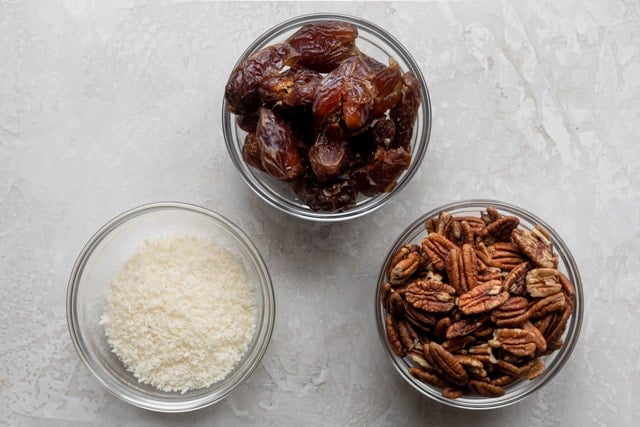 How do you make coconut date balls
Start by pitting 10-12 dates and then soaking them in warm water. This helps soften the dates so they blend much easier with the pecans. If the dates are super fresh and soft, you can probably skip this step.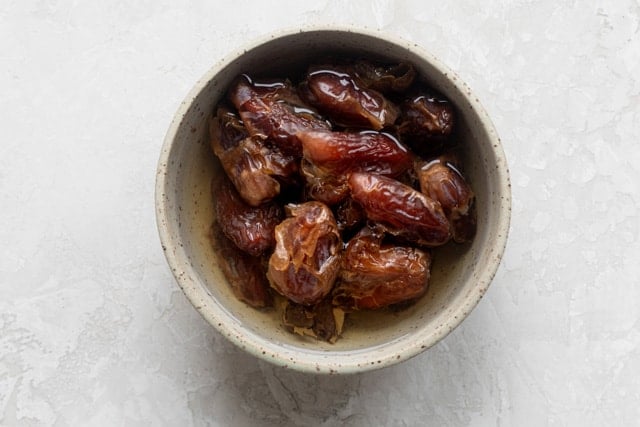 Add the dates and pecans to a food processor, and add a pinch of salt which helps offset the sweetness of the dates. I use raw pecans, but toasted ones are fine too. And I prefer medjool dates since they are large and soft (and pretty accessible). But other varieties work as well.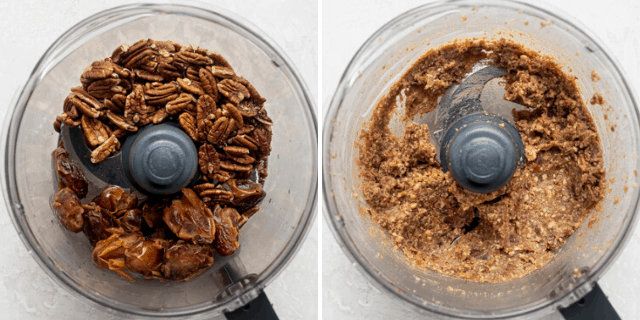 When you blend the dates and pecans, you'll want to look for a sticky dough like mixture. Then, use your hands to scoop out about 1-2 tablespoons of the mixture into your hands and roll them into a small energy bites.
You can set them in the fridge for 20-30 minutes while cleaning out the food processor. Then, roll them in the shredded coconut and you're ready to snack on your new favorite date balls.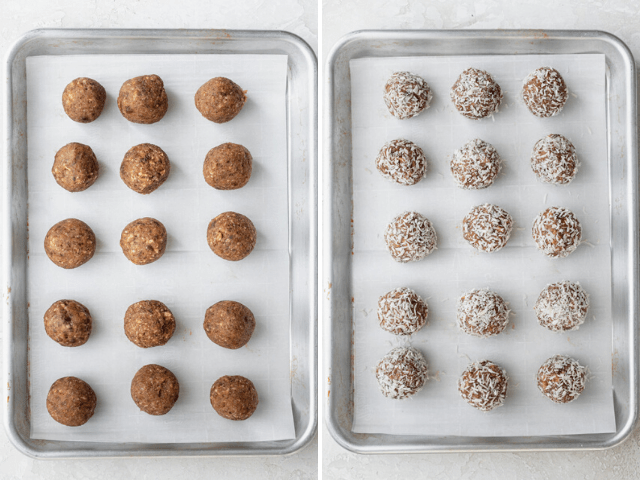 How to customize coconut date balls
My recipe includes only 2 ingredients + coconut coating. But there are so many ways to customize these date balls to make them work for you.
Oats: You can add quick oats or rolled oats to the recipe in the blender. I would recommend 1 cup of oats, but add back some moisture with ¼ cup of nut butter to help it stick together
Seeds: Chia seeds, flax, hemp seeds, sunflower seeds and pumpkin seeds give the energy bites more plant-based protein and give them an extra crunch. If you're adding seeds, I would recommend 2-3 tablespoons.
Nuts or nut butters: Use roughly chopped nuts or nut butter. This is another way to add healthy fats, flavor and protein to the energy bites. If you're adding nut butter, you'll need to add some dry ingredients to off-set it, like oats, almond meal, protein powder or powdered peanut butter. For every ¼ cup of nut butter, use 1 cup of dry ingredients.
Dried fruit: Although there's already dates in the energy balls, you can also add raisins, apricots, coconut or cranberries. I would recommend chopping them up finely or blending in the food processor. And if you are adding more dried fruit, it helps to balance out the sweetness with something salty or bland like more nuts, oat, almond meal or unsweetened protein powder.
Spices: To add more flavor, I love throwing in cinnamon, or other warm spices like nutmeg, ginger, cardamom, turmeric or cloves. A lot of these spices have anti-inflammatory properties too so you'll get a healthy dose of that in your energy bites!
Sweet surprises: Hello chocolate chips and chocolate chunks! These make the coconut date balls more fun and sweet – perfect for kids. You can also add white chocolate chips, butterscotch chips or even toffee pieces.
This is one of those recipes that you can totally experiment with to add ingredients. Taste and test to get a mixture you love.
Tips make coconut date balls
If the mixture is too dry and it's not rolling into a ball easily, then add more sticky ingredients like dates, nut butters or honey/maple syrup. You can also add a couple tablespoons of water to help.
If the mixture is too wet and gooey, then add oats, almond meal or protein powder. It helps to throw those dry ingredients in the food processor to help the mixture set well.
Soak the dates before blending. This will help them to soften and plump up the dates so they combine easily with the other ingredients.
Allow 30 minutes to chill the mixture. The chilling period will make it easier to roll the balls and it will also allow time for the flavors set and develop.
Frequently asked questions
How long do coconut date balls keep?
Once you've made the energy balls, place them in an airtight container with the layers separated by parchment paper, and they will keep for around 10 days in the fridge. You can also freeze the balls in the same way and defrost them in the fridge overnight before enjoying.
Can you make these balls without a blender?
It's best to use a blender to make these as it chops all of the ingredients very finely which makes them easier to combine and roll up, especially the dates. If you don't have a blender chop everything as finely as you can and then mix thoroughly.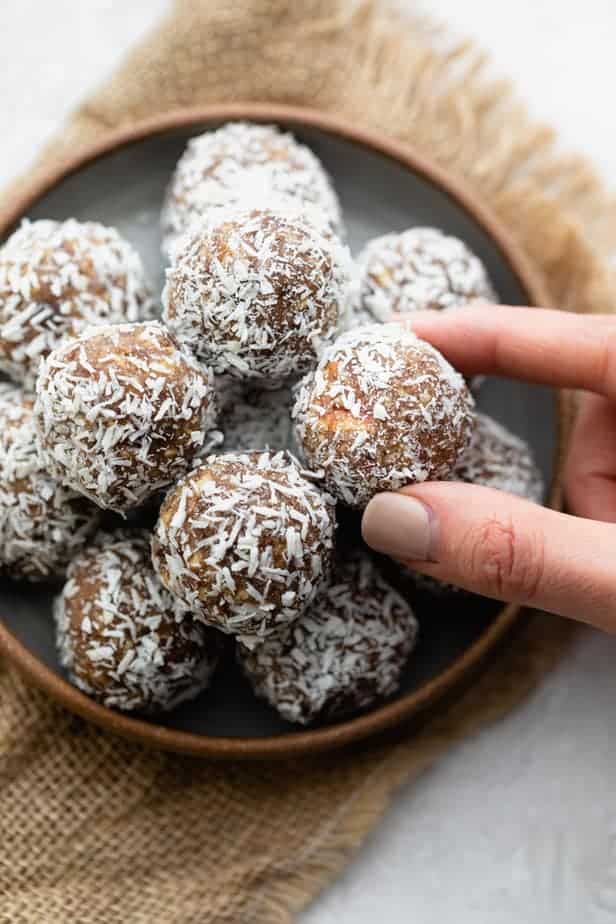 For more energy bites/balls recipes:
I hope you make this homemade healthy snack that's full of feel good natural ingredients. And I hope it gives you energy to tackle your day with a pep in your step! Have fun with the recipe and customize it to your liking!
If you've tried this healthy-ish feel good Coconut Date Balls recipe or any other recipe on FeelGoodFoodie, then don't forget to rate the recipe and leave me a comment below! I would love to hear about your experience making it. And if you snapped some shots of it, share it with me on Instagram so I can repost on my stories!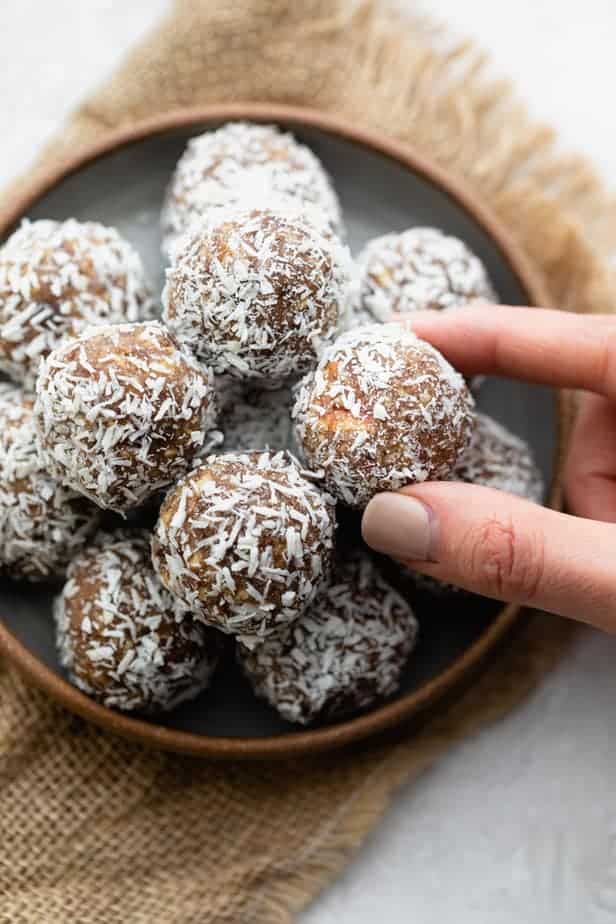 Coconut Date Balls
Coconut date balls are little balls of nutrition made with dates and nuts and then coated in shredded coconut – an easy-to-make sweet & healthy vegan snack!
Instructions
Pit the medjool dates and soak them in warm water for 10 minutes until they soften

Place the pitted dates and pecans in the bowl of a large food processor. Blend on high until a thick "dough" is formed and the mixture feels sticky.

Scoop about 1-2 tablespoons of the mixture and use your hands to roll it into a ball. If you have time you can let them set in the fridge for 5 minutes.

Roll the energy bites into desiccated or shredded coconut pressing gently so they adhere. Makes about 12-14 bites.
Notes
Storage: Store any leftovers in an airtight container. They will last about 10-14 days in the fridge. Freezing Instructions: After rolling the balls, freeze them on a baking sheet until solid.  Once frozen, transfer them to a freezer safe container or bag. You then simply need to thaw them in the fridge overnight. Substitutes: For best results, follow the recipe as is. However, feel free to play around with the ingredients and customize to your liking.
Nutrition
Calories:
145
kcal
,
Carbohydrates:
14
g
,
Protein:
2
g
,
Fat:
10
g
,
Saturated Fat:
2
g
,
Sodium:
1
mg
,
Potassium:
173
mg
,
Fiber:
3
g
,
Sugar:
11
g
,
Vitamin A:
31
IU
,
Vitamin C:
1
mg
,
Calcium:
19
mg
,
Iron:
1
mg
Nutrition information provided is an estimate. It will vary based on cooking method and specific ingredients used.