This post may contain affiliate links. Please read our disclosure policy.
Here is your summer produce guide. It's the juiciest part of the year when local tomatoes, green beans, and stone fruit are flooding shelves everywhere from your local farm stand to Costco.
Why is it important to eat seasonally?
Enjoy more flavorful fruits and vegetables. Summer fruits and vegetables that ripen on the stem (with few exceptions like avocados) develop a fuller taste than produce that has been picked early and spent time being shipped.
Get the maximum amount of vitamins and minerals. Likewise, the nutritional value of produce starts to diminish soon after it is picked. If you can eat recently harvested food, you will receive the full nutritional benefit of these goodies.
Save money. Fresh fruits and vegetables, especially organic, can be pricey, but they will always be least expensive in season.
Reduce your carbon footprint. Corn bought beside the field where it was grown did not take a ride on an interstate to get there!
Tips for shopping for summer produce
Here are a few ideas to slip into your mental market basket.
Take a sniff, if health rules permit: A lovely smell is one indicator that a nectarine or cantaloupe is ripe, for example, but it might also indicate that a pineapple needs to be cut immediately upon buying.
Visually inspect or if possible, pick up and feel for signs for freshness: You want to avoid anything that has bruises, soft spots, or wrinkled skin. Also realize, if say, avocados, peaches, or cantaloupe are rock hard, they will need a few days to ripen.
Check out the websites and/or weekly circulars of your local stores. These can give you a great idea of what's in season and on sale.
Be flexible in your meal planning and recipe development. If a recipe normally calls for plums but you can't find any, can you substitute peaches? Swap broccoli for asparagus?
Seasonal summer fruits
It's a big country with lots of climates and micro-climates. Your summer produce finds will vary by region. As summer starts, typically spring fruits like rhubarb will be hanging around and by the end of August, you will start to find fall fare like pears. In general look for:
Apricots
Blackberries
Blueberries
Cantaloupes, along with local like Ananas or Persian melons
Cherries
Honeydew melons
Nectarines
Peaches
Plums and pluots, which are apricot-plum hybrids
Raspberries
Strawberries
Watermelon
Seasonal summer vegetables
Some season veggies to watch for:
Arugula
Avocados
Basil, and lots of other garden herbs like rosemary, sorrel, and sage
Beans -green, pole, lima beans, fava, and more
Beets
Broccoli
Carrots
Cabbage
Cauliflower
Cucumbers
Corn
Eggplant
Salad lettuces of all sorts from watercress to Romaine
Okra
Peas, of all sorts, including English and sugar snap peas
Peppers, from sweet red bell peppers to the hot varieties that can be tried
Radishes
Summer squash of all varieties from squash blossoms to crooked neck, pattypan,, and zucchini
Turnips
Here are some favorite summer produce recipes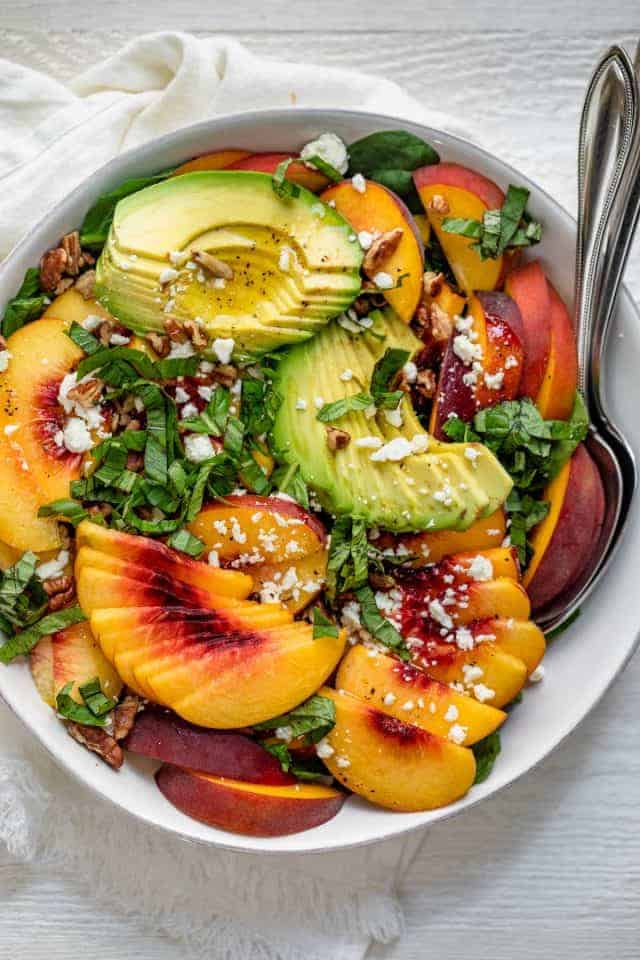 Frequently asked questions
What's the best way to store my summer produce?
It can be hard to keep track of everything so I recommend buying what you need, using as quickly as possible and storing according to recommendations which vary based on the produce. Encyclopedic books like The New Food Lover's Companion show how to store an incredible array of produce
Should I just save money and buy frozen?
Think about what tastes superior fresh and how you'll use the summer fruits or vegetables. For instance, there is no comparing a vine-ripened tomato or freshly picked corn, but using frozen versus fresh broccoli in a frittata will not make a huge difference.
What's the best way to freeze extra summer fruits and vegetables?
If it is something that can be frozen like slices of peaches or berries (check out my guide) consider flash freezing and storing in freezer-safe bags to use later in smoothies or baking. You can also freeze vegetables like bell peppers for stir-frys, cauliflower for smoothies, or broccoli for casseroles.
Summer is a great time to experiment with new fruits and vegetables at their peak of flavor. If you are looking for what produce is in season in your region, consult this cool app and website. And don't forget to check out my other seasonal guides like my Spring Produce Guide and Fall Produce Guide.
For more cooking guides
If you found this summer produce guide useful, we'd love to hear from you! And if you snapped some shots of any of these tips and tricks, please share it on Instagram so we can repost on my stories!