This post may contain affiliate links. Please read our disclosure policy.
If there's one meal I consider my fallback go-to dish in my kitchen, it's this authentic mujadara recipe. It's one of those recipes where the dish is greater than the sum of its parts. Lebanese mujadara consists of only three main ingredients: rice, lentils, and onions. These simple ingredients come together so beautifully and have a fantastic texture of soft grains with deeply caramelized and fried onions – so good!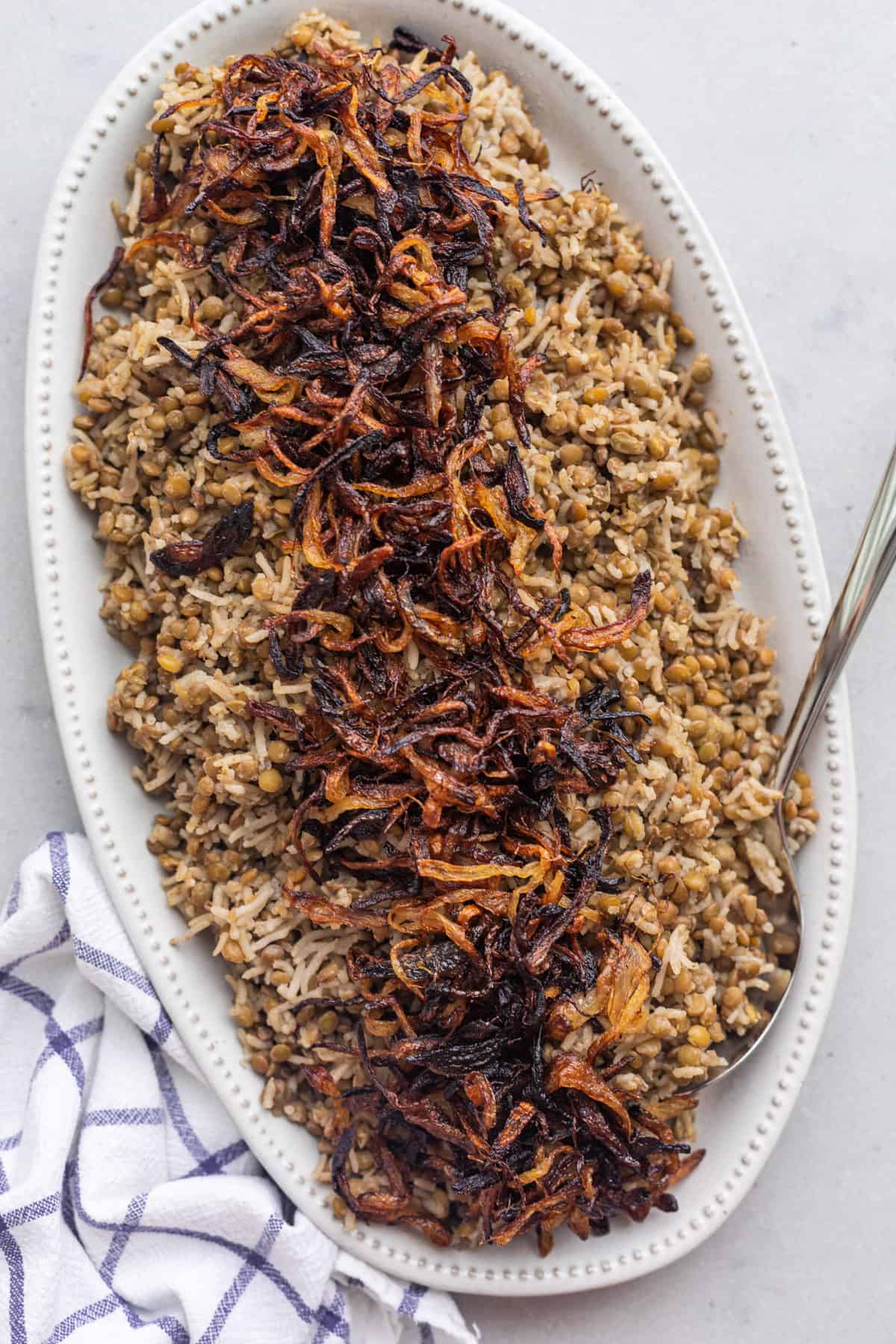 Table of Contents
Mujadara is full of warm cumin spice accentuating the soft, tender lentils and fluffy rice. It's such an easy dish to make and also gluten-free, dairy-free, and vegan-friendly. I love sharing this traditional recipe my Lebanese parents taught me growing up. Serve with a dollop of cool and refreshing cucumber yogurt for a creamy addition to this savory dish.
What Is Mujadara
Mujadara is an ancient, traditional Middle Eastern recipe that is often referred to as peasant food because of how inexpensive and simple it is to make. There are countless variations of the recipe, and in some regions, mujadara is referred to as the dish made with lentils and bulgur, while mudardara is the one with lentils and rice. No matter which grain you choose, you'll love the simplicity of the flavors and how filling it is.
Why you'll love this classic mujadara recipe
Wonderful texture. You'll be amazed by how delicious the contrasting textures of soft rice and slightly chewy lentils are with crispy fried onions.
Inexpensive to make. This frugal recipe combines some of the most common and inexpensive ingredients for a meal or side dish that keeps you full and satisfied.
Serve as a main or side. For such a simple dish, this lebanese lentils and rice packs a punch of health benefits, like a whopping 14 grams of protein, and is also an excellent source of fiber. Delicious enough to serve as the main dish for a plant-based dinner or alongside some a large salad.
Ingredients to make mujadara
Lentils: You want to use large brown whole lentils for this recipe. They give the mujadara the best texture, and the color is an iconic part of the recipe.
Rice: You can pretty much use any type of rice you want for mujadara, but I prefer to use white long-grain rice because it's how it's traditionally made and gives the best texture. If you're using brown rice, you'll need to extend the cooking time. You can also use bulgur or cracked wheat in place of rice.
Onions + oil: Sliced onions are pan-fried until crispy, then left to sit on paper towels while the mujadara cooks. They make a delicious topping and crisp up as they sit.
Seasonings: Cumin and salt to taste.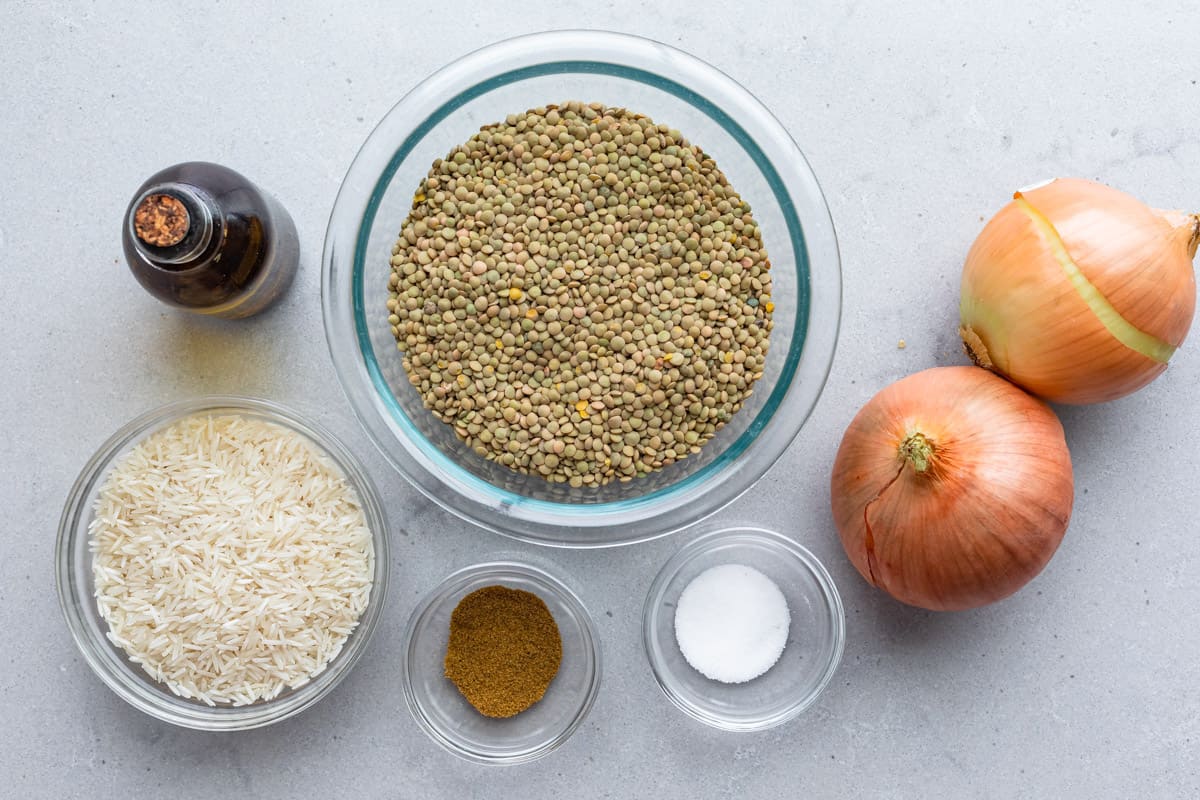 How to make mujadara
It's easy to make this mujadara recipe. All three parts can cook and be prepared simultaneously for a quick meal. The rice is soaked while the onions are frying, and the lentils cook before adding the soaked rice. It will all come together in about 35 minutes when you time everything out!
Soak the rice
Soak the rice in cold water. This helps to remove extra starch.
Strain the rice before adding it to the par-cooked lentils.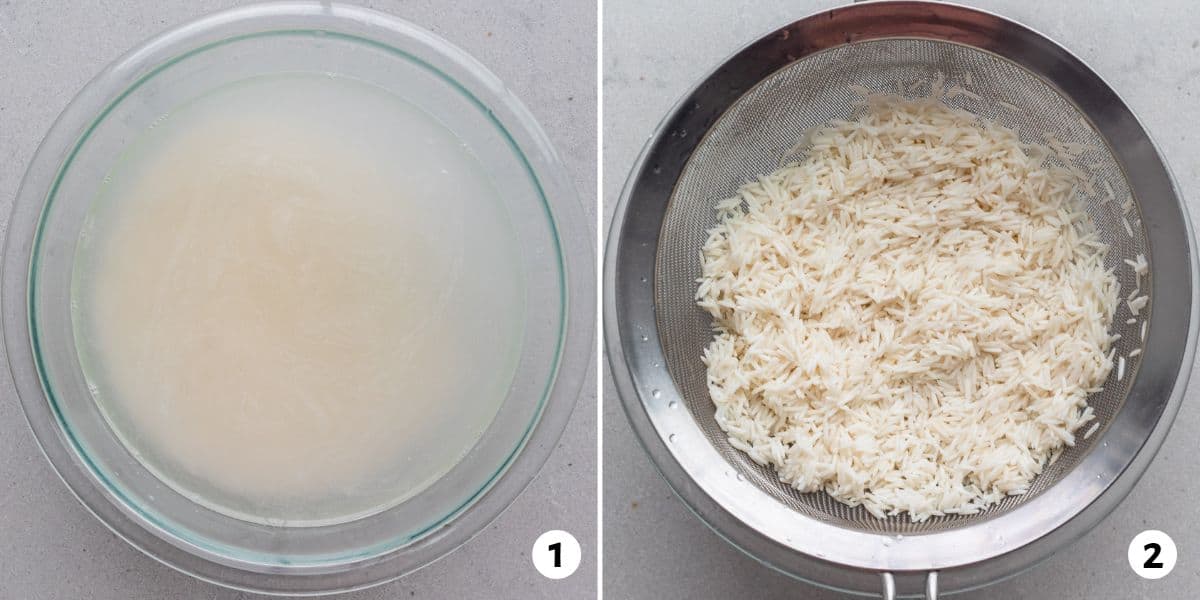 Fry onions for mujadara topping
Heat olive onion over high heat. Add the onions and cook, stirring constantly, until the onions are deeply browned and start to crisp around the edges.
Transfer to a paper towel-lined plate to help draw out the extra oil, they will crisp up more as they sit.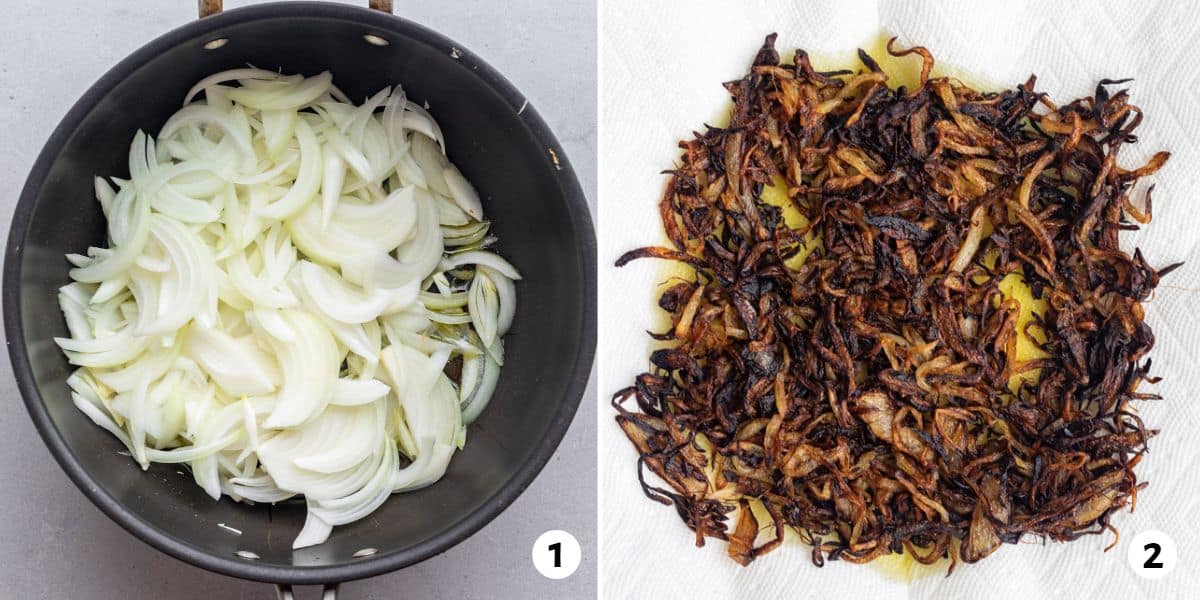 Make the mujadara in one pot
While the onions are frying, heat another pot and add the lentils with salt.
Add water and bring to a boil before reducing the heat and covering it with a lid.
After rinsing the drained rice, transfer it to the pot.
Stir to combine the lentils and rice and return the lid to continue cooking.
Remove the pot from the heat and rest, covered, and sprinkle on the cumin.
Fluff the rice and lentils with a fork to combine.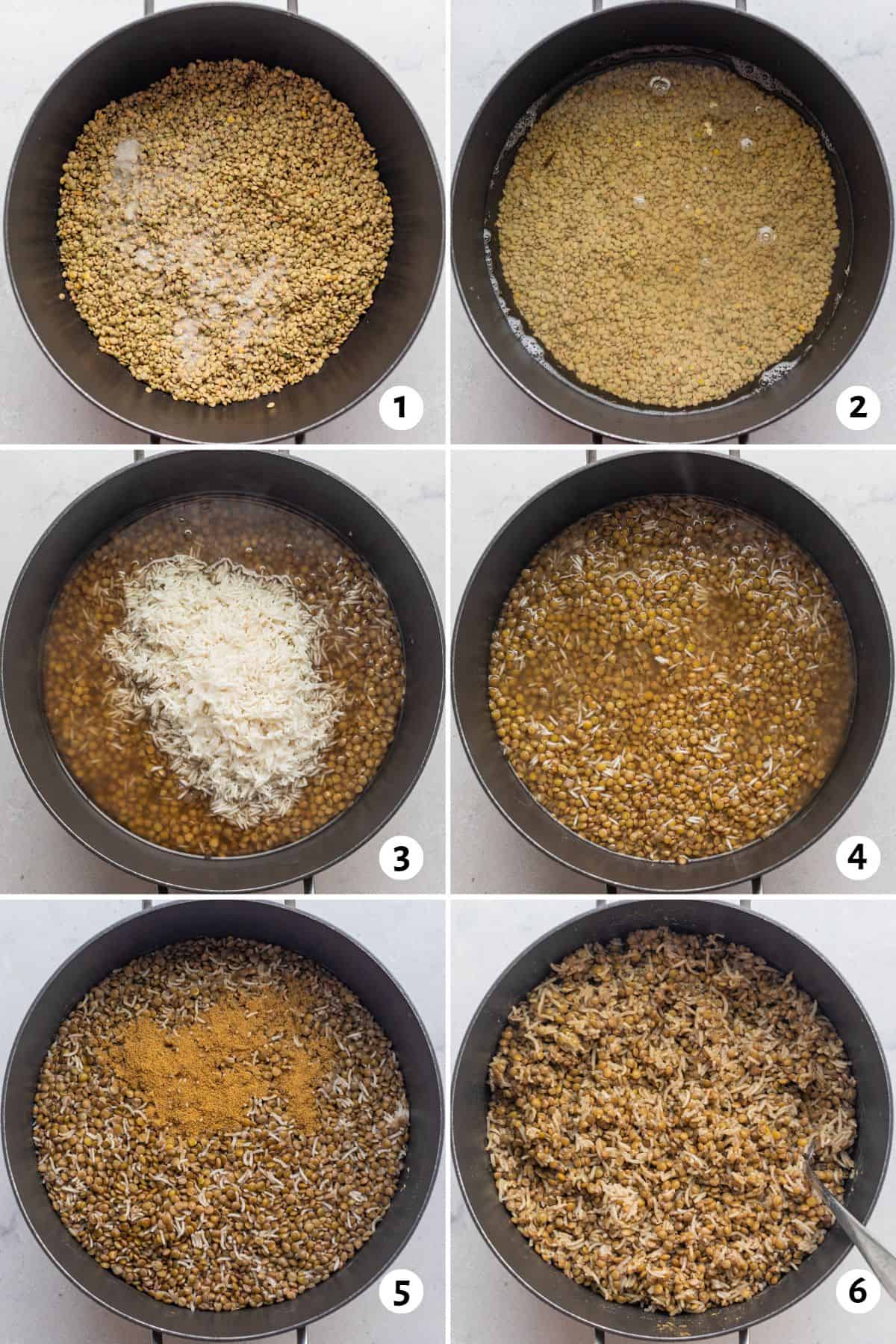 Tips for making the best mujadara
Use the right type of lentils. There are so many lentil varieties in the store. The recipe will work well with most brown and green lentils that I've tried. But do not use red/orange lentils. Their texture is softer and will lend themselves to a mushy consistency for the mujadara (mudardara) recipe.
Pay attention to the cooking of the lentils. Like many beans, lentils may vary in cooking time depending on the type of lentils you use. Refer to the package instructions and cook them al dente first, because they will also continue cooking with the rice.
Be confident when cooking the onions. It may seem like a long time to cook onions over high heat, but when frying 2 large onions in ½ cup of oil, stirring constantly, nothing should burn. The onion's moisture plus the amount of oil helps to caramelize and crisp them up. Doing this while the lentils and rice cook in a separate pot is a great way to utilize your time while working on such a hands-on part of the recipe.
Cook the rice and lentils separately. To save time and avoid washing an extra pot, I like cooking everything together. However, you can cook the rice in one pot and the lentils in another pot and then combine them together. This creates better presentation so I do it for guests sometimes.
Popular substitutions & additions
Cook extra onions into the mujadara. When I originally published this recipe, I included two sets of onions, some mixed into the rice and lentils, and the crispy ones on top of the rice and lentils. This is how my mom prefers to make mujadara, and it adds a ton of flavor, but it does add time to the recipe, which is why I've updated it now to only include the onions on top.
Make it with brown rice. The difference between white rice and brown rice for mujadara is that brown rice will need to cook a little longer. Instead of adding the rice halfway through cooking the lentils, you'll start it first, simmer for about 10 minutes, and then add in the lentils to finish cooking for about 25 minutes.
Make it with bulgur wheat. This is another traditional way to make this recipe. Follow this mujadara recipe but with a few time changes. Cook the lentils for 20 minutes before adding the bulgur (instead of rice and no soaking required), and continue to cook for only 10 more minutes. Remove from the heat, and rest for 5 minutes with the lid on before adding the cumin and fluffing with a fork.
What to serve with lebanese mujadara
The dish has minimal ingredients but it's such a well-balanced meal with protein and fiber (lentils), grains (rice), and vegetables (onions). It's a wonderful vegan dish and served on its own as an entree. Traditionally in Lebanon, we serve it with some whole milk yogurt or Greek Yogurt, or even a cucumber yogurt sauce.
It's also very common to serve this with some vegetables like radishes or Middle Eastern salads like the following: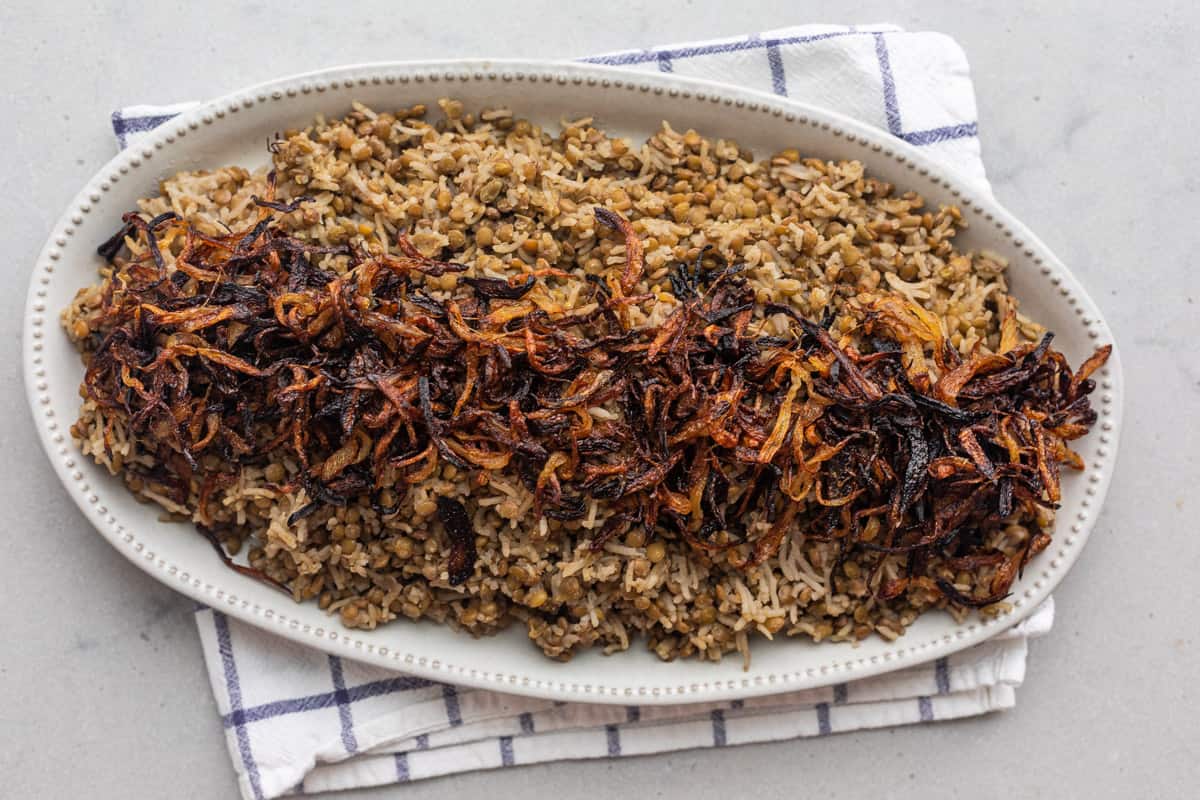 How to store & reheat mujadara with rice
After cooking completely, store any leftovers in an airtight container in the fridge.
To reheat: You can reheat mujadara on the stovetop or in the microwave with a splash of water until heated through.
How long will mujadara last in the fridge?
When stored properly, mujadara will last up to 4-5 days in the fridge.
Can i freeze majadara?
You can freeze the mujadara for up to 3 months by storing it in a freezer-safe container or zip-top bag. To reheat, thaw in the fridge overnight and microwave until heated through.
Frequently asked questions
Why did my mujadara come out mushy?
Because we're cooking the lentils and rice together, it could affect the texture of them when they come together, especially since the type of rice can affect the amount of water needed for the recipe. To make sure it doesn't come out mushy, you can cook the rice alone in one pot, cook the lentils alone in another pot and then combine them.
Can I make mujadara ahead of time?
Slice the onions ahead of time, and pan-fry to have a quick topping ready to add to your mujadara. To make the lentils and rice ahead of time, simply cook and cool, storing in the fridge until ready to eat, up to 5 days in advance. Reheat on the stove or microwave with some water to freshen it up for serving.
Can I make mujadara with any type of rice?
Yes, absolutely! You can use long-grain white rice, basmati, or brown rice. Just be sure to adjust the cooking time for each type, so you don't have any undercooked or overcooked rice.
Which lentils are used for this Lebanese mujadara recipe?
I use dried brown lentils, but you could also use green. Dried lentils are best because they retain a chewy texture, but if you decide to you canned lentils, cook the rice according to the package and simply stir in the drained and rinsed canned lentils at the end as they only need to be warmed up and not cooked.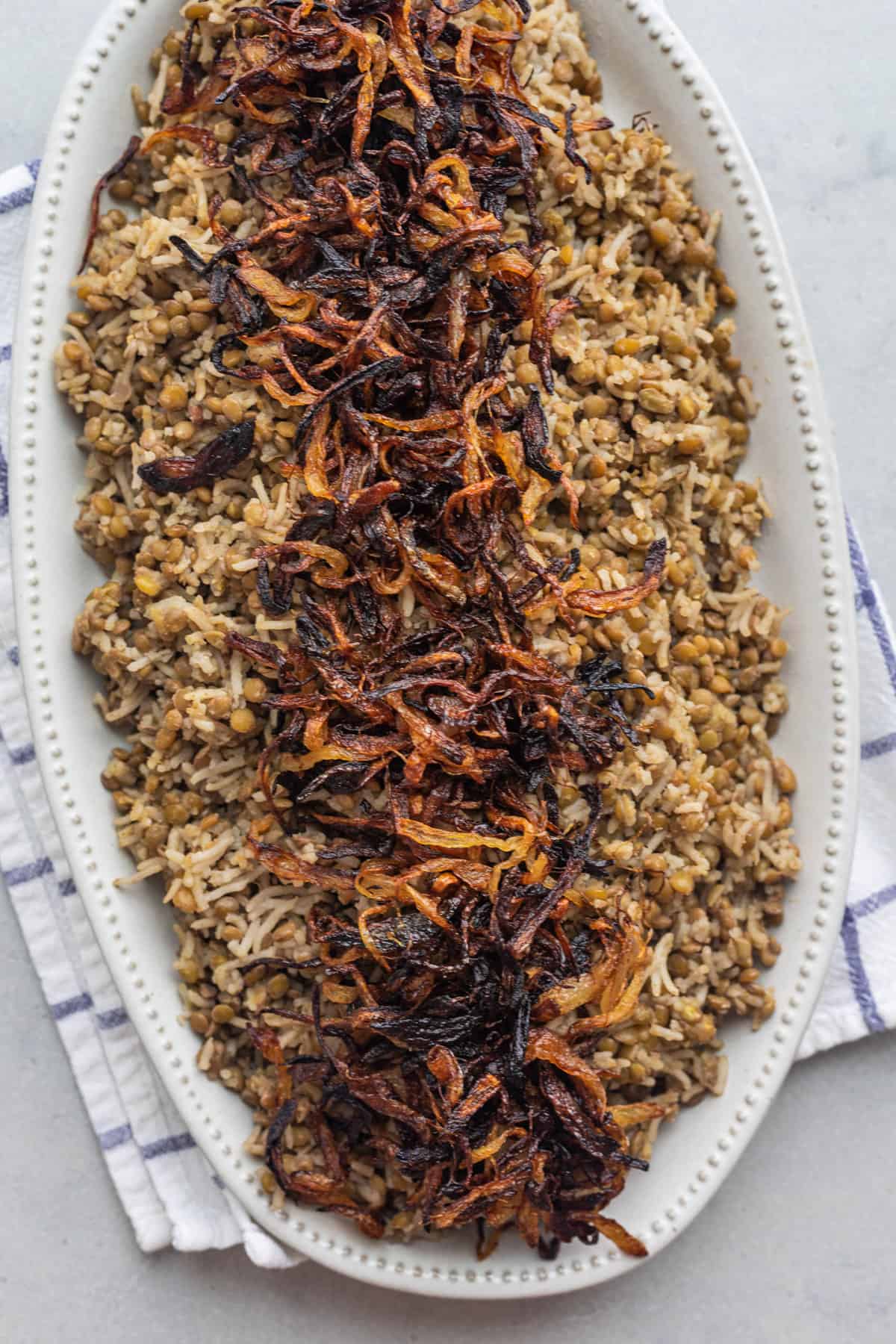 This authentic mujadara recipe is one of my favorites I grew up with that uses basic pantry items, is ultra comforting and is a well-balanced nutritious meal! So if you're trying to recreate this Lebanese recipe or looking for new vegan recipes, give this one a try!
More traditional Lebanese recipes
If you've tried this healthy-ish feel good Lebanese Mujadara Recipe recipe or any other recipe on FeelGoodFoodie, then don't forget to rate the recipe and leave me a comment below! I would love to hear about your experience making it. And if you snapped some shots of it, share it with me on Instagram so I can repost on my stories!
This Mujadara recipe was originally published on April 28, 2019. The recipe has been slightly modified to remove the onions mixed into the rice and lentils and only include crispy onions on top of the rice and lentils. This makes the recipe quicker and easier and the post now includes updated step-by-step photos to reflect this process.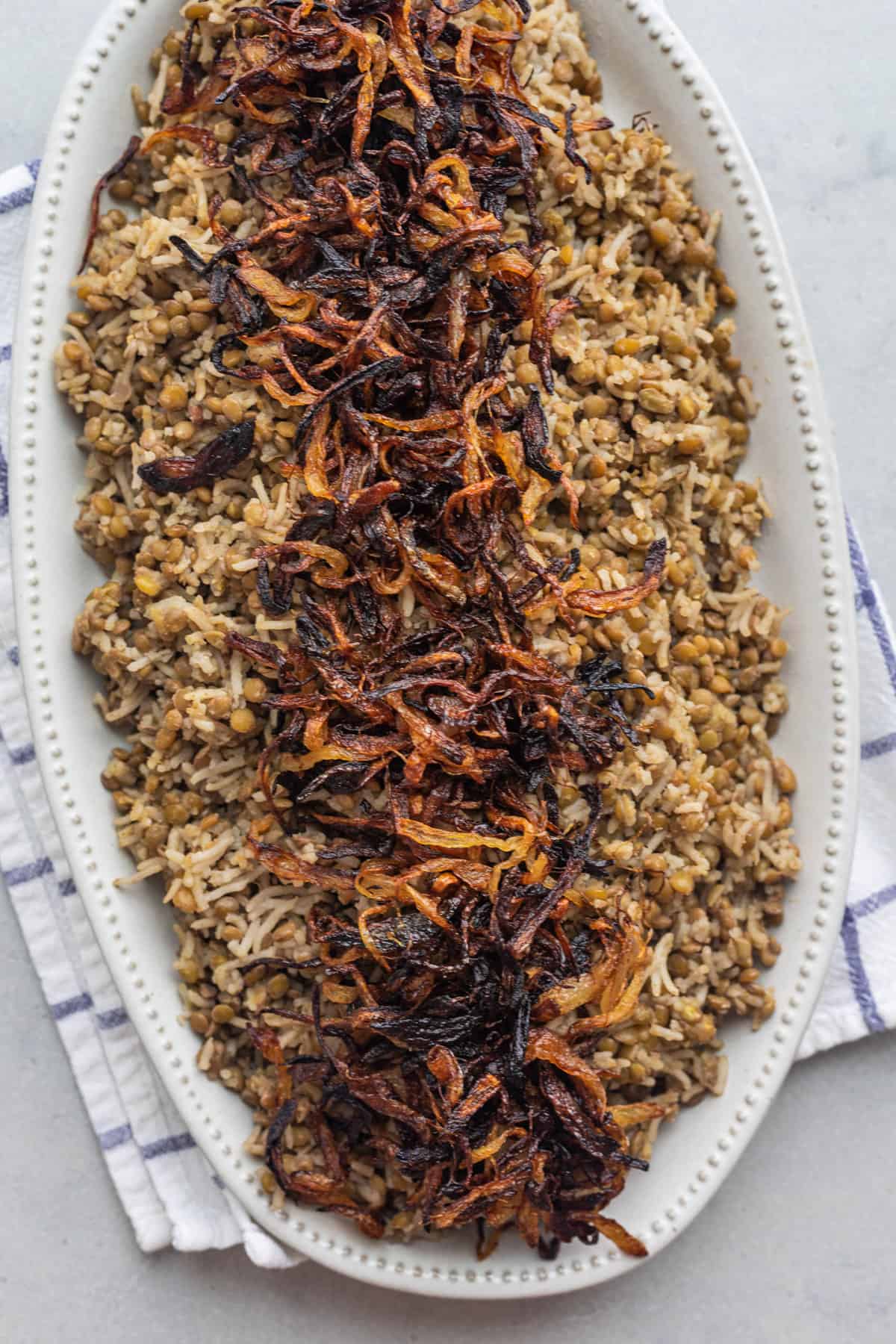 Lebanese Mujadara
Mujadara is a Middle Eastern lentils and rice recipe with crispy caramelized onions. Just 3 ingredients make a easy vegan, protein-rich meal!
Ingredients
Instructions
In a medium bowl, cover the rice with cold water. Set aside.

Line a plate with two paper towels. Heat the olive oil in a large pot over high heat. Add the onions and cook, stirring constantly, until the onions are deeply browned and start to crisp around the edges, about 20 minutes. Transfer to the plate and set aside. They will continue to crisp as they cool.

Add the lentils to another pot, add water and stir to combine. Bring everything to a boil, then reduce the heat to medium-low and cover with a tight-fitting lid. Cook for 15 minutes.

Drain the soaked rice, rinse and transfer it to the pot with the lentils along with the salt. Stir once, then cover again with a tight-fitting lid and cook undisturbed for 15 minutes.

Remove the pot from the heat. Rest, covered, for 5 minutes longer. Add the cumin and fluff the rice and lentils with a fork to combine.

Spoon the crispy sliced onions on top of the mujadara. Serve warm, with cucumber yogurt sauce if desired.
Equipment
Notes
Storage: Store any leftovers in an airtight container. They will last about 4-5 days in the fridge.
Freezing Instructions: You can freeze the mujadara for up to 3 months. To re-heat, thaw in the fridge overnight and microwave until heated through.
Make Ahead Tips: You can chop the onions in advance up to a day before and even caramelize the sliced onions beforehand in order to reduce the prep time.
Sourcing: You can find the brown and green lentils at Middle Eastern markets, natural-foods stores or even in large supermarkets, often located with other Middle Eastern ingredients.
Substitutes: For best results, follow the recipe as is. However here are some common substitutes that would work well in this recipe.
Instead of brown lentils, you can use green lentils.
Instead of white rice, you can use brown rice or bulgur/cracked wheat.
Nutrition
Calories:
386
kcal
,
Carbohydrates:
50
g
,
Protein:
14
g
,
Fat:
14
g
,
Saturated Fat:
2
g
,
Polyunsaturated Fat:
2
g
,
Monounsaturated Fat:
10
g
,
Sodium:
13
mg
,
Potassium:
534
mg
,
Fiber:
15
g
,
Sugar:
2
g
,
Vitamin A:
26
IU
,
Vitamin C:
4
mg
,
Calcium:
48
mg
,
Iron:
4
mg
Nutrition information provided is an estimate. It will vary based on cooking method and specific ingredients used.