This post may contain affiliate links. Please read our disclosure policy.
Cottage cheese, it's creamy, it's tangy, it's a fantastic source of protein… and when you blend it in a food processor, it turns into a light and airy whipped cottage cheese dip or spread! Whether you're looking for a fresh take on a sandwich spread, a tasty addition to your morning toast, or a dip for your favorite veggies, this whipped cottage cheese is hits the spot.
Table of Contents
This whipped cottage cheese recipe is all about taking a simple ingredient and transforming it into something totally unexpected and delicious. With a touch of olive oil, a hint of garlic, a pinch of fresh herbs, and a squeeze of lemon juice, I'm turning humble cottage cheese into a creamy spread that's perfect for dipping, spreading, or simply spooning straight from the bowl.
Why you'll love this SAvory Whipped Cottage Cheese
Protein-Packed Dip Alternative: Whipped cottage cheese is a healthy alternative to ranch or sour cream dips.
Makes Meal Prep Easier: This recipe is a meal prep champion. Make it once, and you've got an instant upgrade for your sandwiches, salads, and snacks for the whole week.
Kid-Tested and Approved: The creamy texture and mild flavor of this dip are a surefire hit with the kiddos. It's a clever way to get them to eat their veggies and enjoy doing it.
Ingredients to Make Whipped Cottage Cheese
Cottage Cheese: Opt for full-fat or whole-milk cottage cheese. It's creamier and has more body to it than low-fat or fat-free. When whipped, it transforms into something light, airy, and so good!
Olive Oil: A little bit of this gives the dip its smooth texture. Plus, it brings a subtle hint of richness.
Garlic Clove: Just one clove provides a nice, gentle kick that cuts through the creaminess.
Fresh Dill and Chives: They offer a fresh, herby touch that takes the dip from good to great.
Lemon Juice: A small splash brightens everything up and makes the flavors pop.
Salt: A simple but crucial ingredient. It enhances all the other flavors and ties everything together.
Fresh Vegetables: The perfect crunchy pair to this creamy dip. Carrots, cucumbers, bell peppers – the choice is yours!
How to make Whipped Cottage Cheese
In the bowl of a food processor, place the cottage cheese, olive oil, garlic, dill, chives, lemon juice and salt.
Blend until the mixture becomes creamy and smooth.
Tips for Making the Best Whipped Cottage Cheese:
Use Full-Fat Cottage Cheese: For the creamiest, most delicious result, stick with full-fat cottage cheese. Lower fat versions can sometimes have a grainier texture when blended.
Keep the Garlic Subtle: Garlic can be a dominant flavor, especially when it's raw. Keep the garlic subtle, and don't go overboard; you can always add more to taste. Tip, cut the garlic clove in half and remove the sprout in the center. This takes the spicy heat out of raw garlic. It's how I make my toum, and works so well!
Don't Skip the Fresh Herbs: Fresh dill and chives add a beautiful depth of flavor. Try not to skip them. If you must, dried herbs can work in a pinch, but remember, dried herbs are stronger, so use them sparingly.
Let It Rest: After blending, let the dip rest for a few hours in the fridge. This step allows all the flavors to meld together, resulting in a much tastier dip.
Blend Until Smooth: The secret to a perfectly creamy dip is to blend until completely smooth. No one wants a chunky dip!
Popular Substitutions & Additions:
Swap the Herbs: Not a fan of dill or chives? Feel free to swap them out for other herbs you love, such as parsley, basil, or cilantro.
Add Some Heat: If you like your dip with a bit of a kick, consider adding a dash of cayenne pepper or some diced jalapenos.
Play with the Citrus: Lemon juice is a classic, but lime juice would work wonderfully as well.
Try Different Cheeses: Though this recipe calls for cottage cheese, you can also experiment with ricotta or even a blend of cottage and cream cheese for a different flavor and texture profile.
Incorporate Veggies: For an even more nutrition-packed dip, consider adding some roasted red bell pepper or sun-dried tomatoes to the blend.
Add More Protein: Stir in a scoop of unflavored protein powder for an extra protein punch. Just be sure it doesn't alter the taste of your dip.
What to serve with Whipped Cottage Cheese
How to Store Whipped Cottage Cheese
After enjoying your homemade whipped cottage cheese, you can store leftovers in an airtight container in the fridge.
How Long Will Whipped Cottage Cheese Last in the Fridge?
When properly stored, whipped cottage cheese can last for up to a week in the fridge. If you see any signs of spoilage like an off-smell, discoloration, or mold, discard.
Can I Freeze Whipped Cottage Cheese?
While you can technically freeze cottage cheese, we don't recommend it. Freezing can drastically change its texture, making it grainy and less enjoyable when thawed. It's best to consume this dip fresh or within the week of making it.
Frequently asked questions
Can I use dried herbs instead of fresh?
Yes, you can use dried herbs if fresh ones aren't available. Generally, you'll want to use a third of the amount specified for fresh herbs as dried ones have a more concentrated flavor.
Why is my whipped cottage cheese runny?
If your whipped cottage cheese is runny, it might be because there was too much liquid in the cottage cheese, to begin with. This could be solved by straining the cottage cheese before blending to remove excess whey. Another reason could be that it was over-processed in the food processor, which can sometimes release more liquid. If this happens, you could try adding some more cottage cheese and blending briefly again, just enough to incorporate and thicken the mixture.
Can I use whipped cottage cheese as a substitute for ricotta?
Yes, you can use whipped cottage cheese as a substitute for ricotta in most recipes. The texture and flavor are slightly different, with whipped cottage cheese being lighter and less creamy, but it works well in recipes like lasagna, stuffed shells, or even in desserts like cheesecake. However, keep in mind that cottage cheese is saltier than ricotta, so you may want to adjust the seasoning in your recipe accordingly.
Whether you're spreading it on your morning toast, dipping your favorite veggies into it, or using it as a lighter, protein-packed replacement for other dips, you can't go wrong with this whipped cottage cheese recipe. The best part? It's so quick and easy to whip up! Once you give this recipe a try, you might find it becoming a regular feature in your meal plans.
More dip recipes:
If you try this feel good Whipped Cottage Cheese recipe or any other recipe on Feel Good Foodie, then don't forget to rate the recipe and leave a comment below! It helps others who are thinking of making the recipe. We would love to hear about your experience making it. And if you snapped some shots, share it on Instagram so we can repost on Stories!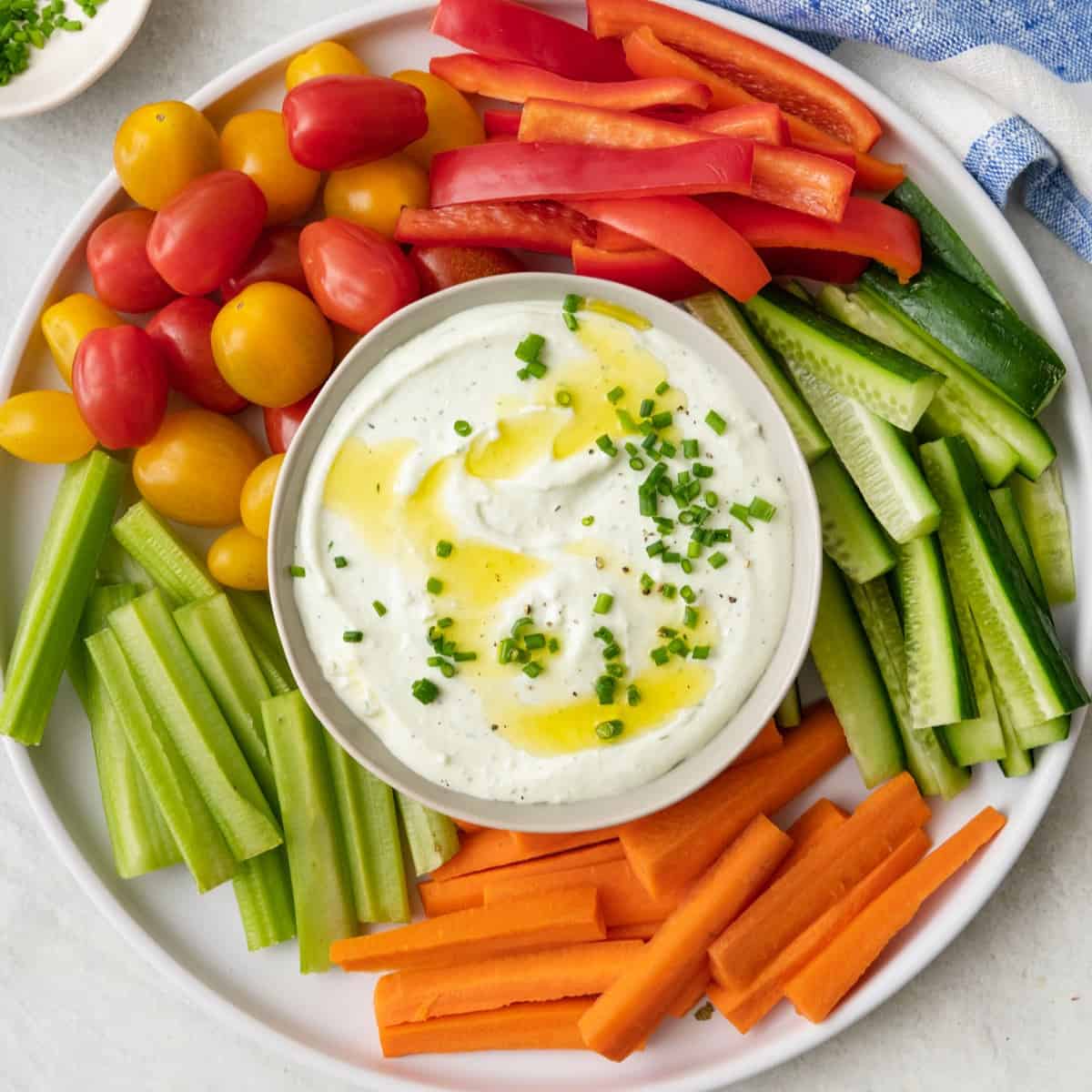 Whipped Cottage Cheese
Whipped cottage cheese is deliciously easy, infused with aromatic herbs and garlic, and so creamy – perfect as a snack or appetizer.
Ingredients
Instructions
In the bowl of a food processor, place the cottage cheese, olive oil, garlic, dill, chives, lemon juice and salt. Blend until the mixture becomes creamy and smooth, about 2 minutes.

Serve in a bowl along with fresh cut vegetables.
Equipment
Nutrition
Calories:
57
kcal
,
Carbohydrates:
1
g
,
Protein:
3
g
,
Fat:
5
g
,
Saturated Fat:
1
g
,
Polyunsaturated Fat:
0.4
g
,
Monounsaturated Fat:
3
g
,
Cholesterol:
4
mg
,
Sodium:
156
mg
,
Potassium:
31
mg
,
Fiber:
0.02
g
,
Sugar:
1
g
,
Vitamin A:
57
IU
,
Vitamin C:
1
mg
,
Calcium:
23
mg
,
Iron:
0.1
mg
Nutrition information provided is an estimate. It will vary based on cooking method and specific ingredients used.