This post may contain affiliate links. Please read our disclosure policy.
This easy vegan spinach artichoke dip is sure to wow your guests. It's not only dairy free, but it is made with nutrient-rich cashews and nutritional yeast, which gives it a cheesy flavor. Plus, it contains artichoke hearts and frozen spinach, which are high in fiber and antioxidants. Not to mention it's also super easy to make. Just bake in the oven for about 25 minutes, and you've got a gooey appetizer that everyone will love. Serve this vegan spinach dip with some fresh veggies or whole-grain crackers, and you're good to go!
What I love about this vegan spinach artichoke dip is that it's really easy to whip it up with very basic whole-food ingredients and no cheese at all (or even vegan cheese, for that matter)! It's vegan, gluten-free, and absolutely perfect for holiday entertaining!
why you'll love this dairy-free spinach artichoke dip
An appetizer dip everyone can enjoy. This dip is not only vegan, but it's also gluten-free and fits pretty much everyone's diet making it perfect for parties!
Tasty, gooey goodness. This dip is perfectly gooey when baked in the oven. Even your non-vegan friends and family will love it.
Loaded with protein and fiber. This dip is packed with nutrient-rich cashews, as well as artichoke hearts and spinach, which are high in protein and fiber.
Easy to make, even easier to eat! The oven really does the majority of the work here! With the help of the blender, your cheesy sauce is as simple as dump and mix. Plus, it takes no time to toss the spinach and artichokes into the dish. When it comes out of the oven, no one is going to have any objections to digging in!
Ingredients to make vegan spinach artichoke dip
Spinach: Frozen spinach works really well for this recipe. Just be sure to thaw and squeeze out the excess water before adding it to the casserole dish. You can use fresh spinach, but you may want to wilt it some first in a pan on the stove to pull out some of the moisture. Otherwise, you'll likely end up with a watery dip.
Cashews: Cashews are a great source of protein and fiber. They work particularly well in this recipe because they help create that creamy texture we all love in baked spinach artichoke dip.
Artichoke hearts: Well, it wouldn't be spinach and artichoke dip without them! Artichoke hearts are delicious and really pair well with spinach and cashews.
Nutritional yeast: Nutritional yeast is a great source of B vitamins, which help boost your energy levels and support bone health. It also gives this dip a delicious cheesy flavor without any dairy! Just be sure to use the flaked variety for the best results.
Sauce enhancers: To round out your cheese sauce, you do need more than softened cashews and nutritional yeast, but not by much. Almond milk, a bit of hot sauce, salt, and some fresh garlic and lemon help create that cheesy flavor we all crave in baked spinach artichoke dip.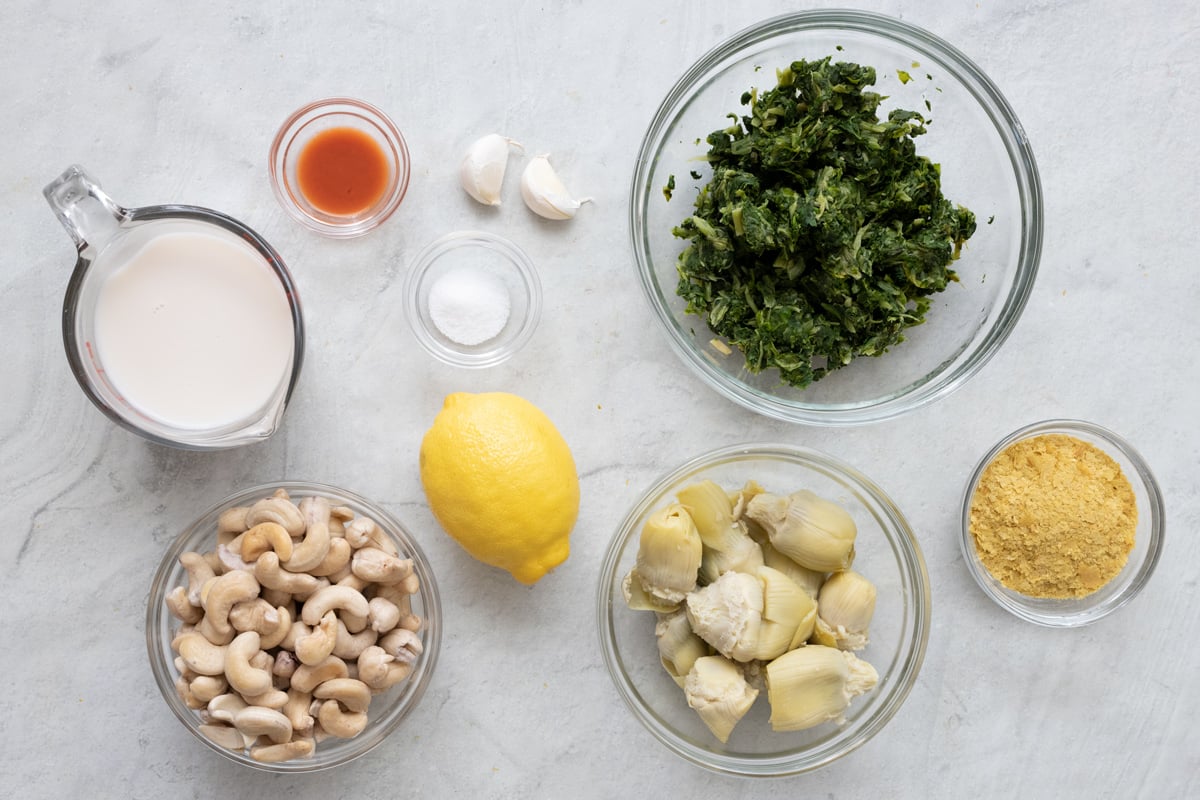 How to make baked vegan spinach artichoke dip
As I mentioned above, you really don't have to do much to throw this spinach dip together. Blend, combine with your spinach and artichokes, and bake. The hardest part is waiting for it to come out of the oven!!
Make Vegan Cheese Sauce
So first, we create the cheesy sauce. To do so, throw everything, except for the spinach and artichokes, in a blender.
Blend until the consistency is smooth and creamy. We're basically making the sauce from pureed cashews that become creamy when mixed with almond milk. And I like to flavor it with garlic, lemon juice, and hot sauce as well.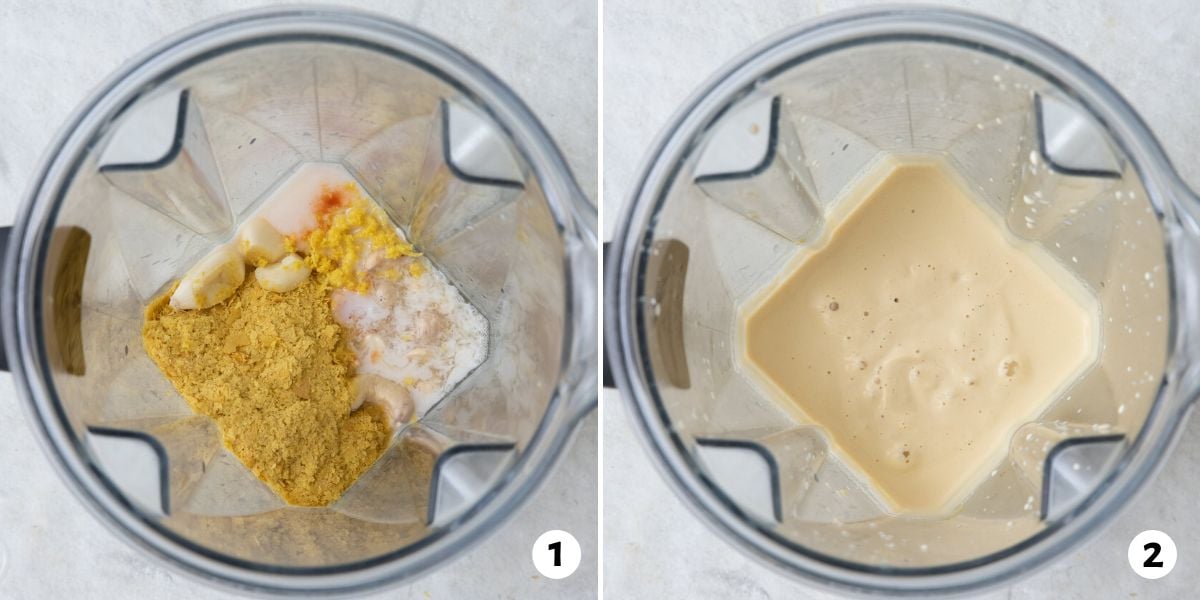 Prepare to Bake
Place the thawed frozen spinach and the drained artichokes in an oven-safe dish.
Pour the cheesy sauce over the vegetables. Now, just mix everything together until it's well combined, and all the spinach and artichokes are well coated in the vegan cheese sauce.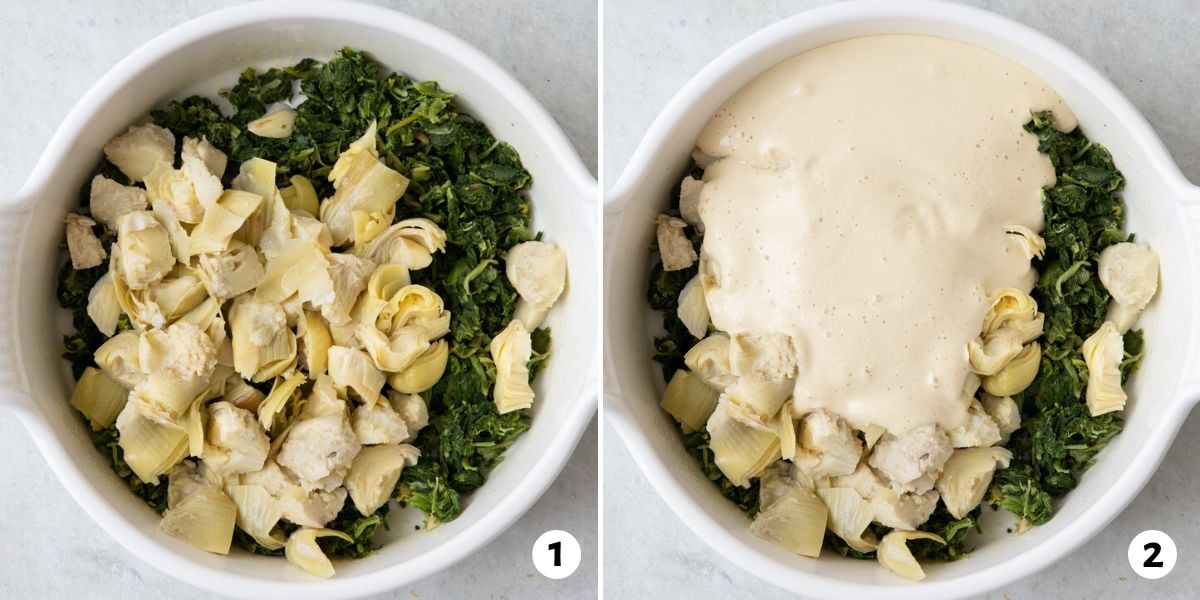 Bake Vegan Spinach Artichoke Dip
Transfer your dip to the oven and bake.
When it comes out of the oven, you'll get a bubbly hot (dairy-free!) spinach artichoke dip.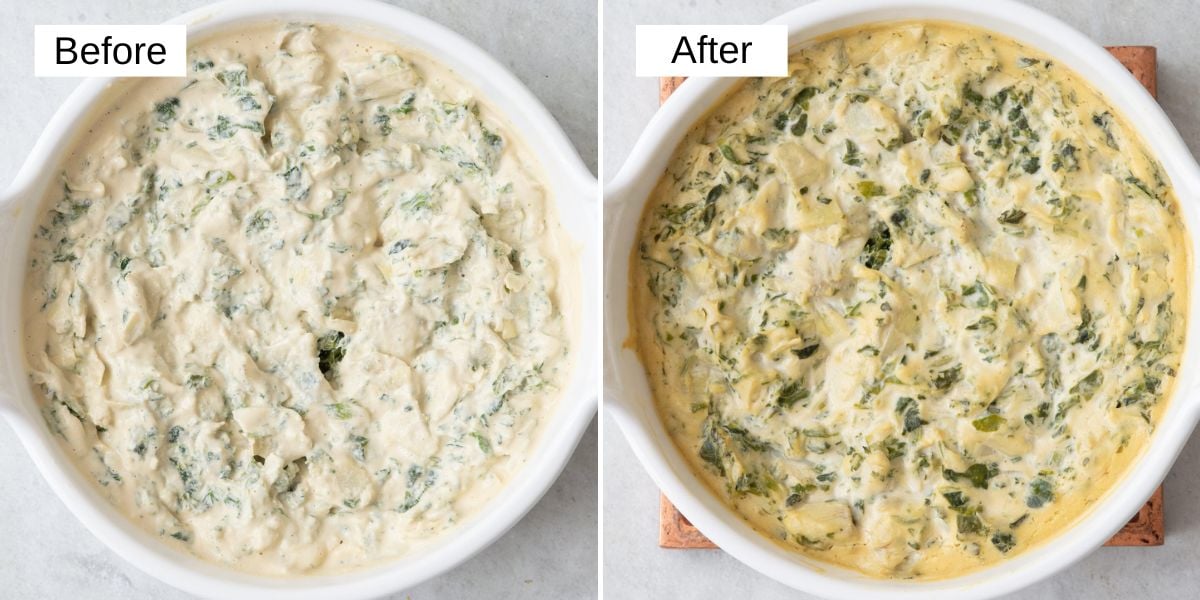 Tips for making spinach artichoke dip with cashews
Soak the cashews overnight to allow them to soften to create the cashew cream. If you don't have time or forgot the step the night before, you can also soak the cashews in very hot water for 1 hour. It doesn't need to be covered either way.
Chop the artichokes (and spinach if necessary) into smaller pieces. No one wants to take a bite of spinach artichoke dip and get only one large artichoke. For best flavor, chop them up roughly to help incorporate their briny flavor into the dish and.
Squeeze out as much liquid as possible from the spinach. You can thaw frozen spinach in the fridge overnight or in a microwave. Chances are you'll have lots of excess liquid, though, which can lead to a runny dip. To avoid that, just squeeze the spinach with your hands until no more water comes out.
Serve with something salty and crunchy for the ultimate snack satisfaction. Even though it's vegan, this spinach artichoke dip is very similar to the classic kind. So you can enjoy it with pita chips, toasted baguette, tortilla chips, or even fresh vegetables to keep it gluten-free.
popular substitutions & additions
Add melty vegan cheese on top. Even though I don't use vegan cheese for this recipe, you can totally take it to the next level by topping your baked vegan spinach artichoke dip with shredded vegan cheese. Just place it in a broiler-safe dish and then add the cheese after the initial bake time and pop it bake into the oven on broil. Broil the dip until it's golden brown and bubbly.
Make it spicy! Some fresh jalapeno, some sliced chili peppers in adobo sauce, or red pepper flakes – all are a great addition to this vegan spinach artichoke dip.
Serve with a variety of vegetables. Baked spinach artichoke dip is a great way to incorporate more vegetables into your diet. Serve it with sliced bell peppers, fresh broccoli or cauliflower florets, thinly sliced carrots, and celery sticks – the sky is really the limit!
how to store & reheat vegan spinach dip
Store any leftover dip either in the baking dish you prepared it covered with plastic wrap or in an airtight container.
To reheat, simply place the entire dish in a 350-degree F oven until it's heated through, about 15-20 minutes, depending on your oven and how much you have left to reheat.
You can also microwave individual portions if you don't need to reheat the entire dish. Simply place your desired amount of dip in a microwave-safe bowl, cover loosely with plastic wrap, and heat at 50% power for 1 minute. Then, stir and continue cooking for 30 seconds to 1 minute until the dip is hot and bubbly throughout.
how long will dairy-free spinach artichoke dip last in the fridge?
This spinach artichoke dip will last in the refrigerator for up to 3 days.
Frequently asked questions
Why did my dip come out watery?
There are a few possible reasons why your dip may have come out watery. You may have not squeezed the excess liquid from the spinach, or you may have added too much cashew cream. Additionally, if you did not chop up your artichokes and spinach into smaller pieces, this can also cause a runny dip. To avoid a watery dip, be sure to follow all of the tips listed in this recipe!
Do I have to let the cashews soak overnight?
No, you don't have to let the cashews soak overnight. You can also simply place them in very hot water for 1 hour or until they are soft and plump. Soaking the cashews helps them to be more easily blended into a smooth cashew cream. Just don't skip the soaking process completely.
How should I serve this spinach artichoke dip?
There are many ways to serve this delicious vegan spinach artichoke dip. You can scoop it up with pita chips, tortilla chips, or fresh vegetables like sliced bell peppers, carrots, celery sticks, and broccoli florets.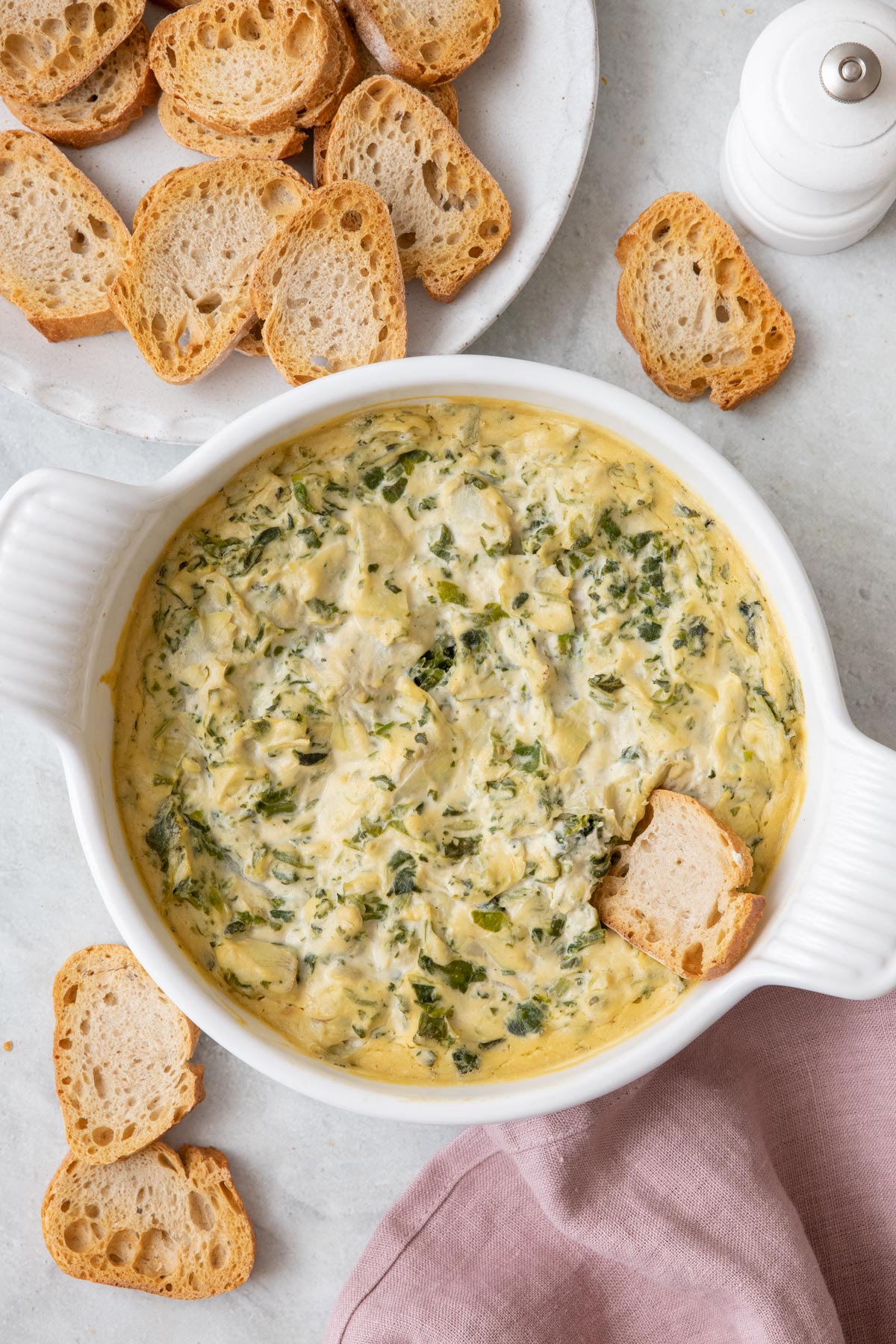 Vegan spinach artichoke dip is a great appetizer to take to parties, potlucks, or just to enjoy as a snack. Whether you're looking for a new and exciting recipe to try, or just want something quick and easy to make on busy weeknights, this dip is sure to be a winner! Enjoy!
More dips to try:
If you try this feel good Vegan Spinach Artichoke Dip recipe or any other recipe on Feel Good Foodie, then don't forget to rate the recipe and leave a comment below! It helps others who are thinking of making the recipe. We would love to hear about your experience making it. And if you snapped some shots, share it on Instagram so we can repost on Stories!
This Vegan Spinach Artichoke recipe was originally published on December 25, 2018. The recipe has not been modified, but the post now includes newer step-by-step photos for how to make the vegan dip recipe.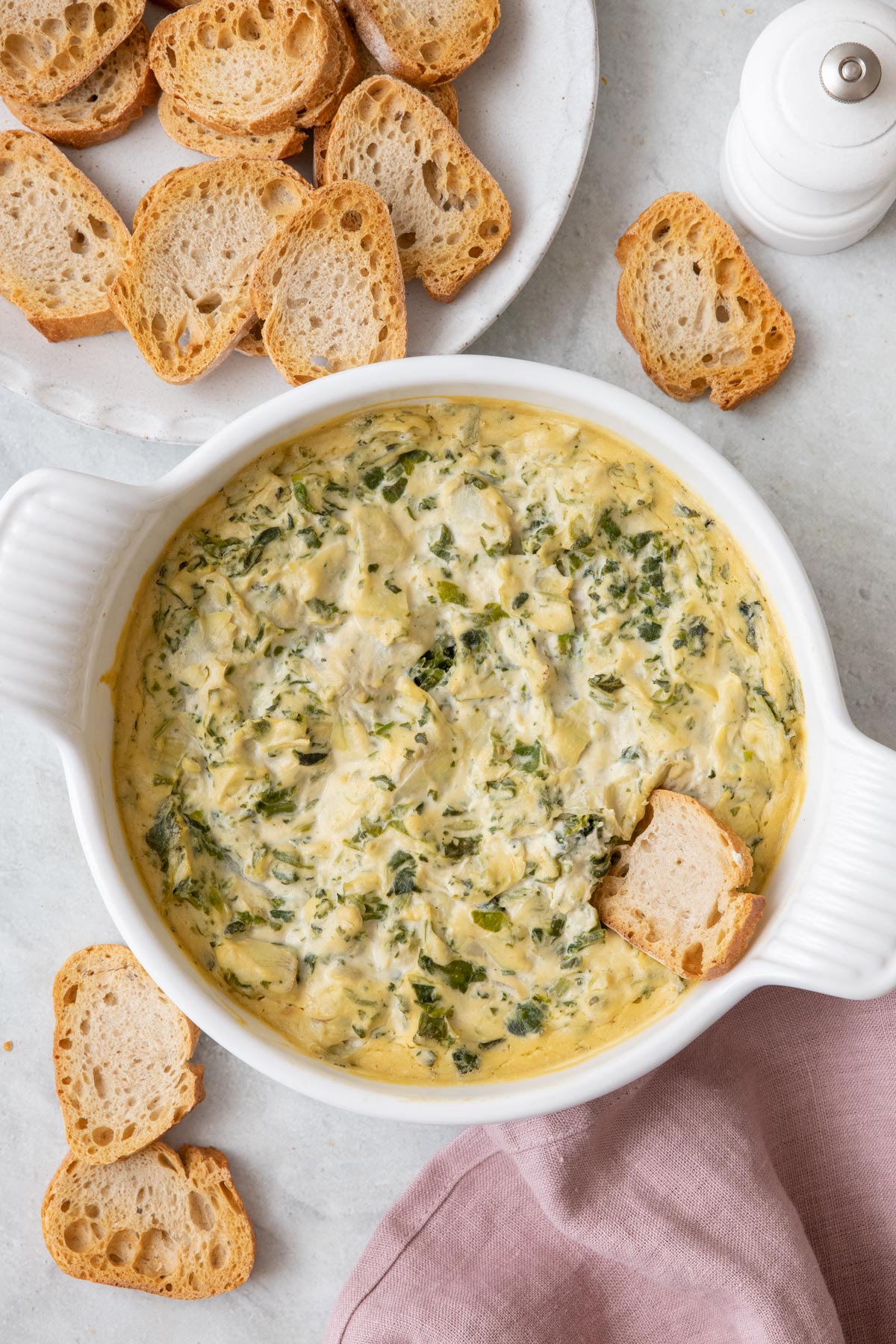 Vegan Spinach Artichoke Dip
Dairy-free and Vegan, this spinach artichoke dip is absolutely creamy and cheesy while still being dairy free. Made with cashews and delicious!
Ingredients
1

cup

raw cashews

soaked at least 2 hours, then drained

1

cup

almond milk

¼

cup

nutritional yeast

2

garlic cloves

1

lemon

zested and juice

1

teaspoon

hot sauce

½

teaspoon

sea salt

1

10-ounce bag frozen spinach, thawed

1

14-ounce jar artichoke hearts, chopped
Instructions
Preheat the oven to 375°F. Spray an 8×8 or 8×11 oven-safe baking dish with cooking spray and set aside.

In a high-speed blender, combine the cashews, almond milk, nutritional yeast, garlic, lemon, hot sauce and salt. Blend until all the ingredients are well combined, smooth and creamy, about 1 minute.

Place the thawed spinach and artichokes in the baking dish. Pour the creamy sauce on top and stir to combine. Transfer the mixture to the baking dish and bake for 20-25 minutes, until the dip is bubbling and mostly set.

Remove and serve immediately with your choice of bread, crackers, pita or sliced veggies!
Notes
Storage: Store any leftovers in an airtight container. It will last about 3-4 days in the fridge. To reheat, you can place it in the microwave for 1 minute.
Make Ahead Tips: It's important to soak the cashews overnight in order to soften them to make them ideal for making the cashew cheese.
If you don't have time or forgot the step the night before, you can also soak the cashews in very hot water for 1 hour. It doesn't need to be covered either way
Nutrition
Calories:
84
kcal
,
Carbohydrates:
7
g
,
Protein:
4
g
,
Fat:
5
g
,
Saturated Fat:
1
g
,
Polyunsaturated Fat:
1
g
,
Monounsaturated Fat:
3
g
,
Sodium:
274
mg
,
Potassium:
186
mg
,
Fiber:
2
g
,
Sugar:
1
g
,
Vitamin A:
2773
IU
,
Vitamin C:
7
mg
,
Calcium:
63
mg
,
Iron:
1
mg
Nutrition information provided is an estimate. It will vary based on cooking method and specific ingredients used.