This post may contain affiliate links. Please read our disclosure policy.
If you don't enjoy eating kale with salads, maybe you just haven't tried a salad with massaged kale! I've learned over the years of eating kale that it's best massaged – literally using your hands and massaging the kale leaves until they feel soft and look darker. Massaging the kale helps to tenderize it and reduce its bitterness – and it might just change how you feel about kale!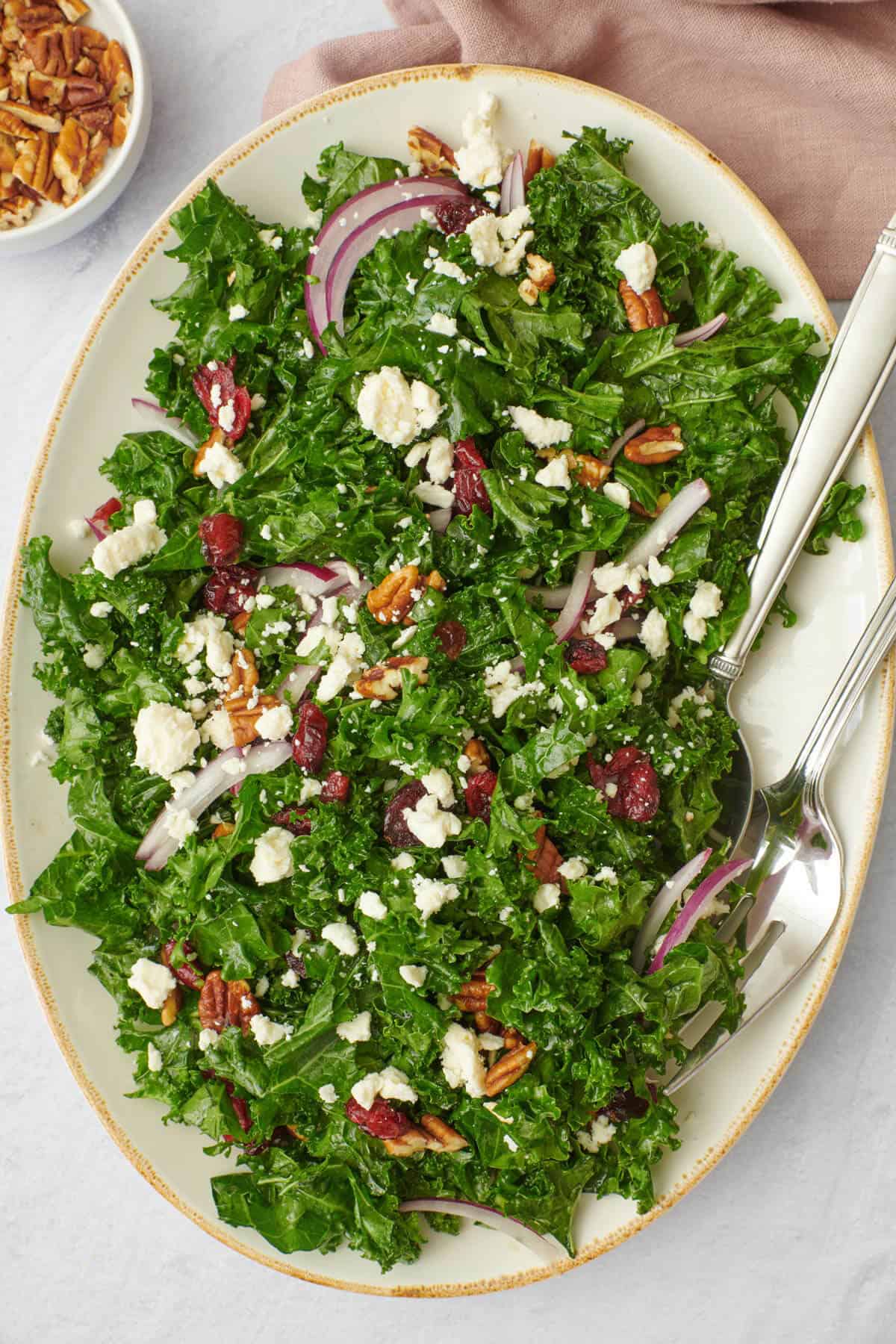 Table of Contents
Even if you like cooked kale and kale chips, raw kale in a salad might be a deal-breaker—and it's easy to see why. Raw kale is tougher than cooked and it has a very strong and, well, raw flavor to it. Many kale salads feel more like a punishment than something you actually look forward to eating!
This recipe for massaged kale salad is so good. Believe it or not, the simple act of rubbing the kale leaves between your hands can mellow the flavor and soften the texture the same way cooking does. It's like magic! Then, add a flavorful vinaigrette, salty feta, crunchy toasted pecans, and sweet cranberries and you'll completely forget that you're eating a raw kale salad.
Recipe At A Glance
Cuisine Inspiration: American
Primary Cooking Method: No-Cook
Dietary Info: Gluten-Free, Vegetarian
Key Flavor: Fresh, Sweet, Tangy, and Savory
Skill Level: Easy
Summary
Fantastic for Fall: With the kale, maple-sweetened dressing, and cranberries, this is the perfect salad for fall—or even for serving at your Thanksgiving dinner.
Easy to Customize: As with most salad recipes, this massaged kale salad is easy to tailor to your family's tastes. I share some ideas below!
Loaded With Flavor: This salad has a little bit of everything—tangy, sweet, salty, tart, and earthy. It all comes together to create a perfectly balanced bite!
Simple to Make: All you need is a few simple ingredients and about 10 minutes to whip up this tasty salad—no cooking required.
Advance Prep Option: Toss the massaged kale salad with cranberries and onions and store in the refrigerator for a day or two. Add the pecans and feta just before serving.
Ingredients to make a Massaged Kale Salad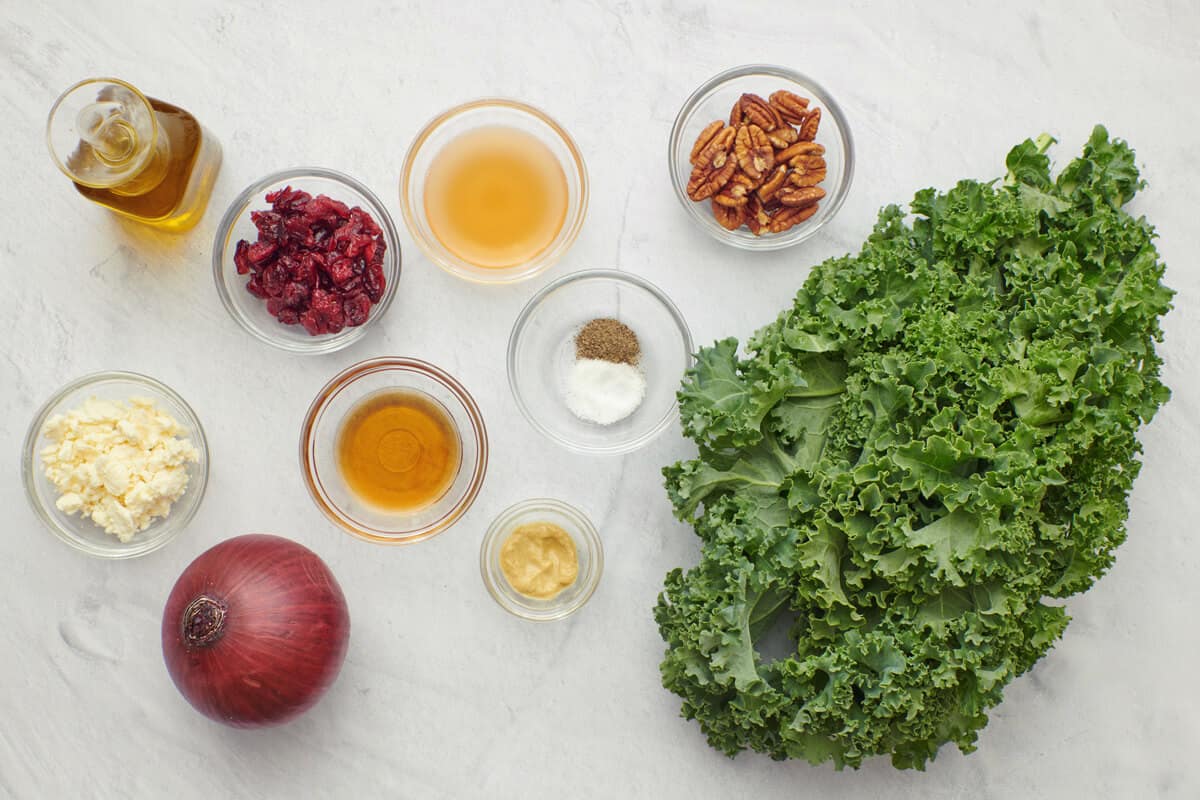 FOR THE VINAIGRETTE
Extra-virgin olive oil: The base of any good vinaigrette is a quality olive oil.
Apple cider vinegar: This adds tanginess and helps balance the sweetness of the maple syrup.
Maple syrup: Use pure maple syrup, not pancake syrup. You can also substitute honey.
Dijon mustard: Dijon mustard adds a punch of flavor and also helps emulsify the dressing.
Salt and pepper: For seasoning.
FOR THE SALAD
Curly kale: Lacinato kale is delicious, but it doesn't work well for a massaged kale salad.
Red onion: Slice it thinly—a thick, crunchy onion slice is not pleasant in a salad!
Dried cranberries: The sweet-tart flavor of cranberries works well with the other flavors in this recipe.
Toasted pecans: Toasting the nuts brings out their flavor and adds a nice contrasting texture to the salad. Here's how to toast pecans.
Crumbled feta cheese: Making this massaged kale salad with feta adds some salty flavor and creaminess.
Popular substitutions & additions
Skip the feta. If you want to make this salad vegan, you can skip the feta cheese and add something like chopped avocados instead that add a creaminess to help balance the tartness of the vinaigrette.
Blend some toasted pecans into the dressing. The toasted pecans are my favorite part of the salad because they add a warm and nutty flavor that's really special. To elaborate on this flavor, I like to take some of the toasted pecans or add about 2 tablespoons and blend with the dressing ingredients.
Try another fruit. Golden raisins or dried cherries would also work well in this simple massaged kale salad, or try fresh fall fruit like diced pears, apples, or pomegranate arils.
Use shallots. Swap the red onion for thinly sliced shallots.
How to make Massaged Kale Salad
Combine all the dressing ingredients in a bowl. [Image 1]
Whisk well, until the dressing emulsifies. [Image 2]
Add the chopped kale leaves to the bowl with the vinaigrette. [Image 3]
Use your hands to massage the kale until it darkens and has a softer, silkier texture. [Image 4]
Add the onion, pecans, and cranberries to the massaged kale. [Image 5]
Toss well to combine, then sprinkle the feta cheese on top. [Image 6]
Tips for making the best Massaged Kale Salad With Feta
Mellow the flavor of the onions. The onions are a key component in balancing the flavors in this salad, but if you're not usually a fan of eating them raw, you can tame some of their bite by soaking the sliced onions in a bowl of ice water while you prepare the rest of the salad. Another option is to cut them paper-thin; then, the acid in the dressing will be enough to mellow their flavor.
Remove the stems. Kale stems are not very tasty or tender, and no amount of massaging can fix that! Strip the leaves from the stems before making the salad.
Use your hands to massage the kale. This is the secret to making a raw kale salad taste great! By rubbing the leaves between your hands, you break down some of the tough fibers and make it easier to eat. There's really no way around using your hands here.
Taste a leaf if you're not sure. Don't know when to stop massaging? Eat a piece of kale to find out if it's ready! It should be tender, without the overwhelming raw flavor of fresh kale leaves.
What to serve with This Recipe for Massaged Kale Salad
How to store Massaged Kale Salad
Store leftovers in an airtight container in the refrigerator. If you anticipate having leftovers, I recommend adding the pecans and feta only to the portion you plan on eating right away; storing the pecans and feta separately will improve the texture of the salad when you're ready to eat.
How long will Massaged Kale Salad last in the fridge?
This simple massaged kale salad will typically last for up to 3 days in the fridge, but it's best enjoyed within the first day of making it.
Can i freeze Massaged Kale Salad With Cranberries?
No, as with most salads, this kale salad does not freeze well.
Frequently asked questions

What is the science behind massaging kale?
Massaging kale helps break down the tough fibers in the leaves, making them softer and easier to chew. This process also helps reduce the bitterness of raw kale and it rubs the dressing into the leaves, making them more flavorful.

Is massaged kale better than regular kale?
This depends on your personal preferences. Massaging kale makes it more tender and reduces its bitterness, making it easier to eat for some people. However, others may prefer the texture and taste of regular kale. Give this massaged kale salad a try and see what you think!

Does lemon make kale less bitter?
Lemon and other acids like apple cider vinegar don't make kale less bitter, but they do balance the bitter flavor, resulting in a milder tasting salad.
If you think you hate raw kale, this recipe for massaged kale salad could change your mind. With toasted pecans, sweet-tart cranberries, salty feta, and a zippy vinaigrette, it's absolutely irresistible—even if you're a kale skeptic!
More salad recipes:
If you try this feel good Massaged Kale Salad recipe or any other recipe on Feel Good Foodie, then don't forget to rate the recipe and leave a comment below! It helps others who are thinking of making the recipe. We would love to hear about your experience making it. And if you snapped some shots, share it on Instagram so we can repost on Stories!
Massaged Kale Salad
The trick to this Massaged Kale Salad is rubbing the leaves with dressing until they soften and darken, turning bitterness into deliciousness!
Ingredients
For the Salad
1

bunch

curly kale

stems removed and leaves chopped

¼

red onion

thinly sliced

¼

cup

dried cranberries

¼

cup

toasted pecans

chopped

¼

cup

crumbled feta cheese
Instructions
In a large bowl, whisk together the olive oil, apple cider vinegar, maple syrup, Dijon mustard, salt, and pepper.

Add the chopped kale to the large bowl on top of the vinaigrette. Use your hands to gently massage the kale for a couple minutes until it becomes slightly softer and darker in color.

Add the red onions, dried cranberries, and toasted pecans to the massaged kale and gently toss all the ingredients together until everything is well combined.

Sprinkle the feta cheese on top and serve immediately.
Nutrition
Calories:
161
kcal
,
Carbohydrates:
9
g
,
Protein:
2
g
,
Fat:
14
g
,
Saturated Fat:
2
g
,
Polyunsaturated Fat:
2
g
,
Monounsaturated Fat:
9
g
,
Cholesterol:
6
mg
,
Sodium:
287
mg
,
Potassium:
121
mg
,
Fiber:
2
g
,
Sugar:
6
g
,
Vitamin A:
2194
IU
,
Vitamin C:
21
mg
,
Calcium:
96
mg
,
Iron:
1
mg
Nutrition information provided is an estimate. It will vary based on cooking method and specific ingredients used.