This post may contain affiliate links. Please read our disclosure policy.
This Lemon Ricotta Cake is everything you could want – it's light, almost custardy with citrusy freshness, and it's got that unique, creamy hint of ricotta. Plus, it's so easy to make! No fancy baking skills are required here. It's finished off with a light dusting of powdered sugar for a beautiful presentation. This lemon ricotta cake is perfect for all occasions, whether you're having friends over for a casual brunch, or just treating yourself on a quiet afternoon.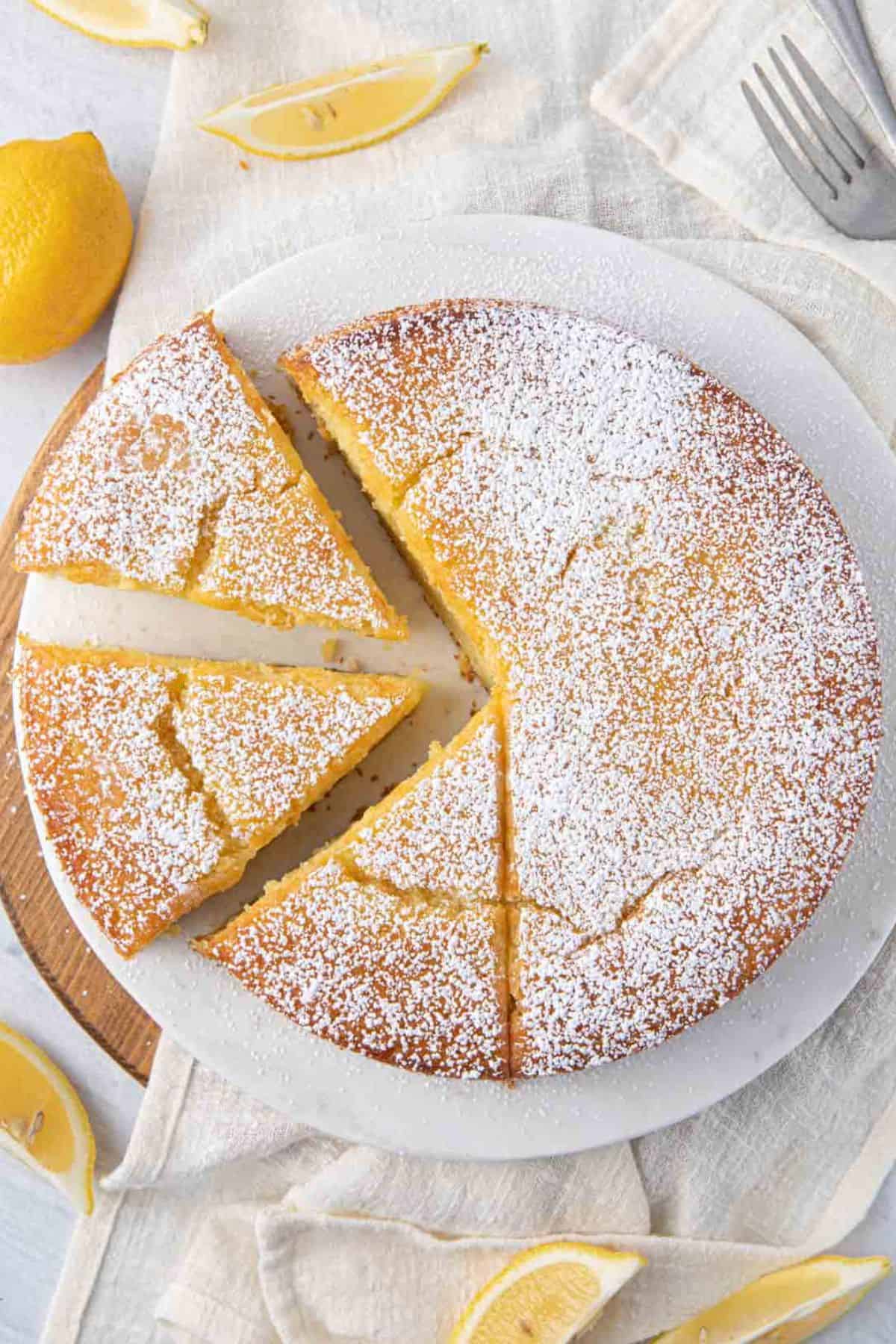 Table of Contents
If you love lemons as much as I do, you must try this simple, refreshing lemon ricotta cake. The ricotta cheese gives the cake a creamy and rich texture, yet it's still got a light feeling to it, thanks to the fresh lemons. This lemon cake truly brings a touch of sunshine to any occasion.
Why you'll Love This Lemon and Ricotta Cake
Bright and refreshing flavor. The tangy lemon zest and juice cuts through the sweetness, creating a perfectly balanced dessert.
Easy, one-bowl treat. Whip up the batter quickly by combining all ingredients in a single bowl, minimizing cleanup and saving time in the kitchen. The simplicity of the recipe allows you to enjoy a delicious homemade dessert with minimal effort.
Perfect for any occasion. Enjoy this cake as a standalone treat or alongside brunch favorites like a yogurt parfait and this vegetable frittata. Its vibrant flavor profile adds a wonderful touch to the table, making it a crowd-pleasing choice for guests to enjoy.
Ingredients to make A Lemon Ricotta Cake
Lemon: This bright citrus fruit adds a refreshing flavor to the cake. The zest and juice infuse the batter with a tangy aroma, adding a burst of freshness that complements the richness of the ricotta and olive oil.
Ricotta cheese: You will want to opt for ricotta on the firmer side; whole milk is preferred. If your ricotta is very runny, strain it slightly in a fine mesh strainer before using it. Firm ricotta lends a moist and tender crumb, adding creamy richness.
Sugar: Any type of granulated sugar will add sweetness to the cake while also balancing the tartness of the lemon.
Olive oil: One of the key players in keeping the cake moist and creating that delicate crumb without the need for butter. Olive oil also adds a subtle fruity note that complements the lemon and ricotta well.
Eggs: Helps bind all ingredients together and provide proper structure. Eggs also help give the cake a slight rise, resulting in a lighter texture. You can swap eggs for flax egg.
Flour: All-purpose flour is best for making this cake. But cake flour will work too.
Baking powder: This leavening agent creates air pockets in the batter, helping the cake rise.
Vanilla extract: Balances the tangy flavors of lemon by adding a sweet aroma.
Salt: Essential to balance flavors and enhance the overall taste of the cake.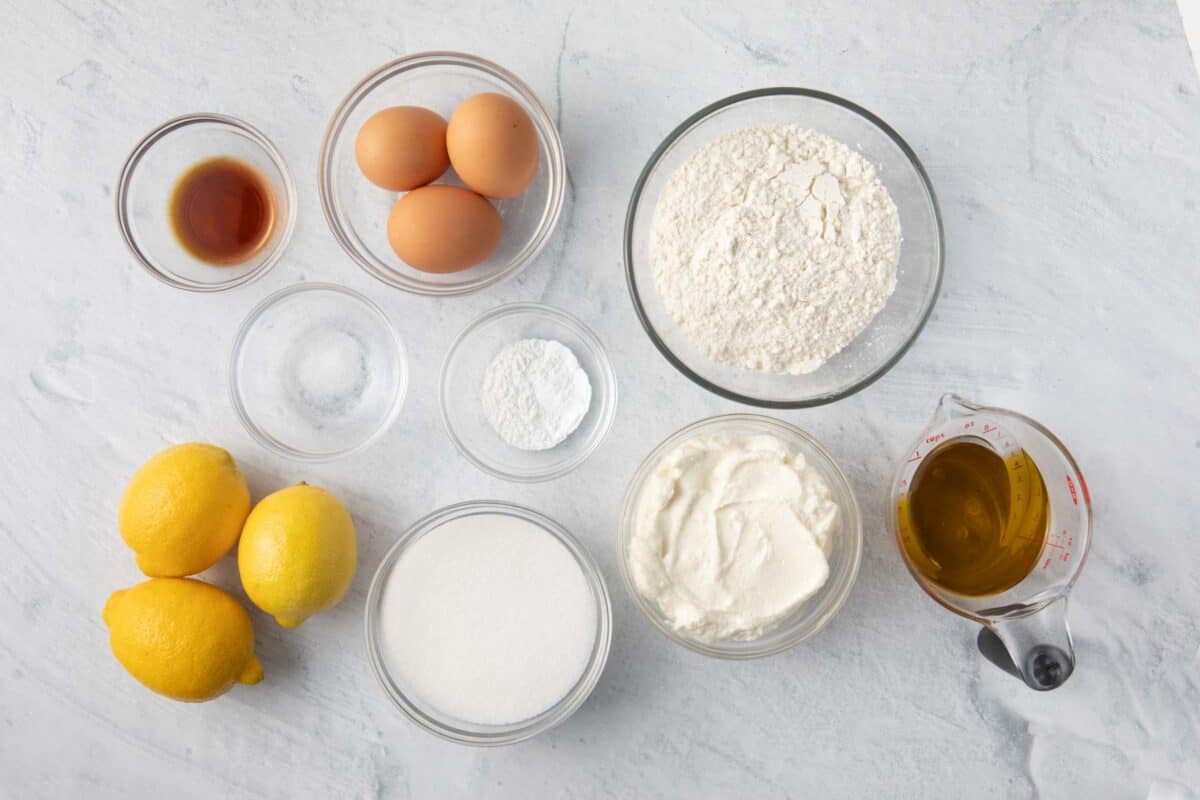 How to make Lemon Ricotta Cake
Add the lemon zest and sugar to a large bowl. Use your fingers to massage the zest into the sugar until it's fragrant and moist.
Next, add in the lemon juice, olive oil, ricotta, eggs, and vanilla and whisk until smooth.
Add flour, baking powder, and salt to the egg mixture.
Whisk until combined.
Pour batter into a round pan and bake.
When done baking, remove from oven and allow to cool before you remove the cake from the pan.
Tips for making lemon ricotta cake recipe
Use room-temperature eggs. Eggs from the refrigerator are harder to mix with the other cold ingredients. To quickly bring eggs to room temperature: run them under warm water for a few minutes.
Opt for whole milk ricotta cheese. Whole milk ricotta has a higher fat content, giving you a richer and creamier cake.
Don't overmix the batter. When combining the dry ingredients with the wet ingredients, mix just until the batter is smooth and there are no more lumps. Overmixing cake batter can lead to a dense and tough texture.
Grease or line the cake pan. To prevent the cake from sticking, grease the pan with nonstick cooking spray or line it with parchment paper. You can also run a butter knife along the sides after it has cooled off to release any stuck parts.
Popular substitutions & additions
Swap any other citrus. This cake is wonderful with any citrus, so feel free to swap in lime, orange, or grapefruit. Each will bring a unique twist to the cake while maintaining the bright flavors and moist texture.
Add crunch. Add chopped nuts like walnuts, almonds, or pistachios for a flavorful and satisfying crunchiness. You can also add a subtle crunch by adding a tablespoon or two of poppy seeds to the cake batter.
Sweet additions. If you prefer a sweeter cake with varying textures, fold in some dried fruit like raisins, cherries, dates, or cranberries.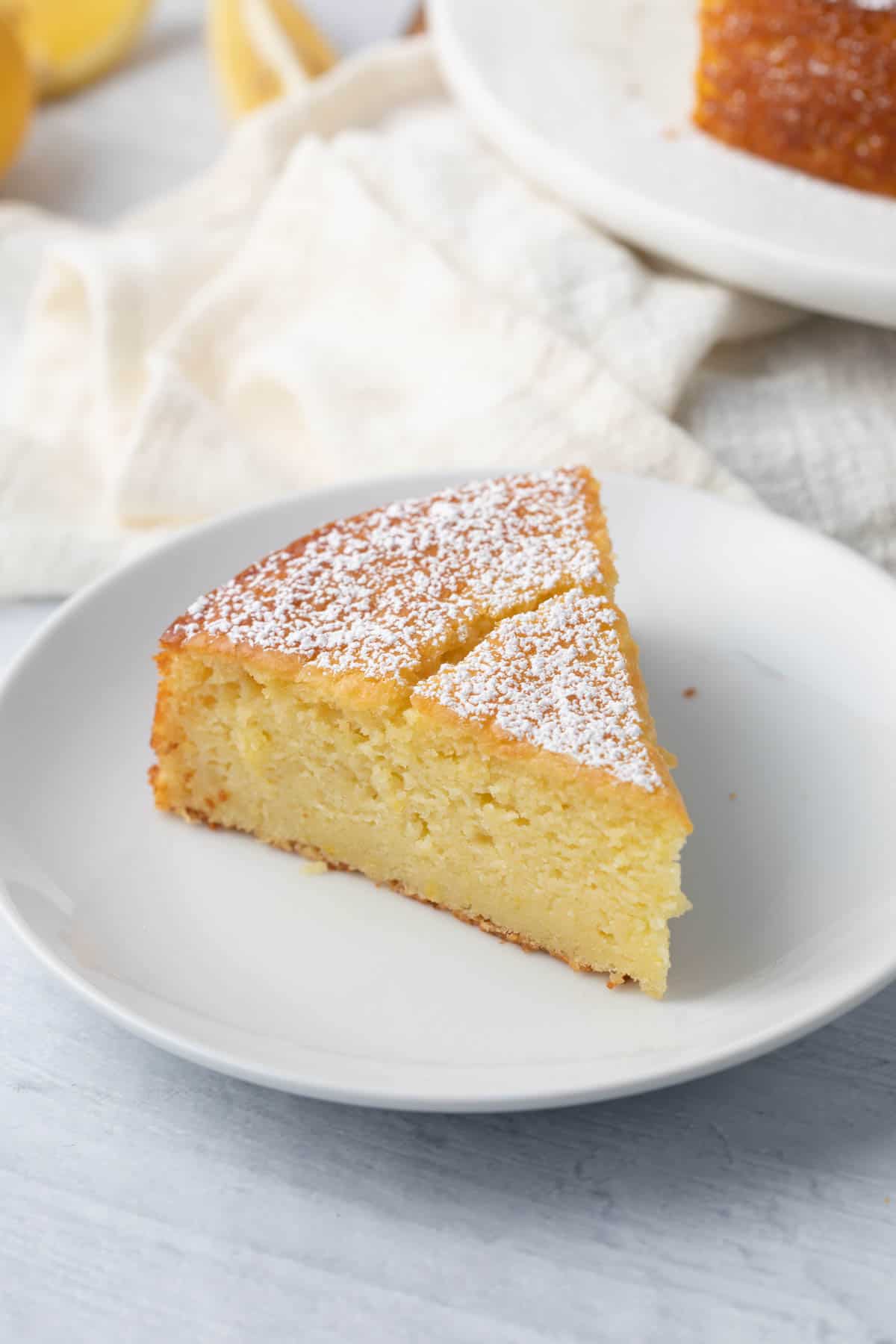 Topping ideas for your lemon cake
A dusting of powdered sugar is always a classic option for lemon ricotta cake but have fun with it and experiment with other delicious toppings. Here are a few tasty ideas:
How to store lemon ricotta cake
This cake keeps fresh at room temperature for several days, tightly wrapped (if it lasts that long!). To extend its shelf life, you can also wrap the cake in plastic wrap or aluminum foil and place it in an airtight container to prevent it from drying out and store it in the refrigerator.
How long will lemon ricotta cake last in the fridge?
This lemon ricotta cake will last for up to 5 days in the fridge.
Can I freeze lemon and ricotta cake?
Yes, you can store the cake in a freezer-safe container and freeze for up to 3 months. Thaw overnight in the fridge.
Frequently asked questions
Can I use low-fat ricotta cheese instead of whole-milk ricotta?
Yes, you can use low-fat ricotta but keep in mind the texture and moisture content will be affected. Whole milk ricotta cheese yields a richer and creamier cake.
How can I adjust the sweetness of the cake?
You can reduce sugar if you prefer the sweetness toned down. Alternatively, you can bump up the amount of sugar if you want the cake sweeter or incorporate sweetened additions like dried fruit.
Can I use lemon concentrate instead of fresh lemons?
Bottled lemon concentrate will work in a pinch, but the overall flavor won't be as robust. Plus, you're missing out on the benefits and taste of lemon zest. Using fresh lemons will always trump bottled lemon juice for the best flavor.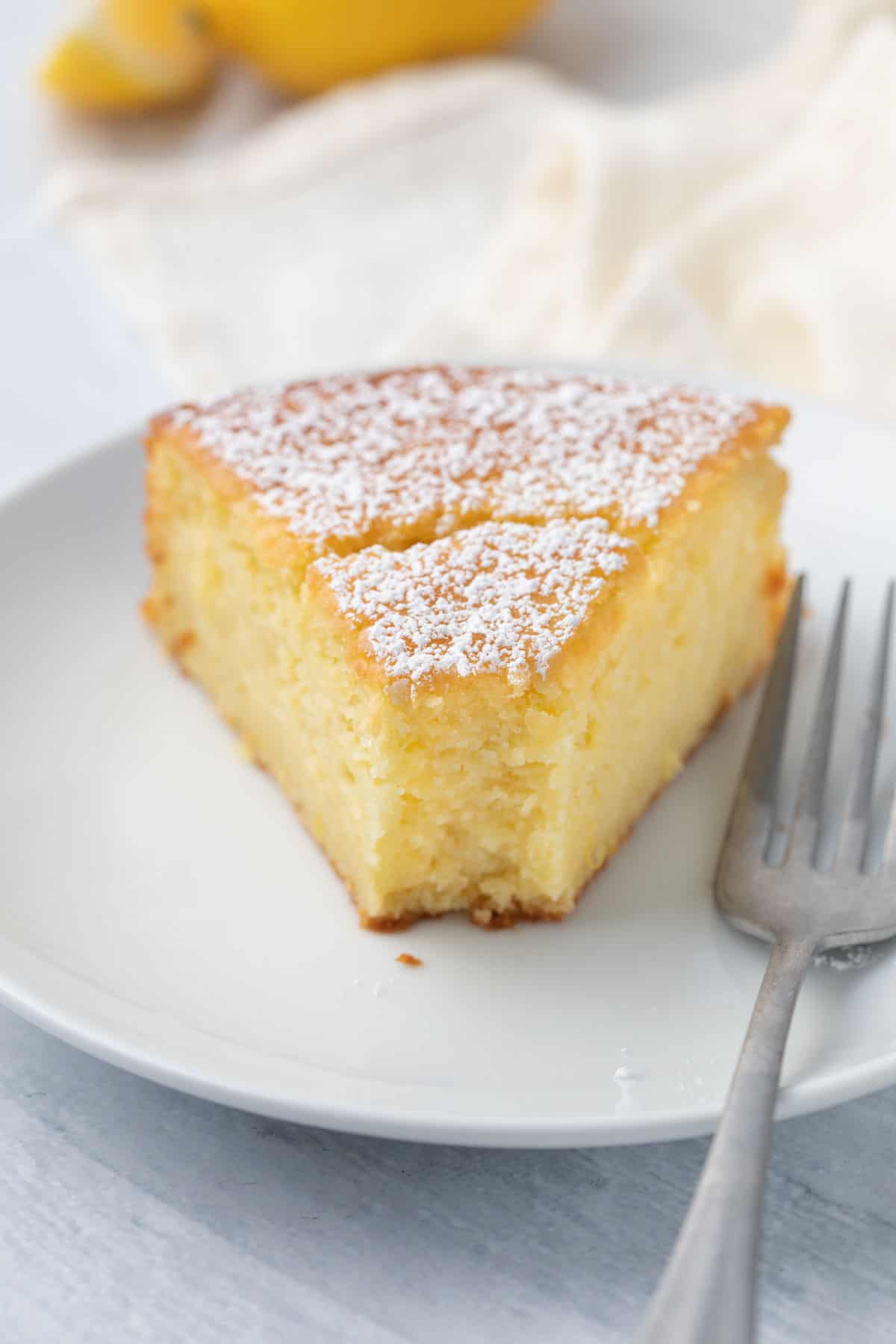 This lemon and ricotta cake is a refreshing and flavorful dessert that comes together in one bowl. It's irresistibly soft and incredibly moist. And the best part? This cake with ricotta is not only delicious but also satisfying. So treat yourself to a slice of pure lemony perfection and level up your dessert game.
More cake recipes:
If you try this feel good Lemon Ricotta Cake recipe or any other recipe on Feel Good Foodie, then don't forget to rate the recipe and leave a comment below! It helps others who are thinking of making the recipe. We would love to hear about your experience making it. And if you snapped some shots, share it on Instagram so we can repost on Stories!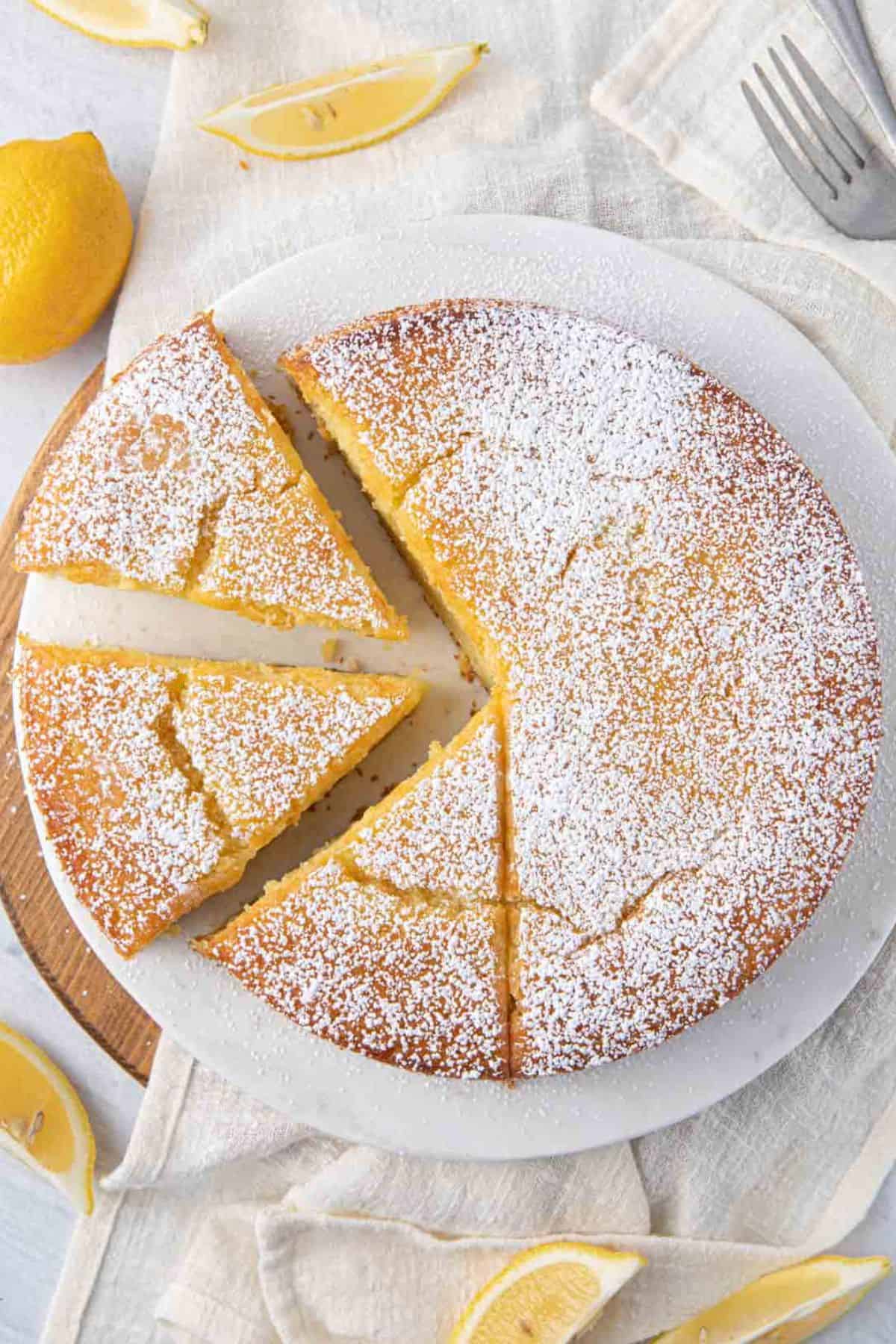 Lemon Ricotta Cake
Treat yourself to irresistibly delicious Lemon Ricotta Cake! Bursting with fresh lemon flavor and a moist crumb, it's a must-try dessert.
Instructions
Preheat the oven to 350˚F. Line an 8-inch round baking pan with parchment paper.

Add lemon zest and sugar to a large bowl. Use your fingers to massage the zest into the sugar until it's fragrant and moist. Whisk in the lemon juice, olive oil, ricotta, eggs and vanilla until smooth.

To the same bowl, add flour, baking powder and salt. Whisk until combined. Pour batter into the prepared pan and bake for 40 to 45 minutes, or until a cake tester inserted in the center comes out clean.

Let cool for about 20 minutes, then invert to remove from the pan and cool completely. Serve dusted with powdered sugar.
Nutrition
Calories:
419
kcal
,
Carbohydrates:
45
g
,
Protein:
8
g
,
Fat:
24
g
,
Saturated Fat:
6
g
,
Polyunsaturated Fat:
2
g
,
Monounsaturated Fat:
15
g
,
Trans Fat:
0.01
g
,
Cholesterol:
77
mg
,
Sodium:
230
mg
,
Potassium:
134
mg
,
Fiber:
2
g
,
Sugar:
26
g
,
Vitamin A:
235
IU
,
Vitamin C:
21
mg
,
Calcium:
146
mg
,
Iron:
2
mg
Nutrition information provided is an estimate. It will vary based on cooking method and specific ingredients used.