This post may contain affiliate links. Please read our disclosure policy.
This recipe is the best Classic White Cake with a tender crumb and sweet vanilla flavor that's perfect for celebrations and easy to make with a stand mixer. Each bite is moist and rich, with a traditional flavor everyone loves an I love that it's a simple made-from-scratch vanilla cake with everyday easy pantry ingredients. You can top with my homemade buttercream frosting or any other frosting of choice and your favorite decorations.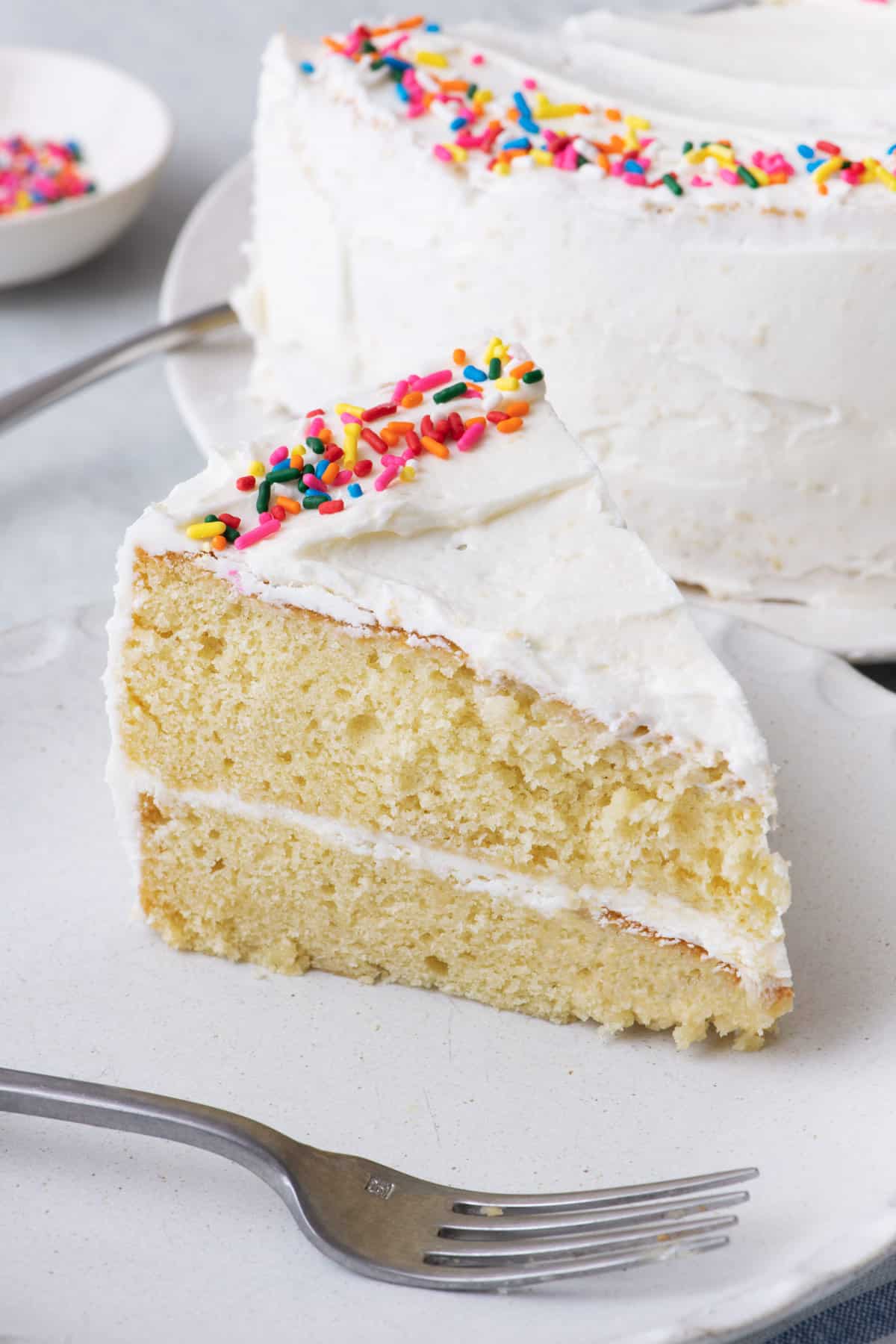 What is White Cake?
It's common for a white cake only to use egg whites, which gives you a purer "white" color and light texture. I like using the whole egg for a more decadent, slightly denser cake for this white cake recipe with a subtle vanilla flavor. A basic white cake recipe is such a great classic dessert recipe perfect for birthdays, weddings, and other special occasions.
why you'll love this Moist White Cake Recipe
Moist and rich. Starting from the creamed butter and sugar, this white cake has the best moist and tender texture with more flavor than only using egg whites because I use the whole egg for this recipe.
Versatile style cake. Whether you want to make a 2-layer cake, cupcakes, or a sheet pan cake, this recipe is easy to adjust to your needs and I include directions for three styles below.
Scratch-made cake recipe. There's something truly satisfying about making a delicious cake recipe from scratch.
A classic crowd favorite. Everyone loves a good white cake! You can celebrate birthdays, anniversaries, weddings, or other special occasions with a sturdy, moist cake and decorate it with any frosting flavor you like.
Ingredients to make Vanilla White Cake
Butter: use unsalted butter for better control of the salt. Salted butter varies between brands and can affect the taste each time you bake. Also, be sure your butter is at room temperature to easily cream together with the sugar. You want it to be soft, not melted. If it looks too soft and oily, pop it in the fridge for a few or start over with a fresh stick.
Granulated sugar: This will be used to cream with the butter and sweeten the cake.
Eggs: Whole eggs aren't usually used in a pure white cake, but this is more of a traditional vanilla white cake recipe known for its rich, buttery, tender bite.
Milk and sour cream: Like with the butter, use room temperature ingredients for the best results and you can substitute the sour cream for more milk, but I love how the creamy texture of sour cream makes the cake more moist.
Oil: Use any neutral oil like avocado oil or canola oil to mix with the other wet ingredients to add moisture to the cake.
Vanilla: To give the cake a subtle vanilla flavor and
Dry Ingredients: I use a combination of all-purpose flour, baking powder, baking soda, and salt. Swap out the flour for whole wheat or white whole wheat flour. Make sure that your baking powder and baking soda are fresh for the best rise and results.
How to make White Cake
With just a few steps, a stand mixer, and your choice of baking a layered round cake, a sheet cake, or cupcakes to fit your needs, this recipe is a breeze! The below instructions are for two round cakes, but it works the same if you choose to make a sheet cake or cupcakes.
Prepare cake batter
Whisk together the dry ingredients in a mixing bowl and set aside.
Cream the butter and sugar until combined and light and fluffy.
Add the eggs one at a time until mixed.
Add half of the flour mixture to the butter-egg emulsion and combine.
Mix in the remaining wet ingredients until fully incorporated.
Finish by mixing the remaining flour until you have a thick batter with no flour streaks.
Bake Cake
Divide the batter evenly into two pans.
Bake until a toothpick inserted comes out clean and the center is set.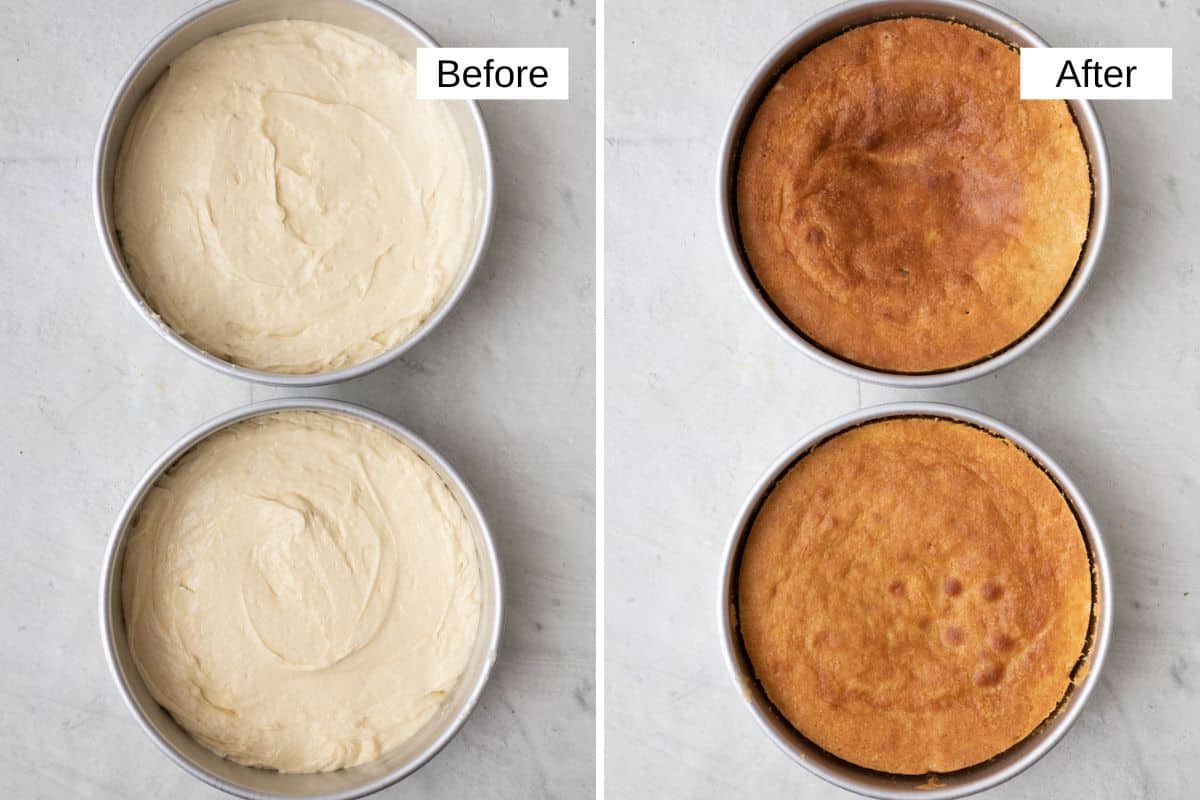 Tips for making a Classic Vanilla Cake
Don't worry if the cake browns a little on top. Some browning will occur towards the end of cooking and it's perfectly fine and expected. If you prefer a lighter exterior, you can tent with a foil.
DIY cake strips. Use a long piece of foil and fold into a strip to wrap around the pan (this works for round cake pans). Inside the folded foil wrap, insert a few paper towels, wet them with water, and wrap this firmly around the cake pan. This helps prevent the edges from browning too quickly and will give you a moist edge.
Use room temperature ingredients. The eggs, butter, milk and sour cream, should be at room temperature to provide the best mixing into the cake batter. This makes for the best texture, structure, and a moist, soft crumb for cake.
Cool the cake before decorating. It's easy to get excited after your cake comes out from the oven, but take the extra time to let it rest. It should sit in the pan for a few minutes before transferring to a wire rack to cool completely. A cooled cake is much easier to decorate and holds its shape instead of being crumbly while frosting.
popular substitutions & additions
Use cake flour. You can substitute cake flour with all purpose flour 1:1 for the softest texture. You can also make cake flour by measuring 1 cup of all-purpose flour, then taking away 2 tablespoons and replacing with 2 tablespoons of cornstarch
Use my simple buttercream frosting! What's cake without frosting? This homemade version is whipped up in a stand mixer in a few minutes and pairs perfectly with the cake as pictured below.
Switch up the extract. Vanilla is the classic option for white cake, but you could also use almond extract with a sweeter taste.
Use buttermilk instead of milk. Buttermilk is much more rich and would complement the sour cream in this recipe and offer an even more tender crumb.
how to store Vanilla White Cake
For an undecorated cake, wrap it in plastic and store it in the fridge or freezer. Store it in the fridge or at room temperature for a fully decorated cake. Bring to room temperature before eating, or the cake will seem dry, but it just needs to lose the chill.
how long will White Cake last in the fridge?
Cake stored in the fridge will last up to 5-7 days.
can i freeze White Cake?
This is a great recipe to wrap and store in the freezer undecorated. Wrap each cake round, or cupcake, with plastic and stick it in the freezer, storing up to 3 months.
Frequently asked questions
Can I make this vanilla cake recipe with just egg whites?
For a super white cake, you can use just egg whites. For every whole egg, replace with 2 egg whites or a ¼ cup of egg whites.
Can I make this cake recipe ahead of time?
Make the cake layers ahead of time by baking and cooling them. Cover tightly and store overnight to frost the next day, in the fridge to use within 2-3 days, or in the freezer for up to 3 months.
Is creaming the butter and sugar necessary?
This is an essential step in many baking recipes, especially this white cake. This step prevents a crumbly, dense texture. Once you have a light, fluffy, creamed butter-sugar mixture, it will evenly incorporate throughout the batter. This step, plus using room temperature ingredients, results in a moist, light, and fluffy cake.
Bake up the best vanilla white cake recipe for a classic dessert with the best aromatic flavor and taste. This is one of those recipes for special occasions and to wow your guests with a beautifully rich, sweet vanilla cake. This recipe makes a two-layer 9-inch cake, 24 cupcakes, or a 9 by 13 sheet pan cake for various ways to serve it.
More Cake recipes:
If you try this feel good Vanilla White Cake recipe or any other recipe on Feel Good Foodie, then don't forget to rate the recipe and leave a comment below! It helps others who are thinking of making the recipe. We would love to hear about your experience making it. And if you snapped some shots, share it on Instagram so we can repost on Stories!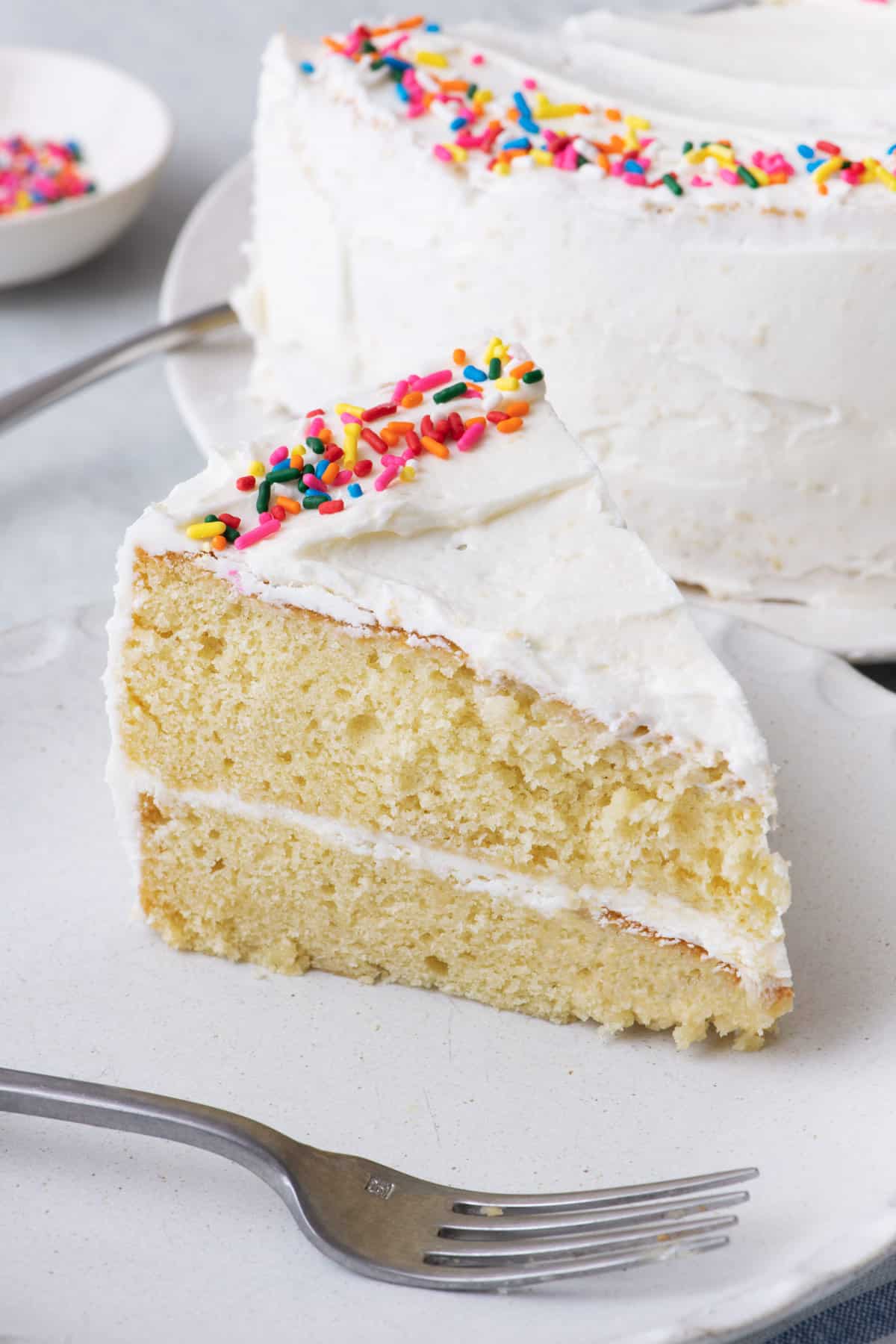 Classic Vanilla Cake
Try this simple and irresistibly delicious classic Vanilla White Cake recipe with a tender, moist crumb and best vanilla flavor perfect for special occasions.
Instructions
Preheat the oven to 350˚F. If making a sheet cake, line a 9 by 13-inch metal baking pan with parchment paper. If making a layer cake, line two 9-inch round cake pans with parchment rounds. If baking cupcakes, fill 2 (12-cavity) cupcake pans with paper liners and set aside.

In a large bowl, sift all purpose flour, baking powder, baking soda and salt together. Set aside. In a large measuring cup, mix together milk, sour cream and canola oil. Set aside.

In the bowl of a stand mixer fitted with the paddle attachment, cream the butter and sugar together at medium speed until light and fluffy, about 3 to 4 minutes.

Add the eggs one at a time, mixing at medium speed until well incorporated. Scrape down the sides of the bowl and add vanilla. Mix for 1 minute more.

Add half of the flour mixture to the stand mixer bowl. Mix at low speed for about 30 seconds. Add milk mixture and mix for 30 seconds more. Finally, add remaining flour mixture and mix just until no streaks of flour remain. Remove the bowl from the stand mixture and use a rubber spatula to fold the batter together by hand to ensure everything is well mixed.

If making a sheet cake, scrape the batter into the prepared 9 by 13 inch cake pan and bake for 45 minutes, or until set and a cake tester inserted in the center comes out clean. If baking a layer cake, divide the batter between the two prepared pans and bake for 30 to 32 minutes or until set and a cake tester inserted in the center comes out clean. If baking cupcakes, fill each cupcake cavity about ¾ full and bake for 20 to 22 minutes, or until set and a cake tester inserted in the center comes out clean.

Let cool completely before removing from pans and adding frosting.
Notes
*Nutrition label is for cake serving only and does not include frosting, toppings, fillings, etc.
Nutrition
Calories:
363
kcal
,
Carbohydrates:
47
g
,
Protein:
5
g
,
Fat:
18
g
,
Saturated Fat:
9
g
,
Polyunsaturated Fat:
2
g
,
Monounsaturated Fat:
6
g
,
Trans Fat:
0.5
g
,
Cholesterol:
75
mg
,
Sodium:
132
mg
,
Potassium:
127
mg
,
Fiber:
1
g
,
Sugar:
26
g
,
Vitamin A:
459
IU
,
Vitamin C:
0.03
mg
,
Calcium:
58
mg
,
Iron:
2
mg
Nutrition information provided is an estimate. It will vary based on cooking method and specific ingredients used.