This post may contain affiliate links. Please read our disclosure policy.
Learn how to make icing with just 3 simple pantry ingredients! This homemade icing uses powdered sugar as the base and is the perfect quick, go-to icing recipe when you need something to drizzle on top of your baked goods, and it's great at satisfying your sweet tooth.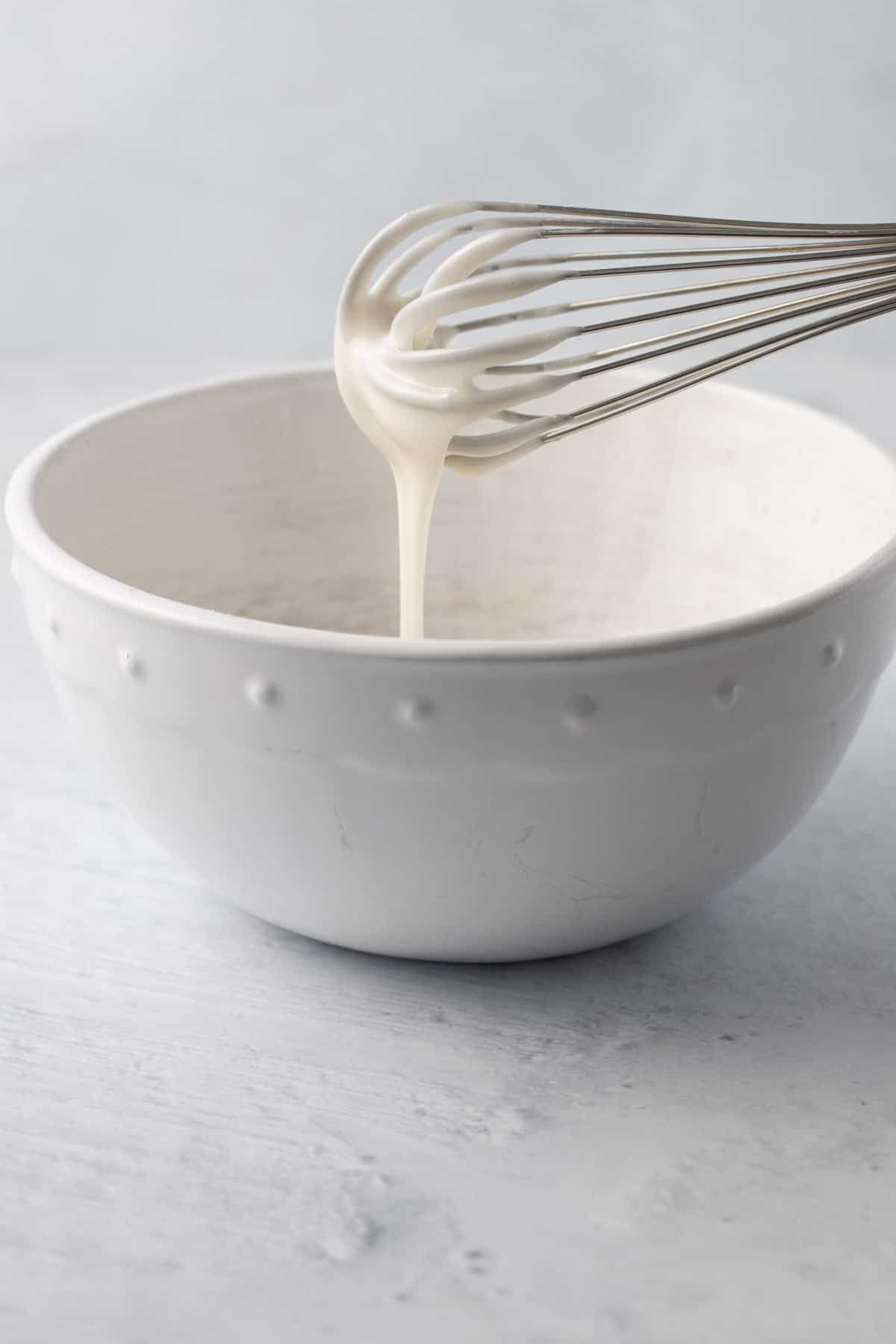 Table of Contents
This quick and simple icing recipe takes no time to make and can be stored in the fridge for a few days. Make it as thick or thin as you like depending on the amount of liquid you add it to.
WHY learn to make icing with powdered sugar
Staple recipe. If you love baking (or sweets!), icing is a staple recipe you'll want to have in your repertoire.
Easy to modify. With this one-base recipe, you can create endless flavor combinations! Add a little food dye to change the color, and even sprinkle in a bit of salt for some contrast, as I do for my lemon-glazed zucchini bread!
Great for topping various recipes. You can't go wrong with easy homemade icing. It's fantastic on cinnamon rolls, cake, and scones, and also a sweet addition to pancakes, crepes, and quick bread!
Ingredients You'll Need For This simple icing recipe
Powdered sugar: Also known as confectioner's sugar, blends super quickly when liquid is added. Use a sifter to make sure you have a lump-free result.
Milk: You only need 2 tablespoons per 1 cup of powdered sugar. You can use any kind of milk you like.
Vanilla extract: For flavor.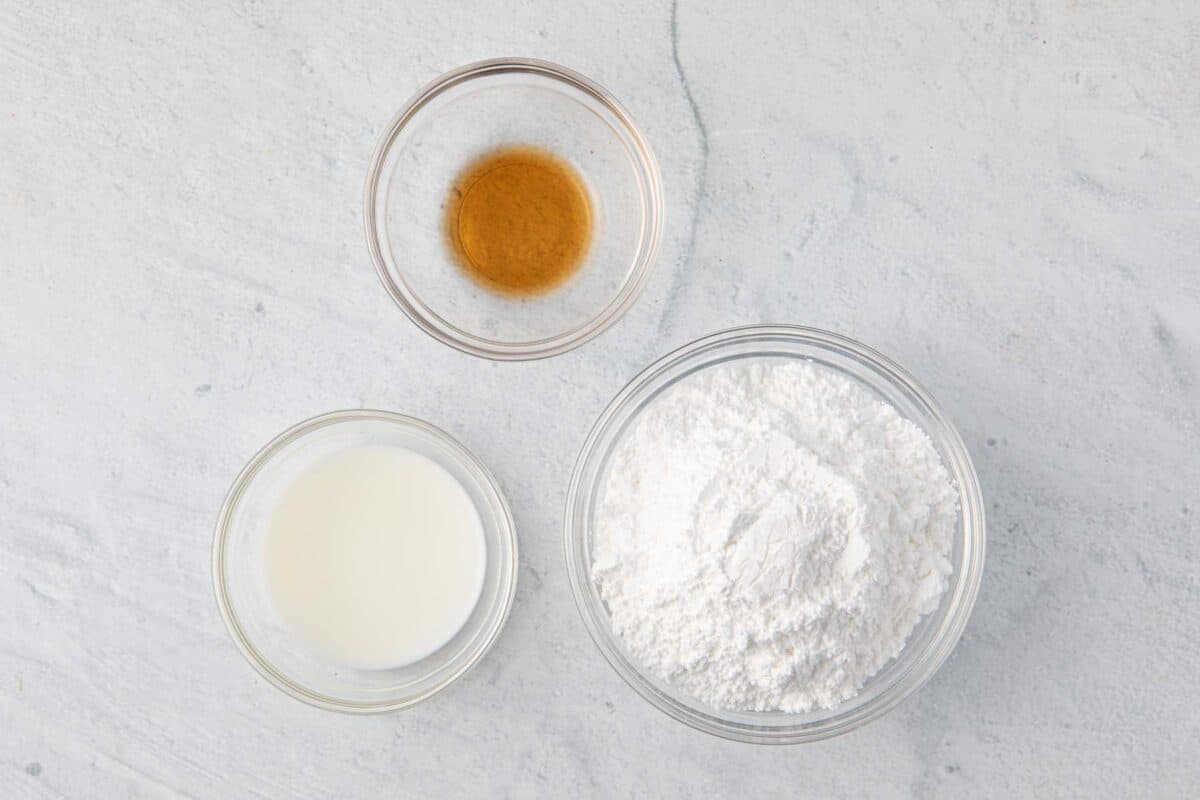 HOW TO MAKE icing
Sift the powdered sugar into a medium bowl.
Add the whole milk and the vanilla.
Use a whisk to combine until smooth and without any lumps.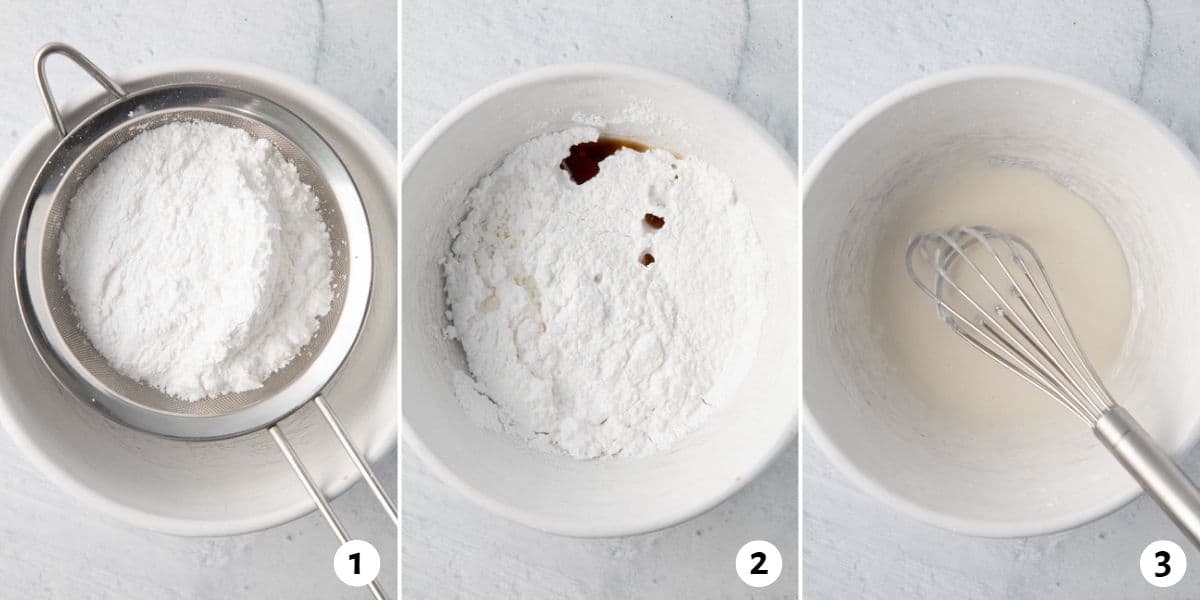 TIPS on making The Best homemade icing
Don't skip sifting! It may not always be necessary, but taking this extra step to sift the powdered sugar is the best way to make sure there are no lumps, and you get a smooth drizzly icing.
Add in flavorings. This simple icing recipe uses just vanilla extract for flavor, but you could try a few other additions.

Switch up the extract: lemon, almond, or mint.
Use citrus juice: You can make a lemon, lime, or orange icing by replacing the milk with equal amounts of citrus juice.
Add spices: Add ½ teaspoon cinnamon, pumpkin spice, or another spice you like.

Adjust the liquid for different consistencies. Whether you want the perfect drizzle to add to scones or Bundt cake, or you're looking for a thicker consistency to decorate cookies with, it's as easy as adjusting the liquid-to-powdered sugar ratio.
Add to a squeeze bottle for easy decorating. This is optional as you can easily use a spoon or fork to dip into the icing and pull off your dessert for thin drizzles across it. Add it to a squeeze bottle if you want more control in decorating your recipe. You can even add a little bit of food coloring for more options. It's so fun for the kids, too!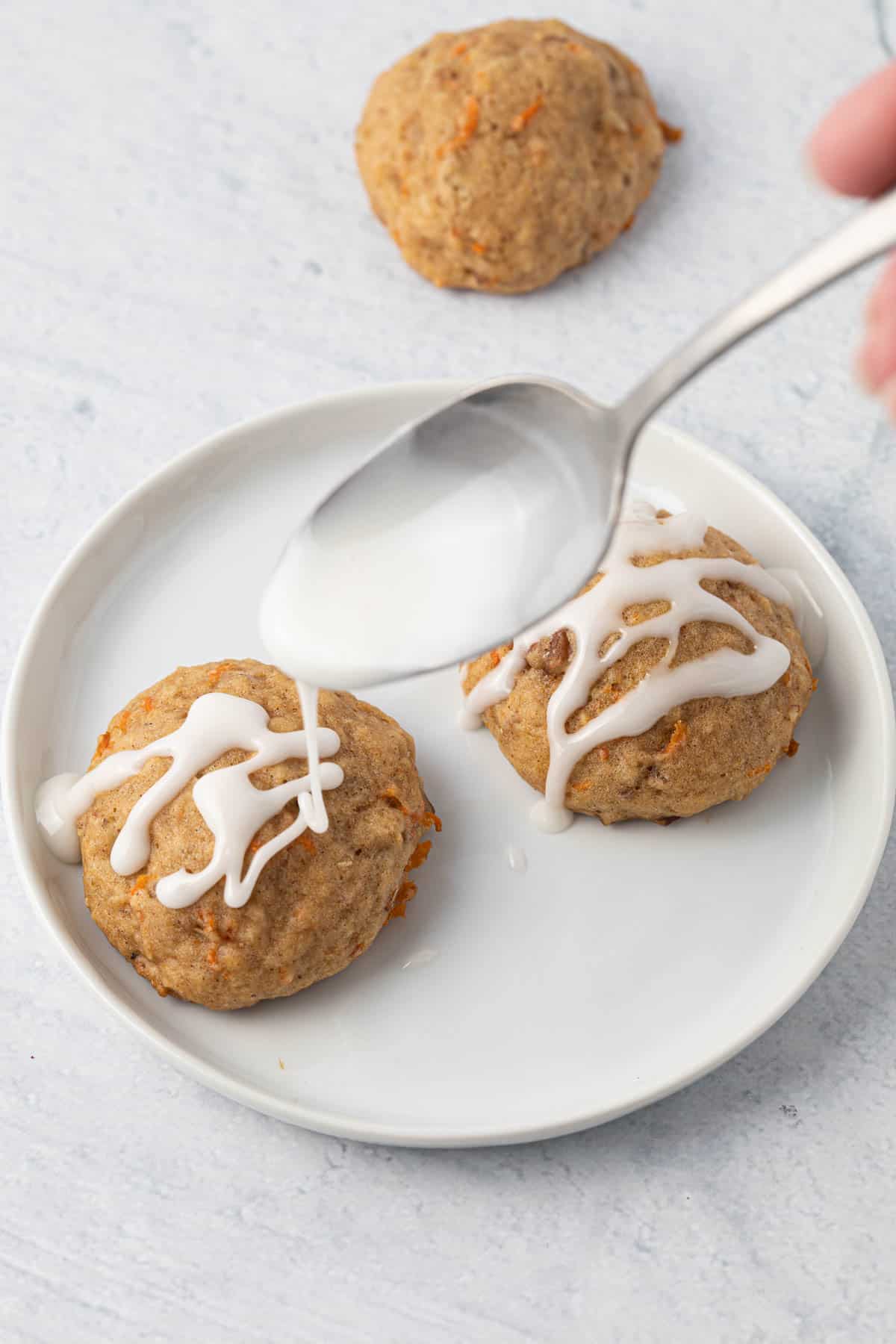 recipes to make with this simple icing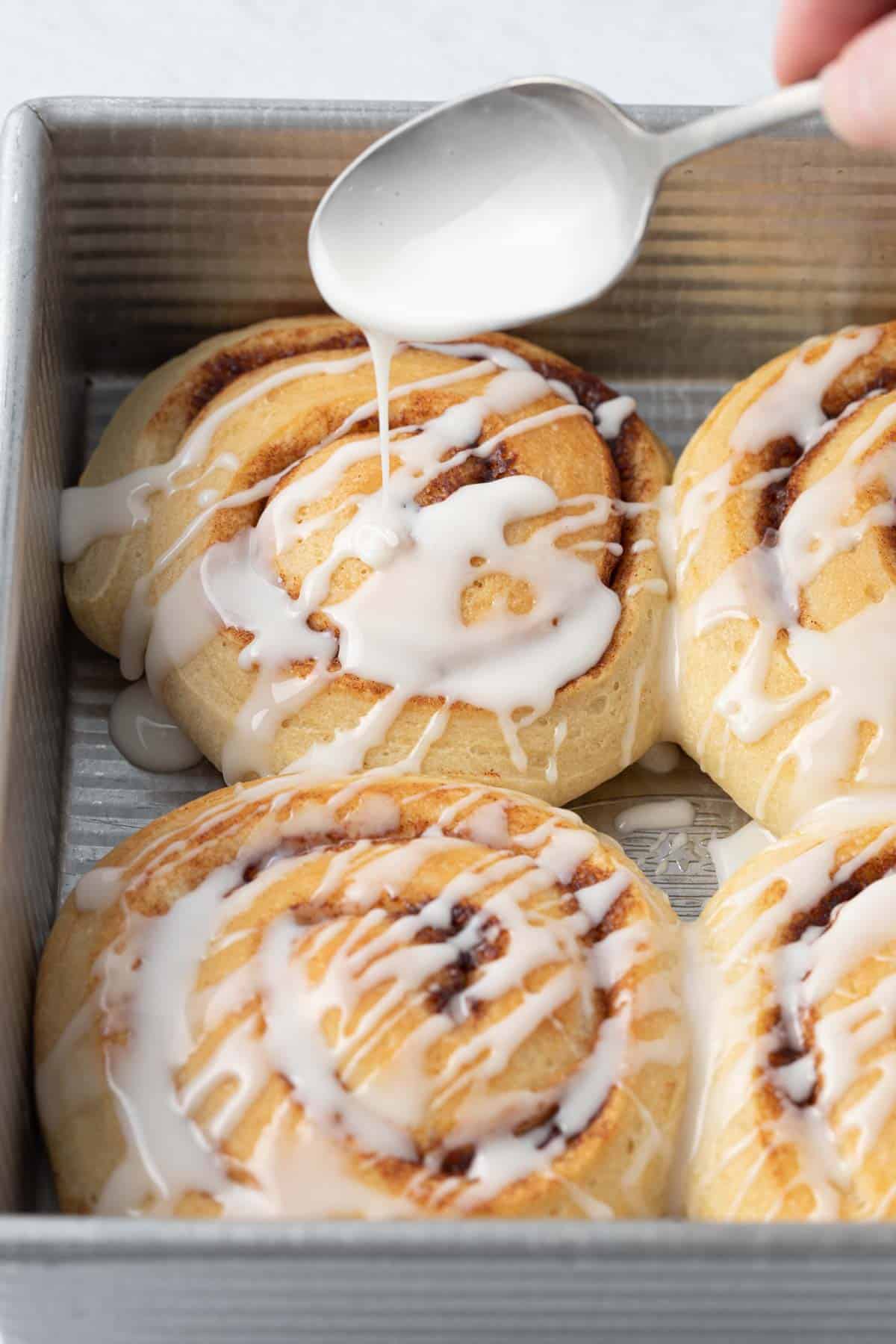 HOW TO STORE icing with powdered sugar
Because of the sugar, even with milk, icing can be stored at room temperature, but it's best to store it covered in the fridge.
HOW LONG WILL homemade icing LAST IN THE FRIDGE?
Store icing in the fridge for up to 3-4 days.
CAN I FREEZE icing with powdered sugar?
It's best to make it fresh and use it, but if you have leftover icing, you can freeze it. Thaw at room temperature and stir well before using if it appears broken. Freeze for up to 1 month.
FREQUENTLY ASKED QUESTIONS
Can I make icing with regular sugar?
To make icing with granulated sugar, you'll first need to turn it into powdered sugar. Place the granulated sugar in a food processor or high-speed blender and blend until it becomes powdered. Run the fresh powdered sugar through a fine mesh sieve to eliminate any larger pieces of sugar. For every cup of granulated sugar, add 1 tablespoon of cornstarch (optional).
Are icing and glaze the same thing?
Icing and glaze are used interchangeably in recipes. The most significant difference is that icing is just powdered sugar and liquid combined until smooth, whereas a glaze is usually heated first.
What's the difference between icing and frosting?
Icing is thinner, sets quickly, and is made with just milk and powdered sugar. Frosting is whipped up with a stand or hand mixer until fluffy, is spreadable, and can include butter or cream cheese.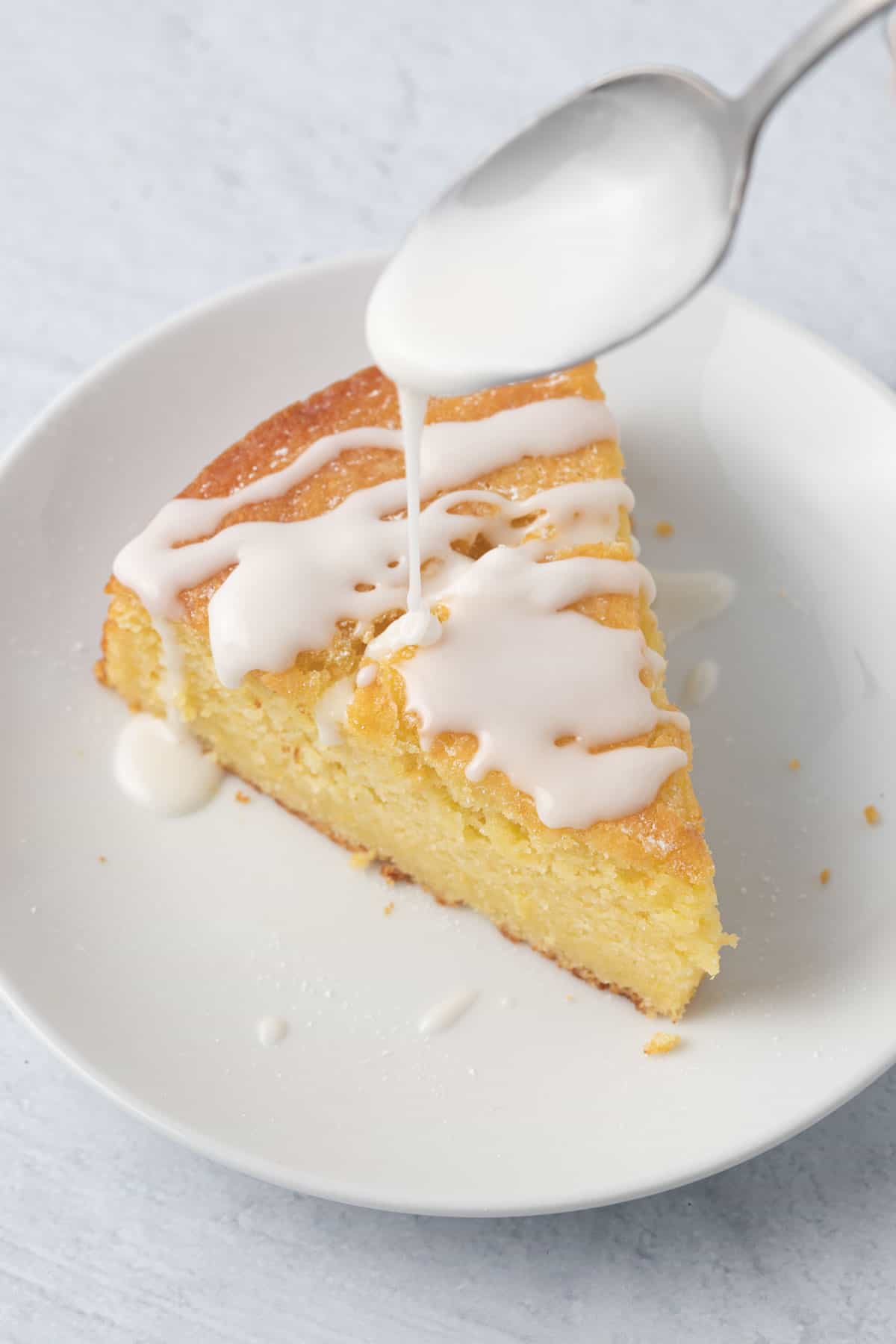 Now that you know how to make icing with just 3 ingredients, there's nothing stopping you from drizzling it on all your favorite sweet treats! Homemade icing is easy to make and can be flavored in so many ways. Whip up a batch to add to your baked goods, pancakes, or anything else you'd like!
MORE cooking tutorials:
If you found this tutorial for How to Make Icing helpful or if you try any recipe on Feel Good Foodie, then don't forget to rate the recipe and leave a comment below! It helps others who are thinking of trying out this tutorial and we would love to hear about your experience. And if you snapped some shots, share it on Instagram so we can repost on Stories!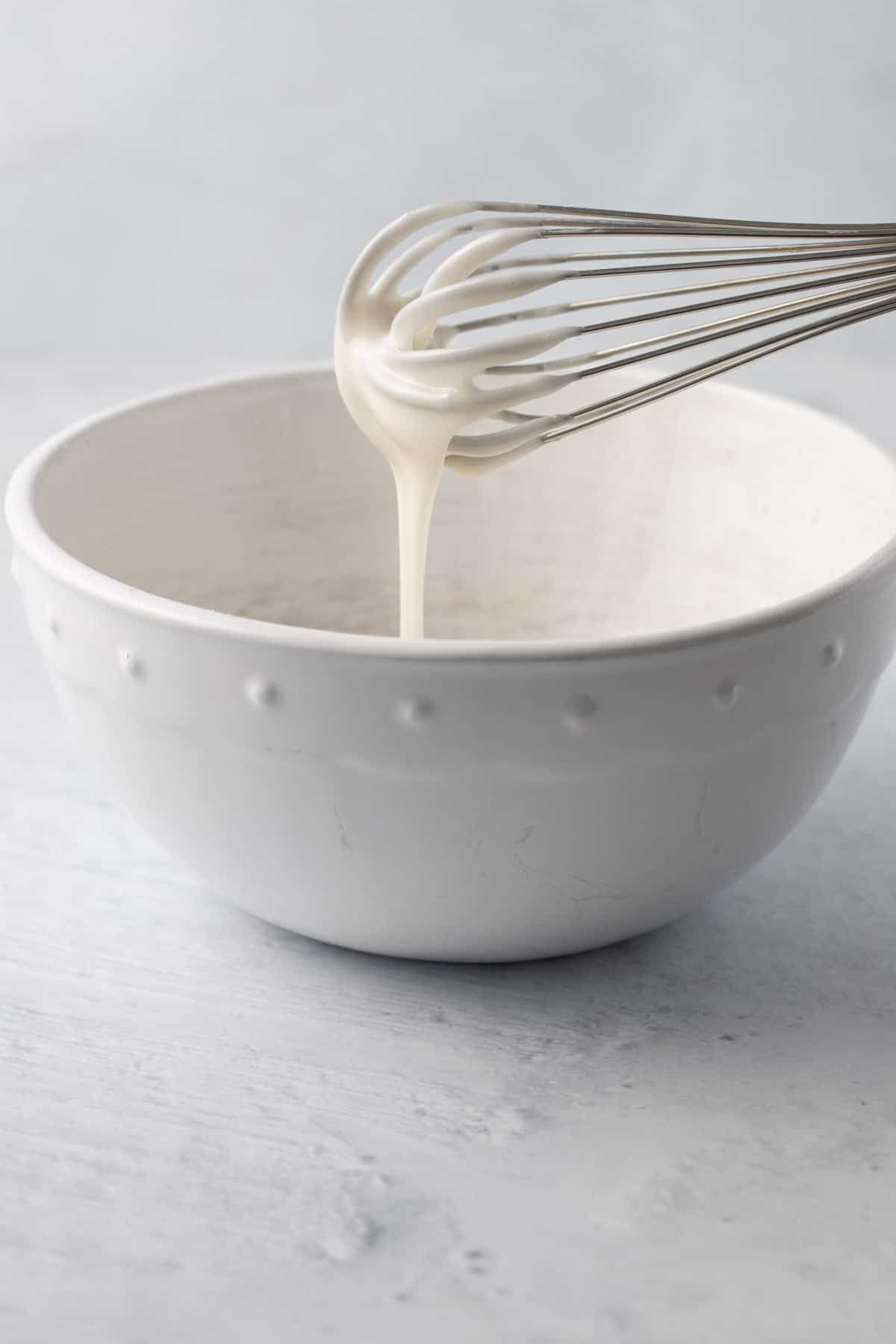 How to Make Icing
Learn how to make icing with 3 simple ingredients in just minutes! Add to your favorite desserts like cookies, cake, and cinnamon rolls, to name a few.
Instructions
Sift the powdered sugar into a medium bowl. Add the whole milk and the vanilla and use a whisk to mix until smooth without any lumps.

Use immediately over desserts or cover and store icing in the refrigerator for up to 3 days.
Notes
Nutrition label uses whole milk.
Store covered in the fridge up to 3 days.
Nutrition
Calories:
61
kcal
,
Carbohydrates:
15
g
,
Protein:
0.1
g
,
Fat:
0.1
g
,
Saturated Fat:
0.1
g
,
Polyunsaturated Fat:
0.004
g
,
Monounsaturated Fat:
0.03
g
,
Cholesterol:
0.5
mg
,
Sodium:
2
mg
,
Potassium:
6
mg
,
Sugar:
15
g
,
Vitamin A:
6
IU
,
Calcium:
5
mg
,
Iron:
0.01
mg
Nutrition information provided is an estimate. It will vary based on cooking method and specific ingredients used.