This post may contain affiliate links. Please read our disclosure policy.
Learn how to make cool, delicious, and healthy homemade popsicles. These homemade fruit popsicles are basically frozen fruit puree, yes, like a smoothie but frozen. Below are recipes for strawberry, mango, and kiwi, but many fruits will work for this classic, refreshing treat.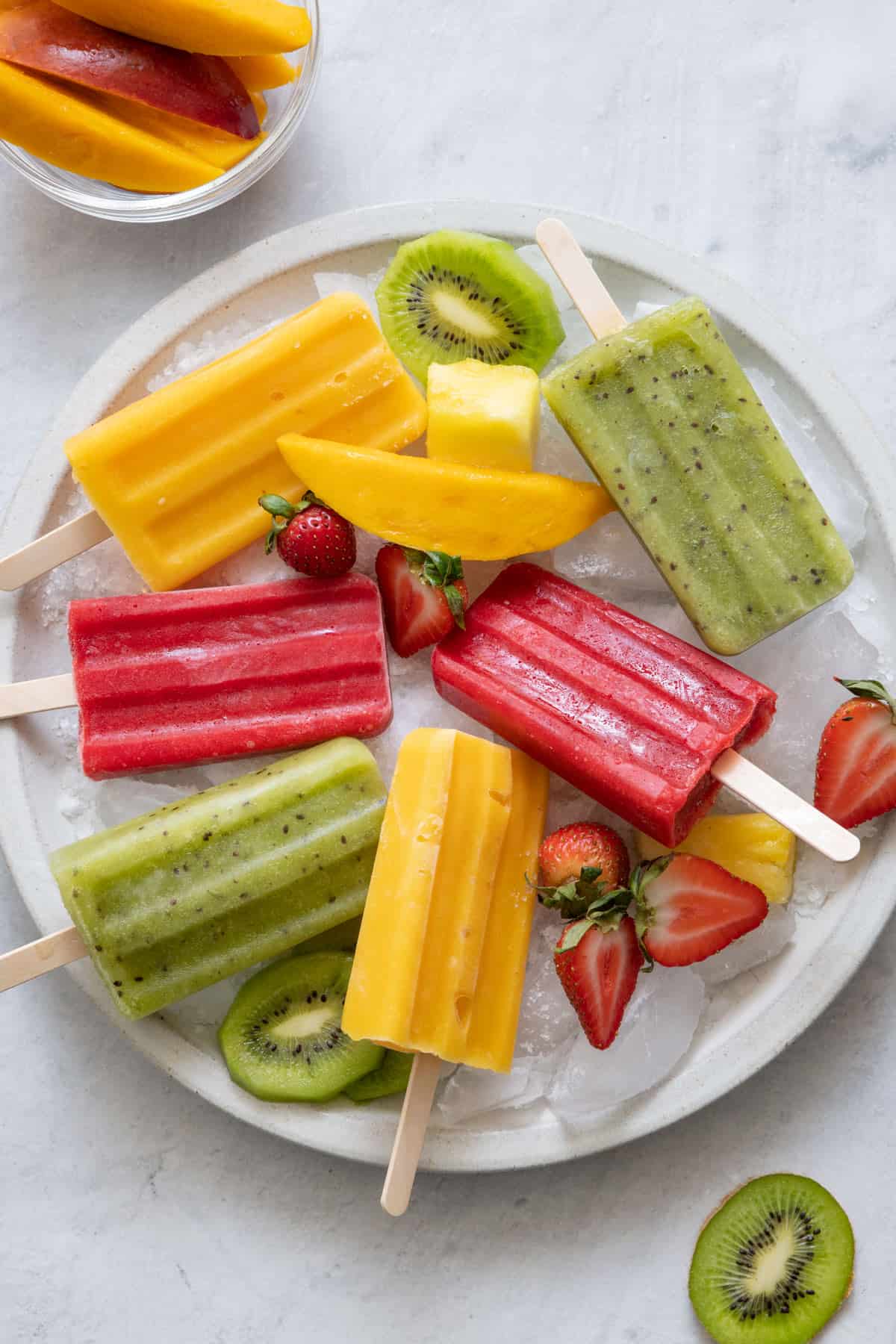 Like Mexican paletas, these frozen bars rely on lightly sweetened fresh fruit rather than heavily sweetened liquids like traditional fruit popsicle recipes. You'll feel good making these for your kids and I'm sure they'll love them like mine do!
WHY learn to make popsicles from scratch
Homemade is healthier: Some packaged popsicles commonly use artificial food dyes and sweeteners, plus heavily processed ingredients like maltodextrin to improve texture. Many other store bought popsicles include up to six teaspoons of sugar per serving. That might be ok on special occasions, but if you want your kids to enjoy popsicles more often during hot summer days, these healthy fruit popsicles are an amazing option!
Choose your favorite flavor: If everybody in your house wants red strawberry flavor, you just make the strawberry ones. No waste and no fights.
A no-bake dessert that keeps: These are fabulous, make-ahead treats to be able to pull out of the freezer at the end of a hot day and you can store them for months!
Use leftovers: Got some leftover smoothie mix in the blender? Extra berries? Bruised peaches? Use them up in these popsicle molds
HOW TO MAKE FRUIT popsicles
Prepare your fruit by chopping it into bite-sized pieces.
Gather the additional ingredients including salt, lemon juice, and honey, or your sweetener of choice.
Blend away until smooth.
Pour into molds and freeze until ready.
STRAWBERRY POPSICLE recipe
Fresh strawberries: The strawberries should be hulled and sliced.
Lemon juice: Lemon juice brightens the sweetness of fruit and also helps preserve the colors. Other citrus juices like lime or orange can be subbed in.
Honey: You can also use agave syrup or sugar. Besides adding flavor, sweeteners help the texture by preventing ice crystals from forming.
Salt: Salt accentuates the flavors and balances the sweetness.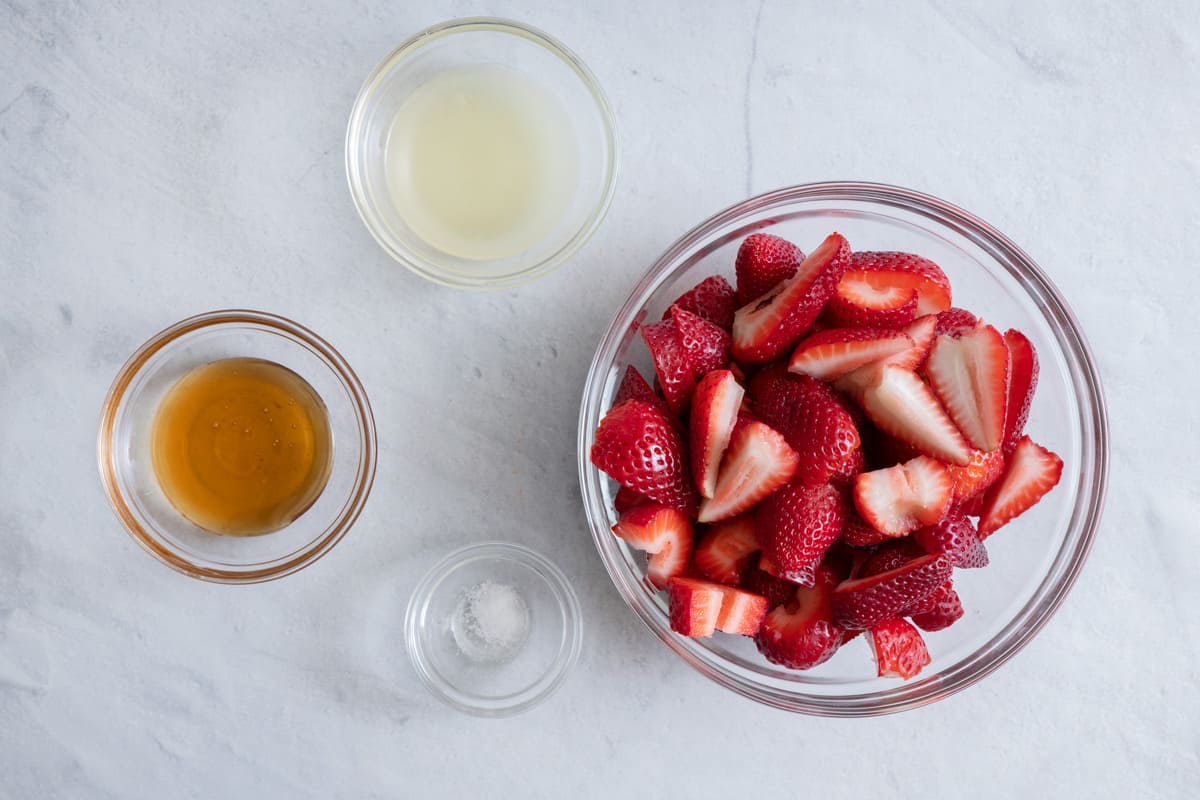 how to make strawberry fruit popsicles
Put the strawberries and remaining ingredients in a blender.
Blend until smooth or your desired consistency. Some people like to leave in small chunks of fruit. Also, check for sweetness and add more sweetener if desired.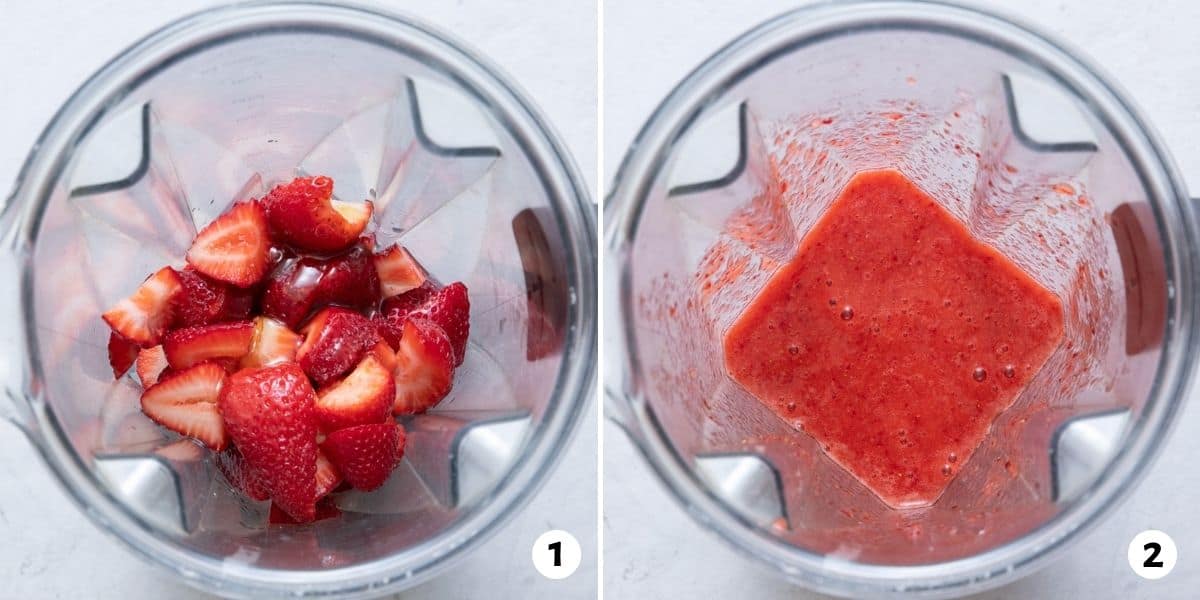 After blending the strawberry popsicle mixture or any of the fruit popsicle mixtures below, pour them into a popsicle mold and place the mold in the freezer for at least four hours.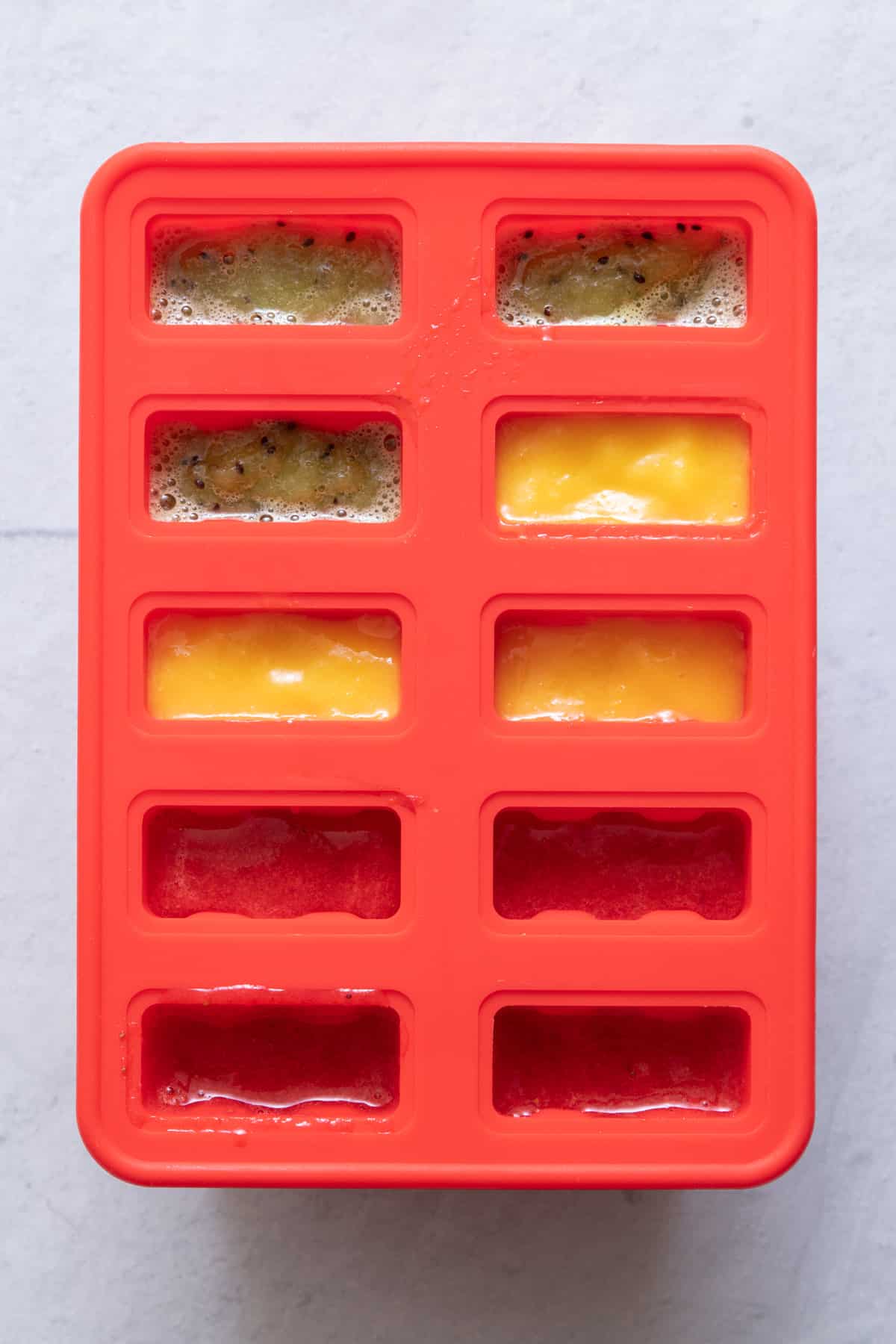 After freezing for at least four hours, the strawberry popsicles are ready. They are so refreshing and delicious!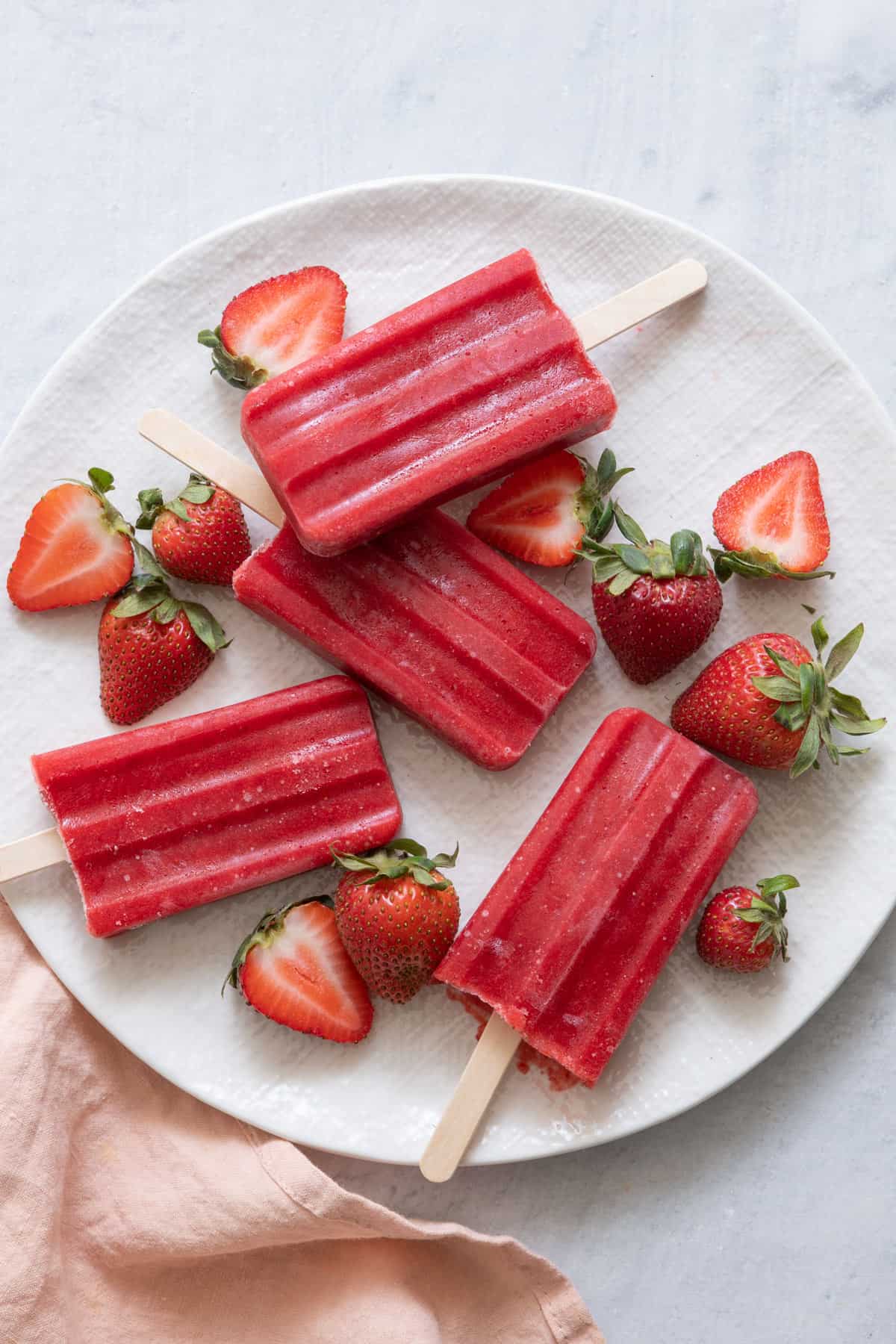 mango POPSICLE recipe
Fresh mango: The mango should be cut into small pieces. Grab my tutorial for how how to cut mangos.
Lemon juice: Another citrus – lime or orange juice can work as well.
Honey: Agave syrup or a small amount of sugar works as well. Maple syrup might be interesting. Natural sweeteners help prevent ice crystals from forming.
Salt: Intensifies the fruit flavors.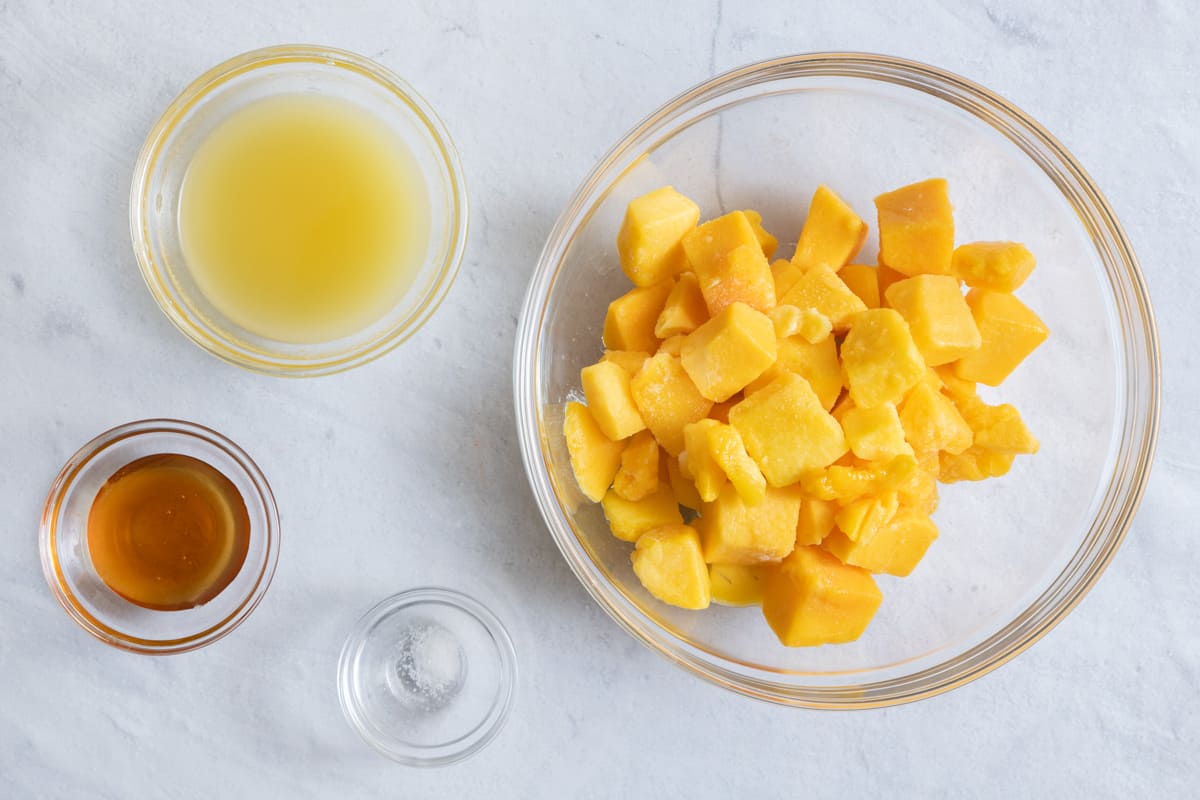 how to make mango fruit popsicles
Put the chopped mango, lemon juice, sweetener, and salt in the blender.
Puree until smooth and then check for sweetness to see if you want to add more.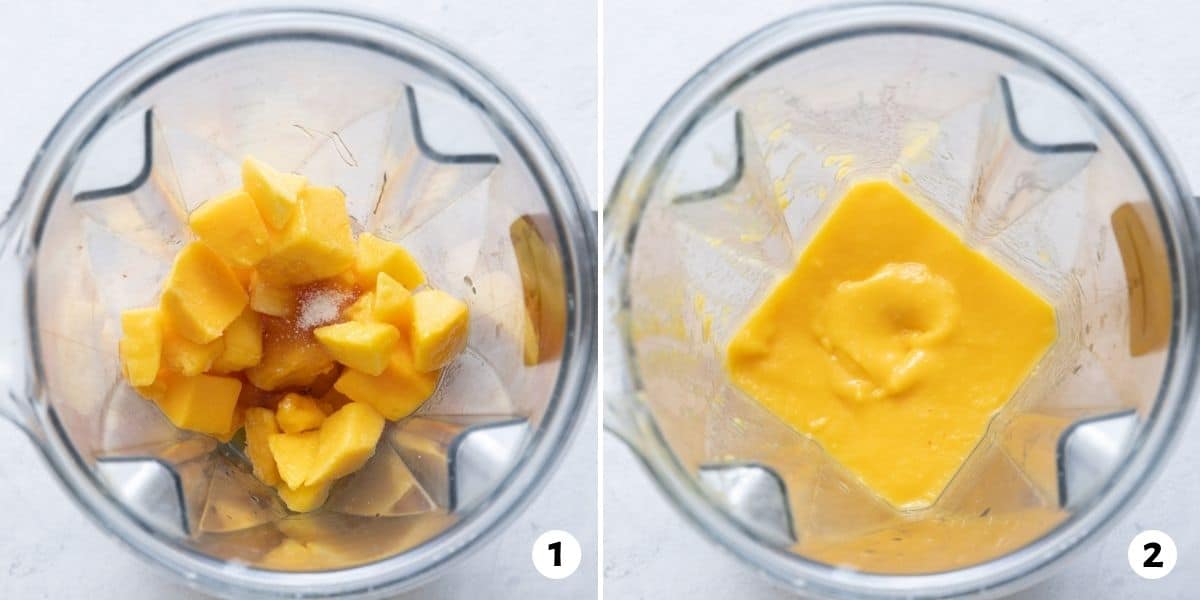 After freezing for a few hours, your mango popsicles are ready to be enjoyed!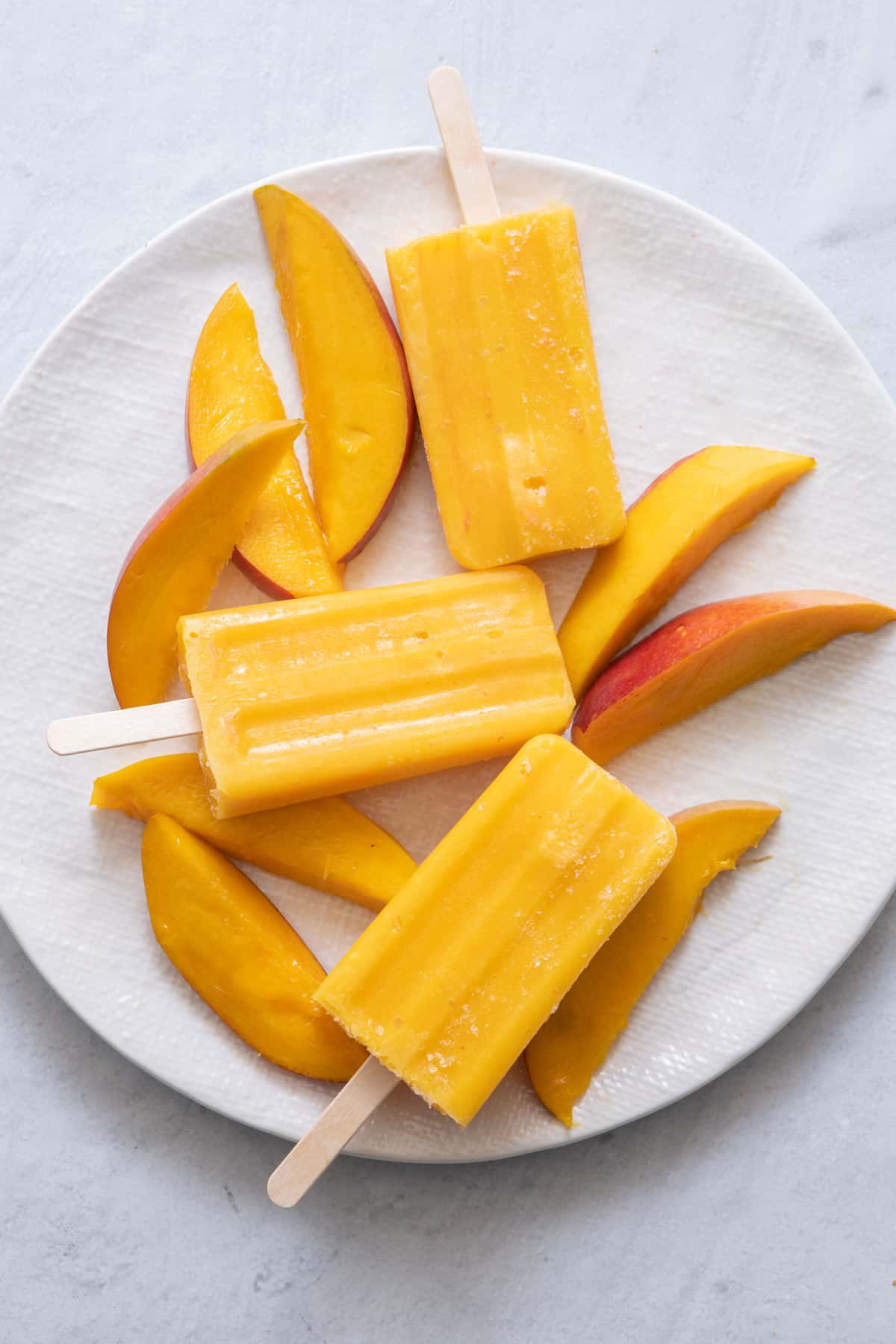 kiwi POPSICLE recipe
Fresh Kiwi fruits: The kiwis need to be skinned and chopped into bite-sized pieces. You can leave the skin on, but the texture and color won't be as appetizing for kids.
Lemon juice: The citric acid helps maintain the fruit's vibrant colors and brightens the flavors. Other citrus juices can stand in, too.
Salt: Salt helps bring out the fruit's subtle flavors.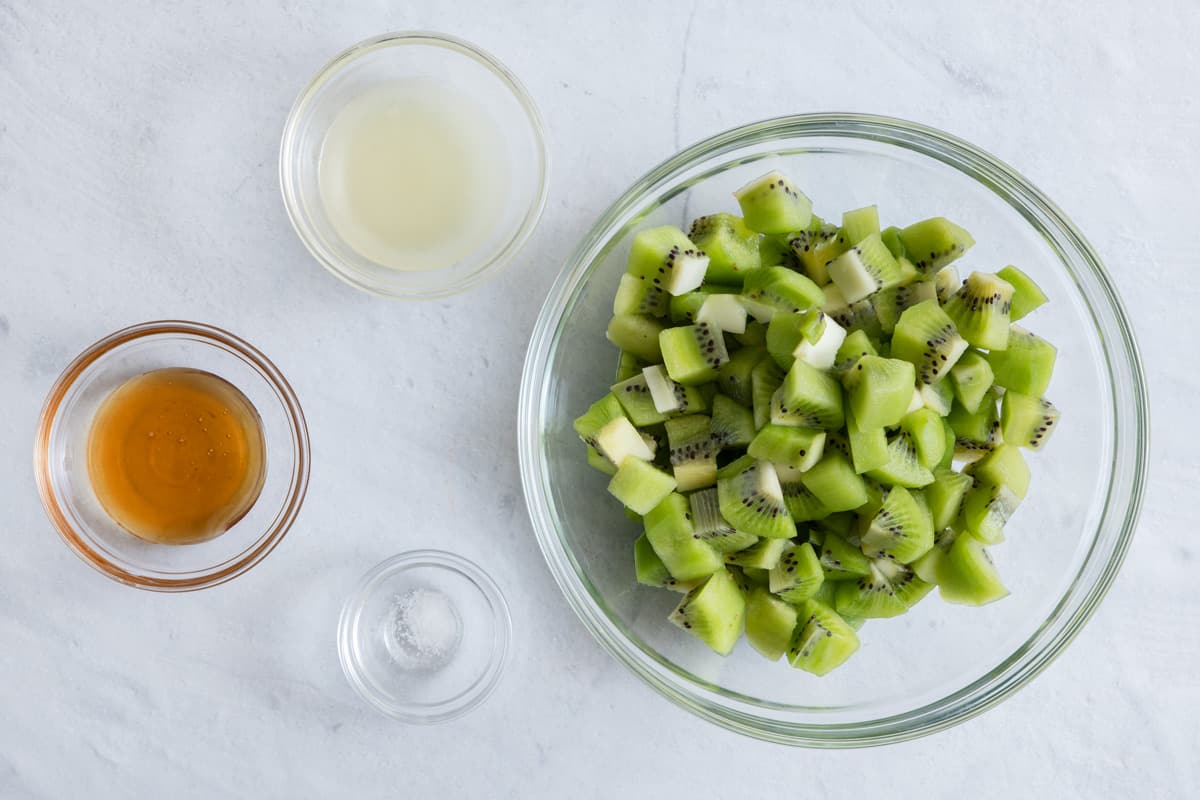 how to make kiwi fruit popsicles
Place the skinned, chopped kiwi, lemon juice, honey, and salt in the blender.
Blend to desired consistency. Taste for sweetness and add more honey if needed.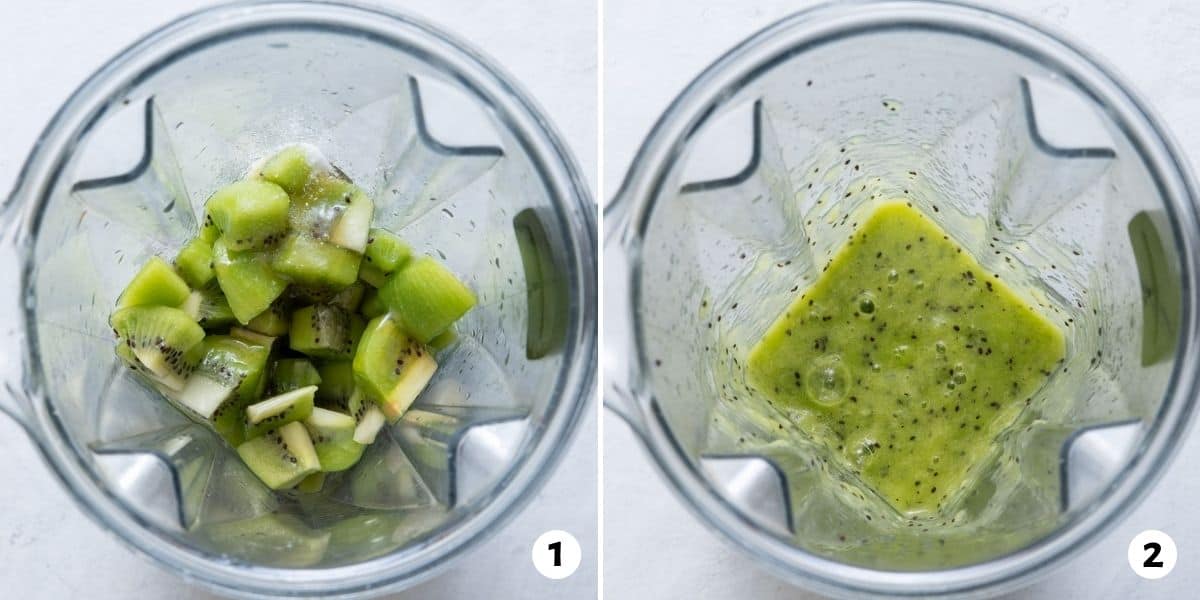 After freezing, the kiwi fruit popsicles keep their gorgeous green color and they make for such a fun after school treat, especially on a hot summer day.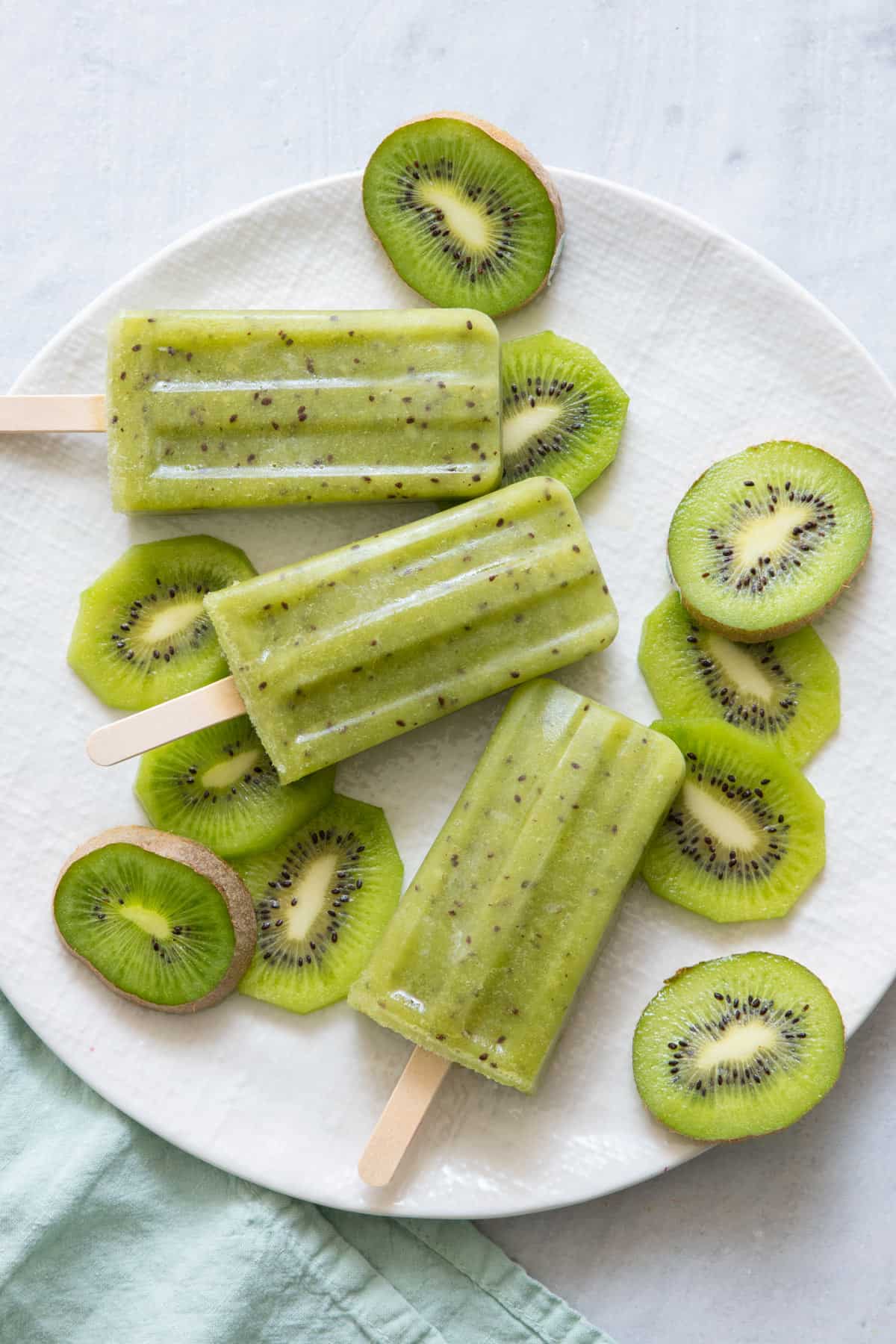 TIPS FOR making fruit popsicles
Taste before freezing. The level of sweetness and acidity in your fruit will vary depending on the time of year, so taste your fruit puree before you freeze it and add additional honey or juice if you feel the mixture needs it. Keep in mind that the flavor will dull slightly when the fruit puree is frozen, so make sure your puree packs a punch of flavor!
Make multi-flavored popsicles! We all love the layered popsicles you can buy—why not make your own? To create your own multi-flavored popsicles, make a single batch of one flavor and pour equal quantities into the molds. Freeze the first layer until firm, at least two hours, then make a batch of your second layer and pour it on top of the first. After you've finished filling the molds, freeze the finished popsicles for at least four hours before removing them from the molds.
Creamify. Add some yogurt, preferably, plain whole milk Greek style, to create creaminess and add protein to the treat. Coconut milk also tastes yummy with fruit.
Leave room at the top. Remember, your concoction

will expand as it freezes, so leave at least ¼ inch at the top of the mold for the natural expansion.
smoothies to try as popsicles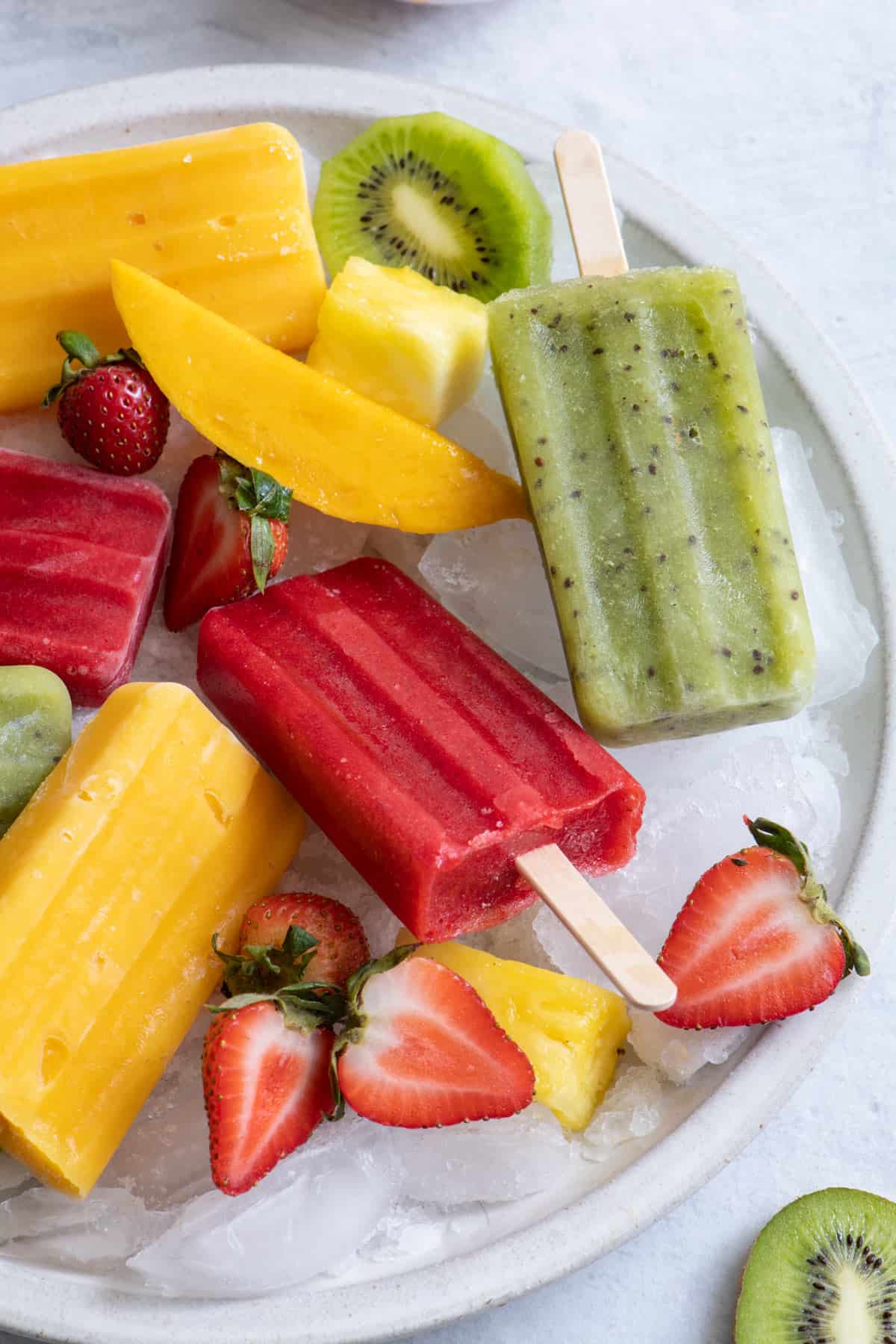 HOW TO STORE popsicles
Homemade Popsicles can be stored in the molds or unmolded. To store unmolded, wrap them in a non-stick material like parchment paper, plastic wrap, or wax paper and store them in a resealable freezer safe-bag or airtight container.
HOW LONG WILL homemade popsicles LAST IN THE freezer?
Homemade popsicles taste best when eaten within six weeks of freezing. But they can last in the freezer for up to three months.
FREQUENTLY ASKED QUESTIONS
My popsicles seem stuck. How do I get my popsicles out of the mold?
Most popsicles don't easily eject from the mold. To remove the popsicle from the mold, run it under lukewarm water for a few seconds. You can also dip the mold into a bowl of lukewarm water.
I do not have popsicle molds what else can I use to make popsicles?
Try paper cups, a muffin tin lined with foil-type muffin wrappers, rinsed individual yogurt containers or an ice cube tray with large sections. You will have to provide your own sticks, of course! Wait until the popsicles are partially frozen to insert the sticks, or cover your "mold" with aluminum foil and gently poke the sticks through the foil, which will hold them in place.
Does frozen fruit work to make popsicles?
Yes, frozen fruit can be used to make popsicles. Let it thaw a bit before pureeing to get maximum smoothness.
How do I get my popsicles to have a creamier texture?
To get a slightly softer texture, add more sweetener or a fatty milk product like heavy cream. Both lower the freezing point of the puree and gives it a less icy final finish.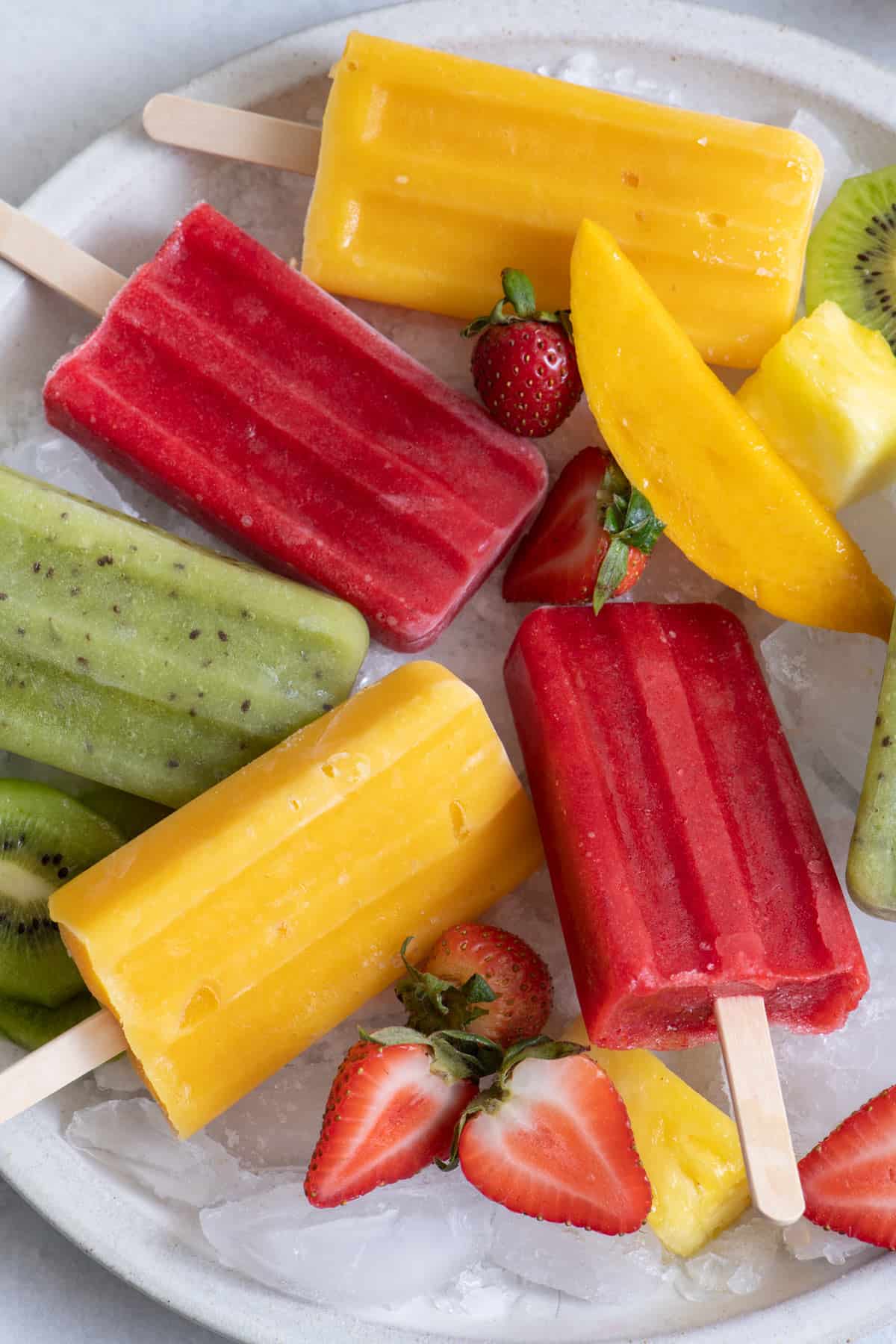 Homemade fruit popsicles are the perfect healthy treat for a hot summer day or night, and now you know how to make three flavors: strawberries, mango and kiwi. Let me know if the comments below if you try any of these flavors or a multi-flavored one!
MORE kid-friendly tutorials:
If you found this tutorial for How to Make Popsicles helpful or if you try any recipe on Feel Good Foodie, then don't forget to rate the recipe and leave a comment below! It helps others who are thinking of trying out this tutorial and we would love to hear about your experience. And if you snapped some shots, share it on Instagram so we can repost on Stories!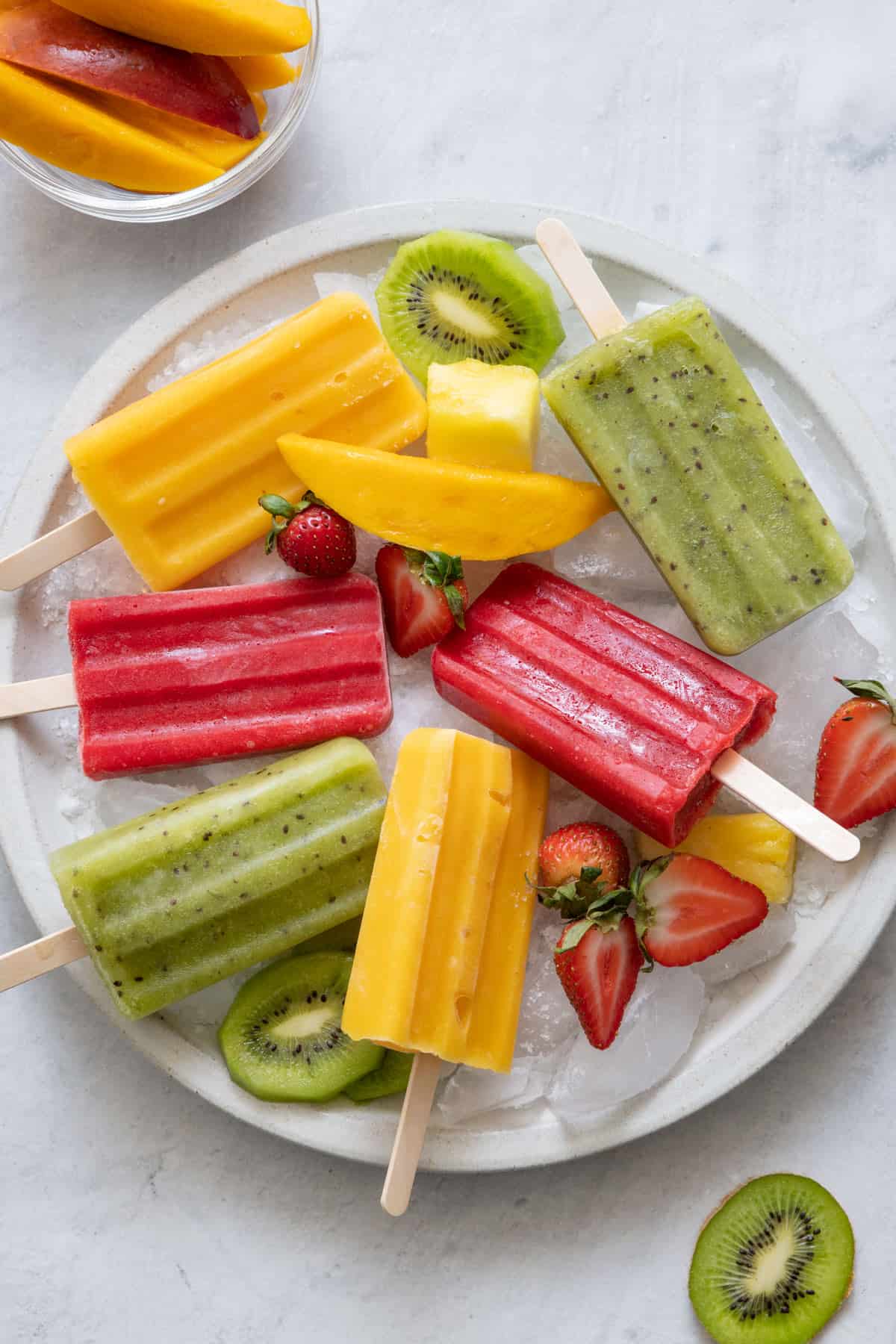 How to Make Popsicles
Learn how to make popsicles from scratch and try these three fruit popsicle flavors: strawberry, mango and kiwi. It's an easy healthy recipe that kids will love!
Ingredients
Strawberry Popsicles
Instructions
Add the fruit, juice, honey, and salt to a blender and blend until smooth.

Divide the fruit puree between four (4-ounce) popsicle molds and cap with the tops of the molds. Freeze until firm, at least 4 hours.

To unmold, run the bottoms of the popsicle molds under hot water for about 5 seconds, then pull out the popsicles.
Notes
Storage: Popsicles can be stored in the molds, or unmold and wrap them in non-stick material like parchment paper, plastic wrap, or wax paper and store them in a resealable freezer safe-bag or airtight container. They are best within six weeks, but will last for up to three months.
Nutrition
Calories:
79
kcal
,
Carbohydrates:
20
g
,
Protein:
1
g
,
Fat:
1
g
,
Saturated Fat:
1
g
,
Polyunsaturated Fat:
1
g
,
Monounsaturated Fat:
1
g
,
Sodium:
1
mg
,
Potassium:
190
mg
,
Fiber:
2
g
,
Sugar:
18
g
,
Vitamin A:
1035
IU
,
Vitamin C:
42
mg
,
Calcium:
12
mg
,
Iron:
1
mg
Nutrition information provided is an estimate. It will vary based on cooking method and specific ingredients used.