This post may contain affiliate links. Please read our disclosure policy.
This Honey Mustard Salmon is ah-mazing! It's a flavorful main course that combines the sweetness of honey, the tanginess of Dijon mustard, and the zesty kick of lemon juice, creating a perfect balance that will make your taste buds dance. The honey mustard sauce complements the tender and flaky salmon perfectly, creating an addicting sticky glaze over the fish. Made with just a handful of ingredients, this simple meal is perfect for a busy weeknight or special occasion.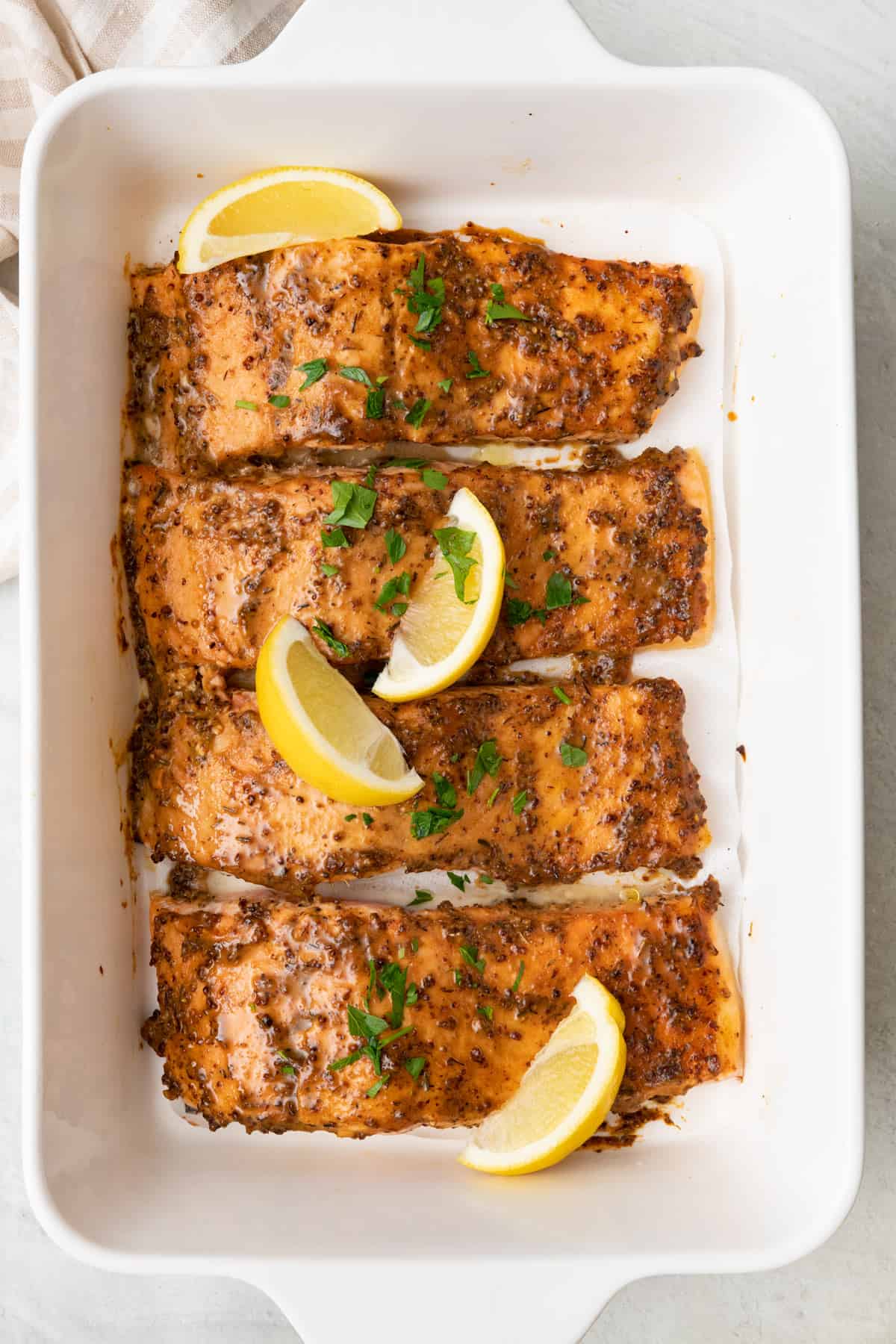 Table of Contents
Salmon is a versatile protein that can be cooked in so many ways, such as pan frying, grilling, baking in the oven, or, my favorite, air frying! But there's something extra special about this honey mustard salmon recipe. The combination of honey and Dijon mustard in the glaze gives the salmon a unique balance of sweetness and tanginess that is simply irresistible. Plus, it's so effortless to make! Get ready for the best oven-baked honey-glazed salmon that is perfectly flaky, tender, and flavorful!
Why you'll love this honey dijon salmon
Quick and easy recipe. With a few simple ingredients that you likely have on hand, this baked salmon dish comes together quickly in under 20 minutes. Plus, it's made in one pan, making clean-up a breeze.
Leftover makeover potential: If you happen to have any leftover Honey Mustard Salmon, it can be easily repurposed into a new and exciting dish. Flake the salmon and toss it into a salad, mix it with pasta and a light cream sauce, or even use it as a filling for wraps or sandwiches. This recipe's flexibility means you can enjoy multiple meals with minimal effort.
Pairs well with various sides: The versatile flavor profile of Honey Mustard Salmon allows it to complement a wide array of side dishes, making it easy to plan well-rounded meals. Pair it with roasted vegetables, a crisp salad, or a creamy risotto for a complete and satisfying dining experience that caters to different preferences and cravings.
Ingredients to make honey mustard salmon
Salmon: I recommend skin-on salmon filets for an easy-to-prepare dish. Salmon has a rich texture that pairs well with the sweet and savory flavors of the honey mustard glaze.
Mustard: Using a combination of whole-grain mustard and Dijon mustard will yield the best results and produce a bold flavor.
Lemon: This common citrus pairs perfectly with seafood. A splash of lemon juice adds a bright and fresh flavor to the glaze.
Honey: Complements the tangy flavor of the mustard and lemon juice. It also adds a sticky glaze to the salmon, giving a caramelized texture on top of the fish.
Olive oil: Oil helps keep the salmon moist and tender. It also helps with proper caramelization as it acts as a carrier in the honey mustard sauce, enabling it to coat the salmon more effectively.
Seasonings: A simple blend of dried thyme, paprika, garlic powder, and salt and pepper builds a well-balanced flavor profile that complements the sweetness of the honey glaze.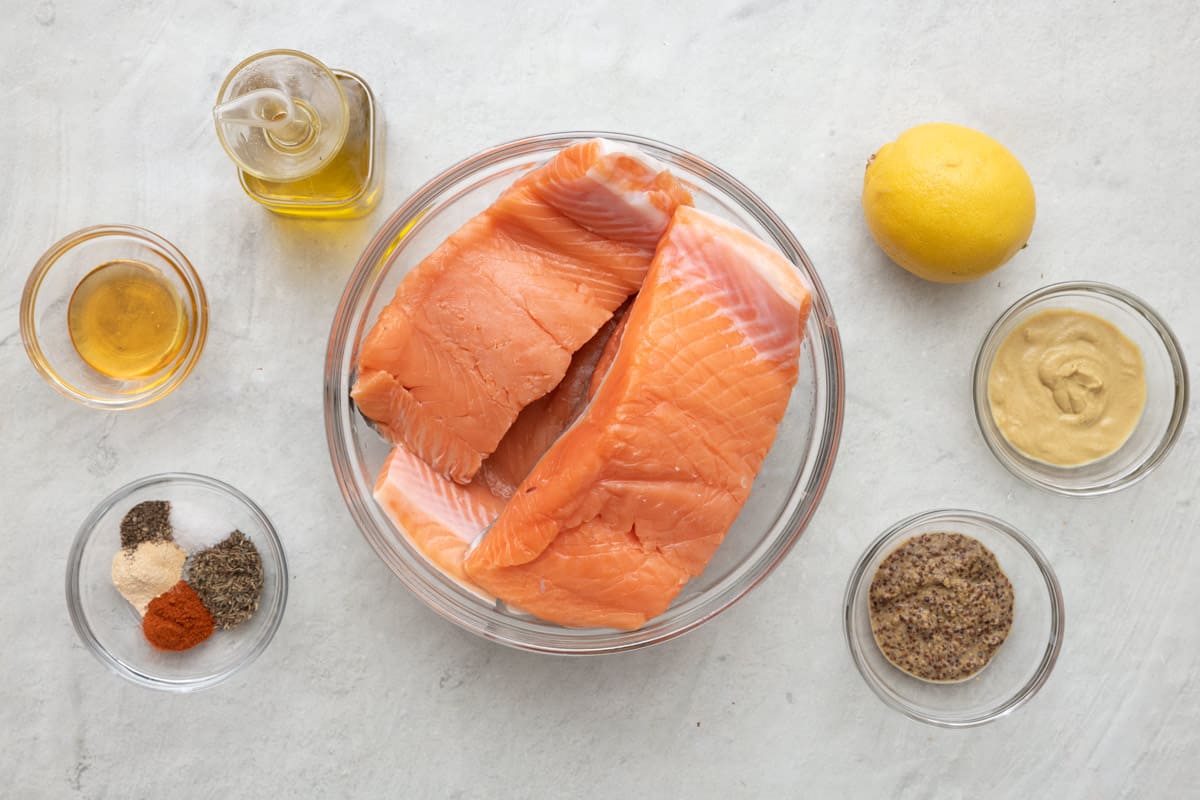 How to make honey mustard salmon
This mustard salmon recipe starts with a good homemade honey glaze. Spread the sweet and savory sauce over the fish and bake to golden, flaky, and delicious perfection.
Make honey mustard coating
Add the Dijon mustard, olive oil, honey, lemon juice, thyme, paprika, and garlic powder to a small dish.
Whisk together until smooth and combined.
How to bake salmon with honey mustard dressing
Season salmon generously with salt and pepper and place on the baking dish.
Spoon the honey mustard sauce over the filets.
Spread the sauce evenly to coat the top of the surface.
Bake until the salmon flakes easily with a fork.
Tips for making the best honey glazed mustard salmon
Easy clean-up. Line your baking dish with parchment paper for easy clean-up.
Start with dry salmon. To help the glaze adhere to the fish, pat the filets dry with paper towels first. This will remove excess moisture and allow proper browning of the fish.
Use similar-sized filets. When choosing salmon, go with a similar thickness to ensure even cooking. The more uniform in thickness the filets are, the more evenly they will cook, resulting in a better overall dish.
Don't overcook the salmon. Overcooked salmon can become dry and tough. Bake the filets just until they are easily flaked with a fork. They will continue to cook using residual heat on the pan, so watch it closely!
Popular substitutions & additions
Spice it up. Add a little bit of smoked paprika or cumin to the honey mustard glaze to elevate the flavor. If you're a fan of spicy flavors, consider adding a pinch of cayenne pepper to give it extra heat.
Use a different type of fish. You can use different types of salmon, such as sockeye, king salmon, or coho. But you don't have to limit this recipe to salmon only. Try this glaze on a completely different fish, such as halibut, cod, or mahi-mahi.
Try different type of mustard. This recipe uses whole grain and Dijon mustard but try spicy Dijon mustard or garlic Dijon mustard for a different flavor profile. You can even use the honey Dijon mustard for extra honey sweetness.
Attractive presentation. Add slices or wedges of fresh lemon and garnish with fresh herbs like dill or parsley for a pop of color. Not only does this small addition add excellent visual appeal, but it also adds fresh flavors.
What to serve with baked honey mustard salmon
How to store & reheat honey mustard salmon
Store leftover honey mustard salmon in an airtight container in the fridge. To reheat, place the salmon in a small baking dish and cover. Bake in a preheated 275°F oven for 10-15 minutes or until heated through. Alternatively, you can reheat the salmon in a covered skillet on the stove with a little bit of water to help create steam.
How long will honey mustard salmon last in the fridge?
Oven-baked honey mustard salmon will keep in the fridge for up to 3 days.
Can i freeze honey dijon salmon?
Yes, you can freeze honey dijon salmon for up to 2 months if stored properly in an airtight container or wrapped tightly in plastic wrap or aluminum foil. When you're ready to eat it again, simply thaw it overnight in the refrigerator and reheat it per the instructions above.
Frequently asked questions
How do I know when the salmon is cooked through?
You'll know the salmon is cooked through when you can easily flake it with a fork. You can also check the color of the salmon – it should be opaque and light pink. The best way to tell if the salmon is cooked thoroughly is to use an instant-read meat thermometer, and when the internal temperature registers 135°F – it's done.
Can I make the honey mustard salmon ahead of time?
As with most seafood, it's best not to keep raw salmon in the fridge for more than one day. However, you can make the honey mustard sauce separately and store it in the refrigerator for up to 1 week. When ready to make the dish, spread it over the salmon and bake it per recipe instructions.
What type of salmon should I use for this recipe?
I recommend using wild-caught salmon because it has the most flavor and best quality. However, any salmon will work. You can also use skinless salmon if that is all you have available. However, you will need to adjust the cooking time as salmon with skin will require more time to cook thoroughly.
With this easy honey mustard salmon recipe – you can have dinner on the table in no time! The simple honey mustard glaze spooned over a tender and flaky salmon is a simple dish that will surely impress. Serve this with your favorite side dish or double the recipe to freeze for easy leftover lunch.
More salmon recipes:
If you try this feel good Honey Mustard Salmon recipe or any other recipe on Feel Good Foodie, then don't forget to rate the recipe and leave a comment below! It helps others who are thinking of making the recipe. We would love to hear about your experience making it. And if you snapped some shots, share it on Instagram so we can repost on Stories!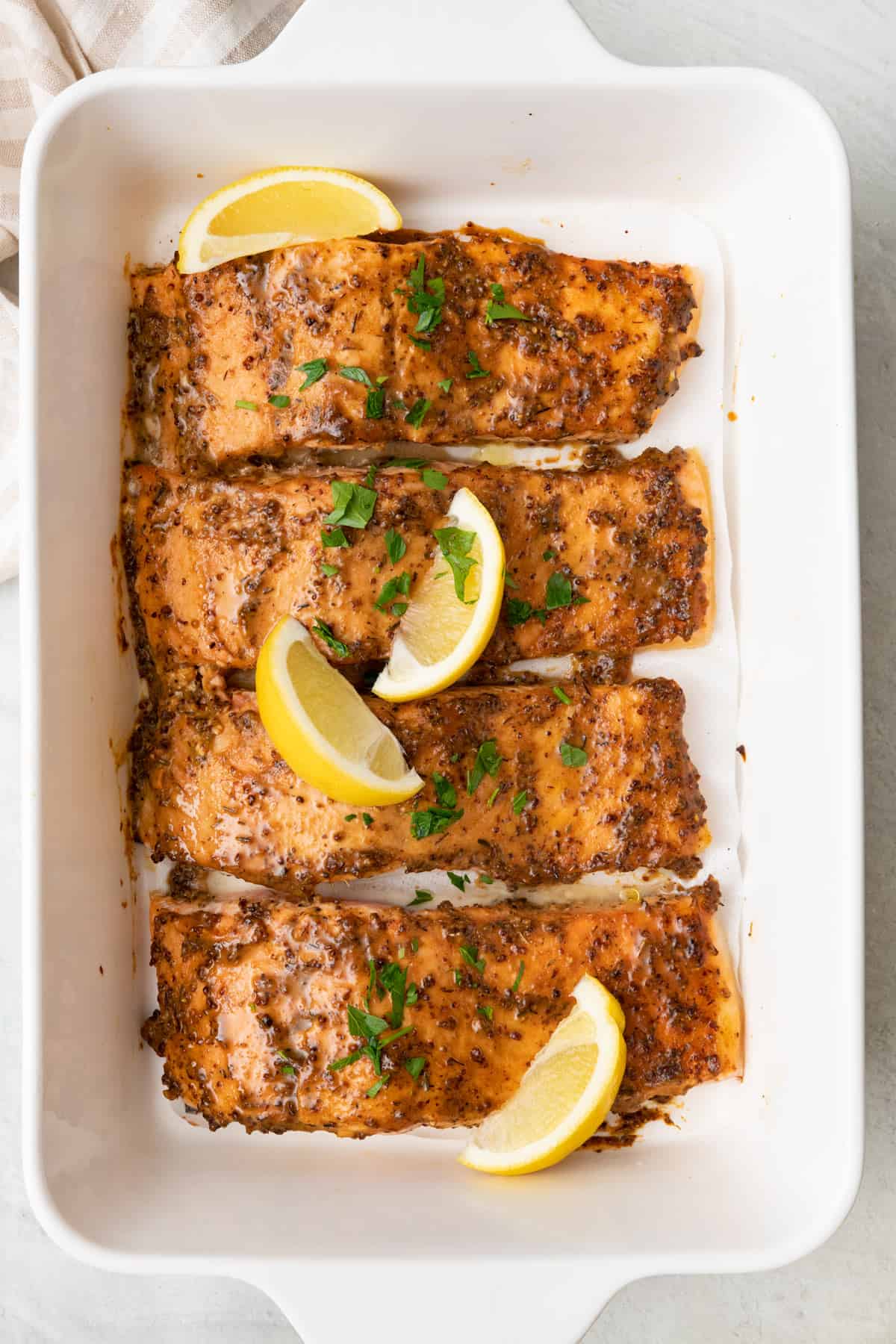 Honey Mustard Salmon
Enjoy the perfect balance of sweet and tangy with this Honey Mustard Salmon. Tender, flaky, and ready in 20 mins for an easy, healthy dinner!
Instructions
Preheat the oven to 400˚F and line a baking dish with parchment paper if desired.

In a small bowl whisk together mustards, olive oil, honey, lemon juice, thyme, paprika and garlic.

Season the salmon generously with salt and pepper and place on the baking dish. Pour the honey mustard sauce all over the entire surface of each salmon filets.

Bake in the oven until the salmon flakes easily with a fork, 12-15 minutes. Enjoy immediately.
Notes
Storage: Store in an airtight container in the fridge for up to 3 days. To reheat, place the salmon in a baking dish and cover with foil. Bake in a preheated 275°F oven for 10-12 minutes or until warmed through. You can also reheat the salmon in on the stove by adding it to a non-stick pan with a little bit of water. Cover and heat until warmed through.
Tips:
Pat dry the salmon with paper towels to remove excess moisture. This will help the glaze stick to the fish better.

Use similar size filets to ensure even cooking, resulting in a better overall dish.
Don't overcook the salmon as it can become dry and tough. Bake just until they are easily flaked with a fork, or the internal temperature registers 135

˚

F with an instant-read thermometer.
Nutrition
Calories:
317
kcal
,
Carbohydrates:
10
g
,
Protein:
35
g
,
Fat:
15
g
,
Saturated Fat:
2
g
,
Polyunsaturated Fat:
5
g
,
Monounsaturated Fat:
7
g
,
Cholesterol:
94
mg
,
Sodium:
241
mg
,
Potassium:
878
mg
,
Fiber:
1
g
,
Sugar:
9
g
,
Vitamin A:
212
IU
,
Vitamin C:
2
mg
,
Calcium:
36
mg
,
Iron:
2
mg
Nutrition information provided is an estimate. It will vary based on cooking method and specific ingredients used.