This post may contain affiliate links. Please read our disclosure policy.
Cauliflower Pizza Crust is a low carb alternative to traditional pizza crust and endlessly diverse. Top it with your family's favorite veggies, or stick to plain cheesy goodness. However you decide, I think this recipe will change the way you look at pizza!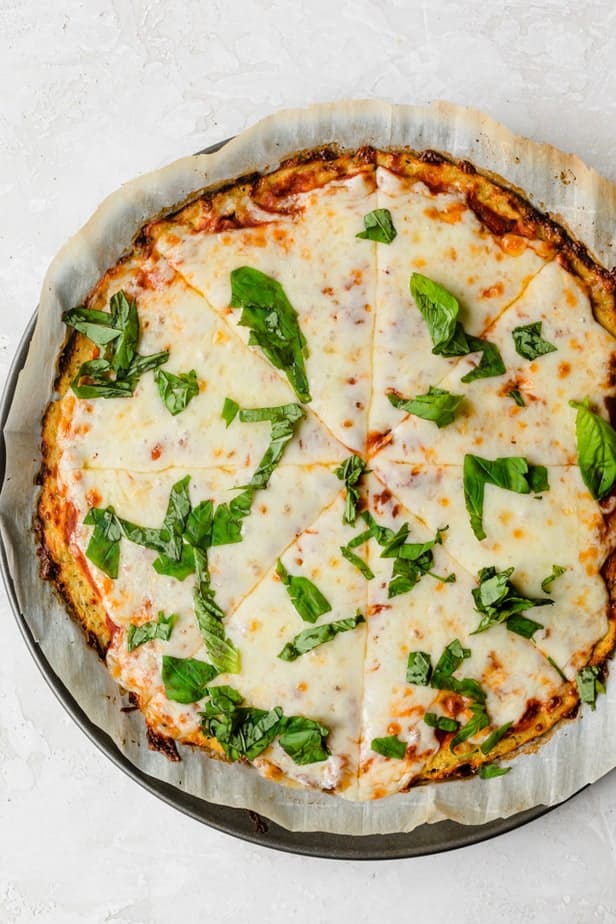 What is cauliflower pizza crust?
Cauliflower pizza crust is simply pizza crust that's made from cooked and dried cauliflower along with egg, cheese and herbs. It's a very simple mixture and it's amazing to see it transform from cauliflower florets into a pizza pie topped with sauce and cheese! Because there's no actual flour used in cauliflower pizza crust, the recipe is grain-free, gluten-free and low carb.
Plus, cauliflower packs a huge nutritional punch, so you're getting some vegetable servings right in the crust of your favorite food! And if you're a fan of swapping cauliflower for low-carb meals, try my Cauliflower Rice, Cauliflower Mashed Potatoes and Cauliflower Waffles.
How to make cauliflower pizza crust
Start with a whole fresh cauliflower and cut it into florets. Then grate the cauliflower with a box grater or in the food processor, and place in a microwave safe bowl. You want to cook it in the microwave for 5 minutes so it's no longer raw. You can also steam it on the stovetop.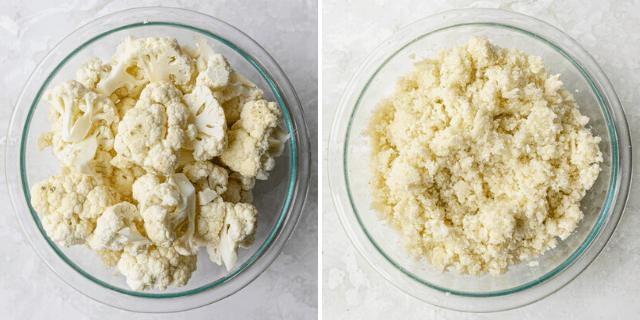 To cool it, transfer it from the bowl to a cheese cloth or kitchen towel and allow it to become cool to the touch. Then wrap the cauliflower in the towel and use your hands to squeeze out as much of the cauliflower liquid as possible.
You would be surprised how much liquid will come out…as much as 2 cups sometimes! This part is the most important step of the recipe, so take the time to dry out the cauliflower as much as possible.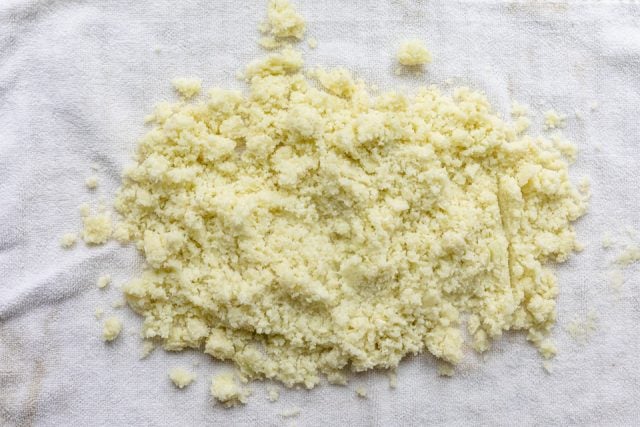 Now you'll make the cauliflower crust "dough." Mix together the egg, cheese and seasoning. Then add the cauliflower crust and use a fork or a spoon to blend everything together.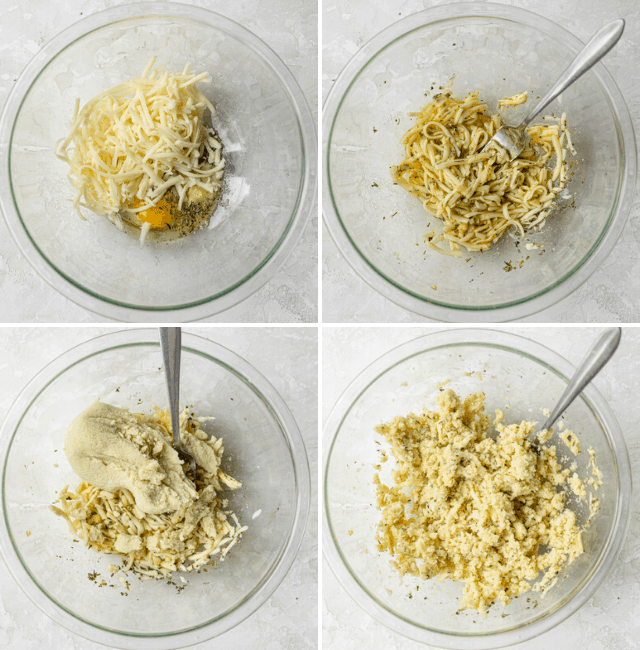 Spread the mixture to your desired shape on a baking sheet lined with parchment paper. It's easy to move it around if you mess up. Be sure not to spread it too thin. Then bake it on its own with no toppings until the crust is crisp and browned. Then it's completely edible at this point. But you can go ahead and add the marinara sauce and cheese, and return to the oven to melt the cheese.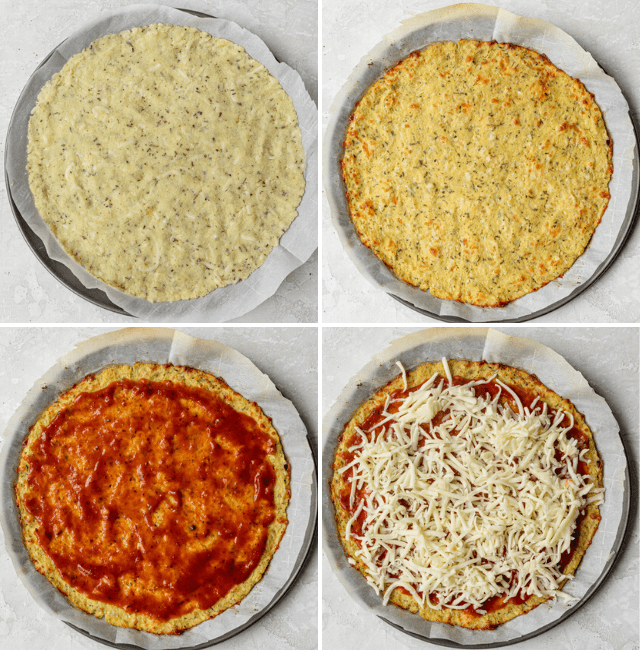 You can even broil it for a couple minutes until the cheese is bubbly and golden. And then the cauliflower pizza crust is ready! Hit it with some fresh herbs, slice it up and serve! It will be soft while hot, but will continue to harden as it cools.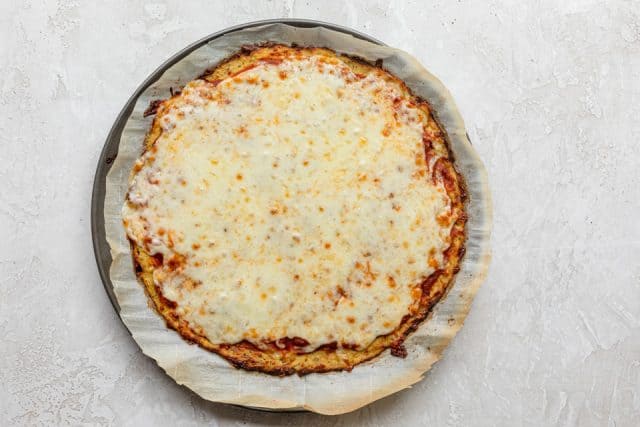 Tips for making cauliflower pizza crust
Make sure to squeeze out as much water out of the cauliflower after cooking as possible. That is the key factor in how well the cauliflower pizza crust turns out. So drain that moisture for the best crisp crust to get a dry crust you can pick up with your hands.
Make it faster by buying grated cauliflower. You can buy fresh or frozen grated cauliflower to eliminate a step, but you'll still need to cook the cauliflower and squeeze out the moisture. However, if it's frozen, you won't have to cook it because simply thawing it in the fridge will soften it.
Limit the number of toppings you add. It's fun to customize the cauliflower pizza crust, but be sure not to go over-board with the add-ins, especially the vegetables. That's because they can release too much moisture, which we spent a lot of time removing.
Flip the crust when it's almost done cooking for extra crispy edges. You'll need two spatulas and you'll want to do this when the cauliflower pizza crust looks crispy and cooked. This is not necessary, but will result in a more crisped crust.
Frequently asked questions
Can you freeze cauliflower pizza crust?
Yes, you can double the recipe, and freeze one for later. I recommend cooking the pizza crust, letting it cool completely, and then freezing by double wrapping it in foil. When ready to eat, just bake it at 425ºF until it's heated through, about 5-10 minutes. Then add your toppings and return to the oven until the cheese is melted.
How can I make this cauliflower pizza crust dairy-free?
The cheese helps to bind the crust together, so it plays a crucial part of the recipe. However, if you prefer to keep it dairy-free, simply replace the cheese with one extra egg. It still works out fine but may have more of an eggy taste, so I'd recommend extra seasoning in that case.
How can I make this recipe vegan?
I have not tried making it vegan, which would require removing the egg and the cheese from the recipe. But there seems to be much success with following this vegan version.
More low carb cauliflower recipes:
More pizza recipes: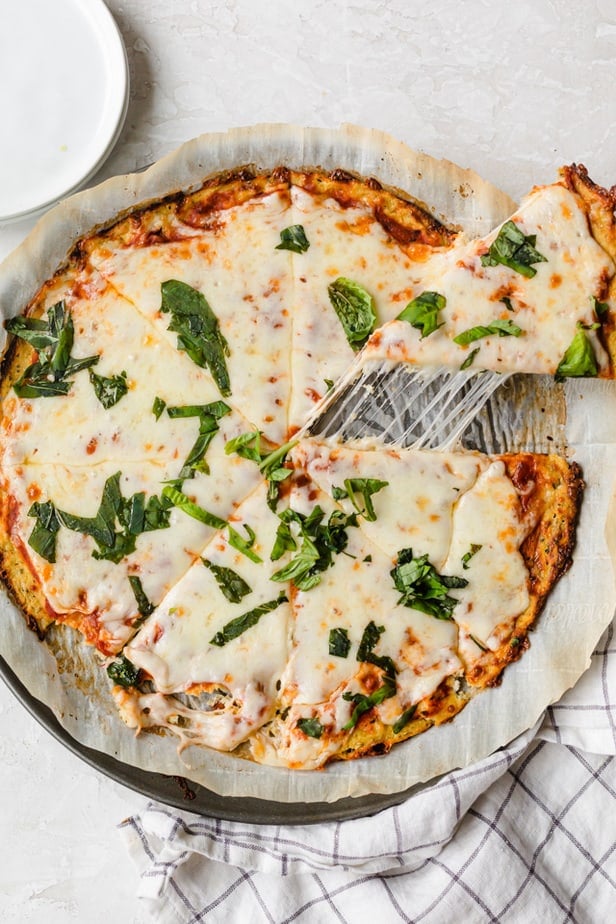 Calling all gluten-free pizza lovers: this is for you! This cauliflower pizza crust recipe is a great way to not miss out on one of your favorite dishes if your gluten intolerance has you down. It has a crispy crust with melty bubbly cheese that's completely irresistible!
If you've tried this healthy-ish feel good Cauliflower Pizza Crust recipe or any other recipe on FeelGoodFoodie, then don't forget to rate the recipe and leave me a comment below! I would love to hear about your experience making it. And if you snapped some shots of it, share it with me on Instagram so I can repost on my stories!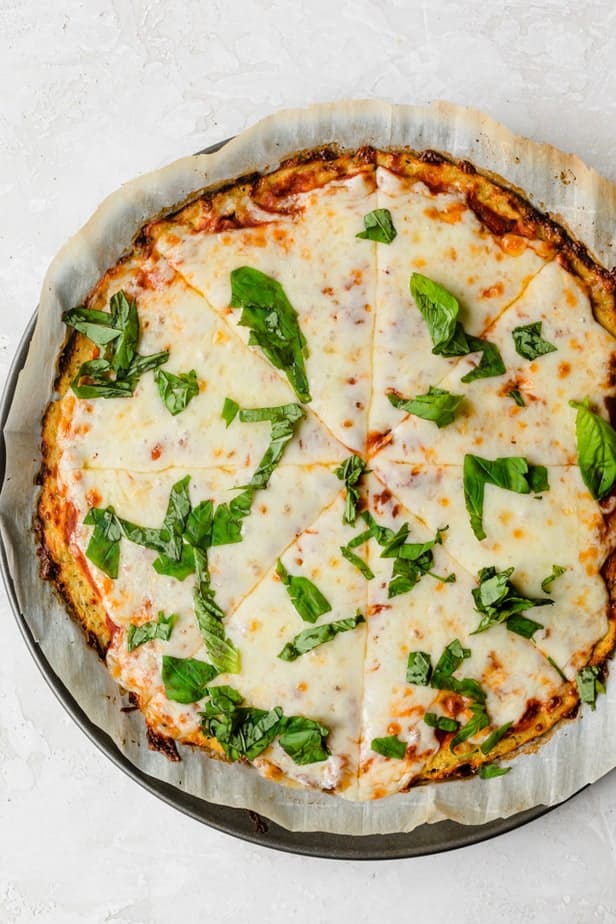 Cauliflower Pizza Crust
This vegetarian Cauliflower Pizza Crust is made with a cauliflower base. It's low-carb, grain-free, keto friendly and can be customized with any toppings!
Ingredients
Toppings
¼

cup

store-bought pizza sauce

1

cup

shredded mozzarella cheese

Fresh basil leaves
Instructions
Preheat oven to 425°F. Line a baking sheet with parchment paper; set aside.

To make the cauliflower crust, cut the cauliflower into florets, then add them to a food processor and pulse until finely grated like rice; makes about 2-3 cups.

Transfer to a microwave-safe bowl. and cook for about 5 minutes, or until softened. Place the cooked cauliflower on an open cheese cloth or dish towel and allow it to cool. When it's cool to the touch, wrap the cauliflower in the towel and squeeze out all the excess water so it is as dry as possible.

Transfer to a dry bowl. Add the eggs, shredded mozzarella, Italian seasoning and garlic powder, stir to combine.

Spread into desired shape on baking sheet lined with parchment paper. Bake in preheated oven for 15-20 minutes.

Increase the oven temperature to 450F. Add the sauce and cheese and any other toppings and bake until the cheese is melted. Serve immediately while warm with fresh basil, if desired.
Notes
Storage: Store any leftovers in an airtight container. They will last about 3-4 days in the fridge. Make Ahead: You can make the crust 2-3 days ahead of time and freeze for up to 1 month. When ready to cook the pizza, bake it in the oven at 425°F for 5 minutes, then add your toppings and bake for an additional 5-10 minutes until the cheese melts. Substitutes: For best results, follow the pizza base recipe as is. However you can change out the seasonings and definitely change out the toppings.
Nutrition
Calories:
226
kcal
,
Carbohydrates:
10
g
,
Protein:
17
g
,
Fat:
14
g
,
Saturated Fat:
8
g
,
Cholesterol:
85
mg
,
Sodium:
636
mg
,
Potassium:
538
mg
,
Fiber:
3
g
,
Sugar:
4
g
,
Vitamin A:
504
IU
,
Vitamin C:
70
mg
,
Calcium:
329
mg
,
Iron:
1
mg
Nutrition information provided is an estimate. It will vary based on cooking method and specific ingredients used.