This post may contain affiliate links. Please read our disclosure policy.
This Chipotle-style chicken burrito protein bowl is full of "the" good stuff! I am talking 36g of protein, filling fiber, heart-healthy fats, and essential goodness! Not to mention it combines smokey chipotle peppers in adobo sauce with tangy lime and earthy garlic, making for the perfect marinade. The result is a wonderfully moist and flavorful chicken that's perfect for these protein bowls.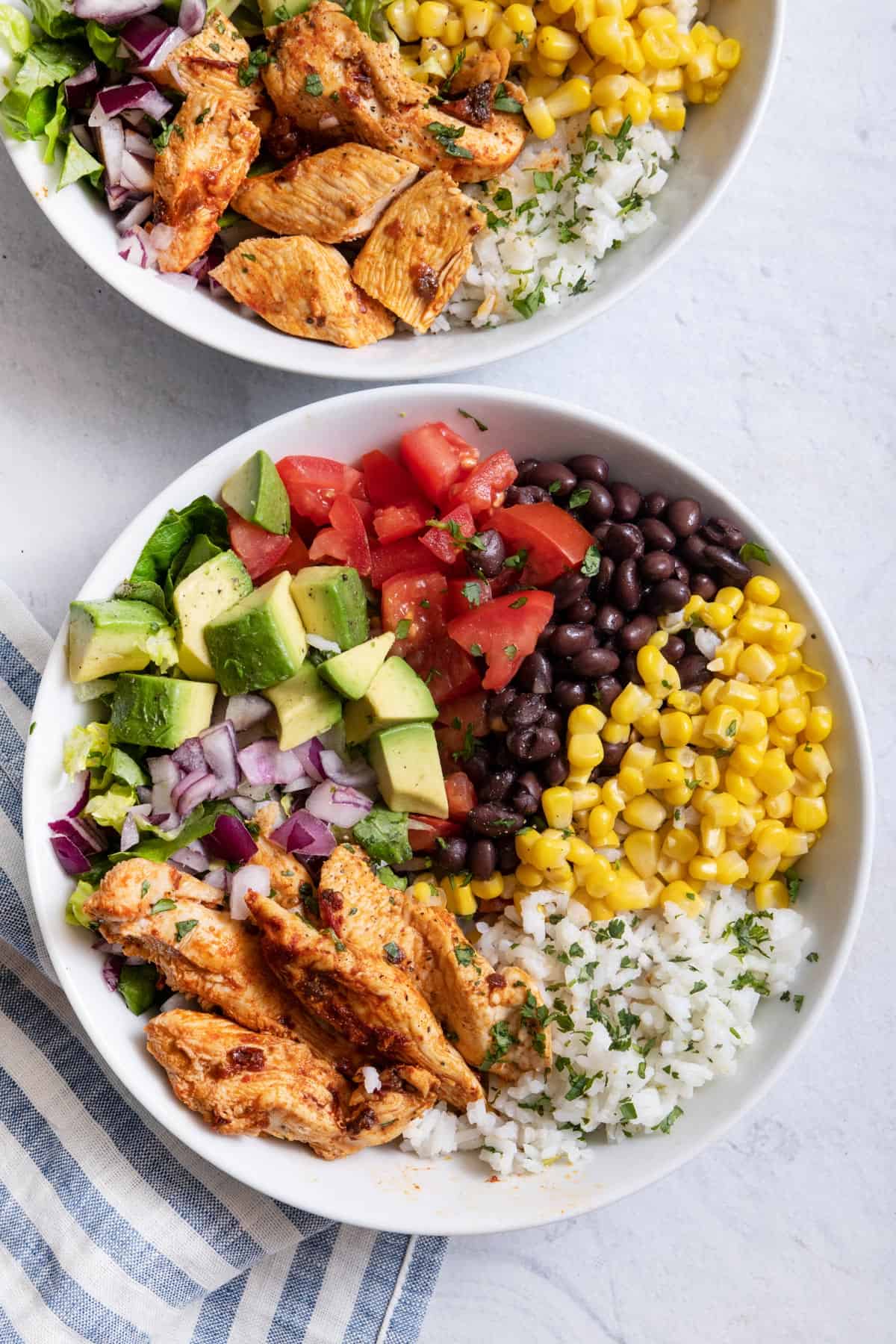 Healthy and delicious this chicken burrito bowl recipe checks all the boxes and will keep you full all day long. This Chipotle-inspired dish is packed with protein from the black beans and chicken and fiber from the corn and avocado. It's also loaded with flavor from the chipotle pepper and adobo sauce. If you're looking for a meal that will satisfy your cravings, look no further than this protein bowl! The best part is that it is easy to make and can be tailored to fit your own personal tastes. Give it a try today!
why you'll love this Meixcan Rice & Chicken Bowl
Bursting with flavor. This chicken burrito bowl is full of flavor, from the smokey chipotle peppers, fresh cilantro, and vibrant tomatoes to the tangy lime and bright corn.
Healthy and filling. This protein bowl is packed with nutrients to keep you full and satisfied.
Easy to make. This dish is simple to make and can be easily tailored to fit your own personal tastes.
Perfect for meal prep. This recipe is perfect for meal prep! Simply make it ahead of time and enjoy it all week long.
Ingredients You'll Need To Make This chicken Burrito Bowl
Although this protein bowl is built from three parts – the rice, chicken, and toppings – it is one of the most cohesive and delicious meals you will ever make!
For the chipotle and adobo marinated chicken
Chicken breast: I prefer to use chicken breast for this recipe because it is lean and has a high protein content. However, you can use whatever type of chicken you like.
Chipotle peppers in adobo: Chipotle peppers are smoked jalapeño peppers that have been dried and canned in a sauce made from vinegar, tomato, garlic, and spices. They add the perfect amount of heat and smokiness to this dish.
Lime juice: The lime juice helps to tenderize the chicken and adds a bit of acidity to balance out the spice from the chipotle peppers.
Garlic: Garlic is a key ingredient in this marinade. It adds depth of flavor and helps to tenderize the chicken.
Avocado oil: Avocado oil is a healthy fat that helps to keep the chicken moist while cooking.
Salt: As always, salt is important for bringing out all of the flavors in this dish.
For the cilantro lime rice
White rice: Long grain white rice makes up the base of this protein bowl and is very receptive to added flavor. Just make sure you rinse it before cooking to remove any excess starch.
Cilantro: Cilantro is a key flavor in this dish and ties everything together. It adds a bright, fresh flavor to the rice. It's also a great source of antioxidants.
Lime juice & Zest: In combination with the zest, the lime juice gives the rice a tart and tangy flavor and a bit of brightness.
Salt: White rice is very much a blank canvas. You'll want to make sure you season it well with salt to bring out all of the flavors.
Burrito Bowl Toppings
Romaine lettuce: Romaine lettuce is an excellent option for this recipe because it is crisp and has a mild flavor. However, you can use whatever type of lettuce you like.
Tomatoes: Tomatoes add a pop of color and freshness to this dish. I like to use Roma tomatoes because they are small and have a sweet flavor.
Avocado: Avocados are a great source of healthy fats and add creaminess to this dish.
Black beans: Black beans are a great source of protein and fiber. They also add a bit of heartiness to this dish.
Corn: Corn is a classic burrito bowl ingredient. It adds sweetness and crunch to this dish.
Red Onions: Red onions are a great way to add a bit of color and sweetness to this dish.
Cilantro: Cilantro is the perfect garnish for this dish. It adds a bright, fresh flavor and ties everything together.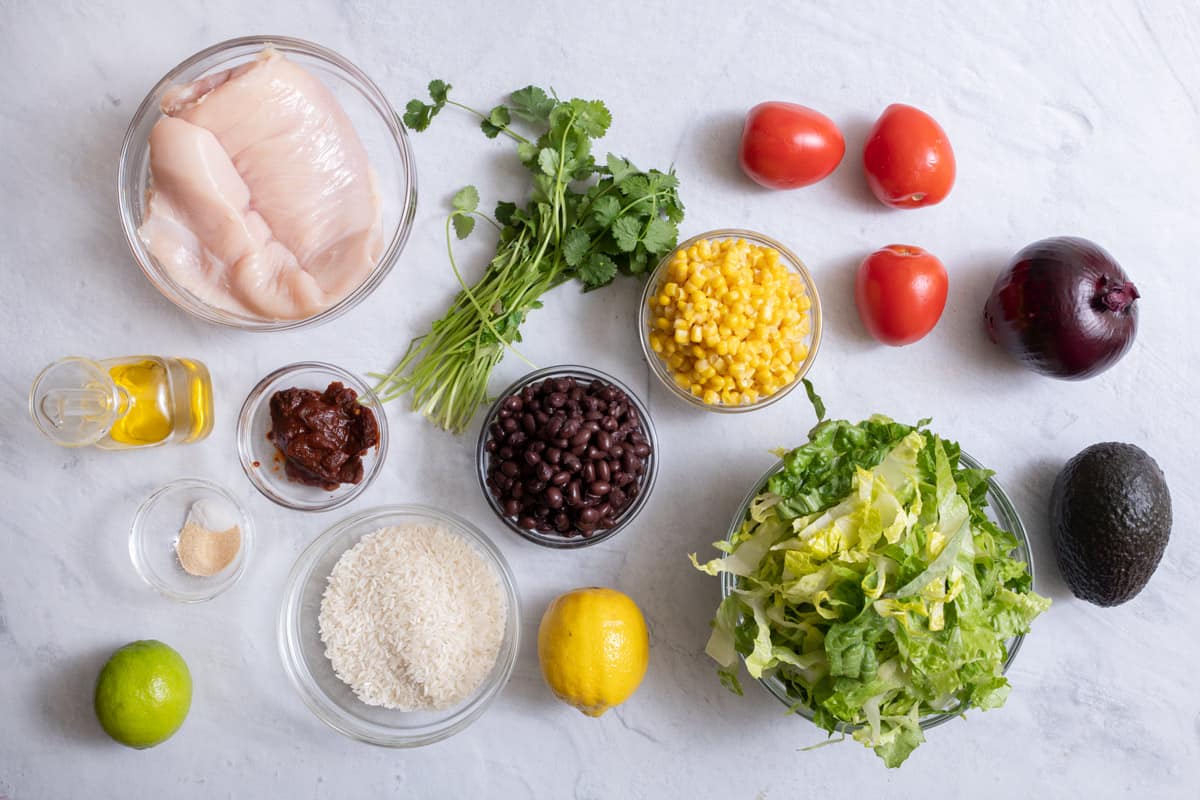 How to make This Chipotle-Insipired Chicken Bowl
There are three parts to make this burrito bowl: first the chicken, then the cilantro rice and finally assembling everything together with the toppings in the bowl.
MARINATE & COOK THE CHIPOTLE CHICKEN
Season the chicken and allow it to marinade for a couple hours.
Then cook the chicken on a skillet until heated through.
COOK THE CILANTRO lime RICE
In another pot, cook white long grain rice and then adding to it fresh lime juice and cilantro.
Stir the rice with the lime juice and cilantro and well combined an set aside.
Then it's time to make your burrito bowls. Layer the rice first, beans, rice and all of your other ingredients between two bowls and garnish.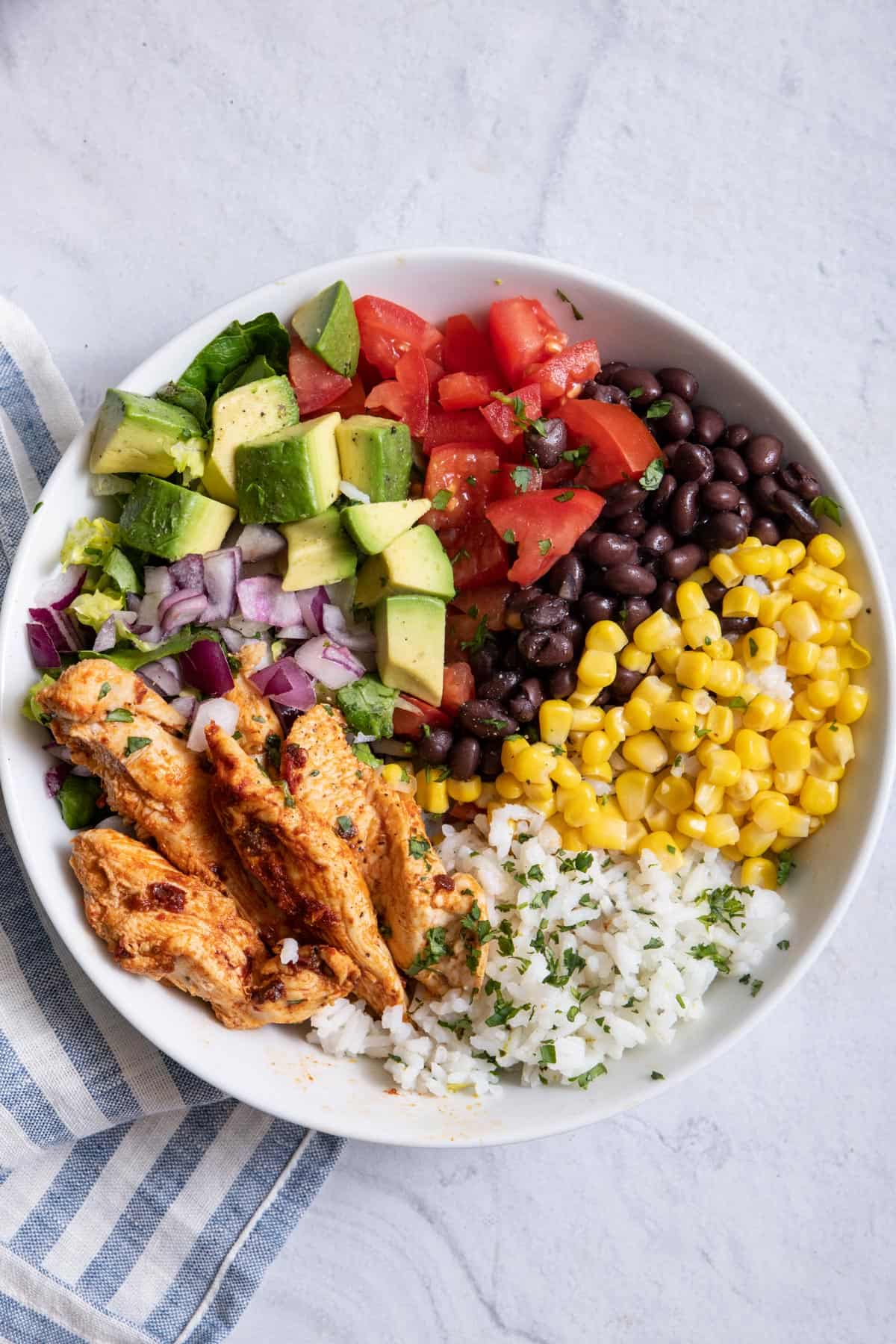 Tips for making This Healthy Burrito Bowl
Don't skip rinsing the rice. Rinsing rice washes the starch off the exterior of the rice grains—starch which will bind the rice grains together while it's cooking, resulting in clumpy rice. This excess starch is great if you're making risotto, but for this lime cilantro rice, we want the grains to be separate and fluffy. For more tips on how to cook rice just click on the link.
Serve these bowls warm or cold. You can enjoy these burrito bowls as soon as you've made them, or, make the rice and chicken ahead of time and just build them when you need. They are a great option for meal prep.
Let the chicken rest for at least 5 minutes before slicing it. This will help to keep the juices in the meat so that it is not dry.
Marinate the chicken for up to 24 hours. If you have the time, marinating the chicken for a longer period of time will result in a more flavorful meat. However, it is not necessary to marinate the chicken for a full 24 hours for this recipe to be delicious.
Choose the best limes for juicing. To make sure you get the juice you need, choose limes that feel smoother and relatively thin-skinned—these are guaranteed to be the juiciest!
popular substitutions & additions
Add my homemade guacamole instead of sliced avocados. Using guacamole adds even more creaminess and flavor to these bowls.
Switch up the rice. You can make the cilantro lime rice with brown rice instead or try my cilantro lime cauliflower rice which is a great option if you are looking to cut back on carbs.
Use a different protein. You can use chicken thighs or breasts for this recipe, and shrimp or ground beef works great too. Make them meat-free by using tofu or a plant-based 'meat'.
Make it a salad. If you are not in the mood for rice, you can quickly turn this into a salad by leaving out the rice and increasing the amount of lettuce.
Add some heat. If you like things spicy, you can add some diced jalapeños or serrano peppers to the bowls.
how to store & reheat Chicken burrito bowls
If you're using this recipe for meal prep, I recommend storing the components of the dish separately. Store the rice in one container and the chicken and toppings in separate containers. This will help to keep everything fresh.
To reheat these bowls, simply microwave them until they are warm throughout. You can also reheat them in a skillet over medium heat if you prefer.
how long will Burrito bowls last in the fridge?
Burrito bowls will last in the fridge for up to four days. However, the avocado and tomatoes will start to brown after a day or two. If you want to extend the life of these ingredients, I recommend storing them separately from the rest of the dish. Make sure to add some acid to the avocado (lemon juice or lime juice) to help prevent browning.
can i freeze protein bowl?
You can freeze the rice, corn, black beans, and chicken for this recipe. I do not recommend freezing the avocado or tomatoes as they will not hold up well. If you want to add them to the dish, I recommend adding them fresh when you are ready to eat.
Frequently asked questions
How far ahead of time can you make it?
This is a great recipe for weekly meal prep. You can cook both the chicken and the rice up to 4 days ahead of time and use them cold to build your protein bowl. It's a great option for weekly lunches.
What do you serve it with?
These bowls are perfect because they are a whole meal in themselves. If you are super hungry you can easily add additional rice or serve it with a tortilla.
How do I keep my chicken moist?
There are a few things you can do to ensure that your chicken stays moist. First, make sure to marinate the chicken for at least 30 minutes, but up to 24 hours if you have the time. This will help to infuse the meat with flavor and keep it moist. Second, be sure not to overcook the chicken. It should be cooked through, but still juicy. Finally, let the chicken rest for at least five minutes before slicing it. This will help to keep the juices in the meat.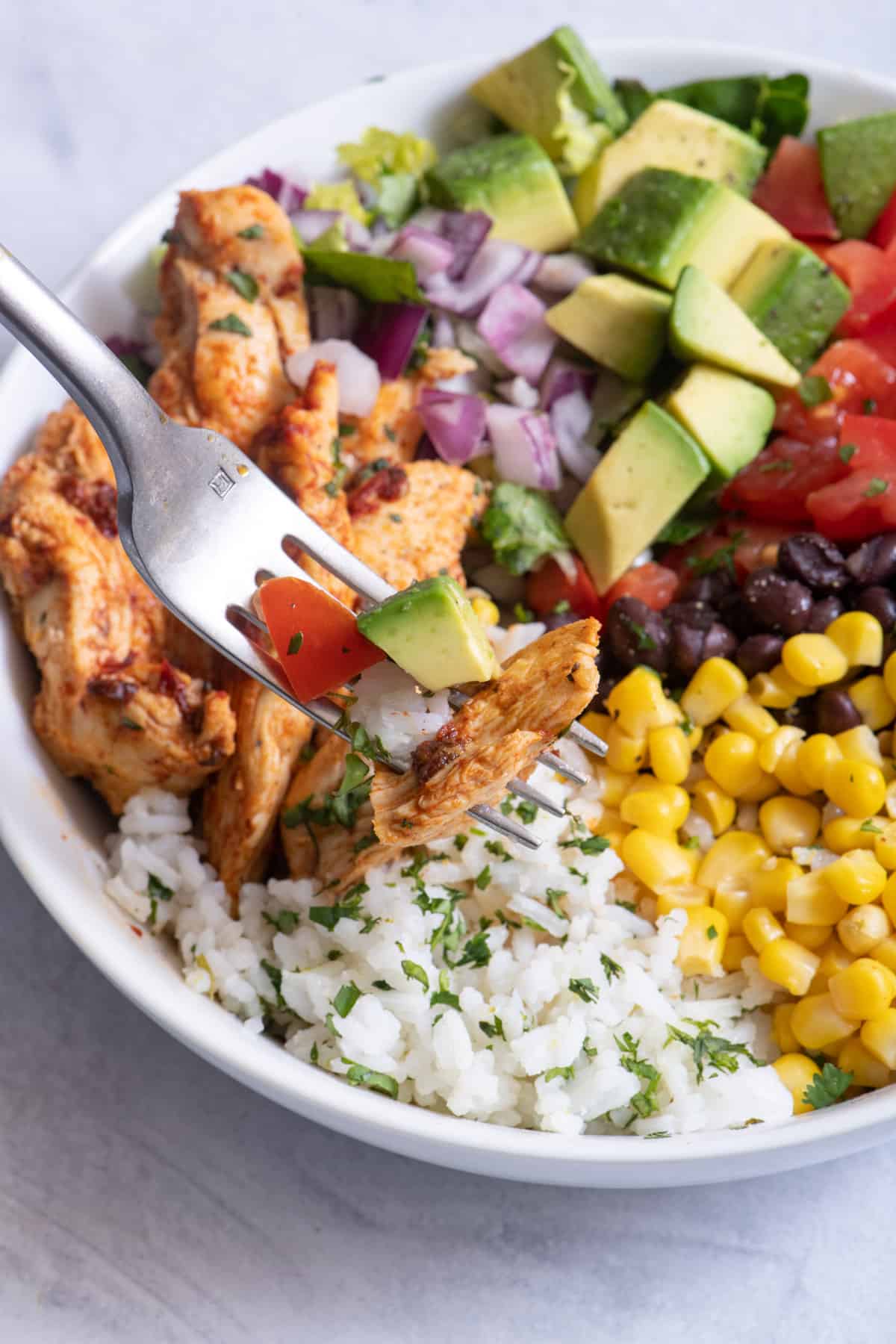 This chicken burrito bowl is one of my favorite go-to meals as it's a great recipe to pull together with bits and pieces you have in your fridge or from "Taco Tuesday" leftovers. It's full of healthy and fresh ingredients and totally customizable. I hope you enjoy them!
For more Tex Mex recipes:
If you try this feel good Chicken Burrito Bowl recipe or any other recipe on Feel Good Foodie, then don't forget to rate the recipe and leave a comment below! It helps others who are thinking of making the recipe. We would love to hear about your experience making it. And if you snapped some shots, share it on Instagram so we can repost on Stories!
This Chicken Burrito Bowl recipe was originally published on March 14, 2017. The recipe has been slightly modified, and the post now includes new step-by-step photos for how to make the burrito bowl recipe.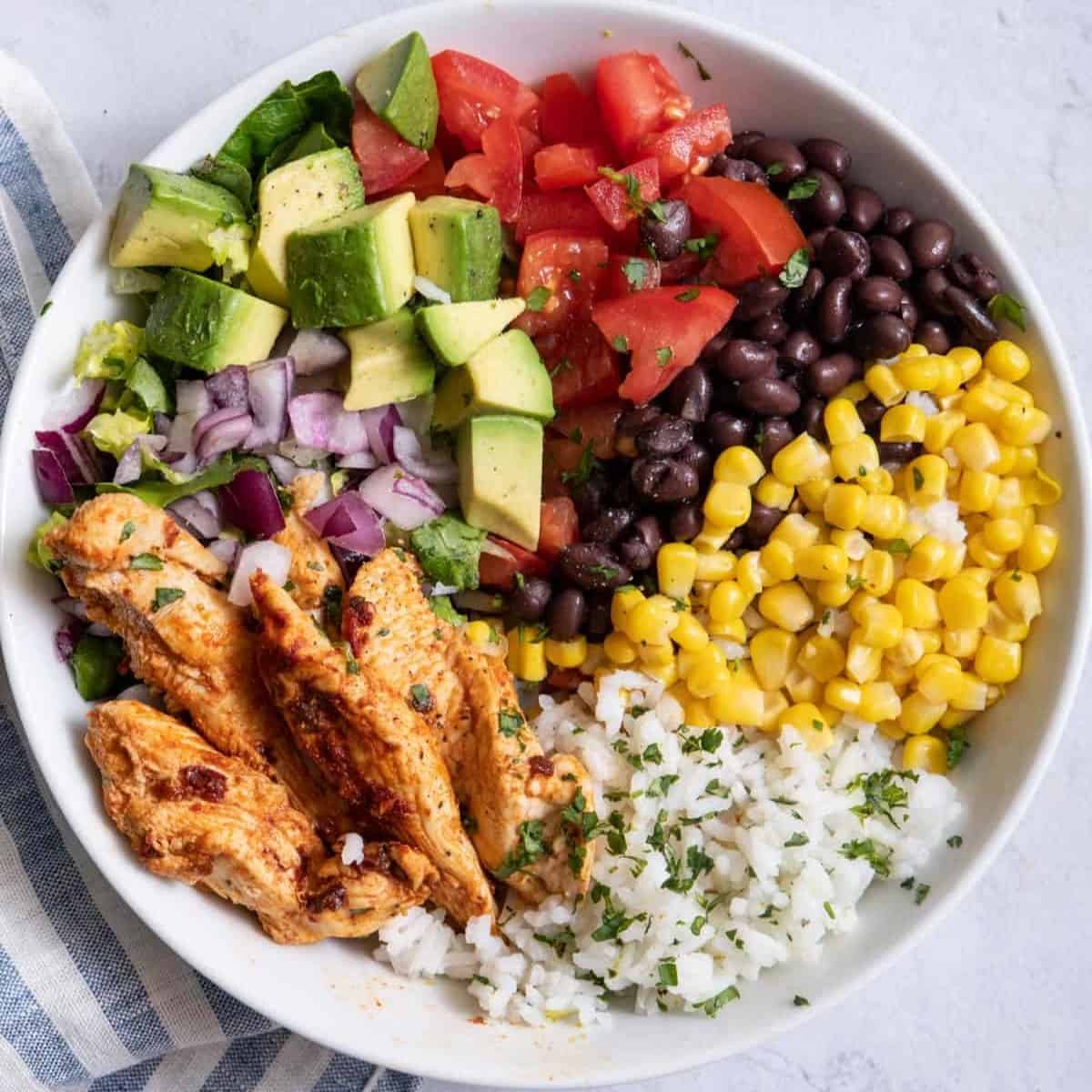 Chicken Burrito Protein Bowl
Chipotle-inspired, this Chicken Burrito Protein Bowl is bursting with color, flavor, and nutrients. It's a chicken bowl recipe that is easily customizable!
Ingredients
For the chicken
¼

cup

avocado oil

3

tablespoons

lime juice

3

chipotle chilis in adobo sauce

finely chopped, plus 1 ½ tablespoon adobo sauce

1 ½

teaspoon

garlic powder

¾

teaspoon

salt

1 ½

pounds

chicken breast

cut into strips
For the cilantro lime rice
1

cup

long-grain white rice

rinsed

1 ½

cups

water

¼

teaspoon

salt

plus more to taste

Zest of 1 lime plus 2 tbsp fresh lime juice

¼

cup

chopped fresh cilantro
To assemble
1

head

romaine lettuce

chopped

1

cup

diced tomatoes

1

avocado

chopped

1

cup

frozen corn

thawed

1

15-ounce

can black beans

rinsed and drained

½

small

red onion

chopped
Instructions
To make the chicken, stir together oil, lime juice, chopped chilies, adobo sauce, garlic powder, and salt in a large bowl. Add chicken and toss to coat. Cover and let sit in the refrigerator for at least 2 hours or up to overnight.

Heat a large pan over medium-high heat. Remove chicken from marinade, and add to pan. Cook, stirring, until cooked through, about 5 minutes. Set aside.

To make the rice, add salt and rice to a pot of boiling water. Return to a boil, then reduce heat, cover, and simmer until water is absorbed and rice is tender, 15-18 minutes. Uncover and fluff with a fork, then toss in lime zest, lime juice, cilantro, and additional salt to taste.

To assemble, arrange rice and lettuce in the bottom of a serving bowl and top with the chicken, diced tomatoes, diced avocados, corn, black beans and red onions.
Notes
Make ahead: The chicken and rice can be cooked up to 4 days ahead of time.
Nutrition
Calories:
768
kcal
,
Carbohydrates:
84
g
,
Protein:
52
g
,
Fat:
27
g
,
Saturated Fat:
4
g
,
Polyunsaturated Fat:
4
g
,
Monounsaturated Fat:
16
g
,
Trans Fat:
0.02
g
,
Cholesterol:
109
mg
,
Sodium:
1294
mg
,
Potassium:
1999
mg
,
Fiber:
18
g
,
Sugar:
7
g
,
Vitamin A:
13969
IU
,
Vitamin C:
32
mg
,
Calcium:
149
mg
,
Iron:
6
mg
Nutrition information provided is an estimate. It will vary based on cooking method and specific ingredients used.