This post may contain affiliate links. Please read our disclosure policy.
If you're looking for a uniquely delicious and uber fudgy brownie, this Tahini Brownie recipe is top-notch! There's nothing better than a rich chocolatey brownie. The tahini replaces the butter for a super moist and fudgy brownie that's also gluten-free because we're using almond flour instead or regular flour. Whip up a fantastic brownie recipe in just one bowl using healthier ingredients for an easy dessert ready in no time!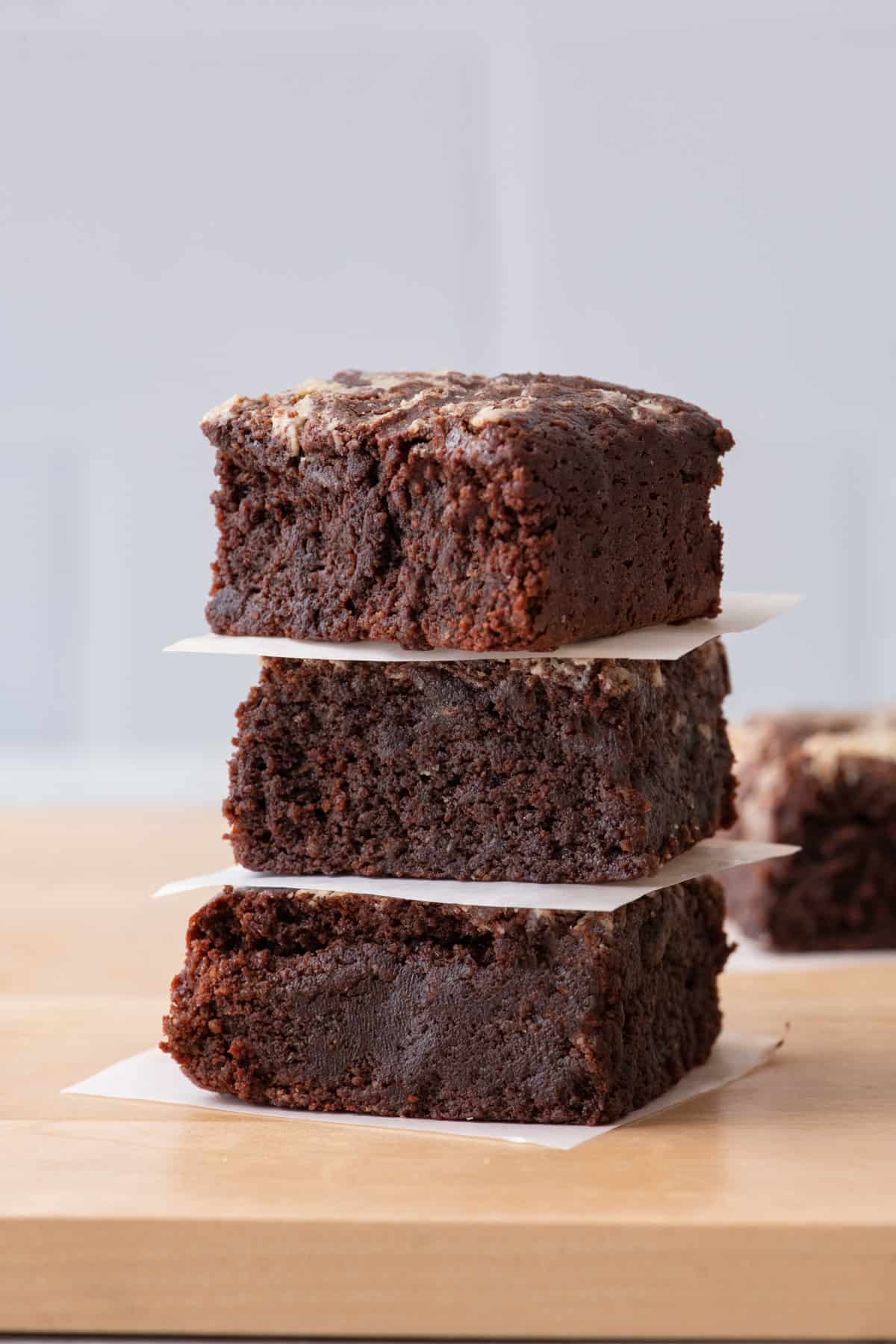 Table of Contents
What is Tahini?
Tahini is made from roasted and pressed sesame seeds and turned into a paste for a deliciously nutty flavor and creamy texture. The taste is undeniable with its rich and decadent consistency, perfect for such a wide variety recipes. It's most common in Middle Eastern recipes like hummus and baba ghanoush, but it can also be used in sweets and baked goods and acts similar to butter by providing moisture.
Here are a few more desserts using tahini: tahini milkshake, tahini chocolate chip cookies, and a classic Lebanese dessert, sfouf, or turmeric cake.
why you'll love These Tahini Swirl Brownies
Super fudgy and delicious! Intensely rich and chocolatey, these tahini brownies are a nearly gooey texture and slightly nutty flavor for an incredibly soft and chewy bite. They also get that flaky crust on top – a must for brownies.
Easy to make. This brownie recipe is whipped up in one bowl for easy cleanup and fewer steps.
Unique flavor with tahini. Using tahini in these brownies creates a moist and rich brownie batter and is a replacement for butter. It is also swirled into it for a nutty-infused fudgy brownie that's seriously so good.
Gluten-free. Because I use almond flour, this recipe is gluten-free and paleo-friendly, and you'd never know the difference. It's perfectly baked chewy brownie without flour.
Healthier ingredients and amazing results. Almond flour and tahini are two ingredients that change the nutrition of these brownies. They are still a rich dessert, but this exchange sneaks in some healthy goodness in every bite, and I'm here for it!
Ingredients to make Fudgy Tahini Brownies
Tahini: This is such a fantastic addition to brownies as the nutty taste cuts the sweetness and balances the rich flavors of the chocolate and sugar batter. You'll want to choose a tahini with just mechanically hulled sesame seeds. Stir it well if it is separated before adding it to the recipe.
Almond flour: Made from finely ground almonds, it is a great replacement for all-purpose flour in many recipes, and can be found in most stores as a healthy ingredient.
Eggs: Used to bind the ingredients together.
Sugar: I like regular granulated sugar in this brownie recipe, but you could also use brown sugar or coconut sugar.
Other dry ingredients: baking powder, salt, and cocoa powder
Hot Coffee: Used to enhance the brownies for a richer chocolaty flavor and creates a gooey chewy texture.
Vanilla: a balance of flavor and sweetness.
Dark chocolate chips – The dark chocolate chips are melted down to create the base of the batter and compliments the flavors of the tahini for a brownie that is not overly sweet but is still extremely decadent.
How to make Tahini Brownies in One Bowl
It only takes a few simple steps to make these fudgy almond flour brownies, and the results are simply irresistible. Plus, it only requires one bowl, so you don't have to separate the wet and dry ingredients into multiple bowls.
Prepare batter
Melt chocolate and part of the tahini in a bowl in short intervals until the chocolate is smooth and melted.
Whisk the tahini and chocolate mixture until well combined and let it cool slightly.
Add in the eggs, sugar, and vanilla and whisk to blend.
Next, add the dry ingredients and fold them together until fully incorporated.
To this thick batter, quickly whisk in the hot coffee until smooth.
Spread the batter evenly into a prepared pan and add the remaining tahini, swirling it into the batter – my favorite part!
Bake tahini brownies
Once you've swirled the tahini into the brownie batter, bake until just set.
Remove from the oven and allow to cool before slicing.
Tips for making Gluten Free Tahini Brownies
Check that your tahini is not separated. If your tahini has separated, make sure to stir it very well before measuring it for this recipe so it's smooth and runny.
Don't skip the coffee. The hot coffee really helps to bring out the chocolate flavor of these brownies, so I highly recommend not skipping them. But if you do not drink coffee, you can use hot water instead.
Cut the brownies with a plastic knife after they have cooled. This plastic knife trick is my favorite for cutting clean edges when it comes to brownies without making a mess with the crumbs.
Use parchment paper. Not only does using parchment paper help keep the brownies from sticking to the pan, but if you leave enough hanging over the sides, you can lift the whole brownie out of the pan. Easy cleanup and much easier to cut into squares.
Don't overbake them! For the fudgiest brownies, you want to bake them until the center is just set. This keeps them extra delicious and gooey. Cooking them a little longer will set them more, which is still super yummy but more cake-like.
popular substitutions & additions
Switch out the tahini. Use drippy almond butter, cashew, or sunflower seed butter, but tahini is the recipe's star ingredient.
Substitute the egg. Use a flax egg to replace the eggs for a vegan brownie recipe.
Make extra for the freezer. Double the batch to freeze one for later. You can portion the brownies into squares and freeze them into individual-size snacks. Just pull it from the freezer and bring it to room temperature for a quick, decadent snack whenever you'd like.
Customize them! These brownies are incredibly easy to make. This one-bowl recipe gives you a simple recipe that comes together quickly and is perfect for customizing to create a crowd-pleasing dessert. If you love this recipe and want to make it even more decadent, try mixing in some tasty additions!

Berries – Before baking, add a few raspberries or strawberry chunks, so it bakes into the batter.
Chopped nuts– try sliced almonds, chopped walnuts, or peanuts folded into the batter.
Jam – Swirl some fruit jam into the batter before baking.
Dried fruit – Add about ½ cup of dried cherries or cranberries into the brownie batter before adding to the baking pan.
Sea salt – A little salt goes a long way to elevate these fudgy brownies. When they come out of the oven, sprinkle a little sea salt on top.
how to store & reheat Chocolate Tahini Brownies
Allow to cool completely, cut into squares, and store at room temperature in an airtight container. You can also store them in the fridge or freezer; they'll last a little longer.
how long will Brownies last on the counter/in the fridge?
Brownies stored at room temperature will last around 3-4 days. The brownies will be good for up to a week if stored in the fridge.
can I freeze Brownies?
These tahini swirl brownies are perfect for freezing. Just wrap and store in freezer safe container for up to 3 months. When ready to enjoy, transfer to the counter to thaw at room temperature.
Frequently asked questions
Where do you find tahini?
Tahini is a common ingredient and should be available in most grocery stores in the ethnic aisle.
What does tahini do in baking brownies?
Tahini adds a nutty flavor to brownies and helps create a super moist dessert. Because tahini is high in fat content, it makes for a perfect butter replacement.
What makes brownies fudgy vs. cakey?
Fudgy brownies have a higher fat ratio than cakey brownies. The fat-to-flour ratio in fudgy brownies relies more on a rich base with less flour, and in this tahini brownie recipe, the fat is the tahini instead of butter. If you increase the flour in the recipe, you'll end up with a more cake-like brownie.
Perfectly fudgy and nutty, these Tahini Brownies make for a crowd-favorite dessert. The best part of a good brownie recipe is finding ingredients to fit your diet, and these gluten-free brownies with tahini are unmistakably unique and full of the best flavors and healthier ingredients. Plus, any recipe made in just one bowl is a winner in my book!
More Brownie recipes:
If you try this feel good Tahini Brownies recipe or any other recipe on Feel Good Foodie, then don't forget to rate the recipe and leave a comment below! It helps others who are thinking of making the recipe. We would love to hear about your experience making it. And if you snapped some shots, share it on Instagram so we can repost on Stories!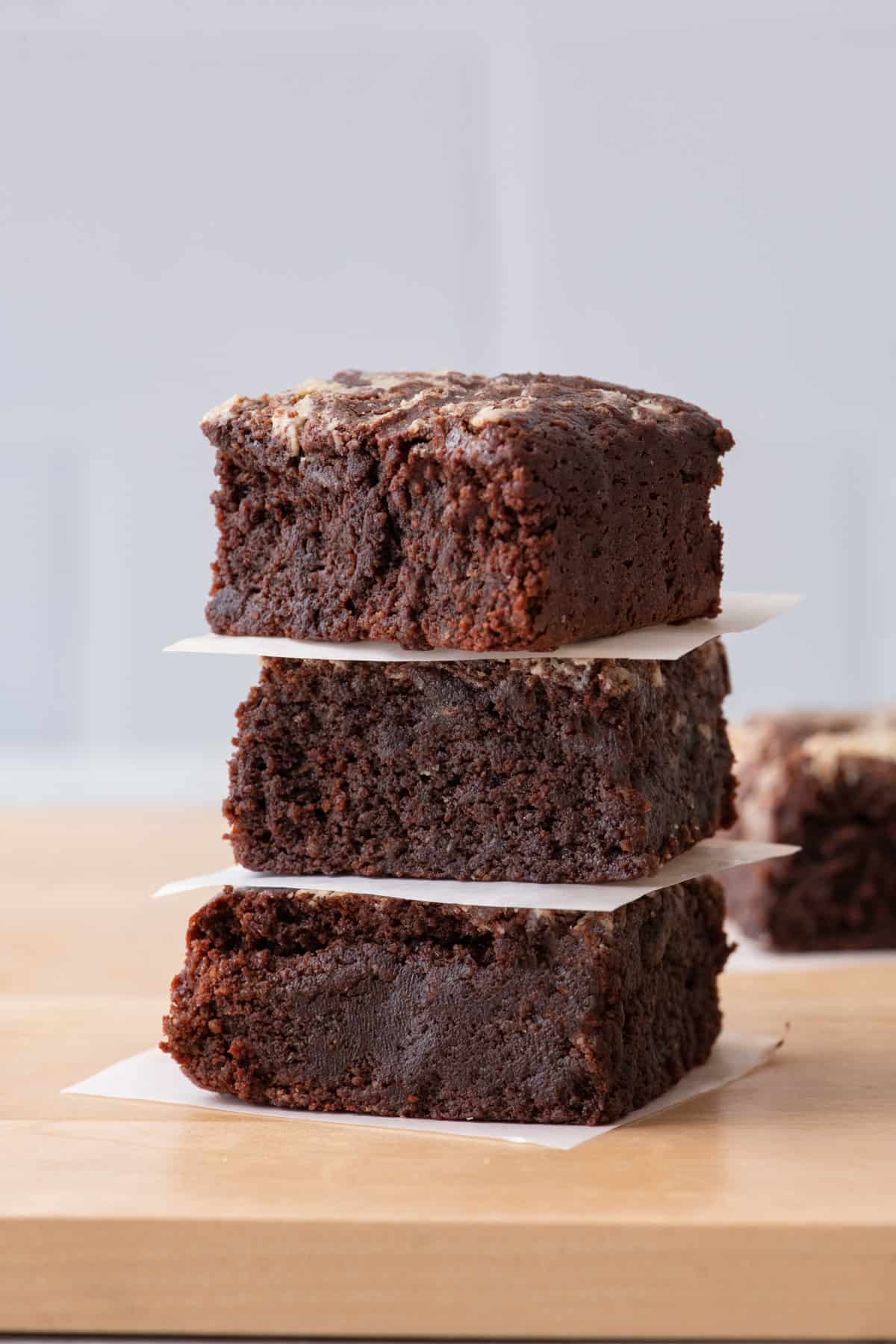 Tahini Brownies
Made with tahini, almond flour, and dark chocolate, these Tahini Brownies are full of delicious flavor with the best fudgy texture. Easy to make in one bowl and bakes into a delicious dessert!
Instructions
Preheat the oven to 350˚F. Line an 8 x 8-inch pan with parchment paper, leaving a little excess on all four sides to use as a sling to remove the baked brownies easily.

In a medium, microwave-safe bowl, add ½ cup tahini and chocolate chips. Melt in the microwave using 30 second intervals until the chocolate is smooth and melted. Whisk the tahini and chocolate mixture until well combined, then let cool slightly for about 2 minutes.

Once the chocolate mixture has cooled slightly, add sugar, eggs and vanilla and whisk until well combined.

Add almond flour, cocoa powder, baking powder and salt and fold into the wet ingredients with a rubber spatula until fully incorporated.

Add the hot coffee and whisk the batter until smooth. Spread the batter into the prepared pan, then dollop with the remaining 2 tablespoons of tahini. Use a butter knife to swirl the tahini into the batter

Bake until the center of the brownies are just set, 25 minutes. Let cool for at least 45 minutes before slicing into 16 squares.
Nutrition
Calories:
250
kcal
,
Carbohydrates:
29
g
,
Protein:
5
g
,
Fat:
14
g
,
Saturated Fat:
6
g
,
Polyunsaturated Fat:
3
g
,
Monounsaturated Fat:
3
g
,
Trans Fat:
0.003
g
,
Cholesterol:
27
mg
,
Sodium:
80
mg
,
Potassium:
196
mg
,
Fiber:
2
g
,
Sugar:
22
g
,
Vitamin A:
49
IU
,
Vitamin C:
1
mg
,
Calcium:
82
mg
,
Iron:
1
mg
Nutrition information provided is an estimate. It will vary based on cooking method and specific ingredients used.