This post may contain affiliate links. Please read our disclosure policy.
If you're looking for a delicious refined sugar-free brownie, this date brownie recipe is it! This brownie has it all – rich, chocolatey, fudge goodness with the perfect amount of sweetness without the addition of sugar, thanks to nature's candy, dates! If you've never tried making brownies with dates, after this you'll never want to make them any other way!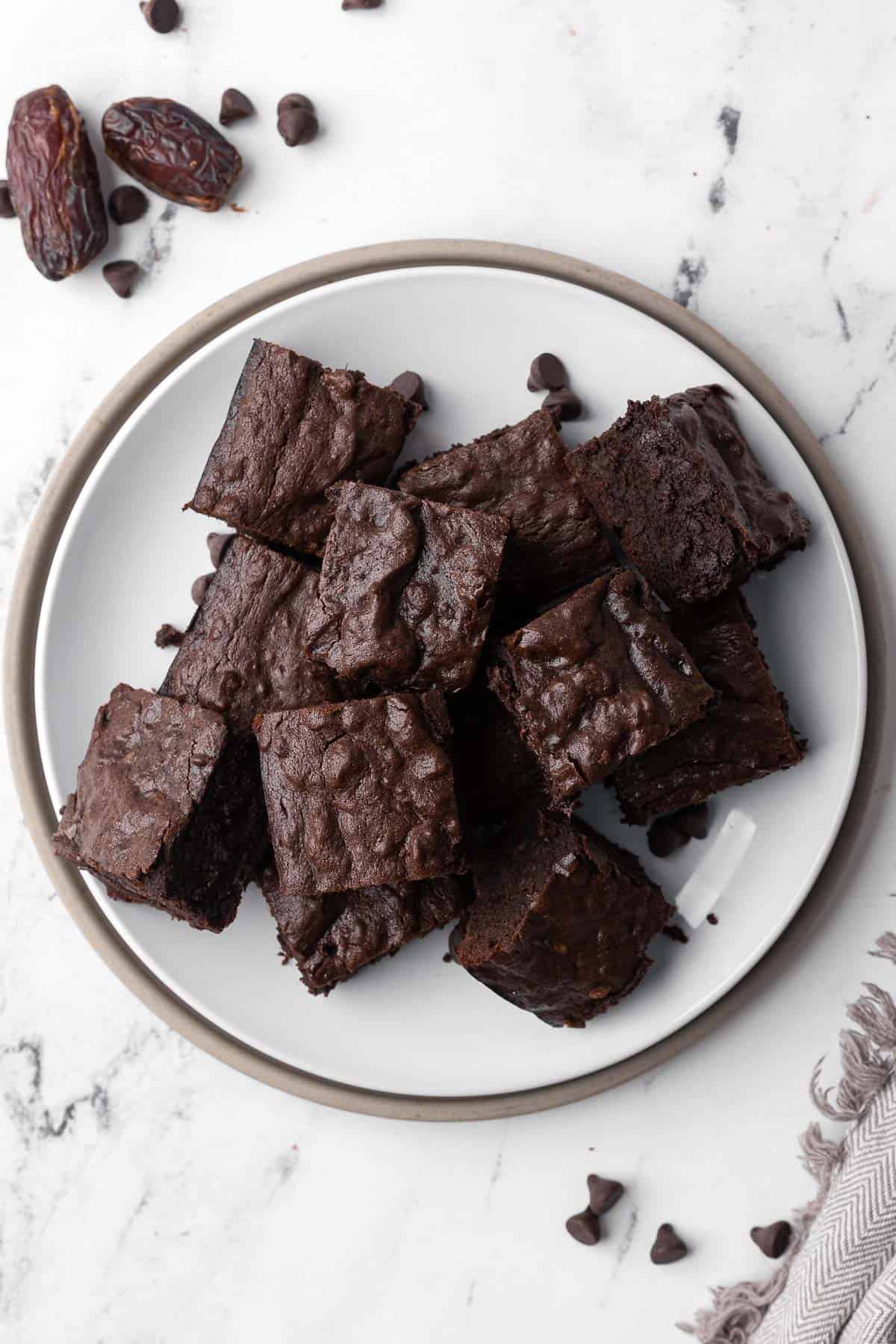 Table of Contents
I like to think that dates are like nature's candy. They're sticky, sweet, and so good! When I realized I could ditch the sugar in brownies with dates, I was obsessed with the flavor of them. They have a rich and intense caramel flavor that actually enhances the cocoa powder in this brownie recipe.
Why you'll love these Date brownies
Refined sugar-free! That's right. We're using dates instead of refined sugar to sweeten these brownies naturally. While you'll be able to taste the dates lightly, no one would ever guess there's no sugar in here.
Rich & Fudgy: You know that perfect brownie texture that's just the right mix of moist and dense? Yep, these have it! Despite no sugar, these brownies are still rich and fudgy. The combo of melted chocolate and butter makes sure you're not missing out on that indulgent brownie texture.
Beginner-Friendly: If you can blend and mix, you can make these brownies. No need to be a pro baker. The simple steps make it a breeze even if you're just starting out in the kitchen.
Kid-Approved: We all know kids can be the harshest critics, especially when it comes to sweets. But these are absolute winners. They get all the sweet satisfaction without any of the sugar highs. Perfect for a family treat!
Ingredients to make healthy date brownies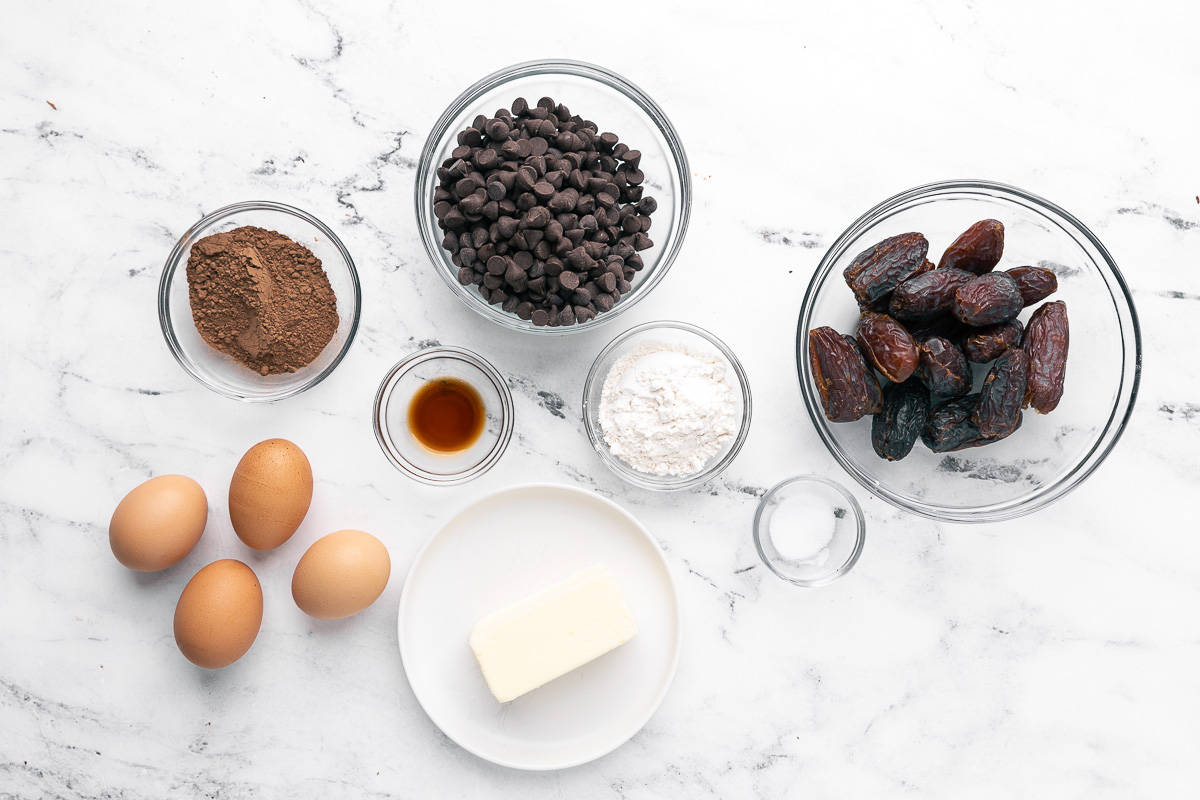 Unsalted Butter: The backbone for that rich, buttery taste in your date-sweetened brownies. Let it sit at room temperature for a bit so it's easier to melt. If you're dairy-free, coconut oil is a good swap.
Semisweet Chocolate Chips: These bring the chocolatey magic! You'll use some for melting and some for stirring into the batter for those melty chocolate bits.
Eggs: Helps bind everything together and give the brownies a nice lift. Room-temperature eggs mix best, so take them out of the fridge before starting. If you're vegan, try using flax eggs as a substitute.
Medjool Dates: These are your natural sweeteners! Make sure they're pitted. If they're a bit hard, you can soak them in warm water for 10 minutes to soften. Don't have Medjool? Regular dates can work, you just may need a few more since they're smaller.
Vanilla Extract: A must-have in brownies! It adds a hint of aromatic flavor.
All-purpose flour, cocoa powder, and salt: This dry mix gives structure and deep chocolate flavor to the fudgy date brownies. Want to make it gluten-free? Try a 1:1 gluten-free flour mix.
Popular substitutions & additions
Add nuts. If you want to add some crunch, toss in a handful of your favorite nuts to the batter. Walnuts, pecans, or even almonds could be super tasty in these brownies.
Spice it up. Toss in a pinch of cinnamon or a hint of cayenne pepper for a spicy kick to your brownies. You'll be surprised at the depth it can bring to the taste!
Use different types of chocolate. Instead of semisweet chocolate chips, go for dark chocolate chips or white chocolate chunks. Each type brings its unique flavor profile to the brownies.
Boost the protein. Want some protein in your brownies? Add a scoop or two of your favorite chocolate protein powder. It'll make your brownies a bit denser, but they will still taste amazing.
How to make date brownies with no sugar
Whipping up these date brownies with no sugar is a piece of cake—or should I say, a piece of brownie? This recipe is so easy that all you need to make it is a good blender to process the dates and the eggs into a smooth puree and a bowl to mix the rest of the ingredients together. Here's a look at the basics. For the full instructions, view the recipe card below before getting started.
Blend the dates
In a high speed blender, combine the eggs and dates. [Image 1]
Process until smooth. [Image 2]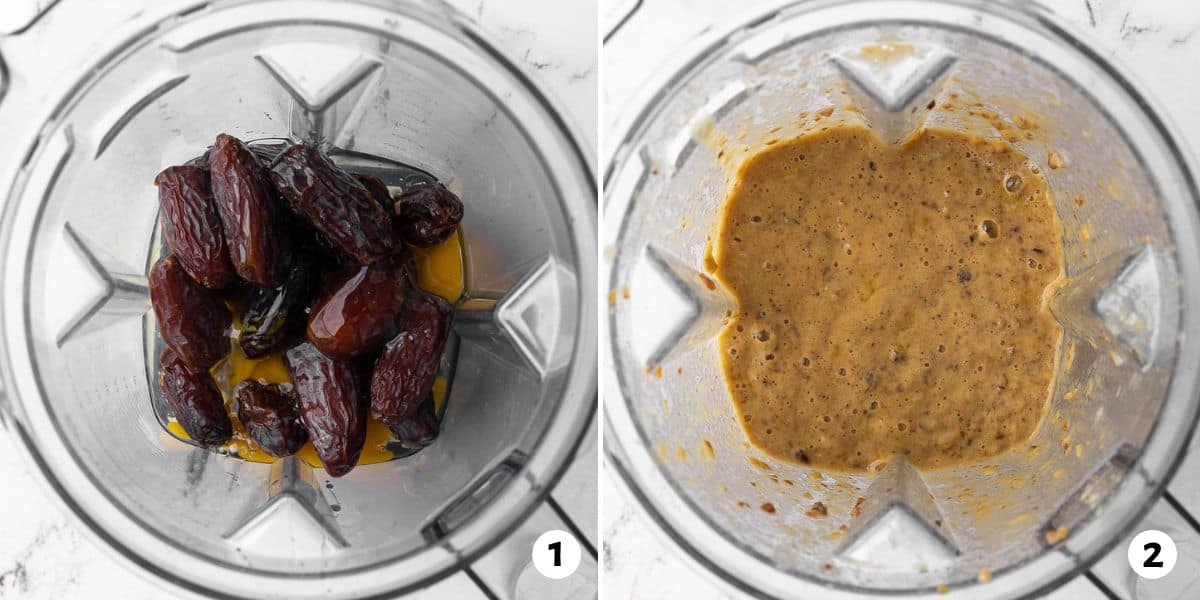 How to Make date brownie batter
In a microwave-safe bowl, add the butter and part of the chocolate chips. Melt in the microwave. [Image 1]
Whisk until smooth, and let cool slightly. [Image 2]
Pour the egg and date mixture into the melted chocolate. [Image 3]
Whisk until well combined, then whisk in the vanilla extract. [Image 4]
Add the dry cocoa powder and flour mix to your wet mix. Use a rubber spatula to fold it in gently until you can't see any flour streaks. [Image 5]
Fold in the remaining chocolate chips. [Image 6]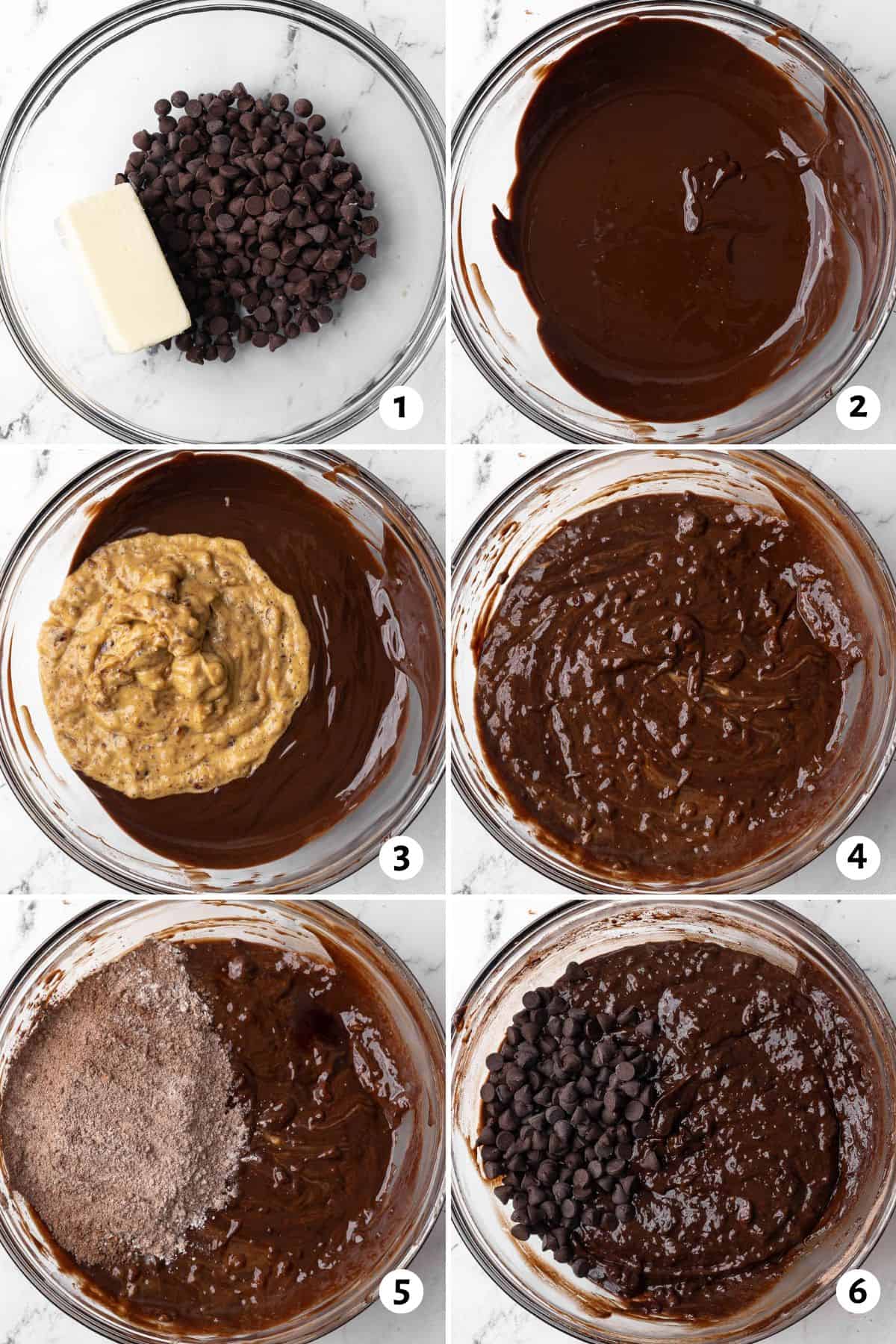 Bake your date brownies
Scrape the batter into the prepared pan and smooth it into an even layer. [Image 1]
Bake the brownies until the top looks set, but the middle is still fudgy, and then cool before slicing. [Image 2]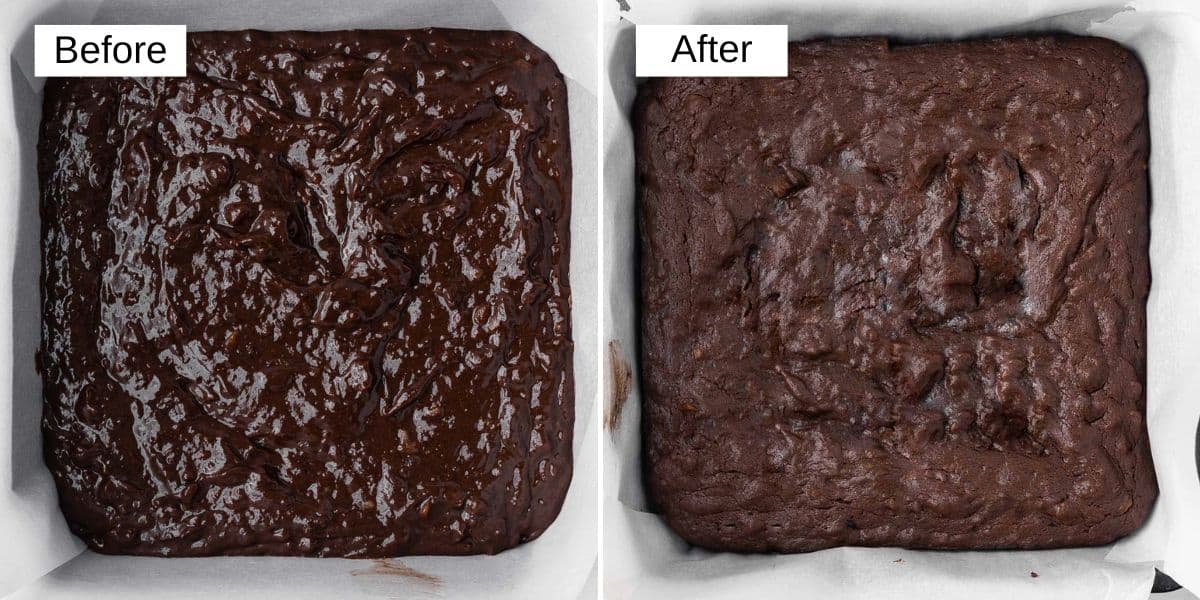 Tips for making the best date brownies
Be patient while blending the dates. While processing the dates, depending on your blender or food processor, you may need to scrape down the sides of the machine a few times to make sure the paste is smooth. When ready, the mixture should resemble a nut butter.
Soften your dates if needed. If your dates are hard, you can refresh them by soaking them in warm water for about 10 minutes before using them. Just drain the water, and pat dry before proceeding with the recipe.
Cut the brownies with a plastic knife. There's something in the material of the plastic knives that helps keep the brownies intact when slicing them. Just make sure to wipe the plastic knife after each cut to keep the edges of the brownies clean.
Test for doneness. When you think your chocolate date brownies might be ready, give them the toothpick test. Stick a toothpick in the middle; if it comes out with just a few moist crumbs clinging to it, you're good to go. But if it's totally wet, they need more time.
How to store & reheat date brownies
Once you've got your batch of date brownies ready, you can store them in an airtight container. You can leave them on the counter if you'll eat them in two to three days, or put them in the fridge to extend their life a bit longer.
Got a craving for a warm brownie? To reheat it, place it in the microwave for about 10-15 seconds. It'll come out gooey and delicious, almost like fresh out of the oven!
How long will date brownies last in the fridge?
These healthy, refined sugar-free brownies will last you a good week in the fridge if stored properly. That's if you can resist eating them all before then!
Can i freeze fudgy date brownies?
If you want to make a big batch and save some for later, you totally can! Wrap individual brownies or rows of brownies in plastic wrap and then place them in a zip-top bag. They can be frozen for up to 2 months. When you're craving one, just defrost in the fridge or microwave.
Frequently asked questions
Are date-sweetened brownies healthy?
Dates are a natural sweetener, packed with fiber and essential minerals. While these brownies still have butter, flour, and chocolate, swapping out refined sugar for dates makes them a tad bit healthier for you. But they should still be eaten in moderation.
How do I prevent my brownies from being cakey?
The key is not to overmix the batter once you add the flour. Just fold it in gently until you don't see any more streaks. Also, make sure you don't over-bake them. When you do the toothpick test, you should see a few crumbs, not come out clean.
Why are my brownies not holding together?
If your brownies are falling apart, it's likely because they didn't get enough time to cool down and set. The cooler they get, the more they firm up, making it easier to slice them up without turning into a crumbly mess.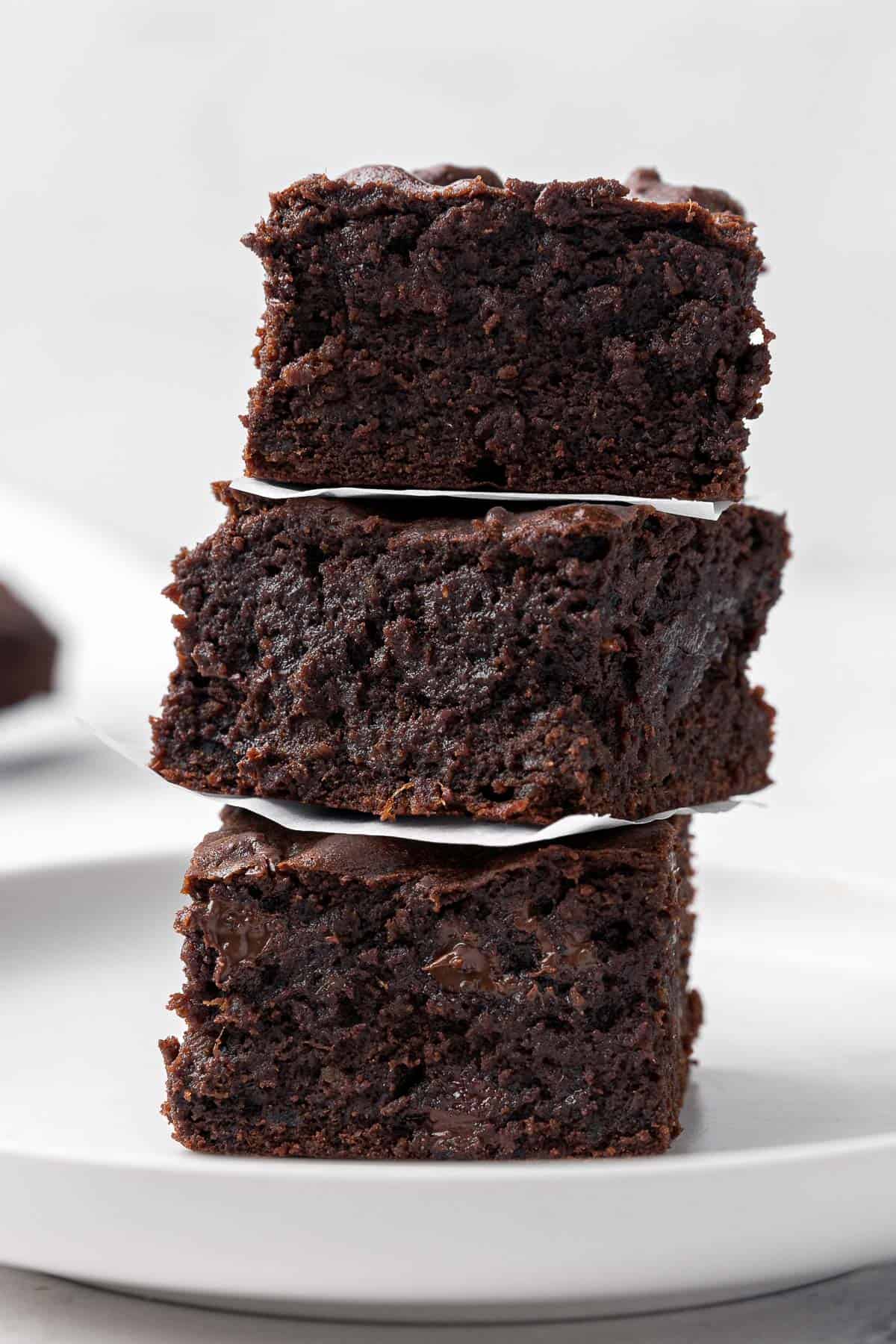 These date brownies with no sugar are a must for anyone craving a sweet treat without refined sugar! With the natural sweetness from dates and a perfectly fudgy texture, they're not just delicious but also a tad bit healthier than your average brownie. And let's not forget how easy they are to whip up! Perfect for sharing with friends or indulging on your own, they're bound to become a regular feature in your baking rotation.
More medjool date recipes:
If you try this feel good Date Brownie recipe or any other recipe on Feel Good Foodie, then don't forget to rate the recipe and leave a comment below! It helps others who are thinking of making the recipe. We would love to hear about your experience making it. And if you snapped some shots, share it on Instagram so we can repost on Stories!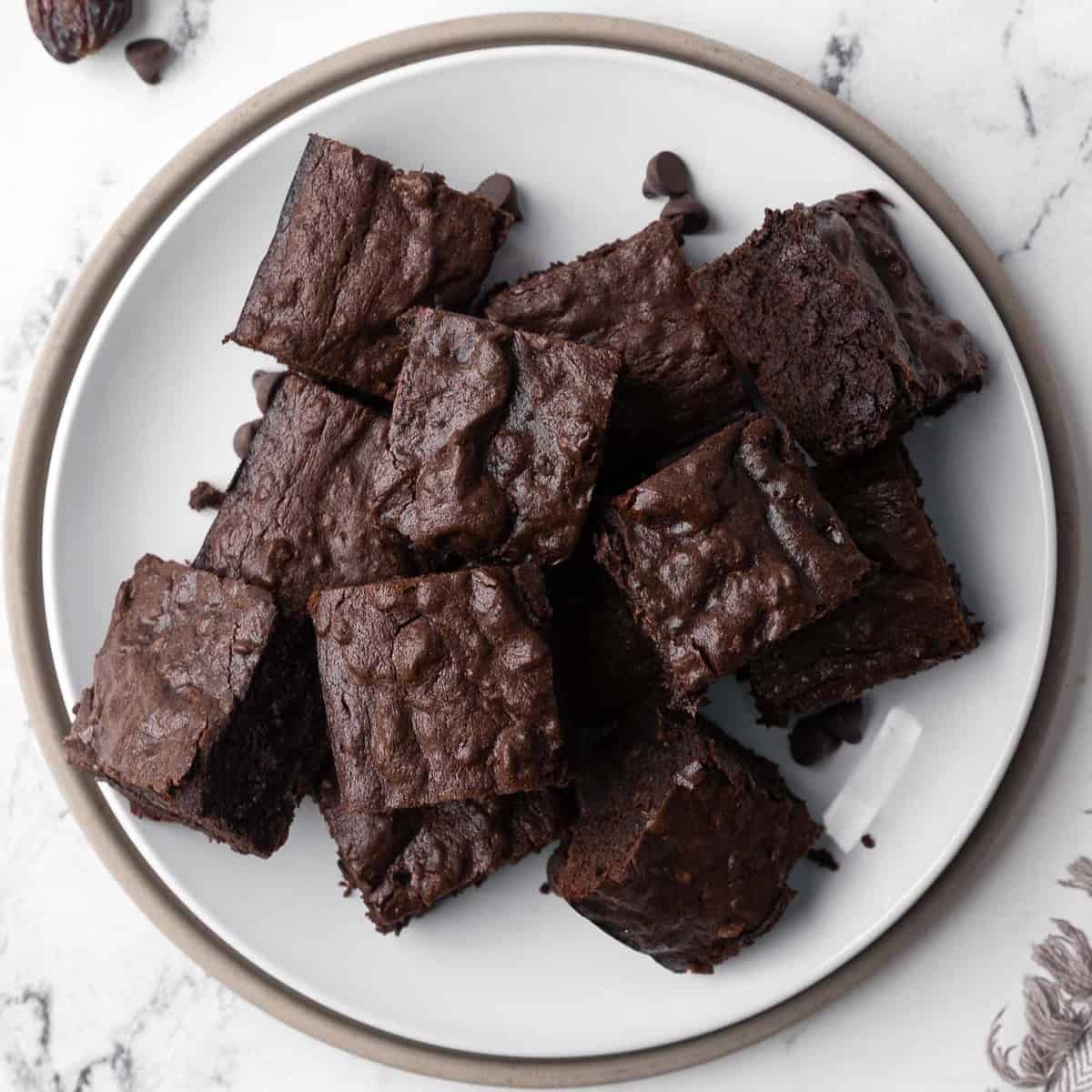 Date Brownies
Date brownies are a delicious fudgy treat! Sweet, sticky dates replace sugar, adding a rich caramel flavor that perfectly complements the cocoa.
Instructions
Preheat the oven to 350˚F and line an 8 by 8-inch baking pan with parchment paper so there is an overhang on all four sides.

Add butter and 1 cup of chocolate chips to a large microwave safe bowl. Melt in the microwave using 30 second intervals until butter and chocolate is melted. Whisk until smooth, and let cool slightly.

In a high speed blender combine eggs and dates and process until smooth, about 1 minute. There should only be small bits of date visual, about the size of sesame seeds. Any larger pieces should be mixed until broken down.

Pour the egg and date mixture into the melted chocolate and whisk for about 1 minute, or until well combined, then whisk in the vanilla extract. In a separate small bowl, sift flour, cocoa powder and salt together. Add flour to the chocolate mixture and fold gently with a rubber spatula until no streaks of flour remain. Fold in the remaining chocolate chips. Scrape the batter into the prepared pan and smooth into an even layer.

Bake until the top looks set, but the middle is still fudgy, 20-25 minutes. Let cool for about 30 minutes before slicing into 16 equal pieces.
Nutrition
Calories:
241
kcal
,
Carbohydrates:
29
g
,
Protein:
3
g
,
Fat:
13
g
,
Saturated Fat:
8
g
,
Polyunsaturated Fat:
1
g
,
Monounsaturated Fat:
4
g
,
Trans Fat:
0.2
g
,
Cholesterol:
57
mg
,
Sodium:
91
mg
,
Potassium:
302
mg
,
Fiber:
4
g
,
Sugar:
22
g
,
Vitamin A:
280
IU
,
Calcium:
36
mg
,
Iron:
2
mg
Nutrition information provided is an estimate. It will vary based on cooking method and specific ingredients used.