This post may contain affiliate links. Please read our disclosure policy.
It's like ice cream, but only nicer! How much nicer, you say? Well it's vegan, so it's made without any cream. In fact, I use bananas as a base for creating this vegan Cappuccino Nice Cream. And although the texture, flavor and taste are not exactly like real ice cream, it's a healthy frozen treat that's low in calories, dairy-free and absolutely delicious!
What is nice cream
In short, this is basically "ice cream" that you can make with one ingredient: frozen bananas. The good thing is you actually don't need an ice cream maker. All you need is a food processor. By using frozen bananas, the food processor churns them quickly and turns them into a smooth and creamy banana ice cream. It will also look like a super thick smoothie that you'll need a spoon to eat.
This whole idea started out as banana-based ice cream. But since then, it's really become a term used to describe any dairy-free and fruit-based frozen treat. So you can literally make it using frozen coconut cream, frozen peaches or frozen strawberry. The idea is that it's a healthier alternative to regular ice cream since it's free from artificial ingredients, preservatives and added sugar.
How do you make vegan ice cream
All you really need is frozen fruit and a blender or food processor!
Gather the ingredients
There are endless ways and techniques for the recipe. It's a great base that you can customize and make unique. Here are the ingredients you'll need to make this cappuccino version.
Bananas: Use 3 large ripe bananas. Make sure to cut them and place them in the freezer ahead of time.
Cold brew: I love using the Califia cold brew because it's strong and flavorful without added sugar.
Vanilla extract: Adds sweetness without the sugar.
Cocoa powder: Gives it the cocoa color that blends well with coffee.
Blend ingredients in food processor
You'll want to add the bananas, cold brew and vanilla extract first into the food processor to break down the bananas.
Once they're smooth and creamy, you can add as much of the cocoa powder as you'd like. I use ¼ cup for 3 bananas. But I recommend starting with 1-2 tablespoons and adding depending on the shade of cocoa you're looking for.
And when it's all blended, this is the color you'll get using ¼ cup of cocoa. It will look like a starting-to-melt ice cream or a super thick smoothie. You can enjoy it right away and it will be the consistency of soft-serve ice cream.
For a thicker consistency, I recommend freezing it for at least 2 hours.I use a loaf pan and cover it tightly. You can use any freezer-safe container you'd like.
When it's frozen solid after a couple hours, give it a chance to thaw for 5 minutes. Then you can scoop and serve this banana ice cream as you would any ice cream. I like adding chocolate chunks on top.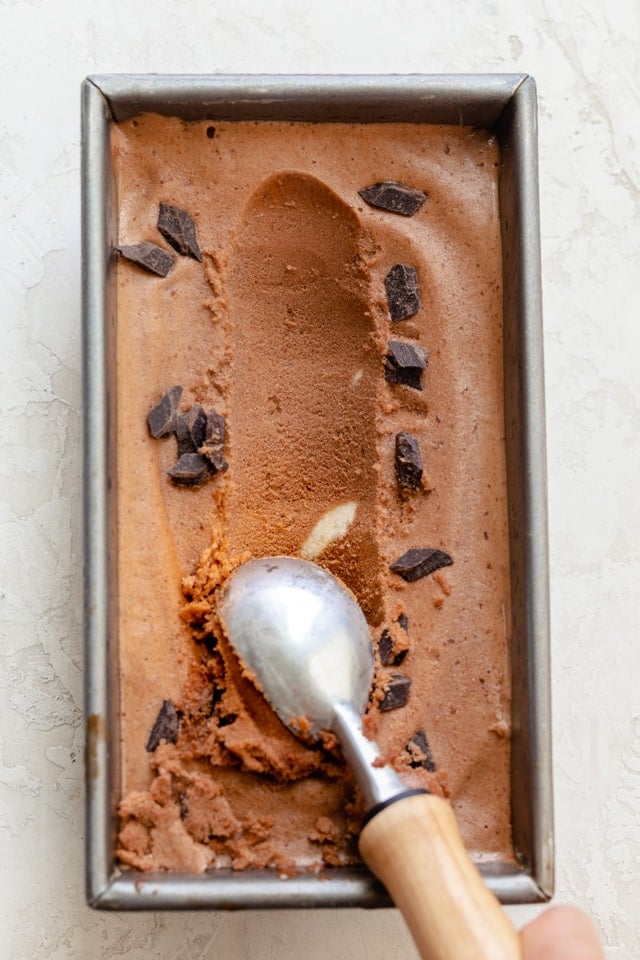 Tips for making vegan ice cream
Make sure to cut the bananas before freezing them. This makes it much easier for the blender or food processor to break down and churn the bananas quickly before it turns into a smoothie.
Give it time to churn. At first it may seem like there's not enough liquid to process the bananas and you may be tempted to add more of the cold brew coffee. But be patient and allow the machine time to slowly churn the bananas. You don't want to add too much liquid or the consistency won't be right.
Add more cocoa powder for a darker color. You can vary the amount of cocoa powder by adding more for a rich dark color or less for a milkier look.
Add some (healthy) fats to make it extra rich and creamy. This could be peanut butter, almond butter or even coconut cream. You might even want to add some melted chocolate which will freeze on contact and turn into chocolate chunks.
Freeze the ice cream container before adding ice cream to it. It's hard to remember, but if you can do this for 24 hours before you add the ice cream mix to it, it will really help improve the consistency.
Work quickly to transfer the ice cream. Try to scoop it from the food processor bowl to the ice cream container as quickly as possible. That's because fast freezing help minimize ice crystals.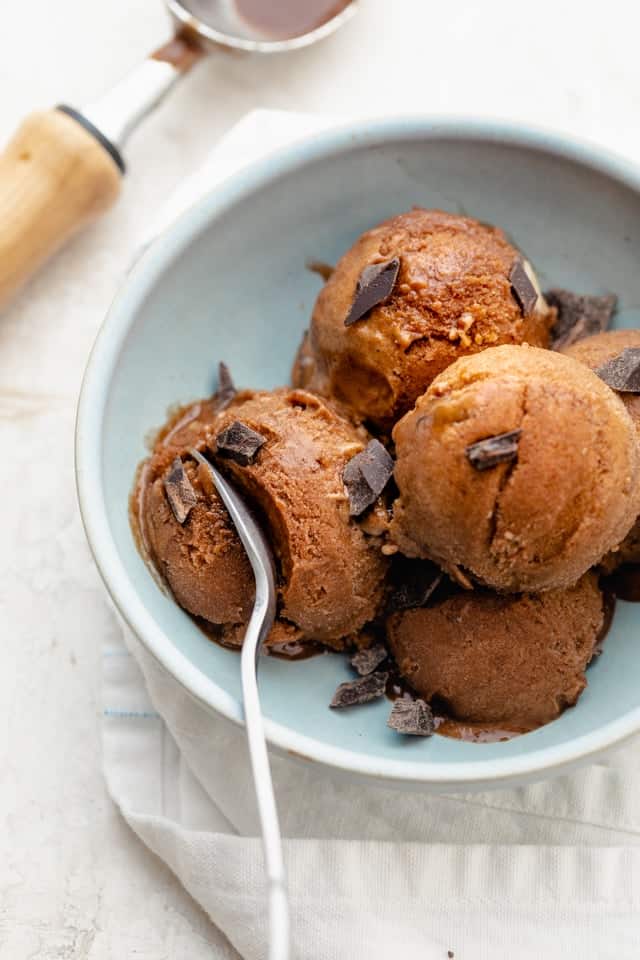 For more vegan desserts:
This is a luscious creamy vegan dessert that you can literally whip up anytime. It's amazing to see how bananas transform into a creamy consistency that looks like the real stuff! This is such a fun banana-based alternative to ice cream. And the great thing about it is that it's low in calories, low in fat and low in sugar. It's totally a healthy dessert that you can enjoy all summer long.
If you've tried this healthy-ish feel good Cappuccino Nice Cream recipe or any other recipe on FeelGoodFoodie, then don't forget to rate the recipe and leave me a comment below! I would love to hear about your experience making it. And if you snapped some shots of it, share it with me on Instagram so I can repost on my stories!
This recipe is part of my collection of Easy No Bake Dessert. Check it out!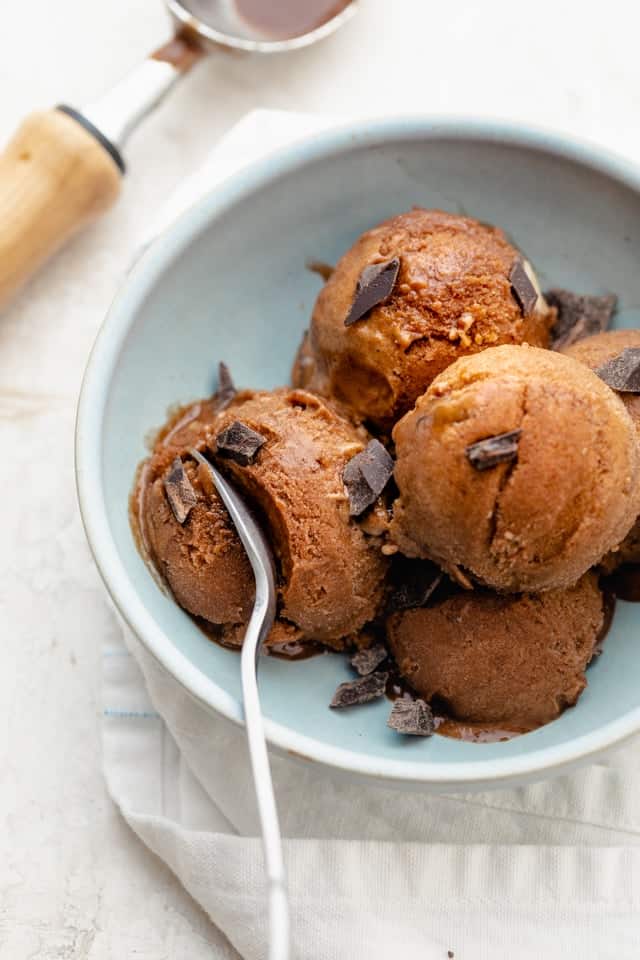 Cappuccino Nice Cream
This Cappuccino Nice Cream is a vegan dairy-free frozen treat that's made with a food processor, frozen bananas and cold brew – quick, healthy and delicious!
Instructions
Add bananas, vanilla extract and cold brew coffee to a blender or food processor. Blend until smooth and creamy, scraping down the sides of the blender as necessary.

After a 1-2 minutes of blending, add the cocoa powder and blend until it's well incorporated, scraping down the sides of the blender as necessary.

Pour into a freezer-friendly airtight container. Sprinkle chocolate chunks on top if desired, and freeze for at least 2 hours until the mixture is solid. Allow the ice cream to thaw for a 5-10 minutes before scooping.
Notes
Storage: Store any leftovers in an airtight container in the freezer. The ice cream will last up to 7 days in the freezer.
Thawing Instructions: The consistency will be hard when first removed from the freezer. Make sure to let it thaw for 5-10 minutes before scooping.
Substitutes: For best results, follow the recipe as is. However here are some common substitutes that would work well in this recipe.
Instead of cold brew, you can use brewed coffee or espresso. I recommend making it extra strong and allowing it to cool in the fridge for best results.
You can skip the cocoa powder if you'd like, but it gives it the dark color and goes really well with the coffee flavor. 
Feel free to add any mix-ins or maple syrup to sweeten it.
Equipment: I use the Kitchen Aid 7-Cup Food processor to make the ice cream. It has a high and low pulse speed so you can make the ice cream super smooth and then pulses in some add-ins like chocolate chips, if you'd like! You can also use a blender to make the recipe.
* Please note the nutrition label does not include any toppings.
Nutrition
Calories:
94
kcal
,
Carbohydrates:
23
g
,
Protein:
2
g
,
Fat:
1
g
,
Saturated Fat:
1
g
,
Sodium:
3
mg
,
Potassium:
413
mg
,
Fiber:
4
g
,
Sugar:
11
g
,
Vitamin A:
55
IU
,
Vitamin C:
7.7
mg
,
Calcium:
11
mg
,
Iron:
1
mg
Nutrition information provided is an estimate. It will vary based on cooking method and specific ingredients used.