This post may contain affiliate links. Please read our disclosure policy.
Grilling season is here! While it's meat that often takes center stage, lets not forget all those delicious veggies! Grilling is a great way to bring out all the flavor from your favorite vegetables. Some veggies are simply made for the grill! From grilled asparagus to zucchini, read on for 10 best grilled vegetables, as well as some delicious recipe ideas!
Smoky, charred and with enhanced natural sweetness, grilling vegetables is such an easy and delicious way to amp up your veggies! The summer months bring a rainbow of fresh produce just waiting to be grilled. But the fact is some vegetables love the grill more than others, read on for some top tips and mouthwatering recipes.
Tips for grilling vegetables
Cut veggies into shapes and sizes that expose more surface area to the grill. This will help create for even grilling. So instead of cutting onions, eggplant and zucchini into chunks, cut them into strips or rounds.
Mix up textures for a more satisfying bite if using vegetables in kebabs! Pair soft vegetables like mushrooms and tomatoes with harder veggies like bell peppers and onions.
Precook harder vegetables. Some produce, like asparagus, can benefit from a quick 3 min parboil before grilling, making them quicker to grill with a softer texture.
Toss the vegetables with olive oil, coconut oil or butter. Even if you're after simple grilled vegetables, I highly recommend this not just for added flavor but also to prevent veggies from drying out and sticking to the grill.
Keep the smaller vegetables in check by piercing them on a skewer. Baby tomatoes, zucchini slices, and mushrooms are great on the grill, however they can be fiddly and drop through the grill!
Use a grilling tray for small vegetables. This is a great set of trays that I use all the time (affiliate link)
Best vegetables to grill
Summer Squash
Grilling really brings out the light nuttiness of summer squash and gives it a lovely chargilled crust. Simply slice the the squash lengthwise in ½ 0r ¼ inch planks or in ½ rounds, toss lightly in olive oil and season. Then grill turning once. Summer squash pairs perfectly with steaks, as well as in salads, alongside burgers, in pasta and on pizza!
Zucchini
Zucchini is a super versatile vegetable and perfect for grilling. Slice your zucchini into uniform strip for the best grill. Make the strips about ½ or ¼ thick, so they grill evenly. You can do this with a knife, or you can use mandolin for more control. Grilled zucchini is great on its own with some olive oil, salt and pepper or as a side with meats. You can also put it in a salad, on a pizza or even in a sandwich.
Eggplant
Grilled Eggplant is such a summer treat! Wonderfully tender with crispy charred edges. You can cut lengthwise, into ½ or ¼ inch planks, or you can cut them into 1/2-¼ inch rounds. It's best to quickly brine the eggplant in some salted water before grilling, to make it more tender. Toss in some olive oil with salt and pepper then grill!
Grilled eggplant is great on its own or as part of a grilled vegetable platter. It's meaty enough to be used as a meat substitute in a burger too. It's also a great side for meat dishes.
Peppers
Gorgeous, colorful and subtly sweet peppers are wonderful on the grill. The char adds a lovely texture and just a touch of bitterness, which balances out the sweetness perfectly. Core, then halve or quarter the peppers, drizzle on some olive oil and season lightly. Smaller peppers can be grilled whole.
Grilled peppers are awesome on kabobs, in salads, sandwiches on pizzas or with pasta – the sky's the limit!
Asparagus
Asparagus is a vegetable that comes alive on the grill, the flavors are more pronounced and the texture is divine. Grilling makes asparagus tender in the middle while creating a satisfying charred and smoky flavored skin.
Drizzle some oil on the asparagus and season, then place on the grill, turning occasionally for a few minutes. A good tip is to push a skewer through the side of your asparagus, you can easily flip them and it stops the asparagus from falling through the grill!
Asparagus is an easy and delicious side for a fish dish, beef or chicken like my lemon grilled chicken. It's also fab in pasta, salads or as a breakfast with a poached egg!
Tomatoes
Grilling tomatoes is a great way to concentrate their sweetness and adds a wonderful smoky flavor and a satisfying char. Grill them the right way and they are delicious, but grill them the wrong way and you have a mushy slumpy tomato!
How you halve a tomato will determine how well it holds its shape while grilling. Cutting it from top to bottom (i.e. from the stem to the base), leaves seed pockets still intact. These watery pockets will burst when grilled and cause the whole tomato to go mushy. But cutting it along the equator (i.e from side to side) cuts through seed pockets and the moisture can escape leaving the tomato intact.
This works well for big tomatoes, like beef tomatoes. But what about baby tomatoes? Totally grill them too! They will change into a softer tomato but they're super sweet and smoky. A good way to grill baby tomatoes is to toss them in olive oil and put the on a skewer, that way you can control them better on the grill.
Grilled tomatoes are great as a side, in pasta, in a salad, or just with some buffalo mozzarella and balsamic! They are so versatile and add a sweet/smoky punch to so many dishes.
Onions
Grilled onions are such a delight! They're sweet, tender with deliciously caramelized edges, you'll be grilling these all the time!
There are two main options for cutting onions for grilling – in wedges or rounds. To cut in wedges, chop the onion in half and then into 4 wedges and remove the outer peel. To make rounds, slice the onion into round pieces about 3/4-1 inch thick and remove the peel. Rounds are a great way to get an even caramelization.
Once you've cut your onions, brush the with oil, season and grill for about 5 mins per side.
Grilled onions are an awesome side with steak, as toppings on burgers, in kabobs or just on their own with a drizzle of tahini sauce! I love adding them to my shish tawook recipe.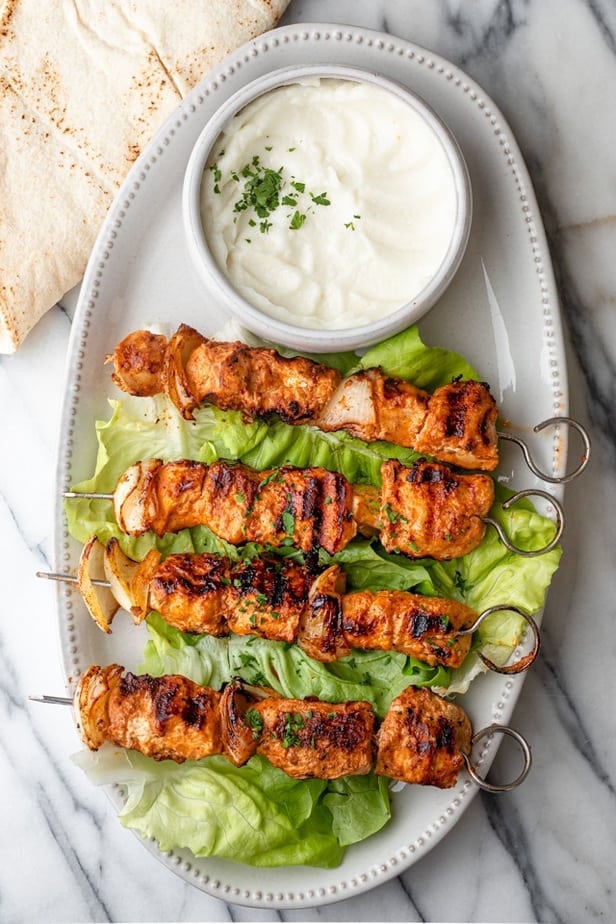 Mushrooms
Grilled mushrooms can sometimes be overlooked when it comes to grilling but make no mistake….they are delicious! Grilling brings out the savory umami flavor of mushrooms while keeping them juicy. Mushrooms love, love, love a marinade, something like balsamic works so well.
Make sure you clean off the dirt from the mushrooms before grilling, then toss in a marinade or some olive oil and season. For smaller mushrooms, you can slice in half and skewer them. For larger mushrooms – like portobello – remove the stem and cook for around 5 mins per side.
Grilled mushrooms are an awesome side for steak or chicken, fab in pasta and on toasted bread. Big grilled mushrooms are the perfect substitute for meat in burgers or you can top with some blue cheese as an app or main.
Corn
When it comes to summer vegetables you have to grill, corn is a must! Grilled corn is sweet crunchy, explosively juicy with a lovely smokey char – simply delicious! You can grill corn with the husks on or off. If you're grilling with husks on, make sure to peel back the husk, season with salt, pepper and brush with some olive oil, then pull the husk back over the corn and grill. Grilling with the husk on helps steam the kernels and makes them over more tender.
But if you want a more charred corn, then remove the husk. Whichever way you do it, make sure to turn the corn occasionally for 10 mins – done!
Grilled corn is perfect on its own with a pat of butter, but it's also great in tacos, fajitas, salads or even on top of guacamole!
Romaine lettuce
Grilling lettuce turns the humble romaine into a superstar! It may seem left of field but grilled lettuce is easy and delivers crispy charred leaves with a delectable crunch. Simply brush the leaves with olive oil and place on a clean grill. Use your tongs to press the leaves onto the grill, to get a lovely char, about 3 mins per side.
Grilled romaine is great on its own with a sprinkle of Parmesan and spritz of lemon juice, or you can add it to salads for a crispy smokey hit! It's also a great side for BBQ meats, such as fish, chicken or beef. You can even add them to burgers, so good!
Now you know the best grilled vegetables you should try! I hope you enjoy the summer and grill up some of these tasty veggies, they really come alive!
If you try any of these Vegetables You Should Grill This Summer recipes or have more suggestions, I'd love to hear from you! And if you snapped some shots, share it with me on Instagram so I can repost on my stories!