This post may contain affiliate links. Please read our disclosure policy.
These are the 10 most basic kitchen tools I literally cannot cook without. Every chef has their favorite knife or the cutting board that just feels right. These are my go-to, every day, die-hard cooking workhorses.
1. Knives
The Wusthof Gourmet Knife Block Set sits on my own counter and is the most valuable tool in my kitchen! Obviously, the chef's knife is in heavy rotation for absolutely everything, like when I dice a ton of onions for Lebanese Mujadara. But I also use the kitchen shears to snip herbs into tiny pieces, like the parsley for this Garlic Bread. And I love the bread knife for breaking into the crusty french bread I need for Tomato Basil Bruschetta.
2. Grater/Zester
Once you have used a Microplane zester to grate parmesan cheese, for say Zucchini Fritters, or zesting citrus like the lemon in my Lemon Bread, you will never go back to other graters. This kitchen tool's tiny blades, made by chemical photo etching, create feathery clouds of cheese and zest.
3. Glass prep bowls
It is so handy to have this sturdy Pyrex 3-Piece Prep Bowls set for doing everything from chilling homemade stock overnight to mixing Meatballs or Carrot Cake Pancakes. Because these are Pyrex, they are safe in the fridge, freezer, oven, microwave AND dishwasher. And, because they are glass, I can mix a salad in one and bring it to the table. I've had the same set since I got married in 2007!
4. Cutting board
My Epicurean Nonslip Cutting Board is another kitchen tool that does double duty. Besides being a safe, nonslip cutting surface, it withstands temperatures up to 350° so I can use it as a tabletop trivet, too. Made in the US from compressed wood fiber and food-safe resin, this is a dishwasher safe cutting board for easier cleanups.
This board makes chopping all the veggies for salads like my Mexican Chopped Salad a breeze.
5. Salad Spinner
Full confession: I find drying lettuce leaves as boring as you do, but salad dressings will not stick as nicely to wet leaves. My OXO Good Grips Salad Spinner gets the job done quickly and efficiently. Here are two homemade vinaigrettes that make spinning pay off. And, salad spinning is a great job to farm out to younger sous chefs.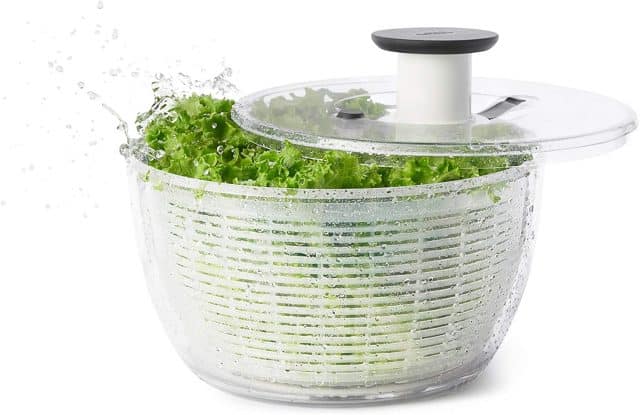 6. Garlic press
I have heard some big chefs malign the humble garlic press, but well, I love my Stainless Steel Garlic Press for giving me a quick hit of finely minced garlic without hauling out my cutting board (even though, I love it, too). A garlic press is very helpful for recipes that benefit from garlic that is almost liquified like Tahini Sauce.
7. Thermometer
Spending money on and then slaving over a fish or meat dish only to pull it out of the oven too late is a big bummer. Enter my friend, the Instant Read Thermometer. It gives a reading in three to five seconds. It is easy to slip into an apron pocket, too. I use it to check on my Oven Baked Chicken Breast.
8. Vegetable Peeler
Swivel Peelers are great for carrots, and this wide peeler works for wider vegetables like beets and potatoes. It even has a built-in potato eyer. I love these kitchen tools so much, that I also have one specifically for corn and another for cabbage. But really, the first two are the essential ones! I give the cabbage peeler a workout when I make Lebanese Cabbage Salad.
9. Measuring Cups and Spoons
While savory cooked dishes are more forgiving, exact amounts and specific ratios are super important in baking, especially when it comes to leveling agents. For instance, too much or too little baking powder can ruin a recipe. I love this affordable, complete set of stainless steel measuring cups and spoons.
And even though I cook a lot, when making a recipe that is new to me, I always measure everything exactly as written. Here's one of my favorite baked treats – Banana Chocolate Chip Cookies.
10. Spoons, whisk, spatulas and tongs
I don't have any specific brands or kinds I love, so I mix and match often. But these are definitely in my top needed tools!
For more kitchen resources:
If you found this list for my Top Kitchen Tools useful, I'd love to hear from you! And if you snapped some shots of any of these tips and tricks, please share it with me on Instagram so I can repost on my stories!