This post may contain affiliate links. Please read our disclosure policy.
This Spaghetti Squash Shrimp Scampi recipe post is sponsored by Danish Creamery, although the content represents my own personal opinion and experience using the product.
This spaghetti squash shrimp scampi is a flavorful dish that combines high-quality butter, earthy garlic, and warm red pepper flakes with plump shrimp, wilted spinach, and roasted spaghetti for the perfect low-carb shrimp scampi dinner. You'll love how easy it is to make this truly epic restaurant-quality meal!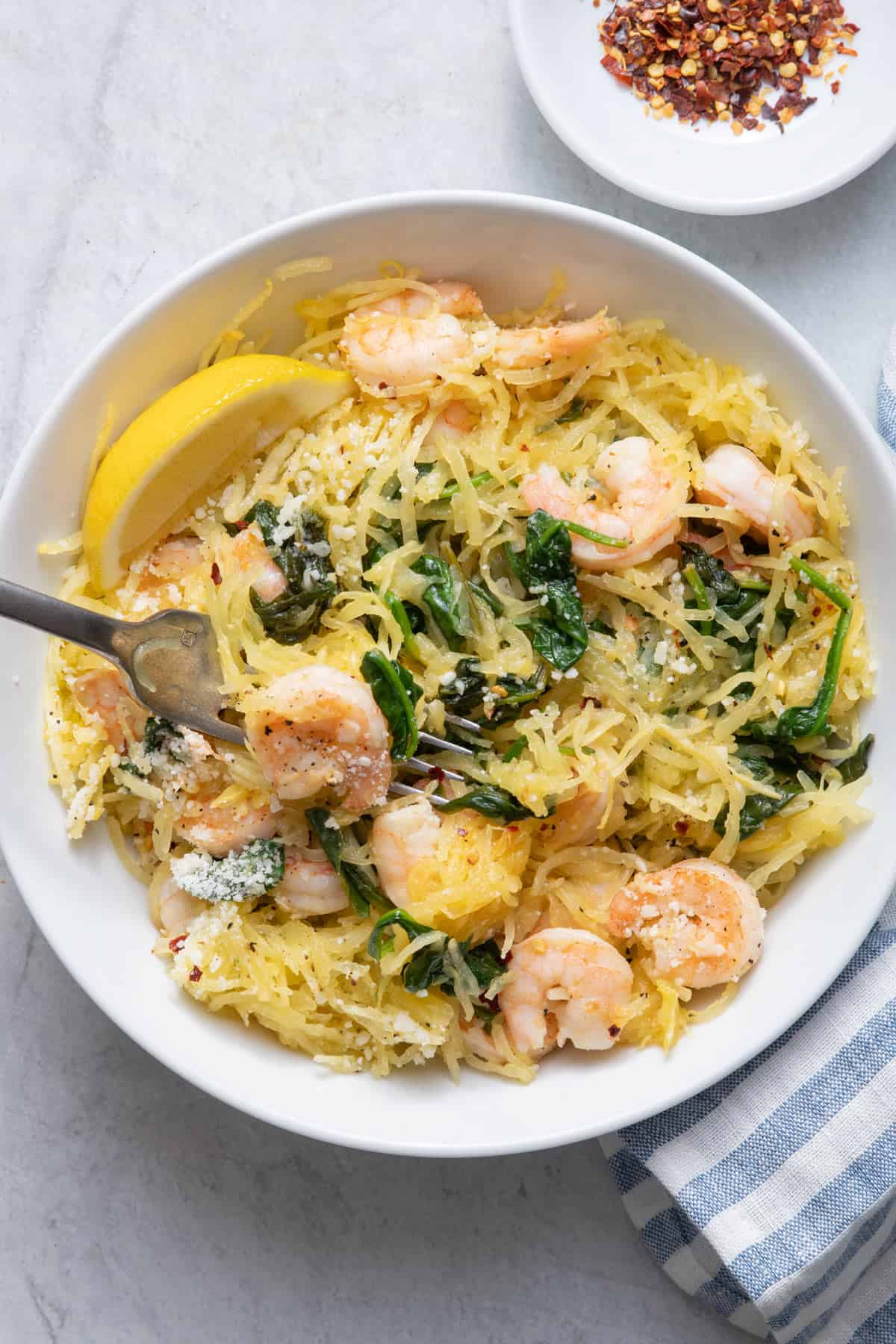 If you've been looking for a delicious, easy-to-make shrimp scampi dish without the pasta, look no further! This spaghetti squash shrimp scampi recipe is perfect for anyone looking for a healthy, low-carb meal. The Danish Creamery butter adds a touch of luxury to this otherwise simple dish, while the garlic and red pepper flakes give it a flavorful kick. I love it when I can eat a meal without feeling overloaded with carbs.
why you'll love this shrimp scampi spaghetti squash recipe
This shrimp scampi recipe has all of the flavors of traditional shrimp scampi but is made with low-carb spaghetti squash instead. It's a delicious, filling meal for any night!
It's an easy recipe to make that doesn't require much prep time or cooking skills – just follow the steps below and you'll have a delicious, restaurant-quality meal in no time!
This dish is also budget-friendly – you can get all of the ingredients for under $20.
The Danish Creamery butter gives this shrimp scampi recipe a luxurious touch that takes it from simple to spectacular.
Ingredients to make spaghetti squash shrimp scampi
Spaghetti Squash: Pick a spaghetti squash that has a darker yellow coloring. This is a good visual indicator that it's ripe and ready to cook with.
Shrimp: Keep it simple with the shrimp! I like to buy large shrimp that are already peeled and deveined. Less work prepping means you'll be able to eat that much quicker.
Butter: I make this recipe with my favorite butter – Danish Creamery sea salted premium butter. I brush some of it melted on top of the spaghetti squash rings before baking them in the oven and use more for cooking the shrimp scampi. It is made from a high quality cream from pasture-raised cows with a touch of sea salt. The extra richness of the butter adds so much flavor.
Spinach: Fresh spinach is the best for this recipe as it brings so much natural flavor.
Garlic: The garlic cloves pair perfectly with the shrimp and squash.
Lemon: The lemon juice brings a bright acidity to this dish!
Vegetable Broth: The broth helps to cook down the spinach while also adding great flavor.
Seasonings: Crushed red pepper, salt, and pepper are all the seasonings you'll need.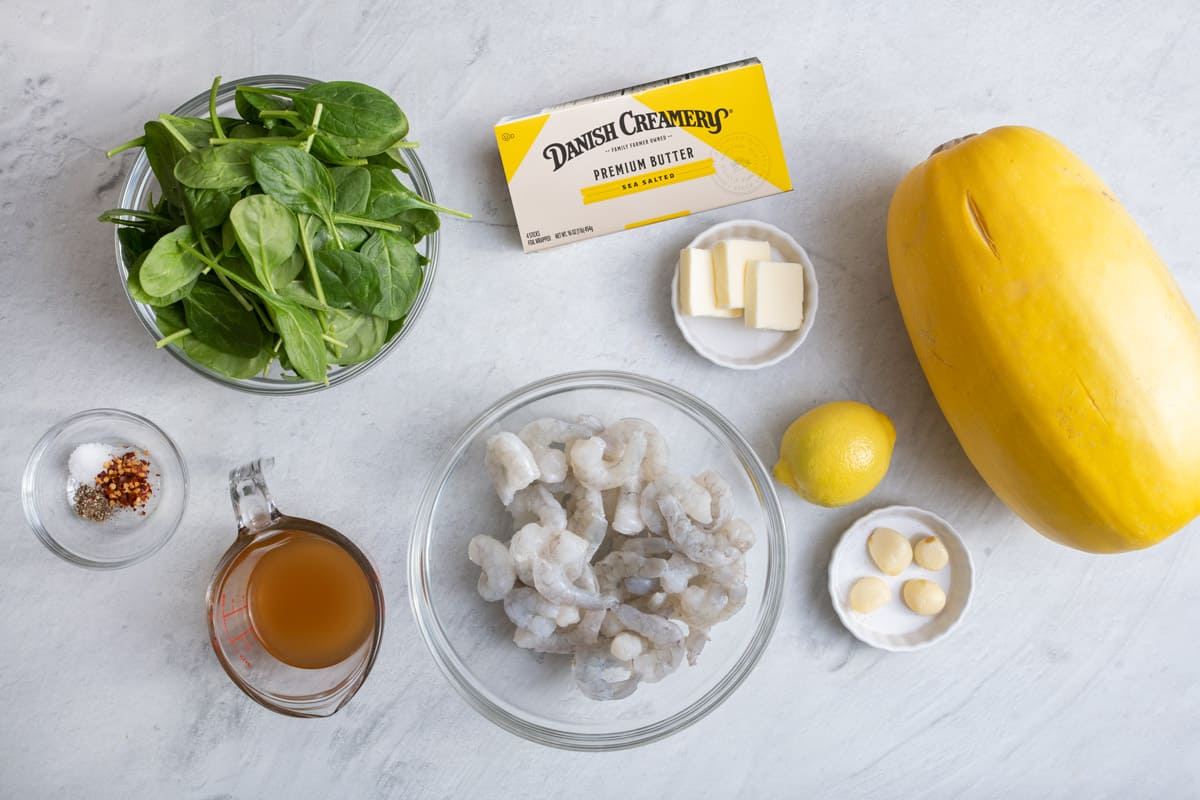 How to make Spaghetti Squash Shrimp Scampi
prepare the spaghetti squash
Put the spaghetti squash on the cutting board and slice it in rings that are 1-2 inches in size. Try to keep them the same size so they'll bake evenly.
Add the butter to the top of the squash rings.
Put the baking pan in the oven to bake.
Once done, remove from the oven and use a fork to pull apart the strands.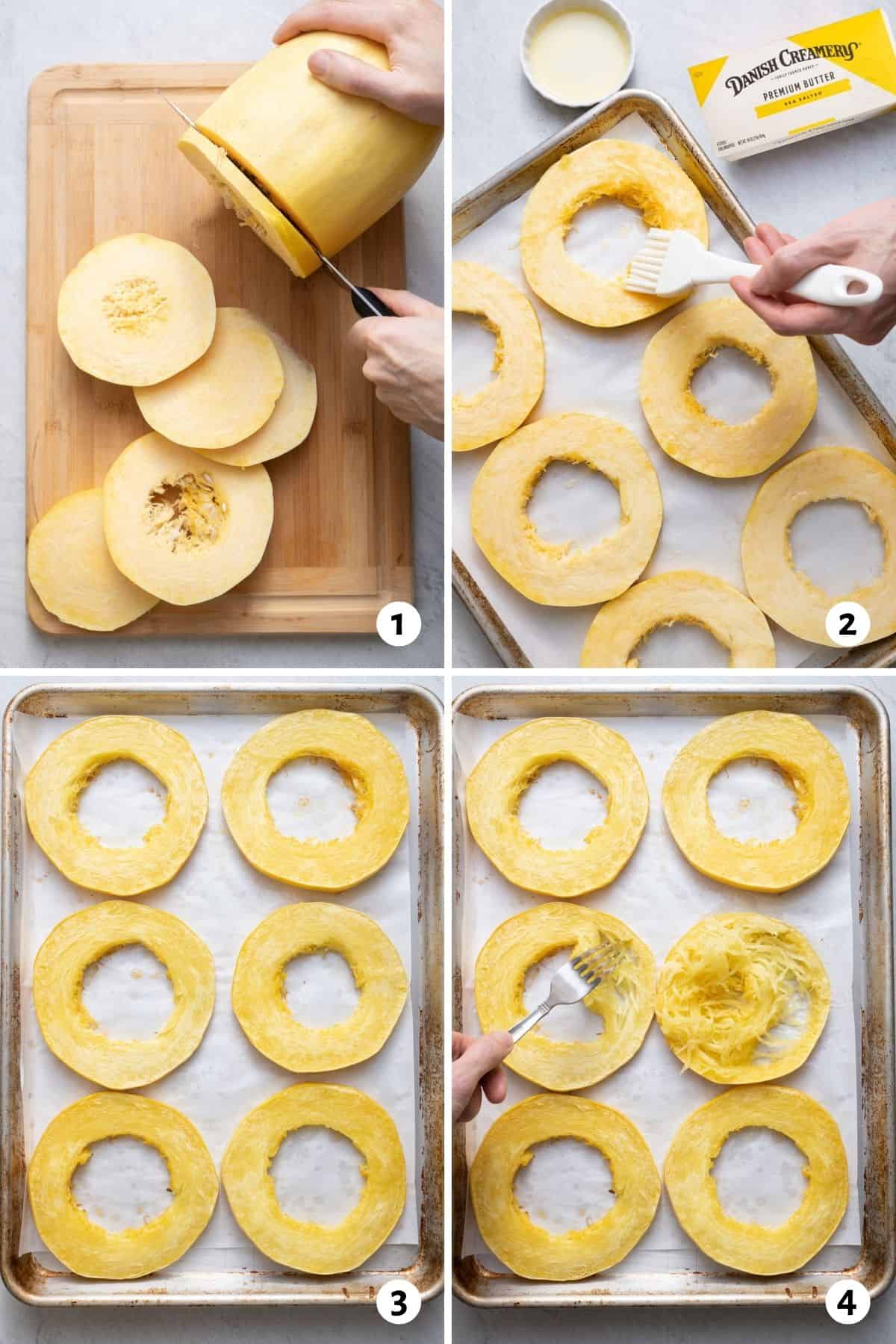 cook the shrimp scampi with the squash
Add the butter, red pepper flakes, and garlic into a skillet and sautee until fragrant.
Add the shrimp and cook all the way through.
Put the spinach and spaghetti squash into the pan, along with the cooked shrimp.
Stir together, and serve.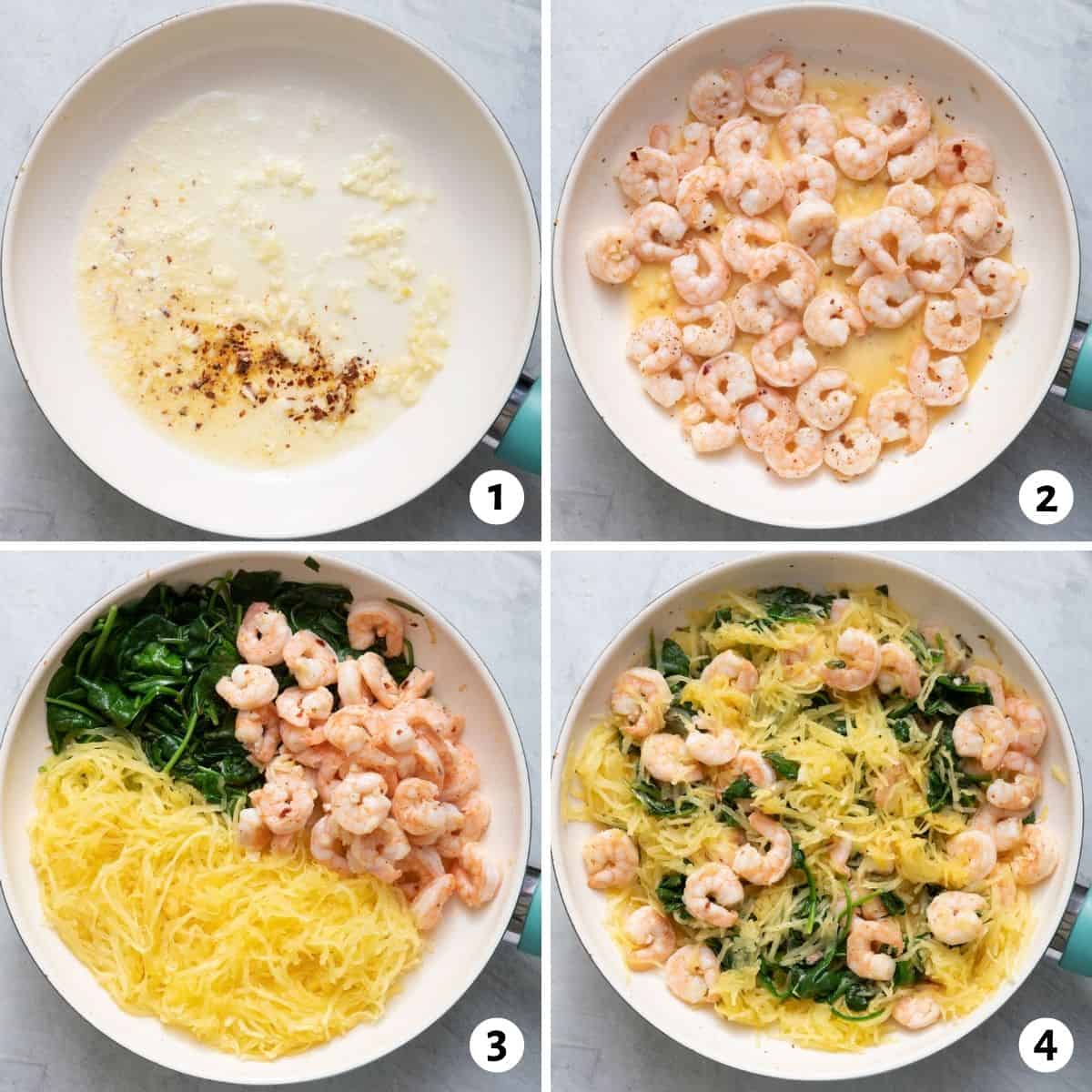 Tips for making Shrimp spaghetti squash
Cook the spaghetti squash using your favorite method. Whether you leave it whole, cut it in half or slice it into rings to bake, it is up to you. You can also pick from one of four spaghetti squash cooking methods including the oven, stovetop or microwave. For this recipe, I love the long spaghetti-like strands from cutting into rings and the flavor or roasting them with melted butter.
Pay attention to the size of the shrimp. Smaller shrimp won't take near as long to cook so stay close and keep an eye on them in the pan.
Slice the squash rings the same size. Since you're baking the squash in the oven, make the rings as close in size as possible. That way, they'll all cook at the same speed and temperature resulting in the same texture.
Use the fork test. If you're worried that the squash isn't done, test it with a fork. It should be fork tender. You can also give it a little scrape to see if it's going to make strands, which is a big indicator that the squash is done baking.
popular substitutions & additions
Frozen spinach. While I do think that fresh spinach is best, you could always use frozen spinach in a pinch. You'll want to let the spinach thaw completely in a colander and squeeze out as much of the excess liquid as you can before adding it to the shrimp scampi.
More seafood. You can add in a few bites of crab meat, white fish or salmon to this scampi recipe! The more seafood, the better!
Kale. If you're not a fan of spinach, use kale instead. You'll want to cook the kale for 3-5 minutes before adding the shrimp and spaghetti squash to get it to the right texture.
what to serve with spaghetti squash and shrimp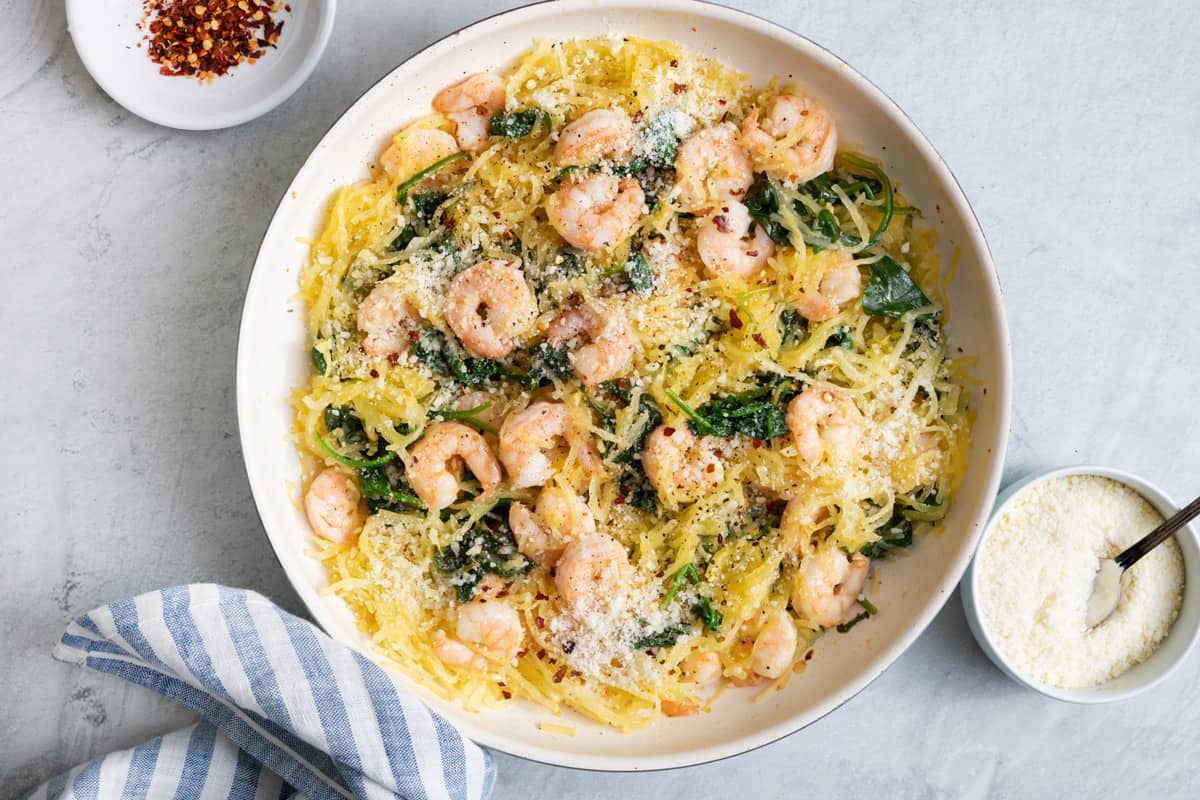 how to reheat & store spaghetti squash shrimp scampi
You'll want to store any leftover shrimp scampi in an airtight container in the refrigerator. When you're ready to eat your leftovers you'll want to gently reheat it on the stove top. Add a pat of butter to the pan and heat on medium-low. Heat until warmed through and remove immediately to avoid overcooking the shrimp.
how long Does Shrimp Scampi last in the fridge?
Shrimp scampi usually lasts 2-3 day in the refrigerator. You'll want to toss it out if it goes beyond that.
can i freeze shrimp spaghetti squash?
You can! If you have some of this shrimp spaghetti squash leftover, you can easily store it in the freezer for later. Just make sure to let it cool down all the way before adding it to a freezer-safe container.
Frequently asked questions
How long does shrimp take to cook?

To cook shrimp, you're going to want to cook them for about 2-3 minutes or so on each side. Just until it hits that opaque color. Keep in mind that if you are working with larger shrimp it may take up to 4-5 minutes per side.
Can you overcook spaghetti squash?

Yes, you can overcook the spaghetti squash. When roasting in the oven your squash can dry out and become almost brittle. It can go the opposite way as well and turn to mush. When the time is nearing for it to be finished just keep an eye on it.
Is spaghetti squash healthy?

It is. It's high in fiber which is great for digestion and overall has very low calories. This pairs well with the shrimp for a boost of added protein.
Get ready for seconds of this delicious squash and shrimp recipe. With all the added benefits, there's no reason why you shouldn't try this recipe yourself!
More simple squash recipes:
More Shrimp Recipes
If you try this feel good Spaghetti Squash Shrimp Scampi recipe or any other recipe on Feel Good Foodie, then don't forget to rate the recipe and leave a comment below! It helps others who are thinking of making the recipe. We would love to hear about your experience making it. And if you snapped some shots, share it on Instagram so we can repost on Stories!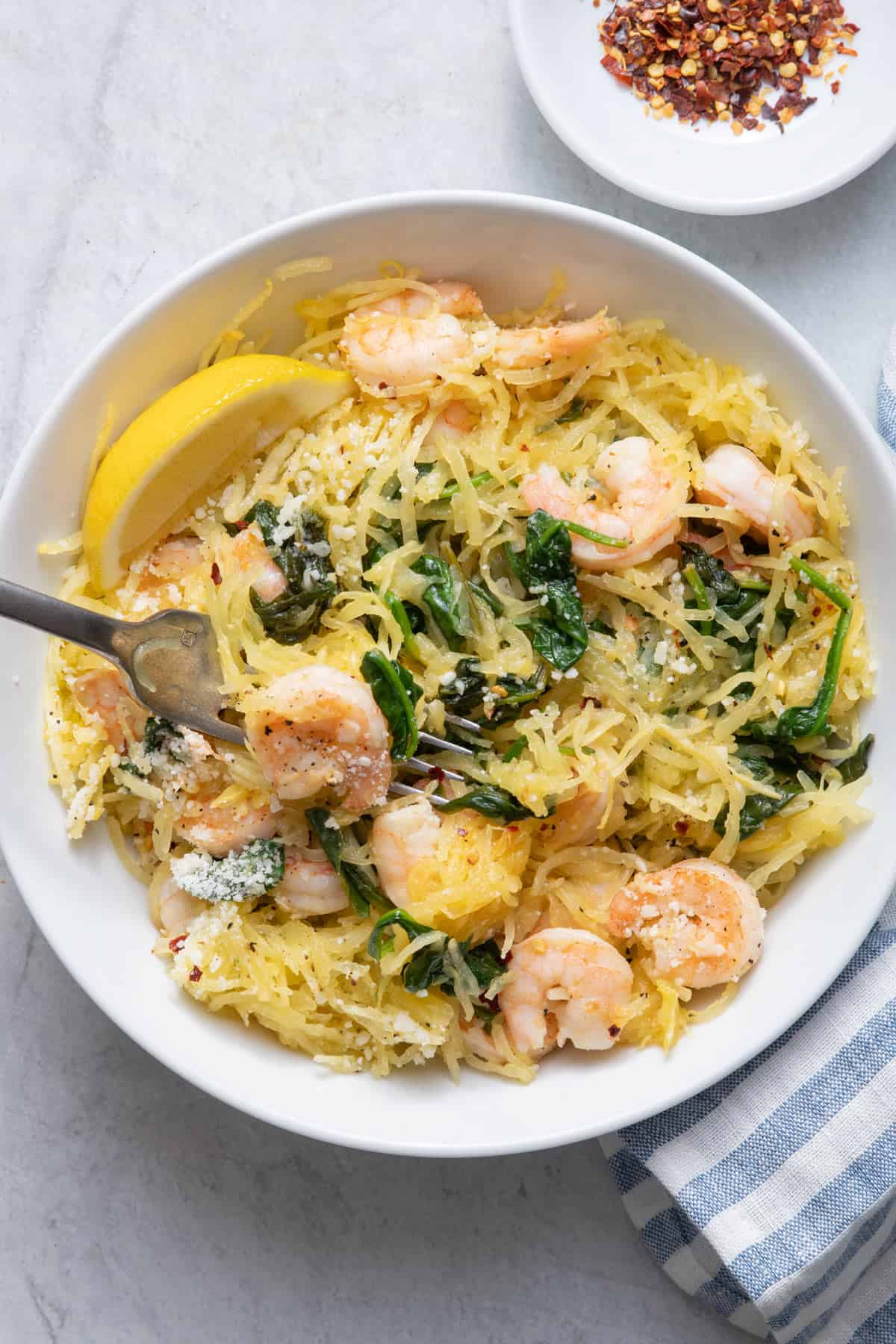 Spaghetti Squash Shrimp Scampi
The light and delicious texture of this Spaghetti Squash Shrimp Scampi is the perfect easy weeknight meal! Comfort food without the carbs!
Instructions
Preheat the oven to 400°F. Line a baking sheet with parchment paper.

Place the spaghetti squash on a cutting board and slice 1-2 inch rings all the way across the spaghetti squash, keeping the rings as even as possible.

Carefully place the squash rings on the baking pan with space between each. Melt 1 tablespoon of butter. Brush the tops of the squash with the melted butter.

Roast in the oven until tender, about 30-40 minutes. Pull the squash strands apart with a fork and season with salt and pepper to taste.

Heat the remaining 2 tablespoons butter in a large skillet over medium heat. Add the garlic and crushed red pepper and cook until fragrant, about 30 seconds. Add the shrimp and cook until opaque and pink, about 2 minutes per side. Remove the shrimp from the pan and set aside in a bowl.

In the same skillet, add the spinach and stir until it wilts, about 1 minute. Stir in the vegetable broth and lemon juice and simmer until slightly reduced, 2 minutes.

Return the shrimp and any juices from the bowl to the skillet along with the spaghetti squash strands and carefully toss to combine.

Serve with lemon wedges, parsley and parmesan cheese, if desired.
Notes
Storage: Add leftovers to an airtight container and eat within 2-3 days. 
Nutrition
Calories:
233
kcal
,
Carbohydrates:
18
g
,
Protein:
18
g
,
Fat:
11
g
,
Saturated Fat:
6
g
,
Polyunsaturated Fat:
1
g
,
Monounsaturated Fat:
2
g
,
Trans Fat:
1
g
,
Cholesterol:
165
mg
,
Sodium:
789
mg
,
Potassium:
560
mg
,
Fiber:
4
g
,
Sugar:
6
g
,
Vitamin A:
4068
IU
,
Vitamin C:
15
mg
,
Calcium:
151
mg
,
Iron:
2
mg
Nutrition information provided is an estimate. It will vary based on cooking method and specific ingredients used.