This post may contain affiliate links. Please read our disclosure policy.
Spaghetti Squash Lasagna is one of my favorite Italian meals ever! Think of the flavor of lasagna in a low-carb, gluten-free, diet-friendly disposable hot bowl of cheesy goodness! There's not much more to think about. If you haven't tried spaghetti squash in place of spaghetti yet, this is lasagna recipe is a great way to start!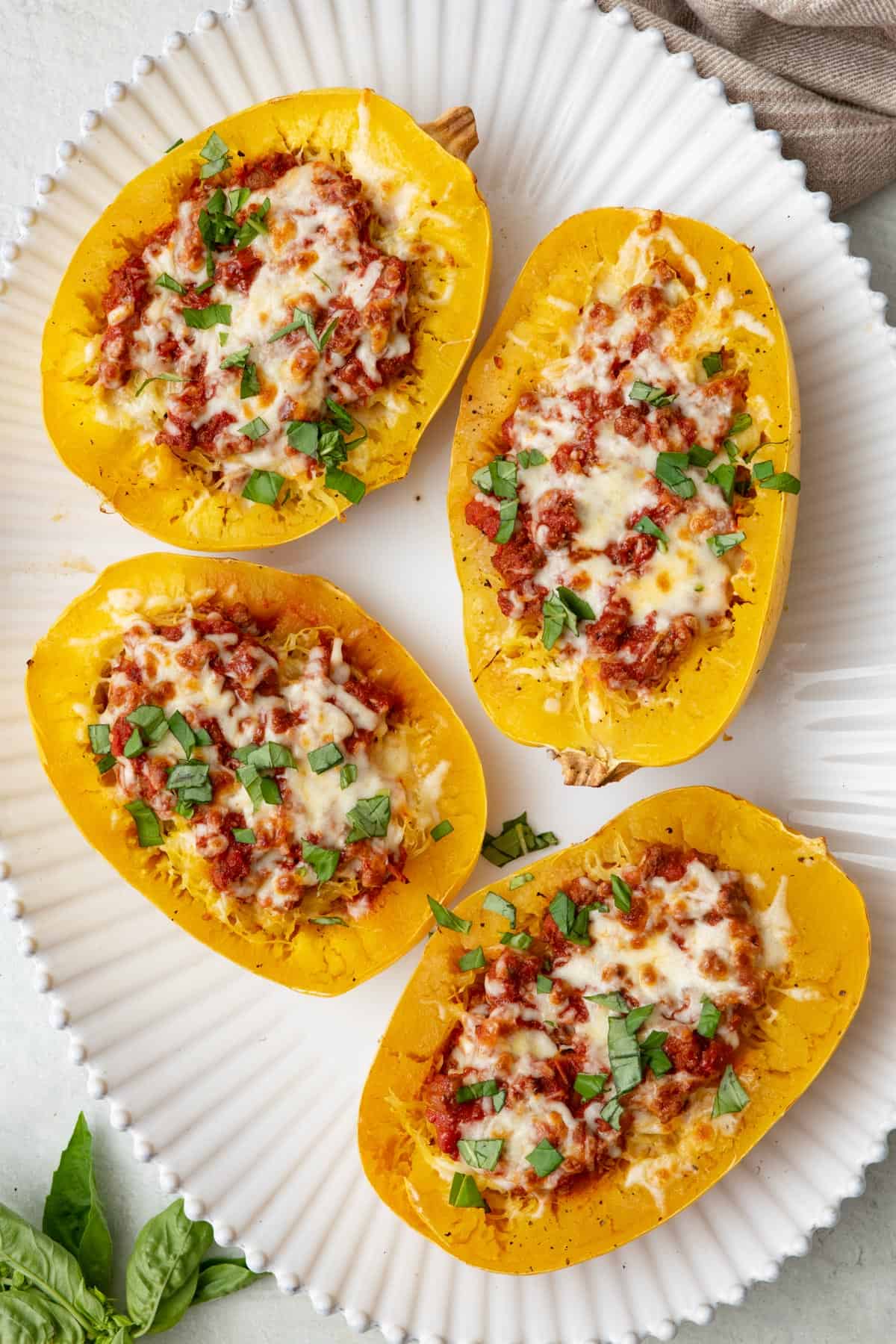 Table of Contents
This spaghetti squash lasagna is about to become your new favorite dinner dish, giving you all the lasagna feels with a fun, and slightly lighter, vegetable twist. Now, before you start thinking this is just another "healthy" swap, let me assure you that this recipe brings all the comfort and coziness of the classic lasagna that you love. The spaghetti squash offers a slightly sweet and nutty flavor that pairs wonderfully with the robust and herby tomato meat sauce, bringing you a harmonious balance in every bite. Plus, serving it straight in the squash shell not only adds a rustic touch but makes cleanup a breeze.
Why you'll love this spaghetti squash lasagna
Personalized Portions: Serving the lasagna in individual squash halves not only looks fantastic but takes the guesswork out of portioning. It's a neat, personal, and enjoyable way to serve dinner, making each person feel special with their own 'lasagna boat'.
Nutrient-dense: Spaghetti squash is not only lower in calories and carbs compared to regular pasta, but it also contains a good variety of vitamins and minerals, including vitamin C and manganese, giving a nutritious boost to your meal.
Perfect for meal prepping: You can easily prepare the components of this dish in advance, making it a hassle-free option for busy weeknights. Just assemble and broil before you're ready to enjoy a home-cooked meal.
Satisfaction guaranteed: While it offers a lighter take on traditional lasagna, this dish is still incredibly satisfying, with rich flavors and textures that create a fulfilling meal, ensuring you won't miss the pasta.
Ingredients to make Spaghetti squash lasagna boats
Spaghetti squash: Cut the spaghetti squash in half and roast it before adding the lasagna mix to the boats.
Ground meat: You can use ground beef, turkey, or chicken to stuff the spaghetti squash.
Onion and garlic: To add flavor to the lasagna sauce.
Seasonings: Salt, pepper, oregano, and basil.
Crushed tomatoes: canned tomatoes are a great shortcut to make a flavorful pasta sauce quickly. Crushed gives you a smooth suace, though you could use diced if you prefer a chunkier texture.
Tomato paste: For a rich and flavor sauce.
Shredded cheese: This is optional, but I love to finish off these spaghetti squash boats with a little mozzarella.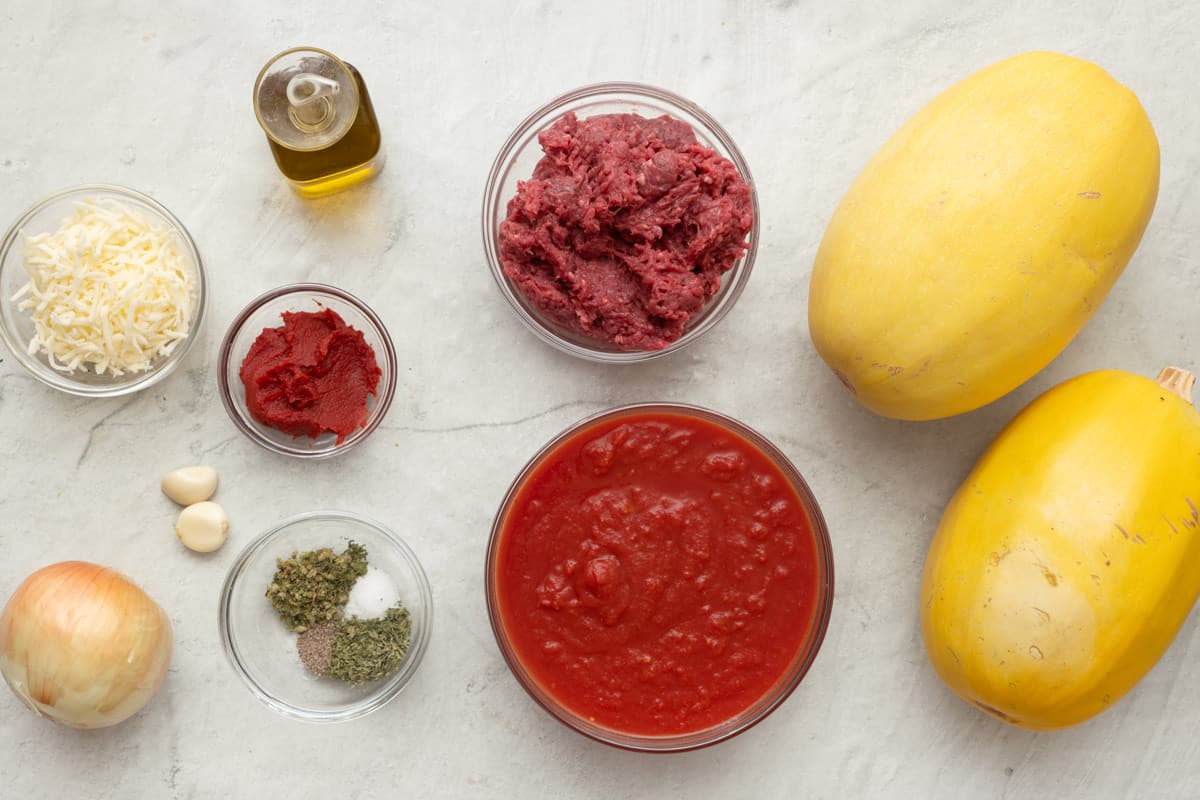 How to make spaghetti squash lasagna
You can skip making our own pasta sauce if you want to save time and just substitute it in a store-bought variation.
Prepare the spaghetti squash
I start with one or two spaghetti squash. There's enough sauce to make 4 servings, but you can make half the sauce or freeze the rest if you only want to cook one squash. I remove the seeds using a spoon.
Transfer the spaghetti squash to a rimmed baking dish and fill the dish with enough water to cover the bottom of the pan. Season the spaghetti squash with salt and pepper.
Flip the squash over and bake. The larger ones will take up to an hour in the oven. You'll know it's done because it will feel tender when poked.
Tease apart the strands of the spaghetti squash with a fork. When you pull it apart, it totally looks like spaghetti pasta.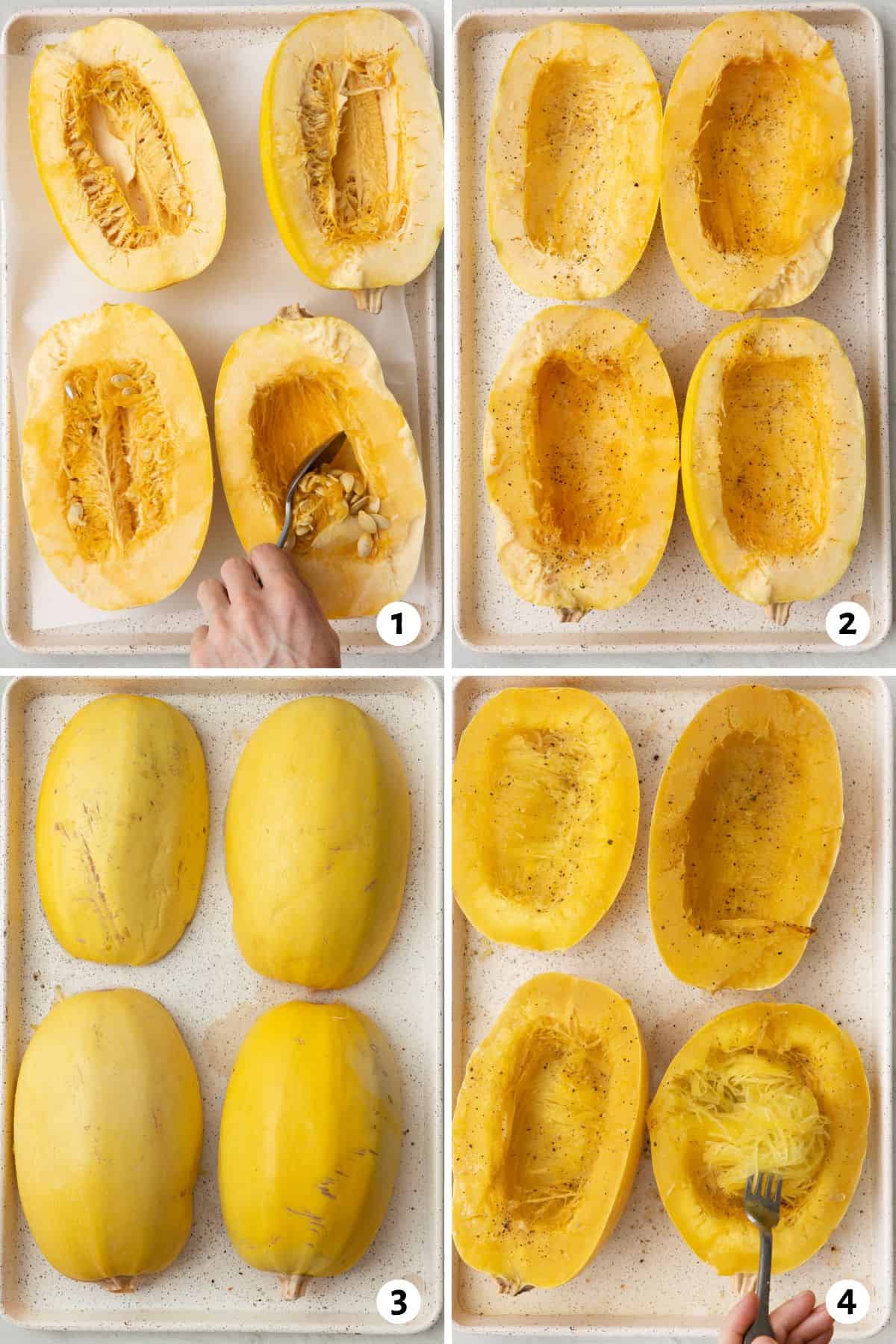 Prepare the lasagna sauce
The lasagna part of these spaghetti squash lasagna boats comes in the sauce. It's basically my classic lasagna sauce from my Homemade Lasagna recipe. We'll layer it between tender strands of squash and shredded mozzarella cheese.
Add the ground beef and seasonings to a pan.
Brown the ground beef and break into smaller pieces.
After the beef is cooked, add the onions, garlic, and seasonings. Cook until the onions and garlic are softened.
Add the rest of the ingredients and simmer.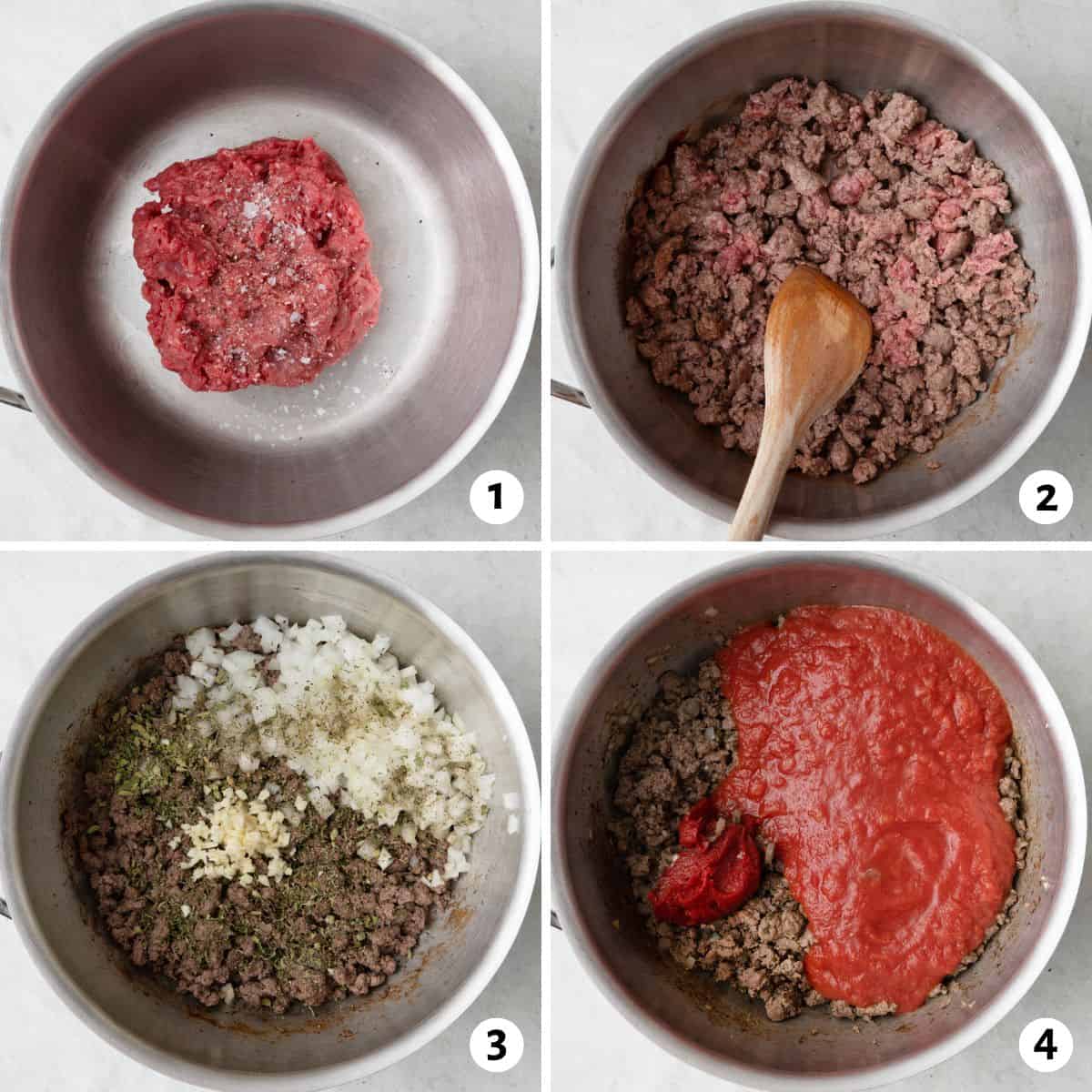 Assemble the spaghetti squash lasagna
Maker 2-3 layers of the sauce, spaghetti squash and mozzarella cheese. Start with the meat sauce.
Top the sauce with spaghetti squash strands and continue layering
Top it off with mozzarella cheese. that when
Broil until the cheese is melted, bubbly, and golden.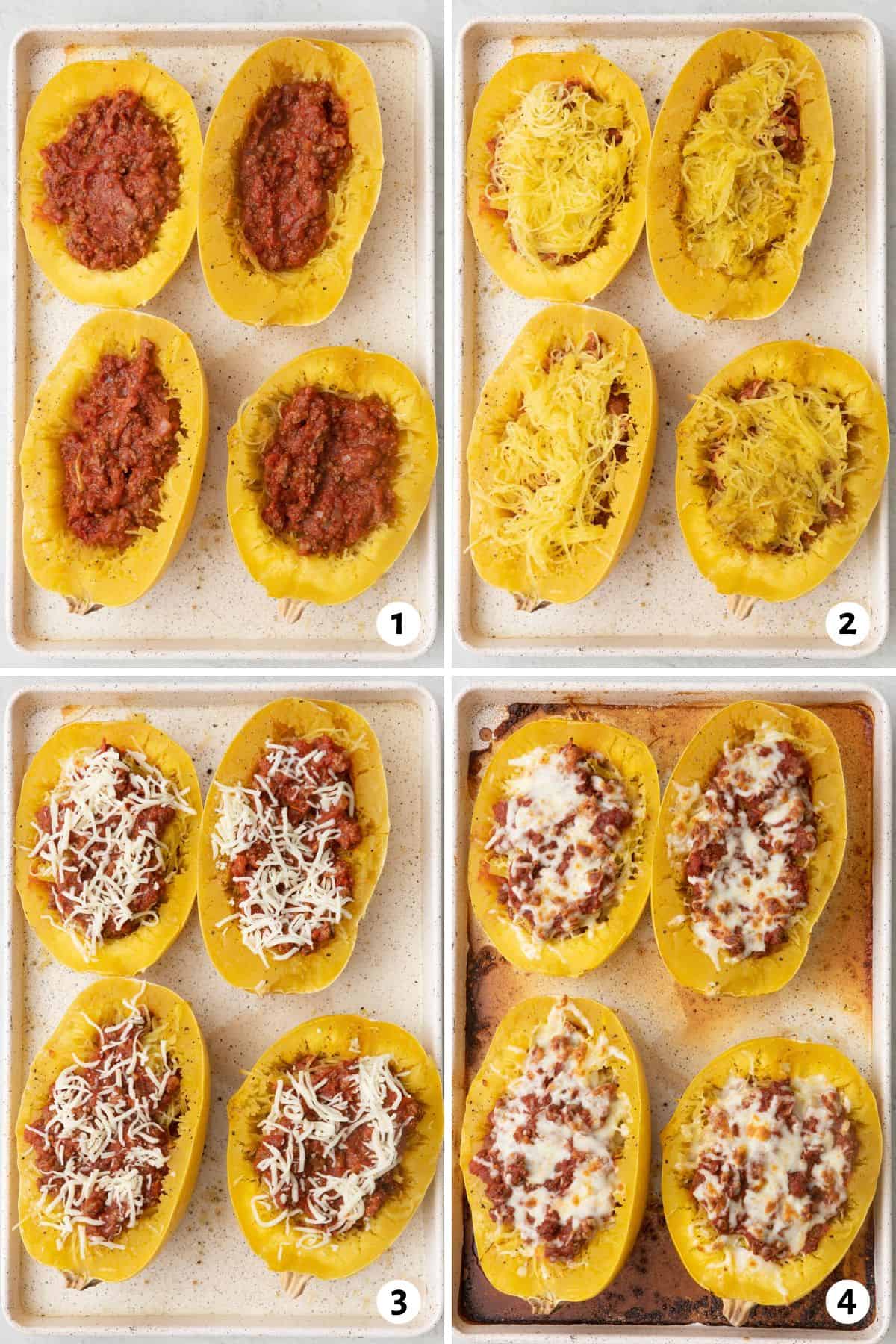 Tips for making this recipe
Cook it in the microwave instead of the oven. The timing is between 8 and 10 minutes. Once it's fork tender, transfer to a cooling rack to cool off for a few minutes.
Make sure to flip the spaghetti squash cut side down when you bake it. This traps the steam and cooks the spaghetti squash perfectly so that it's nice and tender.
Prick the skin of the spaghetti squash with a fork. This will allow the steam to gently escape so that the pressure doesn't build up.
Make it your own. It's so easy to adapt this recipe to suit your tastes. Use different ground meat, or add extra veggies for a meat-free dish. You can use any store bought pasta sauce too.
Popular substitutions & additions
Make it Vegetarian: Replace the ground beef with a medley of sautéed vegetables like bell peppers, zucchini, and mushrooms for a hearty, vegetarian version of this dish.
Use Different Proteins: If beef isn't your preference, you can easily swap it out for ground turkey, chicken, or even a seafood variant using shrimp or crab meat, each bringing its unique flavor to the dish.
Switch Up The Cheese: Experiment with different types of cheese for the topping. A mixture of parmesan and mozzarella could add a nice salty depth, while a smoked cheese can bring a new flavor dimension to the dish.
Herb Garnishes: While fresh basil gives a bright and fresh aroma, feel free to sprinkle on other fresh herbs like parsley or thyme to suit your taste preferences and to add a splash of color and freshness.
Spice it up: If you enjoy a dish with a bit more heat, consider adding a sprinkle of red pepper flakes to the sauce to give it that extra kick. Adjust the spice level according to your preference for a personalized touch to the dish.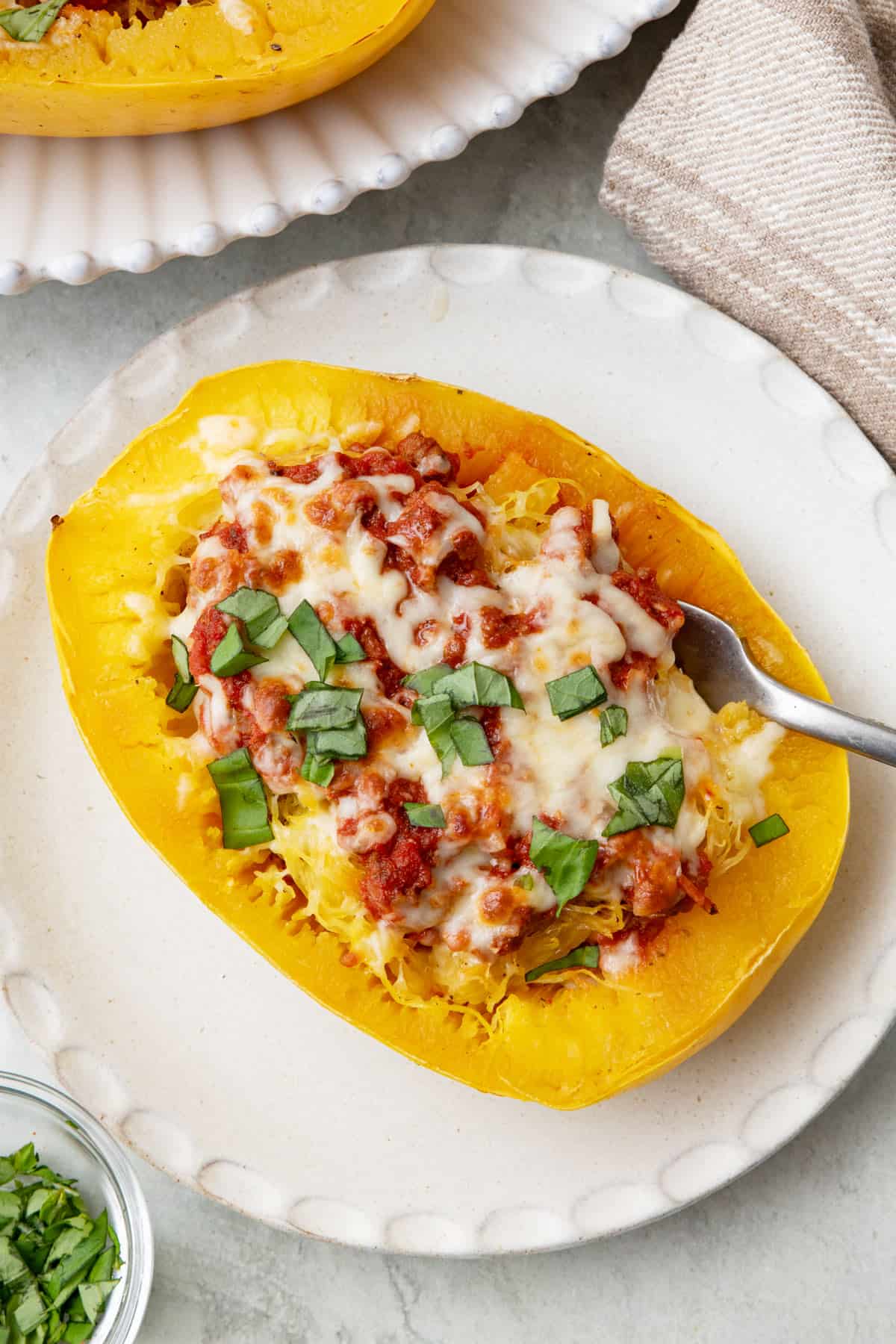 What to serve with spaghetti squash lasagna boats
How to Store & Reheat Spaghetti Squash Lasagna
Storing and reheating your spaghetti squash lasagna correctly ensures that it retains its textures and flavors for your future meals.
How long will Spaghetti Squash Lasagna last in the fridge?
Cooked spaghetti squash lasagna will last for about 3-5 days in the refrigerator. Ensure to store it in an airtight container to maintain its freshness and prevent it from absorbing other odors from the fridge.
Can I freeze Spaghetti Squash Lasagna?
Absolutely, spaghetti squash lasagna freezes well. To freeze, let it cool completely before transferring it to a freezer-safe container or wrapping it tightly with aluminum foil. It can last in the freezer for up to 2-3 months. When you're ready to enjoy it, thaw it overnight in the refrigerator before reheating.
Reheating Instructions:
To reheat your lasagna bowls, preheat your oven to 350°F. Place the lasagna in an oven-safe dish, cover with aluminum foil to prevent it from drying out, and warm it in the oven for 15-20 minutes or until it's heated through. For a quicker option, you can also reheat individual servings in the microwave, covering the dish with a microwave-safe lid or wrap and heating it on high for 2-3 minutes or until thoroughly warmed.
Frequently Asked Questions
Why did my spaghetti squash turn out mushy?
Overcooking the squash can result in a mushy texture. It's important to check the squash periodically as it cooks to ensure it maintains a somewhat firm texture. Start checking at around the 35-40 minute mark to avoid overcooking.
What can you use instead of spaghetti squash?
Spaghetti squash is pretty unique! Its stringy texture is not like other members of the squash family, so you would have a hard time making this recipe with another variety. You could use zucchini noodles to replace the spaghetti-like strands if you like.
How do I know when the spaghetti squash is cooked perfectly?
A perfectly cooked spaghetti squash will have a tender yet still slightly firm texture. You should be able to easily shred the flesh into spaghetti-like strands with a fork. If it's too hard, it needs more time; if it becomes mushy, it's overcooked.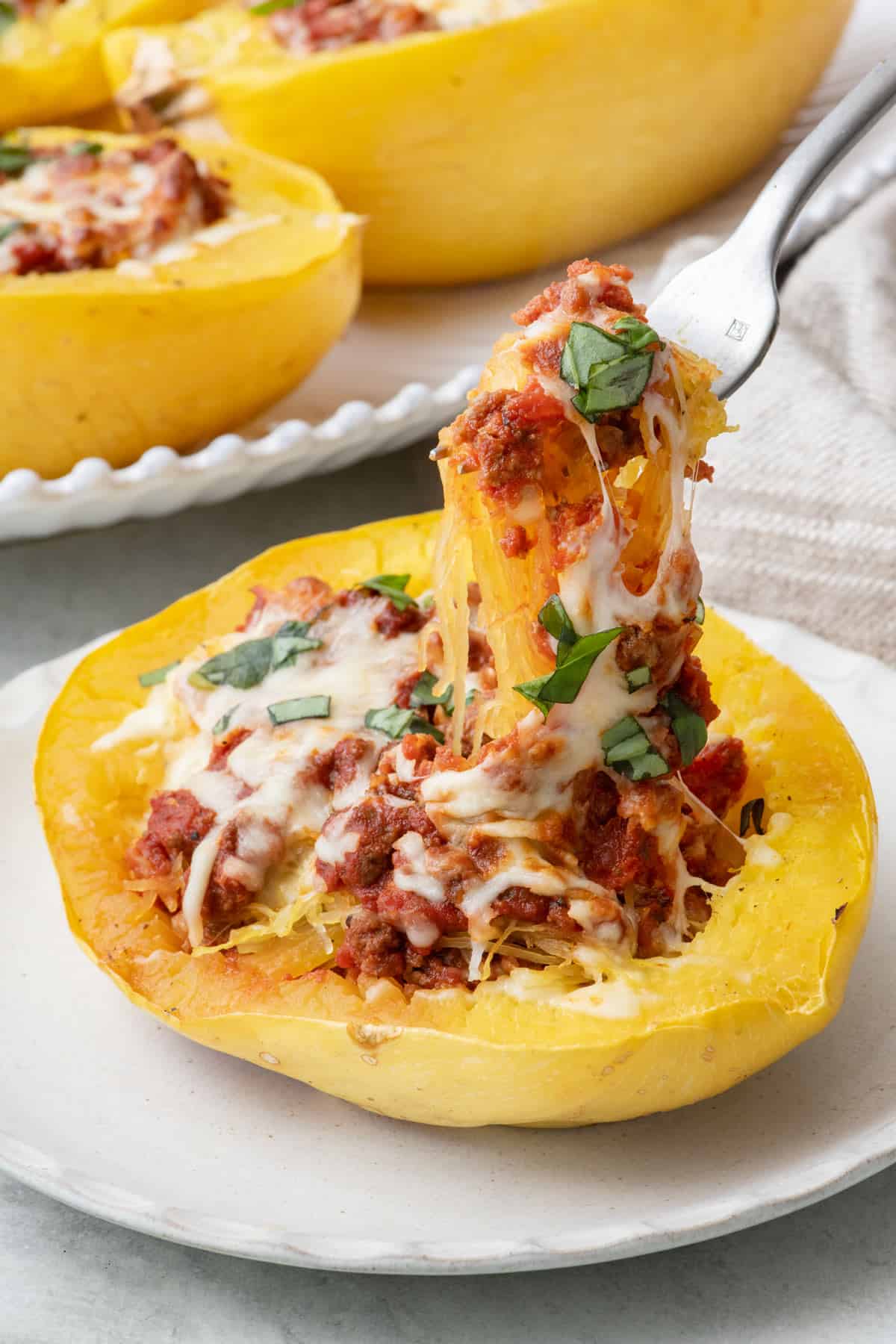 If you've never tried spaghetti squash before, I urge you, my foodie friends, to buy one this weekend at your grocery store, and try this Spaghetti Squash Lasagna recipe. This is a great way to experiment with spaghetti squash. And before you know it, you'll be experimenting with so many more pasta alternative recipes that use squash!
For more low-carb recipes:
More Lasagna Recipes
If you've tried this healthy-ish feel good Spaghetti Squash Lasagna recipe or any other recipe on FeelGoodFoodie, then don't forget to rate the recipe and leave me a comment below! I would love to hear about your experience making it. And if you snapped some shots of it, share it with me on Instagram so I can repost on my stories!
This Spaghetti Squash Lasagna recipe was originally published on October 20, 2018. The post has been updated to include helpful cooking tips, frequently asked questions and step-by-step photos.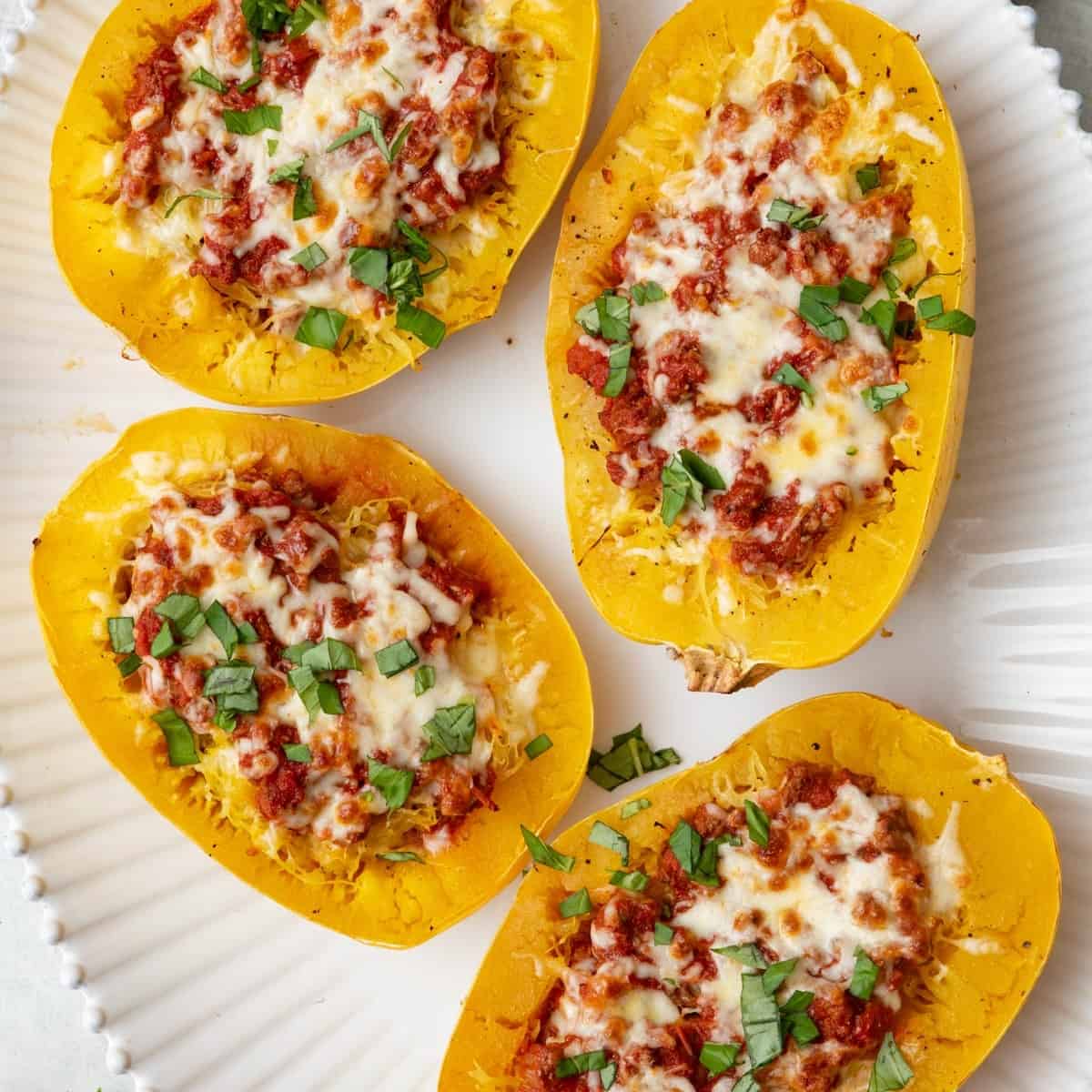 Spaghetti Squash Lasagna
This Spaghetti Squash Lasagna feeds your craving for lasagna without the pasta – it's a low carb, gluten-free and keto friendly recipe!
Ingredients
2

small

spaghetti squashes

½

teaspoon

salt

plus more to taste

½

teaspoon

black pepper

plus more to taste

1

tablespoon

olive oil

1

pound

lean ground beef

1

onion

diced

2

garlic cloves

minced

2

teaspoons

oregano

2

teaspoons

basil

2

15-ounce cans

crushed tomatoes

¼

cup

tomato paste

½

cup

shredded mozzarella cheese

Fresh basil

for serving
Instructions
Preheat the oven to 400ºF.

Cut spaghetti squash in half lengthwise, scoop out the seeds and discard. Season with salt and pepper, place cut side down in a baking dish with about 1 inch of water. Bake until fork tender, about 45 minutes.

In a large deep sauté pan, heat the olive oil. Add the beef and season with salt and pepper. Cook the beef, stirring often and breaking apart as needed, until the beef is lightly browned, 5 minutes.

Add the onions and garlic; season with oregano and basil and cook until the onion is fragrant and beginning to soften, 5 more minutes.

Add crushed tomatoes and tomato paste. Mix to combine, bring to a boil and then simmer for 30 minutes.

When spaghetti squash is cool to the touch, use a fork to shred the inside of the squash, which will come out in strands that look like spaghetti.

To assemble, remove half of the strands from each squash and set aside. Season the squash with salt and pepper, layer some of the lasagna sauce on top of the squash strands. Then add another layer of the strands previously removed, top with more lasagna sauce and finish with shredded mozzarella cheese.

Place the stuffed squash back in the baking dish and broil in the oven until the cheese is melted and bubbly, about 5 minutes.

Serve as is in the squash, garnished with fresh basil.
Notes
Storage: Store any leftovers in an airtight container. They will last about 3-4 days in the fridge. Make Ahead: You can make the 3 days ahead of time and freeze for up to 3 months. When ready to cook the spaghetti squash, just thaw the sauce and use normally in the recipe. Substitutes: For best results, follow the recipe as is. However, you can use ground turkey or ground chicken if you'd like. You can also make your own marinara sauce or use store-bought sauce.
Nutrition
Calories:
513
kcal
,
Carbohydrates:
56
g
,
Protein:
34
g
,
Fat:
21
g
,
Saturated Fat:
7
g
,
Polyunsaturated Fat:
2
g
,
Monounsaturated Fat:
8
g
,
Trans Fat:
1
g
,
Cholesterol:
83
mg
,
Sodium:
938
mg
,
Potassium:
1741
mg
,
Fiber:
13
g
,
Sugar:
26
g
,
Vitamin A:
1362
IU
,
Vitamin C:
35
mg
,
Calcium:
348
mg
,
Iron:
8
mg
Nutrition information provided is an estimate. It will vary based on cooking method and specific ingredients used.