This post may contain affiliate links. Please read our disclosure policy.
Looking for some tasty and protein-packed recipes? Look no further! We've rounded up 10 delicious recipes that all feature one key ingredient: protein powder. From smoothies to pancakes, these quick protein powder recipes are not only easy to make, but also super satisfying. Plus, they're a great way to sneak in some extra protein into your day, whether you're looking to fuel your workouts or just looking for some healthier meal options.
Table of Contents
These protein-centric recipes are quick and easy for a delicious and healthy meal or snack. Get creative and try some protein powder recipes that aren't just shakes, such as protein balls or crepes. This expands your options to enjoy your favorite foods while fulfilling daily protein needs.
What is protein powder?
Protein powder is a dietary supplement that's become super popular over the last few years, and for good reason! It's essentially a concentrated form of protein that's easy to mix into smoothies, oatmeal, or even just water.
So why all the hype around protein powder? Well, protein is a crucial nutrient that helps repair and build muscles, making it particularly important for athletes or anyone looking to gain strength. It's also great for those needing more protein from food sources alone.
So, if you're looking to up your protein game, protein powder might be worth considering!
What protein powder is best?
The best protein powder for you depends on your individual needs and goals, dietary restrictions, taste preference, and budget. I wish it was as easy as stating X is the best, but it isn't. There are two common types of protein powders made from either animal or plant protein.
Whey protein powder is a popular and widely available option that is easily digested and quickly absorbed by the body.
Plant-based protein powders are also a good choice for those who are vegan or have dairy or soy allergies. Some examples of plant-based protein powders include pea protein, hemp protein, and brown rice protein.
To better help you choose which is best for you, be sure to take a look at my comprehensive beginner's guide to protein powder, which provides a more detailed breakdown of each type!
My favorite protein powder brands
Simply Tera Protein Powder: Simply Tera's protein powders have all nine essential amino acids (EAA) you need. They take the extra step of cold-pressing the powders to keep all those important nutrients intact. And get this, their whey protein is loaded with more branched-chain amino acids (BCAA) than those plant-based powders. They've got you covered with the essential stuff!
With Simply Tera's, you're getting a quality protein powder that's certified gluten-free, non gmo. and low carb. You can use plain and unsweetened flavor to sneak into more recipes or try some of their popular flavors for adding to smoothies and even more recipes ideas you'll find below! They're all about quality and sustainability. If you're all about clean and wholesome protein, Simply Tera's is the way to go!
Four Sigmatic Protein Powder: Four Sigmatic is a brand that's all about using the good stuff – natural, organic, and sustainable ingredients. Their plant-based protein powder is made from a blend of pea protein and chia seeds, which gives you a complete amino acid profile. Plus, it's gluten-free, dairy-free, and soy-free, with no added sugars or fake flavors.
And if that's not enough, it's got adaptogenic mushrooms like Reishi and Cordyceps, which are believed to have some serious health benefits. Of course, whether or not it's the best option for you depends on your unique needs and preferences.
Protein Powder Flavors
There are a wide variety of protein powder flavors available on the market to suit different tastes and preferences. Here's a list of the top 10 best protein powder flavors from a variety of brands:
tips for using protein powder
Choose the right type of protein powder for your needs. Different types of protein powder have different benefits and are better suited for different purposes. For example, whey protein is quickly absorbed and great for post-workout recovery, while casein protein is slower digesting and can help keep you feeling full for longer.
Mix protein powder with water or milk. This is a classic and easy way to use protein powder for shakes. Simply mix your desired amount of protein powder with water or milk, shake it up, and enjoy.
Add to energy snack balls. Make protein-packed energy balls or bars by mixing protein powder with nuts, seeds, and dried fruit. This is a great way to make a healthy and convenient snack that you can take on the go.
What recipes can I add protein powder to?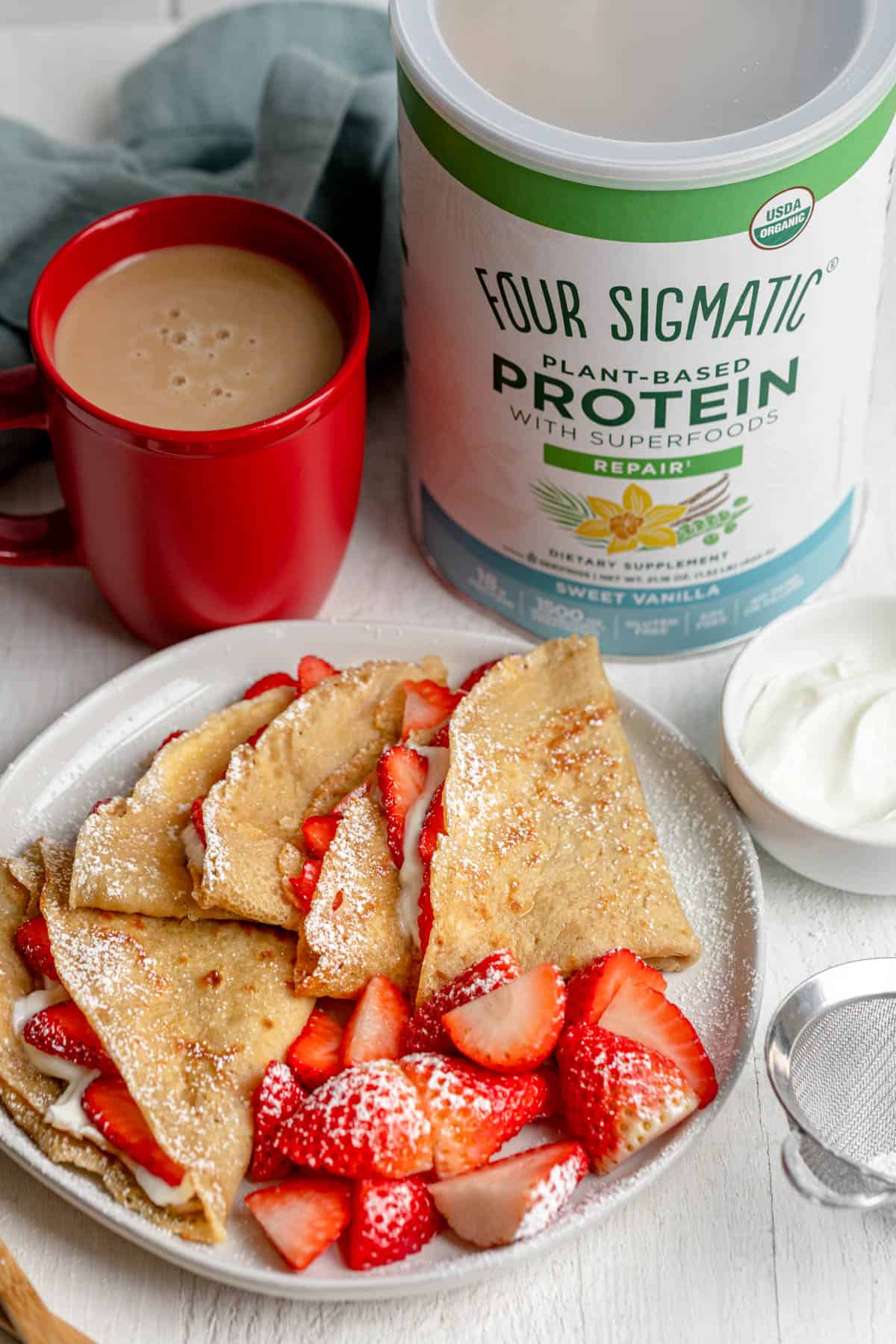 best protein powder recipes
Below are some of my personal favorite recipes to use protein powder in!
Protein powder shake & Smoothie recipes
Morning Coffee Shake – Drink your morning coffee with a boost of added protein to provide energy for the day ahead. Made with wholesome ingredients like oats and bananas, it's smooth, creamy, and easy to prepare.
Fresh Strawberry Vanilla Smoothie – This quick protein powder recipe is made with fresh strawberries, bananas, Greek yogurt, milk, and protein powder. It's easy to make and contains 21 grams of protein per serving!
Dragon Fruit Smoothie – This colorful protein powder smoothie is bursting with flavor from natural ingredients like pitaya, bananas, frozen cauliflower, and almond milk. Don't be fooled by its bright hue – the vivid color is all-natural.
Pumpkin Pie Smoothie – Get into the fall spirit any time of year for a smoothie that's not only delicious but also packed with protein for a healthy breakfast. It's easy to make and perfect for any pumpkin spice lover. Whip up this quick and tasty smoothie to start your day off right!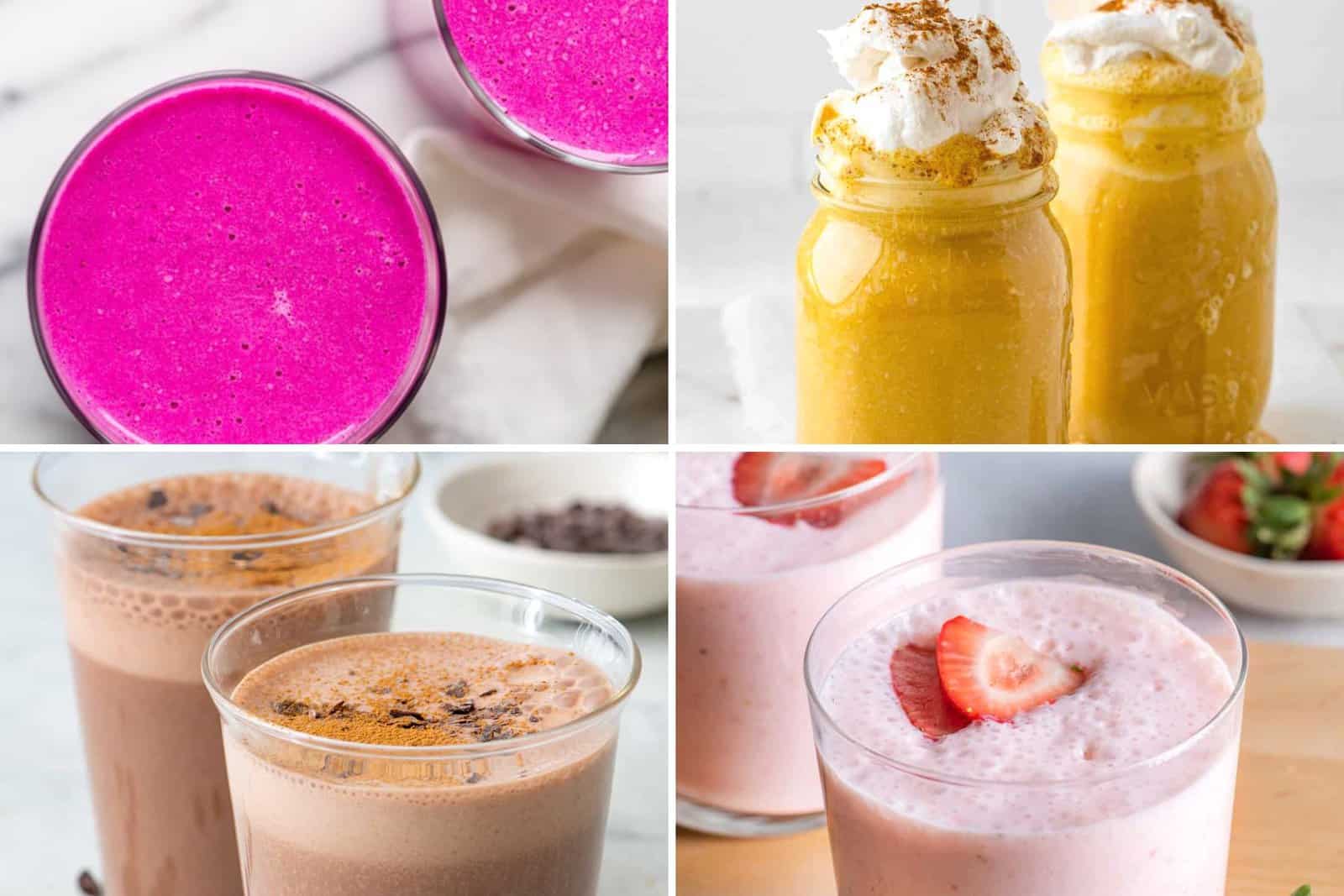 More protein powder recipes
Add some variety to your protein intake by experimenting with protein powder recipes that go beyond the typical shake!
Protein Powder Oatmeal with Bananas – Need to add some muscle to your oatmeal? Try this easy and nutritious breakfast recipe that combines whey protein powder and chia seeds. You can whip it up in no time and give your day the protein boost it deserves!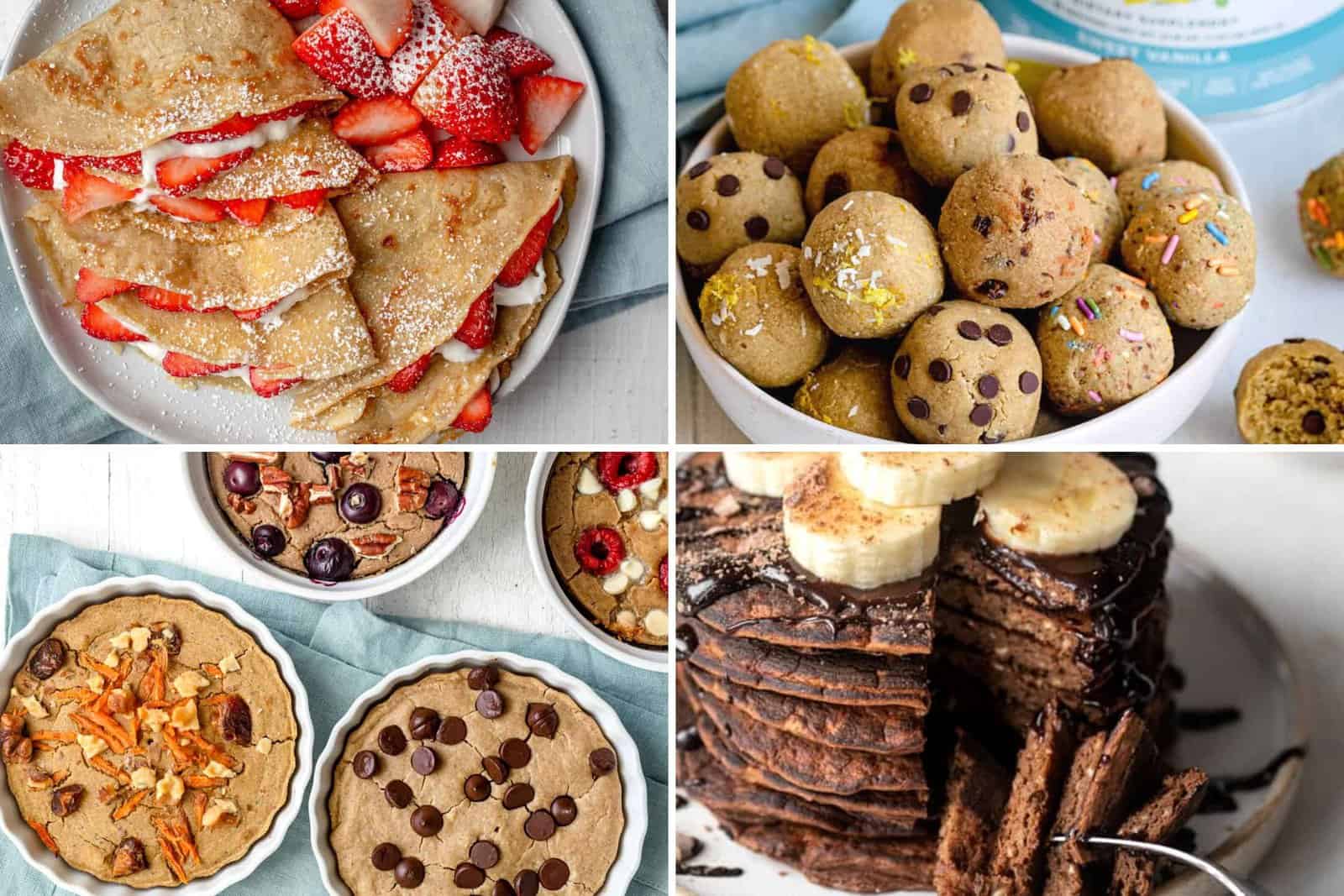 frequently asked questions
How should I store protein powder?
Protein powder should be stored in a cool, dry place, away from direct sunlight and heat sources. It's best to keep it in its original container or a sealed container to prevent moisture and air exposure.
Can I use protein powder if I'm lactose intolerant?
Yes, you can use protein powder if you're lactose intolerant. Many protein powders are made from non-dairy sources such as pea protein, soy protein, or rice protein, making them suitable for those who are lactose intolerant.

Be sure to check the label and ingredient list carefully before purchasing to ensure that the protein powder is free from lactose or any other dairy-derived ingredients. You may also want to consider choosing a protein powder that is specifically marketed as lactose-free or dairy-free.
Can protein powder substitute whole foods in my diet?
Protein powder should not replace whole foods in your diet completely. Whole foods provide essential nutrients not found in protein powder and offer a more sustainable source of energy. It's best to have a balanced diet that includes both whole foods and protein powder as a supplement, not a replacement.
That concludes our guide on incorporating protein powder into your recipes! It's a fantastic way to make your meals more nutritious and filling, no matter what you're making – protein powder can be a versatile and convenient ingredient to have on hand. With these recipes and tips, you can easily add protein powder to your meals and reap all its benefits.
full list of recipes
Check out the picture cards for all the recipes listed above. You can click on any of the recipe cards to take you directly to those recipes.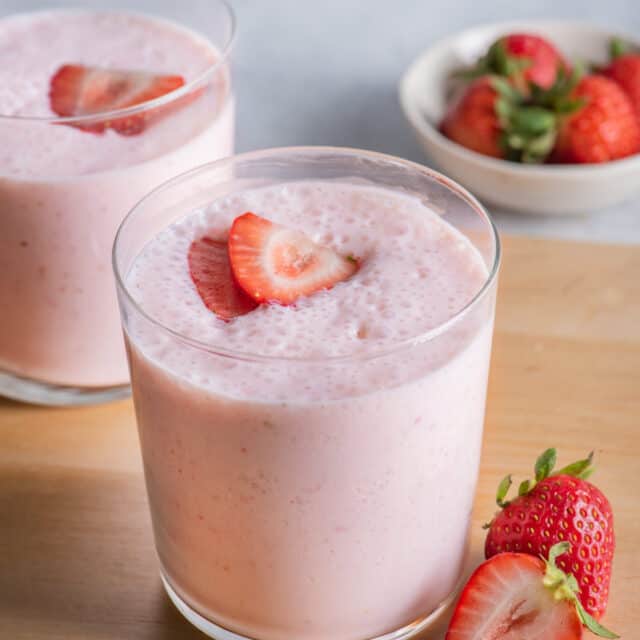 Beverages
This Strawberry Protein Smoothie is creamy and rich with a natural sweetness from the fruit and loaded with protein to give you energy & fuel!
Beverages
Dragon Fruit Smoothie is made with only 5 ingredients. It has a beautiful magenta color and you can make it in 2 minutes – a great treat for the tastebuds!
Beverages, Breakfast
Easy and quick to make with just 5 ingredients, this Pumpkin Pie Smoothie is perfectly spiced and packed with protein for breakfast or a treat
Smoothies
This Breakfast Coffee Smoothie is your morning meal on-the-go with everything you need to get you going – coffee, oats, banana, milk and protein powder.
Breakfast
Bulk up your oatmeal with protein using whey protein powder and chia seeds with this simple nourishing breakfast that you can make quickly!
Snack
These vegan protein bars are a great post workout snack or great for a healthy energy boost. Made with no refined sugar, they are gluten-free and dairy-fee.
Breakfast
These vegan protein baked oats are perfect for make ahead breakfasts. Choose from 4 different flavors for a healthy and delicious breakfast the whole family will love!
Breakfast
Quick & easy to make, these strawberry protein crepes are egg-free, dairy-free and a magical start to your day; made with plant-based protein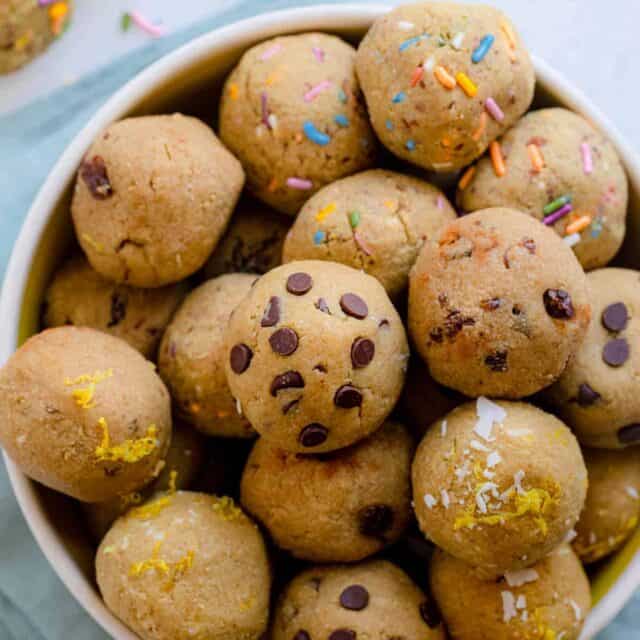 Snack
Boost your energy with this simple no bake 4-ingredient protein balls recipe. Choose from 4 delicious flavors -gluten-free and vegan friendly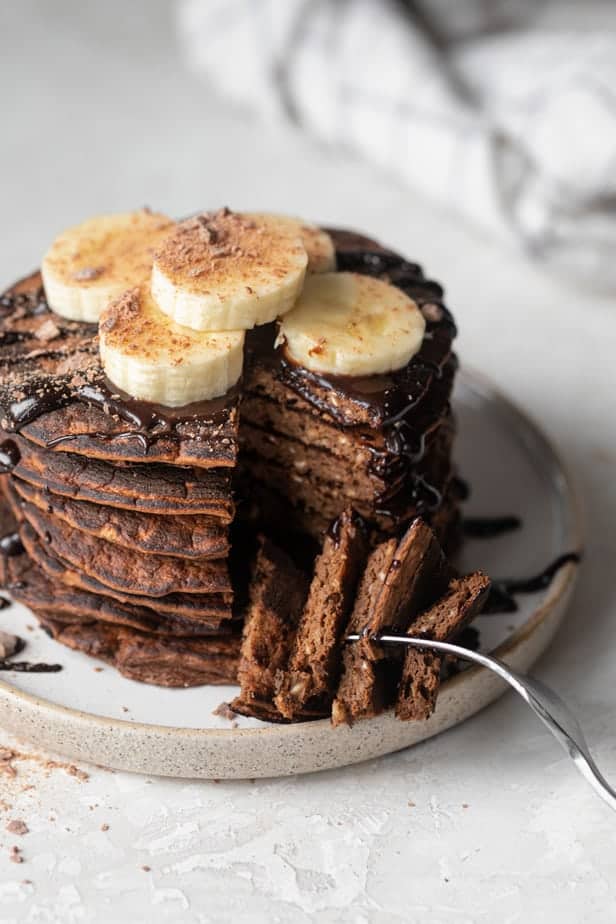 Breakfast
Chocolate Protein Pancakes are a gluten-free breakfast pancake recipe that are made with no flour, but oats and protein powder! Each serving has 15g protein
For more similar roundup of recipes, be sure to check out: Best Avocado Recipes, Recipes Using Tahini, Plant-based Dinner Ideas, and Oat Recipes.
If you found this recipe roundup for for Protein Powder Recipes helpful or if you try any recipe on Feel Good Foodie, then don't forget to rate the recipes! It helps others who are thinking of trying out this tutorial and we would love to hear about your experience. And if you snapped some shots, share it on Instagram so we can repost on Stories!