This post may contain affiliate links. Please read our disclosure policy.
This quick tutorial will walk you through how to clean an air fryer inside and out! Cleaning an air fryer might seem daunting at first, especially with all the bits and pieces stuck to the basket and grease splattered all over. But I assure you, it's not as hard as you think. This post will guide you step-by-step on how to clean an air fryer, from the basket to the heating element, ensuring you can keep it in top-notch condition for many more meals to come. So, grab your scrub brush, and let's get started!
Table of Contents
While cooking and cleaning go hand in hand, deep cleaning your air fryer may seem daunting at first, but no matter what size or type of air fryer you have, you'll be surprised at how simple it really is.
This guide includes information on how to clean stubborn, stuck-on grease from an air fryer basket, what to avoid when cleaning an air fryer, and some air fryer cleaning hacks. I even share some of my favorite easy air fryer recipes.
Why is it important to clean an air fryer?
Keeps it working at its best! Did you know that cleaning your air fryer regularly helps it work better? When grease and food particles build up, they can block airflow and heat distribution, leading to uneven cooking and longer cooking times. Keeping it clean ensures optimal performance and delicious results every time. So, give your air fryer some TLC for crispy perfection!
Unpleasant smells and flavors. Don't let lingering odors ruin your next meal! Food particles and oil residue can build up in your air fryer after cooking, affecting the flavor. Keep things appetizing by giving it a quick clean to prevent this issue.
Food safety is important. Make cleaning your air fryer a priority to avoid the potential for bacteria, food particles, and grease buildup. No one likes a side of upset stomach with their perfectly air fried salmon!
Becomes harder to clean. Letting grease and food bits accumulate will make it harder to clean later, so it's best to make cleaning a regular part of using it.
When & How Often to Clean Your Air Fryer
Clean the grease from the air fryer basket and grate every time you use it. Clean the inside, the heating element, and the exterior weekly to avoid greasy build-up.
For extra stubborn messes, use vinegar and baking soda. See how below!
What to Avoid When Cleaning an Air Fryer
When it comes to cleaning your air fryer, simplicity is key. However, there are a few tools and products you should steer clear of to ensure your air fryer stays in excellent condition for years to come.
It's also important to consult the manufacturer's instructions, as cleaning methods can differ depending on your specific air fryer model. By following these guidelines, you'll keep your air fryer in tip-top shape and enjoy its benefits for a long time.
Disinfectant sprays or wipes. Most disinfectant products aren't designed to be used on surfaces where you cook your food. It's best to avoid any potential cross-contamination by sticking to cleaning methods specifically recommended for your air fryer.
Metal utensils or harsh abrasives. Don't use metal utensils or harsh abrasives, such as steel wool. The basket and grate have a delicate nonstick coating that can get scratched and damaged by these tools. Keep your air fryer in top condition by opting for utensils and cleaning methods that are gentle and non-abrasive.
Submerging in water. Never submerge the air fryer appliance in water, as it can damage the electrical unit and make it unsafe for use. However, you can safely clean the air fryer basket and grate by placing them in water. So, remember to keep the appliance dry while giving the removable parts a good cleaning. Safety first!
HOW TO clean an air fryer properly
Before diving into cleaning, make sure that the basket is unplugged and has completely cooled down. Next, gather your cleaning supplies: a nonabrasive sponge, washcloth, and brush.
Use soap and water to clean the air fryer basket, and if there are any stubborn, baked-on food residues, you can soak the basket in warm, soapy water or try one of the nifty cleaning hacks mentioned in the next section. Let's get that air fryer shining!
How to clean an air fryer basket
Fill the air fryer basket with warm soapy water with the grate still inside.
After a few minutes, lift up the grate and use a scrub brush to remove debris. A brush works wonders for the grate because it helps to get into all the nooks and cranny spots and sponge may not reach. Once the grate is cleaned, set it to the side.
how to clean grease from an air fryer basket
Add a small amount of dish soap to a damp, soft cloth or sponge. Wipe the grease and food bits out of the inside of the air fryer basket. You may need to use a little elbow grease to loosen up any gunk on the bottom.
Once the inside is clean, wipe it with a clean, dry cloth.
Clean the heating element and appliance
To easily access the heating element, turn the air fryer upside down. This will make accessing and cleaning this part of the machine much easier. Then, dampen a sponge or cloth with water and gently wipe off the heating element. Dry with a clean, dry cloth.
After the inside of the machine is cleaned, finish by wiping the outside of the air fryer with a damp cloth and wipe it down with a clean, dry towel.
Reassemble. Reassemble the air fryer once all the parts of the air fryer are completely dry.
air fryer cleaning hacks
These three fantastic cleaning hacks use vinegar and baking soda to help you achieve a sparkly clean air fryer basket. This combination is perfect for cleaning any baked-on grease on your air fryer without using heavy or harsh chemicals that could damage your appliance. Get ready to say goodbye to stubborn grease and built-up food debris!
clean air fryer with vinegar and baking soda
Use a paste of baking soda and water. When soaking isn't enough to clean the air fryer basket, spread a thick baking soda paste on the surface and let it sit for a few minutes before scrubbing with a soft scrub brush. You can also add this paste to a soft cloth, spread it on the inside of the air fryer, and clean off built-up grease and grime.
Equal parts vinegar and warm water. Using vinegar to clean the air fryer will deodorize it and loosen stuck-on food. Mix equal parts vinegar and warm water, use this solution in a spray bottle, and spray it on the inside of the air fryer. You can also pour the vinegar and water mixture into the basket and allow it to soak for easy cleaning.
Paste of baking soda and vinegar. For tough-to-remove grease and grime in the air fryer basket, use a thick mixture of baking soda and vinegar and spread it on the baked-on food. Let it sit for a couple of minutes, then scrub it off with a soft brush. Rinse thoroughly.
air fryer recipes to try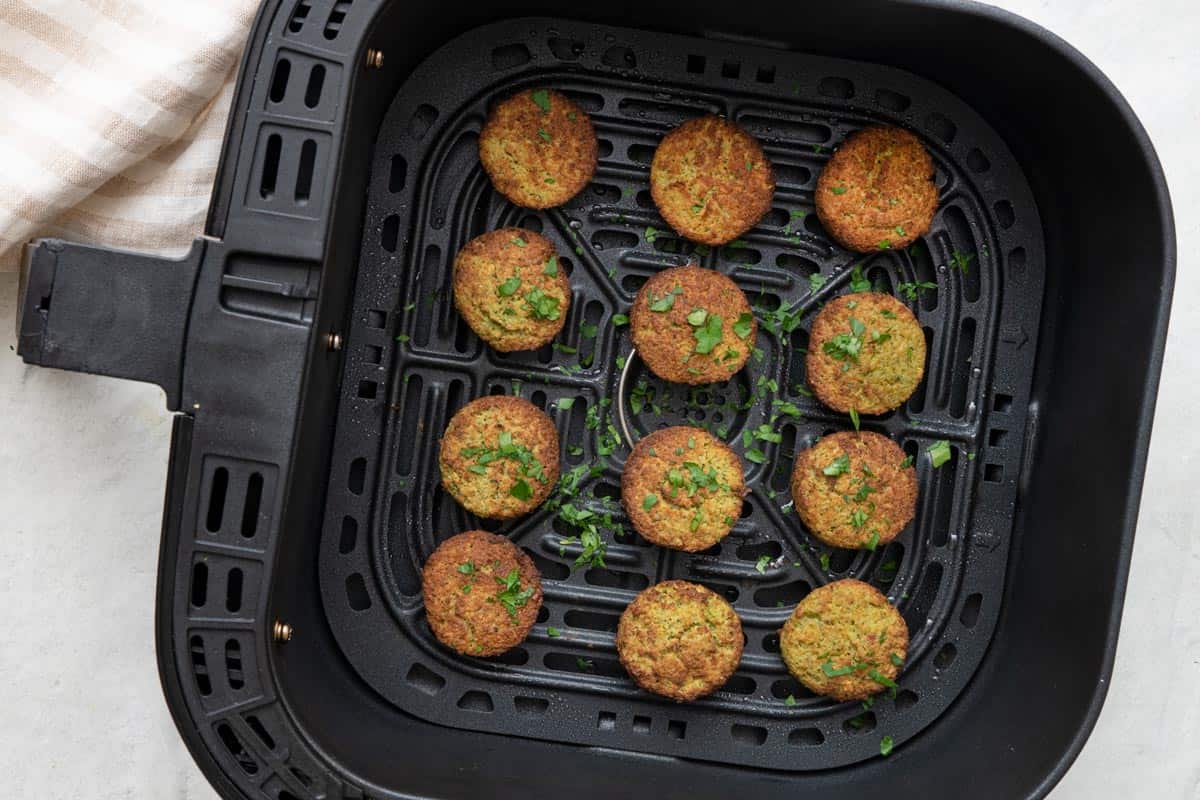 FREQUENTLY ASKED QUESTIONS
What products do I need for cleaning the air fryer?
Common household supplies: mild dish soap, a soft sponge or cloth, a soft-bristle brush, warm water, and non-abrasive cleaning pads if needed. Check the manufacturer's instructions for specific cleaning methods.
How often should I clean my air fryer?
To avoid greasy buildup, it's recommended to at least clean the basket and grate after each use or every few uses, depending on what you cooked. The heating coil doesn't require cleaning as frequently, but it's a good idea to clean it periodically to maintain optimal performance.
Can I use foil or parchment paper to reduce messes in the air fryer?
Yes, both foil and parchment paper can be used in an air fryer to line the bottom, preventing direct contact between food and the basket while catching any drippings. However, it's important not to cover the entire basket as it will block airflow and cause your food to cook unevenly. Additionally, ensure that the paper or foil does not come into direct contact with the heating element.
Can you use a degreaser on an air fryer?
Avoid using degreasers in your air fryer. Stick to mild dish soap and warm water for safe cleaning, or use a mixture of baking soda and water when needed.
Cleaning your air fryer regularly using basic household products is key to keeping it in great shape. With just some mild soap, warm water, and gentle tools, you can easily remove grease and residue. By taking care of your air fryer, you'll ensure its longevity and continue enjoying its benefits.
MORE useful How-To's:
If you found this tutorial for How to Clean an Air Fryer helpful or if you try any recipe on Feel Good Foodie, then don't forget to rate the recipe and leave a comment below! It helps others who are thinking of trying out this tutorial and we would love to hear about your experience. And if you snapped some shots, share it on Instagram so we can repost on Stories!
How to Clean an Air Fryer
Learn how to clean your air fryer the right way to avoid damaging it. Getting stuck on grease off, has never been easier!
Ingredients
sponge

dry towel

soft cleaning brush

dish soap
Instructions
Unplug the air fryer and let it cool down.

Remove the basket from the air fryer. Most models have a removable basket that can be easily lifted out.

Empty the contents of the basket into the trash. Be sure to shake it out well so that any small bits of food are removed. If you have stuck on food clogging up the holes, you can use a toothpick to help remove them. Do NOT use metal in your air fryer basket. Wash with warm soapy water with a soft cloth or scratch-proof sponge and let dry.

Wipe down the inside of the air fryer with a damp cloth. You may need to use a little bit of soap to remove any stubborn grease or food stains. Be sure to dry it off completely before moving on to the next step.

Replace the basket and put it back into the air fryer.

Wipe down the outside of the air fryer with a damp cloth. Again, you may need to use a little bit of soap to remove any fingerprints or smudges.
Nutrition information provided is an estimate. It will vary based on cooking method and specific ingredients used.