This post may contain affiliate links. Please read our disclosure policy.
Air fryer shrimp are so quick and easy to make and they are just as good, if not better, than one of your favorite restaurant appetizers. Made in the air fryer, these healthier fried coconut shrimp are made with just a handful of ingredients and without the need for a lot of oil. It's so quick and easy to cook shrimp in the air fryer and this recipe is my favorite!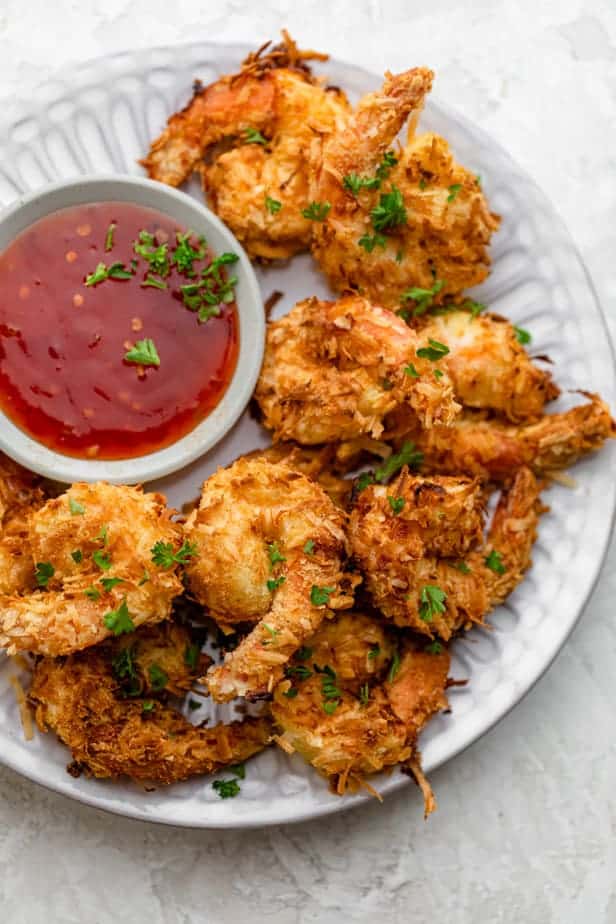 I can't tell you how delicious this coconut shrimp recipe is! Wonderfully crispy and succulent, but so much better for you! Perfect as an appetizer, party snack or to add to your dinner salad.
Ingredients
Shrimp: Use large shrimp for this recipe. If using frozen, make sure they are fully thawed. Peel and devein them, but keep their tails on so that they are easy to pick up.
Flour: Use all purpose flour for the coating. Use a 1:1 GF flour or coconut flour if you have an intolerance to wheat.
Eggs: So that the coating sticks to the shrimp.
Coconut: Use unsweetened shredded coconut.
Breadcrumbs: I like to use panko breadcrumbs to get a really nice crispy crust.
How to make this air fryer shrimp recipe
Set up your dredging station with the flour mix (flour and spices) in one bowl, beaten eggs in a second, and the panko and shredded coconut in a third. Make sure to dry the shrimp well but keep the tails on to make it easier to dip them when they're done cooking. Plus, they are just cuter that way haha.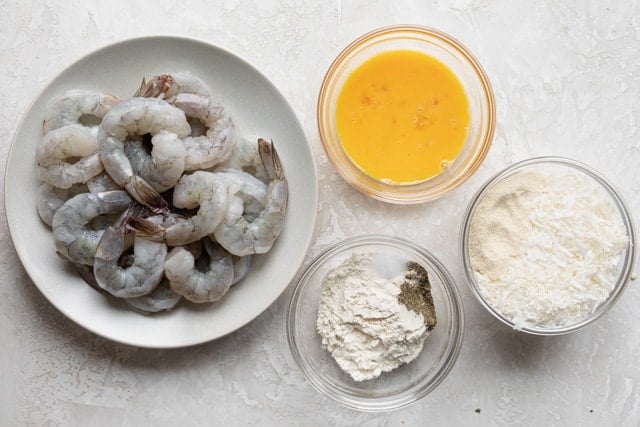 One by one, dredge each shrimp in the flour, then the eggs and then the panko mixture. Gently push the panko mixture onto the shrimp to make sure it adheres. Place on a baking tray until you have coated all of the shrimp.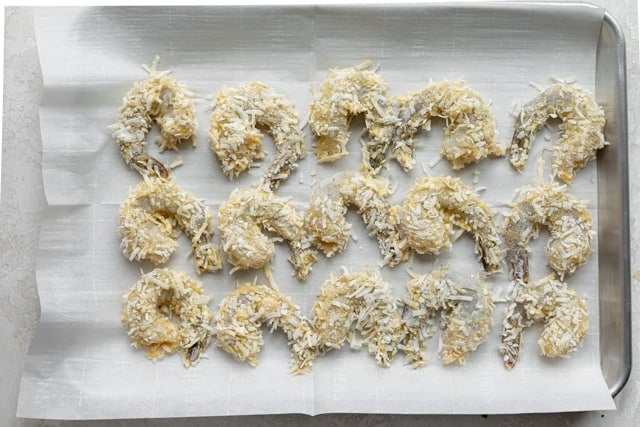 Now you're ready to add them to the air fryer. For a pound of shrimp, I found it best to work in two batches to ensure that the coconut shrimp are not touching in the basket. Cook for 10 minutes and flip halfway through cooking for extra crispy edges.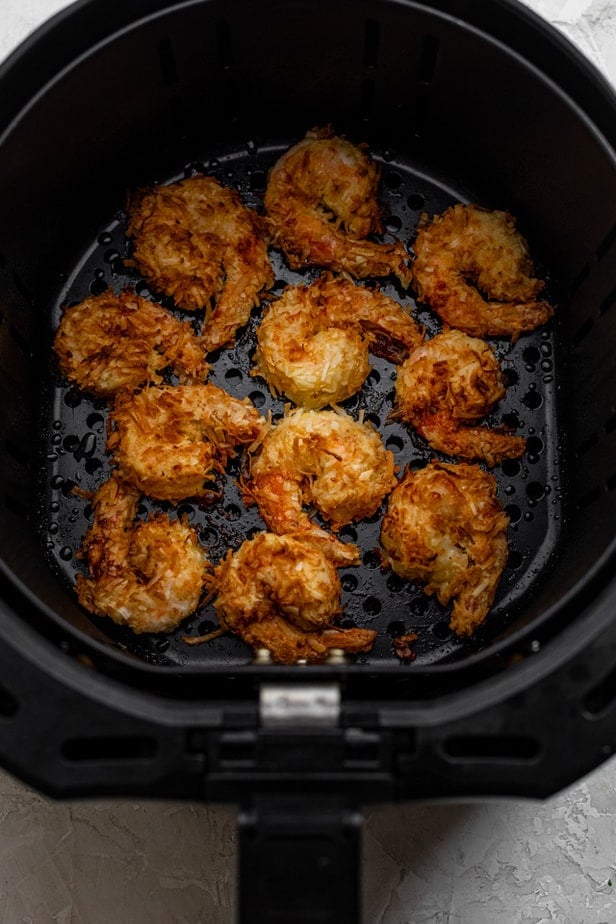 When they're done, they will be golden brown on the outside with crispy edges from the panko and coconut. Shrimp doesn't need a long time to cook but you can watch them closely in case you use shrimp that might be smaller in size. That's the beauty of the air fryer…you can open the tray any time to check on the coconut shrimp.
Tips for making this recipe
Use fresh or frozen shrimp based on availability. If you use frozen shrimp, make sure to fully defrost them before you coat and air fry them. Any extra ice on the shrimp will impact the final results.
Pat the shrimp dry to remove any excess water before you coat it. This will help the shrimp to get really crispy, if there is excess moisture the air fryer shrimp can steam and become soggy.
Don't overload the air fryer basket. The shrimp should be in one layer with space in between them, so they're not touching. This helps to make sure the air fryer shrimp is crispy.
Make it gluten-free by swapping the all-purpose flour for coconut flour. That also adds an extra subtle coconut flavor so it's a win/win.
Frequently asked questions
How long does this shrimp last?
Store any leftovers in an airtight container. They will last up to 3 days in the fridge. Reheat in the microwave, in a skillet with a little olive oil, or in an air fryer before serving. You can also freeze the cooked shrimp for up to 3 months.
Why air fry instead of deep fry?
My air fryer has become one of my most used kitchen appliances. It's a great way to enjoy your favorite deep fried foods but without the need for all of that oil. The shrimp comes out perfectly crispy and light, and they stand up to any restaurant dish!
How long does it take for shrimp to cook in an air fryer?
Shrimp in the air fryer takes between 10 and 12 minutes to cook through depending on the size of your shrimp. Be sure to flip them halfway through cooking so that they are crispy all over. If you have an instant read thermometer, the shrimp is cooked when it reach 165ºF.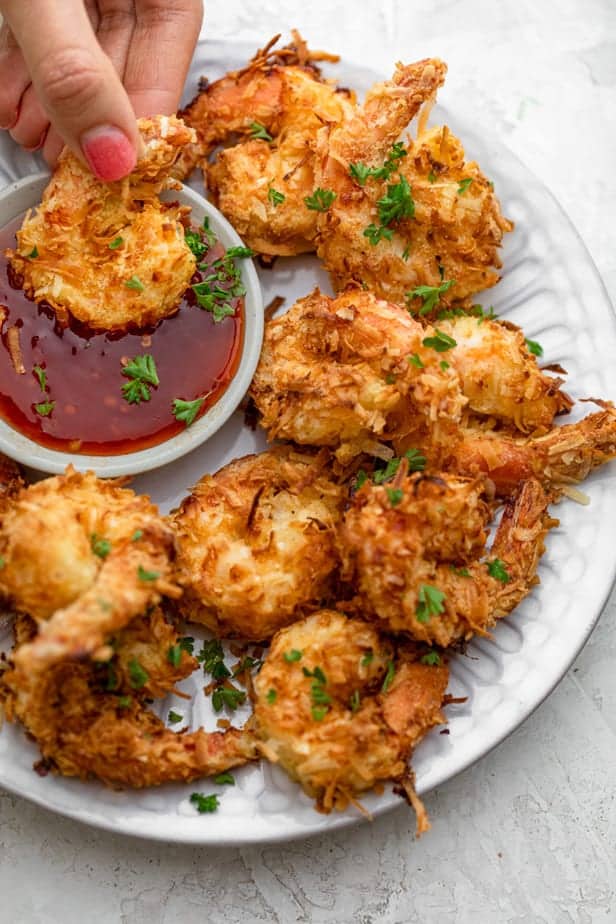 More shrimp recipes:
More air fryer recipes:
Hope you're making use of your air fryer to recreate lots of deep-fried restaurant foods in a healthier way with less fat and less calories. Coconut shrimp is one of those recipes that packs in a lot of good fats from the shrimp, so it's best to limit the saturated fats that come with deep frying by using the air fryer.
If you've tried this healthy Air Fryer Coconut Shrimp recipe or any other recipe on FeelGoodFoodie, then don't forget to rate the recipe and leave me a comment below! I would love to hear about your experience making it. And if you snapped some shots of it, share it with me on Instagram so I can repost on my stories!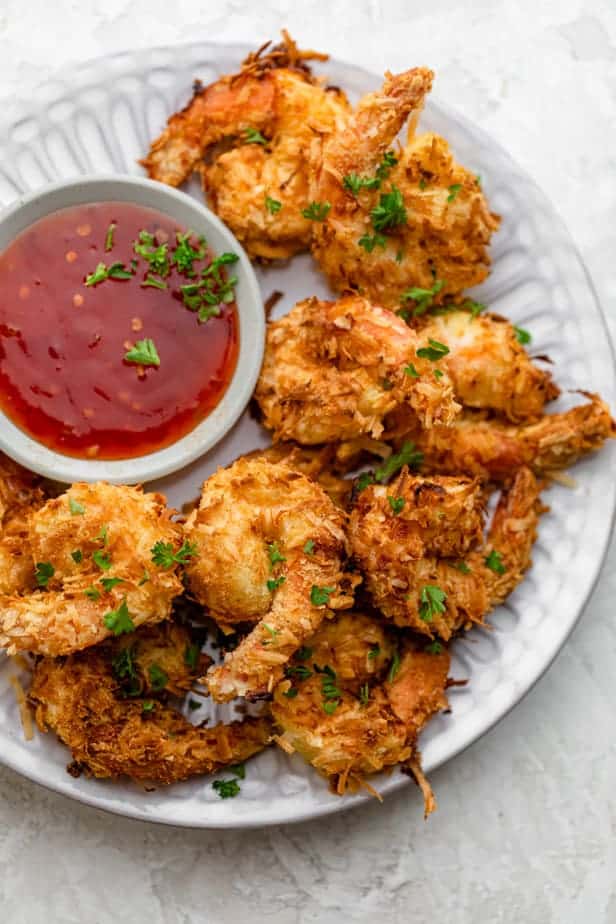 Air Fryer Coconut Shrimp
This Air Fryer Coconut Shrimp recipe is like your favorite restaurant style version but only healthier because I skip the heavy oil and deep frying method
Instructions
Preheat the air fryer to 360°F. When heated, spray the basket with cooking spray.

Combine the flour, garlic powder, salt and pepper in one shallow bowl. Whisk the eggs in a second shallow bowl. Then combine the shredded coconut and panko breadcrumbs in a third shallow bowl.

Dip the shrimp into the flour mixture, shaking off any excess. Then dredge the shrimp into the eggs, and finally into the coconut panko mixture, gently pressing to adhere.

Place the coconut shrimp in the air fryer so they are not touching, and spray the top of the shrimp. Cook for 10-12 minutes, flipping halfway through.

Garnish with chopped parsley, and serve immediately with sweet chili sauce, if desired.
Notes
Storage: Store any leftovers in an airtight container. They will last up to 3 days in the fridge. Reheat in the microwave, in a skillet with a little olive oil, or in an air fryer before serving.
Freezing Instructions: You can freeze the coconut shrimp for up to 3 months. Cool them completely then store them in an airtight bag after. To re-heat, thaw in the fridge overnight and bake in a 350°F oven until heated through.
Substitutes: For best results, follow the recipe as is. However here are some common substitutes that would work well in this recipe.
Instead of the eggs, you can use flax eggs. Replace each egg with 1 tablespoon ground flaxseed + 3 tablespoons water. Let the mixture sit for 10 minutes before dredging the shrimp in it. You can also use low-fat buttermilk.
Instead of all-purpose flour, you can use almond flour or coconut flour.
If you prefer not to use breadcrumbs, you can just use the shredded coconut, although they will not be as crispy on the outside.
Nutrition
Calories:
304
kcal
,
Carbohydrates:
13
g
,
Protein:
28
g
,
Fat:
15
g
,
Saturated Fat:
11
g
,
Cholesterol:
368
mg
,
Sodium:
1237
mg
,
Potassium:
216
mg
,
Fiber:
3
g
,
Sugar:
2
g
,
Vitamin A:
119
IU
,
Vitamin C:
5
mg
,
Calcium:
188
mg
,
Iron:
4
mg
Nutrition information provided is an estimate. It will vary based on cooking method and specific ingredients used.