This post may contain affiliate links. Please read our disclosure policy.
This recipe for Breaded Air Fryer Chicken guarantees perfect results every time. It is easy to make and is a great healthy weeknight meal. Air Fryer chicken breast is crispy and succulent, it's the best way to fry chicken! Lower in fat and calories, fried chicken in an air fryer is now my go to!
The first thing I made with my new air fryer was air fryer potatoes! And the second thing I made was this breaded air fryer chicken. I think those are two essential recipes that most people test out first in an air fryer. Once I tested both and realized how flavorful and easy the recipes were, the air fryer was my new BFF. If you just bought an air fryer and looking for beginning recipes to get you started, start with these two!
You can do straight air fryer chicken if you wanted to, but I think that tastes better on a skillet cooked on the stovetop. But breading the chicken and air frying it creates a golden crisp and very juicy flavorful chicken. It tastes like healthy fried chicken. I used very thinly sliced chicken breast, so these were done in minutes and pair so well with a salad!
What is an Air Fryer?
As the name suggests an air fryer uses air to "fry" food. It's a kitchen appliance that basically cooks food by using Rapid Air Technology. Think of hot air circulating really fast around a metal mesh cooking basket that contains your food. Because of this speed and hot air combination, an air fryer requires little or no oil. But the end result still gives you that crispy "fried" like food.
Is air fried chicken healthy?
The whole concept of an air fryer is fast-circulating air at very high temperatures. In this process, the moisture from the outside of the chicken gets evaporated, creating a crisp crust. So you get the texture of fried food without frying the chicken in a whole pan of oil.
This way you'll make chicken healthier because it will have less fat and less calories from not using much oil for cooking. Just like oven baked chicken is healthy, air fried chicken is healthy – of course as part of an overall balanced diet.
How to make breaded air fryer chicken breast
Traditionally, you can bread chicken by dredging it in flour, eggs and breadcrumbs. I made this a little healthier by skipping the flour and eggs. Instead I start with thinly sliced chicken breasts, spray them with olive oil, and then dredge them in seasoned breadcrumbs. The oil helps the breadcrumbs stick to the chicken and create that crisp exterior.
Make sure to cover it completely, which will seal in the moisture and keep the chicken juicy.
Many people will ask "how long do I cook chicken in the air fryer?" This will depend on the thickness and cut of the chicken, along with whether or not it has skin. Chicken thighs with skin will take the longest, up to 30 minutes. Chicken tenders without skin will only take 10-15 minutes.
These super thinly sliced chicken breasts (1about ¼ inch thick) only take 9-12 minutes. So they are the easiest and fastest to cook! As always, you can check that the internal temperature of the chicken breast reaches 165°F. I cooked mine in the NuWave air fryer (affiliate link).
While I coated the chicken with cooking spray before adding the breadcrumbs, it's not necessary to also spray with oil on the outside. I tested two with oil (top pictured) and two without oil (bottom pictured). And they pretty much tasted the same. But the one with oil just had a more golden color.
I love how easy this recipe is in the air fryer and how versatile it is for meals. The texture is similar to a Schnitzel, so don't expect KFC chicken haha. You can eat it with a side of rice and veggies, throw it into a large salad or next to a side salad or even cut it up and add to sandwiches/wraps. My kids absolutely love this recipe and just eat it straight up with ketchup.
Tips for making fried chicken in an air fryer
Adjust temperature setting according to your air fryer. There are many brands and models of air fryers so they all differ in their settings. You may even find that following my exact temperature and time may not be right for your specific air fryer. So use this as a suggestion and tweak to your own.
Don't overcrowd the basket. It's tempting to throw in a lot of pieces of chicken in there at once. But if you overcrowd the basket and the chicken overlap, you may end up creating a steaming effect instead of crisping effect. If you run out of space, you can also place the chicken on the walls of the air fryer, which works pretty well.
Flip the chicken halfway through. The air will circulate all around the chicken, but you'll get more even crispiness if you flip the chicken halfway.
Frequently Asked Questions
Do air fryers really work?
I'm pretty sure the results speak for themselves! Look how golden brown the breaded chicken breast is! I also love how easy and mess free it is!
Can you cook frozen chicken in an air fryer?
The good news is, that yes, you can cook frozen chicken in the air fryer! You will need to add between 5 to 12 minutes extra cooking time, depending on how thick your chicken is.
What kind of oil do you use in air fryers?
You can use any kind of grilling or frying oil in an air fryer, as well as animal fat. I like to use avocado oil as it has a high smoke point. Do not use a cold pressed oil, as this can burn at a high temperature.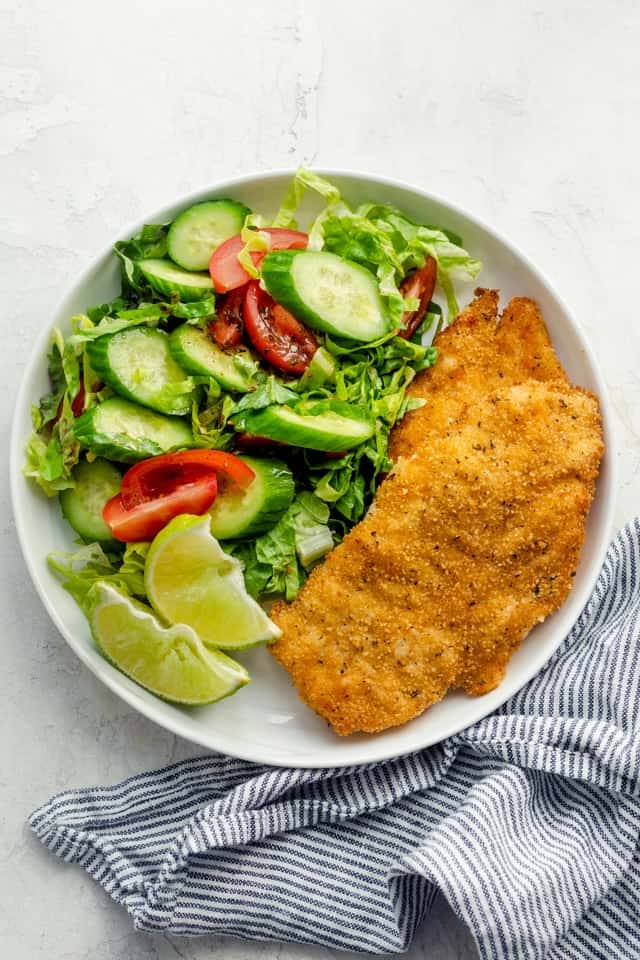 Making air fryer chicken is so easy. It's a healthier way to enjoy crispy juicy chicken without all the calories and fat of traditional fried chicken. Plus it takes barely 10 minutes in the air fryer, and the result is tender flavorful chicken that takes less time than cooking it in the oven or even stovetop.
For more air fryer recipes:
And for more healthy chicken recipes:
If you've tried this healthy-ish feel good Breaded Air Fryer Chicken recipe or any other recipe on FeelGoodFoodie, then don't forget to rate the recipe and leave me a comment below! I would love to hear about your experience making it. And if you snapped some shots of it, share it with me on Instagram so I can repost on my stories!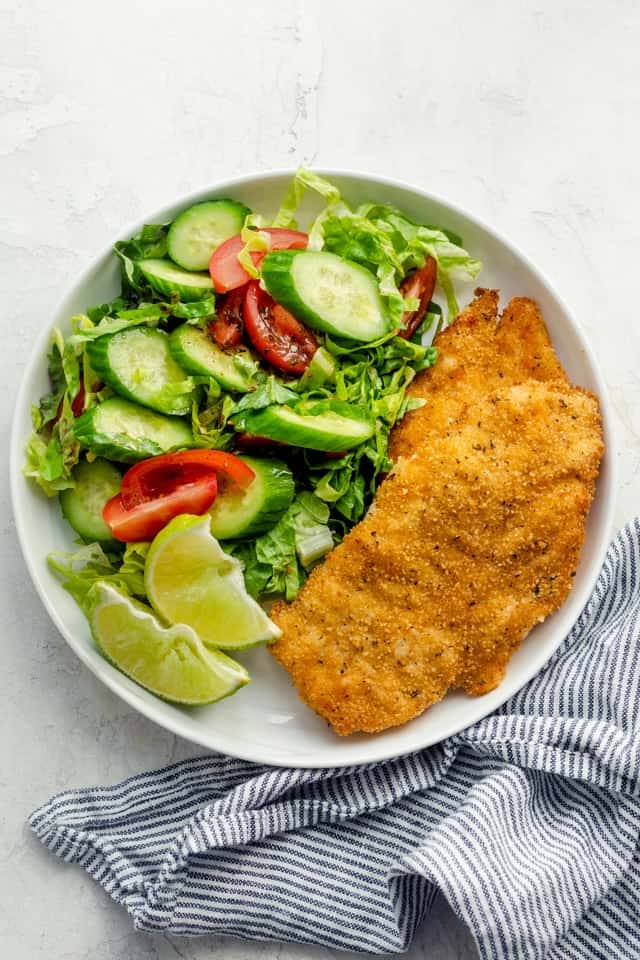 Breaded Air Fryer Chicken
This Breaded Air Fryer Chicken is a healthier alternative to fried chicken. It's made with less oil, so it has less fat/calories but is still juicy & tender
Instructions
Preheat the air fryer to 390°F.

In a medium bowl, mix the breadcrumbs with oregano, paprika and garlic powder until well combined.

Spray the chicken with cooking spray, then dredge in the breadcrumbs mixture. Shake off excess breading. Repeat for the remaining chicken.

Spray the air fryer pan with cooking spray. Then spray the outside of the breaded chicken with cooking spray, if desired. Place the chicken in the basket of the air fryer, without over crowding the pan. You may need to work in batches.

Cook 5 minutes. Turn chicken and spray with additional cooking spray; cook until chicken is golden brown, about 4-7 more minutes. Cook time will depend on the size and thickness of your chicken breasts.

Remove and enjoy immediately with a side salad, if desired.
Notes
Storage: Store any leftovers in an airtight container. They will last about 3-4 days in the fridge. To reheat, just place in the airfryer at 360°F for 2-3 minutes until heated through and crispy. You can also reheat in the microwave but the chicken won't retain its crispy texture that way.
Make Ahead Tips: To make the recipe even faster, you can assemble the breading ahead of time or use seasoned breadcrumbs
Substitutes: For best results, follow the recipe as is. However you can switch out the spices if you'd like. You can also use panko breadcrumbs instead of traditional breadcrumbs.
Equipment: I just bought the NuWave air fryer a couple months ago and I used this to make this recipe and many more recipes. It's easy to use with guides on the appliance, easy to clean up and I've been very happy with the results!
* Please note the nutrition label does not include any dip or sauce.
Nutrition
Calories:
221
kcal
,
Carbohydrates:
5
g
,
Protein:
37
g
,
Fat:
4
g
,
Saturated Fat:
1
g
,
Cholesterol:
108
mg
,
Sodium:
246
mg
,
Potassium:
642
mg
,
Vitamin A:
65
IU
,
Vitamin C:
2.1
mg
,
Calcium:
21
mg
,
Iron:
1
mg
Nutrition information provided is an estimate. It will vary based on cooking method and specific ingredients used.