This post may contain affiliate links. Please read our disclosure policy.
Here's my guide on how to use an air fryer with times on how long to cook everything, well, almost. Do you have an air fryer sitting in your kitchen? It is good for much more than just heating up frozen chicken nuggets. Air fryers are fantastic for cooking vegetables, seafood, and much more. In this guide, I'll give you tips on how to use an air fryer to cook chicken, fish, beef, vegetables, and even frozen items!
For the uninitiated, an air fryer is a countertop appliance that uses a strong convection oven – an oven that blows hot air around – to cook food by rapidly "frying" it with hot air instead of oil.
Benefits of air frying
If you have an Instant Pot, a blender, a toaster, a microwave, and maybe a stand mixer, do you really want another countertop kitchen appliance to learn how to use? Fans of the air fryer say you do for the following reasons.
Avoid fat: For those looking to lower their cholesterol and fat intake rejoice; most recipes call for the smallest amount of cooking oil. For instance, when making sweet potato fries from two medium sweet potatoes, I use only two teaspoons of olive oil.
That yummy fried texture: Even the pickiest testers from America's Test Kitchen say that air-fried food closely mimics deep-fried food in a way that is nearly impossible to achieve in a conventional or even a conventional convection oven.
Crisp reheating: The microwave is great for rewarming liquids like tea and soup and terrible for other stuff like sandwiches, pizza, i.e., anything where structural integrity and crispness are the goals.
Save time: Small, protein-dense foods that will not require multiple batches – think boneless skinless chicken breasts or salmon fillets – cook very quickly in the air fryer. My salmon fillets take about 7 minutes.
Easier cleanup. Most air fryers have dishwasher-safe parts, and with the tiny amount of oil used, you avoid the mess of deep frying and the greasy sheet pans from oven frying.
Keeping a cool kitchen: Like a toaster oven, the air fryer is great when you don't want to unleash the heat of your full-sized oven in the kitchen.
How to select an air fryer
It is all about what you want to cook in your air fryer. The testers at Good Housekeeping liked these models. I love my air fryer because it's slim, has an easy-to-use display, has the fastest pre-heating I've tried, and is one of the easiest to clean! Here are a few things to ponder.
Size: The downfall of air fryers is their relatively small capacity. If you are cooking for a crowd of four or more, go bigger and still expect to cook some things like fries or broccoli in batches. Larger models can also give you the option of roasting bigger pieces of meat.
Dehydrating capability: Some models come with layered racks to facilitate this function. Those dried apples and other pricey bagged snacks? You can make your own.
Combo appliance: These are convection toaster ovens that combine the functions of an air fryer and a toaster oven. Often they are labeled "smart ovens."
Extras: The basic air fryer comes with a basket in which you place your food, but some air fryers also add broiler racks, extra stacking trays, or a rotisserie spit for chickens. Compare and contrast to find the features you care about.
Easy Presets: If you like things nice and easy, some models offer lots of buttons with preset times and temps.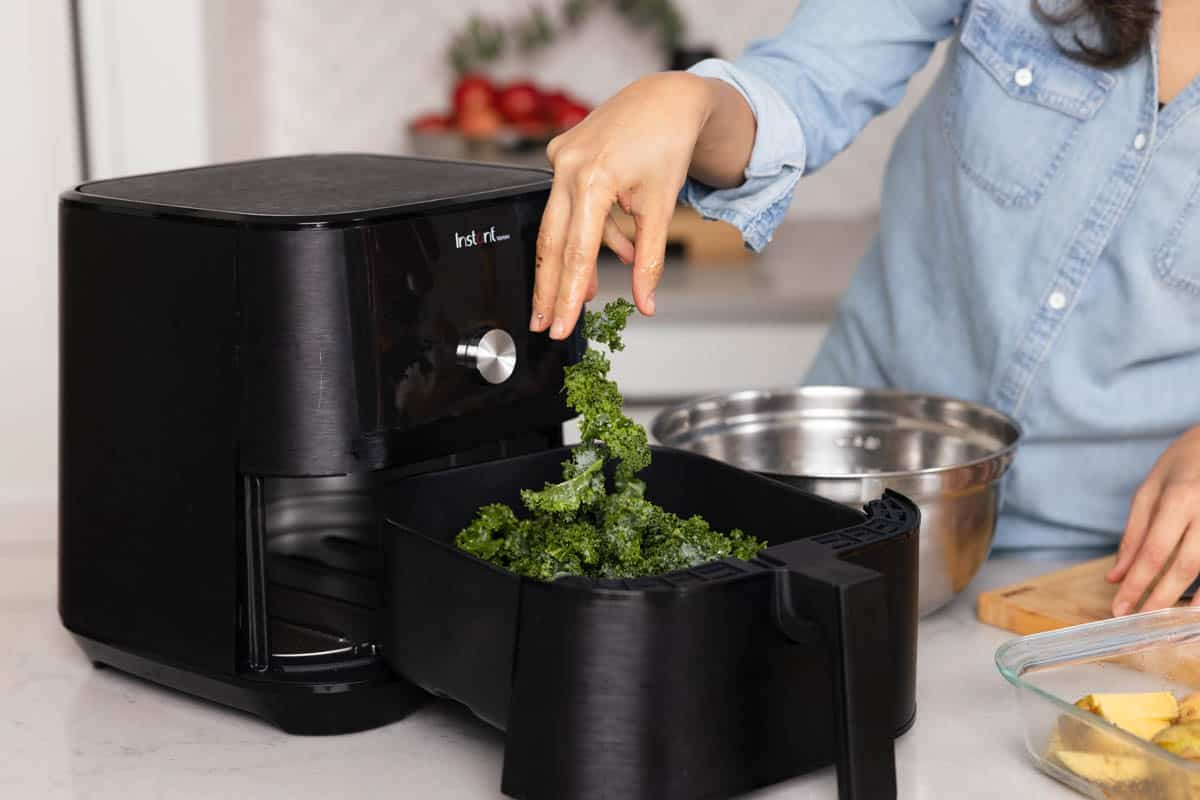 How to use an air fryer
Every machine is a little different. So, when it comes to how to use an air fryer, these times and temperatures should be taken as a starting point. Armed with this reference, I hope you start experimenting with your air fryer. Below, I have put together some suggested times and temperatures for common foods. I have based this on a guide by Jess Dang over at the meal planning service, CookSmarts, my own recipe testing, and various manuals. To begin, a few general tips.
Start with the directions and recipes that come with your machine or, in the case of Instant Pot products, the machine's downloadable app. Even with presets, pay attention to the volume of food specified.
Always keep in mind that the size and thickness of what you are cooking – whether it is shrimp, broccoli, or frozen pizza – will ultimately determine the timing. Check your food often. And shake as recommended in your manual.
For meat, poultry, and fish, the internal temperature is your ultimate guide to doneness. I always recommend using a thermometer to gauge doneness.
How to air fry beef
Time-wise, using an air fryer takes about the same amount of time as grilling steaks or burgers on a gas grill or grooved stove-top grill pan. However, using the air fryer to cook meatballs that you might otherwise fry in oil, will save you a ton of calories and fat. Air frying browns and crisps but will not produce sear marks.
Steak, 400°F, 6-10 minutes depending on doneness preferred
Burgers, 400°F, 8-10 minutes
Meatballs, 375°F, 8-10 minutes
How to air fry Chicken
New York Times, food writer and cookbook author Melissa Clark, found the air fryer excellent for cooking small amounts of food – like boneless chicken thighs – with a nice crust and speed. It helps that the air fryer heats up very quickly when compared to an oven.
Bone-in breasts, 375°F, 25-35 minutes
Boneless skinless breasts, 350°F, 10-20 minutes
Breaded thin chicken cutlets, 390°F, 9-12 minutes
Skin-on, bone-in drumstick or chicken thighs, 400°F, 15-20 minutes
Tenders, 390°F, 10 minutes
Boneless thighs, 375°F, 10-20 minutes
Wings, 380-400°F, 16-18 minutes
How to air fry seafood
Frying seafood and fish is double trouble between splattering grease and wafting odors. Air frying solves the first problem and seems to contain odors a little better, too. Keep in mind, when using a wet batter to coat your fish (or chicken,) freeze the raw product for a few minutes before frying to prevent splattering.
Salmon fillets: 400°F, 7-9 minutes
Shrimp,350°F, 5-10 minutes
Tilapia and other thin fish fillets, 400°F, 6-10 minutes
Breaded fish, 400°F, 10-15 minutes
Scallops, 400°F, 5 -10 minutes
How to air fry vegetables
Recipe testers agree that vegetables really shine when cooked in the air fryer. Brussel's Sprouts especially earn high marks for achieving a unique, tender crispiness. Vegetables with a high water content – like eggplant or summer squash – get a special dehydrating crunch from the air fryer's dry heat.
Asparagus,400°F, 6- 10 minutes
Bell Peppers sliced, 350°F, 7 -10 minutes
Broccoli, 400°F, 10 to 18 minutes, longer time for cooking from frozen
Brussels sprouts, 380°F, 10-12 minutes
Butternut squash, cubed, 400°F, 15 to 20 minutes
Baby or chopped carrots, 400°F, 10 to 20 minutes
Cauliflower, 400°F, 10 minutes
Cherry tomatoes, 350°F, 5 to 8 minutes
Eggplant, 400°F, 15 to 20 minutes
Green beans, 400°F, 8 to 10 minutes
Kale, sliced for chips. 375°F, 15 to 20 minutes
Zucchini slices or diced, 400°F, 10 to 12 minutes.
How to air fry potatoes
Potatoes in all forms are meant for the air fryer.
Whole potatoes, 400°F, 30 to 45 minutes
Whole sweet potatoes, 375°F, 30 to 35 minutes
Potato wedges, 380°F, 15 minutes
French fries, fresh cut, 375°F, 25 to 30 minutes
Sweet potato fries, 380°F, 12 minutes
How to air fry frozen items
Heating up crisp chicken nuggets, frozen dumplings, fish sticks, and all manner of snacks is turning into one of the air fryer's most popular uses.
Chicken nuggets, 350°F, 10 minutes
Frozen french fries, 400°F, 15 minutes
Fish sticks, 350°F, 10 minutes
Hash browns, 400°F, 10 minutes
Onion rings, 350°F, 10 minutes
Personal pizzas, 325°F 10-12 minutes
Potstickers or dumplings, 400°F, 5 to 10 minutes
Tater tots, 400°F, 10 minutes
My favorite air fryer recipes
how to clean your air fryer
Air Fryers, like all appliances, need to be cleaned after use, and each one has its own set of cleaning instructions. Below, I'll walk you through the basic process of cleaning most air fryer models, step by step. It is actually very easy to do and only takes a few minutes!
Step 1: Unplug the air fryer and let it cool down.
Step 2: Remove the basket from the air fryer. Most models have a removable basket that can be easily lifted out.
Step 3: Empty the contents of the basket into the trash. Be sure to shake it out well so that any small bits of food are removed. If you have stuck on food clogging up the holes, you can use a toothpick to help remove them. Do NOT use metal in your air fryer basket. Wash with warm soapy water with a soft cloth or scratch-proof sponge and let dry.
Step 4: Wipe down the inside of the air fryer with a damp cloth. You may need to use a little bit of soap to remove any stubborn grease or food stains. Be sure to dry it off completely before moving on to the next step.
Step 5: Replace the basket and put it back into the air fryer.
Step 6: Wipe down the outside of the air fryer with a damp cloth. Again, you may need to use a little bit of soap to remove any fingerprints or smudges.
And that's it! Your air fryer is now clean and ready for its next use. Just be sure to follow the manufacturer's instructions if they differ from the steps above. Happy air frying!
For more cooking tips and resources:
If you find these tips for How to Use An Air Fry helpful, I'd love to hear from you! And if you snapped some shots of any of these tips and tricks, please share them with me on Instagram so I can repost them on my stories!