This post may contain affiliate links. Please read our disclosure policy.
One of my favorite weeknight meals is this pan seared chicken thighs that takes 15 minutes from preparation to serving. The seasoning mix I use gives the chicken the best flavor, and I'll share some tips for how to make sure you don't overcook the chicken so it stays tender and juicy!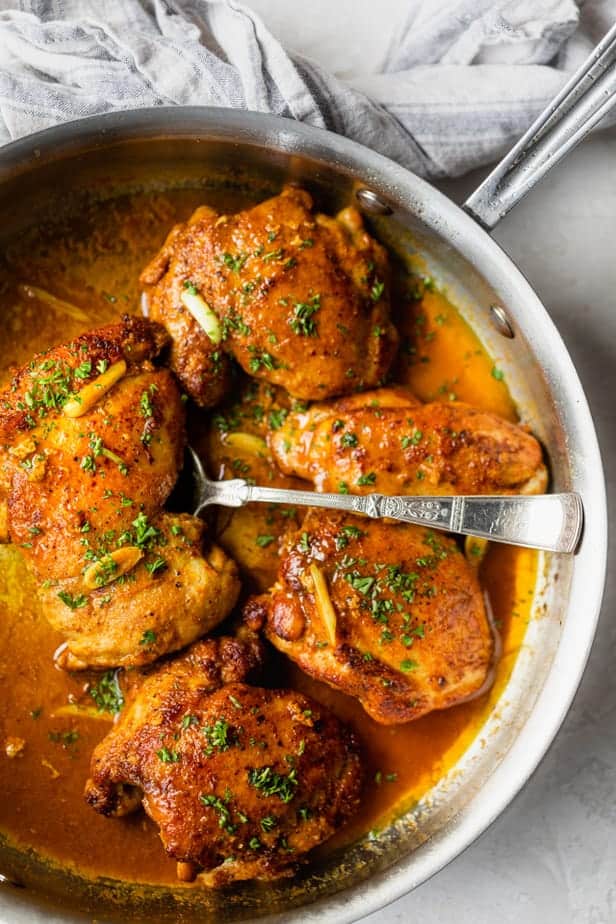 These pan seared chicken thighs are easy enough to make for a weeknight meal, but they are also perfect for a more formal dinner. You can easily double and triple the recipe, but just be sure not to over-crowd the pan when doing so. I usually serve the chicken with some simple Lebanese rice and green beans for a nutritious well-balanced dinner!
Ingredients and Substitutions
Chicken thighs: Use boneless skinless thighs for this recipe. We rub them with seasonings before searing for a really flavorful bite.
Seasonings: I use a mix of onion powder, cumin, coriander, paprika, turmeric, salt and pepper.
Garlic: Slice rather than mince the garlic so that the flavor is milder.
Broth: Use chicken broth to create the sauce. You can also use vegetable if that's what you have.
How to make pan seared chicken thighs
Start by measuring the spices and mixing them all together. This combination of spices is one of my favorites. I use equal amounts of onion powder, paprika, cumin and coriander and then a little less of turmeric. The spice mixture gives it a beautiful color when cooked, and it adds a wonderfully sweet and smokey Mediterranean flavor.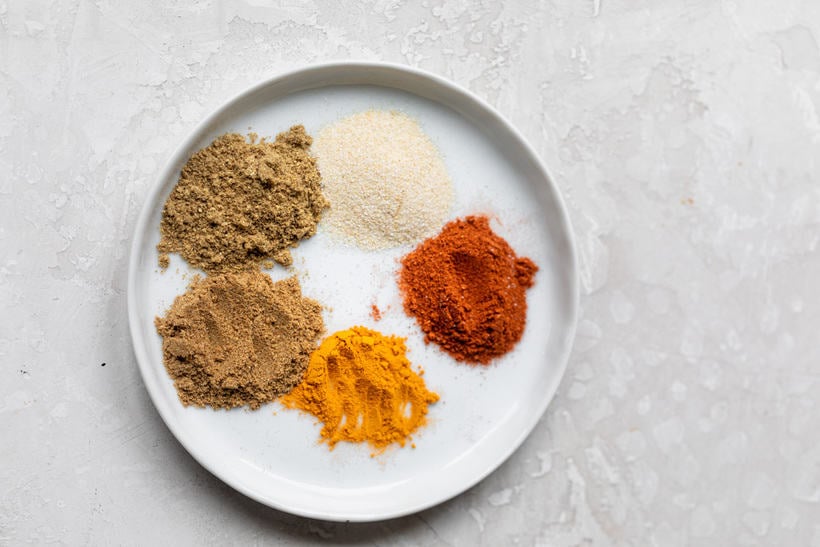 Next, pat the chicken thighs very dry with a paper towel. Since we're pan searing the chicken, we want to make sure that they are dry so they get crisp when they hit the hot oil instead of soggy. Then use your hands to rub the seasoning on the dry chicken thighs.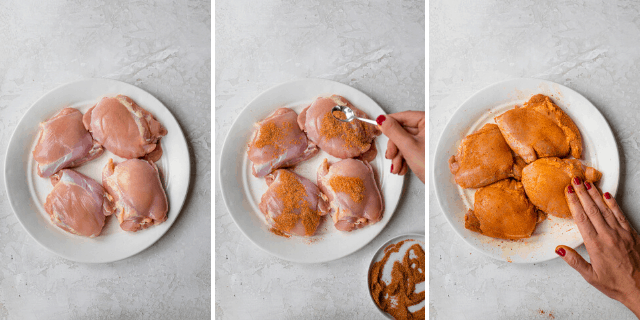 When you're ready to cook the chicken, make sure that the olive oil coats the bottom of the pan, usually 2-3 tablespoons will be sufficient. And then make sure the oil hot.
Next, place the chicken thighs with the smooth side down first and don't touch it or move it until at least 5-7 minutes, depending on the thickness of the chicken. You will know when it's time to flip it when it easily releases on its own. It will lift easily off the pan and nothing will be stuck to the oil.
Then flip it and cook it until the juices run clear or a a thermometer inserted into the chicken reads between 160°F and 165°F.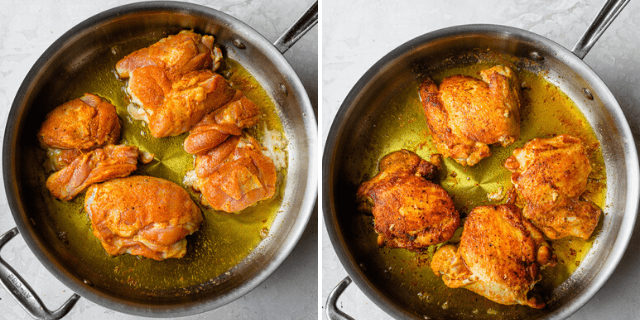 Finally add the garlic and cook it until it's golden and fragrant. It only needs about 30 seconds. Then add the chicken broth to deglaze the pan and let it cook for an extra couple minutes until the juices get a little thicker.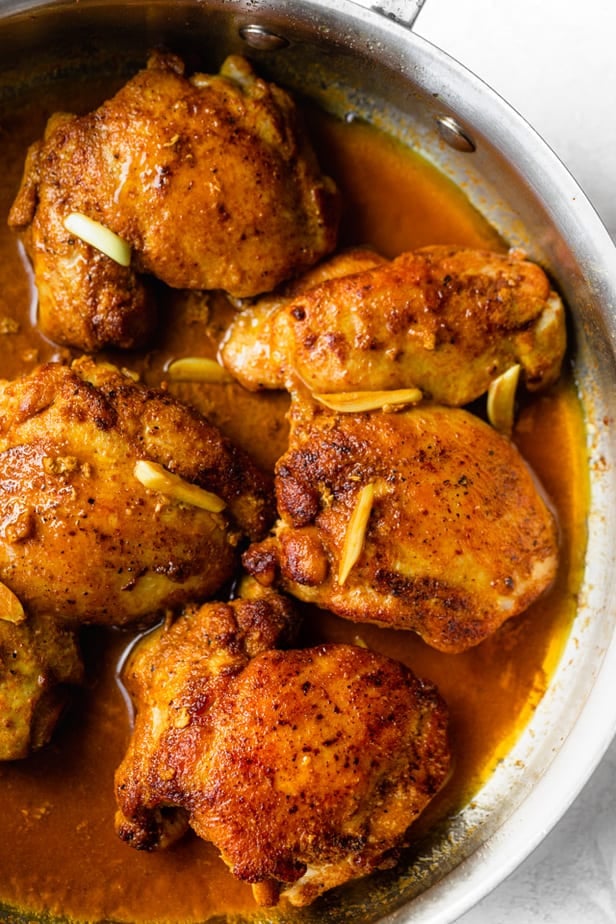 What to serve with chicken thighs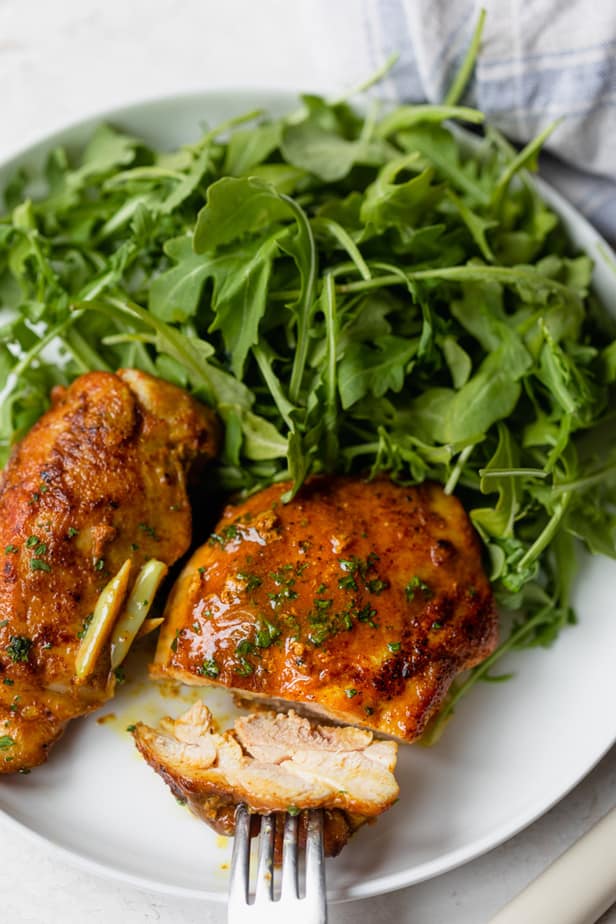 Tips for pan searing chicken thighs
Allow time to marinate the chicken. Since this is a dry rub, the marinating time isn't crucial, but it never hurts and the flavor will only enhance if you let it sit with the seasoning. I recommend at least 30 minutes, but up to 24 hours works fine.
Don't overcrowd the pan. You want the chicken thighs to brown and cook evenly. Otherwise, the juices from the nearby chicken may create steam which will affect the searing process.
Don't turn the chicken while they're cooking. This is especially true if you are using a non-stick pan like I did. Once the chicken is fully cooked on one side it will self release effortlessly, without anything sticking to the pan. Plus this helps to get proper browning on both sides.
Allow the chicken to rest for 5 minutes before cutting. This allows the chicken a chance to absorb the juices to become more juicy and tender.
Frequently asked questions
When do you know when they are cooked?
It's important to remember, that unlike chicken breasts, thighs can look pinkish-brown even when cooked through. To test for doneness, press the meat, there should be resistance, if it is still very soft it is not cooked. Pierce the skin with a skewer or fork and the juices should run clear. If you have an instant read thermometer, it should register between 170ºf and 180ºf.
Can you reheat them?
I prefer to eat the chicken as soon as it is cooked, but if you have leftovers you can reheat them once and the leftovers must be eaten in one sitting. You can reheat them in a frying pan, microwave oven or the barbecue. Leftover cold cuts can be kept in the fridge for 2 to 3 days and can be enjoyed cold on a salad.
Can you make this recipe with chicken breasts?
This recipe is easily adapted to use with chicken breasts if you prefer. The recipe remains the same, but the cooking time will be slightly less.
These easy pan seared chicken thighs are one delicious and quick weeknight meal. Serve with all your favorite sides for a flavorful dinner that the whole family will love.
For more chicken recipes:
If you've tried this healthy-ish feel good Pan Seared Chicken Thighs recipe or any other recipe on FeelGoodFoodie, then don't forget to rate the recipe and leave me a comment below! I would love to hear about your experience making it. And if you snapped some shots of it, share it with me on Instagram so I can repost on my stories!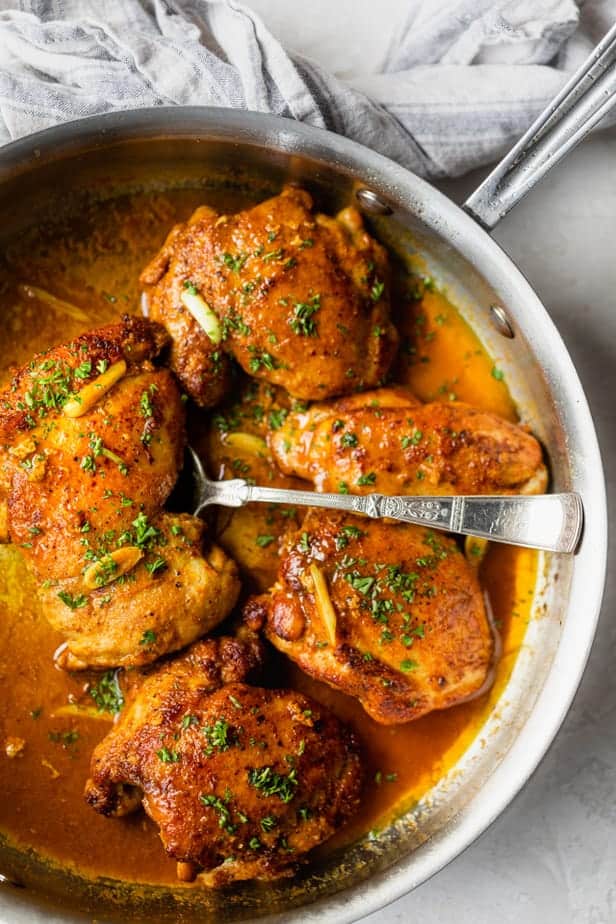 Pan Seared Chicken Thighs
Pan seared chicken thighs are an excellent method of preparing juicy, tender chicken in a skillet. They can be ready in 15 minutes and are easily adaptable!
Instructions
Heat olive oil in a large skillet over medium heat.

Pat chicken thighs dry with paper towel. Season chicken thighs with onion powder, cumin, coriander, paprika, turmeric, salt, and pepper.

Add seasoned chicken thighs to the skillet, smooth side down; cook for 5-7 minutes without moving, and then flip when the chicken easily releases on its own. Cook until the juices run clear, an additional 7-10 minutes, depending on the thickness of the chicken thighs.

Add garlic and cook until garlic is golden and fragrant, about 30 seconds. Pour chicken broth to deglaze the bottom and sides of pan with the crispy browned bits until they're no longer sticking to the pan.

Remove from heat, spoon sauce over chicken. Garnish with fresh chopped parsley and serve immediately.
Notes
Storage: Store any leftovers in an airtight container. They will last up to 4 days.
Make Ahead Tips: You can season the chicken up to 24 hours in advance and it will actually help to set the flavors in better. Substitutes: For best results, follow the recipe as is. However you can switch around the spices as you see fit, but keep at least 2 teaspoons total of seasoning on the chicken to ensure proper flavoring.
Nutrition
Calories:
447
kcal
,
Carbohydrates:
2
g
,
Protein:
29
g
,
Fat:
36
g
,
Saturated Fat:
9
g
,
Cholesterol:
167
mg
,
Sodium:
141
mg
,
Potassium:
386
mg
,
Fiber:
1
g
,
Sugar:
1
g
,
Vitamin A:
256
IU
,
Vitamin C:
1
mg
,
Calcium:
19
mg
,
Iron:
2
mg
Nutrition information provided is an estimate. It will vary based on cooking method and specific ingredients used.