This post may contain affiliate links. Please read our disclosure policy.
If you're missing restaurant food and your favorite Chinese takeout options, this Honey Walnut Shrimp really hits the spot. It's a healthier version of the popular Panda Express menu item. However, there's no heavy batter involved, no deep frying and no caloric sauce. Still, the shrimp is crisp, the walnuts are sweet and it's all mixed with a simple sweet and savory sauce.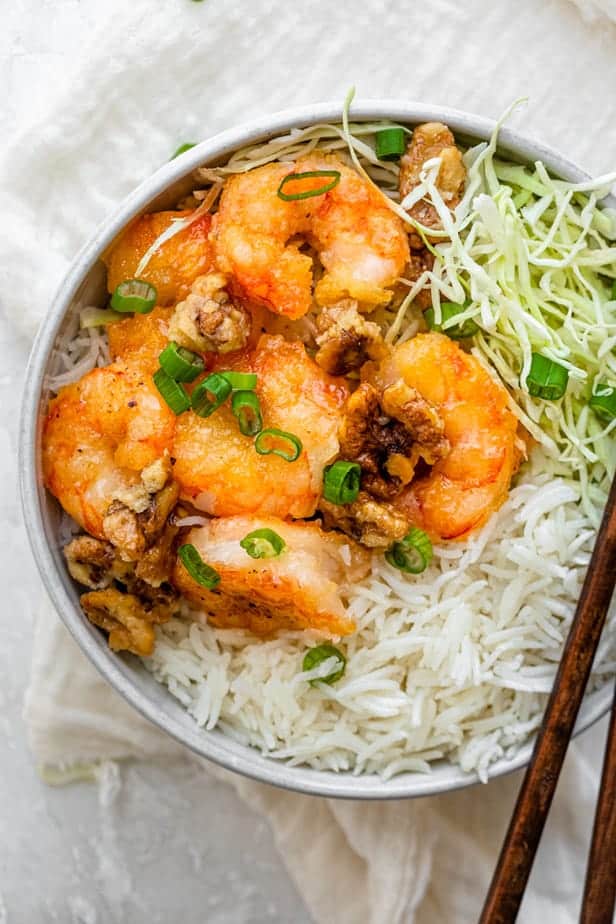 Table of Contents
Why you'll love candied walnut shrimp
Easy to Make. This recipe is easy to follow and can be prepared in under 30 minutes, making it a quick and convenient option for busy weeknights.
Unique texture with arrowroot. Coating the shrimp in arrowroot starch before frying or sautéing creates a super crispy and golden brown exterior. The texture is so crisp and light, and helps the honey sauce stick to the shrimp, making it extra flavorful.
Sweet and savory flavor combination. The honey shrimp and candied walnuts create a perfect balance of sweetness and savory flavors that make this dish irresistible.
How to make honey walnut shrimp
If you're looking for a sweet and savory dish that's easy to make and guaranteed to impress, then honey walnut shrimp is the perfect choice! It's as simple as coating some shrimp in arrowroot starch and frying them until they're crispy and golden brown. The honey sauce and candied walnuts finish it off for a flavor explosion!
Candy the walnuts
Start by making candied walnuts. This sounds a lot fancier than it is. You just simply cook the raw walnuts with butter, sugar and water on a skillet. It takes a few minutes only on the skillet. And as soon as the liquid and sugar is absorbed, you can transfer it to a baking dish to allow it to cool and harden.
Cook the shrimp
Add the raw shrimp, arrowroot starch, garlic powder, and salt to a bowl.
Toss together until well coated.
Then clean the skillet you used to make the candied walnuts, and transfer the shrimp to that skillet to cook.
Try to spread the shrimp into an even layer on the skillet and flip only once. This will make sure that the honey walnut shrimp gets beautifully crisp edges.
Now the sauce is just a mixture of vegan avocado mayo, honey and lemon juice. It's the perfect combination of sweet, savory and sour ingredients that you'll whisk together and pour over the shrimp. You can also leave it on the side to add to the final dish as desired.
I love serving this skinny honey walnut shrimp with rice and shredded cabbage. But you can also serve it with rice noodles, in lettuce wraps or over quinoa or brown rice. It's sweet and satisfying and will remind you of the restaurant version, but with less calories and less fat.
Tips for making honey walnut shrimp
Dry the shrimp with a paper towel. There is a lot of moisture in shrimp, whether it's fresh or frozen. So you want to make sure to pat it dry before coating it with the starch and spices. That helps the shrimp not release too much liquid that could steam it instead of sear it on the skillet.
Make sure the pan is hot before adding the shrimp. When you heat the olive oil in the pan, you want to make sure it's shimmering but not smoking. I recommend heating the oil on medium-high heat for 2-3 minutes. You want to hear a sizzle when that shrimp hits the pan.
Don't crowd the pan. I prefer to arrange the shrimp in a single layer around the skillet so there aren't any overlapping each other. Otherwise the moisture from one piece of shrimp will affect another piece of shrimp from becoming crisp. Cook in batches if necessary or use a skillet wide enough for 1 pound of shrimp.
Make it quicker by using store-bought candied walnuts. I always prefer the homemade version when time allows, but you can certainly use pre-made candied walnuts to make this honey walnut shrimp recipe.
Popular substitutions + Additions
Use different nuts. Walnuts are perfectly candied in a hot pan with sugar, but if you want to switch it up try substituting them for almonds or pecans.
Add fruits. You can add some diced fresh pineapple or mango to the honey shrimp for a tropical twist.
Substitute the honey. Use maple syrup, agave nectar, or brown sugar as a natural sweetener alternative to honey.
Add some heat. To add some spice to contrast the sweetness, you can either sprinkle in some red pepper flakes or pan fry some chopped jalapenos before cooking the shrimp.
Use regular flour. You can use all-purpose flour if you'd like. I use the arrowroot starch to make the honey walnut shrimp gluten-free.
How to store & reheat honey nut shrimp
To store honey walnut shrimp, place the leftovers in an airtight container and refrigerate within two hours of cooking.
To reheat: Use a non-stick pan or reheat in the oven at a low temperature to maintain the crispy texture of the shrimp and candied walnuts.
How long does shrimp last in the fridge?
When stored properly, shrimp will last up to 4 days in the fridge.
Can I freeze cooked shrimp?
No, it is not recommended to freeze honey walnut shrimp because the texture of the shrimp and the candied walnuts can become mushy and lose their crunchiness when thawed.
Can you use frozen shrimp?
I prefer to use fresh shrimp, but you can use frozen if that's what you have. Make sure that the shrimp is fully defrosted before using it and remove the vein and shell. Remove any excess moisture by patting it with kitchen towel.
Can you make it ahead of time?
I prefer to serve this honey walnut shrimp as soon as it is made, but if you have leftovers, they will keep well in the fridge for up to three days. You can reheat the shrimp on the stovetop before serving. You can make the candied walnuts up to a week ahead of time.
More shrimp recipes:
Honey walnut shrimp is one of the most popular dishes at Chinese restaurants. My lightened version skips the heavy batter, skips the fatty sauce and simplifies the whole process of making this recipe at home. It's cheaper, healthier and tastes more fresh in my opinion. Make it at home and enjoy a restaurant quality meal in
If you've tried this healthy-ish feel good Honey Walnut Shrimp recipe or any other recipe on FeelGoodFoodie, then don't forget to rate the recipe and leave me a comment below! I would love to hear about your experience making it. And if you snapped some shots of it, share it with me on Instagram so I can repost on my stories!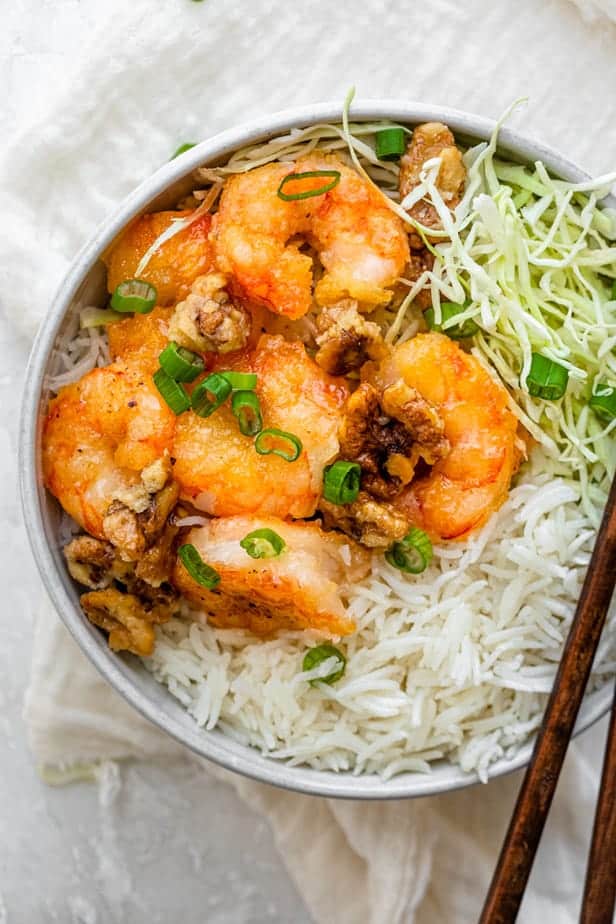 Honey Walnut Shrimp
This lightened up version of Honey Walnut Shrimp is inspired by the Panda Express recipe. It's full of crisp pan-seared shrimp with homemade candied walnuts
Ingredients
Candied walnuts
½

cup

walnut halves

2

tablespoons

cane sugar

1

tablespoon

unsalted butter

2

tablespoons

water
Honey Sauce
2

tablespoons

avocado mayonnaise

2

tablespoons

honey

1

tablespoon

lemon juice
For Serving
Rice

Shredded green cabbage

Green onions
Instructions
In large non-stick skillet over medium heat, add butter, walnuts, sugar and water. Stir until all the sugar melts and the walnuts are coated in the sugar mixture, about 5 minutes.

Transfer immediately onto a sheet of parchment paper and separate the nuts right away. Set aside to harden; wipe down the skillet.

In a large bowl, place the shrimp, arrowroot starch, garlic powder, and salt and stir to combine until all the shrimp is evenly coated with the mixture.

In a large skillet over medium high heat, add the olive oil, and cook the shrimp, turning occasionally until they're fully cooked, about 2-3 minutes per side.

In a small bowl whisk together the avocado mayonnaise, honey and lemon juice. Pour the sauce over the shrimp and toss to combine. Add the candied walnuts on top and

Serve the shrimp on top of cooked rice with shaved green cabbage, sesame seeds and green onions.
Notes
Storage: Store any leftovers in an airtight container. They will last up to 3 days in the fridge. To reheat, place on a pan and reheat until warmed through.
Substitutes: For best results, follow the recipe as is. However here are some common substitutes that would work well in this recipe.
Instead or arrowroot starch, you can use another gluten-free starch or flour of your choice, or you can also use all-purpose flour.
Instead of lemon juice, you can use lime juice or another type of vinegar like red wine vinegar.
Instead of honey, you can use maple syrup or agave syrup.
Nutrition
Calories:
422
kcal
,
Carbohydrates:
23
g
,
Protein:
26
g
,
Fat:
26
g
,
Saturated Fat:
5
g
,
Cholesterol:
296
mg
,
Sodium:
1218
mg
,
Potassium:
155
mg
,
Fiber:
1
g
,
Sugar:
15
g
,
Vitamin A:
87
IU
,
Vitamin C:
6
mg
,
Calcium:
179
mg
,
Iron:
3
mg
Nutrition information provided is an estimate. It will vary based on cooking method and specific ingredients used.