This post may contain affiliate links. Please read our disclosure policy.
This recipe for Garlic Roasted Potatoes is a true family favorite! They are deliciously crispy on the outside and perfectly soft and tender on the inside. When I'm looking for an easy potato side dish, especially for a crowd, this redskin roasted potato dish is my go-to recipe.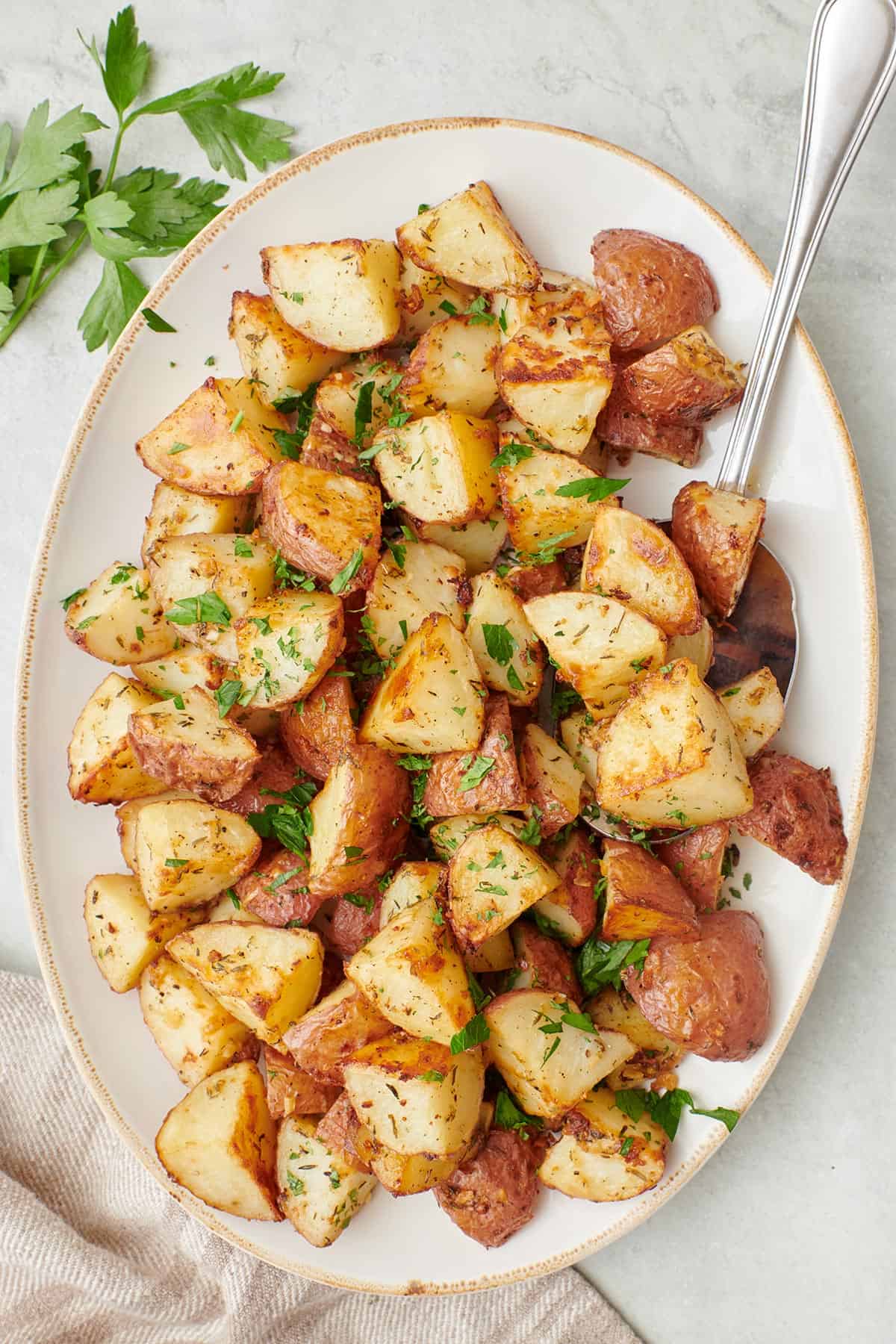 Table of Contents
These roasted garlic potatoes are such party-pleasers! Roast them in the oven for a crispy-on-the-outside, tender-on-the-inside texture. They pair wonderfully with any type of roasted vegetable too!
If you're someone who believes that the side dishes are where the real magic happens at dinner, these garlic redskin potatoes are for you. Pair them with your favorite protein, or enjoy them as is! This Garlic Roasted Potato recipe is my go-to side dish when I'm having a dinner party at my house. It will soon become your favorite easy potato side dish!
Why You'll Love These garlic roasted red potatoes
No Peeling Required: Thanks to the use of red potatoes, you can skip the tedious task of peeling. Plus, the skin adds a great texture and extra nutrients to your dish.
Naturally Flavorful: Garlic and potatoes are a match made in culinary heaven. The garlic infuses its robust aroma into the potatoes, creating a taste that's savory and rich yet not overwhelming.
Versatility in Meal Planning: Whether it's a Sunday roast, barbecue, or a vegetarian feast, these potatoes seamlessly fit into any menu. They're like that versatile piece of clothing that goes with everything in your wardrobe!
Less is More: With just a handful of ingredients, you get a dish that's bursting with flavors. It's proof that sometimes, keeping it simple yields the best results.
Kid-Friendly: Little ones can be picky eaters, but these potatoes tend to be a hit with them. The familiar taste, combined with the fun of eating bite-sized pieces, often has them reaching for seconds.
RECIPE VIDEO TUTORIAL
Ingredients to make garlic roasted red potatoes
Red Potatoes: Their waxy texture ensures they hold their shape during roasting, and their naturally buttery flavor is enhanced by the other ingredients. No need to peel these – the skin gives that crispy finish we all adore.
Olive Oil: This will help achieve that golden, crispy exterior while keeping the insides soft and fluffy. Olive oil also adds a subtle rich taste that complements the potatoes well.
Garlic: Minced finely, the garlic infuses the dish with its strong aromatic essence, making every bite delectably garlicky.
Parmesan Cheese: Gives the potatoes a slightly nutty taste and creates beautiful golden spots when roasted. It also adds an extra layer of savory to the mix.
Dried Thyme: A herb that, even in its dried form, elevates the potatoes with its earthy tones and pairs beautifully with garlic.
Salt and Black Pepper: Basic seasonings that enhance the natural flavors of the potatoes and other ingredients.
Fresh Parsley: Used as a garnish, it adds a splash of color and a burst of fresh herby flavor to the roasted potatoes. Perfect for serving.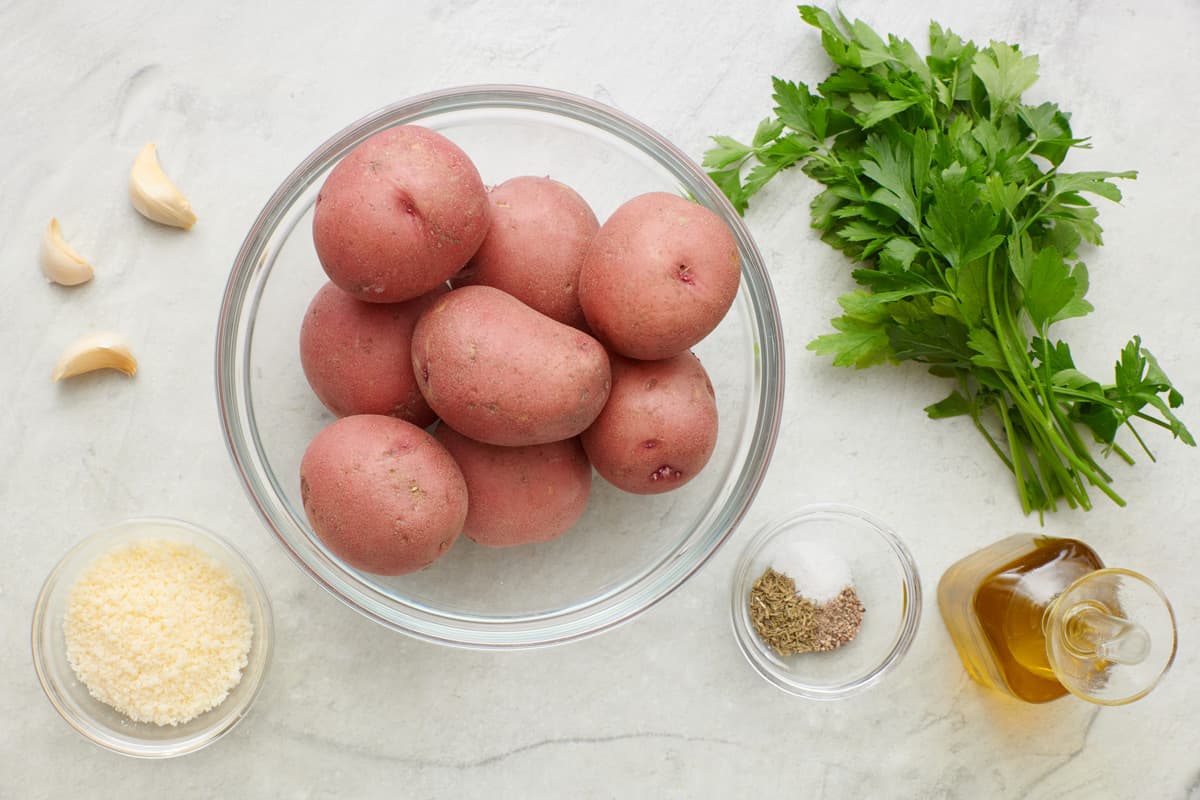 How to make garlic parmesan roasted potatoes
To make these oven roasted potatoes, you can use any potatoes of choice, but I love using red skin potatoes and keeping the skin on them. Wash the potatoes well, dry them, and then cut them into quarters.
Toss and coat the potatoes
Add potatoes to a bowl or to the baking dish.
Add olive oil, minced garlic, grated Parmesan cheese, and dried thyme and toss to coat.
Roast the red potatoes in the oven
Place baking dish into the oven and roast.
Stir half way through to make sure all the sides crisp up.
Then you can pair this easy side dish with anything you'd like, or just dip them in some ketchup and call it dinner if you want!
Tips for making garlic roasted potatoes
Opt for best roasting potatoes like Yukon gold or red skin potatoes. That's because their skin is thin, they're not waxy and they're not too starchy.
Heat the pan before placing the potatoes on it. To make it easy, just place the pan in the oven while the oven is preheating. This way the potatoes hit a sizzling pan, which helps get a crispy texture.
Leave space between the potatoes. Don't over-crowd the pan, but instead try to keep them in a single layer to allow these garlic roasted potatoes to roast evenly and perfectly.
Don't flip until the potatoes are golden brown on one side. This helps to make sure they're golden all around without flipping them too often and risking them getting poked and damaged in the flipping process.
Substitutions & additions
Switch Up the Potatoes: Can't get your hands on red potatoes? Swap them for Yukon Gold or baby potatoes. They might be different, but they're equally scrumptious.
Out of Fresh? Go Dried: Don't have garlic cloves around? Switch to garlic powder. A pinch will do the trick, but adjust to your garlic-loving heart's desire.
Mix Up the Cheese: Parmesan's classic, but cheddar, Gouda, or feta can spin this dish in a fun cheesy direction.
Swap the Herb: No thyme? No worries. Replace it with rosemary, oregano, or a handful of Italian herbs. Each one offers a fresh herbaceous vibe.
Turn Up the Heat: For those who love a kick, a sprinkle of chili flakes or smoked paprika can spice things up just right.
Veg Out: Thinking of more color and flavor? Add bell peppers, onions, or cherry tomatoes to the mix.
Add Some Acidity: A bit of lemon zest before roasting brings in a zesty punch that contrasts beautifully with the earthy potatoes.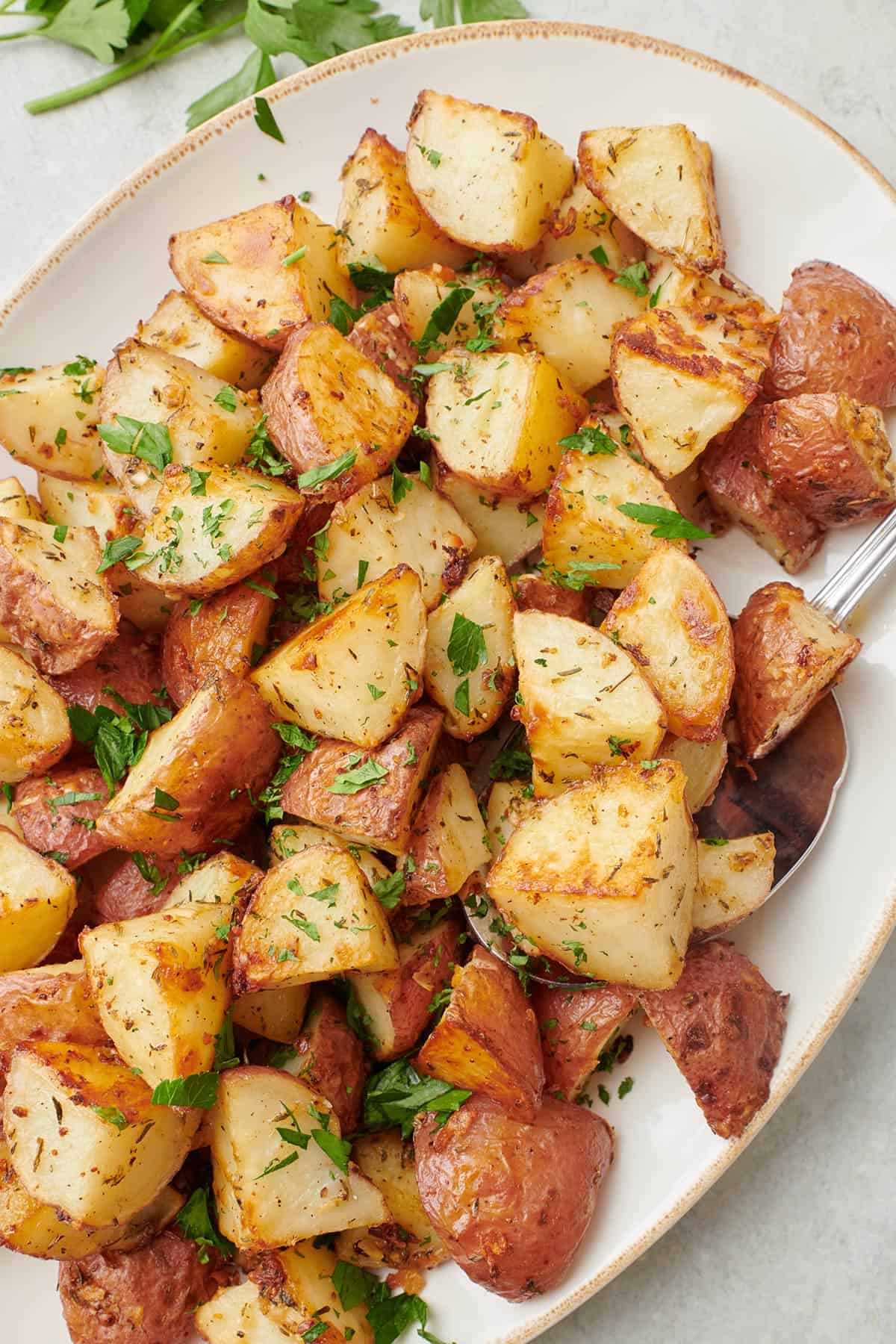 What to serve with garlic oven roasted potatoes
How to Store & Reheat Garlic Roasted Potatoes
Storing: After allowing your garlic roasted potatoes to cool completely, transfer them to an airtight container. Properly stored, they can last in the refrigerator for up to 4 days. Always ensure your potatoes are covered, as this helps maintain their moisture and flavor.
Reheating: The key to reviving the crispiness of these roasted potatoes lies in the reheating method.
Oven: This is the preferred method. Preheat your oven to 375°F. Spread the potatoes in an even layer on a baking sheet. Warm them for about 15-20 minutes, or until they regain their crisp exterior.
Stovetop: In a skillet, heat a splash of olive oil over medium heat. Add the potatoes, ensuring they're in a single layer, and reheat for 5-7 minutes. Turn occasionally to ensure even heating without burning.
Microwave: While this method is quick, it might not retain the crispiness as effectively. Place potatoes in a microwave-safe dish, cover loosely, and heat in 30-second intervals until warmed through.
Can I freeze roasted red potatoes?
Yes, you can! After allowing the roasted potatoes to cool, place them on a baking sheet in a single layer and freeze until solid. This prevents them from sticking together. Once frozen, transfer the potatoes to a freezer bag or airtight container and store them in the freezer for up to 3 months.
Frequently asked questions
Can you make garlic roasted potatoes ahead of time?
You can totally prep these garlic roasted potatoes in advance and have them ready to be roasted 30 minutes before dinner time, just so you can tempt everyone with that savory garlicky cheesy smell oozing from the piping hot oven!
How do you keep roasted potatoes from being soggy?
It's best to serve these roast potatoes straight away, but if you do need to keep them warm, do not cover them, this can cause them to lose their crunch. If you need to reheat them before serving, re-roast them in a hot oven for 10 minutes until crisp.
What are the best potatoes to roast?
My go-to potatoes for this recipe are red skin potatoes. Roasted red skin potatoes have such a beautiful presentation and they get nice and crisp on the outside. Yukon golds are also an excellent choice and will actually give an even more crisp texture.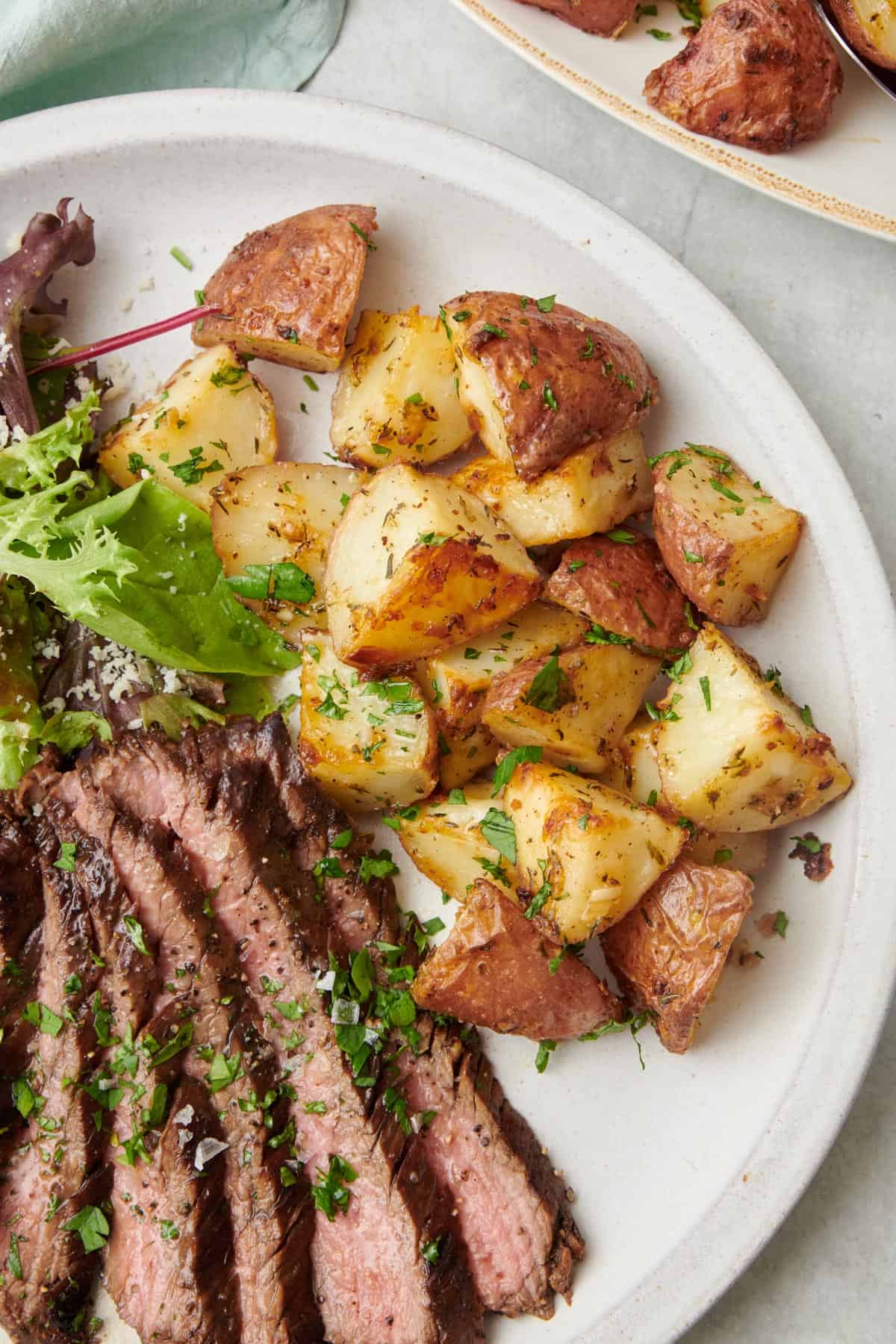 Dishing up these Garlic Roasted Potatoes is like serving a bowl of warmth and comfort, every single time. Whether you're gathering around the dinner table with family, or simply in the mood for a reliable side dish that never disappoints, these roasted potatoes always hit the spot.
For more potato recipes:
If you've tried this healthy-ish feel good Garlic Roasted Potatoes recipe or any other recipe on FeelGoodFoodie, then don't forget to rate the recipe and leave me a comment below! I would love to hear about your experience making it. And if you snapped some shots of it, share it with me on Instagram so I can repost on my stories!
This Garlic Roasted Potatoes recipe was originally published on April 15, 2017. The recipe has been updated by only doubling the recipe. New photos and step-by-step instructions have been added.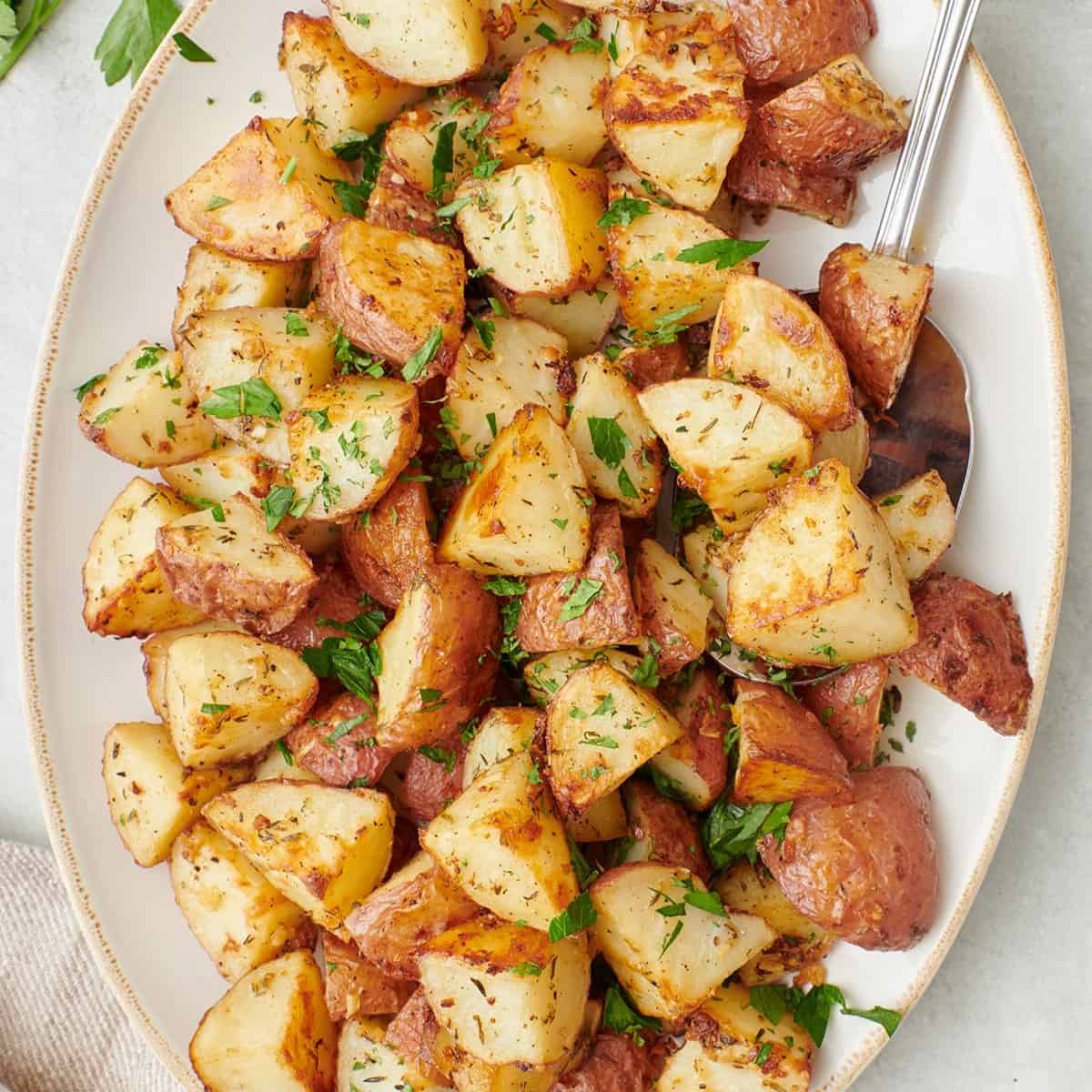 Garlic Roasted Potatoes
These Garlic Roasted Potatoes are perfectly baked in the oven. They're crisp on the outside, tender on the inside and loaded with a cheese and garlic flavor
Ingredients
4

pounds

red potatoes

quartered

¼

cup

olive oil

6

garlic cloves

minced

½

cup

parmesan cheese

2

teaspoons

dried thyme

1

teaspoon

salt

1

teaspoon

black pepper

Fresh parsley chopped for serving
Instructions
Preheat the oven to 400°F and lightly grease a 9×13 baking dish.

Place the potatoes in the baking dish or bowl with the olive oil, minced garlic, parmesan cheese, thyme, salt and pepper.

Bake until potatoes are golden brown and look crisp on the outside, about 45-55 minutes, tossing once halfway through.

Garnish with parsley if desired, and serve warm.
Notes
Storage: Store any leftovers in an airtight container. They will last about 5 days in the fridge. To reheat, just place in the oven at 350°F for 5-7 minutes or in a toaster oven. You can also reheat in the microwave, but the potatoes won't retain a crispy texture that way. Substitutes: For best results, follow the recipe as is. However you can switch out the herbs if you'd like, use olive oil instead of butter and make these with other types of potatoes. To make the recipe vegan, just skip the parmesan cheese.
Nutrition
Calories:
333
kcal
,
Carbohydrates:
51
g
,
Protein:
8
g
,
Fat:
12
g
,
Saturated Fat:
3
g
,
Polyunsaturated Fat:
1
g
,
Monounsaturated Fat:
7
g
,
Cholesterol:
7
mg
,
Sodium:
589
mg
,
Potassium:
1411
mg
,
Fiber:
5
g
,
Sugar:
4
g
,
Vitamin A:
108
IU
,
Vitamin C:
27
mg
,
Calcium:
117
mg
,
Iron:
3
mg
Nutrition information provided is an estimate. It will vary based on cooking method and specific ingredients used.