This post may contain affiliate links. Please read our disclosure policy.
Is butter board the new charcuterie board? If you look anywhere on TikTok or Instagram, that feels like a safe assumption because it has taken over social media! When coming up with my butter board recipe, I decided to lean more on the sweet side. It's perfect for a breakfast gathering or brunch with friends. This recipe is simple to follow and can be tailored to your own taste. You will need a cutting board or charcuterie board, softened butter, walnuts, fresh berries, honey, fresh mint, and a sprinkle of sea salt.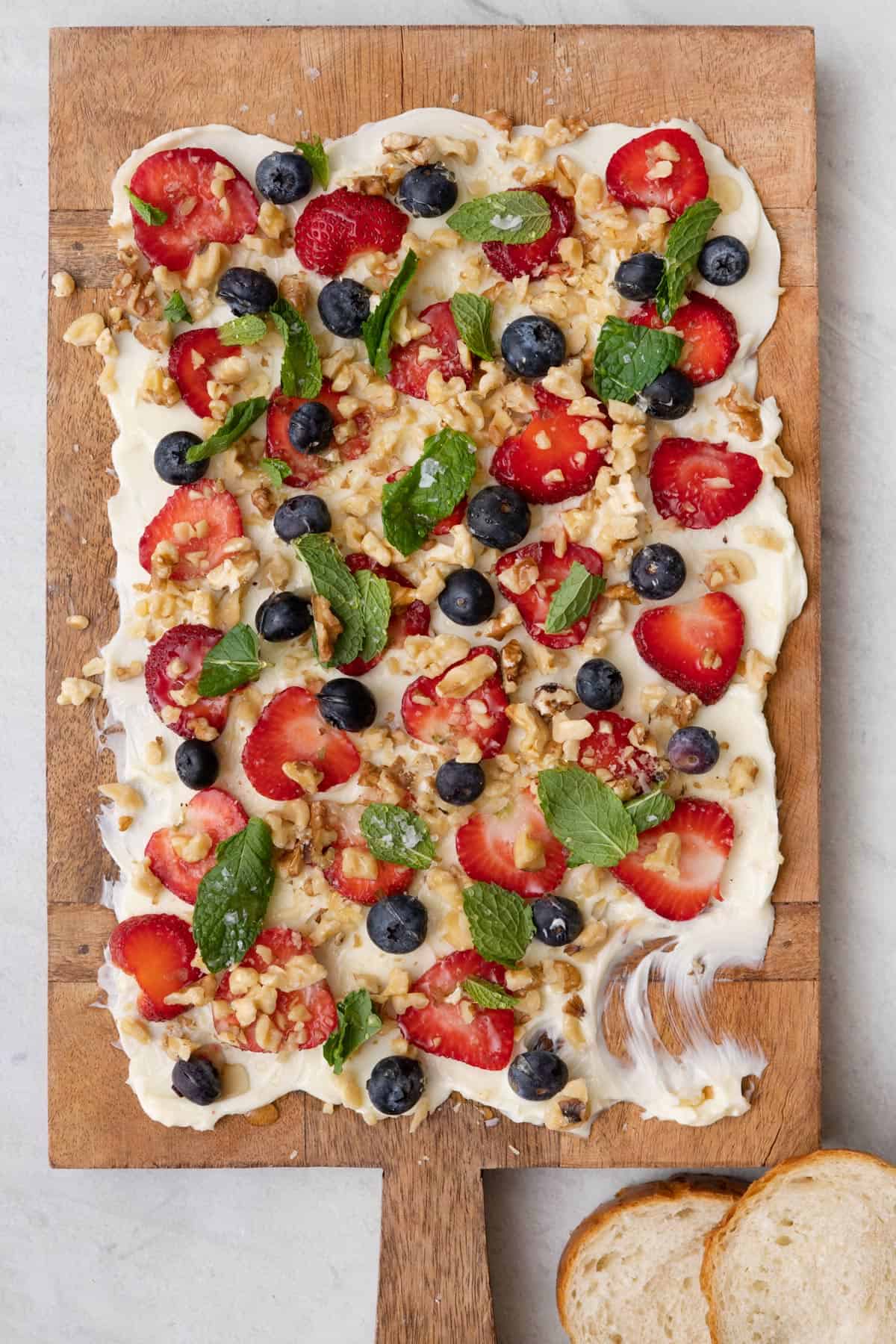 What is a butter board?
This is a concept created by Joshua McFadden and made viral on social media by Justine Snacks. The idea of a butter board is an elaborate butter and with bread basket but spread out on a board and topped with any kind of flavors – sweet or savory!
There is a shock factor involved in spreading 2 sticks of butter on a board and serving it in this new, unusual way. But it's a fun way to serve butter at parties which feels elevated and unique.
why you'll love this bread and butter board
Tasty! The combination of sweet and salty is always a hit. The fresh berries paired with the honey and mint are a flavor combination that can't be beaten. The salt in this recipe acts as a flavor enhancer and a flavor itself.
A fun way to serve butter. This butter board is a great conversation starter and will get people talking. It's also a great way to show off your creative side.
This recipe is simple and easy to follow. You can make it as complicated or as simple as you want.
Versatile. Butter boards can be sweet or savory. You can use any kind of fruit, veggies, seasoning and spices, herbs, and spreads you like.
Ingredients you'll need to make a sweet butter board
Butter: You want to use high-quality butter for this recipe. Margarine or vegetable oil spread will not taste the same. I like to use unsalted butter so I can control the amount of salt in the recipe.
Bread: You'll need a good bread to go with your sweet butter board. I like to use a baguette or sourdough bread.
Fresh berries: I used strawberries and blueberries, but you can use any berries you like.
Walnuts: I used walnuts because they are a softer nut, and that's what I had on hand. Pecans would also work well on top of your butter spread. You can roast your nuts to add an additional depth of flavor
Honey: You want to make sure you're using real honey for this recipe. A lot of commercial "honey" is actually made with high fructose corn syrup and definitely doesn't have the same taste.
Mint: Fresh mint adds a bit of "je ne sais quoi" to this recipe. You can also basil if that's what you have on hand.
Sea Salt: Flaky sea salt is my favorite kind to use. It has a delicate flavor that doesn't overpower the other ingredients. It also adds a little bit of sparkle when the light hits it just right!
How to make a butter board
The hardest part of making a butter board is anxiously awaiting for the butter to soften so you can start spreading it! I like to set my butter out on the counter about an hour before I want to start assembling my board. This gives the butter time to soften and become spreadable.
Once your butter is soft, it's time to start assembling your board!
Soften Butter
Place the butter in a bowl and allow the butter to come to room temperature. You can also check out this article that shows four ways to soften butter.
Once soft, stir in the bowl to loosen it so that it's spreadable.
Prepare Butter Board
Layer the butter on a small serving board, spreading it over the entire surface.
Add the sliced strawberries to the butter.
Sprinkle the blueberries and walnuts on top of the butter.
Garnish with mint leaves and flaky sea salt. Drizzle the honey over the butter and serve!
Tips for making a butter board
Avoid rushing the softening process. If you melt the butter, you will not be able to use it for your butter board. Even when it starts to solidify back, you want to avoid using it. The oils/fats will not be in the same state and will make for a subpar butter board.
Use a rubber spatula to spread the butter. This will help you get an even layer of butter on your cutting board or charcuterie plate.
If you want to get creative, try different-shaped cookie cutters to cut out your bread! This is a great way to add a bit of whimsy to your board.
Don't forget the garnish! The mint and salt are key ingredients in this recipe so make sure you don't forget to add them before serving.
popular substitutions & additions
Go savory. The topping choices are really endless. If you want to go savory, a blend of tangy, spice, and creamy all work well with butter. You could do capers, red onions, black olives, and a Meditteranean spice blend. Sundried tomatoes, feta cheese, and pesto is another great option.
Mix up your sweet toppings. Try a sharp cheddar, diced apple, and a drizzle of honey. Or goat cheese, fig jam, and crushed pistachios. You can even do something as simple as a cinnamon and sugar-butter board!
Experiment with herbs and spices. If you want to get really creative, try using different herbs in your recipe. Dried oregano, thyme, and rosemary all work well with savory toppings. And for sweet butter boards, a touch of lavender goes a long way!
Use cream cheese instead of butter. Cream cheese lends itself well to all the same toppings as butter board. You can plan a whole brunch around it!
what to serve with your butter board
Bread: Think about any of the bread served with butter at your favorite restaurants. From sourdough bread to dinner rolls.
Crackers or Chips: Use pretzels, wheat crackers, or chips.
how to store a bread and butter board
Your sweet butter board is best eaten asap. The toppings will start to leech water after a few hours making it a food item that you really want to eat shortly after making it.
how long will a butter board last in the fridge?
Without toppings (just the butter spread on the board), will last in the fridge for up to two weeks wrapped in plastic wrap.
With the toppings, it's best eaten within a few hours. It also depends on your toppings – higher water content equals a shorter shelf life.
Frequently asked questions
Do I need to buy a special "butter board" to actually make one?
Nope! You can use a plate, charcuterie board, or even a cutting board. Whatever you have on hand will work just fine.
Are butter boards healthy?
This is a loaded question. In moderation, something that is indulgent can be part of an overall healthy diet. Should you eat it every day or even every week, eh probably not. Should you indulge during brunch or a special breakfast? That's something you need to decide for yourself! Me, personally, I say go for it.
Do I need to use a special kind of butter?
No. Just make sure that you check the ingredients. The fewer ingredients, the better! Cream and salt – that's what you need to look for. If you pick up a pack of butter with oils and words you can't pronounce, it's not real butter.
A butter board is a fun way to show off your creative side and can be a great addition to any brunch or special breakfast. My recipe for a sweet butter board is easy to follow and will result in a delicious, whimsical dish that your guests are sure to love. Be creative with the toppings – there are endless possibilities! And don't forget the bread and crackers to serve alongside. Most importantly, enjoy!
More appetizer recipes:
If you try this feel good Butter Board recipe or any other recipe on Feel Good Foodie, then don't forget to rate the recipe and leave a comment below! It helps others who are thinking of making the recipe. We would love to hear about your experience making it. And if you snapped some shots, share it on Instagram so we can repost on Stories!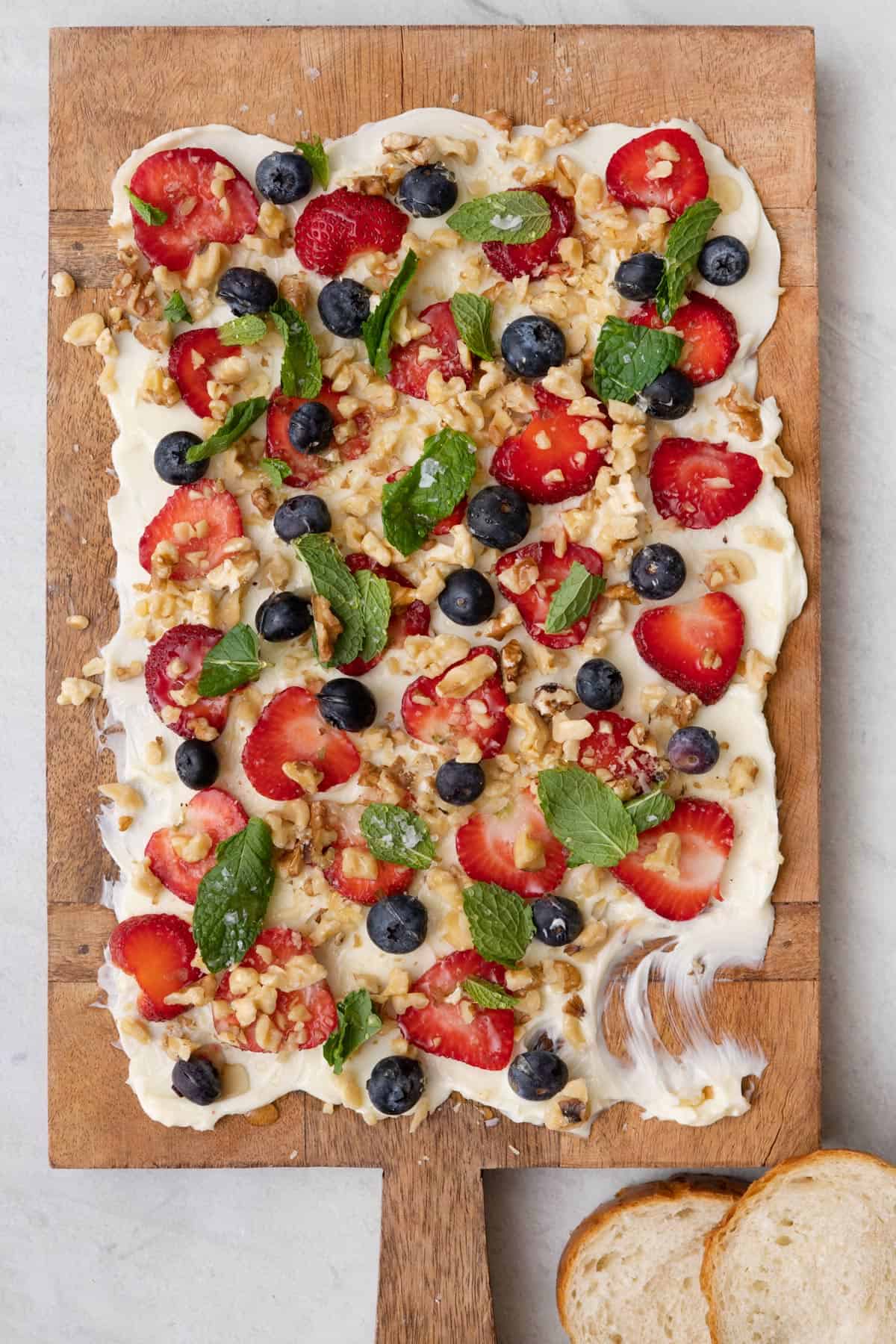 Butter Board
Need a butter board recipe that's sweeter for breakfast or brunch? I've got you covered! Fresh berries, honey & nuts atop softened butter with bread. Yum!
Ingredients
2

sticks

butter

softened

Whole wheat or sourdough bread

for serving
Instructions
Allow the butter to soften by coming to room temperature, (do not melt the butter), then stir in a bowl to loosen it so that it's spreadable.

Spread the butter, making a swirl pattern if you'd like on a small serving board, spreading it over the entire surface.

Add the strawberries, blueberries, and walnuts on top of the butter. Garnish with mint leaves and flaky sea salt followed by a drizzle of honey.

Serve immediately with warm bread.
Notes
*Nutrition does not include bread/crackers.
Nutrition
Calories:
120
kcal
,
Carbohydrates:
2
g
,
Protein:
0.5
g
,
Fat:
13
g
,
Saturated Fat:
7
g
,
Polyunsaturated Fat:
1
g
,
Monounsaturated Fat:
3
g
,
Trans Fat:
0.5
g
,
Cholesterol:
30
mg
,
Sodium:
382
mg
,
Potassium:
21
mg
,
Fiber:
0.3
g
,
Sugar:
2
g
,
Vitamin A:
368
IU
,
Vitamin C:
3
mg
,
Calcium:
7
mg
,
Iron:
0.1
mg
Nutrition information provided is an estimate. It will vary based on cooking method and specific ingredients used.