This post may contain affiliate links. Please read our disclosure policy.
This easy baked macaroni and cheese is topped with panko breadcrumbs or homemade breadcrumbs. This baked mac and cheese recipe is also made with gruyere and cheddar cheese with a little tang from dijon mustard and then baked, creating a creamy, gooey inside with a crunchy crust. Plus, it's quick and easy enough to serve as a weeknight meal. This is one cheesy side dish and a real crowd-pleaser! Kid-friendly and made from scratch.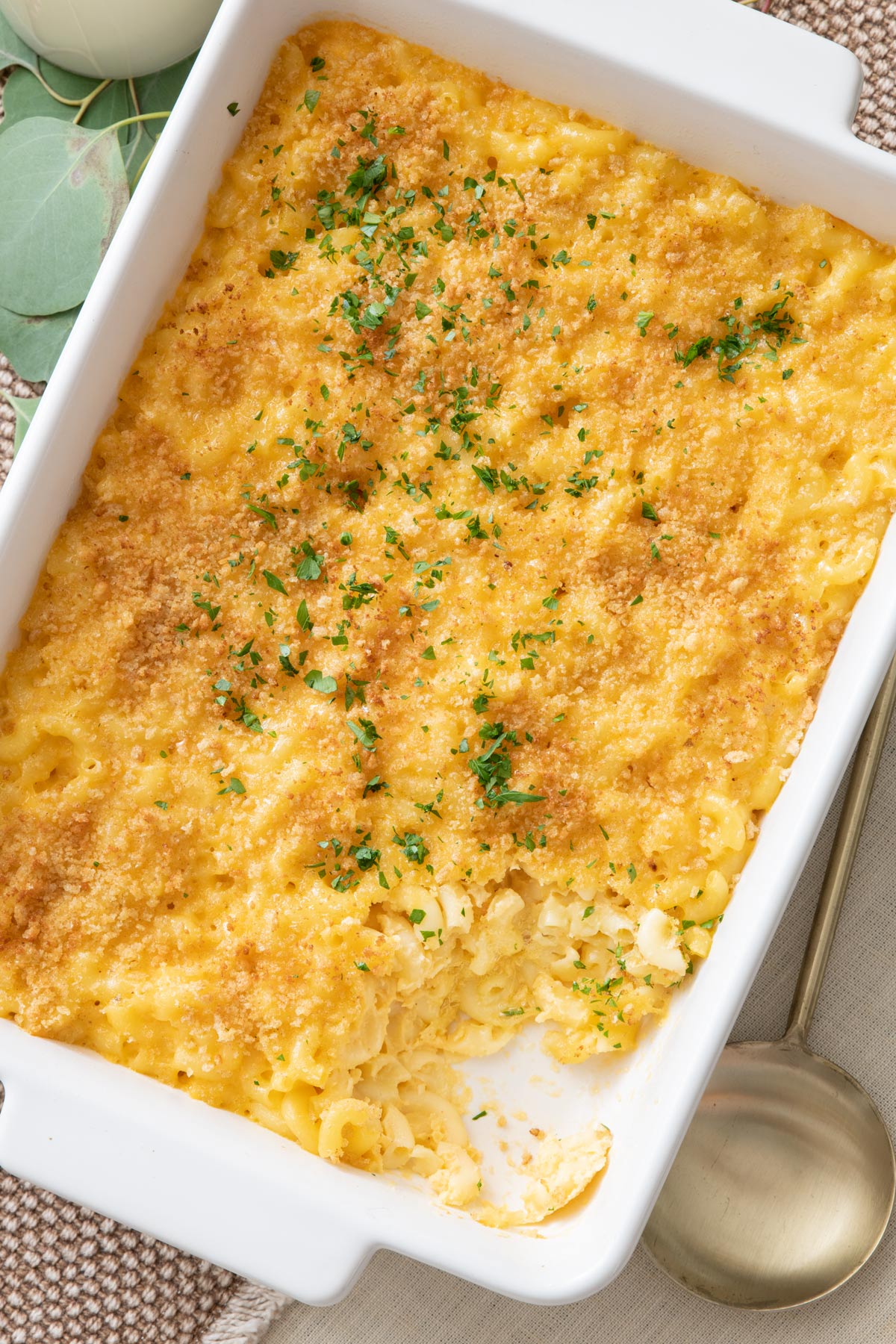 Mac and cheese is always a yummy treat with its cheesy velvety sauce; it's easy to elevate with ingredients like gruyere and dijon. Bake it with a panko breadcrumb topping to add texture to each bite, and you are on to a winner! This is such a delicious recipe. I can't wait for you guys to try it! (And for a similar recipe with less cheese, try my Butternut Squash Mac and Cheese.)
why you'll love this baked mac and cheese with breadcrumbs
There's nothing quite like homemade mac and cheese. Sure, you could just use a box mix and top it with bread crumbs, but this version is truly worth the little bit of extra effort. The combination of gruyere, cheddar, and dijon mustard adds depth to the cheese sauce and makes it so creamy and delicious.
Breadcrumb topping! It adds a crunchy texture to each bite of macaroni and cheese, taking it to the next level.
Quick and easy weeknight meal or decadent side dish. This recipe is ready in just about 45 minutes and can easily be a main dish served with a salad or veggie side dish, or serve as a delicious side to your favorite protein.
Kid-friendly, but still loved by adults. Mac and cheese is a staple for kids (and let's be honest, adults too!), and adding in the breadcrumb topping takes it up a notch without compromising on taste for those picky eaters. Plus, it's made from scratch, so you know exactly what goes into it.
Ingredients to make creamy baked mac and cheese
Elbow macaroni: Of course, elbow macaroni is the quintessential pasta shape used in mac and cheese. But, feel free to use a different shape, just make sure to adjust the cooking time according to the box instructions.
Panko bread crumbs or homemade breadcrumbs: The breadcrumb topping adds texture to each bite and an irresistible crunch. If you don't have panko on hand, try homemade breadcrumbs or crushed-up butter crackers.
Gruyere and cheddar cheese: Both of these cheeses have a strong, sharp flavor that adds depth to the creamy cheese sauce. Grate them yourself for the best results. Gruyere adds a nuttiness and depth of flavor, while the cheddar adds that classic mac and cheese taste we all know and love.
Dijon mustard: A little bit of dijon adds the perfect tang and depth to the cheese sauce. Don't omit this ingredient. It really takes the flavor up a notch!
Roux: The roux is the base of your creamy cheese sauce. It's made with flour and butter, which helps thicken the sauce and adds a richness from the butter. Milk is incorporated to create a creamy sauce. Whole milk is going to add the most creaminess, but feel free to use a lower fat milk if preferred.
Salt & Pepper: Add to taste. You'll want to taste it right before you add it to the baking dish to make sure you're happy with the salt level.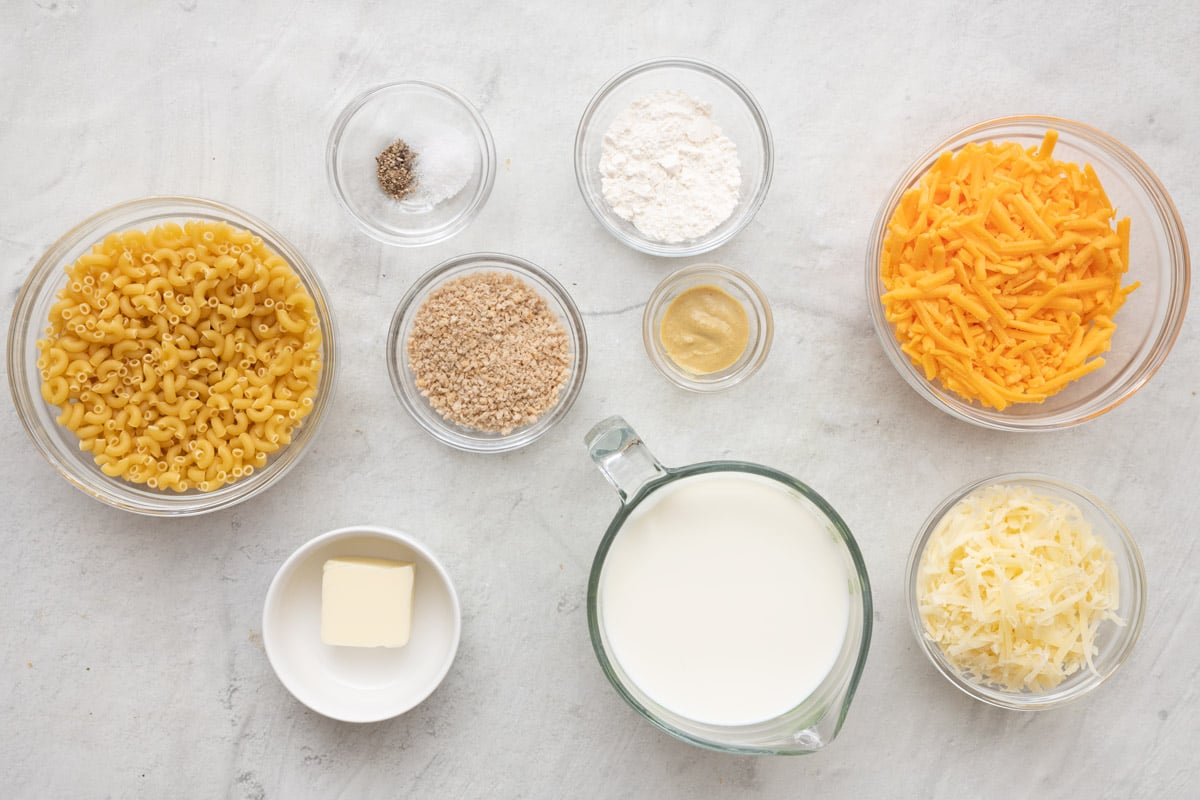 How to make baked macaroni and cheese
Ready to dive into the creamiest, cheesiest baked mac and cheese? Let's do it!
How to Make Macaroni and Cheese from scratch
Start by making a roux. This is the most important step to getting that creamy sauce and the perfect texture for the mac and cheese. Whisk together equal parts of butter and flour until golden.
Then whisk in the cold milk and break up any flour clumping. You'll know the roux is ready when the mixture sticks to a wooden spoon, like in my image below.
Once the roux bubbles and becomes thick, add the cheese, some dijon mustard or powdered mustard, and salt and pepper.
Mix the roux with the cheese until everything is well blended.
And then add in the pasta. I used classic elbow pasta and I cooked it al dente since we'll be baking it later on.
When you mix everything together, it's pretty much ready to go! But we're making baked macaroni and cheese here, so we must be patient for just one more step – the baking!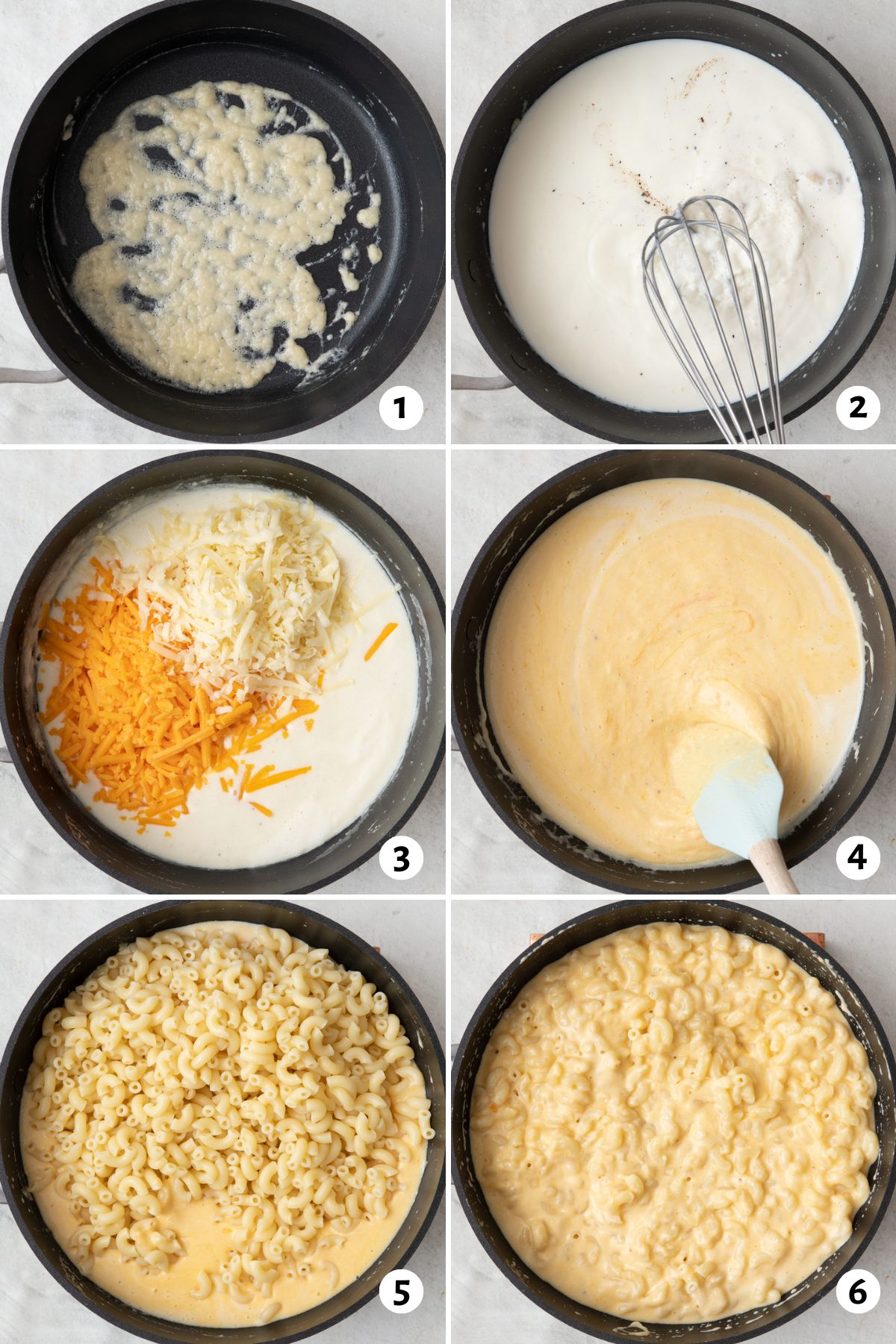 How to Bake Mac and cheese
If your saucepan is oven-safe or you're using a cast iron pan, you can top the mac and cheese with breadcrumbs and pop it in the oven. Otherwise, transfer it to an oven-safe baking dish, sprinkle on some bread crumbs or panko breadcrumbs and bake them until golden and bubbly.
When it comes out of the oven, the mac and cheese will be extra creamy with a crisp golden topping and truly irresistible!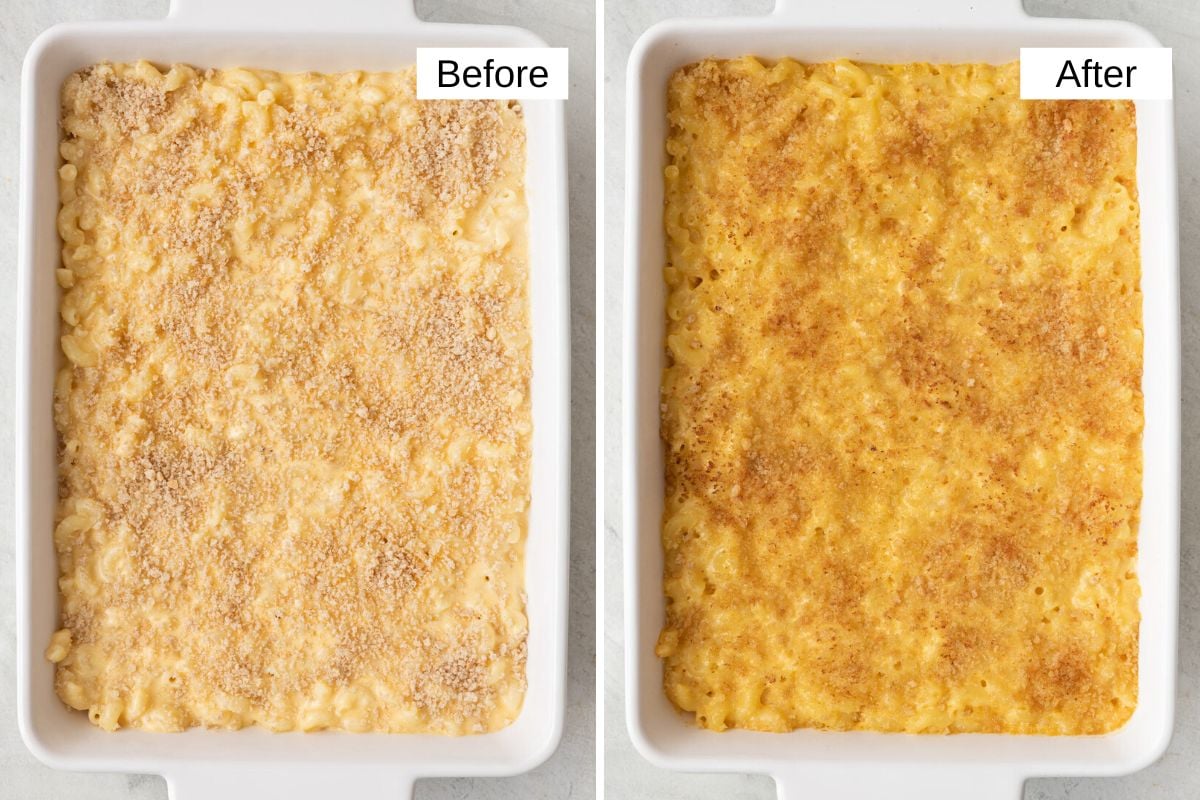 Tips for making baked mac and cheese with gruyere
Cook pasta al dente, or two minutes shy of the recommended cooking time. You want the pasta to be slightly undercooked because it's going to continue to bake in the sauce in the oven. If you overcook it on the stovetop beforehand, it will likely get too mushy and break apart while baking.
Cool the pasta before tossing it in the sauce. Normally we want to coat the warm pasta in whatever sauce we're making immediately. But doing so for baked macaroni and cheese can cause the elbow macaroni to absorb too much of the sauce and make it soggy after cooking. It's a good idea to rinse the pasta after cooking, drain and allow it to cool while you're making the sauce.
Grate your own cheese for the cheese sauce. Store-bought shredded cheese is convenient and works well for topping the mac and cheese. However, it doesn't work well for the cheese sauce because it has anti-caking agents, which can prevent the cheese from melting efficiently and sticking together in the sauce. Also, it can sometimes have a powder residue or grainy texture from those caking agents.
Use panko breadcrumbs for topping. I used regular breadcrumbs in my photos and panko in my video. I love the extra crunchy topping of the panko, and I think it combines really well with the cheesy sauce.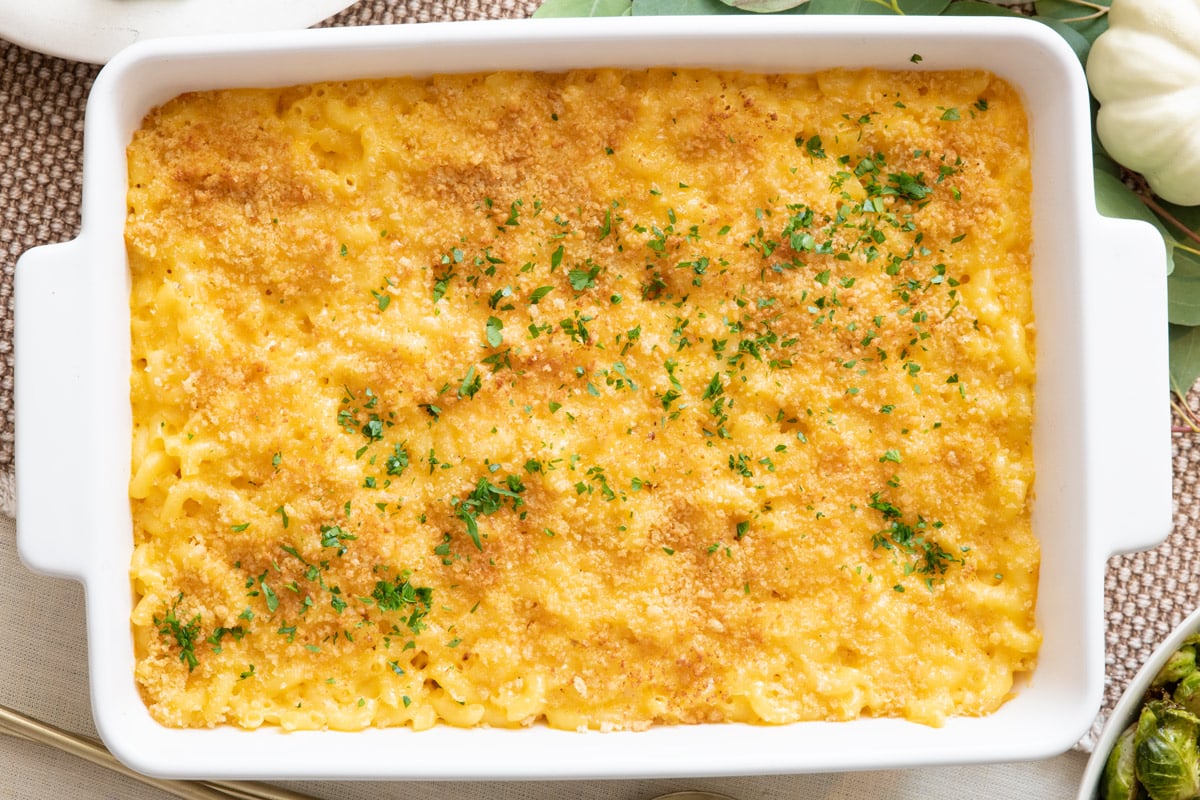 popular substitutions & additions
Season your breadcrumbs. You can add some parmesan cheese, garlic powder, onion powder, dried herbs, or crushed red pepper to add extra flavor to the breadcrumb topping.
Use different cheeses. Gruyere is a great melting cheese and adds a delicious nutty flavor, but feel free to mix in some other cheeses like sharp white cheddar, gouda, fontina, or even some blue cheese.
Add in some extra protein or veggies. Cooked ground beef, turkey, or even chicken goes great with mac and cheese. Or add in some sautéed broccoli, mushrooms, or peppers for a bit of added nutrition. Just make sure to cook them beforehand before adding them to the mac and cheese.
Try different types of pasta. Elbow macaroni is classic, but you can also use shells, cavatappi, or even spiralized veggie noodles for a healthier option. Just make sure to adjust the cooking time accordingly for the type of pasta you use.
what to serve/pair with your easy baked mac and cheese
Mac and cheese can easily be eaten by itself; it's filling and rich and a real indulgence! You can, of course, serve it up with a simple side dish. Try some of these easy sides with it:
how to store & reheat baked mac and cheese
Leftovers can be stored in the fridge, in an airtight container, or covered with foil.
To reheat, place mac and cheese in a baking dish and cover with aluminum foil. Heat at 350 degrees Fahrenheit until warmed through, about 20 minutes or so. Or microwave individual portions for 1-2 minutes, until warm.
how long will baked mac and cheese last in the fridge?
Leftovers can last in the fridge for up to 4 days. It's best to eat it within 2-3 days for the freshest and tastiest results.
Can i freeze baked mac and cheese?
I don't recommend freezing this mac and cheese recipe. Since we are making everything from scratch, it is possible that the milk with separate or the pasta can become mushy when thawed and reheated. It's best to just make and enjoy within a few days.
Frequently asked questions
What's the best type of cheese for Mac' N' Cheese?
I think this comes down to your preference. But generally, most recipes will have 2-3 types of cheese. I use sharp cheddar and Gruyere, which is a very popular combination. You can make this with white cheddar, mild cheddar, or medium cheddar. If you can't find Gruyere, Jarlsberg Swiss cheese or regular swiss cheese works well. If you want to throw in a third cheese into the mix, I highly recommend Raclette cheese, which is super melty and practically made for Mac N' Cheese.
Can I make this baked mac and cheese ahead of time?
If you're thinking about meal prep or holiday prep, baked macaroni and cheese is a great side dish to make in advance. You can assemble the dish (minus the breadcrumb topping), cover it with foil, and refrigerate it for up to 2 days before baking. When ready to bake, let it come to room temperature, add the breadcrumb topping and then bake as directed.
Can I make this mac and cheese without breadcrumbs?
Yes, you can definitely leave out the breadcrumb topping for a simpler version. The cheesy sauce will still be delicious on its own! Or, you can sprinkle some extra cheese on top before baking for a cheesy crust instead. Another option is to use crushed-up crackers or even crushed-up croutons for a crunchy topping. Get creative and have fun with it!
This is a perfect mac n' cheese recipe that is buttery, cheesy, and creamy! I know there are a ton of favorite baked mac and cheese recipes out there. This one is simple, easy-to-make and comes out so delicious, so I hope you give this one a try!
More pasta recipes:
If you try this feel good Baked Macaroni and Cheese recipe or any other recipe on Feel Good Foodie, then don't forget to rate the recipe and leave a comment below! It helps others who are thinking of making the recipe. We would love to hear about your experience making it. And if you snapped some shots, share it on Instagram so we can repost on Stories!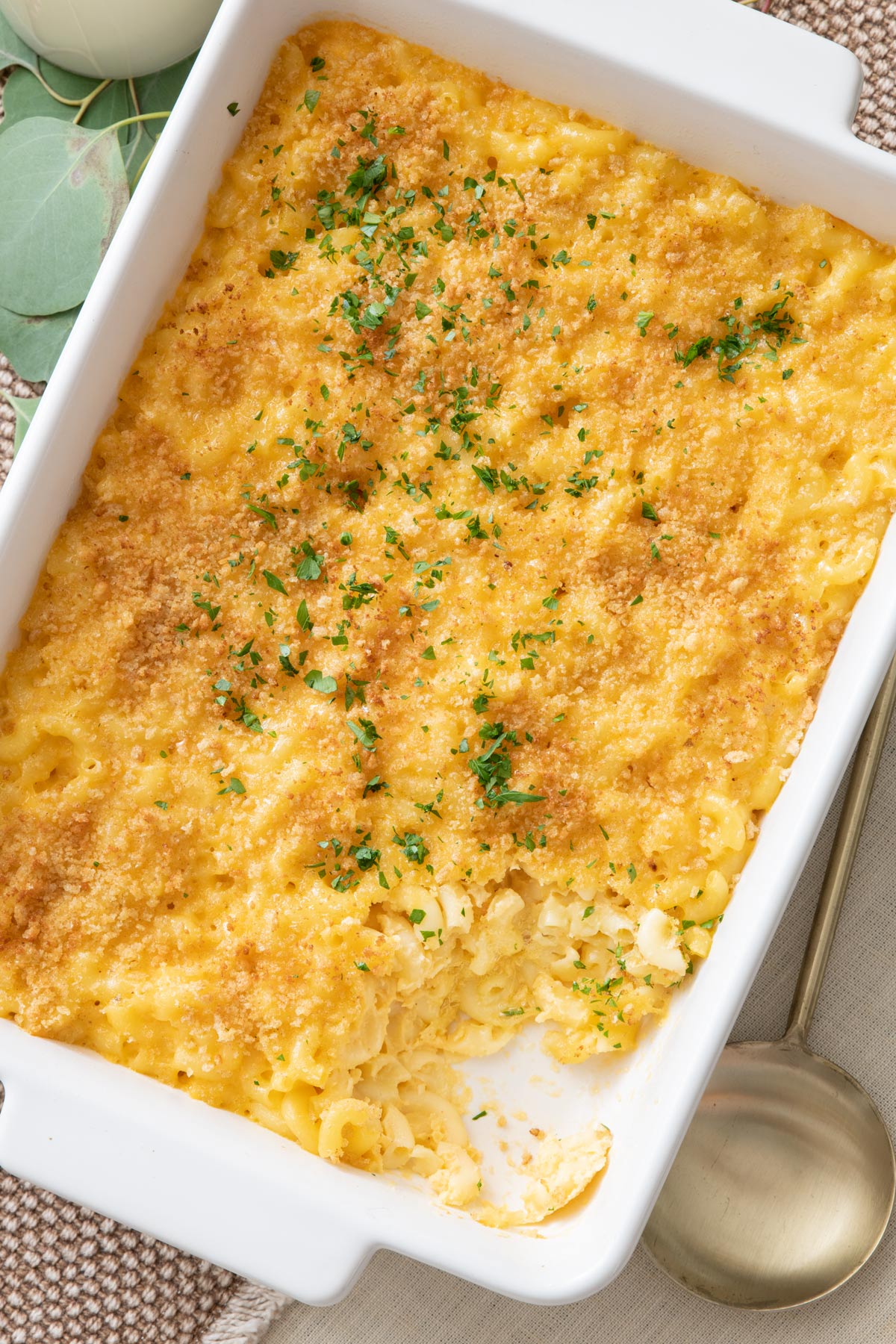 Baked Macaroni and Cheese
This classic Baked Macaroni and Cheese recipe is easy to make & topped with crispy panko breadcrumbs. It's a kid favorite but sophisticated enough for adults!
Instructions
Preheat the oven to 350°F. Butter an 8 x 11-inch baking dish and set aside.

In a large pot of boiling salted water, cook the pasta al dente according to package instructions. Drain, rinse and set aside to cool.

In another large saucepan over medium-high heat, melt the butter, then add the flour to make the roux. Whisk the flour and butter until they are combined and golden, about 2 minutes.

Slowly pour the milk, whisking as you pour. Add the Dijon mustard and season with salt and pepper to taste. Bring the mixture to a boil, then reduce to low and simmer, occasionally whisking until sauce is thickened, about 5-7 minutes.

Stir in the cheeses, then fold in the pasta. Transfer to the prepared baking dish and sprinkle with panko breadcrumbs. Bake until the breadcrumbs are golden and the edges are bubbly, about 20-25 minutes.
Notes
Storage: Store any leftovers in an airtight container. They will last about 3-4 days in the fridge.
Substitutes: For best results, follow the recipe as is. However here are some common substitutes that would work well in this recipe.
Use other types of shredded cheese in place of gruyere and cheddar if you'd prefer.
Instead of panko breadcrumbs, you can also use regular breadcrumbs
Nutrition
Calories:
598
kcal
,
Carbohydrates:
54
g
,
Protein:
29
g
,
Fat:
29
g
,
Saturated Fat:
17
g
,
Cholesterol:
90
mg
,
Sodium:
387
mg
,
Potassium:
346
mg
,
Fiber:
2
g
,
Sugar:
8
g
,
Vitamin A:
890
IU
,
Vitamin C:
0.2
mg
,
Calcium:
698
mg
,
Iron:
1.4
mg
Nutrition information provided is an estimate. It will vary based on cooking method and specific ingredients used.