This post may contain affiliate links. Please read our disclosure policy.
Lebanese Stuffed Grape Leaves are my all-time favorite dish that I grew up eating and actually grew up helping my mom make! In Arabic, we call it "warak enab" which means leaves of grapes, and traditionally it's stuffed with rice and meat or rice and veggies. While this is the rice and beef version, I also have the vegetarian stuffed grape leaves recipe if you prefer.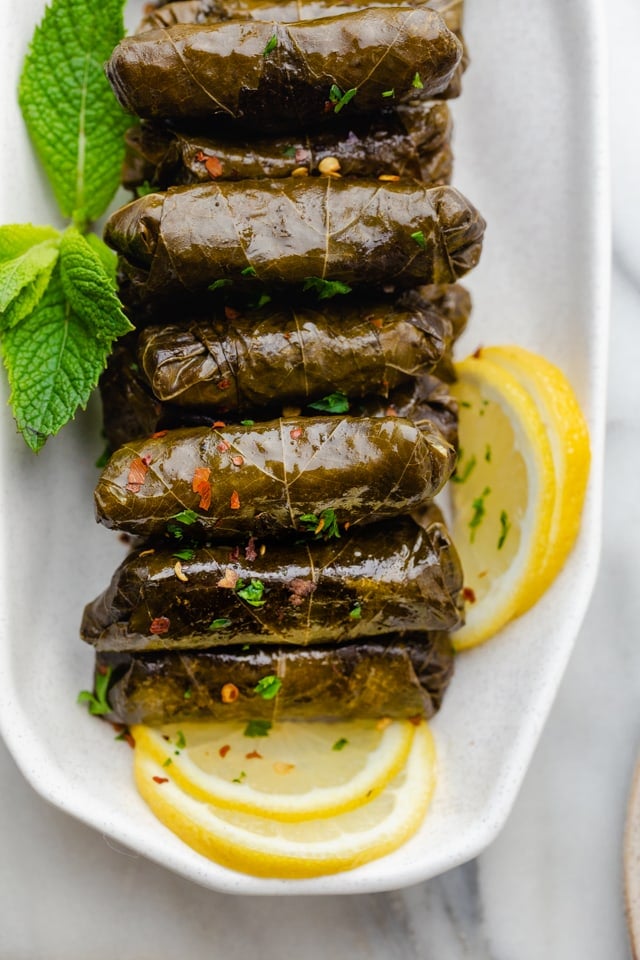 I may not have learned to cook until after I was married, but I learned to stuff and roll grape leaves when I was probably only 12 years old! This recipe is a near and dear to my heart, and truly a labor of love.
RECIPE VIDEO TUTORIAL
How do you make stuffed grape leaves
Prepare Stuffing
The first part is the hashweh. Hashweh is an Arabic word for stuffing. There are many variations of a hashweh recipe, but the two popular ones are these meat and rice with spices and the the vegetarian version with no meat.
Use a non-stick skillet to brown the ground beef (or lamb if you prefer), then add the uncooked short grain white rice. That basically makes up the hashweh. There's no need to cook the rice, because it will cook in the pot after rolled in the grape vine leaves.
As for seasoning, I keep it simple with some salt, 7 Spice and cinnamon. Mix that all together and the stuffing is ready.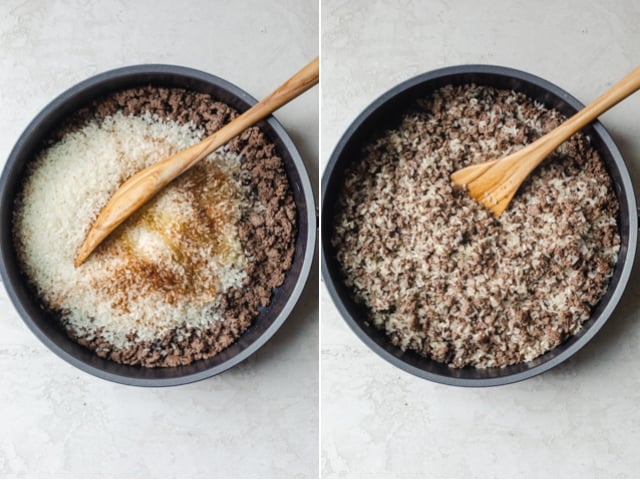 Prepare the grape leaves
You'll most commonly find leaves in a jar filled with brine. Look for ones that appear to have soft leaves, which make it easier to stuff and roll them. I like the Orlando brand.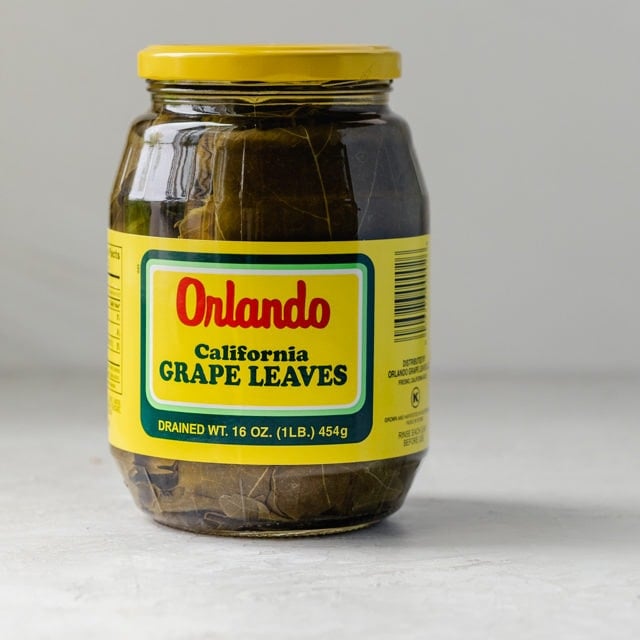 Next, wash the leaves individually with cold water and remove the middle stem. This is the thickest part of the leaf and if left, it can create a stringy texture. I'll demonstrate below how to properly cut it.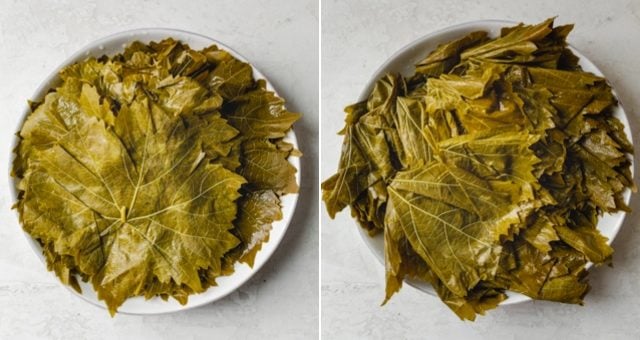 Stuff and roll the grape leaves
Now that you've prepared the stuffing and the leaves, it's time to get rolling. Start by folding the grape leave so the thick stem sticks out, then cut and discard that part. Next, open up the leaf flat on a cutting board and add a heaping teaspoon of stuffing in the middle of the leaf.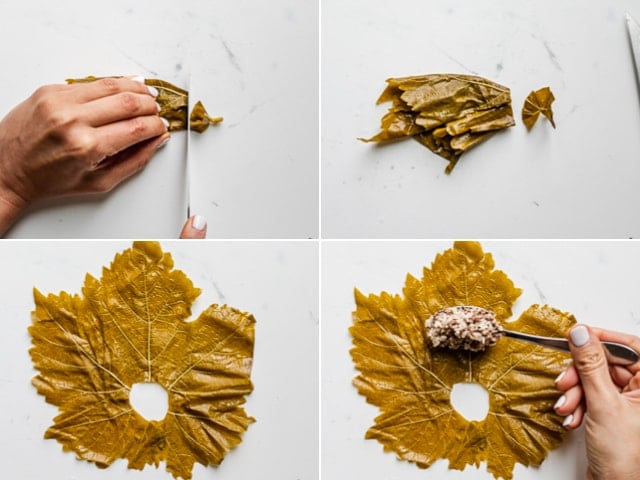 Now, carefully fold in the sides and roll it like you would when making a wrap. I recommend cutting all the stems first, then laying out four leaves a time on a cutting board to create a faster rolling process.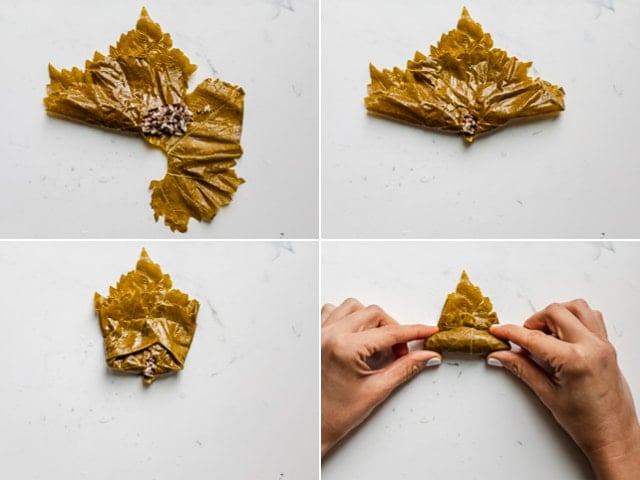 It will take about 45 minutes to roll one jar of grape leaves and this is what they'll look like when you're all done. Bravo! Truly a labor of love and one that goes by even faster when rolling with friends (hint, hint solicit friends to roll with you!)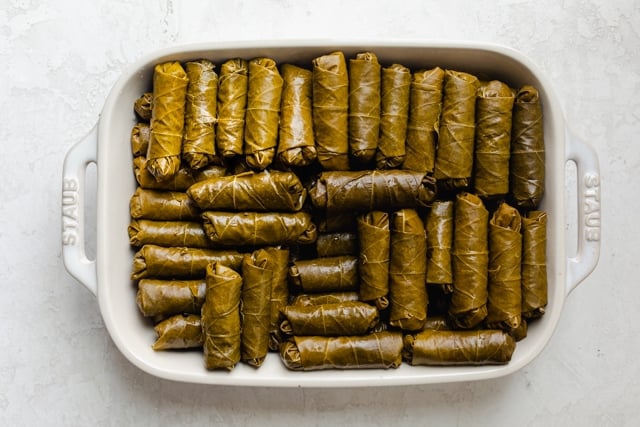 Cook the grape leaves
Next I use a deep pot for cooking the warak enab. I start by layering the pot with olive oil, sliced potatoes and/or tomatoes. Then I add the stuffed and rolled grape leaves over them and repeat the layers.
Adding the potatoes is a great tip to ensure that the leaves don't touch the bottom of the pot, which can result is charred grape leaves. It's also very popular to place a lamb rack on the bottom of the pot.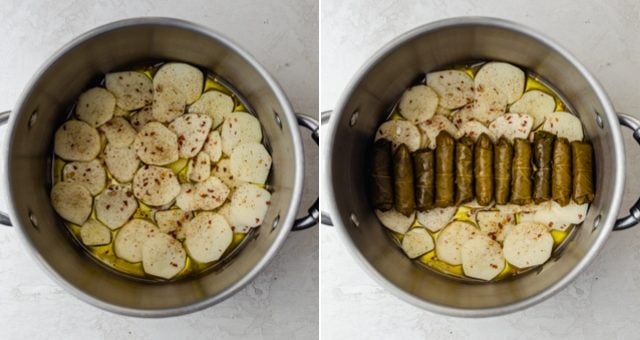 Repeat the layers in the pot until you run out of grape leaves. You can alternate the direction of the leaves in the pot to help keep everything tucked neatly and rolled.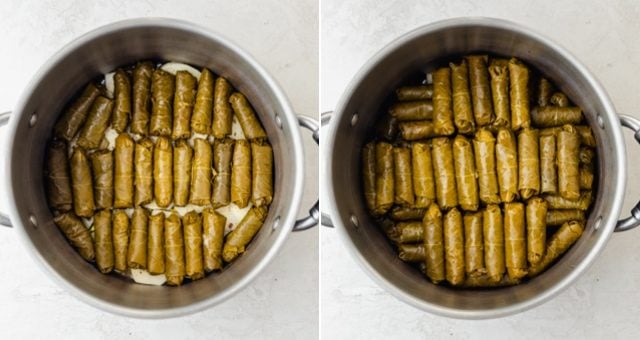 When you're done, add lemon juice, a couple slices of lemons and season with salt and pepper. Then place a small plate on top of the grape leaves to hold everything in place, and add boiling water on top. You want enough to cover the plate. It will all be absorbed by the rice in the cooking process.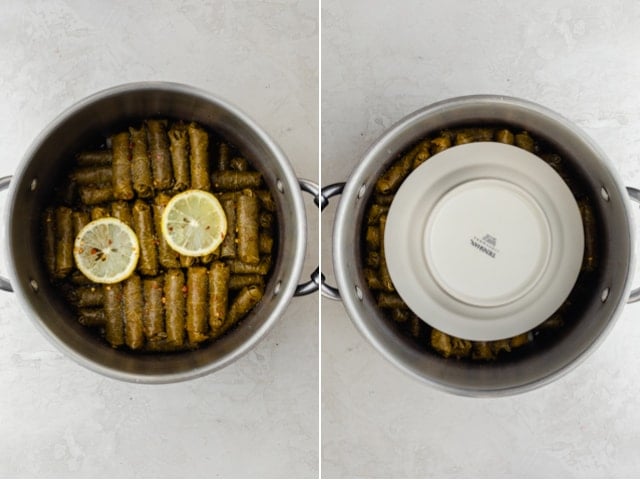 Then it's cooking time until the grape leaves are tender, juicy and utterly tantalizing! Trust me, you will be eating them straight from the pot while they're still piping hot! This grape leaves recipe is one that will definitely impress your family and friends. I haven't found anyone who doesn't absolutely love them!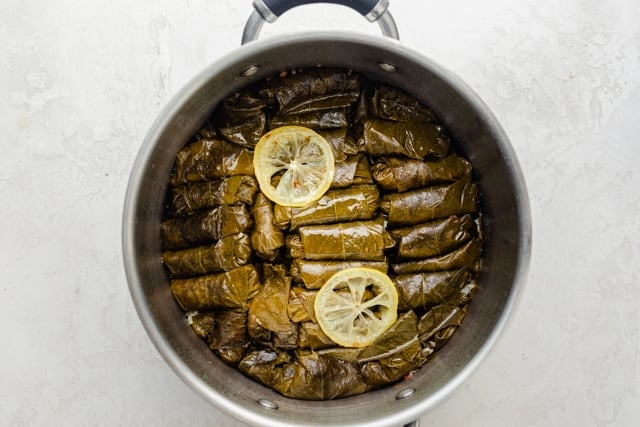 Tips for making grape leaves recipe
Remove the thick stem from the middle of the leaves. This is not mandatory, but the experience of chewing the grape leaves is so much more pleasant without a stringy stem getting in the way. Sometimes boiling the leaves will help soften them. But I find it faster to just cut them off.
Don't over stuff the leaves. Remember that the stuffing contains uncooked rice that will expand once cooked. So use a heaping teaspoon per leaf and spread it out into a thin line over the middle of the leaf.
Fold lightly to allow for expansion. Roll it tightly enough so that it doesn't unravel while cooking, but not too tightly since the rice needs room to expand as it cooks.
Allow time to rest before serving. Of course, you'll need a taste test when the timer goes off. But before transferring the grape leaves to a serving dish, allow them to rest for half an hour in the pot to absorb any remaining liquid and set. This also helps prevent any from unrolling accidentally.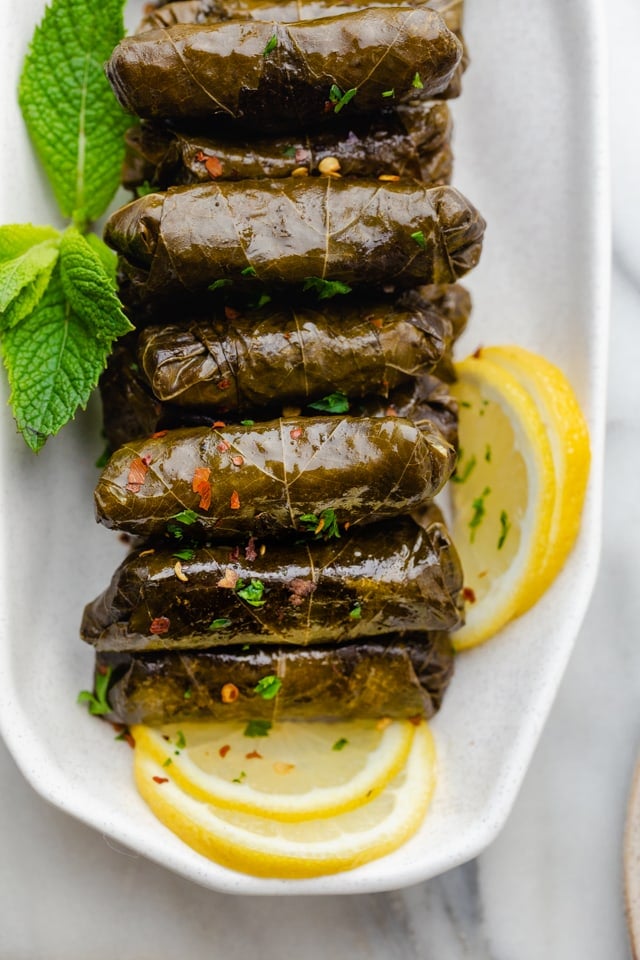 This dish is very popular in several Mediterranean countries and in the Middle East. There are some varieties in the ingredients and the technique depending on the region of the recipe, but it's essential stuffed grape leaves with a soft and delicious mixture. It's commonly served as part of a mezza in the Middle East or as an appetizer and it's loved by so many!
The Greek call it Dolmades.
The Turks call it Dolma.
The Lebanese call Warak Enab.
I call it YUMMY!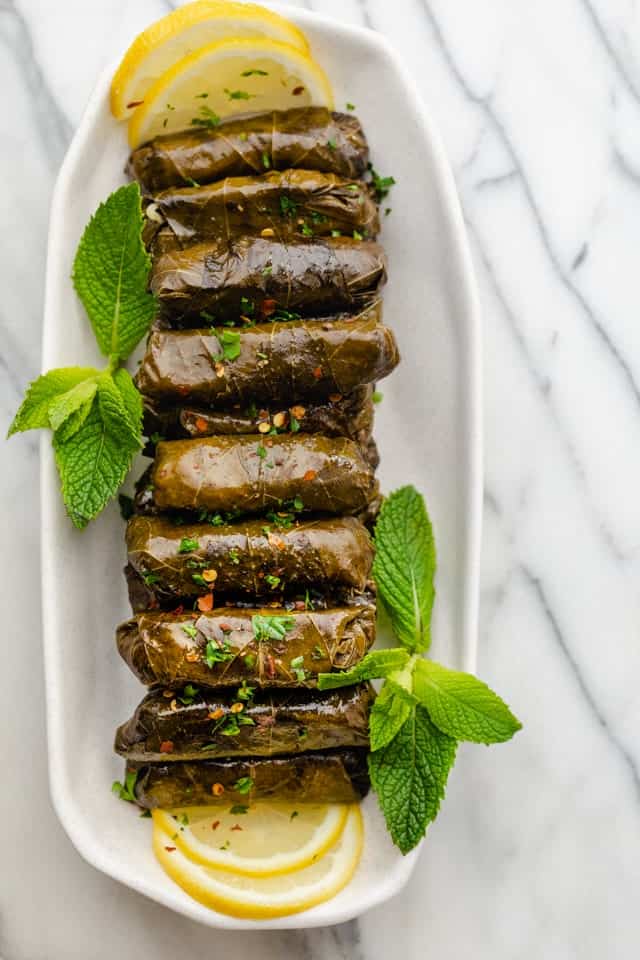 Frequently asked questions
Can I make this vegetarian?
Absolutely! I love the vegetarian version which is made with rice, parsley, onions and tomatoes. You can find the full Vegetarian Stuffed Grape Leaves recipe on my blog.
Can I make stuffed grape leaves with brown rice?
I have not tried it myself because I've heard of poor results. Brown rice needs extra cooking time as compared to white rice. That extra cooking time can result in overcooking the grape leaves. However if you'd like to try it, I've heard some people use instant brown rice with some success.
More Lebanese Recipes
If you've tried this healthy-ish feel good Stuffed Grape Leaves recipe or any other recipe on FeelGoodFoodie, then don't forget to rate the recipe and leave me a comment below! I would love to hear about your experience making it. And if you snapped some shots of it, share it with me on Instagram so I can repost on my stories!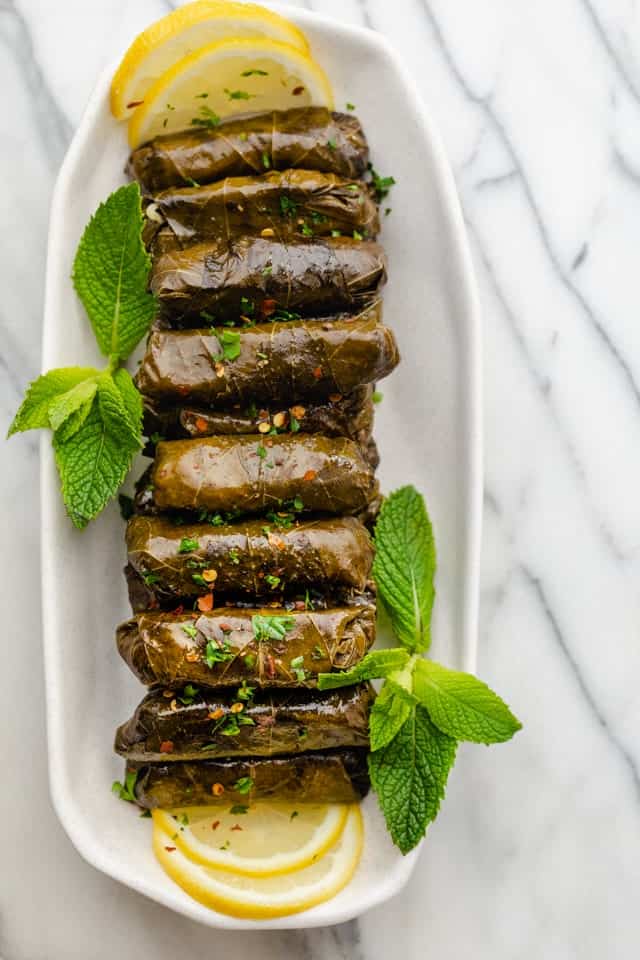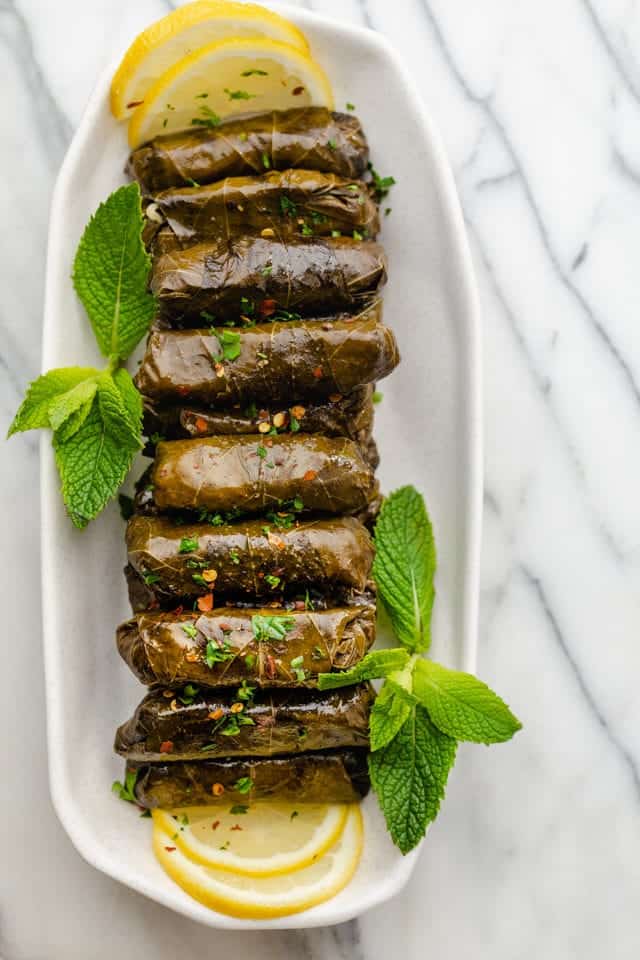 Lebanese Stuffed Grape Leaves (Warak Enab)
These Lebanese Stuffed Grape Leaves (Warak Enab) are made with a spiced ground beef and rice mixture – a delicious Mediterranean dish commonly served as an appetizer!
Ingredients
Instructions
Grape Leaves Preparation
Drain grape vine leaves and soak them in a large bowl of water.


Gently separate and wash the leaves individually. Stack them on a plate and set them aside. It is best to cover them with a damp cloth so they don't dry out, until you are ready to start rolling them.

Prepare Stuffing (Hashweh)
Heat a large pan with olive oil, and cook ground beef until browned. Season with salt and 7 Spice.

Add uncooked rice to the ground beef, then cinnamon and mix well until everything is incorporated.

Stuff, Wrap and Cook
To stuff and roll the grape leaves, lay a grape leaf flat on a cutting board, scoop out a heaping teaspoon of the rice mixture into the center of the grape leaf, and carefully fold in the sides and roll it like you would when making a wrap. Repeat until all the stuffing has been used and place the wrapped grape leaves in a tray.

Line the bottom of a large pot with tomatoes and/or potatoes and season with salt and pepper. Neatly arrange the stuffed and rolled grape leaves in rows, alternating directions, to completely cover the circumference of the pot. Drizzle each layer with olive oil and season with salt and pepper to taste.

Place small round plate on top of grape leaves in the pot to hold them down and prevent floating while they are cooking.

Add 5-6 cups of boiling water to completely cover the grape leaves and the plate, then cover the pot and cook on Medium heat for 30 minutes, until most of the water is absorbed and the rice is cooked.


Add the lemon juice on top of the grape leaves, then cook on low heat for an additional 45 minutes.

Remove from heat and let cool uncovered for 30 minutes. Transfer to a dish and enjoy warm!
Notes
Recipe: There are so many variations of this grape leaves recipe depending on the region adapted from. There is no absolute one way to make this dish, but this was the recipe passed down from my Lebanese parents and it's one that I've made and enjoyed for many many years.
Substitutes: For best results, follow the recipe as is. However here are frequently asked substitution questions
You can use ground lamb instead of ground beef or a mixture of both.
Avoid using brown rice. If you use brown rice, you have to increase the cooking time by 30 minutes, which may result is overcooking the grape leaves. I have not tried it but heard of poor outcomes.
Storage: Store any leftovers in an airtight container. They will last about 3-4 days in the fridge. 
Make Ahead Tips: You can make the hashweh stuffing up to 2 days in advance. You can also wash the grape leaves from the brine in advance to minimize last minute work.
Sourcing: You can find jars of grape leaves at Middle Eastern markets, natural-foods stores or even in large supermarkets, often located with other Middle Eastern ingredients. You can also buy on amazon.com. These are my favorite brands: Orlando or Cortas.
Equipment: If you have a pressure cooker, the grape leaves can be made with that. Just pack the rolled grape leaves in the pressure cooker, add the water, close and cook for 15 to 20 minutes at the first pressure mark.
Nutrition
Serving:
10
g
,
Calories:
45
kcal
,
Carbohydrates:
5
g
,
Protein:
2
g
,
Fat:
2
g
,
Saturated Fat:
1
g
,
Cholesterol:
5
mg
,
Sodium:
25
mg
,
Potassium:
49
mg
,
Fiber:
1
g
,
Sugar:
1
g
,
Vitamin A:
15
IU
,
Vitamin C:
1.1
mg
,
Calcium:
3
mg
,
Iron:
0.5
mg
Nutrition information provided is an estimate. It will vary based on cooking method and specific ingredients used.