This post may contain affiliate links. Please read our disclosure policy.
Oven-roasted lamb chops marinated in fragrant rosemary, fresh lemon, earthy garlic, and olive oil. Seared in cast iron until golden brown and then finished in the oven – so tender, you'll swear they melt in your mouth! If you want to impress without spending hours in the kitchen, this baked lamb chop is perfect. It's an easy yet elegant main protein that makes any dinner feel special.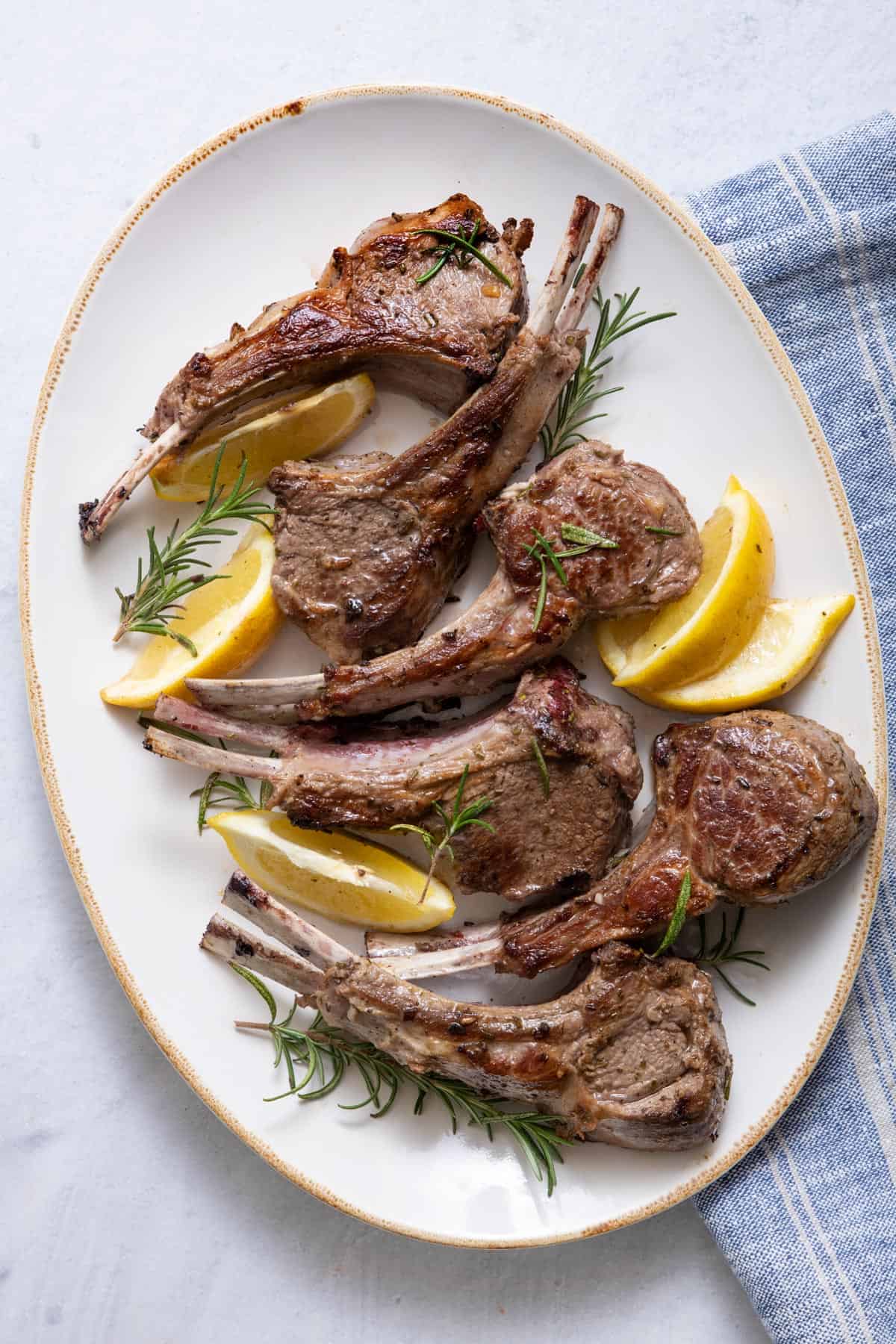 Lamb chops are one of my son's favorite things to eat. They are so tender and flavorful, and they pair well with so many different sides. I make them roasted, grilled, or even pan-seared. But my absolute favorite way to cook lamb chops is in the oven. Baking lamb chops in the oven is one of the easiest ways to cook them. It's also one of the most foolproof methods. So let's get started!
why you'll love cooking lamb chops in the oven
Easy. Making lamb chops in the oven is about as easy as it gets. You don't have to worry about them sticking to the grill or flipping them over and over again.
Even cooking. Oven baking gives you much more control over the heat, so your lamb chops will be evenly cooked every time.
"Fancy" protein. Lamb chops are a great way to impress your dinner guests and provide a sense of refinement. They make any event feel special.
Tender and delicious. Above all else, lamb chops cooked in the oven are incredibly tender and full of flavor. The marinade penetrates the meat and infuses it with all sorts of deliciousness.
Ingredients to make baked lamb chops
Lamb chops: When picking out lamb chops, you want to look for ones that are about ½-inch thick. You can usually find these at your local grocery store or butcher.
Rosemary: I love using fresh rosemary in this recipe, but you could also use dried rosemary if that's all you have on hand.
Lemon: You can use the lemon juice and add a little lemon zest to the marinade if you'd like.
Garlic: I like to use fresh garlic cloves, but you could also use garlic powder.
Olive oil: You'll need enough olive oil to coat the lamb chops and create an excellent marinade. The olive oil also helps create that golden brown seared outside.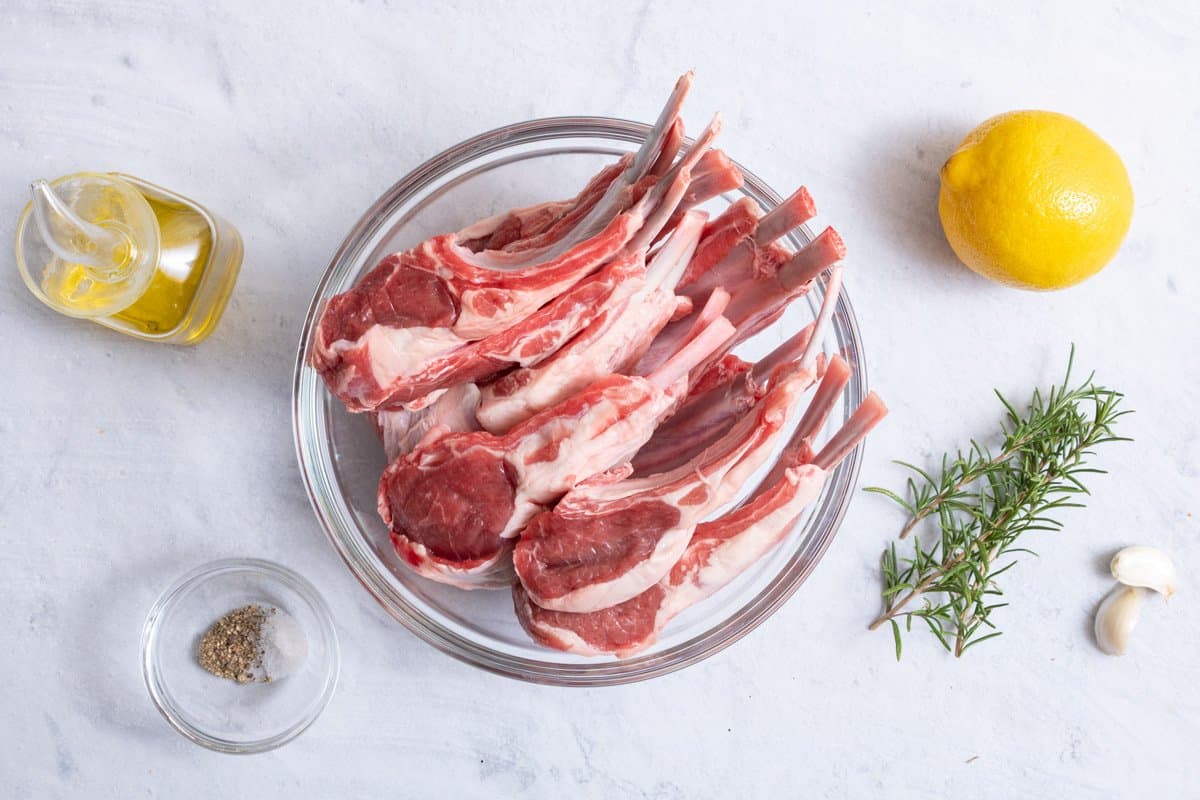 How to make baked lamb chops
Mix the olive oil, lemon juice, garlic, rosemary, salt, and pepper.
Add lamb chops and turn to coat in the marinade.
Add the marinated lamb chops to a hot cast iron skillet. Cook on one side, flip, and immediately transfer to the oven to finish cooking.
Bake in the oven until a thermometer inserted into the center indicates your lamb chops have come to temperature.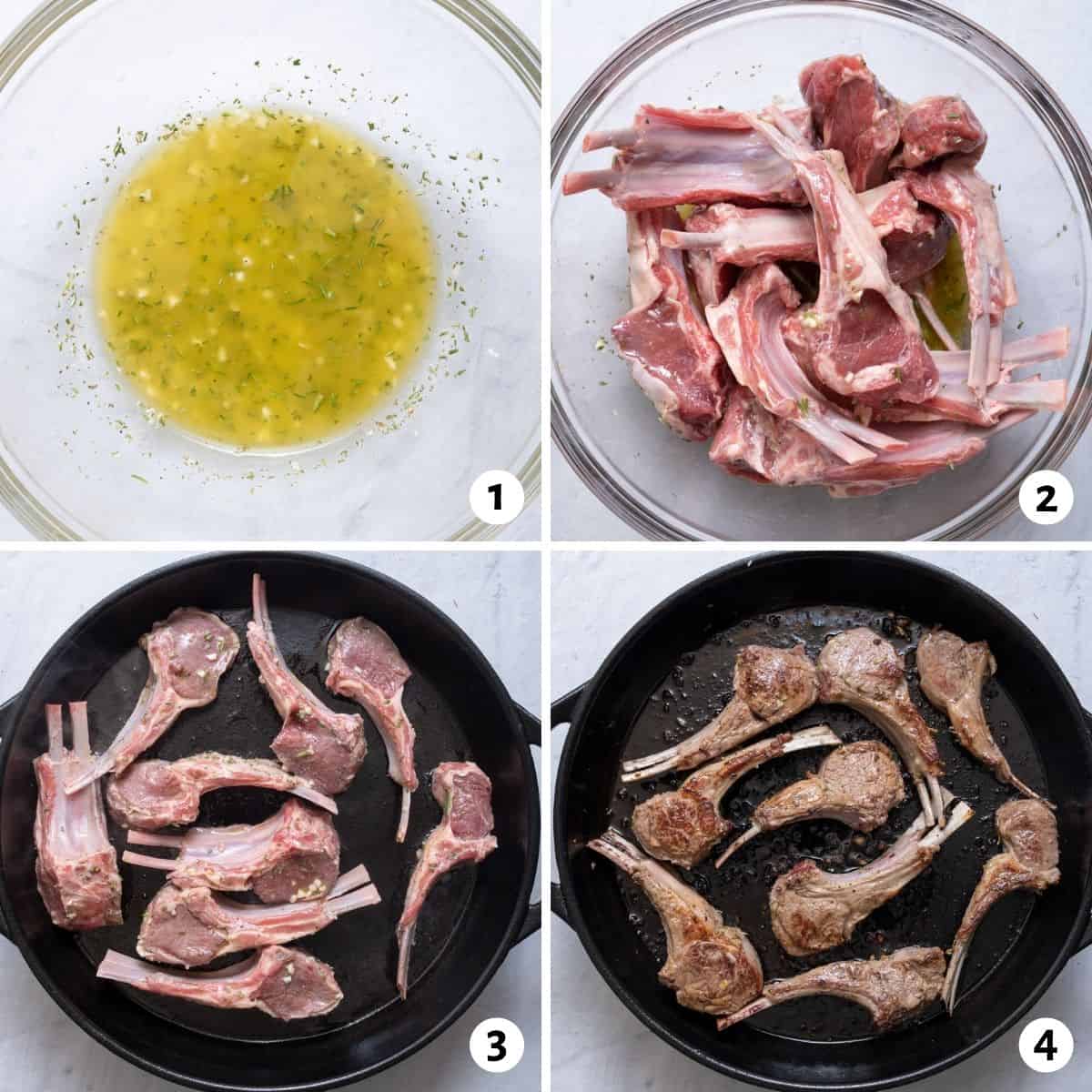 Tips for making lamb chops in the oven
Marinate ahead. You can marinate the lamb chops up to 12 hours in advance. Just be sure to cover them tightly and store them in the refrigerator. Bring them out and let them sit at room temperature while you preheat the oven to take some of the chill off!
Use the broiler. These chops cook pretty quickly, but if you want them to cook even faster, you can broil them! Use a foil-lined pan and broil for 5 minutes for a medium temperature, flipping the chops halfway through for the most even cook.
Do not rest baked lamb chops in a cast iron skillet. The resting period is important for allowing the juices to concentrate in the chops, but resting on the skillet that was in the oven may result in overcooking the chops.
Skip the stovetop time if you don't have an ovenproof skillet. I love to brown the lamb chops on the stovetop before finishing the cooking in the oven, and it's easy to do that with a cast iron skillet. However, you can cook it entirely just in the oven. Replace the stovetop time with an additional 3-5 minutes based on the desired doneness.
what to serve with your roasted lamb chops
I love serving these baked lamb chops with a fresh salad and/or a warm side dish made with rice or potatoes.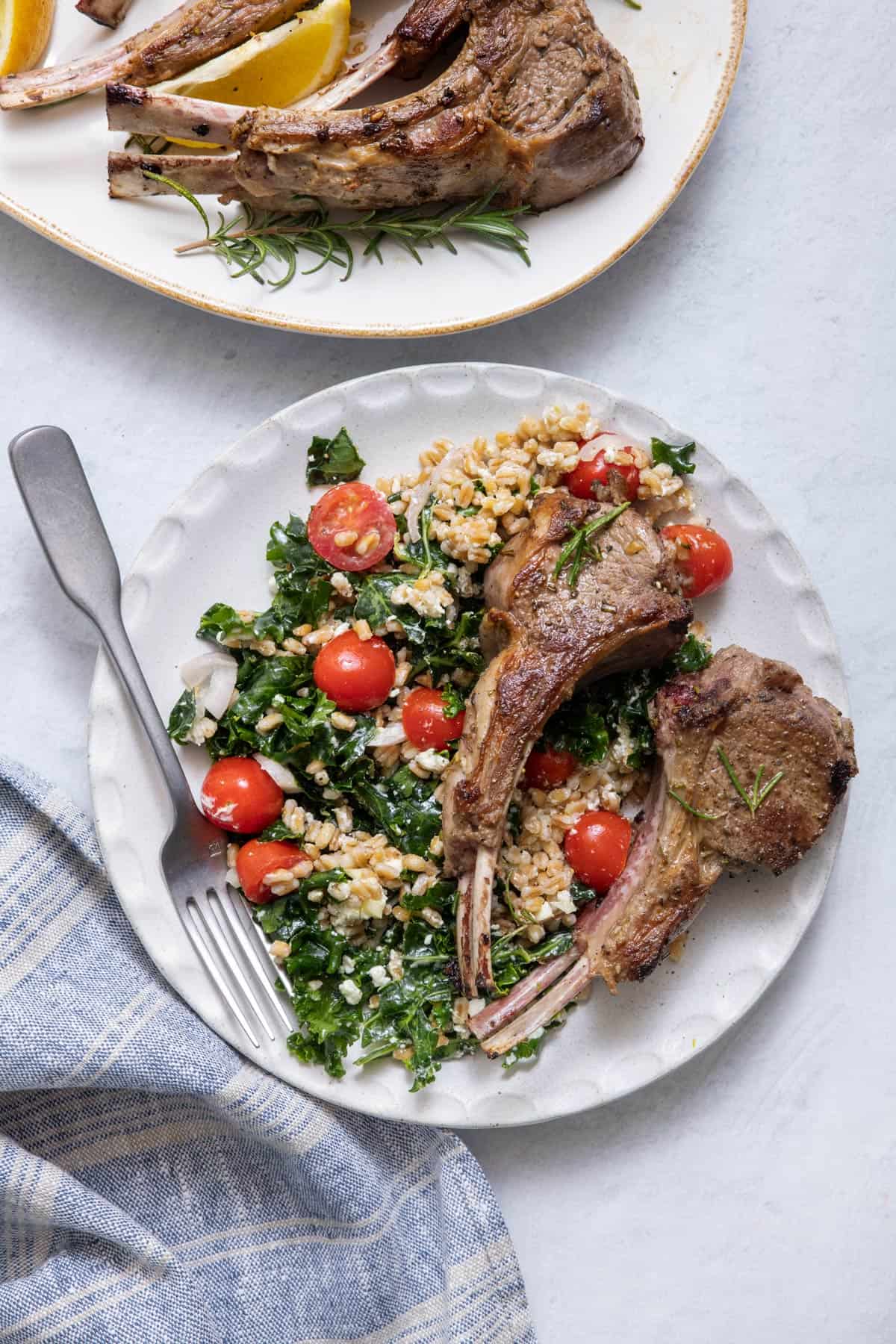 how to store & reheat baked lamb chops
Store any leftover baked lamb chops in an airtight container in the refrigerator. They will last for up to four days. When you're ready to eat, simply reheat in a 350-degree oven until warmed through.
how long will lamb chops last in the fridge?
Lamb chops are best eaten within four days of cooking. Beyond that, they may start to dry out or become tough.
Can i freeze baked lamb chops?
I do not recommend freezing cooked lamb chops as they will become very dry and tough when reheated. If you want to freeze them, it's best to freeze them raw and then thaw them in the refrigerator overnight before cooking.
Frequently asked questions
What kind of meat is lamb chops?
Lamb chops are a type of red meat that comes from, you guessed it, lambs! They are usually cut from the area around the ribs or loin and can be either boneless or bone-in.
Do I need to remove the bone from lamb chops?
If you're using rib or loin chops, then you likely won't need to remove the bone as they are usually pretty small. If you're using shoulder chops, then you may want to remove the bone as they can be a bit larger and more difficult to eat.
Do I need to marinate lamb chops?
While lamb chops are delicious on their own, marinating them beforehand will help infuse them with even more flavor. I like to marinate mine for at least an hour, but you could do it for up to 12 hours if you want.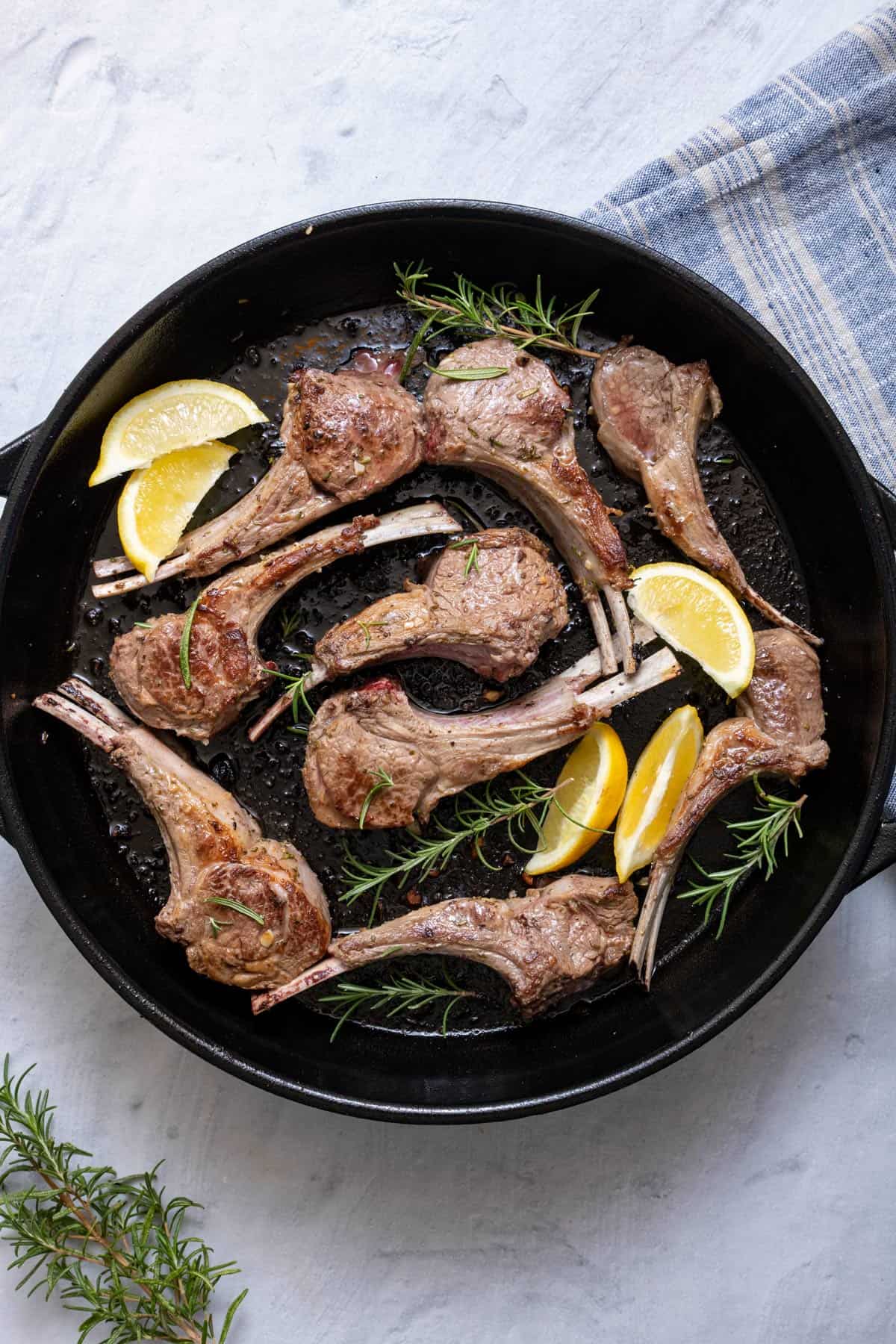 Whether you're looking for an easy weeknight meal or something a little fancier for entertaining, these oven-baked lamb chops are the perfect solution. Tender and juicy, they're infused with all the flavors of rosemary, lemon, and garlic. Plus, they're simple to make and only require a few ingredients. And the best part? There's no need to stand over a hot grill or flip them constantly. Let the oven do all the work for you!
More lamb recipes:
If you try this feel good Baked Lamb Chops recipe or any other recipe on Feel Good Foodie, then don't forget to rate the recipe and leave a comment below! It helps others who are thinking of making the recipe. We would love to hear about your experience making it. And if you snapped some shots, share it on Instagram so we can repost on Stories!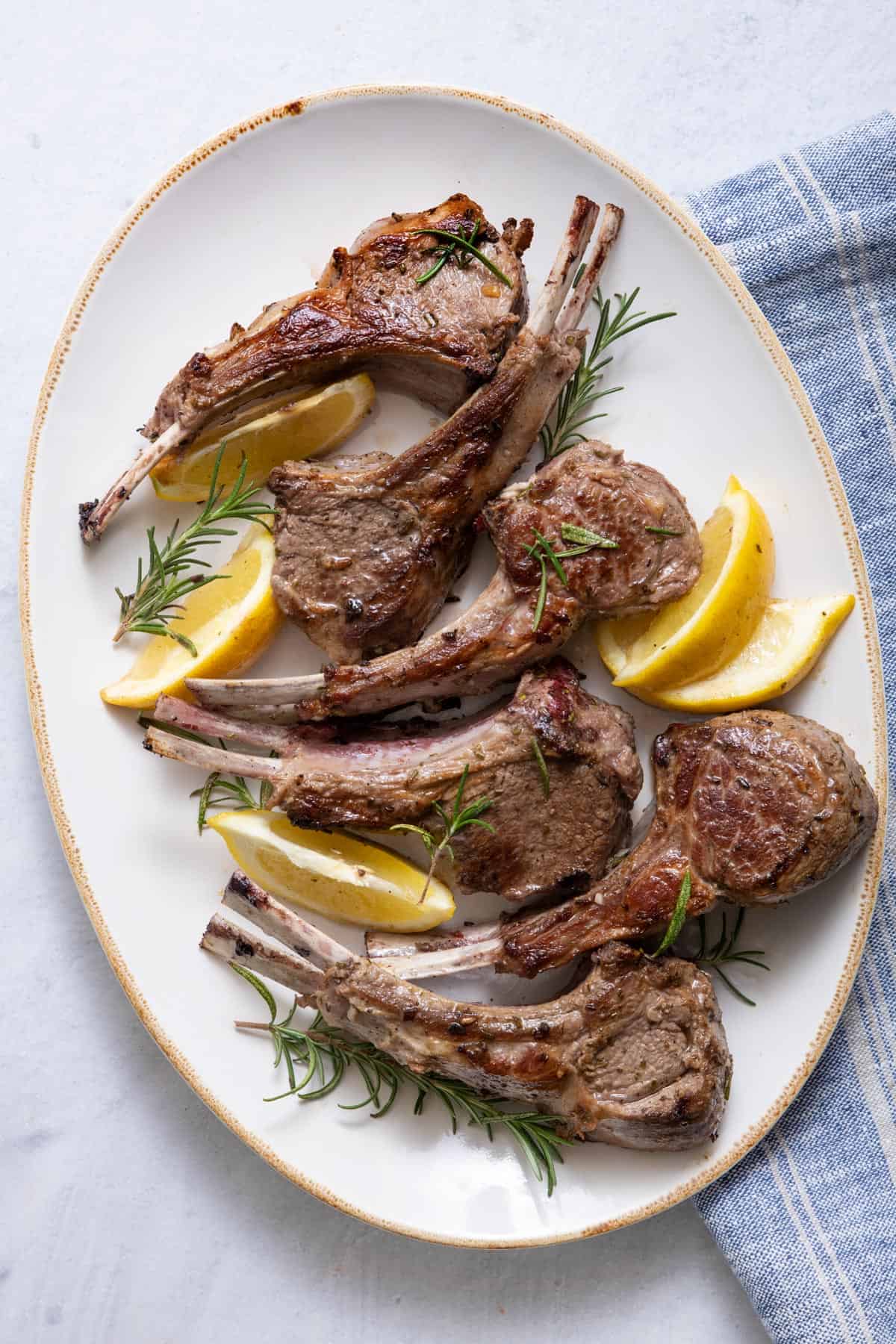 Baked Lamb Chops
Tender, oven-baked lamb chops marinated in rosemary, garlic, olive oil with just a hint of lemon. Roasted lamb chops are perfect for elegant dinner parties.
Instructions
In a large, shallow glass dish, stir together olive oil, lemon juice, garlic, rosemary, salt, and pepper. Add lamb chops and turn to coat in the marinade. Cover and let marinate at room temperature for one hour.

When ready to cook, preheat the oven to 400°F and heat a cast iron skillet over medium high heat. When heated, use tongs to transfer the lamb chops to the cast iron skillet and discard any remaining marinade.

Cook on one side for 3 minutes, flip and then immediately transfer to the oven to finish cooking. Bake in pre-heated oven until a thermometer inserted into the center reads 5 degrees below desired final temperature (4-5 minutes for 135 degrees F, which will rest up to 140°F after resting for a medium temperature).

Remove chops from the oven and from the cast iron skillet and let rest for 5 minutes. Serve with any grain and/or salad of choice.
Notes
Storage:
Store in the refrigerator in an airtight container for up to four days.
Nutrition
Calories:
693
kcal
,
Carbohydrates:
1
g
,
Protein:
84
g
,
Fat:
37
g
,
Saturated Fat:
11
g
,
Polyunsaturated Fat:
3
g
,
Monounsaturated Fat:
19
g
,
Cholesterol:
257
mg
,
Sodium:
346
mg
,
Potassium:
1090
mg
,
Fiber:
1
g
,
Sugar:
1
g
,
Vitamin A:
16
IU
,
Vitamin C:
3
mg
,
Calcium:
45
mg
,
Iron:
8
mg
Nutrition information provided is an estimate. It will vary based on cooking method and specific ingredients used.