This post may contain affiliate links. Please read our disclosure policy.
This Cranberry Orange Bread is a classic winter quick bread loaf that is so easy to make. If you're having guests visit for the holidays, there's nothing that welcomes them to your home quite like the smell of freshly baked cranberry bread. This quick bread recipe is bursting with sweet orange flavor and tart cranberries that are all balanced with the earthy walnut flavor.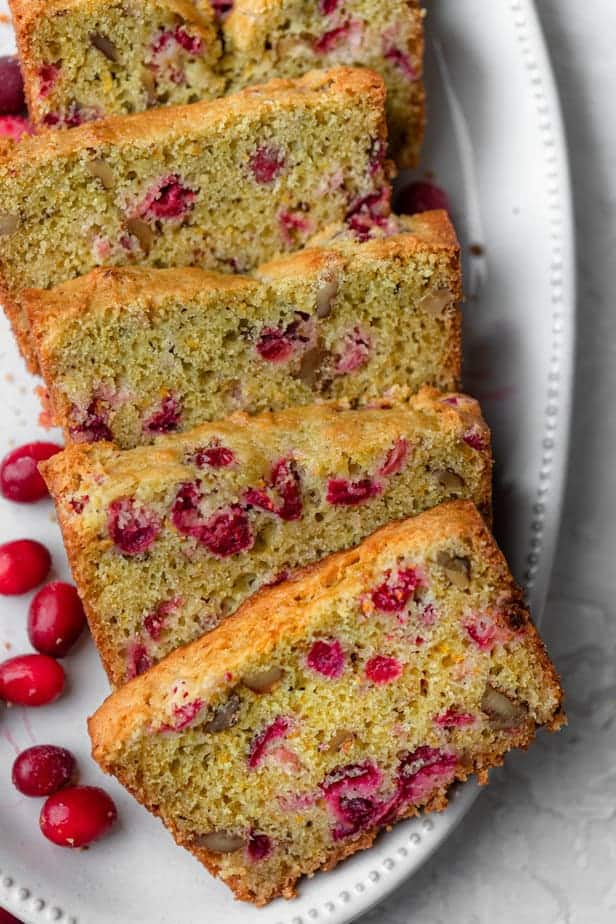 Baking a loaf of cranberry orange bread is a great way to bring some warmth into your home. This recipe uses fresh cranberries and a hint of orange zest to create a quick bread that is both tart and slightly sweet. Paired with the crunch of walnuts, it makes for a satisfying snack any time of the day. Give it a try and enjoy a loaf of hearty, homemade bread.
Why You'll Love This easy Cranberry Orange Bread.
Easy to Make: You don't have to be a seasoned baker to make this bread. The recipe is uncomplicated and straight to the point, making it accessible for anyone to try.
Versatile: Enjoy a slice of this cranberry orange bread for breakfast with a cup of coffee, serve it as an afternoon snack, or even have it for dessert. This cranberry orange bread fits perfectly at any moment of your day.
Homely and Comforting: There's something about baking bread at home that fills the space with a sense of comfort and warmth. This recipe brings that homely feeling with its simple ingredients and method.
Ingredients to make cranberry orange bread
Dry ingredients: Flour, sugar, baking powder, baking soda and salt.
Wet ingredients: Coconut oil (melted), egg and orange zest.
Orange juice: I prefer to squeeze it fresh for best flavor.
Cranberries: You can use fresh or frozen. I like to vacuum seal mine when I buy it during Thanksgiving and freeze it until I'm ready to bake this cranberry orange bread. If you're using frozen, there's no need to thaw. This will also work with dried cranberries, although fresh/frozen are best.
Walnuts: The walnuts are optional and you can substitute them with other nuts you prefer, but I highly recommend adding them to balance out the sweet and tart flavors.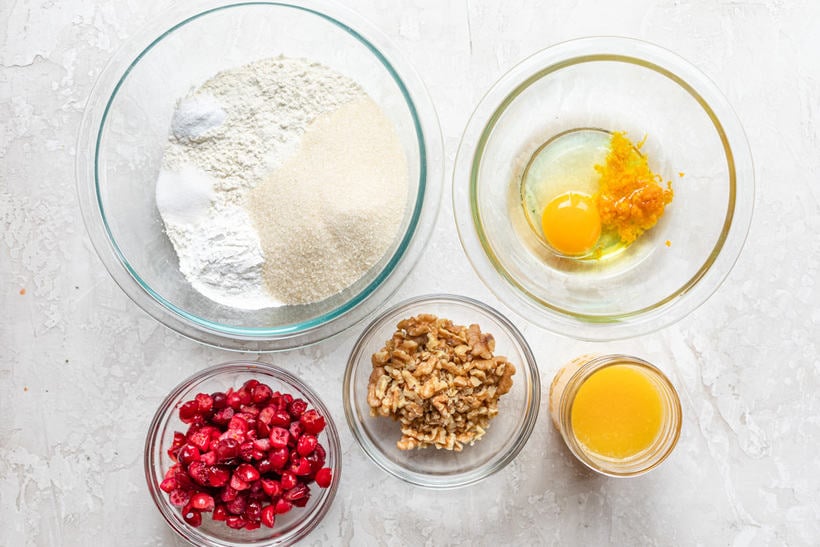 How to make cranberry orange bread
Start with the dry ingredients in a large bowl.
Give them a good stir or whisk to combine.
Add the chopped cranberries and chopped walnuts to the flour mixture.
Mix everything together. Tossing these heavy add-ins helps them not sink to the bottom of the cranberry orange bread after we bake it. The flour coating keeps them in their place.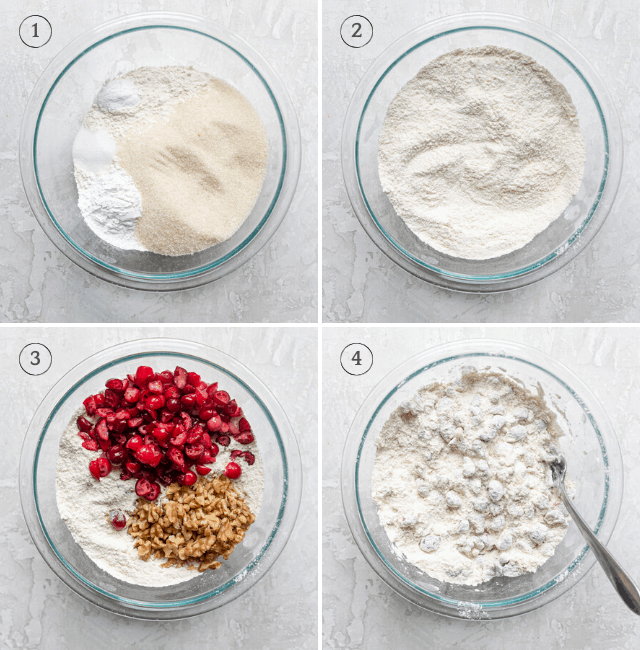 Next combine all the wet ingredients in another bowl.
Stir to combine until everything is well incorporated
Place the wet ingredients on top of the dry ingredients
Mix everything together until you get a thick batter. Some flour streaks are ok.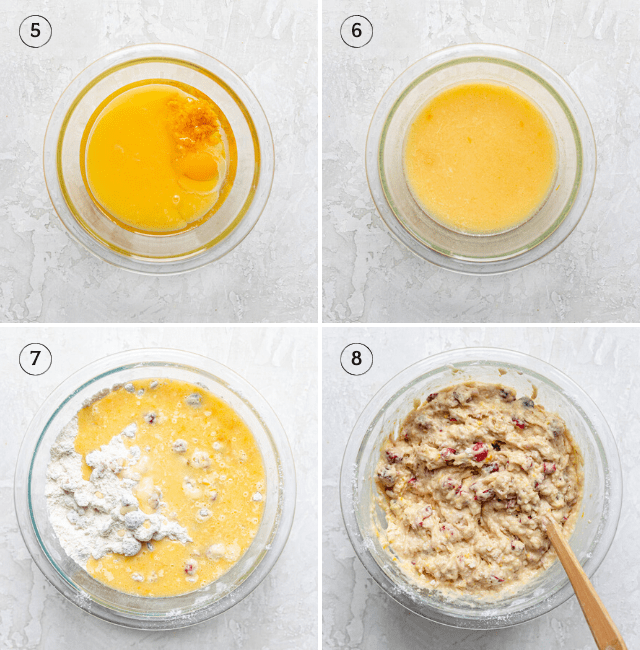 Then it's baking time. If you notice that the loaf is getting browned before the time is up, you can tent the loaf pan after about 30 minutes. I don't find that it's necessary since this cranberry orange bread doesn't rise too much.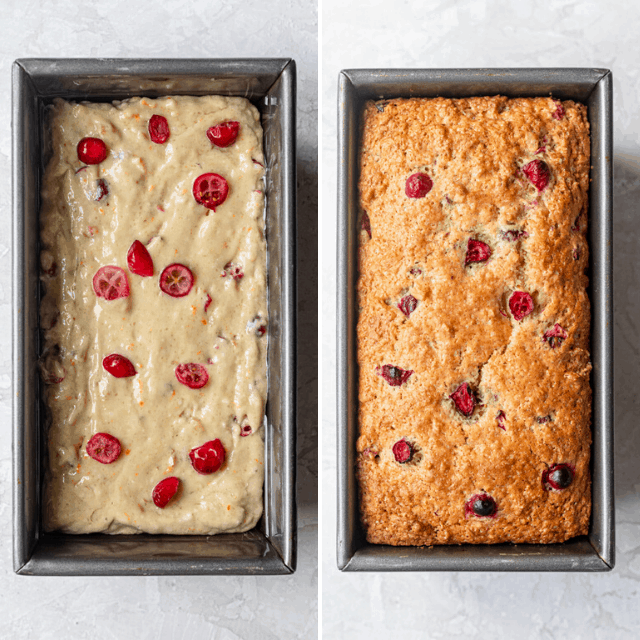 Tips for making the best cranberry orange bread
Use wet ingredients at room temperature. This is to ensure that the quick bread batter mixes together easily and evenly, and the coconut oil doesn't solidify when it comes in contact with any cold ingredients.
Chop the cranberries and walnuts. Chopping the cranberries reduces the massive tart scare you might experience biting into a full cranberry (regardless of whether it's cooked!). And chopping the walnuts just gives a nutty flavor in every bite.
Coat the cranberries and walnuts with the dry mixture to keep them from sinking in your cranberry orange bread before adding the wet ingredients. This is great to ensure that they don't all fall to the bottom of the pan after baking.
Cover the bread loosely with aluminum foil halfway through baking. This is only necessary if you notice the top is getting too brown before the bread bakes through.
Freeze extra cranberries. When cranberries are in season at their peak flavor, it's a great idea to stock up on them. Grab my tips for freezing cranberries so you can enjoy them in recipes even when they're not in season.
Popular substitutions and additions
Swap the nuts. If walnuts aren't to your liking or if you're looking to try something different, feel free to use pecans, almonds, or even macadamia nuts for a variation in texture and flavor.
Vary the citrus. While this cranberry orange bread recipe uses orange juice and zest, you can experiment with other citrus fruits like lemon or grapefruit for a distinct yet equally delightful tartness.
Add spices. Introduce a warm note to your bread by adding a pinch of spices such as cinnamon, nutmeg, or cardamom to the batter.
Gluten-free version. For a gluten-free variant, replace the all-purpose flour with a gluten-free flour blend.
Vegan adaptation. To make this bread vegan, use a flaxseed egg in place of the large egg, and substitute the cane sugar with coconut sugar or another vegan sugar.
Additional add-ins. Enhance the flavor and texture by adding in some extras like shredded coconut, chocolate chips, or dried fruits such as raisins or dried cranberries.
Sugar alternatives. If you're looking to reduce the sugar content, you can substitute cane sugar with a sugar alternative, adjusting to taste.
How to Store and Reheat Cranberry Orange Bread
Ensuring that your cranberry orange bread remains fresh for as long as possible requires proper storage techniques. Here's how you can store and, if necessary, reheat your bread to enjoy it at a later time:
Storing:
Cool it down. Before you store the bread, let it cool to room temperature to prevent it from becoming soggy due to condensation.
Airtight container. Use an airtight container to store your bread, helping it maintain its freshness for a longer period.
Reheating:
Microwave. If you're looking for a quick reheating method, the microwave is your best bet. Place a slice of the bread on a microwave-safe plate and heat it for about 10-15 seconds, checking its temperature before deciding if more time is needed.
Oven. For a crispier crust, reheat the bread in a preheated oven at 350°F for about 5-8 minutes, checking frequently to prevent burning.
How Long Does Cranberry Orange Bread Last?
When stored correctly in an airtight container at room temperature, the cranberry orange loaf will last for about 3-4 days. If you store it in the refrigerator, it can last for up to a week.
Can I Freeze Cranberry Orange Bread?
Yes, you can freeze this bread. To do so, wrap it tightly in aluminum foil or plastic wrap and then place it in a resealable plastic bag. Label the bag with the date and store it in the freezer. The frozen bread will maintain its best quality for about 2-3 months. To serve, thaw it at room temperature for several hours or overnight in the refrigerator. Once thawed, you can enjoy it as is or reheat it using one of the methods mentioned above.
Frequently asked questions
Can I use frozen cranberries instead of fresh ones?
Yes, you can use frozen cranberries in place of fresh ones. There is no need to thaw them; just add them directly to the batter, keeping in mind that the cooking time might slightly increase.
Can I substitute the orange juice with another liquid?
While orange juice gives the bread a distinct flavor that complements the cranberries perfectly, you can substitute it with milk or a different citrus juice if needed. However, this will change the flavor profile of the bread.
What can I use instead of a loaf pan?
If you don't have a loaf pan, you can use a muffin tin to make cranberry orange muffins. Adjust the baking time to around 18-20 minutes and check the doneness with a toothpick.
How can I make a glaze for this bread?
To make a simple glaze, mix together a cup of powdered sugar with 2-3 tablespoons of orange juice until smooth and drizzle it over the cooled bread for an added touch of sweetness and a hint of orange flavor.
Baking at home has a unique charm, bringing warmth and comfort to your kitchen. This Cranberry Orange Bread is no exception. With its simple ingredients and the classic pairing of cranberry and orange, it promises a slice of happiness. Whether you're sharing it with loved ones over tea or enjoying it as a solo breakfast treat, this quick bread is sure to be a reliable addition to your baking collection. So, the next time you find yourself craving a simple yet flavorful cranberry loaf, try this recipe out.
More cranberry recipes:
More quick bread recipes:
If you've tried this healthy-ish feel good Cranberry Orange Bread recipe or any other recipe on FeelGoodFoodie, then don't forget to rate the recipe and leave me a comment below! I would love to hear about your experience making it. And if you snapped some shots of it, share it with me on Instagram so I can repost on my stories!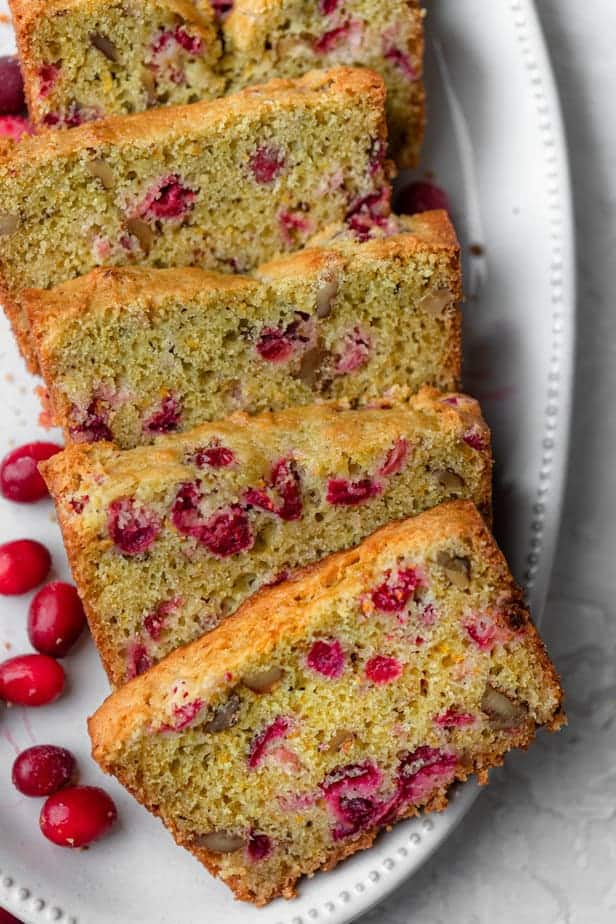 Cranberry Orange Bread
This easy and quick Cranberry Orange Bread recipe is great for the holidays. It has a tangy delicately sweet taste and a burst of fresh citrus.
Instructions
Preheat oven to 350° F. Grease a loaf pan with coconut oil spray.

In a medium bowl, combine the flour, sugar, salt, baking powder, and baking soda. Add the cranberries and walnuts, and stir to coat with flour mixture.

In another large bowl, combine the egg, oil, orange juice, and orange zest. Pour the dry ingredients into the wet ingredients, and stir until everything is well-blended. Transfer the batter into the prepared pan

Bake for 50-55 minutes in the preheated oven or until a toothpick inserted near the center comes out clean. Cool in pan for 10 minutes, then remove to a wire rack, and cool completely.
Notes
Recipe: Adapted from AllRecipe.
Equipment: I use the FoodSaver FM Vacuum Sealing system to seal the cranberries so they're ready to be used for the recipe whenever I'm ready.
To make this gluten-free, use an all-purpose gluten-free flour mix, but again the texture will not be as moist. Do not substitute only almond flour or only coconut flour though.
You can substitute the cane sugar for coconut sugar or another granulated sugar.
Substitute the coconut oil for another neutral oil or butter.
Nutrition
Calories:
184
kcal
,
Carbohydrates:
30
g
,
Protein:
3
g
,
Fat:
6
g
,
Saturated Fat:
2
g
,
Cholesterol:
13
mg
,
Sodium:
204
mg
,
Potassium:
200
mg
,
Fiber:
2
g
,
Sugar:
14
g
,
Vitamin A:
55
IU
,
Vitamin C:
9.6
mg
,
Calcium:
42
mg
,
Iron:
1
mg
Nutrition information provided is an estimate. It will vary based on cooking method and specific ingredients used.