This post may contain affiliate links. Please read our disclosure policy.
When it comes to quick and easy dinners, this Vegetarian Pad Thai recipe is everything you could want or need in a meal. With a handful of simple ingredients and a skillet, you can bring together a tofu pad Thai dish that's both nourishing and bursting with flavor in no time. I'm talking about chewy pad Thai rice noodles tossed with crunchy veggies and crispy tofu cubes; all brought together with a sauce that is the right balance of sweet, tangy, and spicy.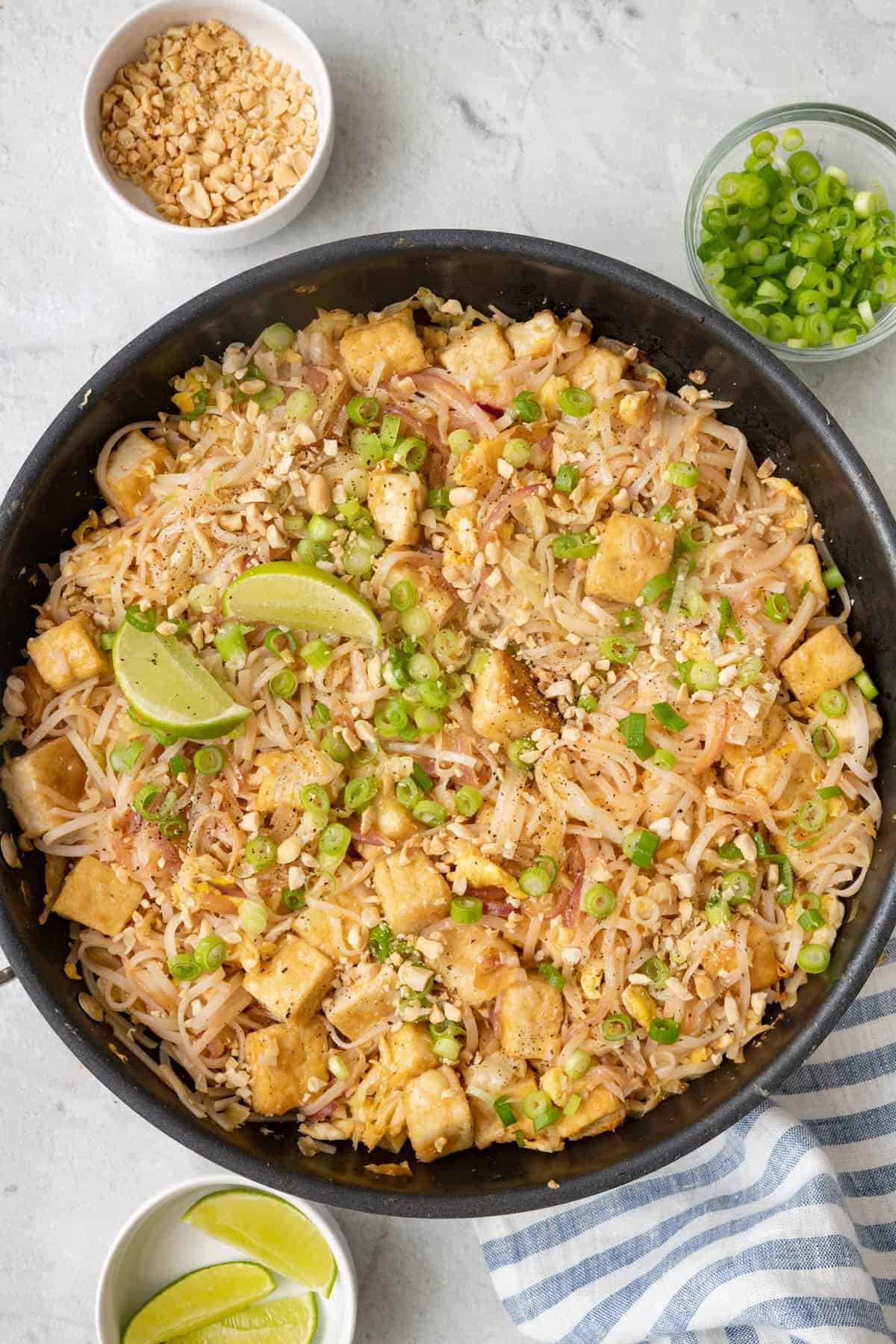 Table of Contents
This is a recipe I learned from a Thai chef who worked at a Sandals resort in Barbados. It was one of the best Pad Thai recipes I had, so I asked him if he would share the recipe, and this is my attempt at recreating it. It may not be completely authentic, but it's derived from an authentic source and slightly tweaked based on ingredient availability.
Why You'll Love This Vegetarian Pad Thai
No Meat, No Problem: This recipe is perfect for vegetarians as it leverages the richness of tofu to provide a hearty yet meat-free meal. It's not just filling but also brings a great texture that pairs well with the noodles and veggies.
Quick and Simple: In less than 30 minutes, you have a pad Thai that's ready to serve. It's the perfect choice for busy weekdays or when you're craving something delicious but straightforward to prepare.
Balanced Flavors: This vegetarian pad Thai embraces flavor – the sweetness of brown sugar, the zest from fresh lime juice, and the heat from sriracha come together to create a sauce that's both vibrant and nuanced.
Personal Touch: The recipe is flexible, allowing you to adjust the spice level to your preference or throw in additional veggies you have on hand, making it a great dish to add your personal touch to.
Ingredients for tofu pad thai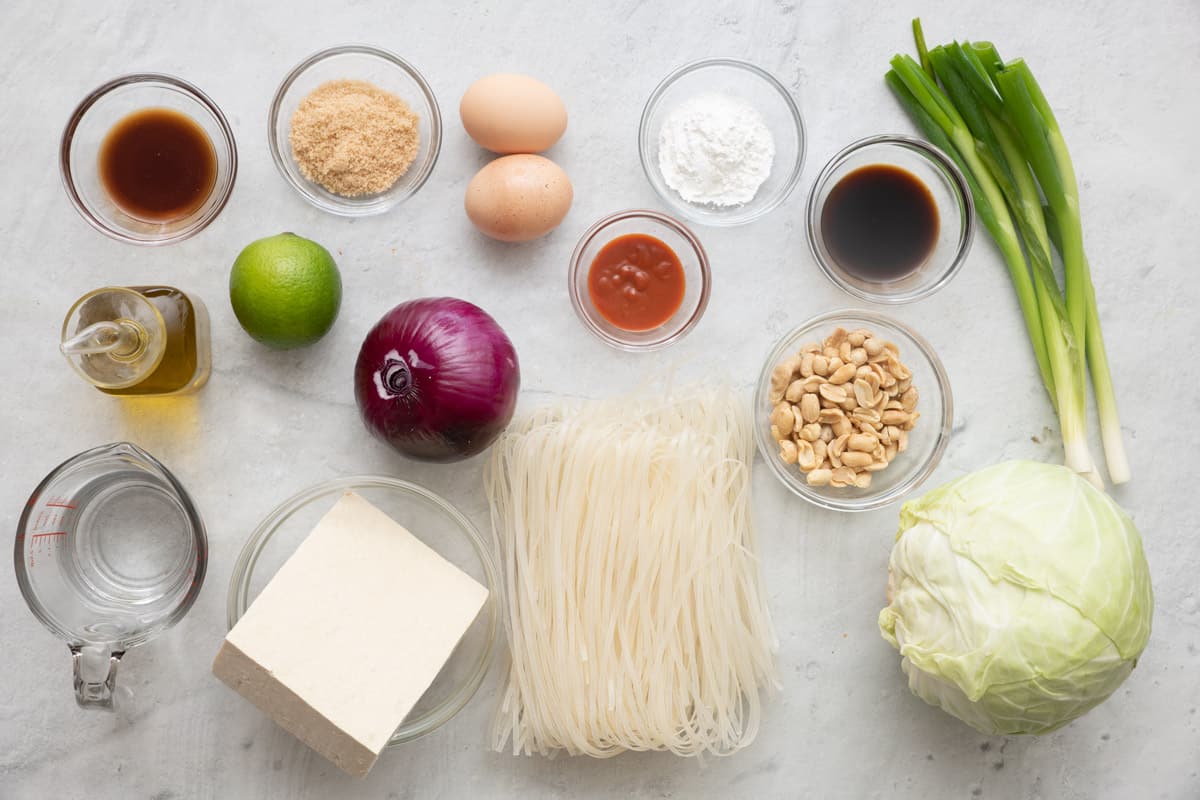 Be sure to scroll down to the recipe card at the bottom of the page for the measurements.
Brown Sugar: Adds a sweetness that balances out the spiciness and acidity in the sauce. It melds well with the salty notes of the soy and hoisin sauce, creating a well-rounded flavor profile.
Soy Sauce: Introduces a rich, umami flavor to the dish, giving depth and complexity to the sauce.
Fresh Lime Juice: Brings a burst of acidity and freshness, which cuts through the rich flavors and brightens the dish.
Sriracha: Adds a spicy kick, elevating the dish with a touch of heat that you can adjust to your preference.
Hoisin Sauce: A dash of this thick, tangy hoisin sauce adds just the right flavor. If you're not strictly vegan, you can use fish sauce as an authentic substitute to add a deep, salty complexity.
Pad Thai Rice Noodles: These are the foundation of the dish, providing a chewy texture that soaks up the sauce perfectly.
Extra Firm Tofu: Acts as a substantial, protein-rich ingredient that absorbs the flavors of the dish well while providing a pleasing contrast in texture.
Cornstarch: Helps to create a crispy outer layer on the tofu cubes, making them irresistibly golden and crunchy.
Avocado Oil: Utilized for stir-frying, it has a high smoke point, ensuring that all the ingredients are cooked perfectly without burning.
Fresh Veggies: The inclusion of red onion, scallions, and green cabbage not only adds a crunch but brings a refreshing note to the dish.
Eggs: Add a rich, creamy element to the dish, binding some of the ingredients together and introducing a delicate flavor that complements the stronger, bolder flavors present.
Peanuts: A classic topping for Pad Thai, providing a satisfying crunch that contrasts beautifully with the soft noodles and tofu.
Popular substitutions & additions
Use Tamarind Paste. The authentic version of the recipe, as I learned it from Thai chef, uses tamarind paste, which gives it a sweet and sour taste, but I had a hard time finding it at chain grocery stores. If you want to use it, add 1 teaspoon of tamarind paste.
Switch out the protein. While this is a tofu recipe, if you're looking to explore other protein options, consider adding tempeh, seitan, or even shiitake mushrooms. They all provide a unique texture and flavor, blending seamlessly with the Pad Thai sauce.
Make it with all the veggies. Feel free to add bell peppers, snow peas, bean sprouts, or shredded carrots to the mix. These not only add vibrant colors to your dish but also elevate the crunch and nutritional value.
No rice noodles, no problem. If you're out of rice noodles or prefer a different kind, try using udon noodles, spaghetti, or even zucchini noodles (zoodles) for a low-carb twist.
Add some heat. If you like it spicy, increase the amount of sriracha or toss in some red pepper flakes or sliced Thai chilies. Adjust according to your heat preference.
More nutty flavor. Apart from peanuts, try using cashews or almonds. They bring in a delightful crunch and nuttiness that pairs well with the tangy Pad Thai sauce.
Freshen up with herbs. Consider garnishing your Pad Thai with fresh herbs such as cilantro or basil. These add a burst of freshness and a beautiful color contrast to the dish.
Vegan variation. To make this recipe vegan, replace the eggs with a vegan egg substitute or just skip them entirely. While fish sauce is an authentic flavoring choice, you can maintain that deep umami flavor with the hoisin sauce or swap for vegan fish or soy sauce.
How to make Vegan Pad Thai
Below is just a preview with basic steps on how to make tofu pad Thai. You can find the full recipe with the steps in the recipe card at the bottom of the page.
Prepare your pad Thai sauce and tofu
Mix together brown sugar, soy sauce, lime juice, sriracha, hoisin sauce, and water. Set aside. [Image 1]
Toss the tofu cubes and cornstarch in a medium bowl until well-coated. [Image 2]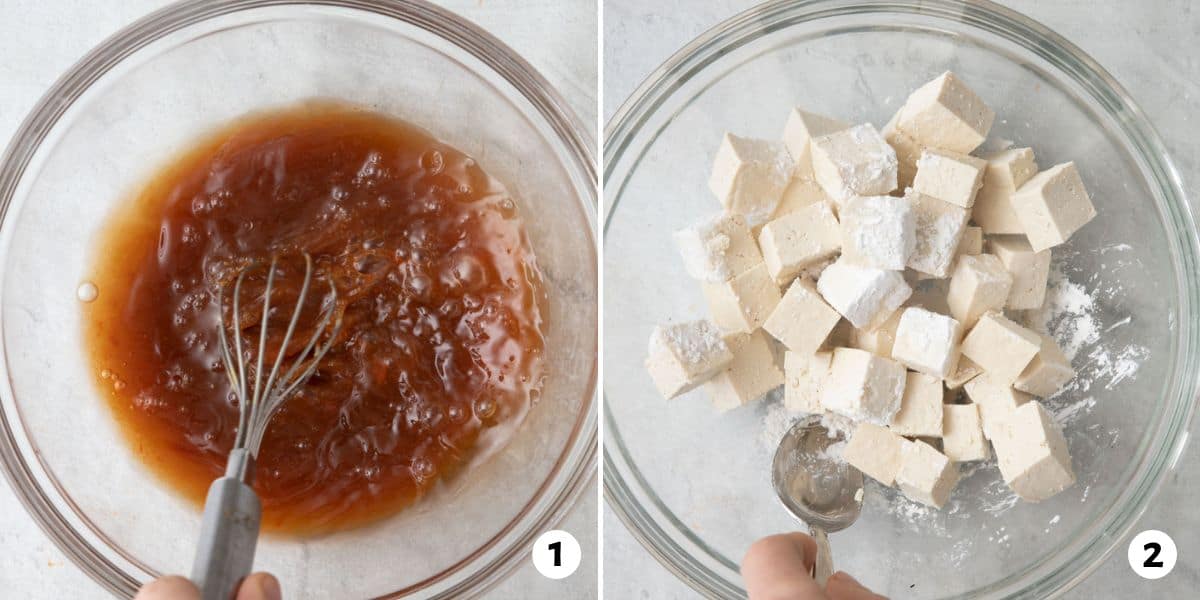 Make the pad thai on the stove
Heat oil in a pan and add tofu. [Image 1]
Stir-fry until the tofu is lightly golden brown on all sides. Remove from pan and set aside. [Image 2]
In the same pan, add red onion, the whites of the scallions, and shredded cabbage and stir-fry until the onion starts to char slightly and the cabbage has wilted. Add in noodles and fried tofu and cook. [Image 3]
Push the noodles to one side of the pan and add eggs to the empty space. Cook the eggs until lightly scrambled, then stir to combine with the noodles. [Image 4]
Add sauce to the pan. [Image 5]
Stir fry until the noodles absorb most of the liquid. [Image 6]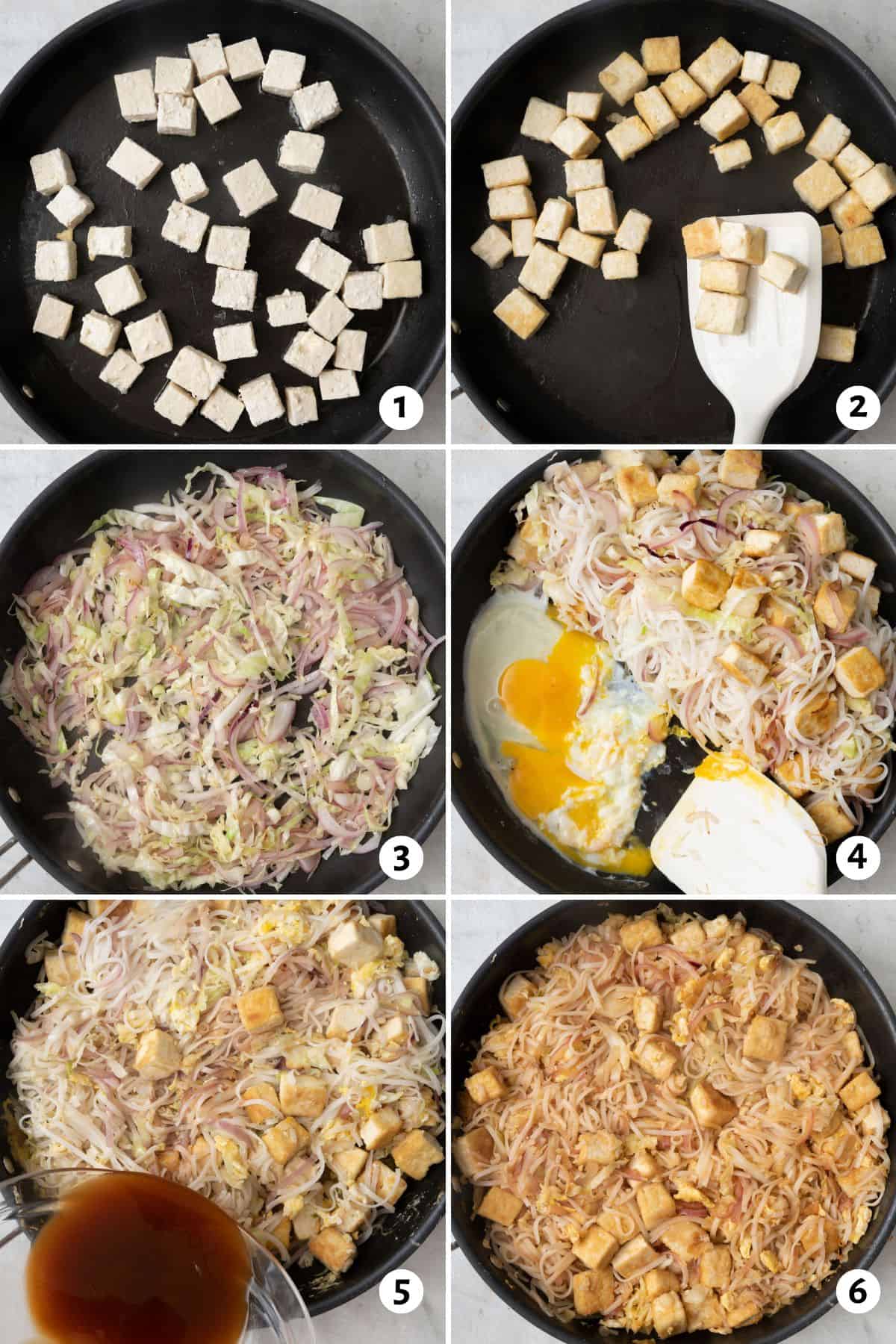 Tips for making the best pad thai
Use a wok for the best flavor and ease. Since a wok is high on all sides, you can add a lot of ingredients to it without worrying about the heat being dispersed evenly. It's also great for high-heat cooking to get great flavor on the tofu, vegetables, and noodles.
Don't be afraid of cooking with high heat. When I watched the chef, I learned this recipe from making it in a restaurant kitchen. The food was literally on fire! He said that fast super high heat is what adds all the flavor. Turning up the heat on your own kitchen stove is the best way to replicate that over-the-flame cooking.
Prepare the ingredients beforehand. Given that the cooking process is quick and involves stir-frying at high heat, having all your ingredients prepped and ready to go can make the process much smoother.
Noodle texture. Be cautious not to overcook the noodles; they should be al dente, as they will continue to cook when you add them back into the pan later.
Tofu preparation. Pressing the tofu properly is vital to achieve the right texture. Use a tofu press or place it between kitchen towels and put a heavy object on top to remove excess moisture before cooking.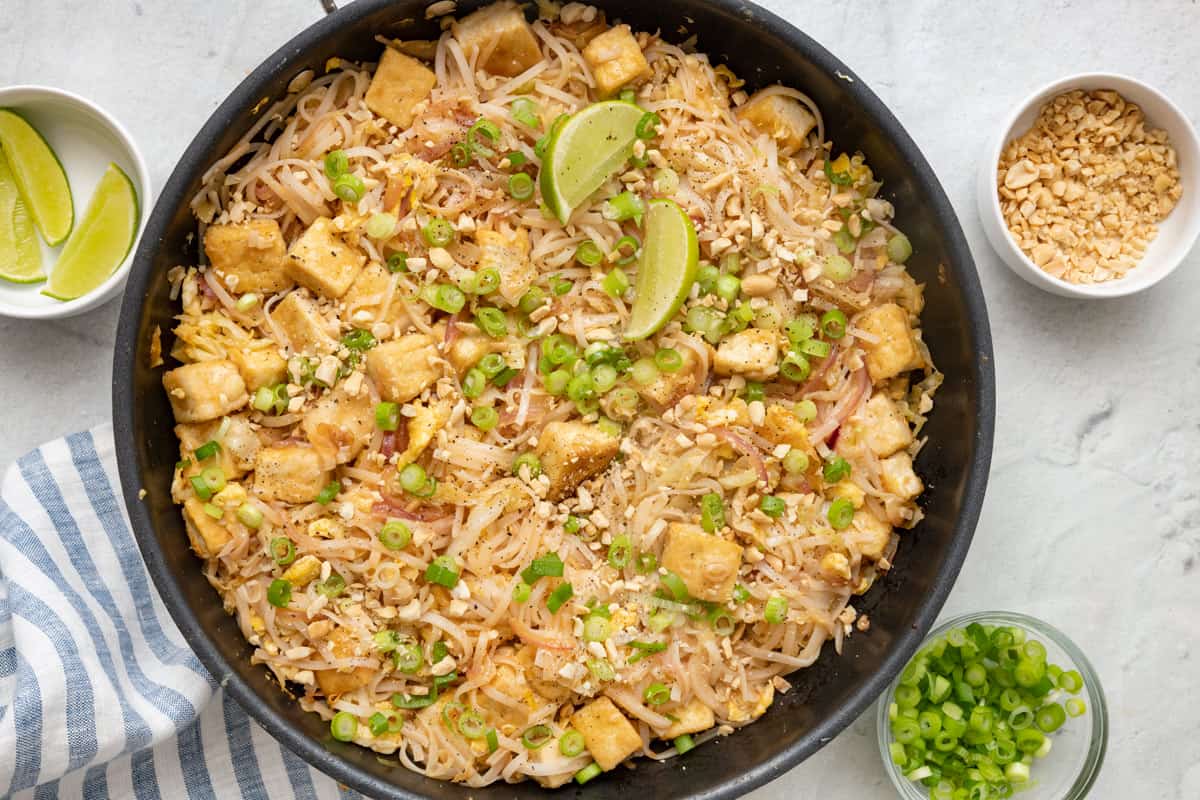 What to serve/pair with your Tofu pad thai
How to Store & Reheat Vegetarian Pad Thai
Storing and reheating your vegetarian Pad Thai correctly ensures that it remains just as good when you are ready to enjoy it again. Here's how to go about it:
Storing:
Cool it Down: Before storing, allow your Pad Thai to cool to room temperature.
Airtight Container: Place the Pad Thai in an airtight container to maintain its freshness.
Separate the Toppings: If possible, store toppings like lime wedges and fresh herbs separately to retain their crispness.
Reheating:
Microwave: For a quick reheating solution, use a microwave. Place the Pad Thai in a microwave-safe dish, sprinkle a little water to prevent it from drying out, and microwave it on high for 1-2 minutes until heated through.
Stovetop: If you have a bit more time, reheat it on the stovetop. Add the Pad Thai to a pan over medium heat, stirring occasionally until it is warmed to your liking. You can add a splash of water or broth to help rehydrate the noodles.
How Long Will Vegetarian Pad Thai Last in the Fridge?
Your tofu Pad Thai will maintain its best quality for about 3-4 days when stored properly in the refrigerator. Beyond that, it may start to lose its freshness and vibrant flavors.
Can I Freeze Vegetarian Pad Thai?
While freezing is possible, it is not recommended because the rice noodles can become mushy when thawed and reheated. However, if you still choose to freeze it, ensure it is stored in a sealed, airtight container to retain its quality for up to 2 months. When you're ready to enjoy it, thaw it in the refrigerator overnight before reheating.
Frequently asked questions
What type of tofu is best for this Vegetarian Pad Thai?
Extra-firm tofu is the recommended type for this recipe as it holds its shape well during stir-frying, giving a pleasant texture to the dish.
What is the best pan to use if I don't have a wok?
If you don't have a wok, you can use a large, deep skillet or a non-stick frying pan as an alternative. These pans should give you enough space to easily stir and toss the ingredients without spilling.
How can I thicken my Pad Thai sauce if it's too thin?
If you find your sauce to be too thin, you can thicken it by creating a cornstarch slurry. Mix a teaspoon of cornstarch with a couple of teaspoons of cold water, and stir it into the sauce. Allow it to simmer for a minute or two until it reaches the desired consistency.
How can I make the tofu more flavorful?
To make the tofu more flavorful, you can marinate it in a mixture of soy sauce, lime juice, and a bit of sriracha for at least 30 minutes before stir-frying. This allows the tofu to absorb more flavors, resulting in a tastier dish.
Ready to make a vegetarian Pad Thai that's both easy and delicious? This recipe guides you step by step to create a dish bursting with traditional flavors straight from Thailand, all from the comfort of your home. Whether it's a weeknight dinner or a special occasion, it's bound to become a favorite. So grab those ingredients, and let's get cooking!
More asian inspired recipes:
If you try this feel good Vegetarian Pad Thai recipe or any other recipe on Feel Good Foodie, then don't forget to rate the recipe and leave a comment below! It helps others who are thinking of making the recipe. We would love to hear about your experience making it. And if you snapped some shots, share it on Instagram so we can repost on Stories!
Vegetarian Pad Thai
Vegetarian Pad Thai, made with rice noodles, crispy tofu, and fresh vegetables in a savory sauce is so flavorful and easy to make!
Ingredients
2

tablespoons

brown sugar

2

tablespoons

soy sauce

2

tablespoons

fresh lime juice

plus more for serving

1

tablespoon

sriracha

1

tablespoon

hoisin sauce

½

cup

water

1

8-ounce package

pad thai rice noodles

1

14-ounce block

extra firm tofu

pressed and cut into ½-inch cubes

2

tablespoons

cornstarch

2

tablespoons

avocado oil

divided

1

small

red onion

thinly sliced

4

scallions

sliced, whites and greens divided

2

cups

shredded green cabbage

2

eggs

beaten

½

cup

crushed peanuts

for serving
Instructions
Mix together brown sugar, soy sauce, lime juice, sriracha, hoisin sauce, and water. Set aside.

Bring a large pot of water to a boil. When the water reaches a boil, add rice noodles and cook until al dente, about 5 minutes. Drain, rinse under cold water and set aside.

Toss the tofu cubes and cornstarch in a medium bowl until well-coated. In a large skillet or wok, heat 1 tablespoon oil over medium-high heat. Add tofu and stir-fry for 5 to 7 minutes, or until the tofu is lightly golden brown on all sides. Remove from the pan with a slotted spoon and set aside.

In the same pan over medium-high heat, add red onion, the whites of the scallions and shredded cabbage and stir-fry for 2 to 3 minutes or until the onion starts to char slightly and the cabbage has wilted.

Add in blanched noodles and fried tofu and cook for 1 to 2 minutes.

Push the noodles to one side of the pan and add eggs to the empty space. Cook the eggs until lightly scrambled, then stir to combine with the noodles.

Add sauce to pan and stir fry until the noodles absorb most of the liquid, about 2 minutes.

Serve topped with lime wedges, crushed peanuts, and green scallion tops.
Nutrition
Calories:
529
kcal
,
Carbohydrates:
69
g
,
Protein:
19
g
,
Fat:
20
g
,
Saturated Fat:
3
g
,
Polyunsaturated Fat:
6
g
,
Monounsaturated Fat:
10
g
,
Trans Fat:
0.01
g
,
Cholesterol:
82
mg
,
Sodium:
1156
mg
,
Potassium:
522
mg
,
Fiber:
5
g
,
Sugar:
10
g
,
Vitamin A:
283
IU
,
Vitamin C:
22
mg
,
Calcium:
113
mg
,
Iron:
3
mg
Nutrition information provided is an estimate. It will vary based on cooking method and specific ingredients used.