This post may contain affiliate links. Please read our disclosure policy.
When I first discovered you can make one pan pasta without boiling pasta first, I was elated (to say the least)! And since then I've made variations of one pan pasta with different sauces and different ingredients. I've even adopted this method when making mac n' cheese for the kids!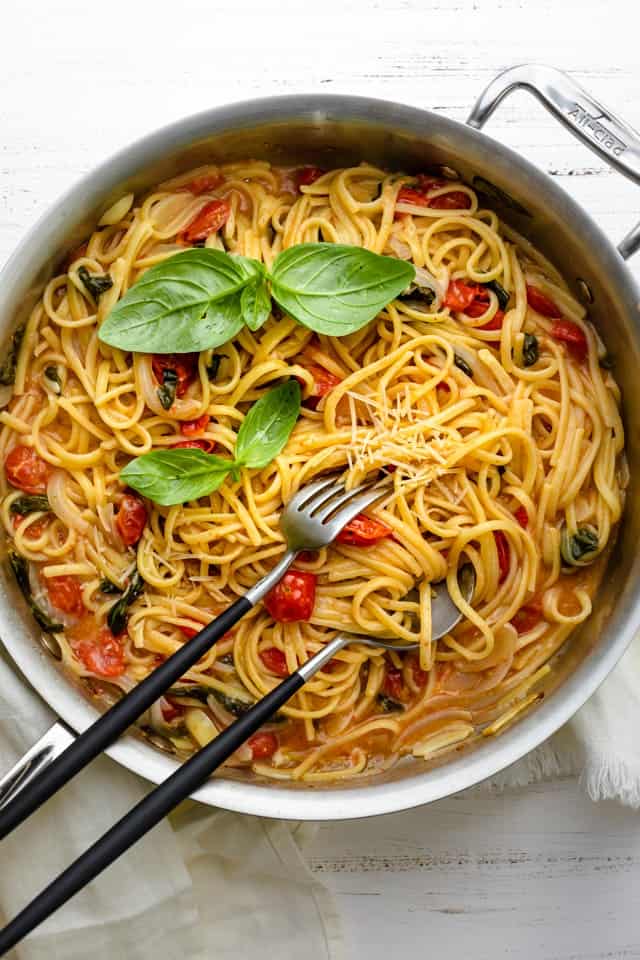 What is one pan pasta?
I believe this recipe originated from Martha Stewart back in 2013, and since then, there have been endless adaptations of one pan pasta recipes, also called one pot pasta. Essentially the idea is that you don't have to pre-cook the pasta. The pasta cooks with the sauce and vegetables all together in one pan. It's one less pan you have to use, which means quicker dinner on the table, and quicker clean-up.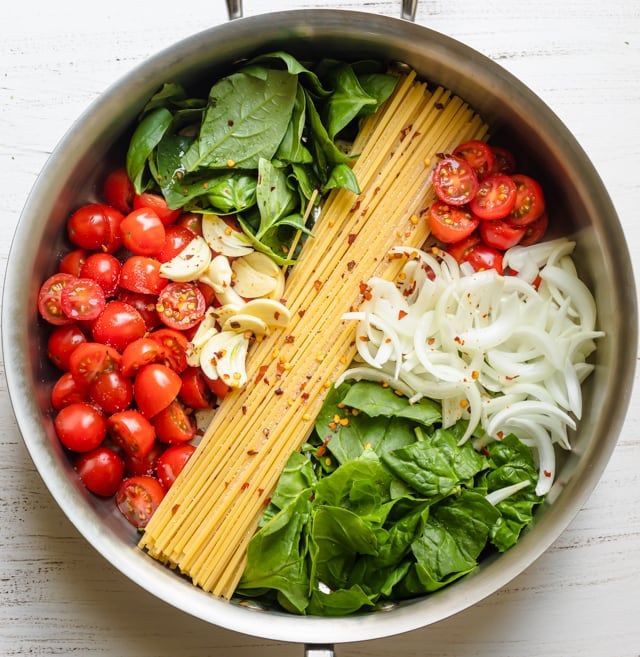 I know this is not the authentic way to cook pasta. And when I recently shared this idea on my Instagram account, there was a lot of skepticism and negative remarks mentioning how wrong this technique is and how the result is starchy pasta. But for me, this is a quicker cooking method that results in tender pasta that soaks up all the flavors you're cooking with. And that's the kind of fail-proof weeknight meal that makes me feel good!
How do you make one pan pasta?
Start by placing all the ingredients together in a large pan, skillet or pot. You want to make sure that the linguine fits in the pan. Then cover the ingredients with boiling water. You can eyeball the amount of water you use. Or I found that 1 cup per 2 ounces results in the perfect sauce ratio.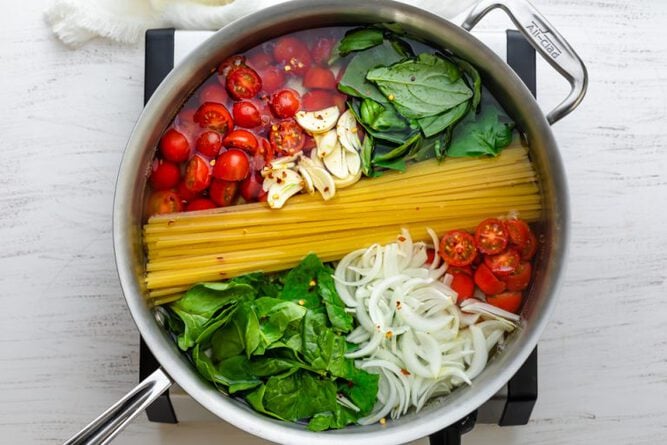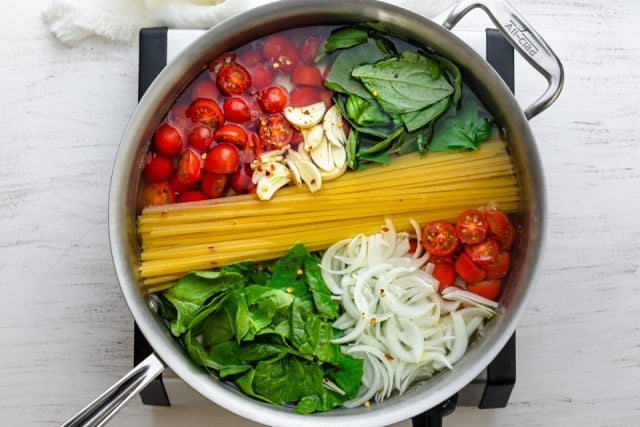 Now you'll want to bring the mixture to a boil since the boiling water gets cooler when it mixes with the ingredients already in the pan.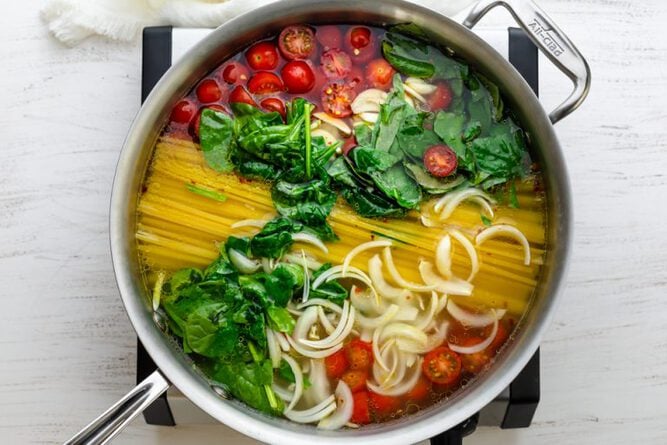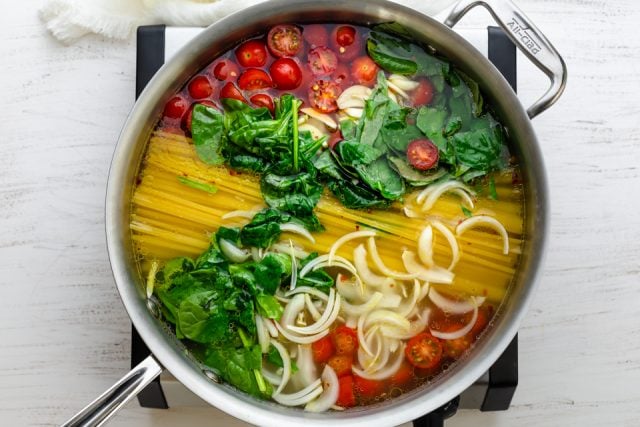 Then you can lower the heat and allow the pasta to cook and absorb the water. The important step now is to constantly stir the pasta with the ingredients. You can use a large slotted spoon, fork or tongs to do this. This step helps to ensure that no pasta gets stuck to the bottom of the pan or to each other.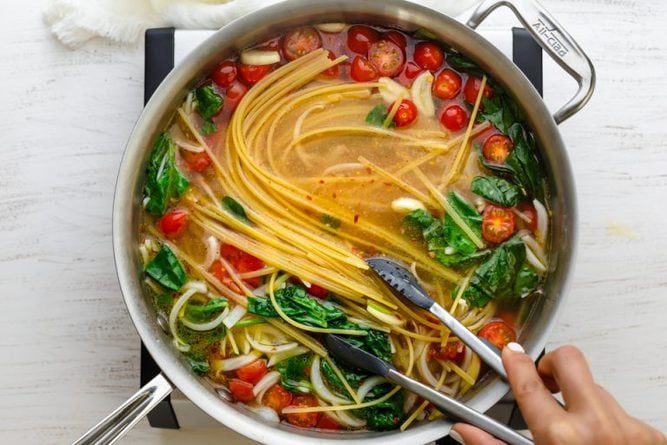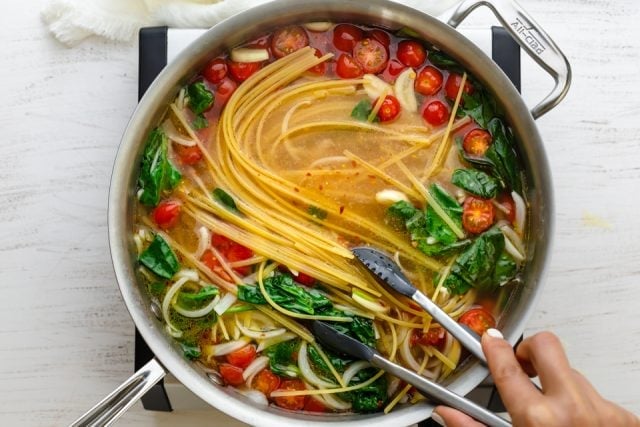 Within 10 minutes, it will go from that to this. What happened to all that water? The noodles absorb all the water, creating a starchy binder. So essentially, the sauce clings better to the noodles without the separation of sauce and noodles in the pan.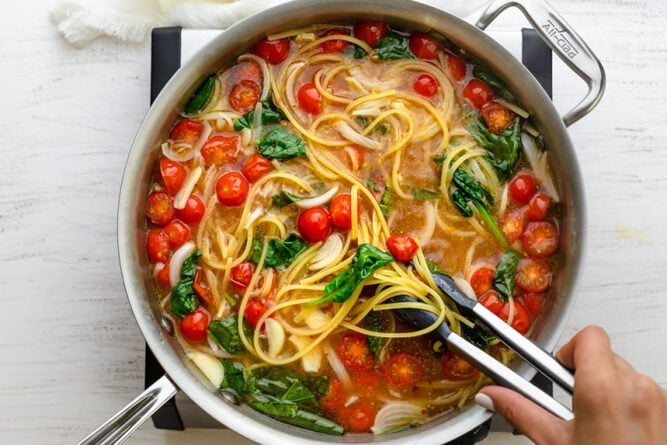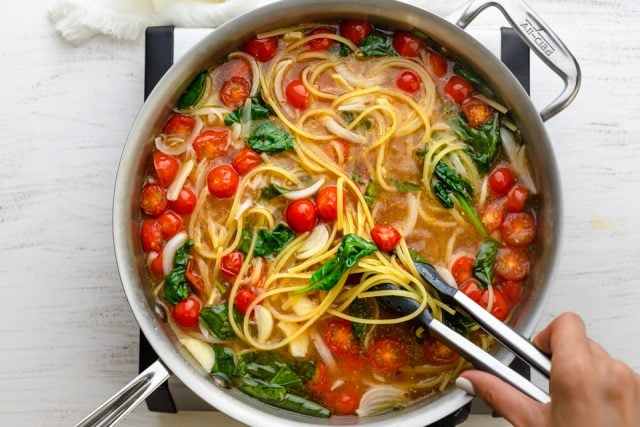 When you notice that the linguine has absorbed 80-90% of the liquid, that's when you can add the parmesan cheese. You can leave out the parmesan cheese if you prefer to keep it vegan.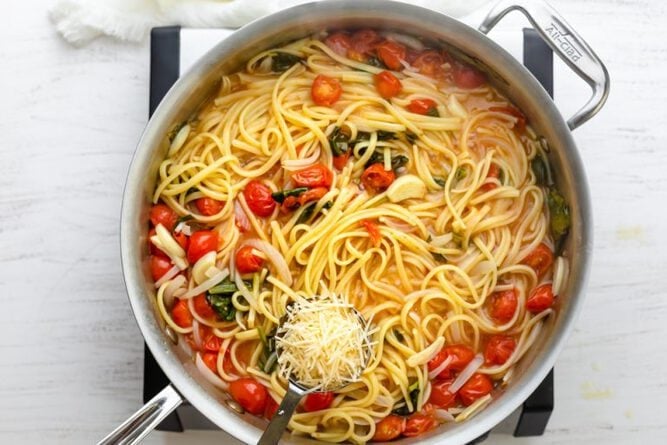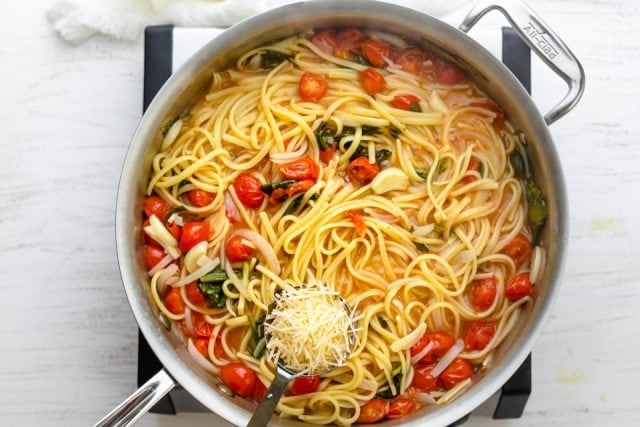 And just like that, one pan pasta makes your weeknight dinner dreams a reality – minimum cleanup, but maximum taste! I mean, it's truly a game changer. I even have my kids stand by the stove and stir, while I prepare a salad or some chicken to go along with the meal.
Tips for making one pan pasta
Salt the pasta before adding the boiling water. It's important to season the pasta with salt, crushed red pepper and any other seasoning before adding the liquid. This will allow the linguine to really absorb the full flavor while it's cooking. And you'll end up using less salt this way compared to salting the dish after you finish cooking it.
Stir pasta constantly while cooking. It's not a completely hands-off recipe unfortunately, since you'll need to do some stirring while the pasta cooks with the liquid and vegetables. But hey, it's 10 minutes or less.
Vary the liquid used. This is definitely an infinitely customizable one pot pasta recipe. One of the easiest ways to vary it is by using vegetable or chicken broth instead of water. It intensifies the flavor of the pasta.
Watch the liquid as you're cooking. I prefer to use 1 cup of liquid for every 2 ounces of pasta. But this may vary depending on the type of pasta and vegetables you use. For example, mushrooms will absorb liquid, while tomatoes or zucchini will release liquid. If the sauce is drying up before the pasta is fully cooked, add more water or broth to the pan.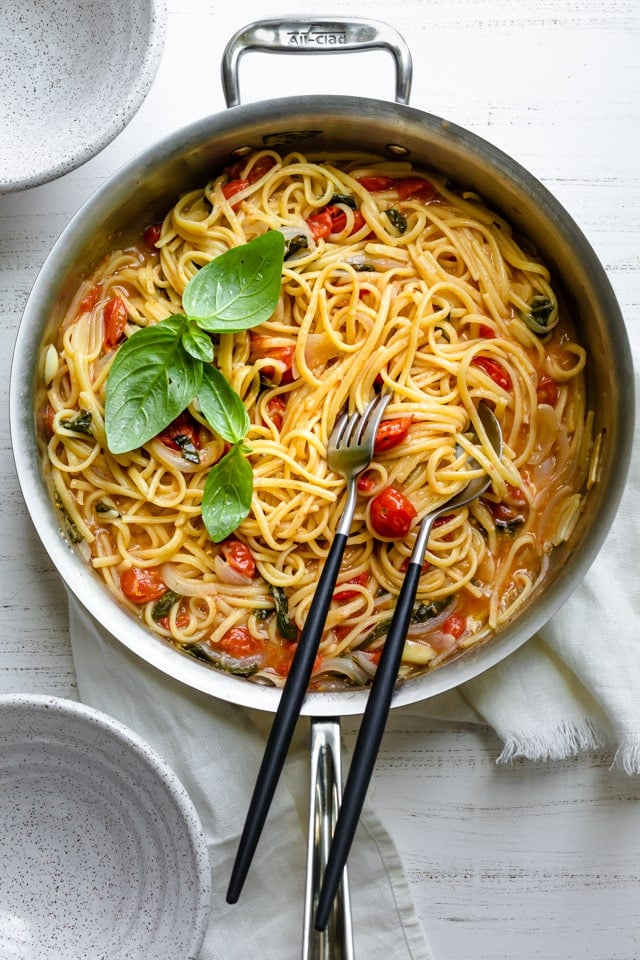 Frequently Asked Questions
What is the best pasta to use for one pan pasta?
You can use any kind of pasta. I don't think you can really go wrong the type of pasta you use, but note that cooking time will vary based on the type you use. Linguine, spaghetti, fettuccine and angel hair are vary popular in one pan pasta recipes. But short pasta shapes likes elbow macaroni, rotini or bow-tie work well too!
Can I use gluten-free pasta?
Yes, this recipe works with gluten-free pasta. However, because gluten-free pasta cooks differently than regular pasta, you'll need to adjust accordingly. Gluten free pasta tends to be more starchy than regular pasta, and tends to grow more than regular pasta. I recommend adding an extra half cup of water if you're using 8 ounces of pasta. Or you can use less pasta depending on the serving suggestion for 4 people of the given brand you're using.
What type of cookware should I use to make pasta?
This is often referred to as one pot pasta instead of one pan pasta. So really, you can use a pot like a heavy soup pot or a dutch oven (I like this one by Anolon!), or a pan like a non-stick skillet or stainless steel deep pan like I've used. My favorite stainless steel deep pan is by All-Clad, and I've never experienced any pasta sticking to the bottom of it! Using non-stick may help keep this recipe hassle-free.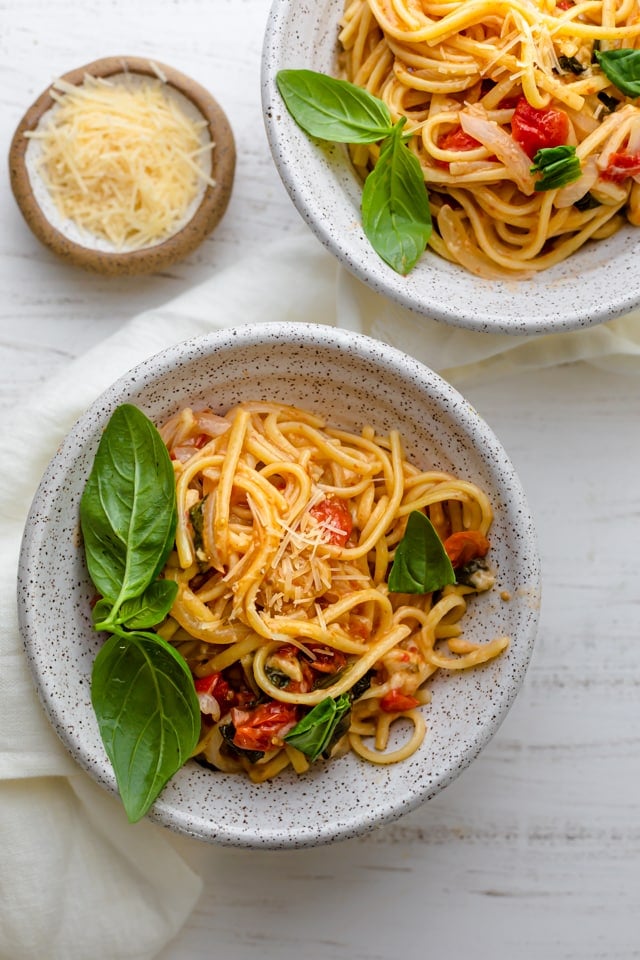 This is one of those easy back-pocket recipes that you can make over and over again with minimum cleanup and maximum taste. All the magic happens in one pan from start to finish. No need to boil noodles ahead of time, no need to strain noodles and no need to tend to a noodle pan and a sauce pan at the same time. It's ready in less than 20 minutes, endlessly customizable and full of flavor the whole family will love!
More pasta recipes:
If you've tried this healthy-ish feel good One Pan Pasta recipe or any other recipe on FeelGoodFoodie, then don't forget to rate the recipe and leave me a comment below! I would love to hear about your experience making it. And if you snapped some shots of it, share it with me on Instagram so I can repost on my stories!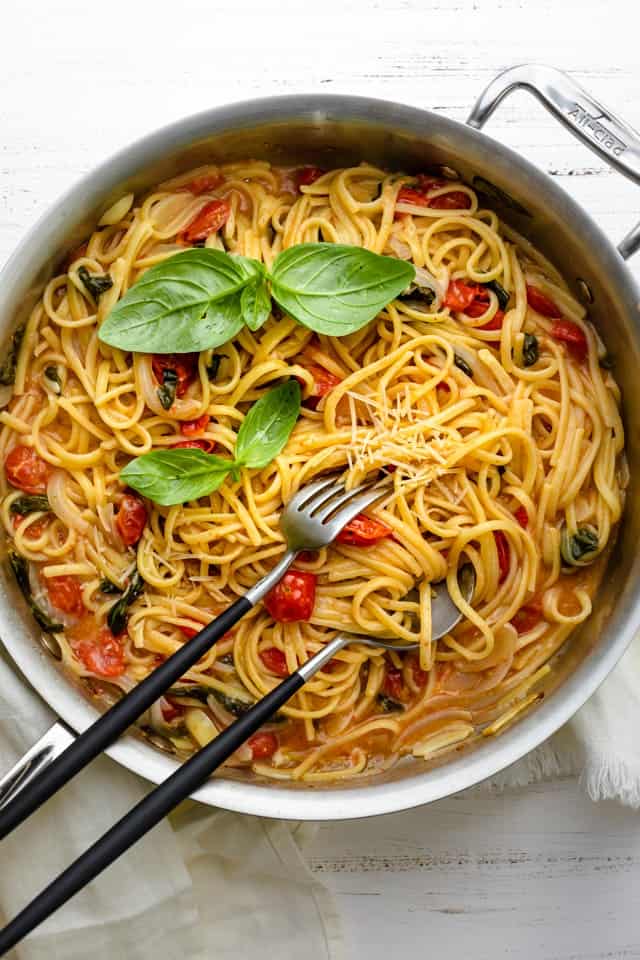 One Pan Pasta
One pan pasta is an easy family friendly meal you can whip up quickly on weeknights. It's a no-fuss meal using only one cookware and any vegetables you like
Ingredients
8

ounces

linguine

1

pint

cherry tomatoes

sliced in half

2

ounces

baby spinach leaves

1

small onion

finely sliced

3

garlic cloves

finely sliced

A small handful of basil leaves

roughly chopped

2

tablespoons

extra virgin olive oil

1/2

teaspoon

crushed red pepper

1/2

teaspoon

salt

2

ounces

parmesan cheese

grated (optional)

4

cups

water

boiling
Instructions
In a large deep pan, place the linguine in addition to the cherry tomatoes, spinach, sliced onions, garlic and basil. Drizzle the olive on top and season with crushed red pepper and salt.

Pour boiling water into the pan and bring the mixture to a boil. Cook for 8-10 minutes on medium heat stirring occasionally with tongs, until the liquid in nearly evaporated, creating a sauce.

Remove the pan from heat and stir in parmesan cheese and fresh basil, if desired. Serve immediately and enjoy warm.
Notes
Recipe: This recipe is adapted form Martha Stewart.
Storage: Store any leftovers in an airtight container. They will last about 4-5 days in the fridge.
Substitutes: For best results, follow the recipe as is. However here are some common substitutes that would work well in this recipe.
To make it gluten-free, you can use any gluten-free pasta of your choice.
To make it vegan, just skip the Parmesan cheese, or add in nutritional yeast or a vegan parmesan substitute.
To make the sauce more creamy, you can add some milk instead of some of the water. 
Feel free to substitute any vegetables you don't like.
Serving Size: One serving is about 2 ounces of pasta per person.
Nutrition
Calories:
367
kcal
,
Carbohydrates:
51
g
,
Protein:
14
g
,
Fat:
12
g
,
Saturated Fat:
3
g
,
Cholesterol:
10
mg
,
Sodium:
551
mg
,
Potassium:
526
mg
,
Fiber:
4
g
,
Sugar:
6
g
,
Vitamin A:
2095
IU
,
Vitamin C:
33.7
mg
,
Calcium:
217
mg
,
Iron:
2.1
mg
Nutrition information provided is an estimate. It will vary based on cooking method and specific ingredients used.