This post may contain affiliate links. Please read our disclosure policy.
Kanafa is one of the most popular Lebanese and Middle Eastern recipes after baklava. And it's actually much easier to make! You'll need only a handful of ingredients including shredded dough, butter, cheese and sugar drizzled with a rose water simple syrup. It's a wonderful dessert to enjoy during the holidays, and it's one that I grew up enjoying at special occasions!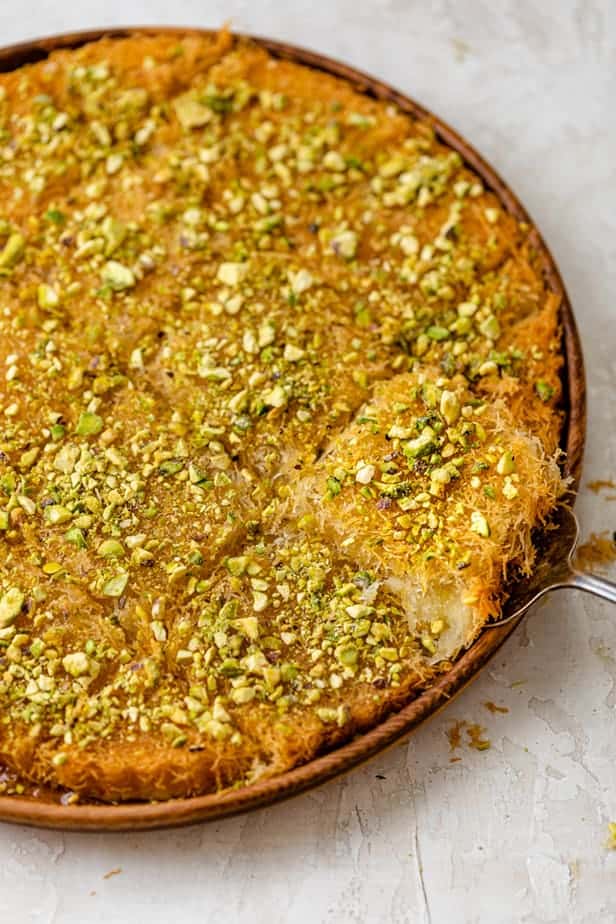 What is kanafa?
Kanafa is a traditional Middle Eastern dessert that is made with thin, noodle like pastry. It is sweet and sugary and layered with cheese and chopped pistachios. It is also known as kanafa, kunafa, kanafeh or knafe.
What ingredients to do you need to make kanafa
Mozzarella Cheese: To make the recipe more easily accessible, I'm using mozzarella cheese instead of Akawi cheese. If you have access to Akawi cheese, that would be a more traditional choice. I would recommend half and half mixture.
Ricotta Cheese: Use a whole milk ricotta for the creamiest dessert.
Cane Sugar: You'll mix the sugar with the ricotta and mozzarella to balance off any bitterness from the cheeses.
Butter: Use one stick of melted butter to rub the shredded dough. It will give the shredded dough a buttery flavory while helping to brown it in the oven.
Kataifi Shredded Dough: This is the most important part of the recipe, and it may be difficult to find. However, it's common in Middle Eastern super markets or you can also order it online.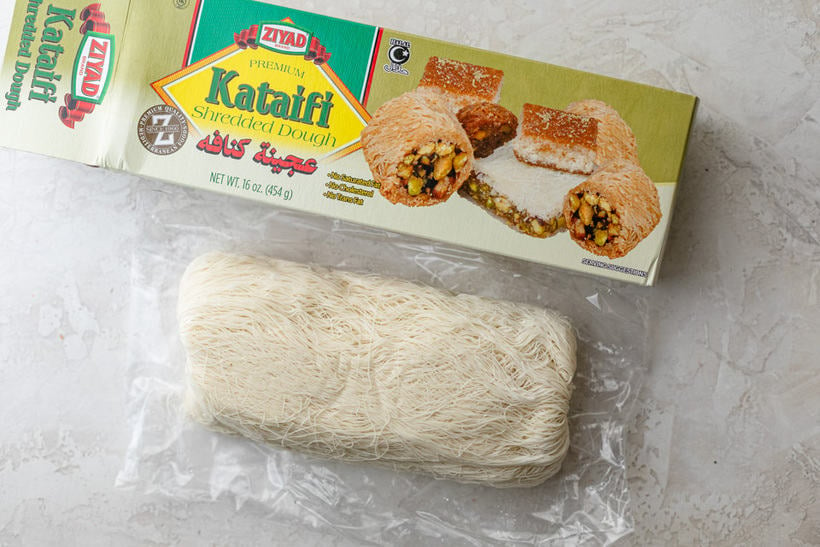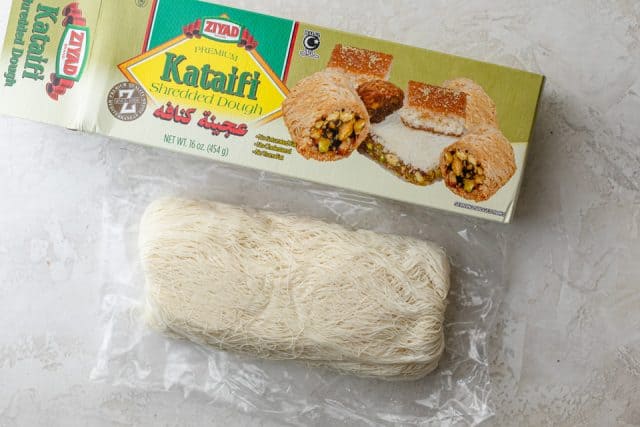 Simple Syrup: You can easily make simple syrup with sugar and water. I also like to add a slice of lemon juice to mine along with rose water to give it a sweet scented flavor.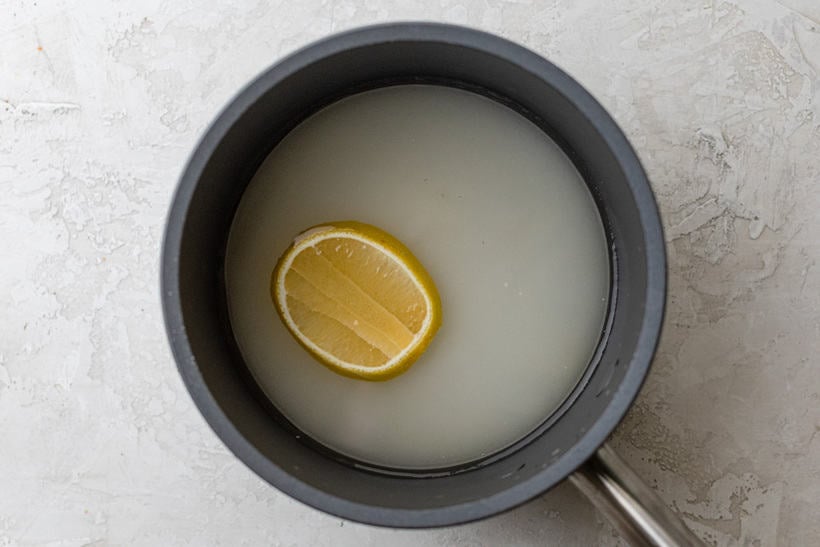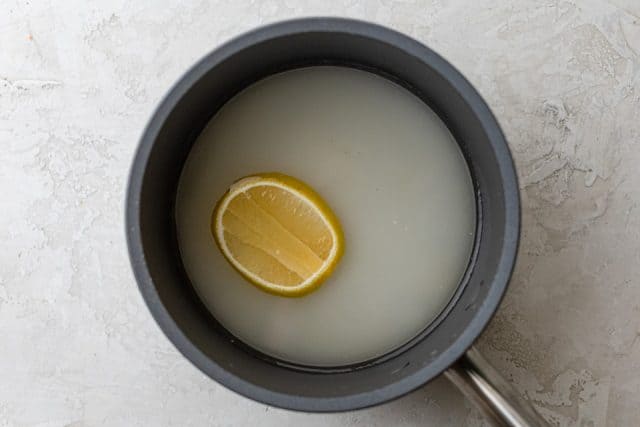 How to make kanafa
The shredded phyllo dough comes in long strands and it's always frozen. You want to thaw it to bring it to room temperature and then break it up into smaller pieces in a food processor. It should be about the size of vermicelli. Then you'll add the butter to the shredded dough and use your hands to mix them well together.
In another bowl, mix the cheeses and sugar together until well incorporated.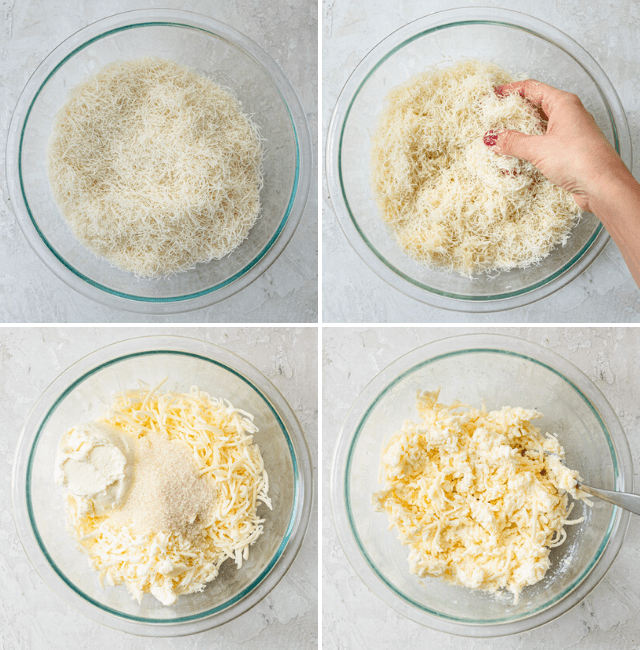 Use your fingers to press the buttery shredded dough into a greased pan. Spread the cheese mixture on top, but you can leave some space all around to be able to check if the shredded dough has browned.
When it's browned, you can remove it from the oven and invert into another pan that's about the same size or larger. Make sure to invert the pan immediately when it comes out of the oven. When you remove the pan, you should see a golden brown kanafa that's steaming hot.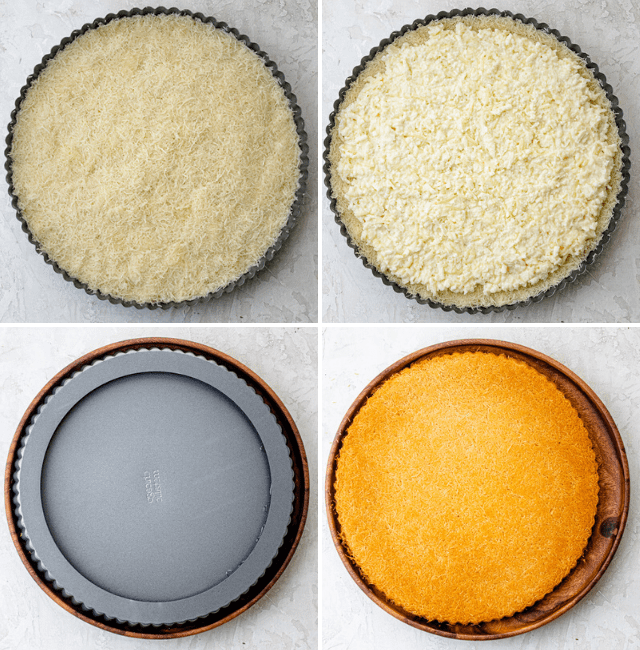 \
Pour the hot simple syrup over the kanafa as soon as you flip it over when it comes out of the oven. Pouring the soup while the kanafa is hot makes it absorb the sweet syrup much faster and that way you won't need to use as much.
Now it's time to sprinkle with crushed pistachios. You can sprinkle all over, in a round circle or just in the middle. The only thing left to do is to slice and enjoy!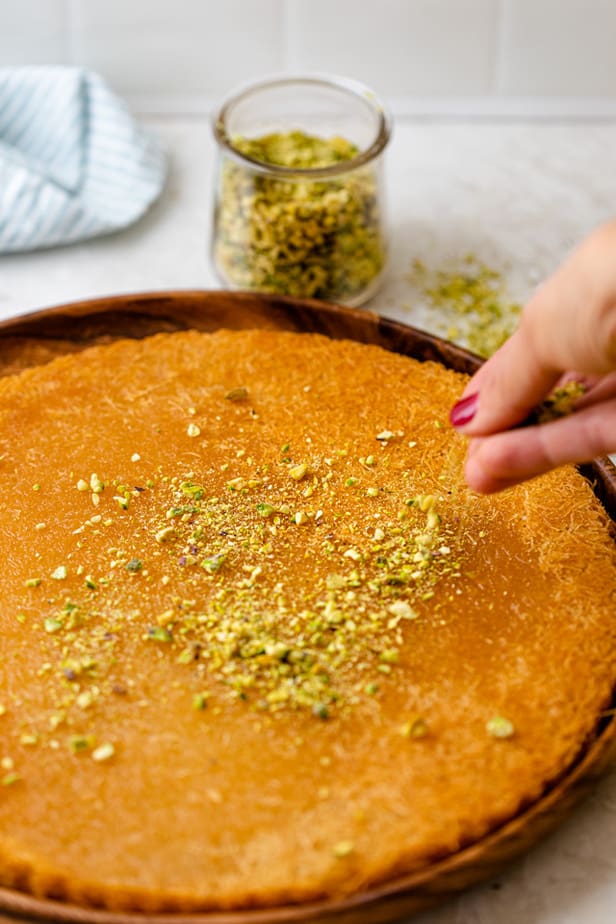 Tips for making kanafa at home
Have a second tray the same shape and same size (or larger) in order to flip the kanafa on to it and serve it in that second dish. If you don't have two trays that are the exact same size, serve it on one slightly larger than the baking dish since it will slightly expand as you cut into it.
Make sure that the butter is absorbed by the dough. Instead of using a spoon or spatula, I recommend using your hands. Take handfuls of the dough and rub it well between your palms before spreading it on the baking tray.
Do not cover the buttered dough completely with the cheese mixture. Leave the perimeter bare so that you can check for browning on the dough to gauge doneness.
Warm up the simple syrup before drizzling on the kanafa. That will help the simple syrup penetrate through the dough mixture for the best flavor!
Frequently asked questions
Do you eat kanafa hot or cold?
I love to eat kanafa hot, just after it has been removed from the oven, but you can also eat it warm or cold. The sugar syrup should be drizzled over the kanafa when it comes out of the oven so that it soaks in, rather than adding it when cold.
Can you make kanafa ahead of time?
There are a couple of options to make this Middle Eastern dessert ahead of time. You can assemble the dish the day before and keep it covered in the fridge and then bake it right before serving. You can also bake the whole dish, let it cool, and the keep covered in the fridge for a day or two. You can serve cold or reheat gently in the oven.
For more Middle Eastern inspired desserts:
I love serving this dessert from my childhood and my family adore it just as much as I do! It's so simple to make and the results are delicious!
If you've tried this feel good Homemade Lebanese Kanafa recipe or any other recipe on FeelGoodFoodie, then don't forget to rate the recipe and leave me a comment below! I would love to hear about your experience making it. And if you snapped some shots of it, share it with me on Instagram so I can repost on my stories!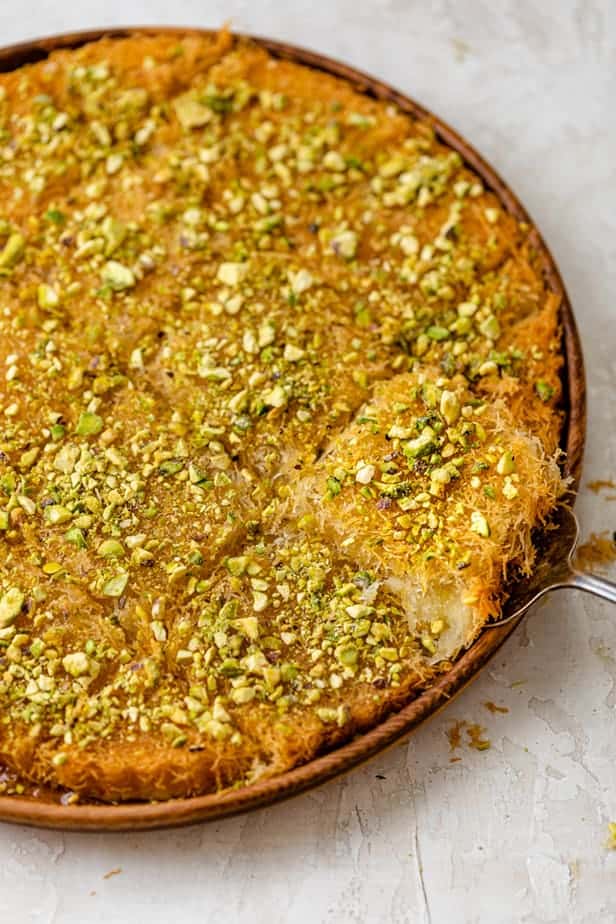 Lebanese Homemade Kanafa
This Homemade Lebanese Kanafa is a simplified version of the Middle Eastern dessert made with layered shredded dough and mozzarella cheese soaked with syrup
Ingredients
For the kanafa
½

16 ounce box shredded phyllo dough (kataifi), thawed

½

cup

whole-milk ricotta cheese

2

cups

shredded mozzarella cheese

¼

cup

granulated sugar

1

stick butter

melted
Instructions
Preheat an oven to 375°F. Grease a round 11-inch pan.

Make the simple syrup, combine the water, sugar and lemon slices in a small saucepan over medium-high heat. Bring mixture to a boil, then reduce heat to simmer, stirring occasionally until the sugar is dissolved and the mixture is thickened but still clear colored, about 5-7 minutes. Remove from heat, add the rose water, and set aside to cool.

Use a food processor to chop the shredded phyllo dough into smaller pieces. Transfer the phyllo dough into a large mixing bowl. Pour the butter into the bowl. Use your hands to mix the butter with the dough, rubbing handfuls of the dough between your palms.

In another large bowl, mix together the ricotta, mozzarella and sugar.

Evenly spread the buttered phyllo dough into the prepared pan and firmly press it into the bottom and edges. Spread the cheese mixture onto the dough, leaving the edges around the pan empty.

Bake in the preheated oven until the cheese is slightly golden and the edges of dough are brown and bubbly, 20 to 25 minutes.

Remove the kanafa from the oven. Place a large platter or baking sheet over the baking dish. Using oven mitts, carefully invert the baking dish onto the platter so the phyllo is on top. Pour the syrup over the kanafa. Cut into pieces and serve while hot.
Notes
Storage: Put leftovers in a sealable container, and store them in the refrigerator for up to a week. You can eat the leftovers cold, or reheat them in the oven to maintain the crunch of the crust. Sourcing: You can find the shredded phyllo dough at Middle Eastern markets, natural-foods stores or even in large supermarkets, often located with other Middle Eastern ingredients.
Nutrition
Calories:
276
kcal
,
Carbohydrates:
40
g
,
Protein:
9
g
,
Fat:
9
g
,
Saturated Fat:
5
g
,
Cholesterol:
30
mg
,
Sodium:
259
mg
,
Potassium:
53
mg
,
Fiber:
1
g
,
Sugar:
32
g
,
Vitamin A:
258
IU
,
Vitamin C:
2
mg
,
Calcium:
175
mg
,
Iron:
1
mg
Nutrition information provided is an estimate. It will vary based on cooking method and specific ingredients used.